This Sriracha Jam Grilled Cheese is the ultimate!  Satisfy your sweet tooth, your need for spice, and want of comfort all in one meal.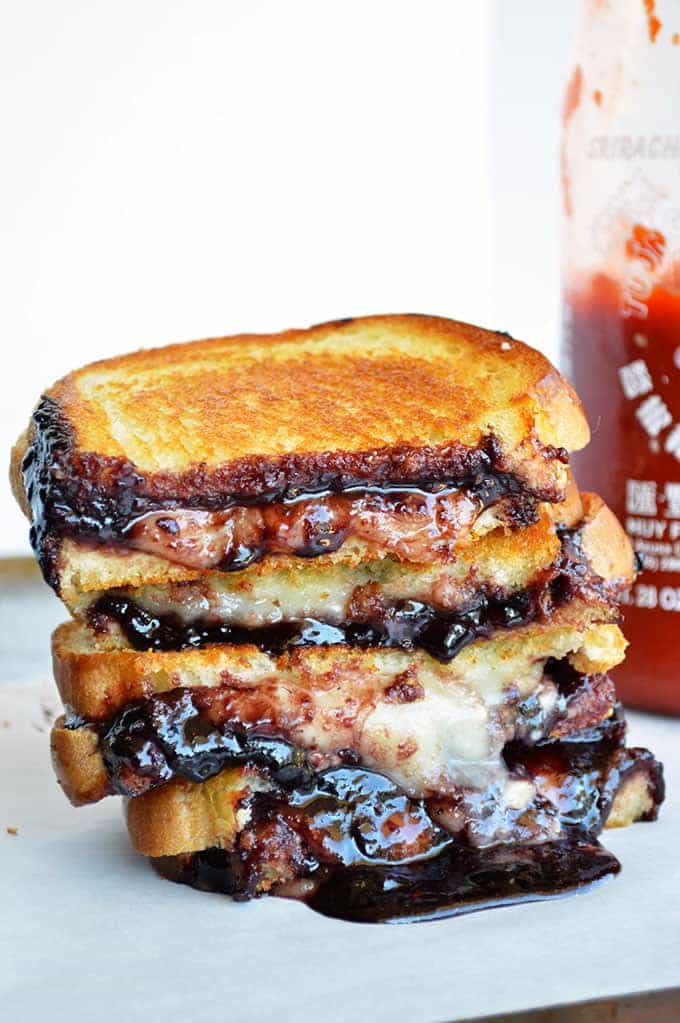 Do you have a habit of putting Sriracha on everything?  I know my hubs sure does.  So why not mix it with some jam and toss it on a grilled cheese sandwich?  The Sriracha jam combination is actually really good.  If you're unsure, that's completely ok!  It's possible I was slightly skeptical when the hubs started squirting Sriracha into some jam and spreading it on a sandwich.  However, after he convinced me to try it I was hooked!
One of my favorite meals to make is my Sweet & Spicy Meatballs, which are made with a combination of chili sauce and grape jelly.  This is very similar to that, with just a bit more heat to it from the Sriracha sauce. So I suppose it's not so weird.  Right?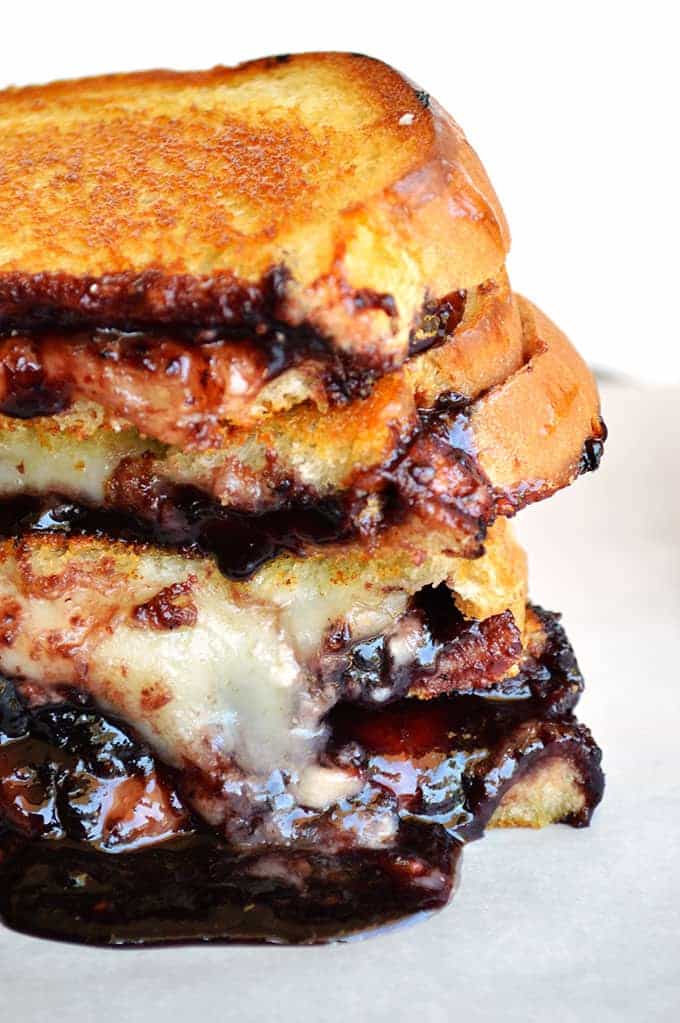 There's nothing I love more than a grilled cheese sandwich.  Just look at that melty Brie.  It makes me want to curl up in my husky pants with a blanket and chow down.
And it's definitely possible I added a bit more jam than necessary to get extra oozing for pictures.  You don't need to make yours quite as messy as I did.  However, if you do decide to go all out with it, you will probably find it worthwhile.  Just make sure you're prepared for the sticky fingers that will result from this delightful meal.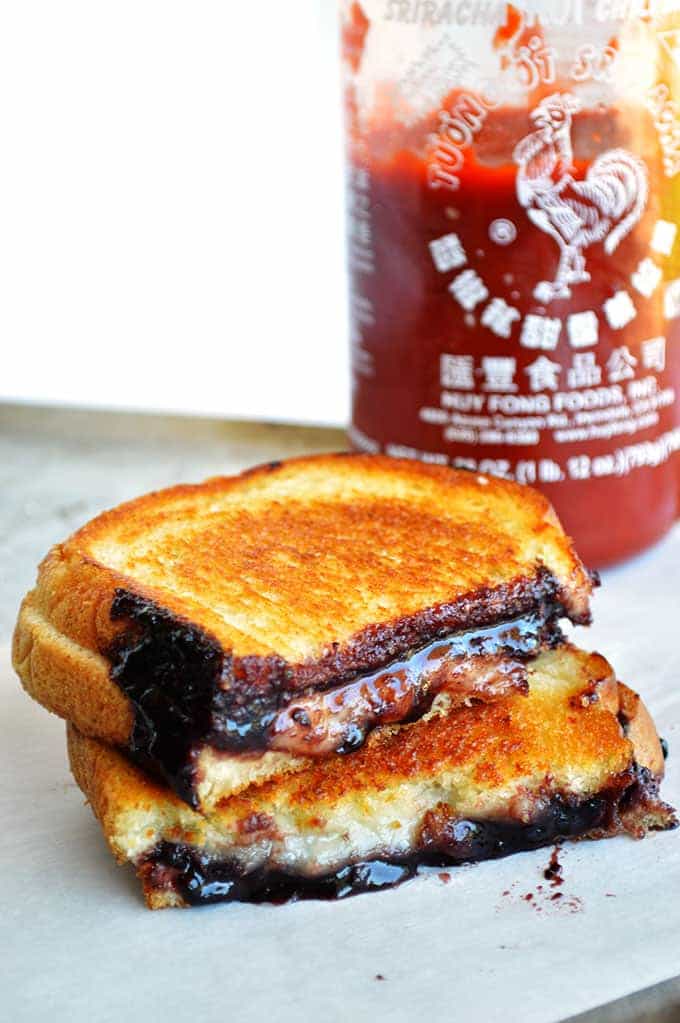 I hope you enjoyed the recipe and will follow along on my cooking adventures:
FACEBOOK | PINTEREST | GOOGLE+ | TWITTER | INSTAGRAM | BLOGLOVIN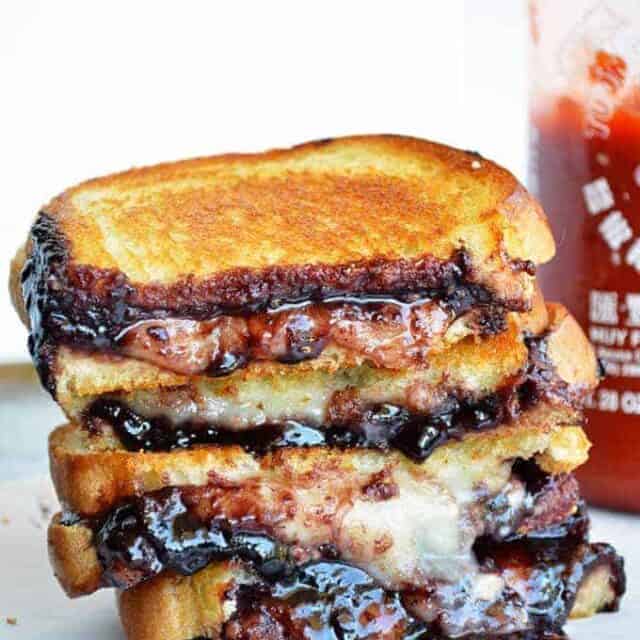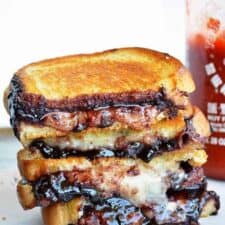 Sriracha & Jam Grilled Cheese
Enjoy the sweet, spicy flavor of this Sriracha Jam Grilled Cheese.
Ingredients
2 tbsp Jam, blackberry or grape
1 tbsp Sriracha
2 slices bread
Brie cheese, or cheese of choice
1 tbsp butter
Instructions
Butter one side of each slice of bread. Place the first slice butter side down onto a warmed up skilled or frying pan. Add the slices of cheese. Cook over low to medium heat until the bread is toasted and cheese is starting to melt.

Add the other slice of bread to the frying pan or skillet butter side down. Spread with the jam/sriracha mixture. Using a spatula place the other bread on top cheese side down, so the toasted side is facing up. Allow time for the other slice of bread to toast and continue melting the cheese, about 3 minutes or so.

Remove from heat, and enjoy!
Nutrition
Calories: 366kcal, Carbohydrates: 55g, Protein: 6g, Fat: 14g, Saturated Fat: 8g, Cholesterol: 31mg, Sodium: 748mg, Potassium: 102mg, Fiber: 3g, Sugar: 23g, Vitamin A: 355IU, Vitamin C: 13mg, Calcium: 77mg, Iron: 2mg
 More Grilled Cheese Sandwich Recipes: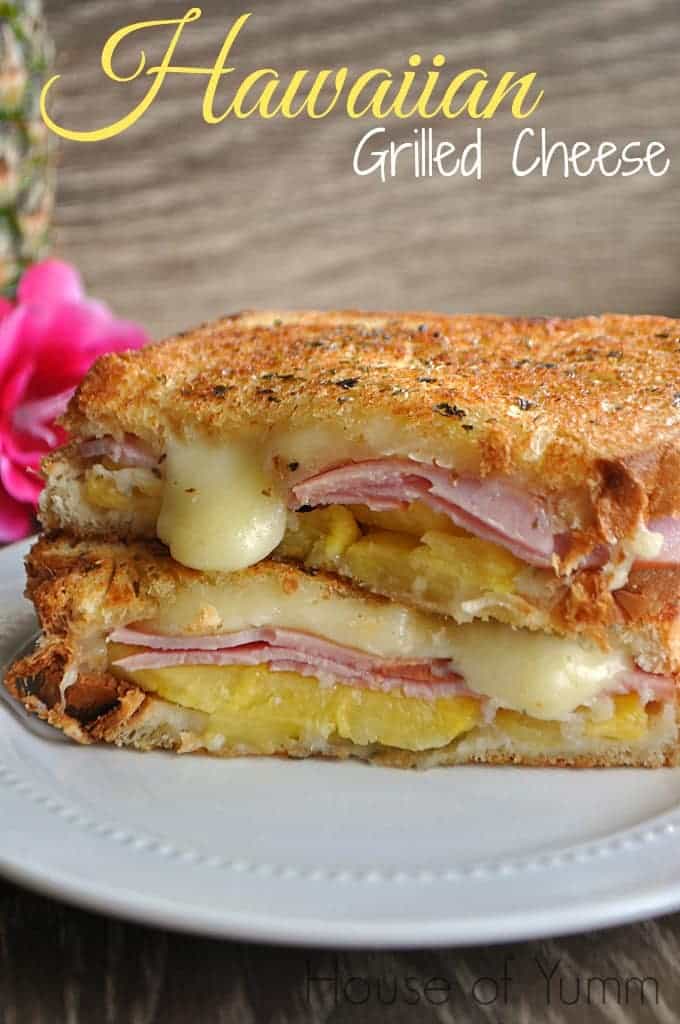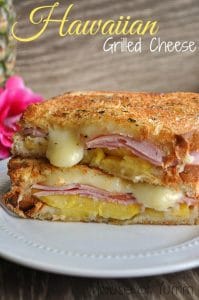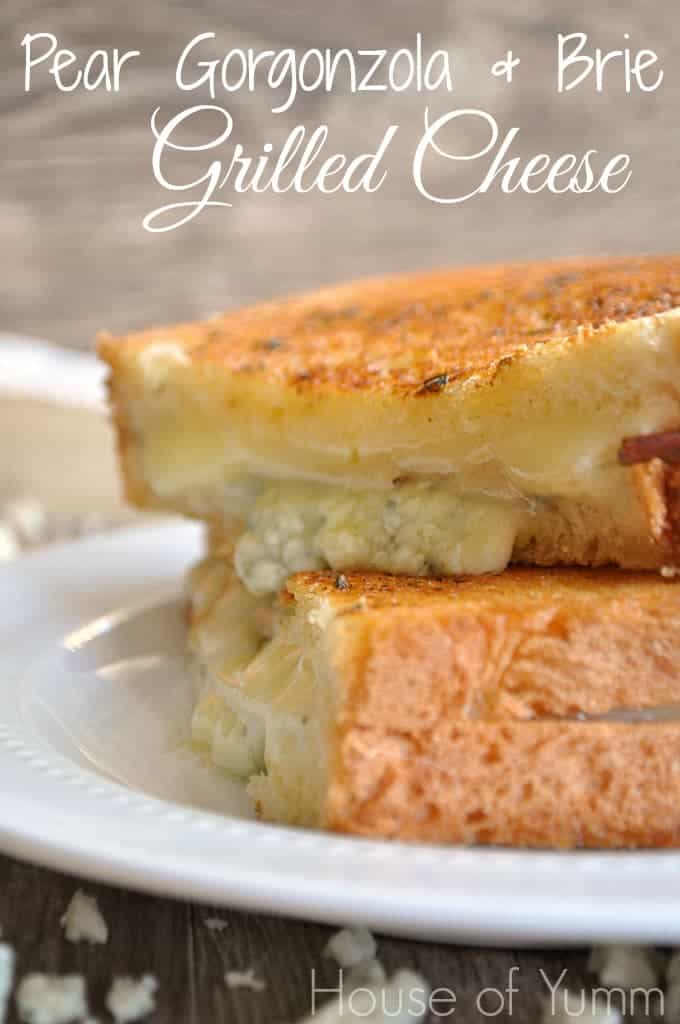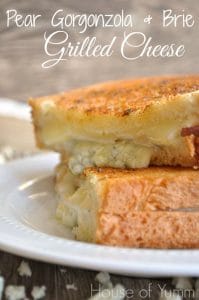 Pear Gorgonzola & Brie Grilled Cheese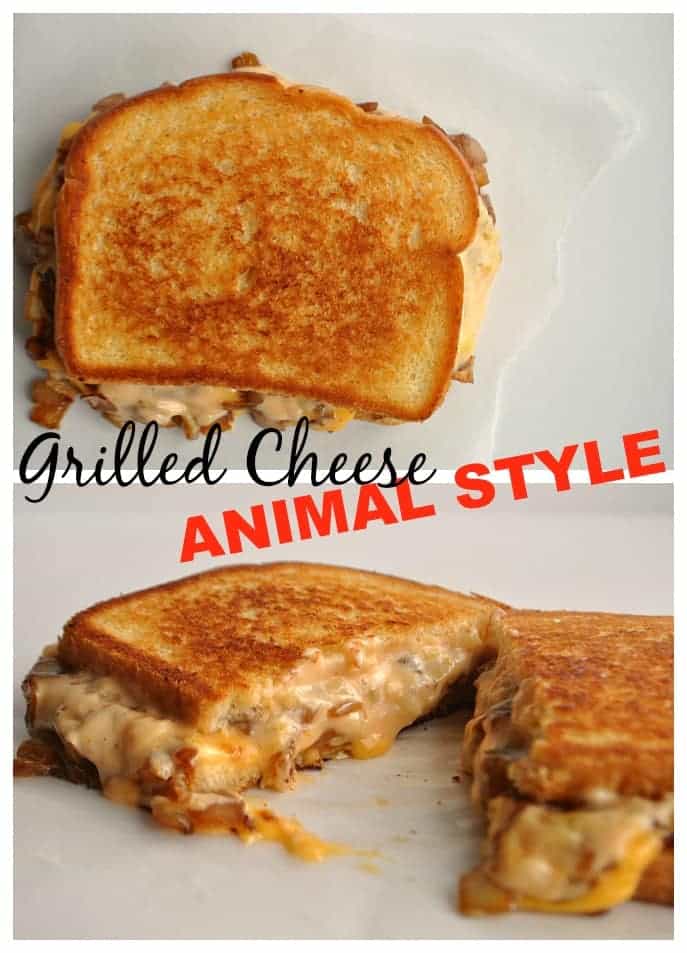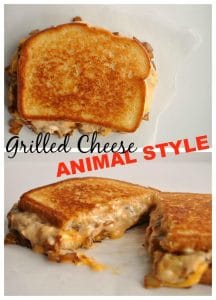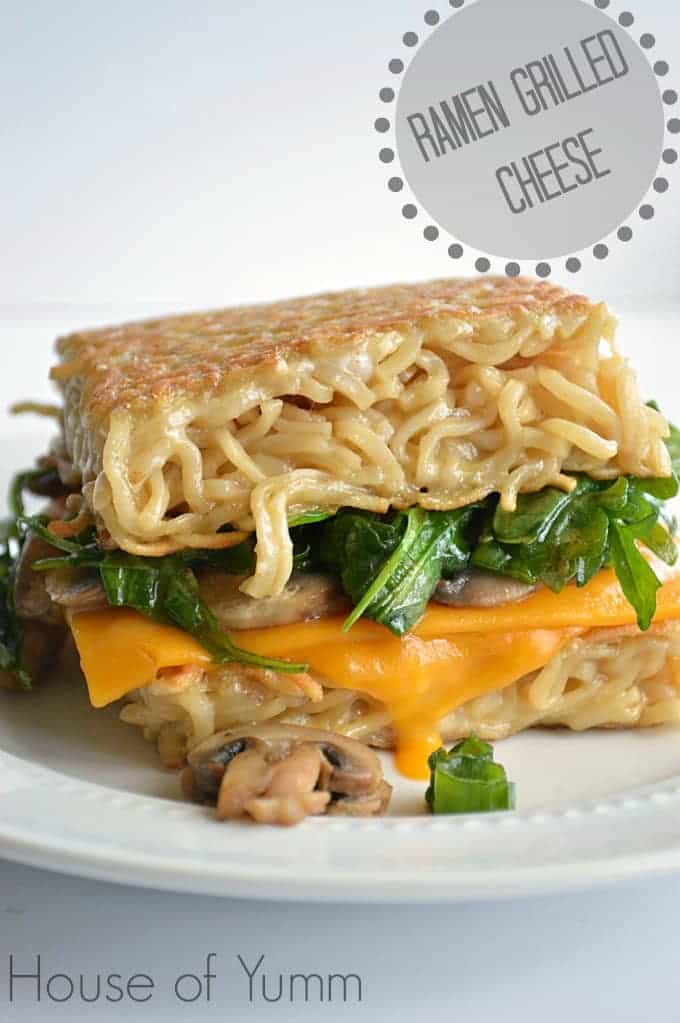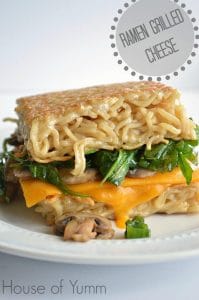 House of Yumm is a participant in the Amazon Services LLC Associates Program, an affiliate advertising program designed to provide a means for us to earn fees by linking to Amazon.com and affiliated sites.