Snowball Truffles!  Chocolate covered coconut truffles.  Topped with PINK coconut of course!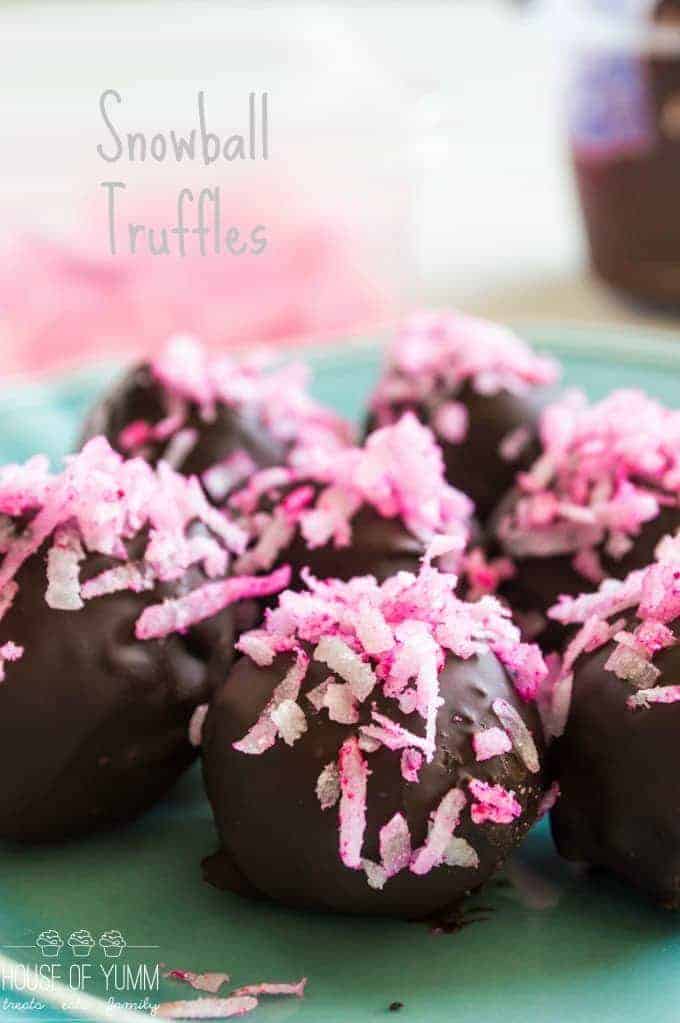 Hey everyone.  I'm here!  Were you worried about me?  I seem to have gone MIA this week haven't I?  Gosh and it feels like I've been working my tail off at the same time!  Which just means that I have several yummy recipes in store for you in the coming weeks.  Lots of work, a teething little Bubba Man, and lack of sleep for me has made me all out of sorts this week.  But I am here with you today to share this wonderful recipe!!!  If you follow me on SnapChat (houseofyumm) you probably saw the sneak peek pic of these. Snowball Truffles. Or in other words, Coconut Truffles.  You remember those little Hostess snacks?  The Snowballs.  You know you do!
Pink coconut right?
Something about the color pink just makes me happy.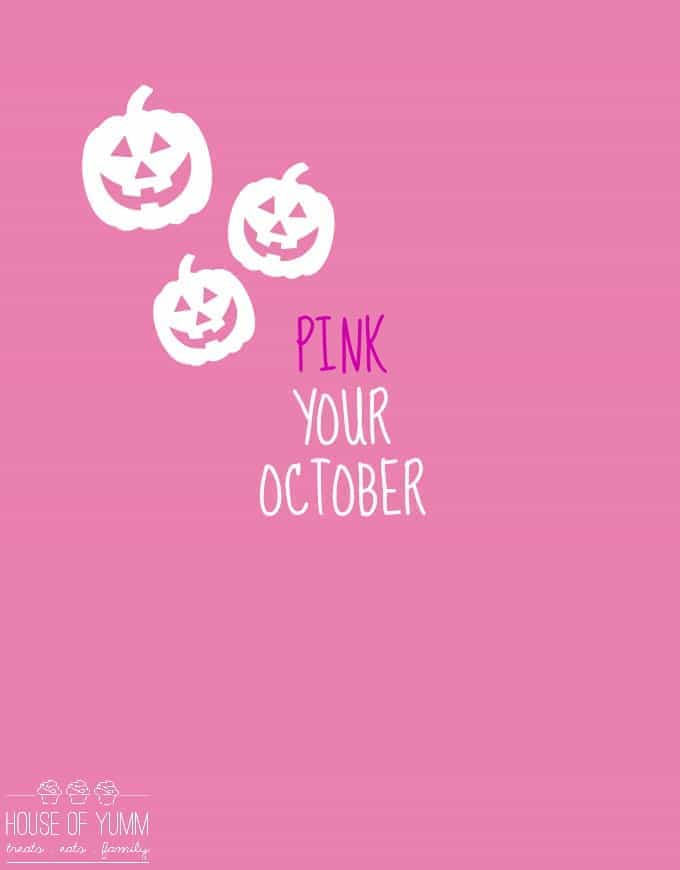 And October just happens to be Breast Cancer Awareness Month!  So Pink Your October!!  These Snowball Truffles will be a great place to start.  Full of sweet coconut, chocolate decadence, and happy pink coconut sprinkled on top.
Sigh. My happy place.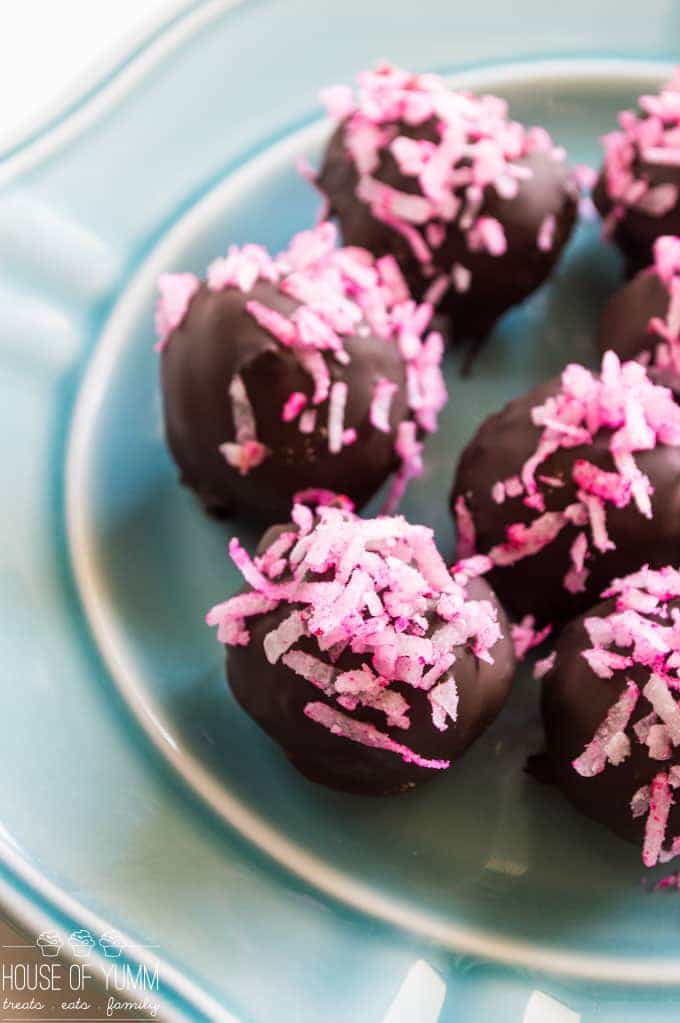 Plus I've also teamed up with some other awesome foodie bloggers who have a love for Pink and raising awareness for Breast Cancer.  Make sure you scroll down to the bottom to catch a peek at all the other Pink recipes. So much pink happiness going on today!
For the month of October let's spread the color pink to bring awareness to Breast Cancer.  This is the most common cancer in women in the United States, other than skin cancer. But millions are surviving due to early detection and improved treatments.  You can check out more info at the American Cancer Society website by clicking here.  This post isn't sponsored by them, but I figure we could all use a little information about our health. Right??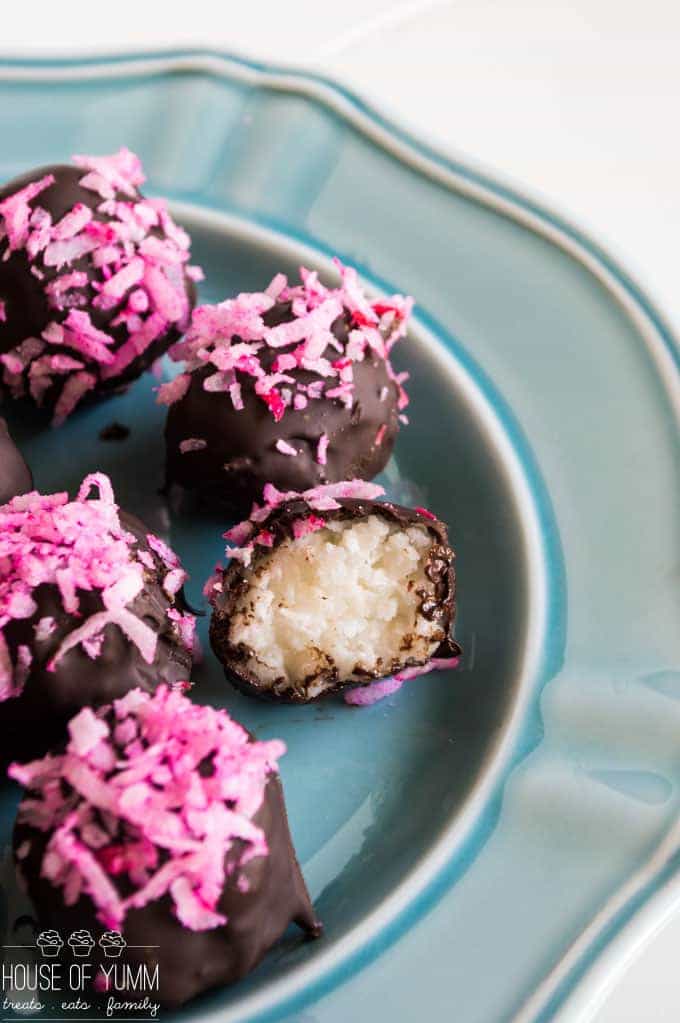 So to recap today..
Coconut.  Chocolate.  Pink.  Breast Cancer Awareness.
Follow me on Instagram @houseofyumm and tag me when you make this recipe!  I love seeing your creations! 
I hope you enjoy this fun recipe!  Follow along!
FACEBOOK | PINTEREST | GOOGLE+ | TWITTER | INSTAGRAM | BLOGLOVIN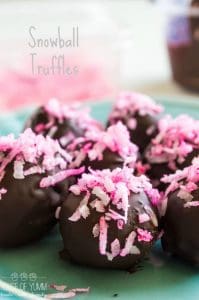 Snowball Truffles
Snowball Truffles! Chocolate covered coconut truffles. Topped with PINK coconut of course!
Ingredients
¼ cup sweetened condensed milk
⅛ tsp salt
1 tsp vanilla
1 cup powdered sugar
1 cup sweetened shredded coconut
8 ounces semi sweet bakers chocolate
Coconut Topping
¼ cup shredded coconut
2 drops red food coloring
Instructions
Combine sweetened condensed milk, salt, and vanilla together. Add in powdered sugar and stir until mixed. Add in shredded coconut. Stir until mixed.

Form about 1 tablespoon of mixture into ball shapes by rolling in your palms. Place onto a plate or small cookie sheet. When finished, place plate of coconut truffles into the refrigerator to chill for about 30 minutes. This will help to hold the shape and also to set the chocolate when you dip it.

During this time prepare the pink coconut topping by pouring the shredded coconut into a small bowl with the pink food coloring. Stir until coloring is dispersed and all coconut is pink.

After the coconut truffles have chilled, heat the baker's chocolate according to directions. Dip the coconut balls into the chocolate using a fork, once coated tap the fork against the side of the bowl to shake free the extra chocolate. Set the truffle down on a plate or cookie sheet. Once finished coating all the truffles place them into the fridge to help set the chocolate.
Nutrition
Calories: 260kcal, Carbohydrates: 33g, Protein: 2g, Fat: 13g, Saturated Fat: 9g, Cholesterol: 4mg, Sodium: 71mg, Potassium: 195mg, Fiber: 2g, Sugar: 29g, Vitamin A: 32IU, Vitamin C: 1mg, Calcium: 37mg, Iron: 2mg
House of Yumm is a participant in the Amazon Services LLC Associates Program, an affiliate advertising program designed to provide a means for us to earn fees by linking to Amazon.com and affiliated sites.