S'mores Pudding
This s'mores pudding is layered with chocolate pudding, marshmallow creme, and graham crackers.  Topped with even more marshmallows!  Such a fun and easy way to get your s'more on!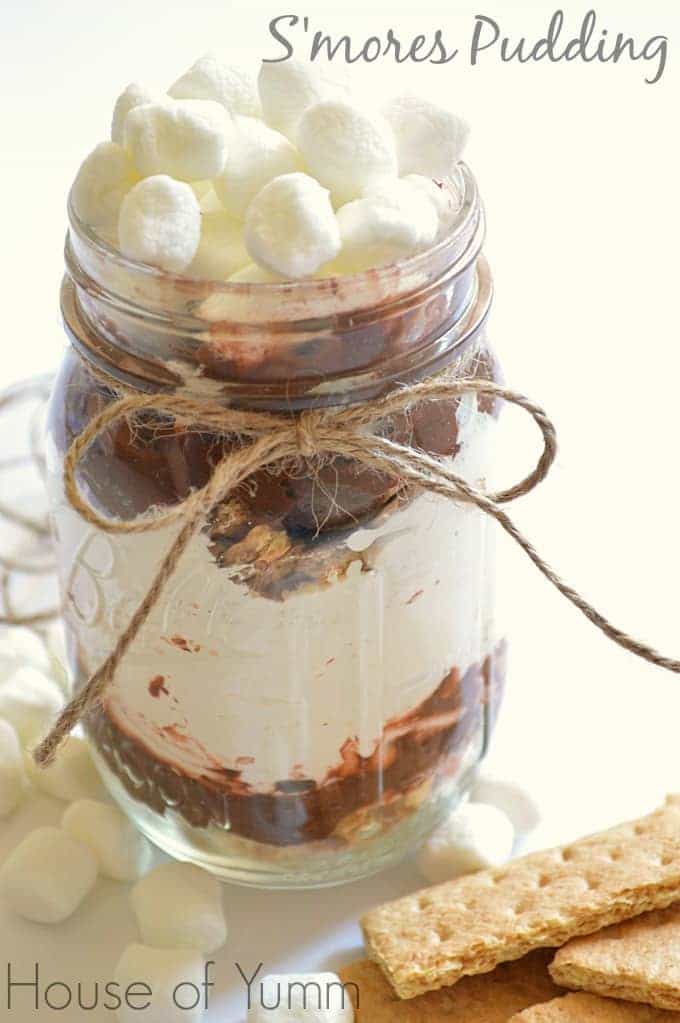 S'mores S'mores S'mores.  Who knew there were so many ways to eat s'mores!  This pudding is probably the easiest way to enjoy that classic s'mores taste.
This dessert is reminiscent of banana pudding, but s'morified.
Is that not a word?  Well, it should be.
I know it looks messy, apparently either I'm not good at layering desserts in jars, or it's just a messy dessert.  Either way, I figure, s'mores ARE messy.  That's one of their most loved features.  Melty chocolate, sticky marshmallow.  Some of the best foods in life are messy.  That's the way they are supposed to be.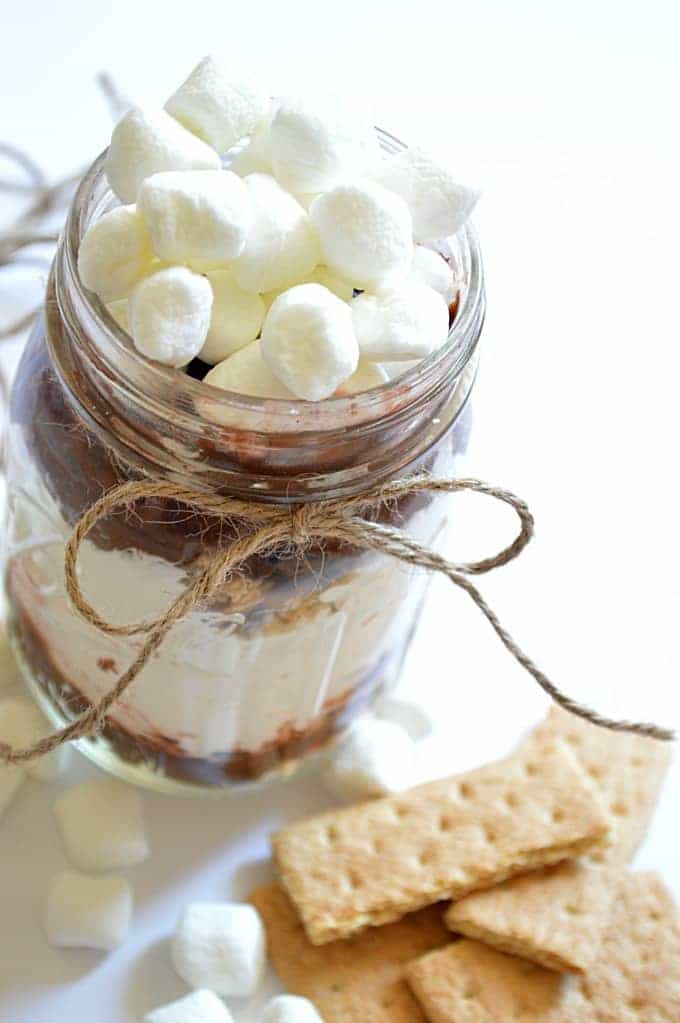 And besides, who doesn't love a dessert in a jar?  It just makes things more fun doesn't it?!
This dessert is seriously so easy.  Chocolate pudding.  Graham cracker crumbs.  Marshmallow creme.  And of course more marshmallows to top it.  The most time will be spent layering it.
It will be so worth it though!  The flavors all together, amazing.  Which is probably why s'mores are such a well loved dessert.  Which is why they deserved the whole week devoted to them!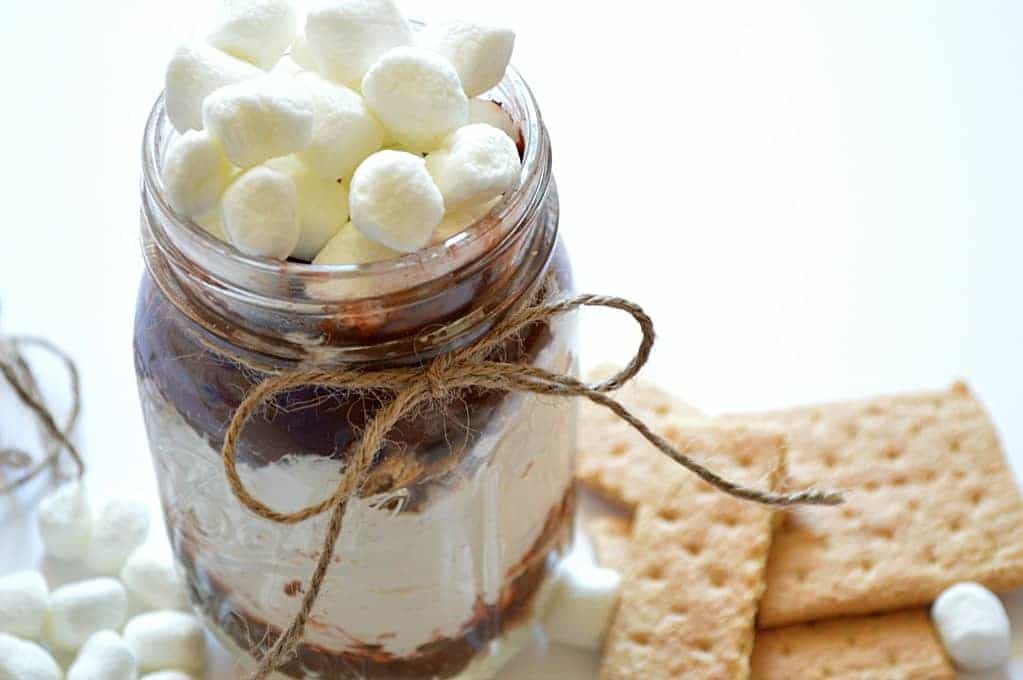 Print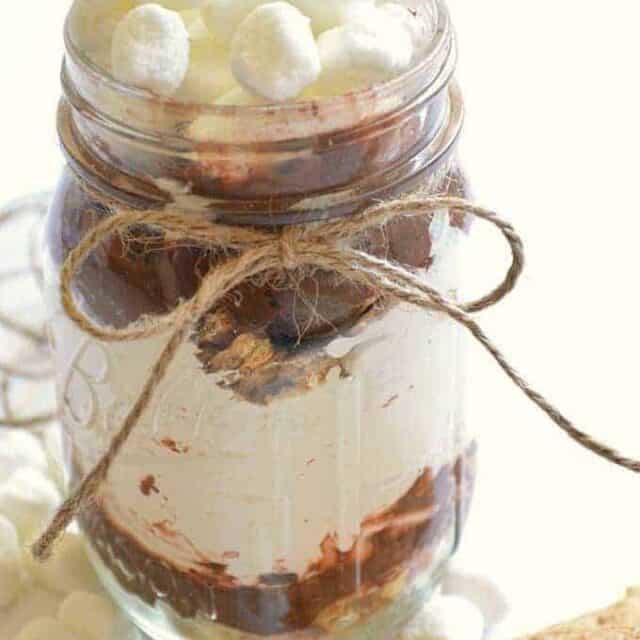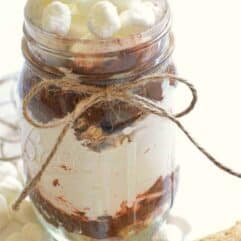 S'mores Pudding
---
Author:
Prep Time: 10 minutes
Total Time: 10 minutes
Yield: 2 1x
Scale
Ingredients
1 package instant chocolate pudding
1 cup milk
1 cup marshmallow creme
4 graham crackers (broken into crumbs)
1/2 cup mini marshmallows
---
Instructions
Prepare the pudding with the milk according to the directions on the package. Allow to set in the refrigerator for 5 minutes.
Add the graham cracker crumbs to the bottom of the jar. Add 1/4 cup chocolate pudding on top. Smooth the top with a spoon. Add 1/2 cup marshmallow creme next. Smoothing with a spoon. Add another layer of graham cracker crumbs. Then 1/4 cup of chocolate pudding. Smooth again with a spoon. Top with half of the mini marshmallow.
Repeat in the second jar.
Remember you can always use cups instead of jars, or even a bowl.
---
House of Yumm is a participant in the Amazon Services LLC Associates Program, an affiliate advertising program designed to provide a means for us to earn fees by linking to Amazon.com and affiliated sites.