Enjoy the flavors of S'mores in these S'mores Cups!  Chocolate chip cookie cups filled with chocolate and topped with the fluffiest Marshmallow frosting EVER and graham cracker crumbs.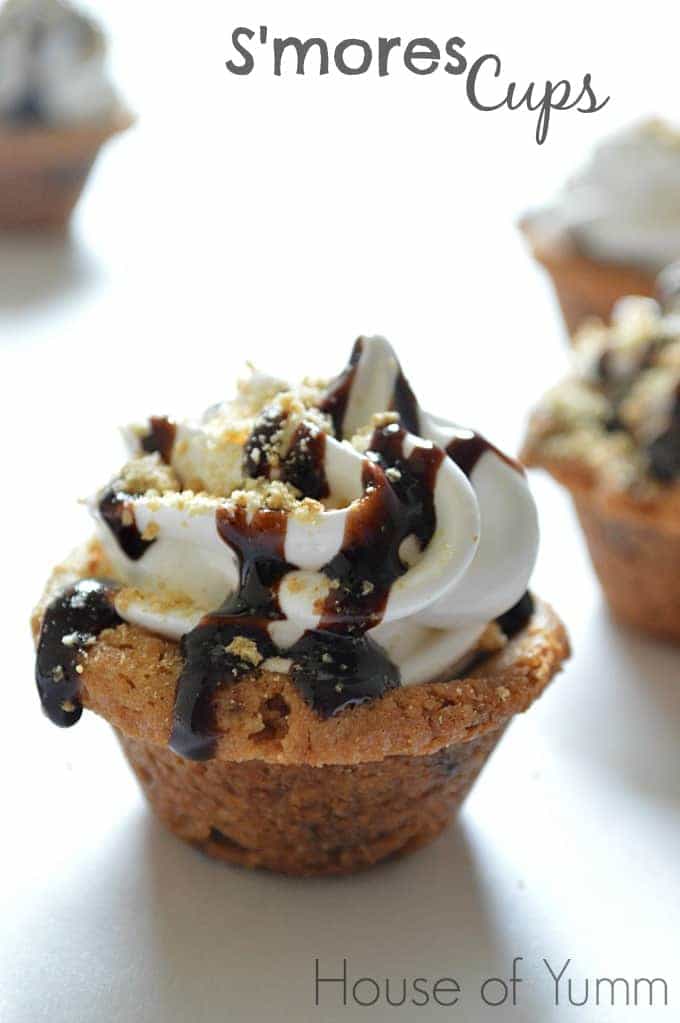 S'mores S'mores S'mores.  I love s'mores.  But really, who doesn't.  The combination of graham cracker, chocolate, and marshmallow.  How could that go wrong?
Now, the typical way to get s'mores is to go camping.
Pause.
Camping?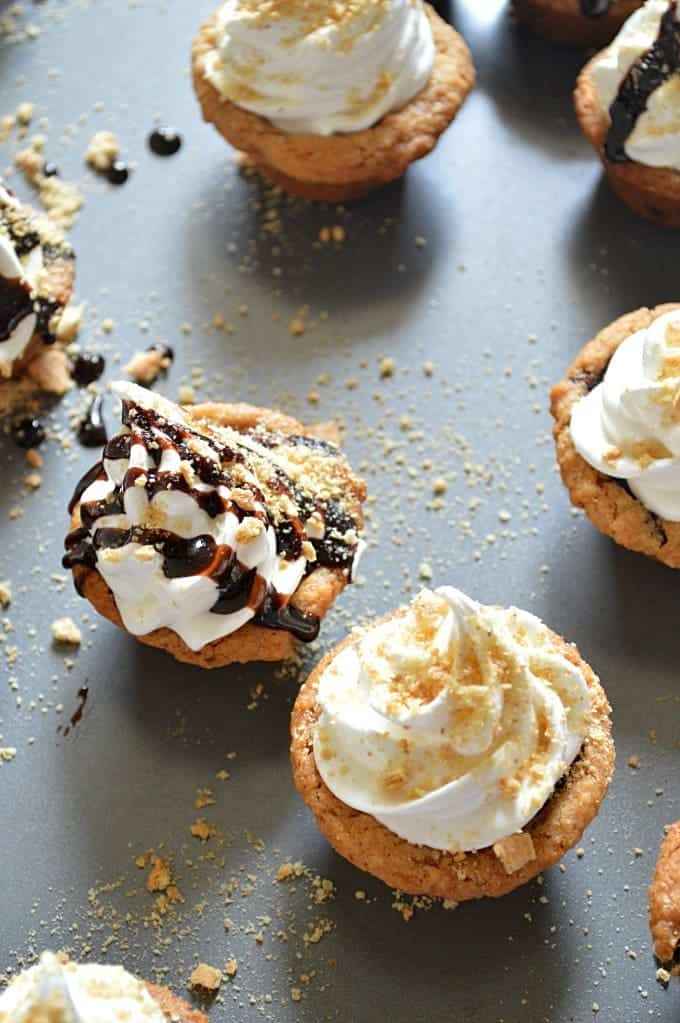 Now, I know a lot of people LOVE camping.  I wish I was one of them.  Although I recently had a friend tell me about glamping. Which, to me..sounds like a lot more fun!!!  Now if this is the first you are hearing of glamping, it's like camping in that you get to enjoy the outdoors and nature.  But more glamorous..hence the fused word..in that you still get to have some comforts, like perhaps a shower, included.
Back to my point.  S'mores started as a camping treat.  Now, they are everywhere!!  And can be made with anything!  Which I love.  S'mores in the comfort of my own home.  Be still my heart.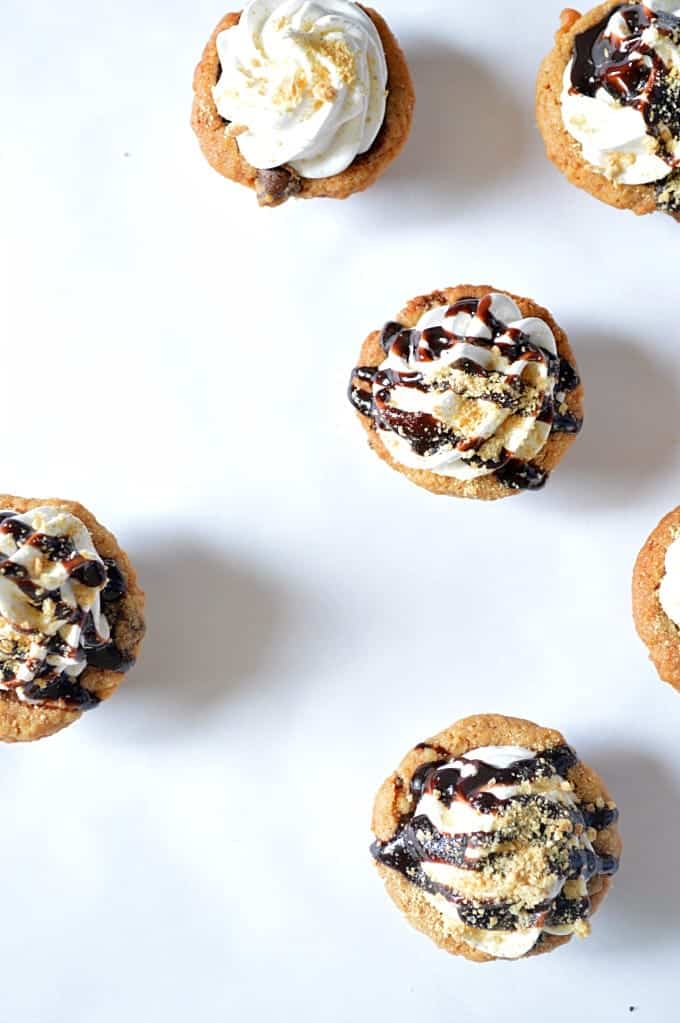 These s'mores are, of course, made into a mini dessert by being made with these chocolate chip cookie cups.  If you didn't know, I have a thing for mini desserts.  Like my Bubble Gum Cookie Cups, or my Chunky Monkey Brownie Bites.
Inside the cookie cup is chocolate syrup.  The fluffiest marshmallow frosting ever.  Graham cracker crumbs.
The gang's all here!!
Plus the addition of cookie.  Amazing.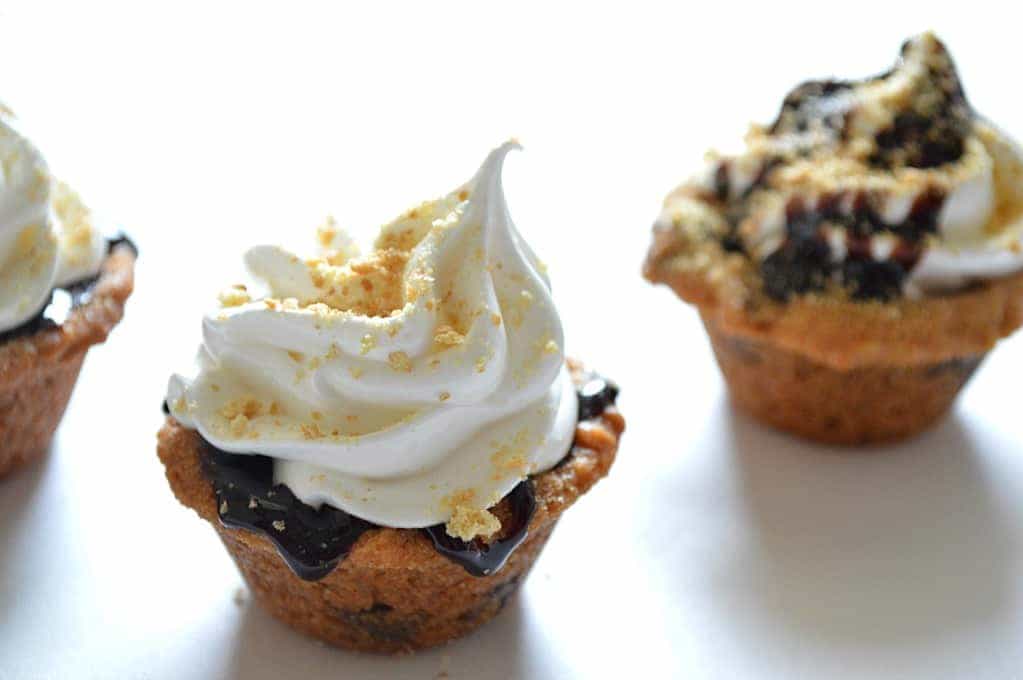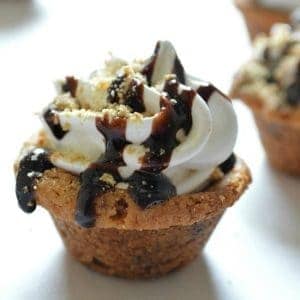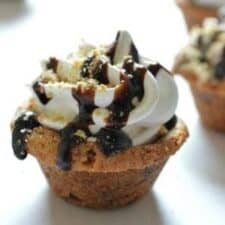 S'mores Cups
S'mores Cups. Chocolate chip cookie cups topped with chocolate, the fluffiest Marshmallow frosting EVER and graham cracker crumbs!
Ingredients
1 Chocolate Chip Cookie Mix + required ingredients
Chocolate syrup
2 graham crackers, crumbled
Frosting
4 egg whites
1 cup sugar
1 tsp vanilla extract
Instructions
Preheat oven to 350°F.

Prepare the chocolate chip cookie dough as directed. Spoon dough into greased mini muffin tin. Fill to about 2/3 of the way.

Bake for 15-18 minutes or until top becomes golden. Press in the center of the cookie cup to create a crater with a round spoon or other rounded object. I used a tablespoon.

Allow the cookie cups to cool in the pan for 5 minutes then remove to cool on a wire cooling rack.
Frosting
Add the egg whites and the sugar to a heat proof mixing bowl. Whisk until combined.

Heat a saucepan of water to simmering. Place the mixing bowl with the egg and sugar on top of the pan with the boiling water. Whisk the mixture constantly while it heats. Do this for approximately 4-5 minutes. At the point the egg mixture should be warm to the touch, about 140 degrees if you are using a thermometer.

Transfer bowl to mixer and mix, starting on low speed and increasing to high speed for about 6-8 minutes until frosting forms peaks.

Add vanilla and fold in.

Fill the cookie cups with chocolate syrup and top with the marshmallow frosting. You can use additional chocolate syrup on the top of the marshmallow frosting as well. Add graham cracker crumbs to the top.
Nutrition
Calories: 81kcal, Carbohydrates: 19g, Protein: 1g, Fat: 1g, Saturated Fat: 1g, Sodium: 32mg, Potassium: 20mg, Fiber: 1g, Sugar: 17g, Calcium: 2mg, Iron: 1mg
House of Yumm is a participant in the Amazon Services LLC Associates Program, an affiliate advertising program designed to provide a means for us to earn fees by linking to Amazon.com and affiliated sites.