Strawberry & Banana Smoothie layered with fresh fruit and granola. Beautiful, healthy, and refreshing!
Smoothie parfaits. Cold, refreshing, easy to make, and customizable! This one that I'm sharing the recipe for starts with a strawberry banana smoothie, it's my favorite, some delicious fruits and granola. But you could really make any smoothie into a parfait! All it takes is layering it up.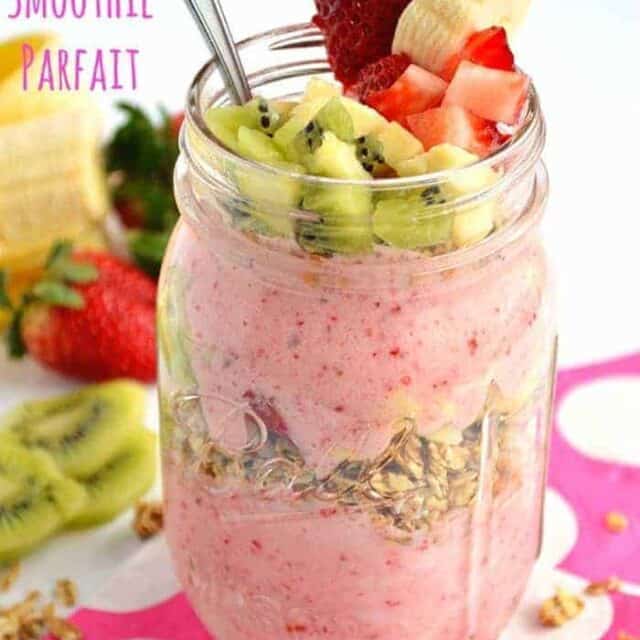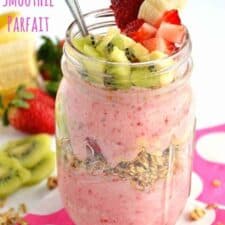 Smoothie Parfait
Strawberry and banana smoothie layered with granola and fresh fruit. Healthy, pretty, and refreshing!
Ingredients
½ cup greek yogurt, Vanilla or plain
¼ cup almond milk
2 bananas
½ cup frozen strawberries
¼ cup granola
½ cup fresh strawberries, chopped
1 kiwi , chopped
Instructions
In a blender or processor add the greek yogurt, almond milk, 1 banana, and the frozen strawberries. Blend until smooth and no large chunks remain. Pour about 1/4 cup of the smoothie into a cup or jar. Layer with granola, and chopped fresh fruit. Add another small amount of the smoothie on top of the fruits. Top with granola and chopped fruit.
Nutrition
Calories: 238kcal, Carbohydrates: 46g, Protein: 9g, Fat: 4g, Saturated Fat: 1g, Cholesterol: 3mg, Sodium: 66mg, Potassium: 694mg, Fiber: 5g, Sugar: 23g, Vitamin A: 115IU, Vitamin C: 52mg, Calcium: 127mg, Iron: 1mg
House of Yumm is a participant in the Amazon Services LLC Associates Program, an affiliate advertising program designed to provide a means for us to earn fees by linking to Amazon.com and affiliated sites.