This meatball sub got a southern makeover with sweet and tangy BBQ sauce and a creamy coleslaw!  Perfect family dinner recipe!  Plus can be made in the slow cooker!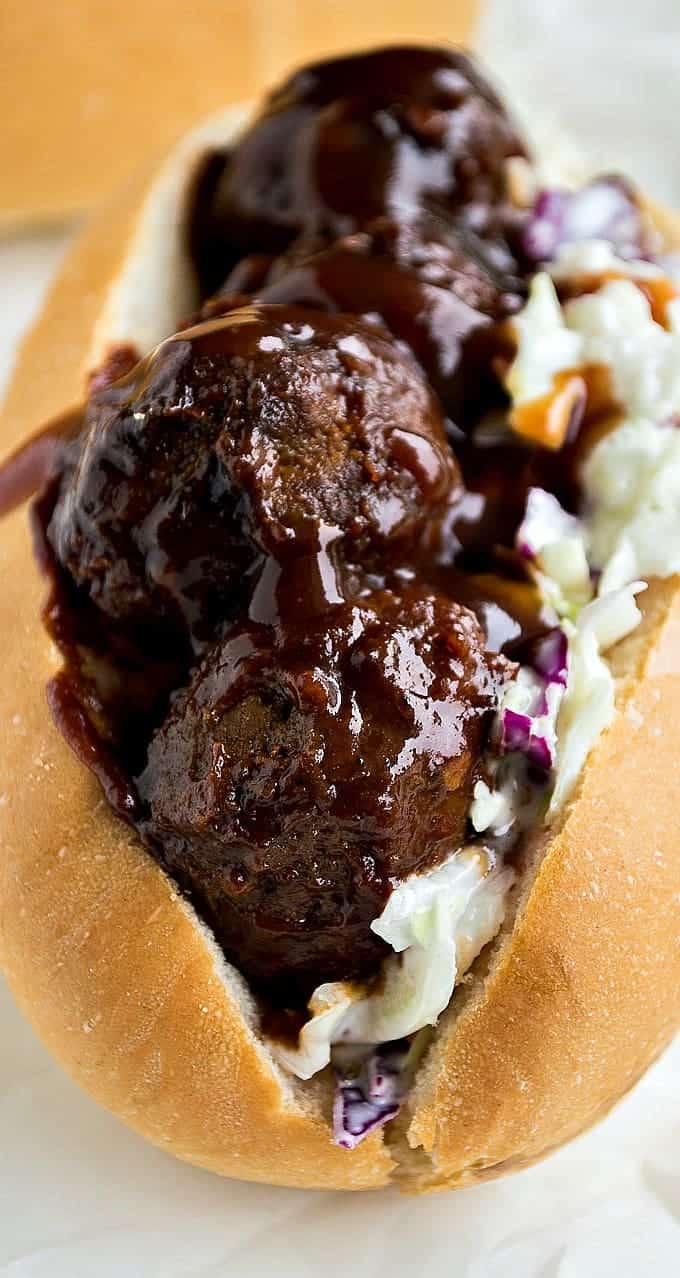 Nothing beats a slow cooker meal on a busy weekday.  Or busy weekend.  Or any day I suppose.
These homemade meatballs are smothered in a sweet, tangy BBQ sauce, cooked in a slow cooker all day to make them super flavorful, and then loaded up with some creamy coleslaw into a soft bun.  I love the a classic meatball sub, but this southern BBQ version is the bees knees.  It must be good to make me say the bees knees.
I'm all about homemade meatballs..in case you don't remember these Spaghetti & Meatballs and the Sweet & Spicy Meatballs.  They're so easy to make.  If you're short on time though you could go for the frozen ones from the market.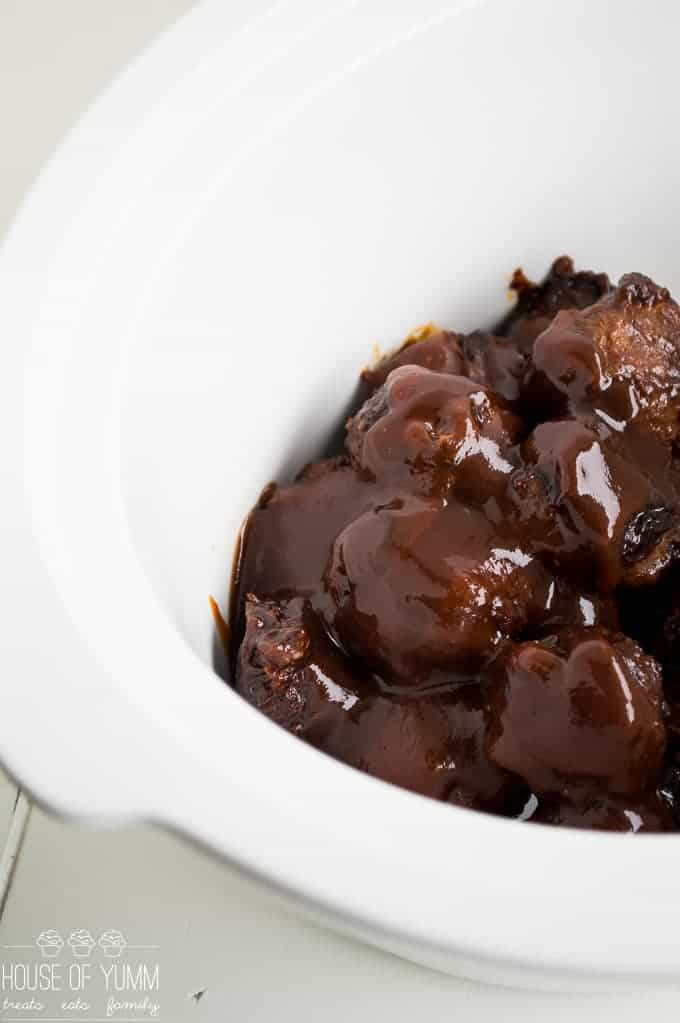 The trick with making this an easy weeknight meal is prep work.  Isn't that how it is with most things?  Prep work makes everything ok.  When you have a free minute whip out the meatballs, they can be stored covered in the fridge for a day or so until you put them in the crockpot with the BBQ sauce.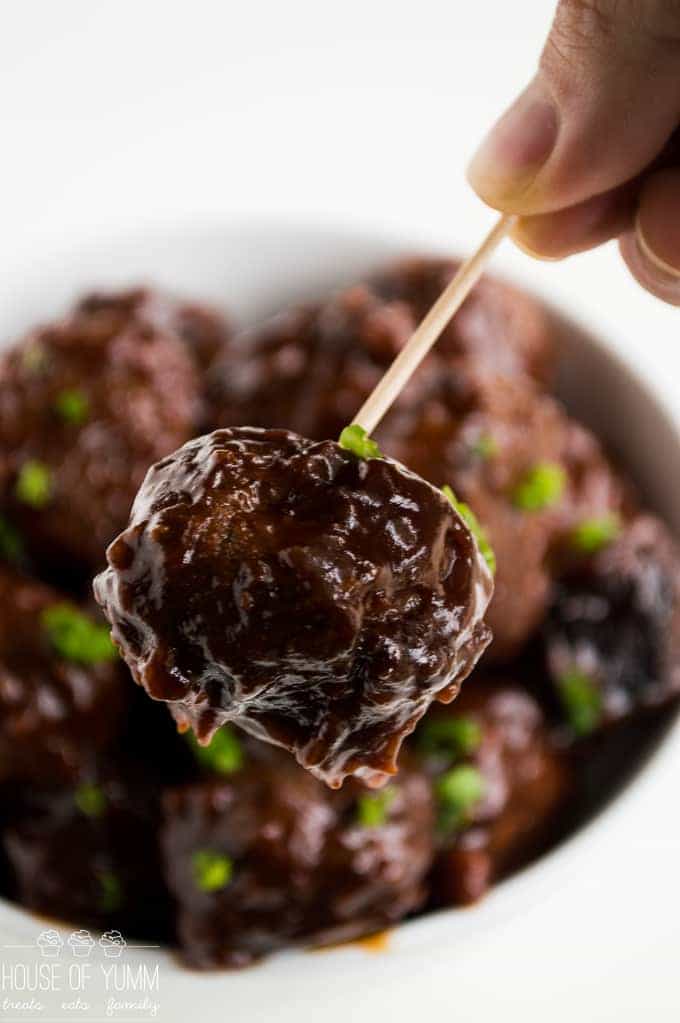 These meatballs would be perfect on their own of course.  Set out with toothpicks for a fun appetizer when you have friends or family over.  Or just to snack on throughout the day yourself… No judging.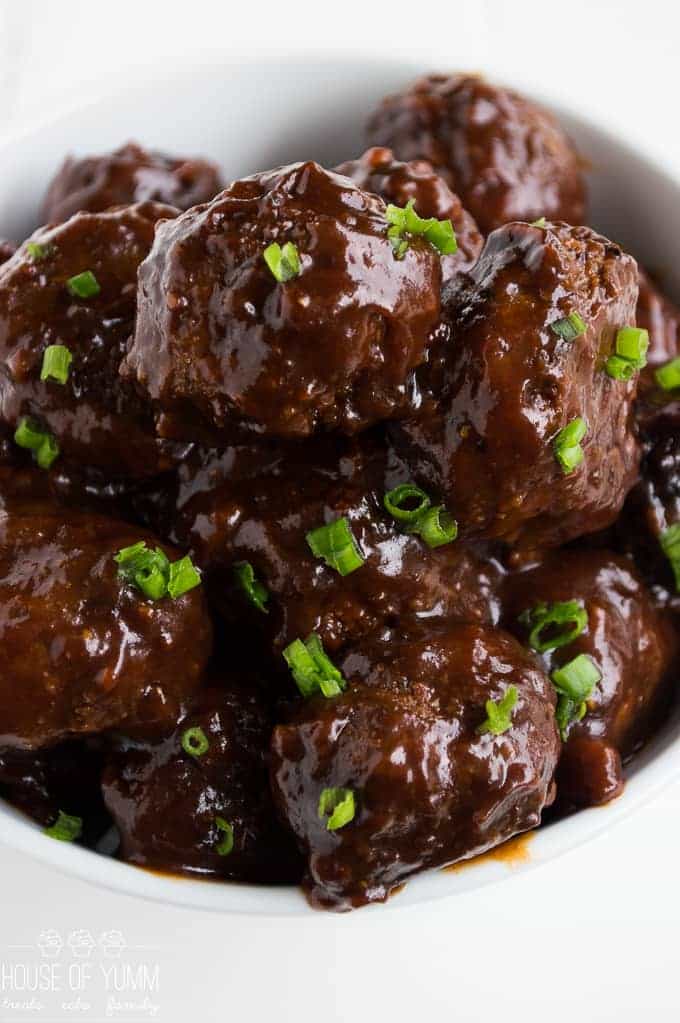 We enjoyed ours in the form of the meatball sub though.  Tuesdays are our busy nights.  Once the kids are done with school then it's off to soccer practice we go.  When we finally drag ourselves back home around 6:30-7 no one is in the mood to cook.  But we are all in the mood to eat.  Isn't that just the worst?!  Those are the days the slow cooker comes to our rescue!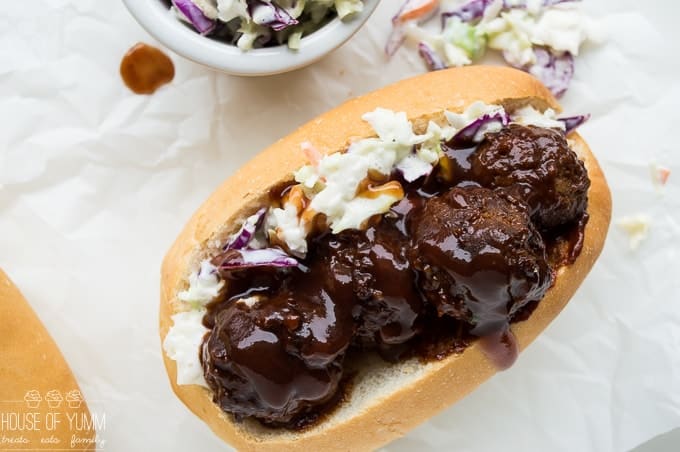 Doesn't take much to turn those fun appetizers into a full on meal with the soft french roll and creamy coleslaw.  The recipe for the coleslaw is below.  You could always go all out and make some Blue Cheese Coleslaw with Bacon though to go with it if you wanted.  Again, no judging.  This is a safe place.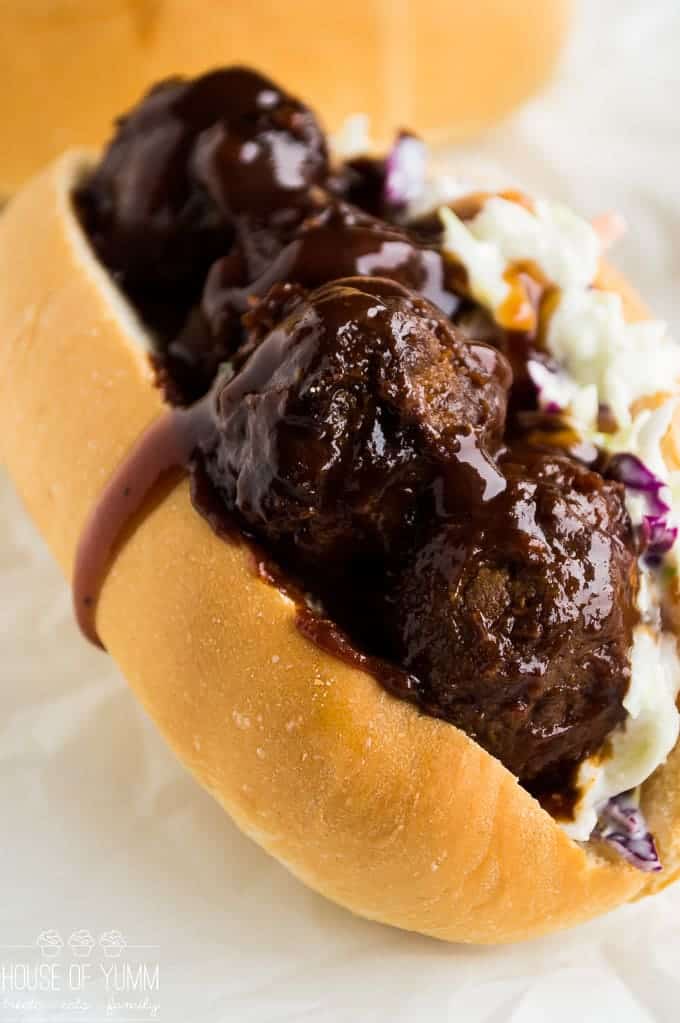 Tips & Tricks
Pre-cook the meatballs in a frying pan on the stove so that they don't fall apart in the crockpot.  If we put them in raw then the meatballs will not only fall apart, but all the grease from the meat cooking will be there in the sauce also.  Not good.  Just a quick cooking to sear the outside will save everyone some grief!
Save some sauce to drizzle on the top!  I like my meatball subs messy!  Save some sauce, or better yet, have some extra on hand!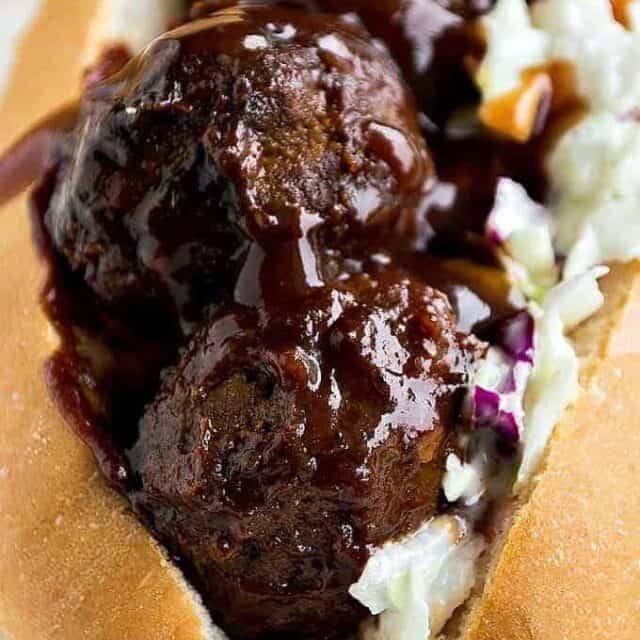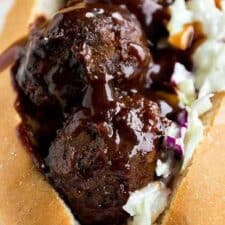 Slow Cooker BBQ Meatball Subs
This meatball sub got a southern makeover with sweet and tangy BBQ sauce and a creamy cole slaw! Perfect family dinner recipe! Plus can be made in the slow cooker!
Ingredients
Meatballs
1½ lbs ground beef
2 large eggs
¼ tsp salt
¼ tsp black pepper
¼ cup milk
18 ounce BBQ sauce
1 tbsp olive oil
Coleslaw
10 ounces coleslaw mix, red &white cabbage, carrots
⅔ cup mayonnaise
4 tsp white vinegar
¼ tsp salt
½ tsp onion powder
1 tbsp granulated sugar
Instructions
In large mixing bowl combine the ground beef, eggs, salt, and black pepper. Stir until combined. Then using hands continue to mix to ensure all ingredients are incorporated. Separate the meat mixture and using hands roll into balls that are about 1 inch in diameter. Set aside. Continue until all meat is in balls.

Heat a large saucepan over medium heat, pour oil to coat the bottom of the pan. Place the meatballs in the pan and cook, turning the meatballs periodically to ensure all sides are cooked. Pour half the KC Masterpiece Sweet Honey and Molasses Barbecue Sauce in the slow cooker, and once the meatballs are cooked (don't worry about making sure they are cooked all the way, just as long as the outside is seared) place them in the slow cooker. Cover with the remainder of the KC Masterpiece Sweet Honey and Molasses Barbecue Sauce.

Cook on low heat for 4-6 hours.
Coleslaw
In small bowl add the mayonnaise, white vinegar, salt, onion powder, and sugar. Stir to combine, will be a smooth mixture.

Add the coleslaw mix to a medium size bowl. Pour the liquid mixture over the coleslaw and toss to coat all of the coleslaw with the sauce.

Add additional salt and pepper to taste.

To assemble sandwiches use French Rolls. Spoon coleslaw onto the roll and then meatballs. Drizzle with extra BBQ sauce as desired.
Nutrition
Calories: 559kcal, Carbohydrates: 13g, Protein: 23g, Fat: 46g, Saturated Fat: 13g, Cholesterol: 147mg, Sodium: 656mg, Potassium: 464mg, Fiber: 1g, Sugar: 11g, Vitamin A: 200IU, Vitamin C: 17mg, Calcium: 67mg, Iron: 3mg
House of Yumm is a participant in the Amazon Services LLC Associates Program, an affiliate advertising program designed to provide a means for us to earn fees by linking to Amazon.com and affiliated sites.