Skinny Cookie Dough Bites
These skinny cookie dough bites are gluten free, vegan, and ready in 5 minutes!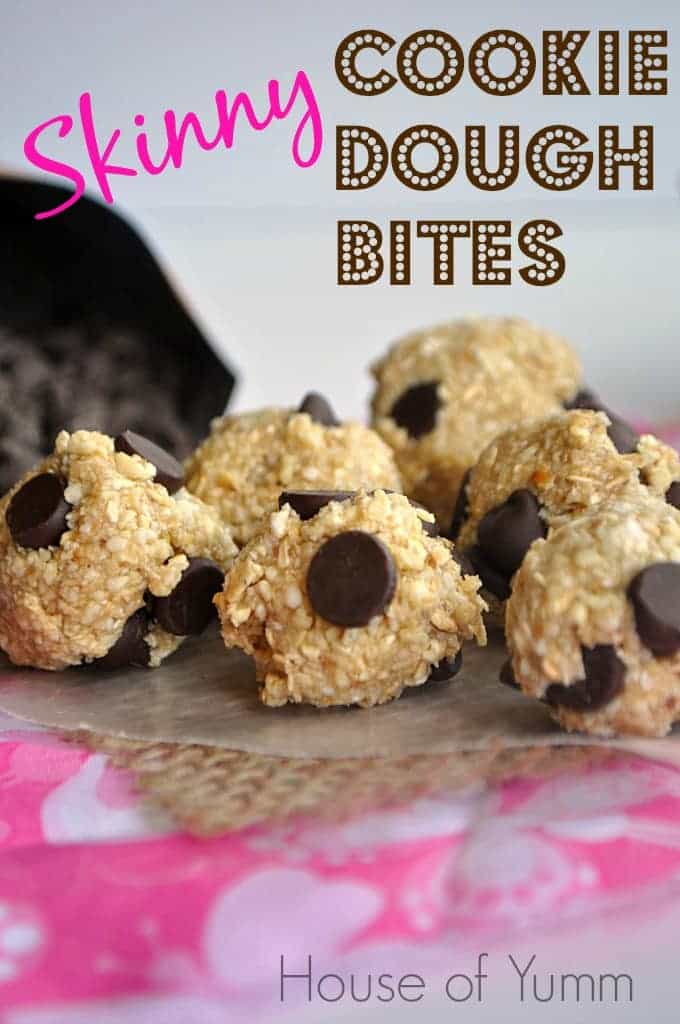 Remember those Skinny Lemon Bites?
Those healthy little balls of yumminess?  Well sometimes a girl just needs to have chocolate.
Which is what led to these chocolate chip cookie dough bites.  Skinny style.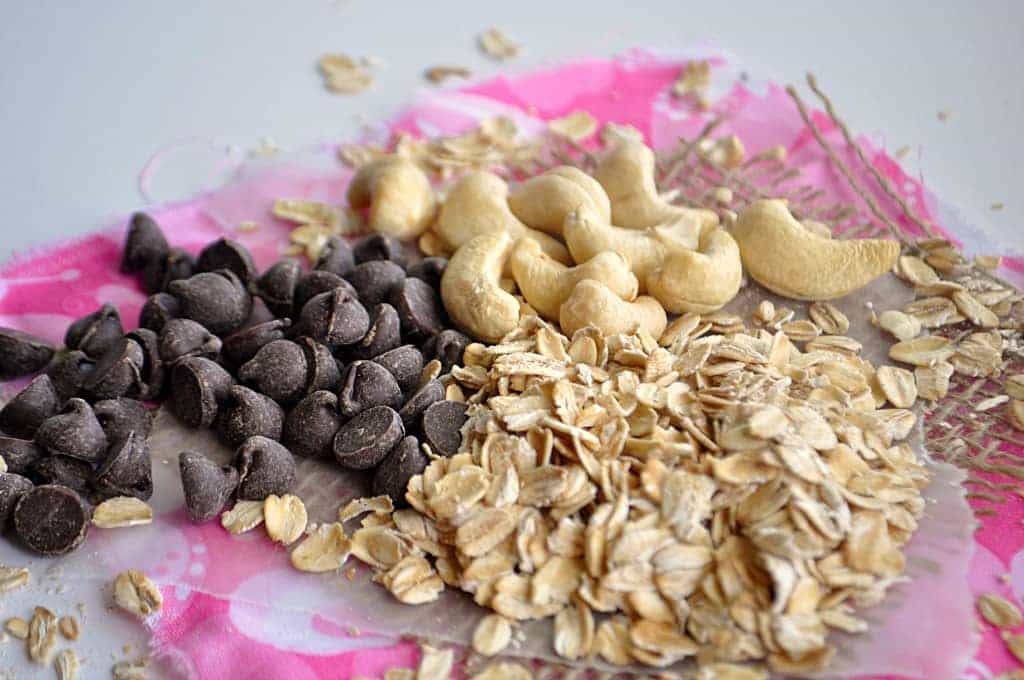 These are made with gluten free oats, cashews, raw agave nectar, vanilla extract, and some wonderful vegan and gluten free chocolate chips.  Yes I found gluten free, vegan chocolate chips at the market.  Just a regular market.  I didn't even need to make an adventure to Whole Foods for these bad boys.
And the best part?  The ones I got were the same price as regular chocolate chips!  Yay!
Healthy and inexpensive.  Win!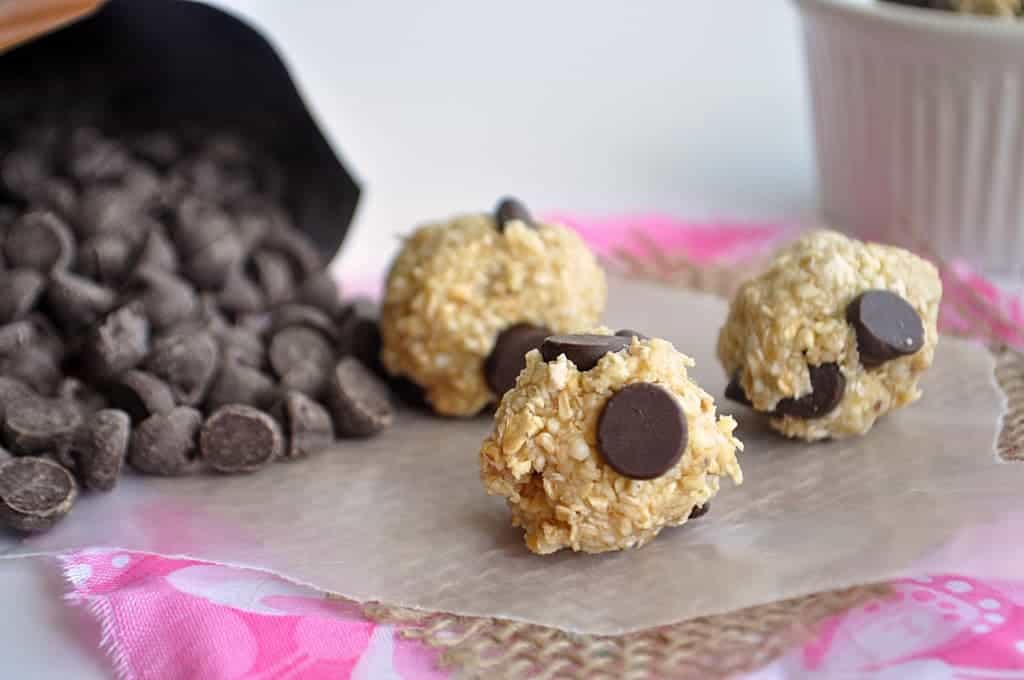 I used the same recipe that I used on the Skinny Lemon Bites, just exchanged the lemon extract for the vanilla and added those wonderful chocolate chips.  I would advise to purchase the mini chocolate chips if you can find them.  The market I went to only had the regular size vegan ones though, which is why I used those ones.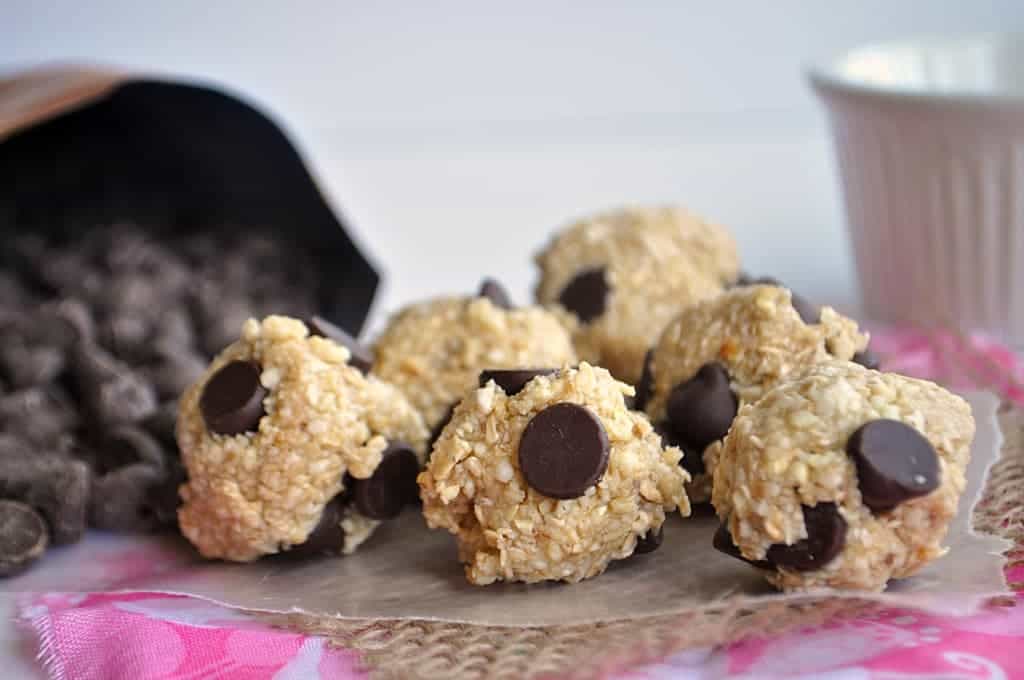 The large chocolate chips did make it a little more difficult to form the 'dough' into balls since the chips got in the way.  It took a little extra time for me to form the balls.  I think the mini chips would help with this.  Or if you are having the same issue as me where the chips are getting in the way you can always form the balls with the 'dough' and then press the chocolate chips in after it's formed.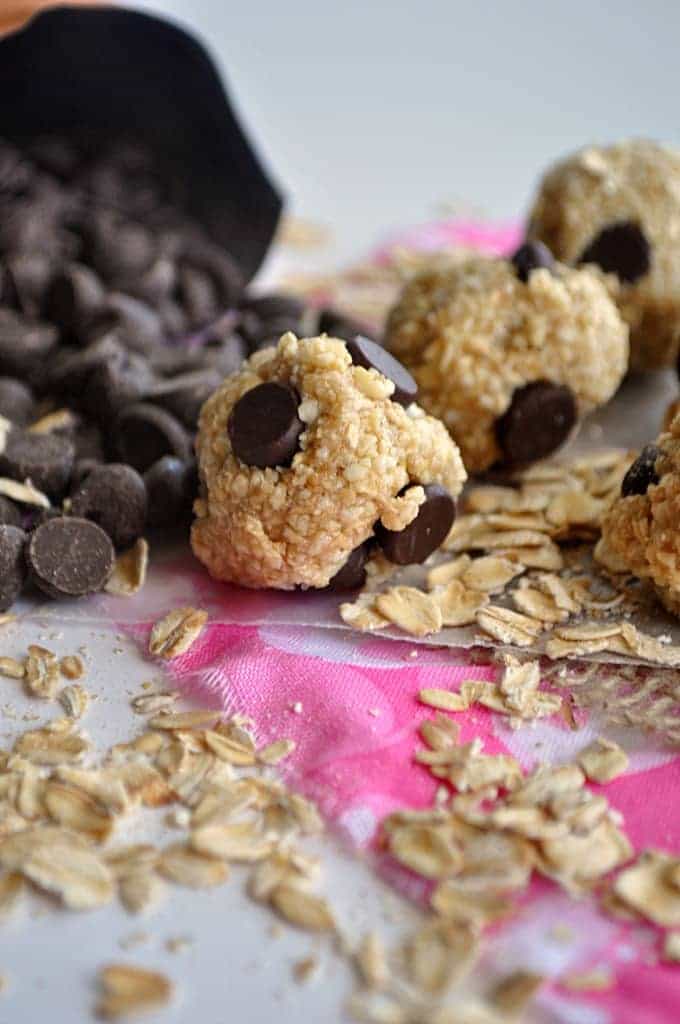 Even though forming them took me a bit longer, they were still completely made and done in the 5 minutes!  Can't beat that!  I don't know about you, but when I'm hungry and want a snack, I want it then.  Especially if it's a chocolate craving.
This recipe will make the perfect amount for two servings.  I prefer to store them in the refrigerator in an air tight container to keep them cool, they're more refreshing that way.  However, if you plan on eating them that day you can store them at room temperature.  None of the ingredients would spoil.  Again, I wish I could tell you how long they will keep for, but we tend to eat them all the same day that they're made.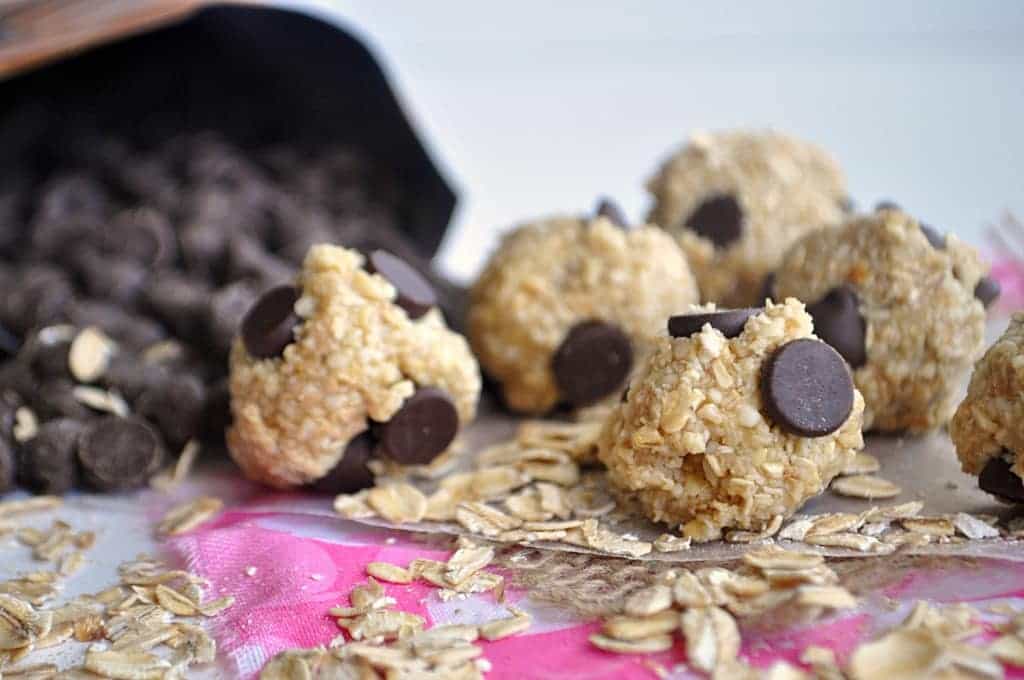 Thanks so much for visiting! Never miss a recipe from the House Of Yumm! Choose your favorite way to follow, or do them ALL!
FACEBOOK | PINTEREST | GOOGLE+ | TWITTER | INSTAGRAM | BLOGLOVIN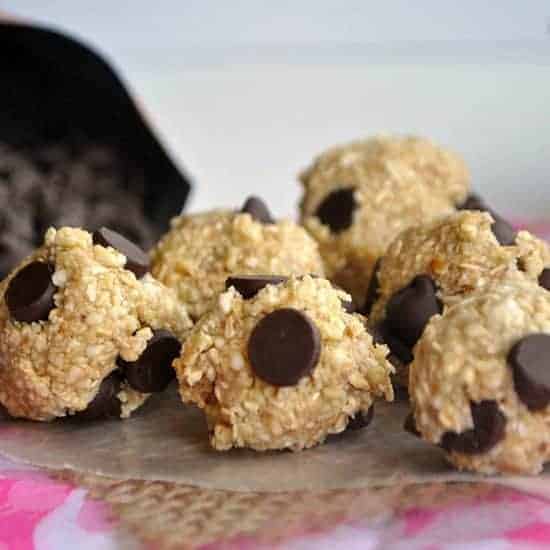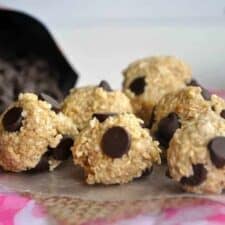 Skinny Cookie Dough Bites
These skinny cookie dough bites are gluten free, vegan, and ready in 5 minutes!
Ingredients
½ cup raw unsalted cashews
¼ cup rolled oats
2 tbsp maple sryup
¼ tsp vanilla extract
¼ cup chocolate chips
Instructions
Process the cashews and oats together in a food processor until there are no big pieces left.

Add in the maple syrup and the vanilla extract and pulse briefly to mix together. The 'dough' will be slightly clumpy. Stir in the chocolate chips to combine.

Scoop out the mixture with a spoon and roll into small balls by hand, the mixture will be slightly sticky and will hold shape.

Store in the refrigerator in an air tight container.
Nutrition
Calories: 96kcal, Carbohydrates: 11g, Protein: 2g, Fat: 5g, Saturated Fat: 1g, Cholesterol: 1mg, Sodium: 5mg, Potassium: 74mg, Fiber: 1g, Sugar: 7g, Vitamin A: 13IU, Calcium: 16mg, Iron: 1mg
House of Yumm is a participant in the Amazon Services LLC Associates Program, an affiliate advertising program designed to provide a means for us to earn fees by linking to Amazon.com and affiliated sites.