Shrimp Taco Salad with the perfect Southwestern Dressing!  This salad is perfect for summertime, bursting with flavor and a little spice.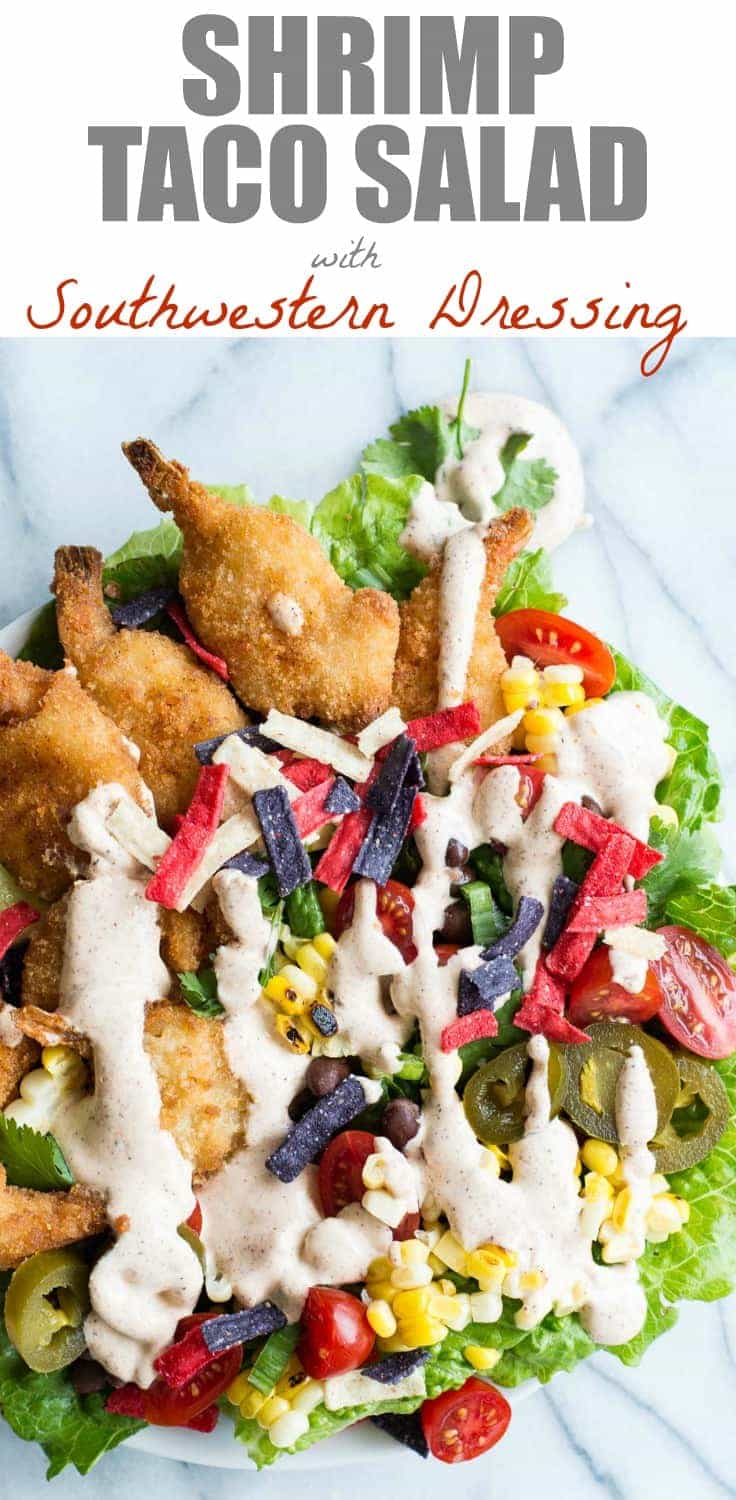 This is a sponsored conversation written by me on behalf of SeaPak . The opinions and text are all mine. Thank you for continuing to support the brands that make House of Yumm possible.
Shrimp Taco Salad.  Tossed with a creamy, dreamy, spicy, Southwestern Dressing.  This is the stuff dreams are made of.  I mean, if you dreamt of food of course.  Please tell me you dream of food.
Y'all.  We are obsessed with this Southwestern Dressing.  Don't get me wrong, the shrimp taco salad is definitely the highlight here.  Because lets face it, without the salad I have no need to make a southwestern dressing.  Basically this is summer and spice and all things good on a plate.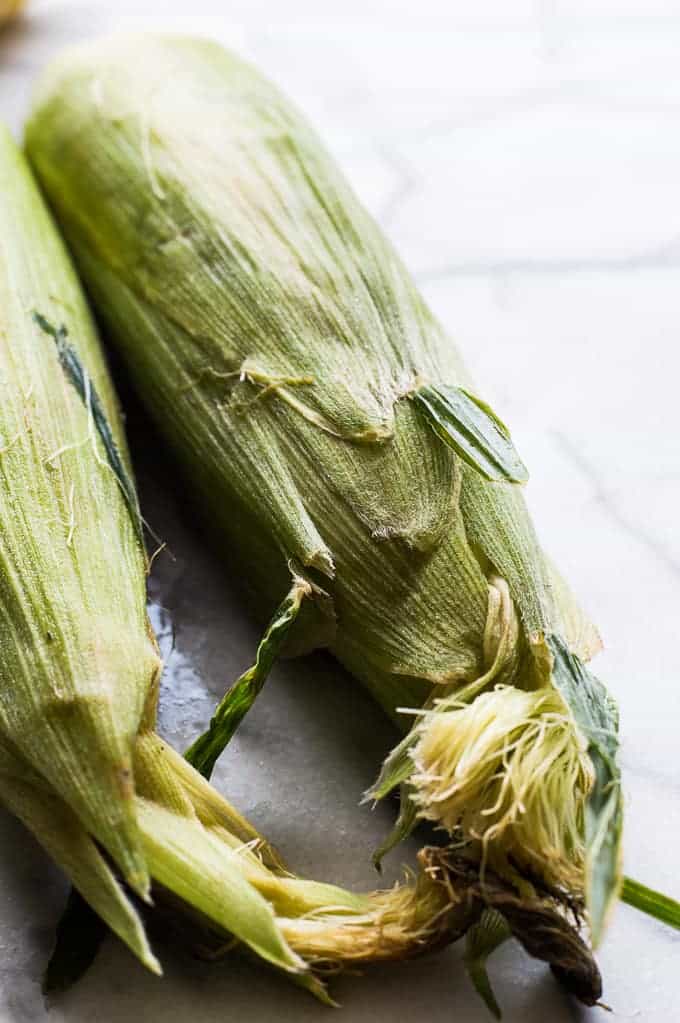 What exactly is summer on a plate?  Well..grilled corn.  Duh.  Or in my case, it's actually just pan seared.  Because…well.. I'm scared of the grill.  That's the hubs department.  I would like burn my eyebrows off or something.  And no one wants to see me without eyebrows.  A quick trip to a hot pan though gives a very similar effect.  Just not smokey tasting.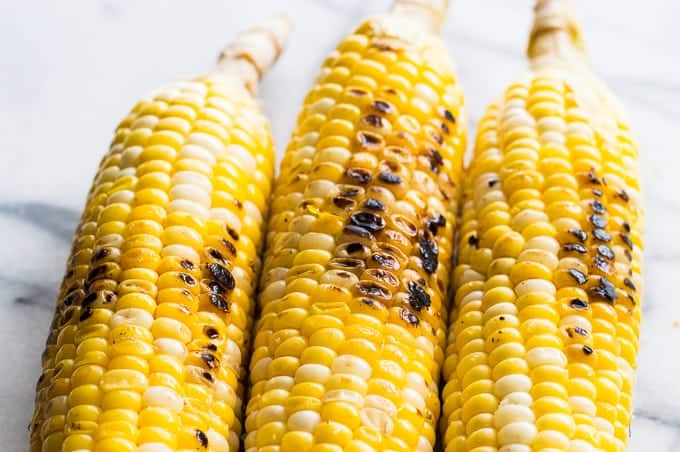 The southwestern dressing.  Easy to make.  And when you see the recipe you may say to yourself: Is mayonnaise AND sour cream really necessary?  The answer to that..yes.  Yes it is.  Absolutely necessary.  Because if you leave one out then the texture will not be just so.  And you will say to yourself: Well..this isn't everything that I hoped and dreamed it would be.  You would be right, because, you didn't follow the recipe exactly.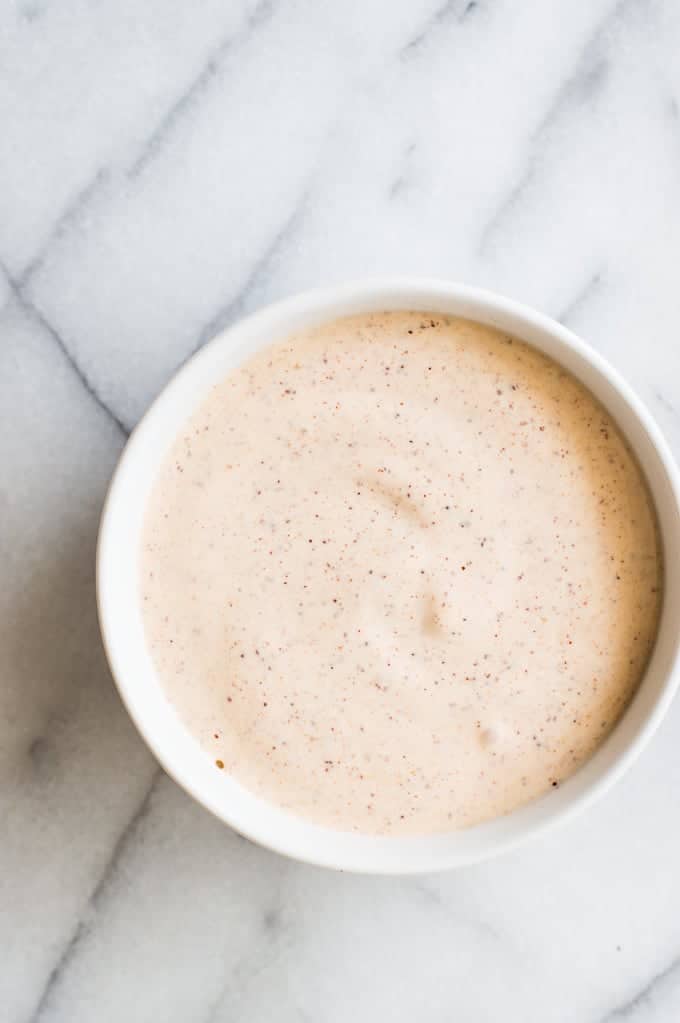 Then there's the star of the show.  Our SeaPak Jumbo Butterfly Shrimp.  A little sprinkle of chili powder before baking just gives a little heat to them and takes our salad to a new exciting level.  Yes, exciting.  This is excitement!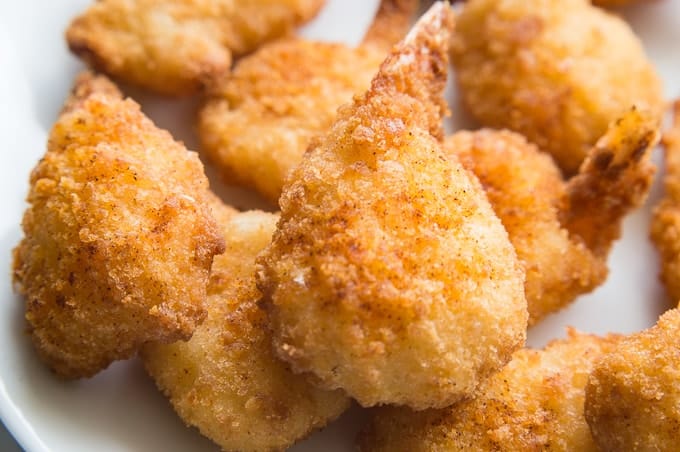 Let's talk about this shrimp for a moment shall we?  With SeaPak, it's never been easier to incorporate seafood into your favorite summertime recipes.  Which is great because Summer schedules can sometimes be just as crazy as during the school year. And this is coming from a homeschooling mama.  What is it about Summer that makes the days so busy?  Trying to keep kids entertained, away from the TV, and not having schoolwork for them to do is draining on me!
SeaPak makes it easy to get dinner on the table after a busy day, especially when meal planning is the last thing on my mind! It only takes a little time to prepare and these products are great additions to a summer spread.   To find what SeaPak products are available near you, just head to the product locator on the SeaPak website.
Also, keep in mind that the USDA recommends you eat at least two 4-ounce servings of seafood each week. Shrimp is an excellent way to meet that goal!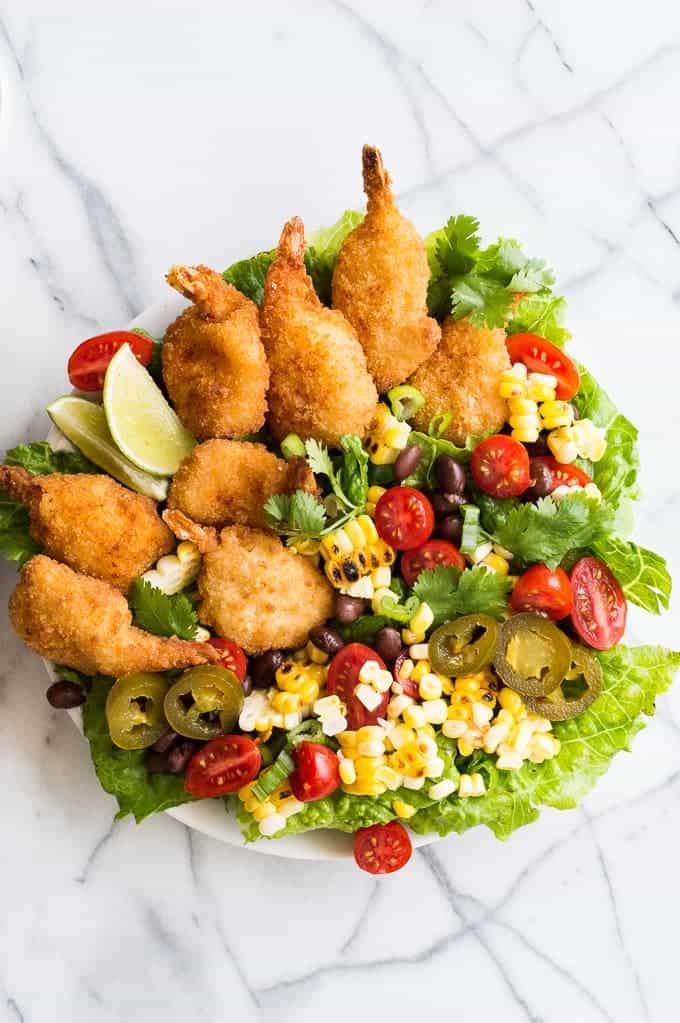 Whoa.  I told you right??  This salad is loaded with all things good.  Just how I love my salads.  Fully loaded.  We have some lettuce in there.  I just chopped up some fresh romaine.  Grape tomatoes.  Grilled corn.  Jalapeños.  Black beans.  Green onion.  Cilantro.  And if you continue on down to further pictures you will see the tortilla strips.  Plus there's our SeaPak Jumbo Butterfly Shrimp.  I also made a version of this salad with the SeaPak Popcorn Shrimp which is just as good.  Trust.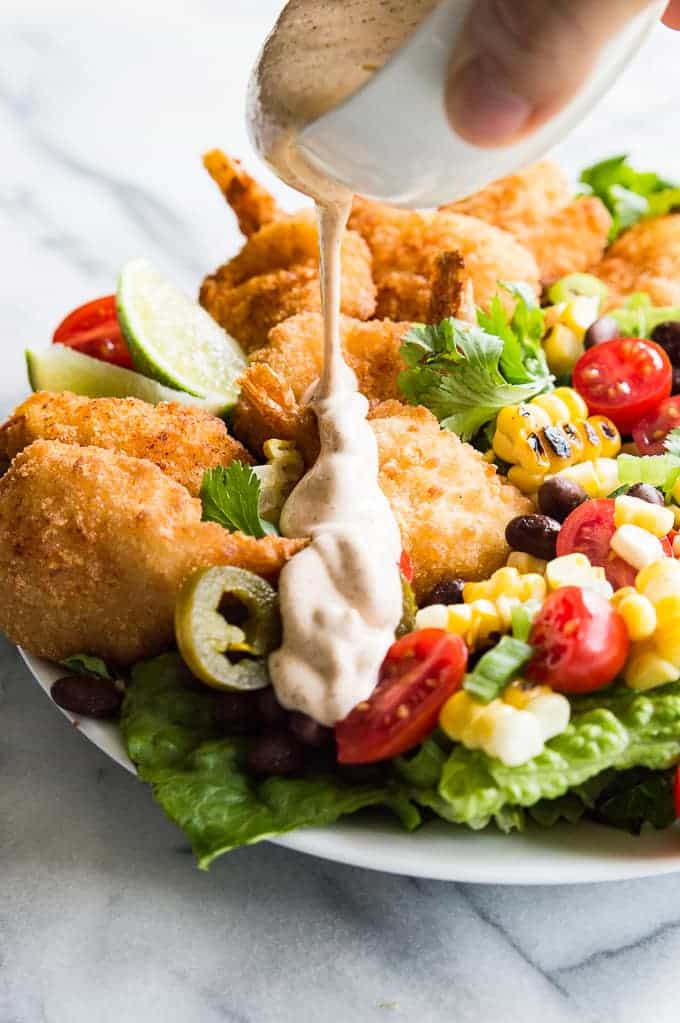 This Shrimp Taco Salad is the perfect way to celebrate summer.  And the Southwestern Dressing is perfect for any salad really.  Or for dippings wings into.  It's possible we've done that.  And most likely pizza will be next.  Because, let's face it.  This dressing is replacing ranch in our house.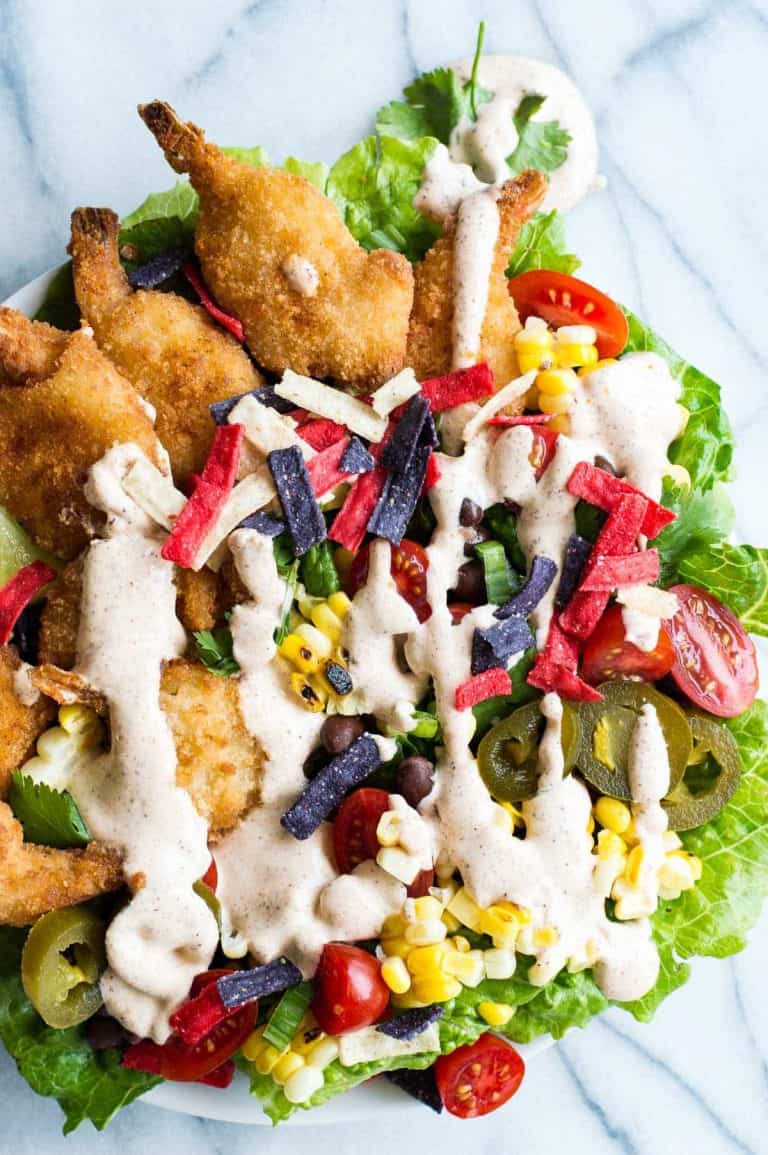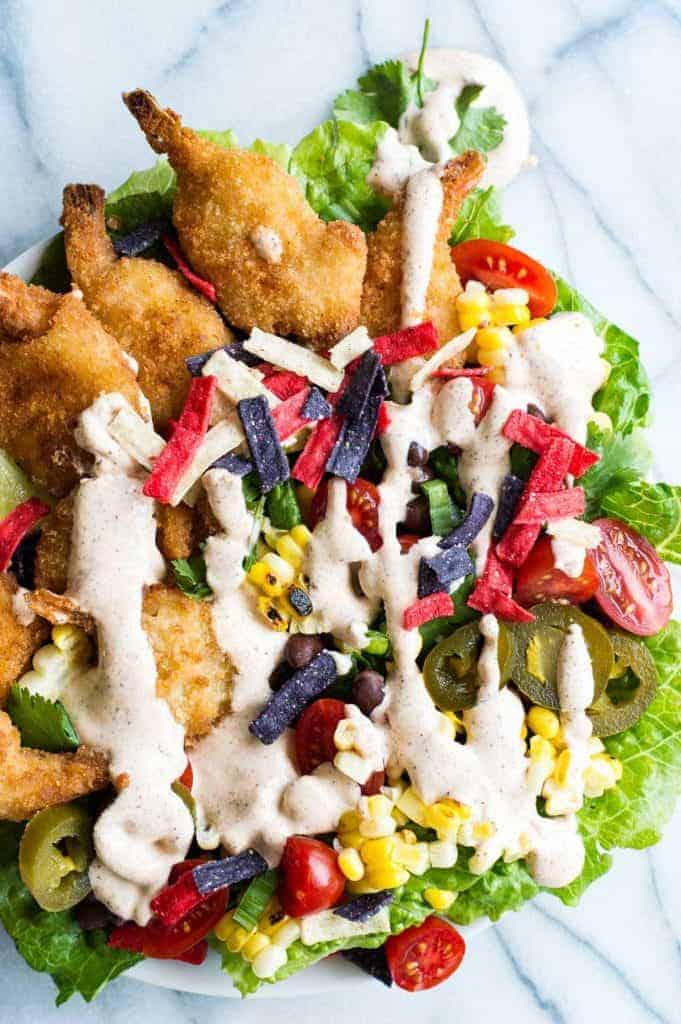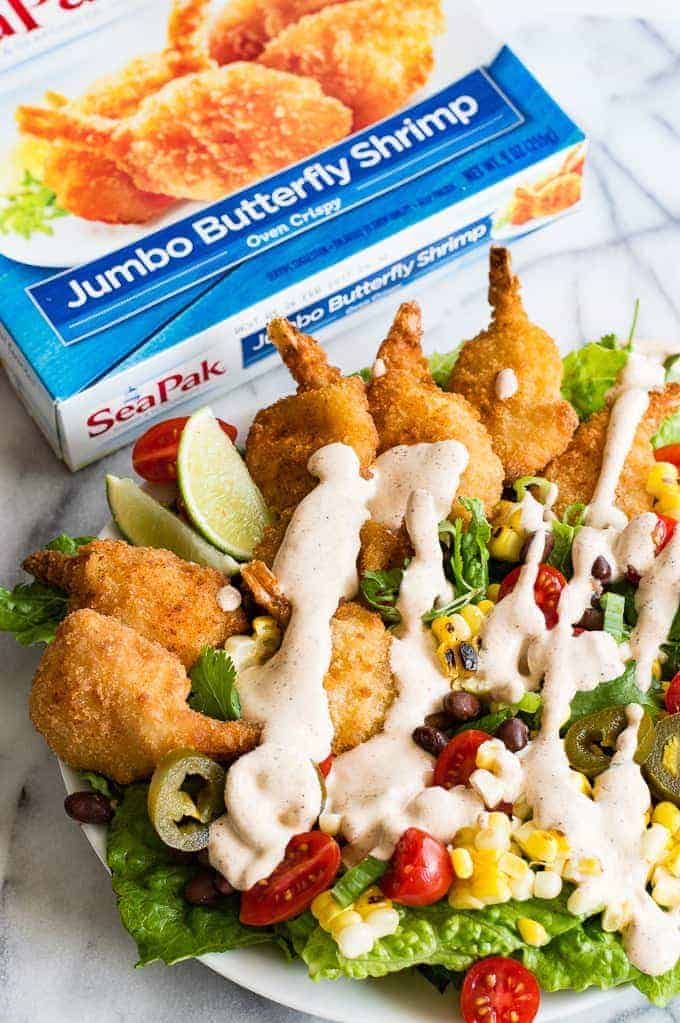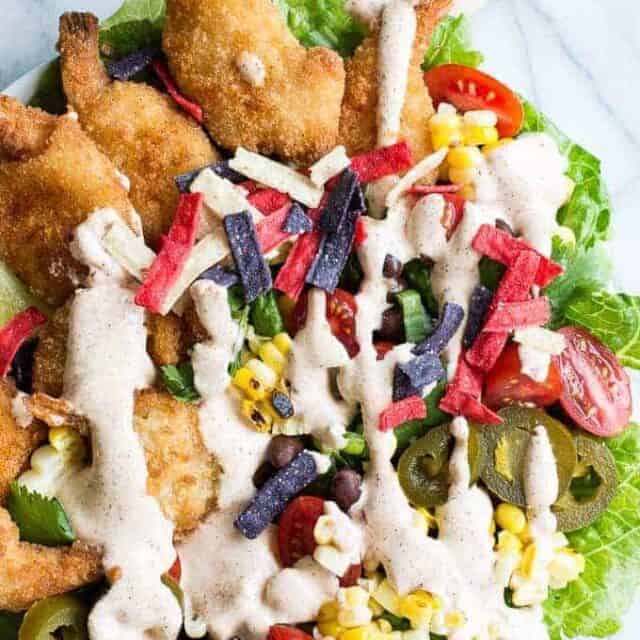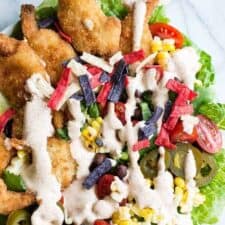 Shrimp Taco Salad with Southwestern Dressing
Shrimp Taco Salad with the perfect Southwestern Dressing! This salad is perfect for summertime, bursting with flavor and a little spice.
Ingredients
Salad
Romaine Lettuce
grape tomatoes
jalapeños
black beans
tortilla strips
Instructions
Preheat the oven to 425℉. Place the shrimp on a baking sheet. Sprinkle with chili powder. Bake for about 13-14 minutes.

Heat a medium size skillet over high heat. Remove husks and silk from the corn on the cob. Coat in olive oil and sprinkle with salt. Place in hot skillet and allow to cook, turning over about every minute. Cook for a total of about 5-6 minutes or until corn is tender. Remove from heat and allow the corn to cool. Once the corn is cooled cut the corn kernels off using a sharp knife.
Southwestern Dressing
Add the mayonnaise, sour cream and milk to a small mixing bowl. Whisk ingredients together until smooth and creamy.

Add the seasonings and continue to stir until combined.
Salad
Layer the lettuce with the other ingredients. Top with the cooked

SeaPak Jumbo Butterfly Shrimp

. Drizzle with Southwestern Dressing. Serve immediately and enjoy!
Nutrition
Serving: 3g, Calories: 160kcal, Carbohydrates: 6g, Protein: 2g, Fat: 15g, Saturated Fat: 4g, Cholesterol: 15mg, Sodium: 266mg, Potassium: 111mg, Fiber: 1g, Sugar: 3g, Vitamin A: 331IU, Vitamin C: 2mg, Calcium: 33mg, Iron: 1mg
Products I Recommend for this Recipe:
**This post may contain affiliate links, but I only recommend products that I actually use and <3. Thanks for supporting House of Yumm!
Make sure y'all check out SeaPak around the web too! 
House of Yumm is a participant in the Amazon Services LLC Associates Program, an affiliate advertising program designed to provide a means for us to earn fees by linking to Amazon.com and affiliated sites.