Hatch chiles stuffed with flavorful shrimp, red peppers, corn and cheese!  Easy family dinner idea!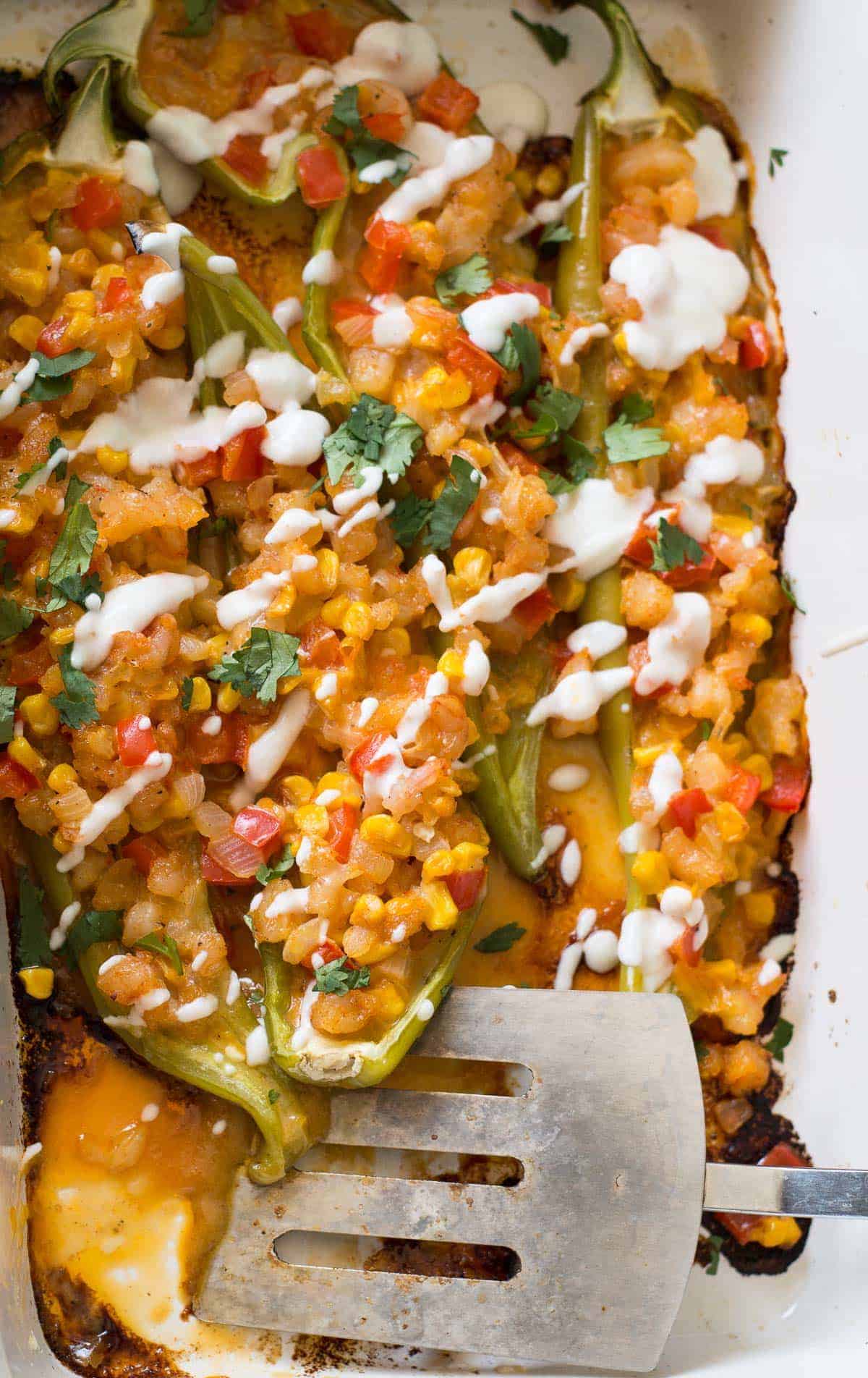 I'm sharing another dinner recipe with y'all this week!  Lucky you!  I feel like I've been overdoing the sweets a little lately.  So I'm trying to make it up to you.  The Zucchini Boat Chicken Enchiladas and these Shrimp Stuffed Hatch Chiles are my attempt at keeping some balance in life.
Plus 'tis the season!!  The season for hatch chiles!  Only one of the best times of the year.  The markets are overflowing with hatch chiles right now.  And they will be for just a couple more weeks.  So if you see some, snag 'em!
These little guys are only in season for about 6 weeks out of the year.  If even that long.  And they're pretty famous down here in the Southwest.
I was super excited about getting my hands on some.  I had my eye on a recipe for shrimp stuffed hatch chiles that I saw in a Better Homes & Garden magazine.  So I decided to do my own version!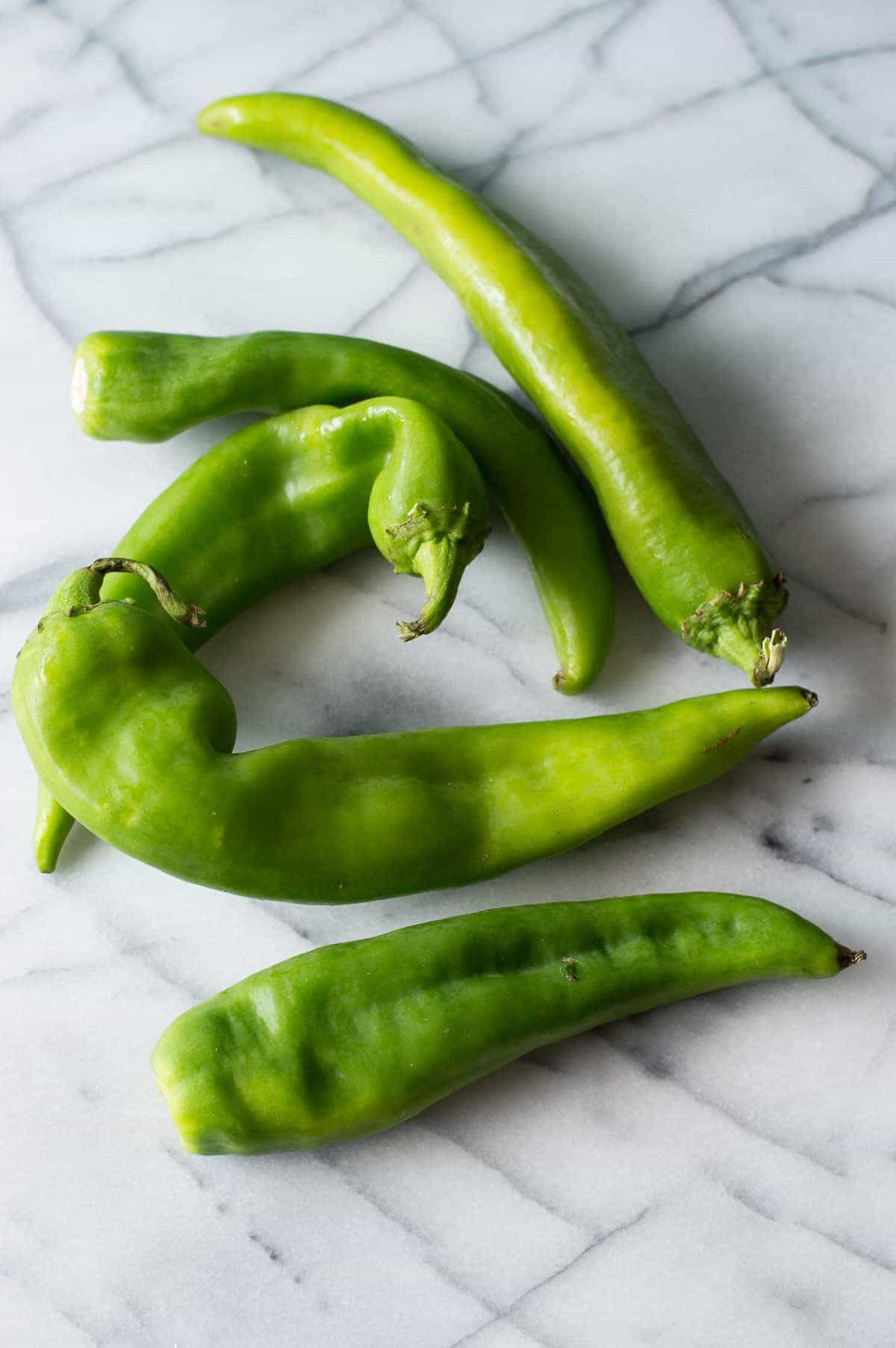 They're not really spicy.  They have more of a sweetness to them.  And when roasted they have a smokey taste.
Which is why I added a little red pepper to my filling.  To get a little heat.  If you're not in the mood, you can leave it out.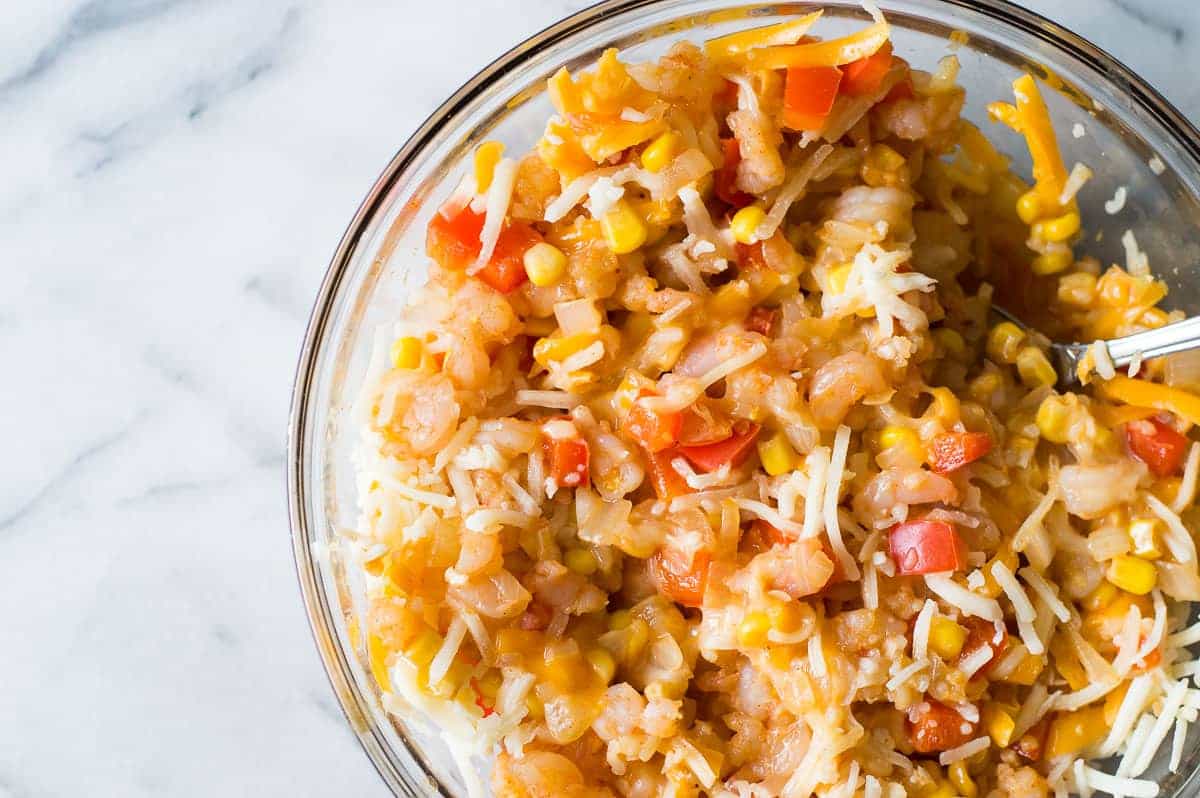 We also have some lovely seasonings, corn, and cheese.  Of course there's cheese.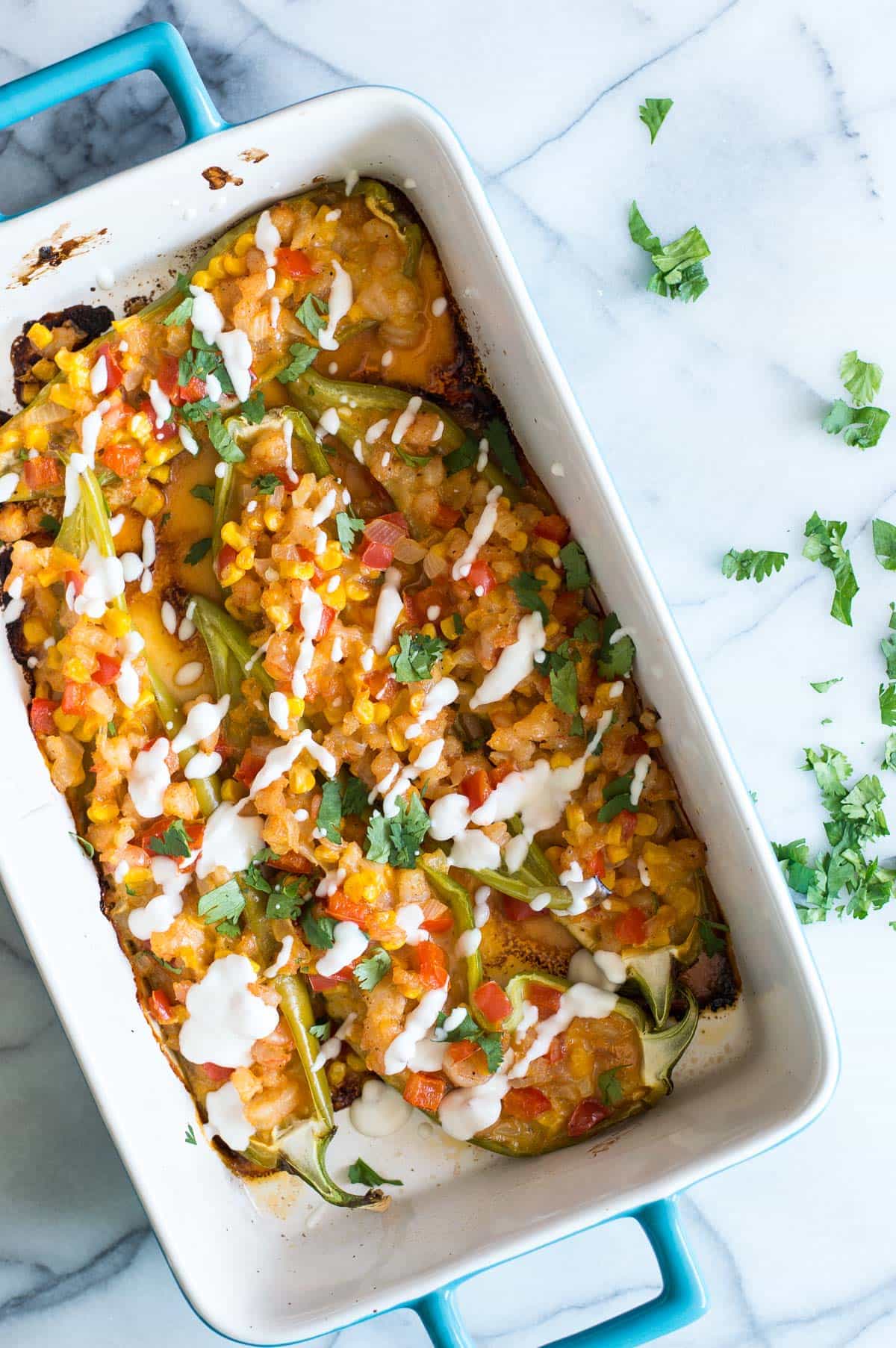 That lovely little drizzle there, that's a sour cream sauce I made.  Which in all honesty, tastes like crema. I was trying to be creative and create a wonderful sour cream sauce.  Turns out I wasn't so creative.  So I'll give you the recipe.  But if you want to save time.  Just get some crema from the market.  You can find it next to the Mexican cheeses at the market.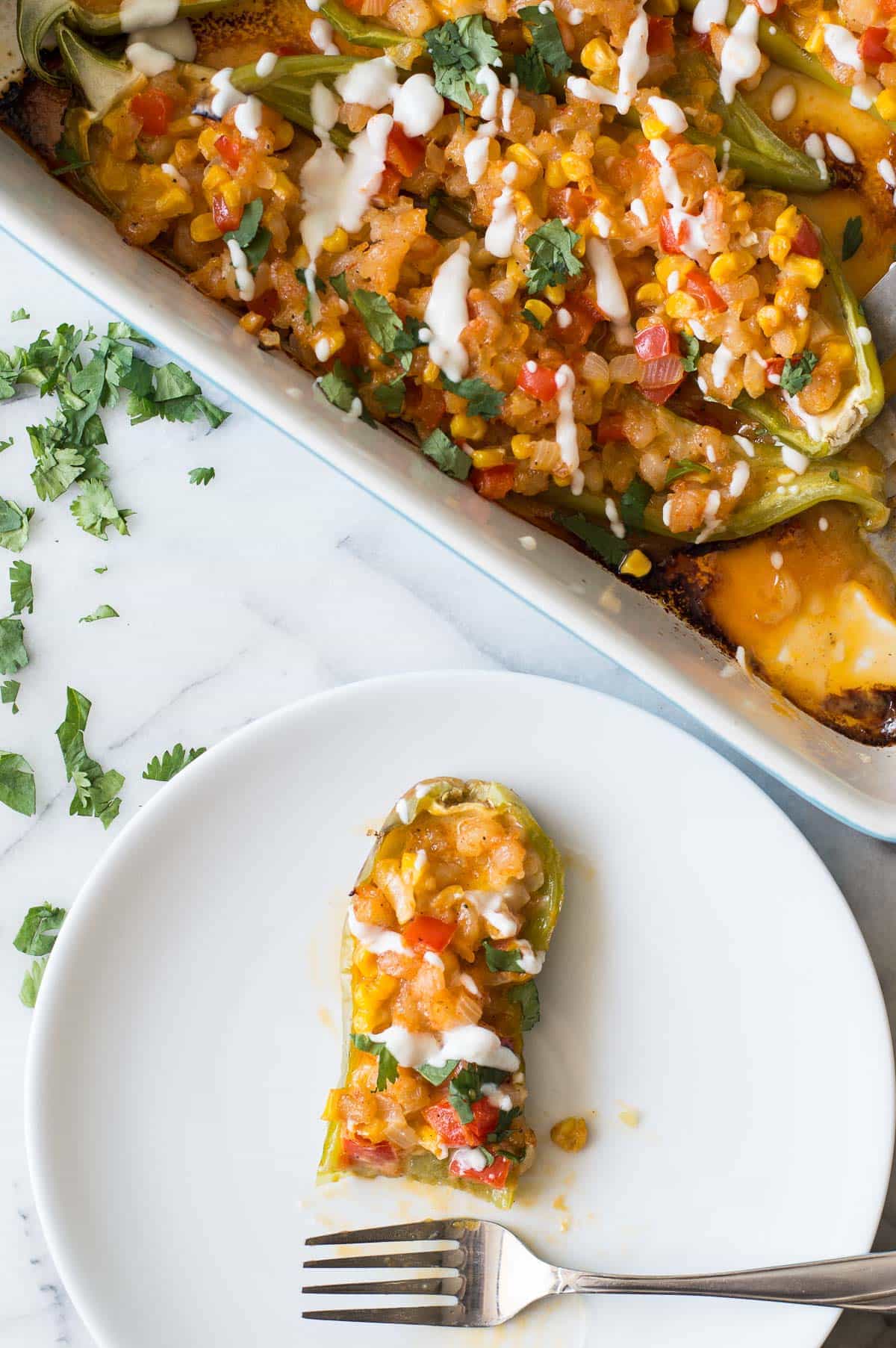 Need some more dinner inspiration?!
Treat Yourself! Subscribe today and receive a FREE E-Cookbook and weekly recipes to your inbox! Sign up here!  Follow me on Facebook and Instagram too!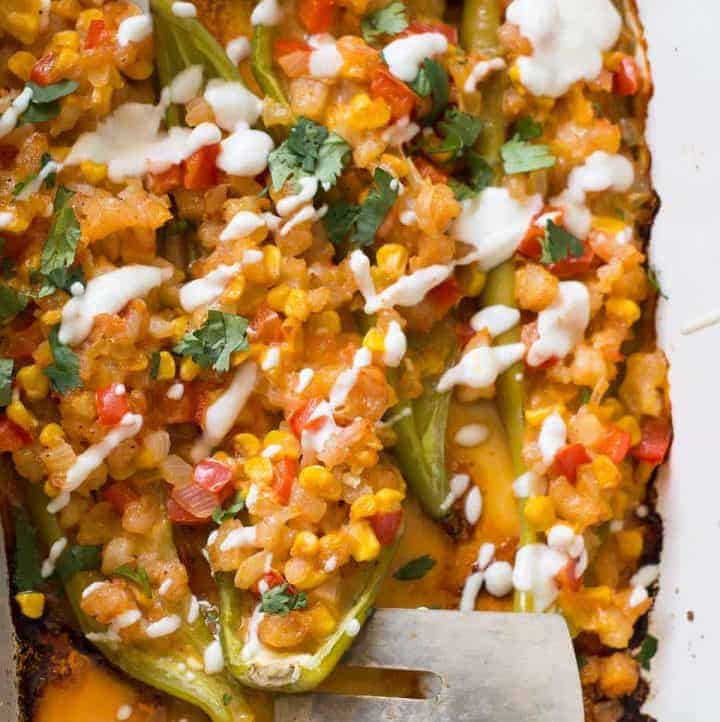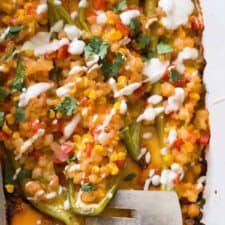 Shrimp Stuffed Hatch Chiles
Hatch chiles stuffed with flavorful shrimp, red peppers, corn and cheese! Easy family dinner idea!
Ingredients
6-8 hatch chiles, if you can't get ahold of any you can use anaheim chiles instead
1 lb shrimp, peeled, deveined with tails removed
1 tbsp unsalted butter
7 ounces corn kernels
½ cup yellow onion , diced
1 red bell pepper , seeds, membranes removed, diced
1 cup sharp cheddar cheese, shredded
1 tsp chili powder
salt and pepper to taste
Instructions
Preheat the oven to 400°F.

Spray a casserole dish with non stick spray or olive oil. Set aside.

In a medium skillet melt the butter. Add the shrimp corn, onion, and red pepper. Allow to cook for about 5-7 minutes until shrimp is fully cooked (if you're working with raw shrimp) and onion and peppers are softened and translucent.

Remove the shrimp mixture to a medium size bowl, add the chili powder, cheese, salt and pepper. Stir to combine.

Slice the hatch chiles length wise. Remove the seeds and membranes. Lay in casserole dish.

Use a spoon to fill the chiles with the shrimp mixture. Cover with foil and bake for 20 minutes. Remove foil and sprinkle with additional cheese, bake for an additional 5 minutes.
Sour Cream Sauce
Melt the butter in a medium size sauce pan. Add the flour, stir to combine, will be thick. Pour in the broth and whisk together until combined. Cook for about 4-5 minutes stirring frequently while mixture thickens once mixture starts to bubble remove from heat. Allow to cool then add the sour cream.

Store the cream in the refrigerator. Drizzle over stuffed chiles prior to serving.
Nutrition
Calories: 341kcal, Carbohydrates: 16g, Protein: 23g, Fat: 21g, Saturated Fat: 12g, Cholesterol: 245mg, Sodium: 1136mg, Potassium: 280mg, Fiber: 3g, Sugar: 6g, Vitamin A: 1374IU, Vitamin C: 40mg, Calcium: 293mg, Iron: 2mg
House of Yumm is a participant in the Amazon Services LLC Associates Program, an affiliate advertising program designed to provide a means for us to earn fees by linking to Amazon.com and affiliated sites.