Sheet Pan Chicken Fajitas. An easy to put together dinner that is full of flavor and only uses ONE PAN! Juicy chicken seasoned with a homemade fajita seasoning is mixed with brightly colored bell peppers and onion for a classic tex mex meal. The entire family will love this one!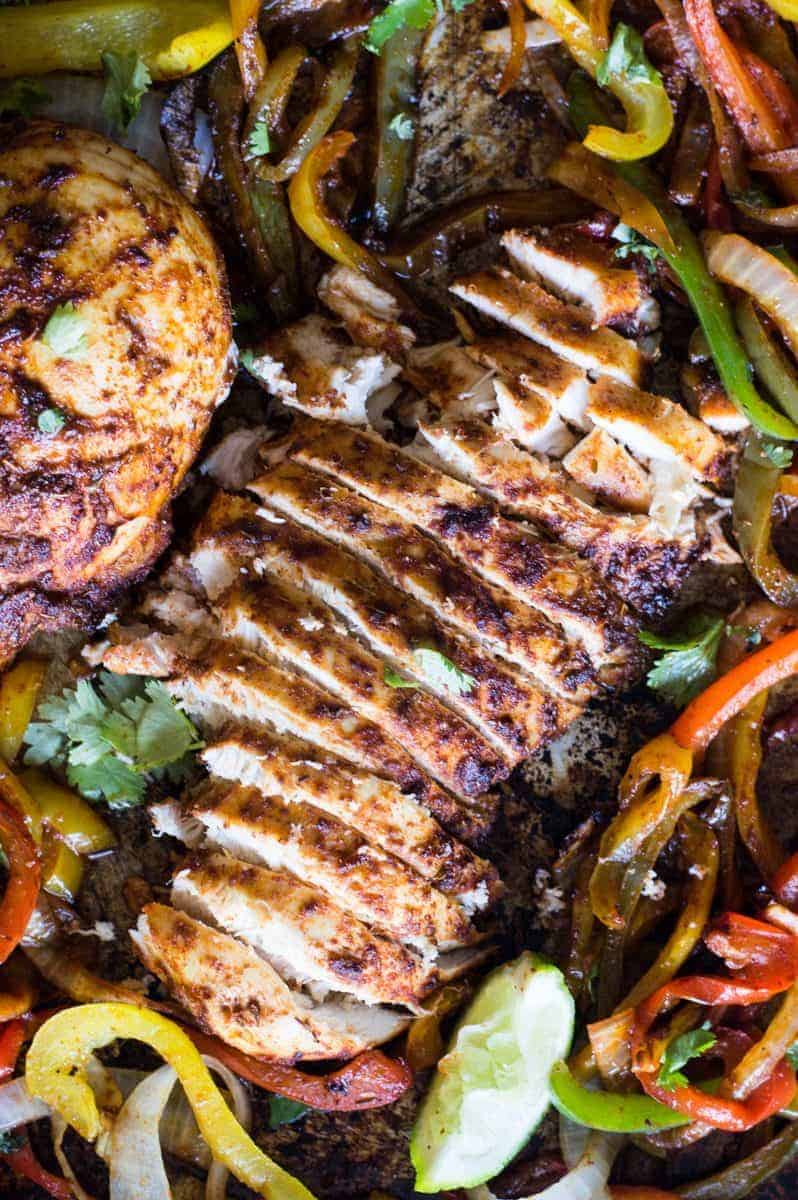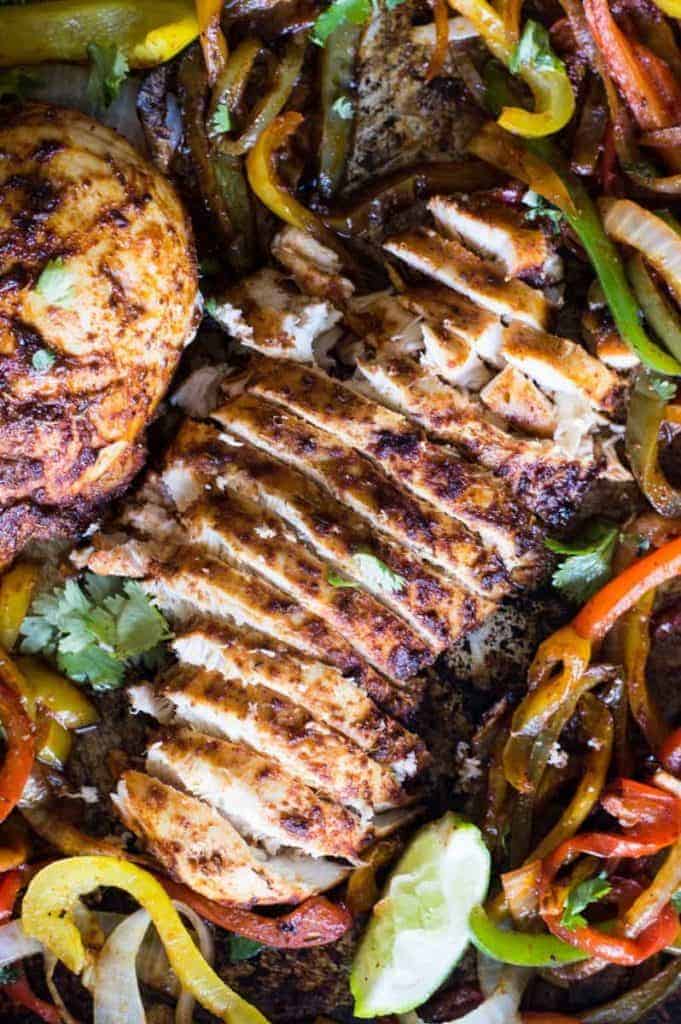 This sheet pan chicken fajita dinner is a definite win for an easy dinner. Sheet pan dinners are everywhere right now. Have you noticed? And I for one am a definite fan of easy dinner recipes. Especially when they're super easy to prep, leave practically no dishes, and taste like something I would order from a restaurant.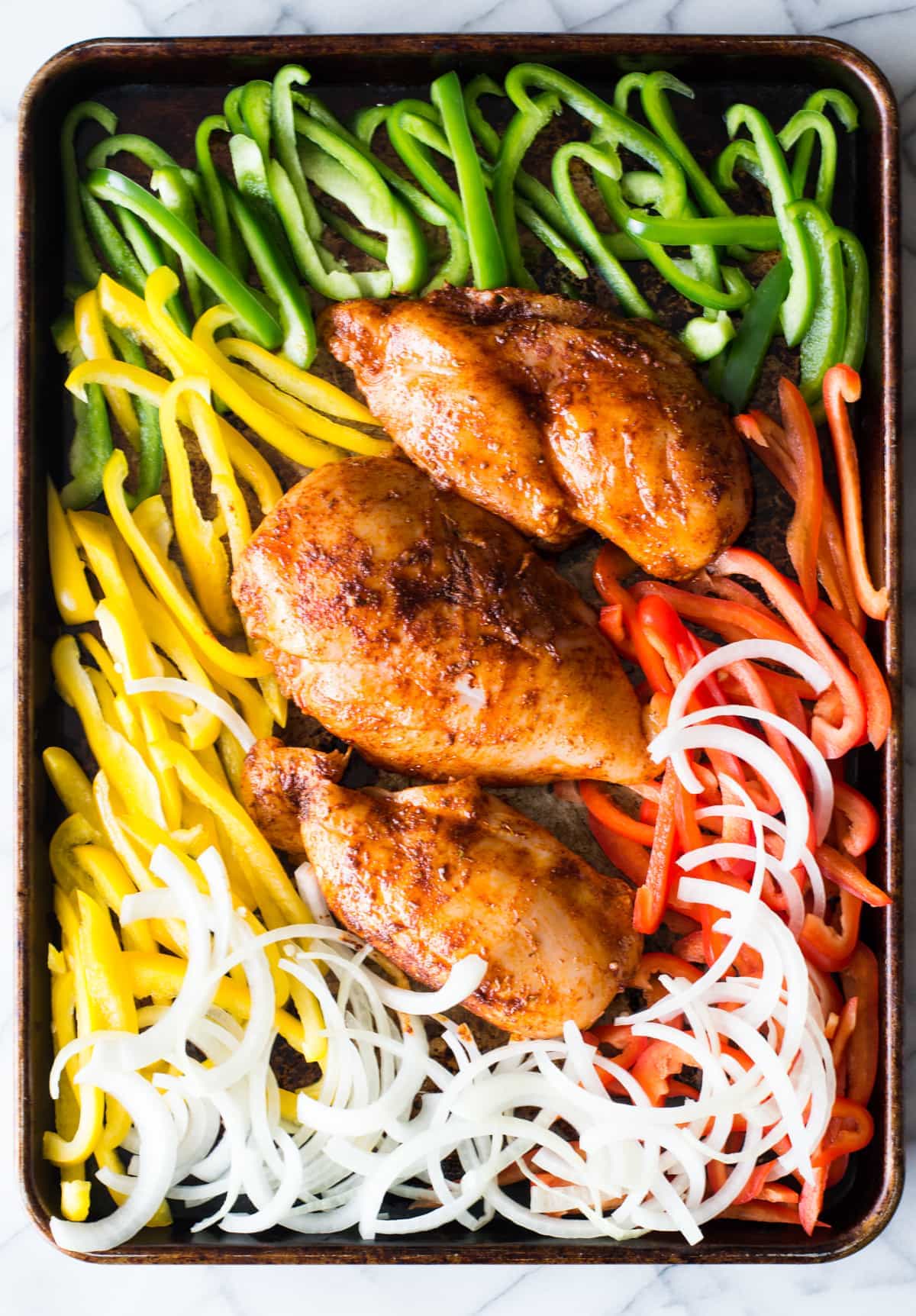 These sheet pan chicken fajitas are quick and easy to toss together. The most time consuming part is slicing the bell peppers and onion. Just coat everything in a little olive oil and the homemade fajita seasoning, which is included in the recipe below. The chicken breasts go on the pan whole, just take a few moments to slice them into skinny strips after they're cooked. This helps the chicken always come out perfectly juicy and flavorful. A squeeze of lime juice puts this dish over the top!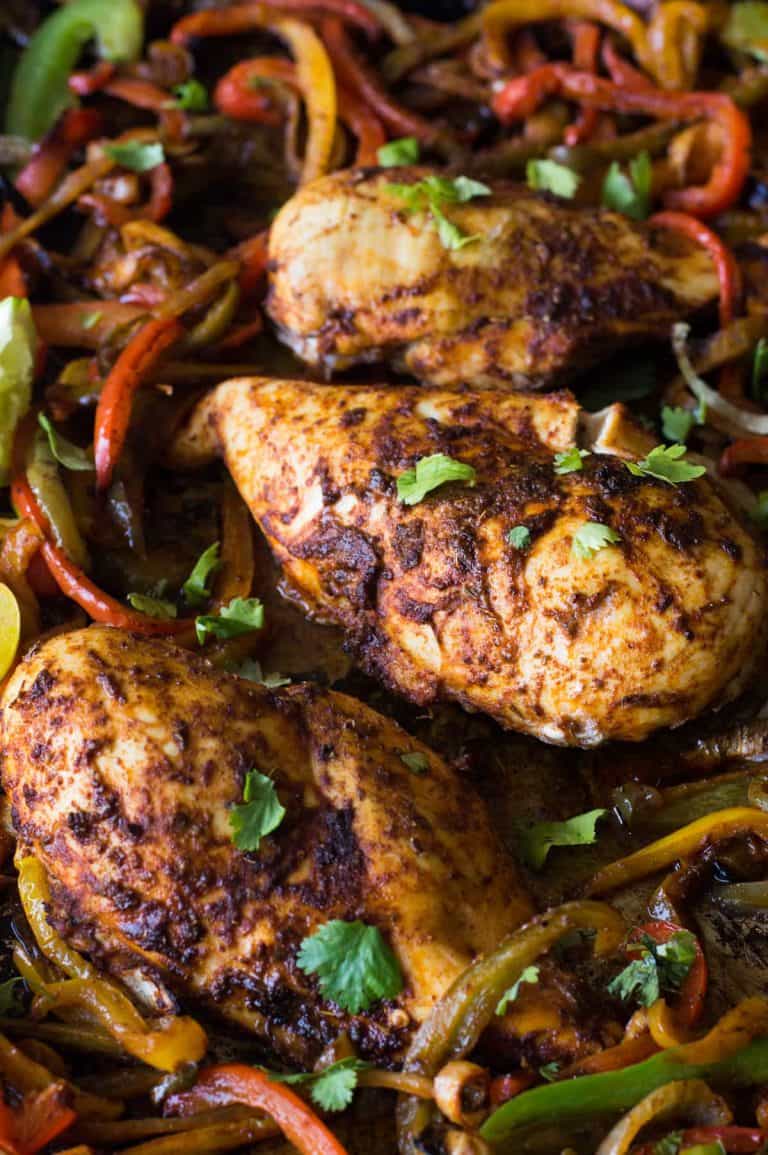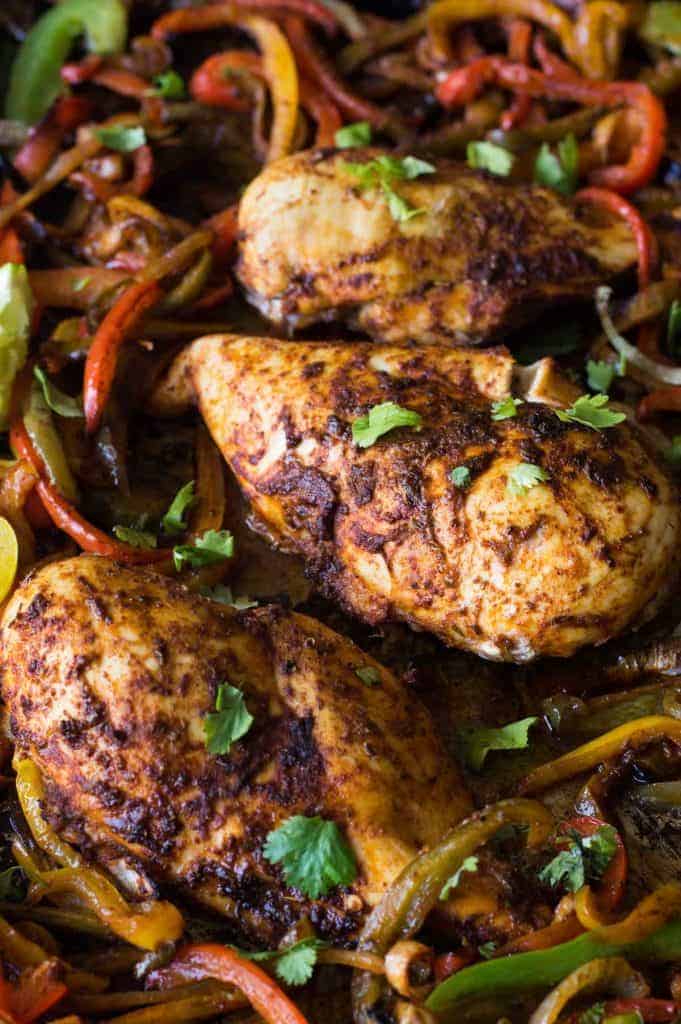 One of my favorite things in the world is fresh flour tortillas. But if you don't have fresh tortillas I love getting the thicker flour tortillas you can find at any market. Toss them onto the burner on your stove briefly on each side to get them nice and warm and slightly charred. Sadly, I currently have an electric stove with the glass top, which makes it difficult to do that. So I have a griddle I place on my stove and just heat the tortillas on that for about 30 seconds on each side. It's really quick and still gives that charred look and taste.
There's really no other toppings needed for these chicken fajitas. Maybe a small dollop of sour cream and a sprinkling of cilantro. Other than that, this meal is perfect.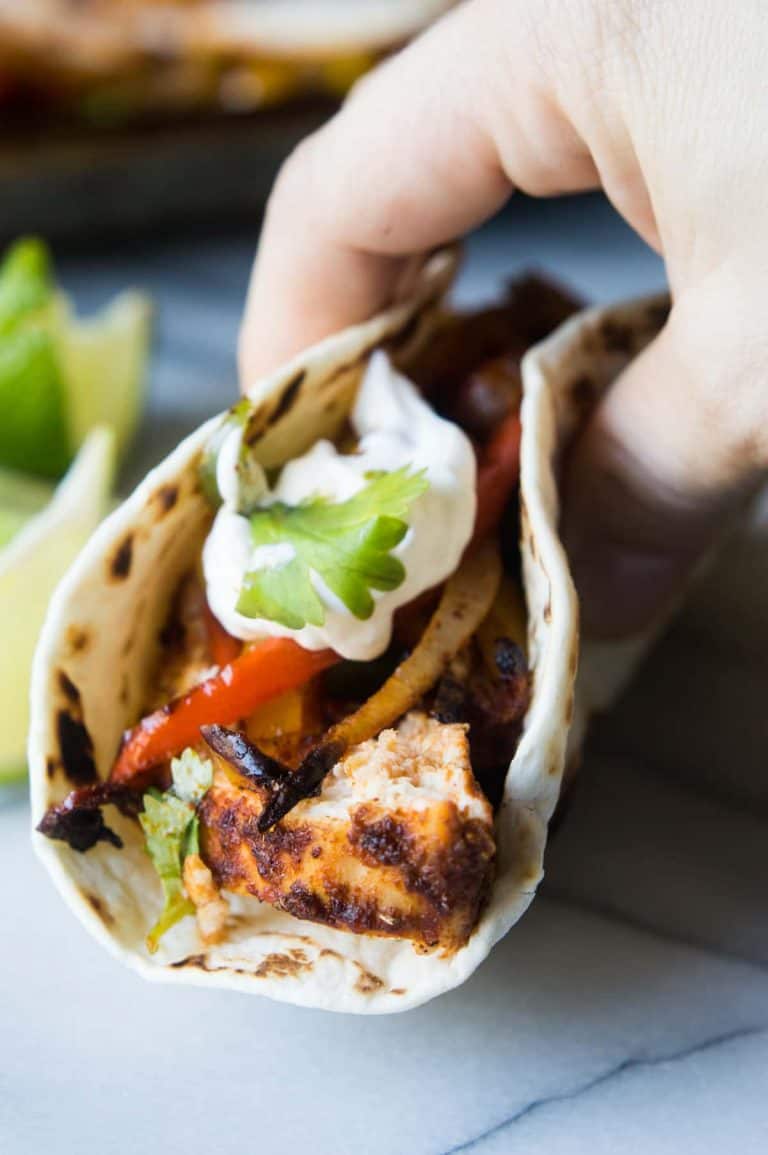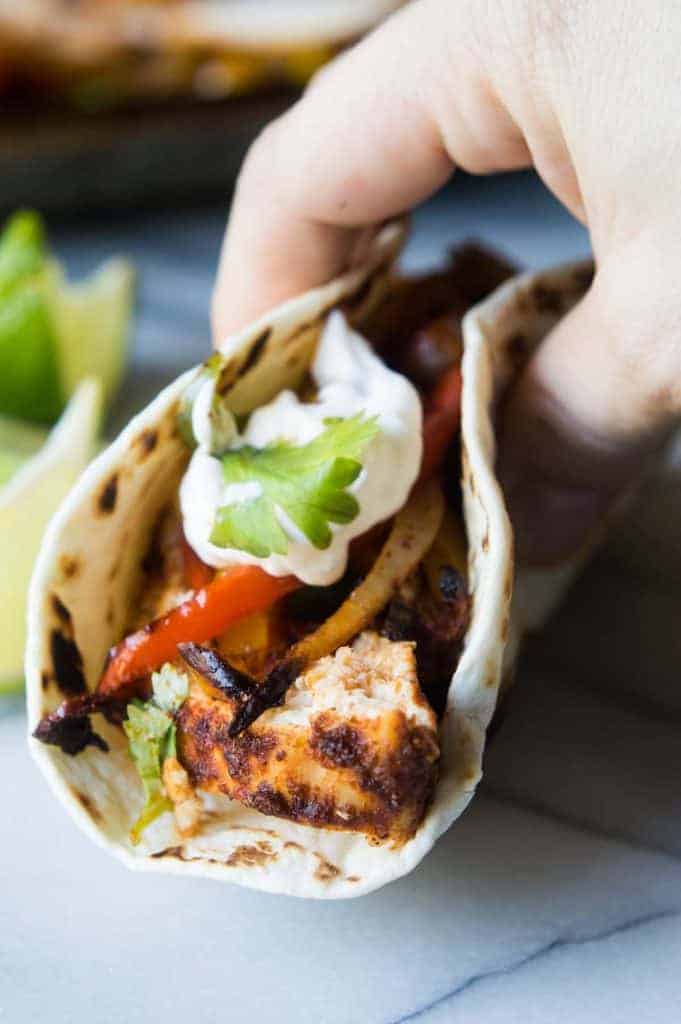 WANT TO TRY THIS SHEET PAN CHICKEN FAJITAS RECIPE?
PIN IT to your DINNER, CHICKEN or ONE PAN DINNERS Board to SAVE FOR LATER!
House of Yumm is a participant in the Amazon Services LLC Associates Program, an affiliate advertising program designed to provide a means for us to earn fees by linking to Amazon.com and affiliated sites.