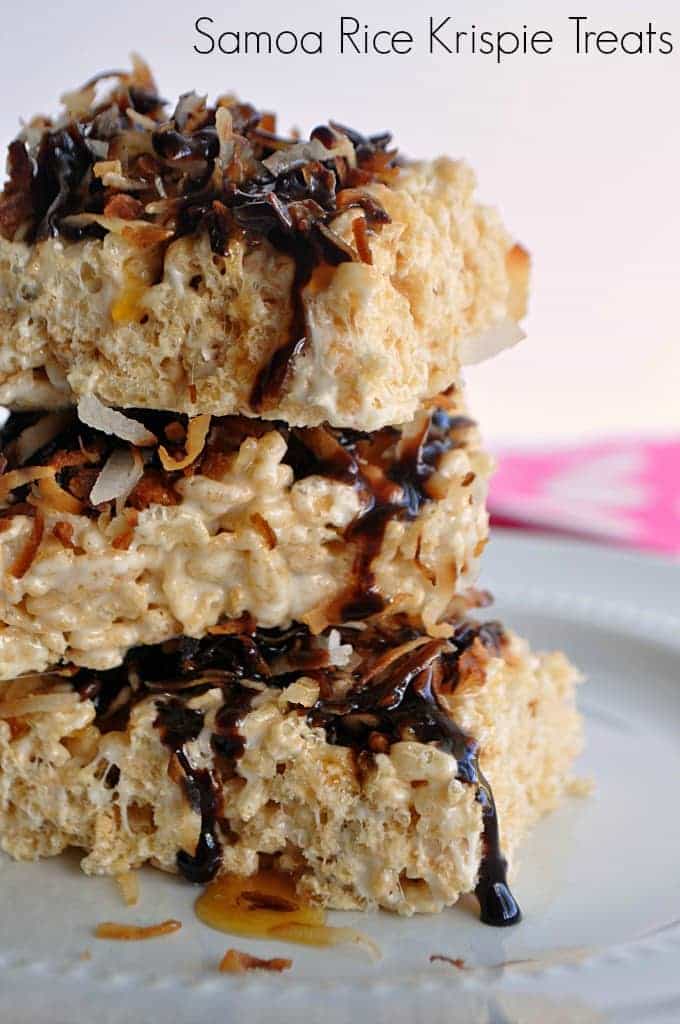 A caramel rice krispie treat topped with toasted coconut, caramel, and chocolate fudge.
Samoa Rice Krispie treats? Lets face it. It was only a matter of time. I've had the ingredients for Samoa on my counter since I made the milkshake. I'm not one for wasting food. So of course I had to come up with some more Samoa recipes.
Rice krispies, or Rice-y Krispies, as my 7 year old insists on calling them, are possibly one of the best desserts EVER! The fact that you can add pretty much whatever you want to them to add to the yumminess factor is even more exciting!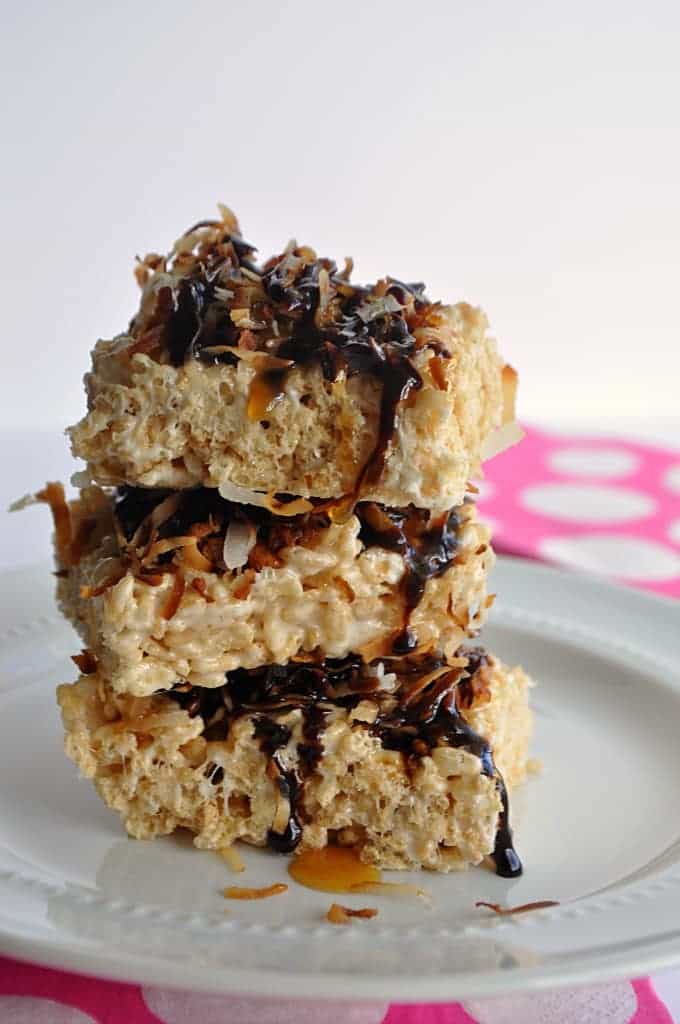 Sadly, I must confess that I have started myself on a new diet. And it's one that does not involve Rice Krispie treats. If there is a diet that does involve these, please someone let me know!! So far today I have gone with fruits, vegetables, more vegetables, even more vegetables, and topped it off with a black bean burger on pita. It is possible I did sneak in one bite of these treats though. I mean, what kind of person would I be if I gave you a recipe that didn't taste good!!! So for the benefit of all you lovely people out there. I made myself eat a bite of these extremely decadent Rice Krispie treats. I mean, just look at that picture, that caramel and chocolate sauce just dripping off. It is possible I will be sneaking out in the middle of the night for another bite. It's not cheating on a diet if you do it after midnight and no one sees is it?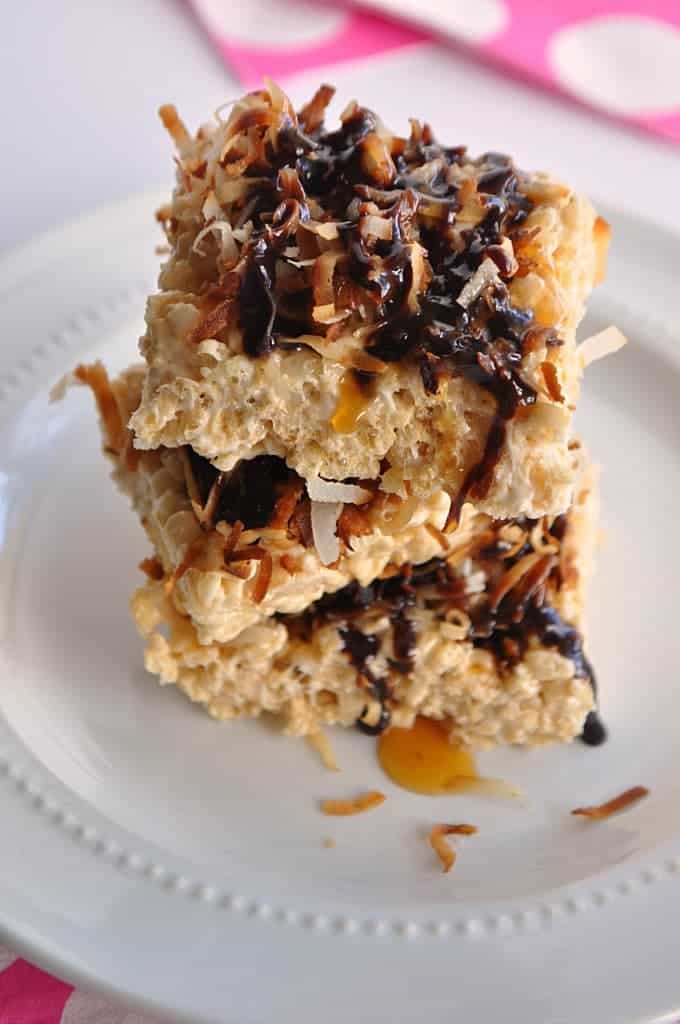 Enough about me dieting right?? Who wants to think about Spinach and black bean burgers when there's pictures of these Samoa treats staring at us in the face. I know I sure don't.
I've become a huge fan of toasting coconut. I think it's better than burning any candle. It makes the house smell like I live inside of a Samoa. Could you imagine?! Sad thing is I would end up homeless due to eating it. Sigh.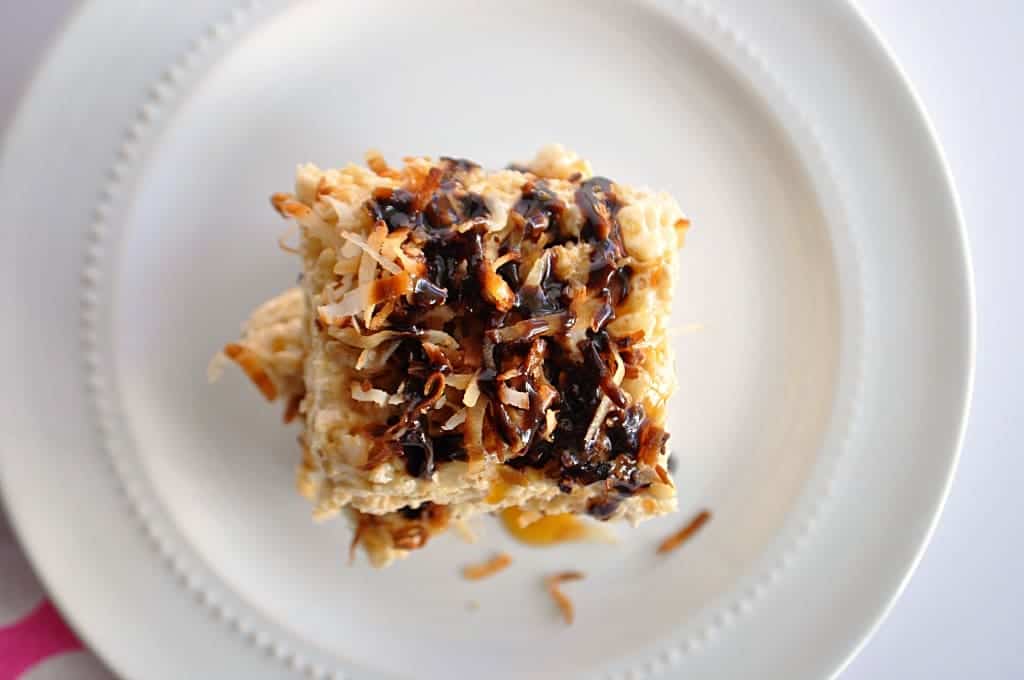 Then it's the usual cast of characters. Toasted coconut, even more delicious caramel, and chocolate fudge sauce drizzled to perfection.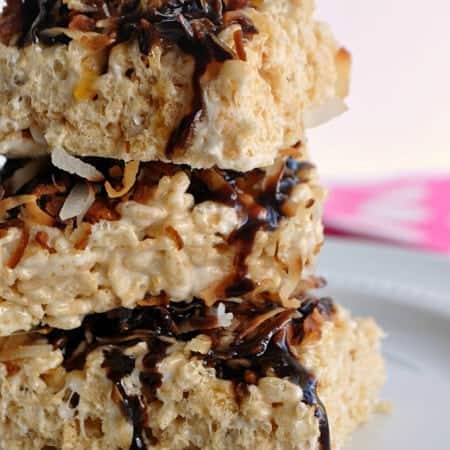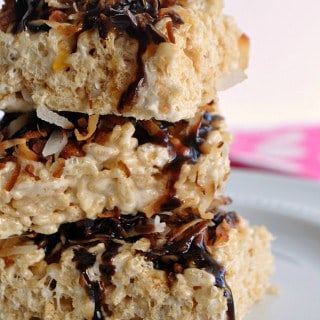 Samoa Rice Krispie Treats
Ingredients
3 tbsp butter
1 (40 ounce pacakge) marshmallows
½ cup caramel syrup
6 cups Rice Krispies
1 cup shredded coconut
Caramel Syrup and Chocolate fudge sauce to top
Instructions
Add shredded coconut to pan over low heat, cook the coconut until it is a nice golden brown

Melt butter in large pot.

Add marshmallows and stir until melted. Add in caramel sauce. Stir in Rice Krispies until coated in the marshmallow.

Use spatula to press into a buttered 9x13 pan.

Allow to cool. Once cooled top with toasted coconut, caramel syrup and chocolate fudge sauce.
Nutrition
Calories: 140kcal, Carbohydrates: 22g, Protein: 1g, Fat: 6g, Saturated Fat: 4g, Cholesterol: 8mg, Sodium: 152mg, Potassium: 51mg, Fiber: 1g, Sugar: 5g, Vitamin A: 1028IU, Vitamin C: 9mg, Calcium: 7mg, Iron: 4mg
Love Samoas? Check this out!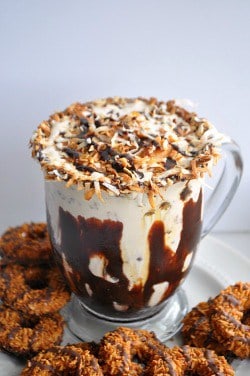 House of Yumm is a participant in the Amazon Services LLC Associates Program, an affiliate advertising program designed to provide a means for us to earn fees by linking to Amazon.com and affiliated sites.