A thick creamy milkshake with crushed up Samoa cookies, toasted coconut, sweet caramel and chocolate fudge sauce.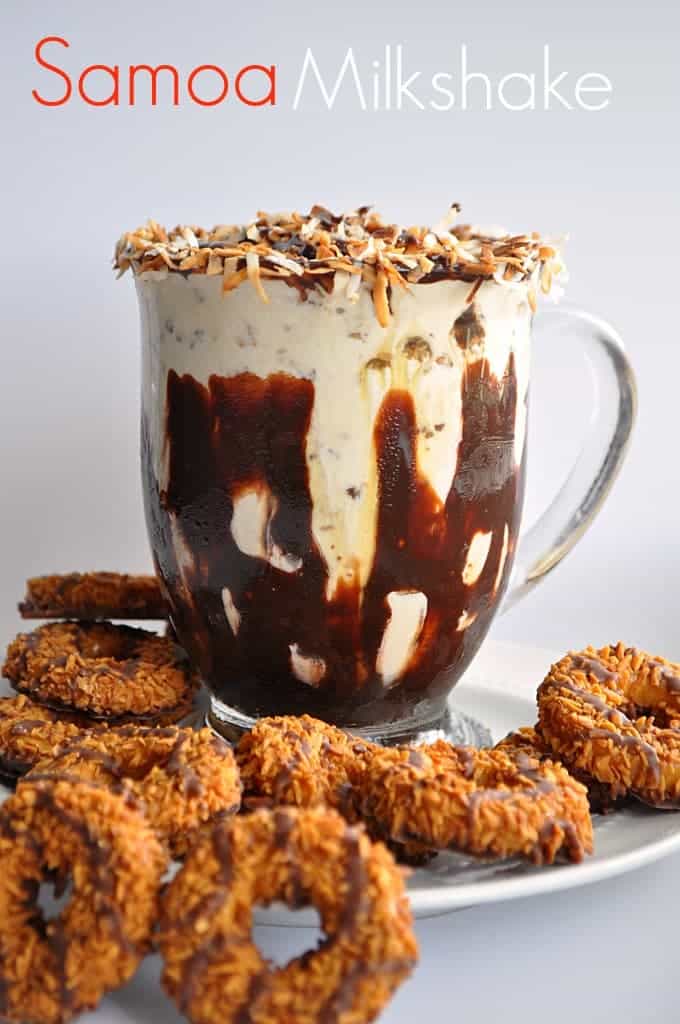 It's that time of year, whenever I go into the market there's those sweet, cute little girls asking me to buy cookies.  How could I deny such adorable, angelic little smiling faces such an amazing offer???  Of course I'll buy some cookies!!!
Every year I get the same cookies, the Thin Mints, the Tag Alongs, and the Samoas.  They have other yummy cookies too of course.  But these three are my go to.  These are the ones I always make sure I get.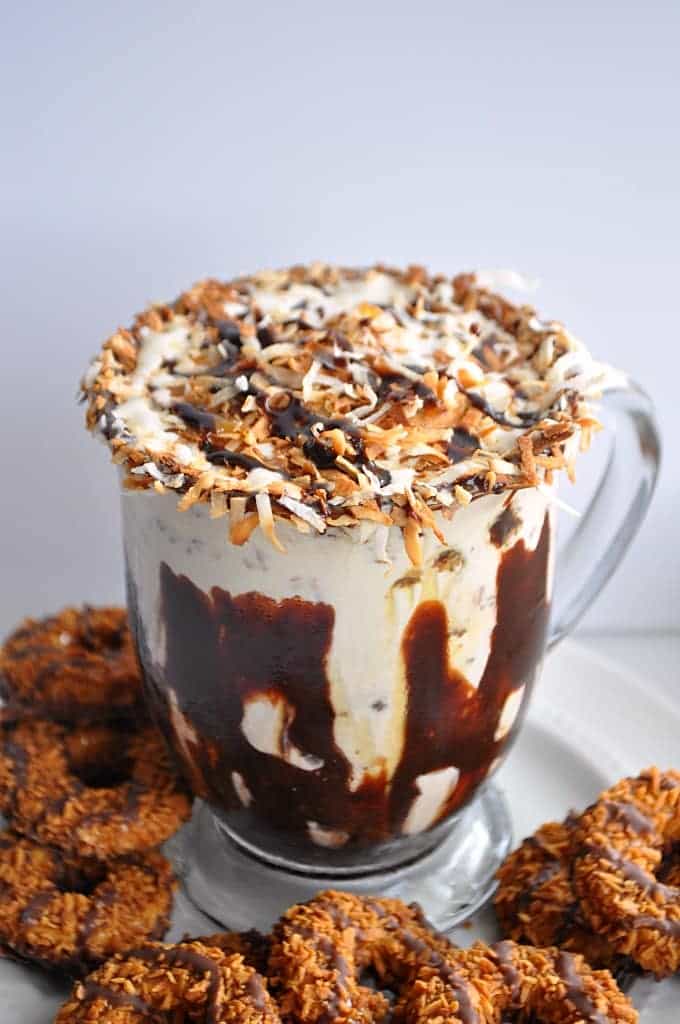 This time of year is also when I start to see the Samoa ice cream in the markets.  When I was a kid I used to sit and stir my ice cream for what would seem like days.  Waiting for my ice cream to get that perfect melted consistency where I could slurp it off my spoon.   Anyone else do that?  I'm going to pretend that someone out there is nodding their head remembering that time in their life.   Looking back now I realize that for a kid to have that kind of patience when there's ice cream in front of them is nothing short of a miracle.
The point of this story is, why sit and stir the ice cream around waiting for it to melt when you can just make it into a milkshake in the first place?
To make this shake nice and pretty I did a toasted coconut rim to the glass.  To do this I dipped the rim of the glass in chocolate fudge sauce and then dipped it into toasted coconut.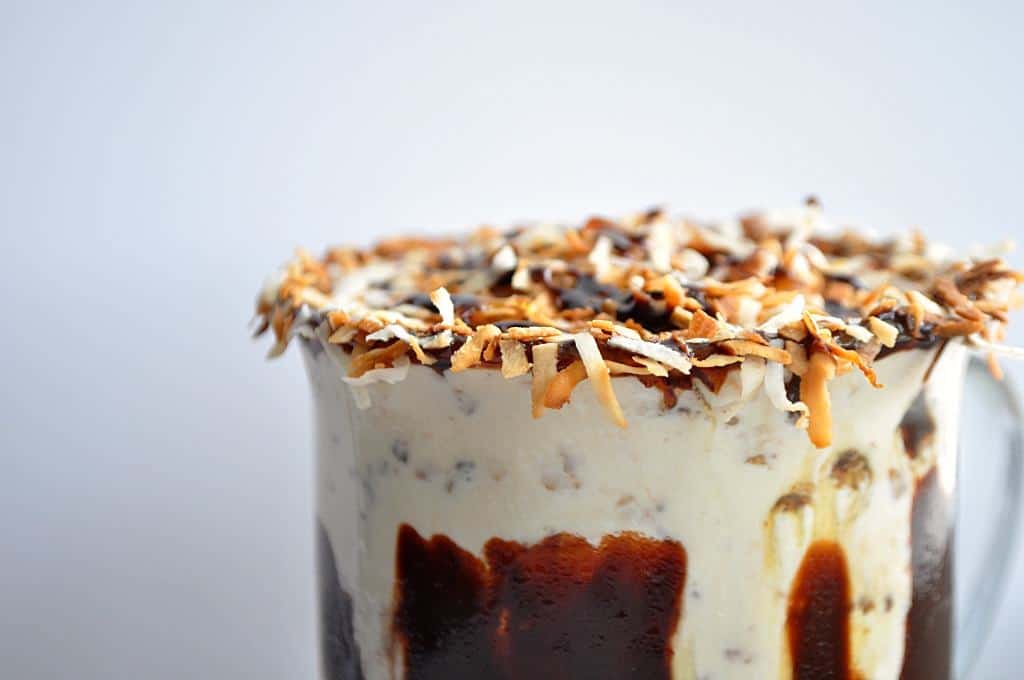 Toasting coconut is very easy.  Just toss some sweetened coconut into a pan on the stove and cook over a low heat until toasty brown.  This will also make your house smell yummy!
Then I stuck my glass with the toasted coconut rim into the freezer so that it would set.
While my glass was freezing I made the milkshake.  I could have gone with a coconut ice cream and added the other flavors, but I really wanted an authentic taste to this shake.  So I decided instead to use crushed up samoas in a vanilla ice cream.  So I used my food processor to mix up the vanilla ice cream, milk, and crushed up samoas.  After a taste I wanted a little more flavor so I added in some of the extra toasted coconut too.  That little extra gave the shake just the taste I was looking for.  When making your milkshake if it's coming out too runny or too thick, just add more ice cream or more milk to get the right consistency.  I have the recipe below, but my ice cream scoops are probably a little bigger than most peoples!
I removed my cup from the freezer, squirted the inside all over with chocolate fudge sauce and caramel sauce, because I wanted the glass to look pretty, and also I wanted those flavors mixed into the shake too.  I poured in the milkshake.  Topped with toasted coconut and even more chocolate fudge sauce and caramel.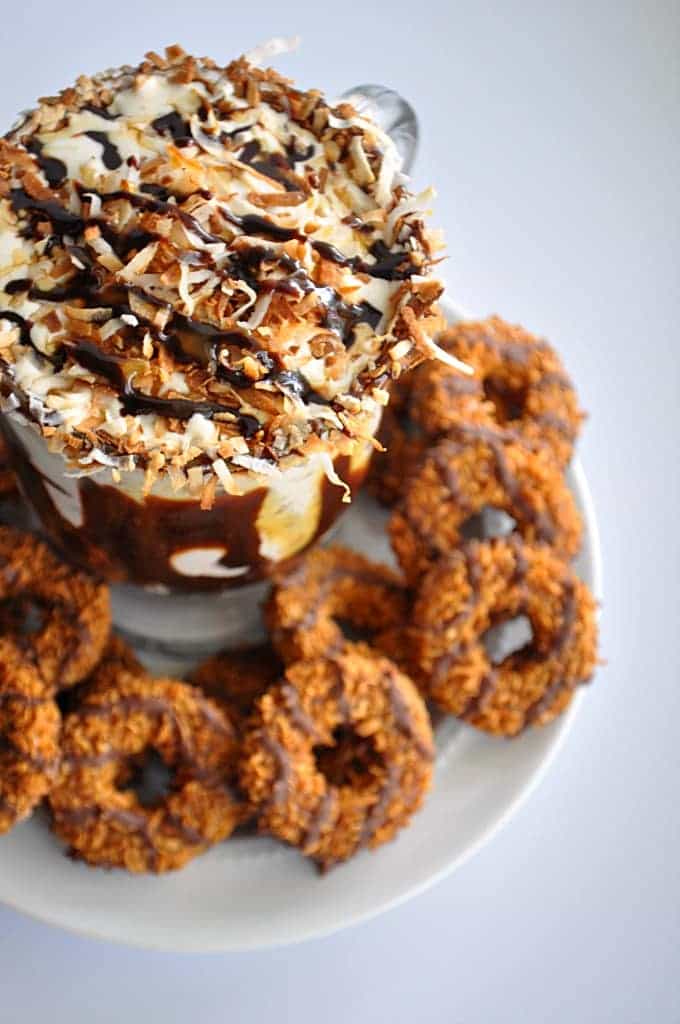 This milkshake is all my samoa hopes and dreams in one glass.  It tastes just like the cookie, but in that wonderful cold, refreshing-ness of a milkshake.  That's right.  I said refreshing-ness.  Try this milkshake out and you'll know exactly what I mean!
Print
Samoa Milkshake
Yield: Makes

2

milkshakes

1

x
---
Scale
Ingredients
5

samoa cookies

4

scoops of vanilla ice cream

3/4 cup

s milk

1/2 cup

of toasted coconut
Chocolate fudge sauce
Caramel Sauce
---
Instructions
Toast the coconut in a pan over low heat
Rim the glass with chocolate fudge sauce and dip in the toasted coconut. Place glass in freezer to set.
Using blender or food processor mix the ice cream, milk, 1/4 cup of toasted coconut and crushed up samoa cookies together until smooth
Remove cup from freezer and squirt inside of glass with chocolate fudge sauce and caramel sauce. Fill cup with milkshake
Top with toasted coconut and chocolate fudge sauce and caramel sauce
---
 Looking for some other milkshake ideas??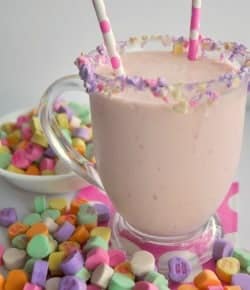 Strawberry Cake Batter Milkshake 
Love Samoas?!  Check these out!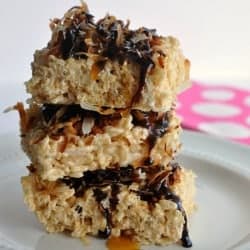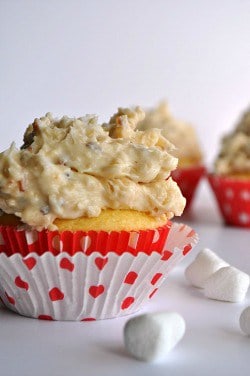 Samoa Rice Krispie Treat Frosting
1