Garlic Rosemary Butter Rolls with Sea Salt
Rosemary Butter Rolls with Sea Salt. Light and fluffy butter rolls loaded up with fresh rosemary, garlic and topped with a sprinkle of sea salt.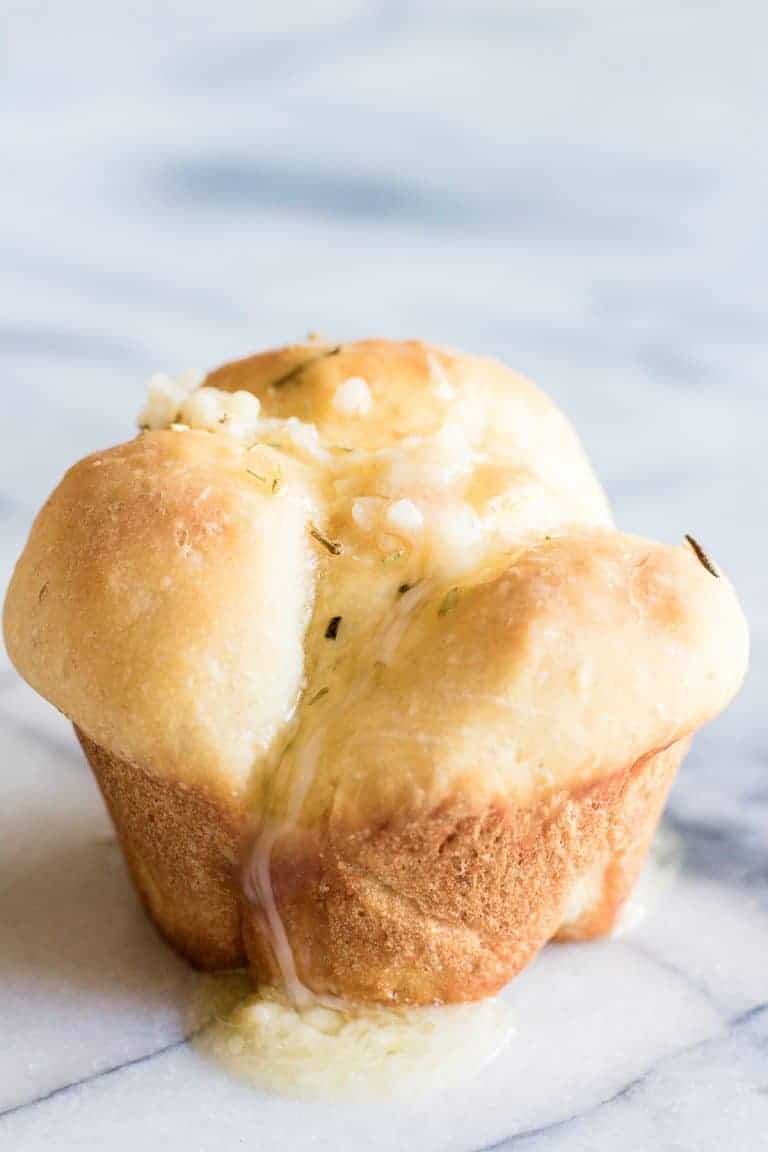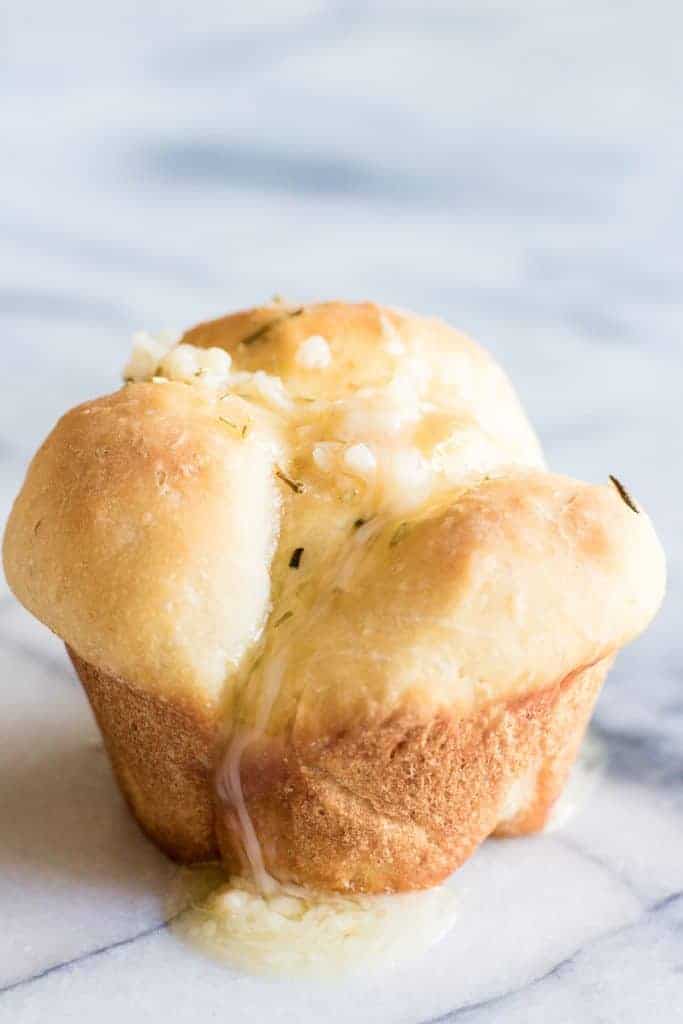 Garlic Rosemary Butter Rolls with sea salt. Be still my heart.
Rolls are always one of my favorite parts of any big meal. I would actually be quite content to sit and have just a couple rolls slathered with butter and call it a day.
Actually..no. Rolls and mashed potatoes. Then we can call it a day.
And these rolls are magical. Loaded up with garlic and fresh rosemary. Drizzled with butter and even more garlic and rosemary. And don't forget that sea salt sprinkle. Thats just the finishing touch these little bite sized work of arts need.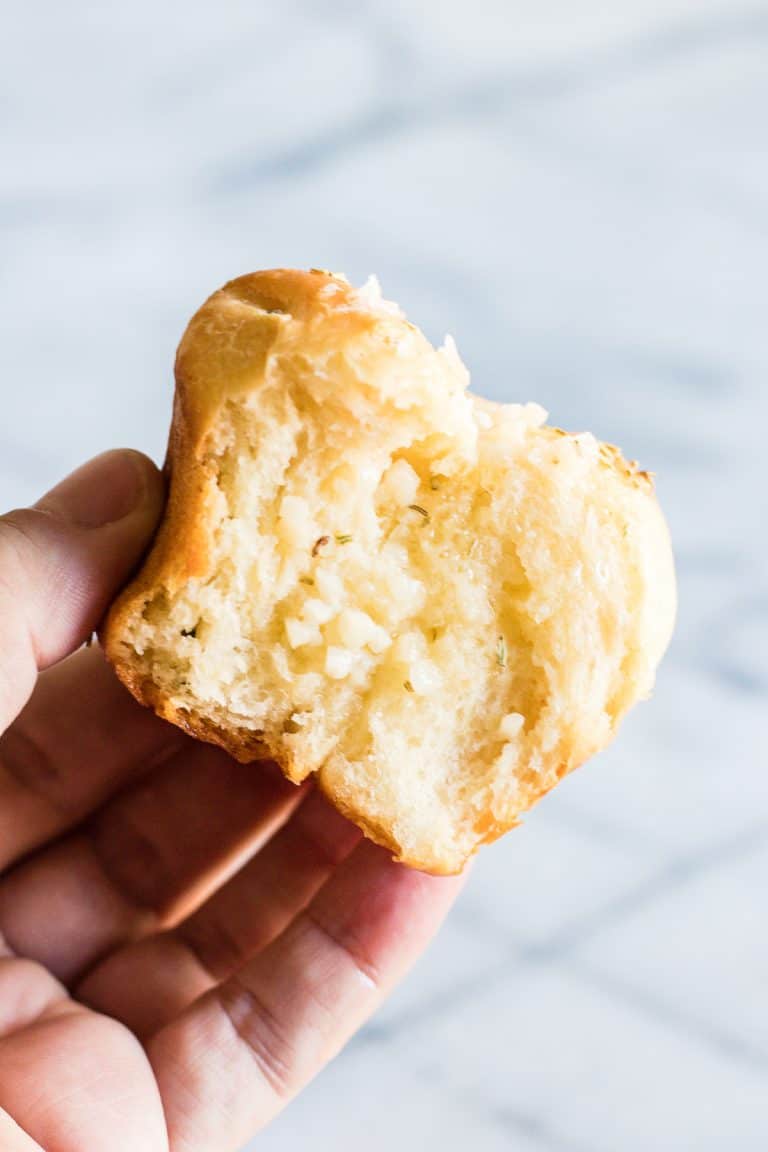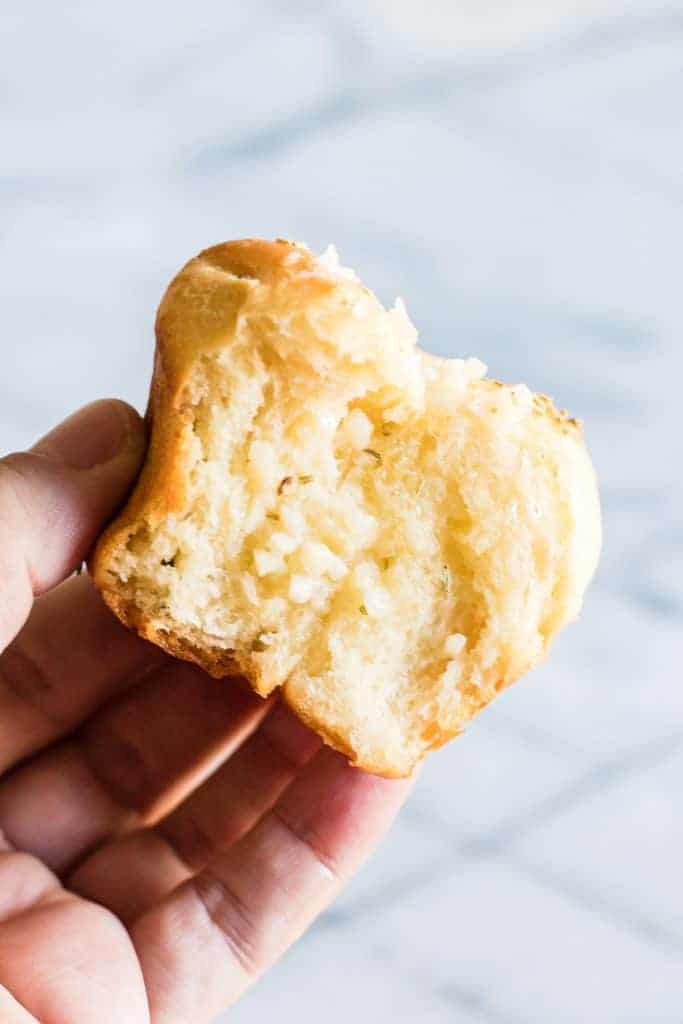 These rolls are super fluffy and soft thanks to a few extra ingredients. And if you're wondering if it's worth it, yes. Yes it is.
What am I talking about? The potato flour. Which if you don't have that on hand you can snag a cheap little pouch of instant mashed potatoes and use that instead. And the dry nonfat milk. Another cheap little pouch you can snag from the market.
And if you're not a yeast person. This is maybe the easiest recipe that uses yeast for you to start out with! Instant yeast is probably the easiest type of yeast to use. You can mix it right in with the dry ingredients. You don't need to proof it beforehand with warm liquids.
Basically, your Thanksgiving table needs these rolls. Actually, any dinner table needs these rolls.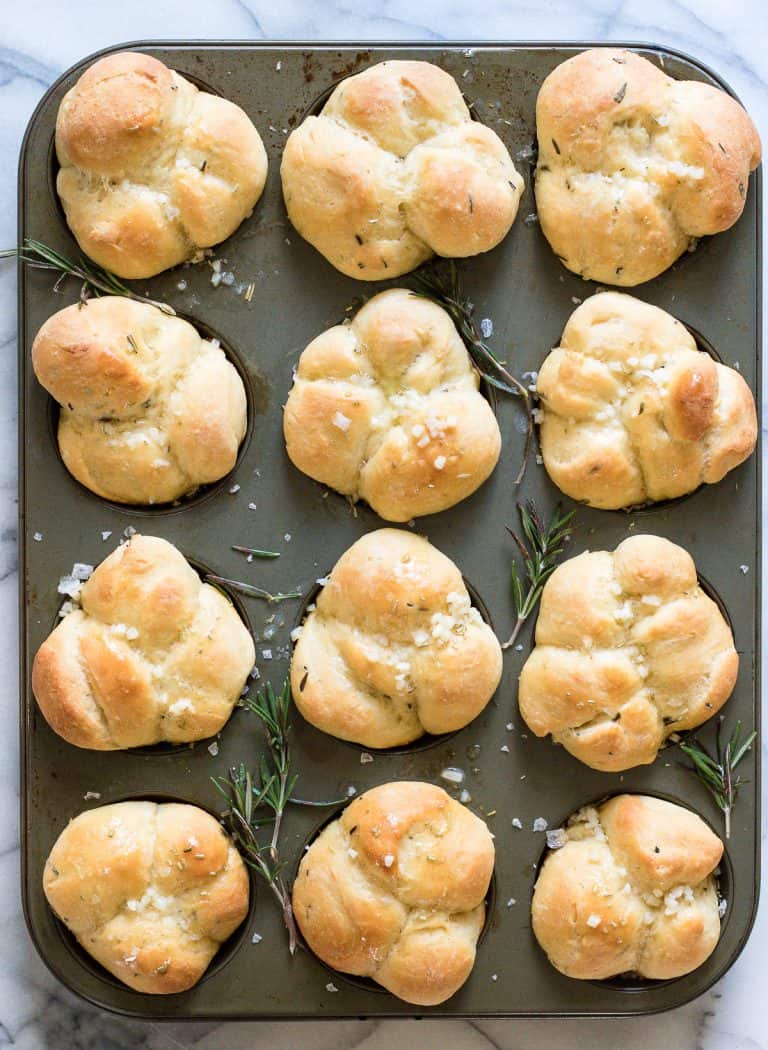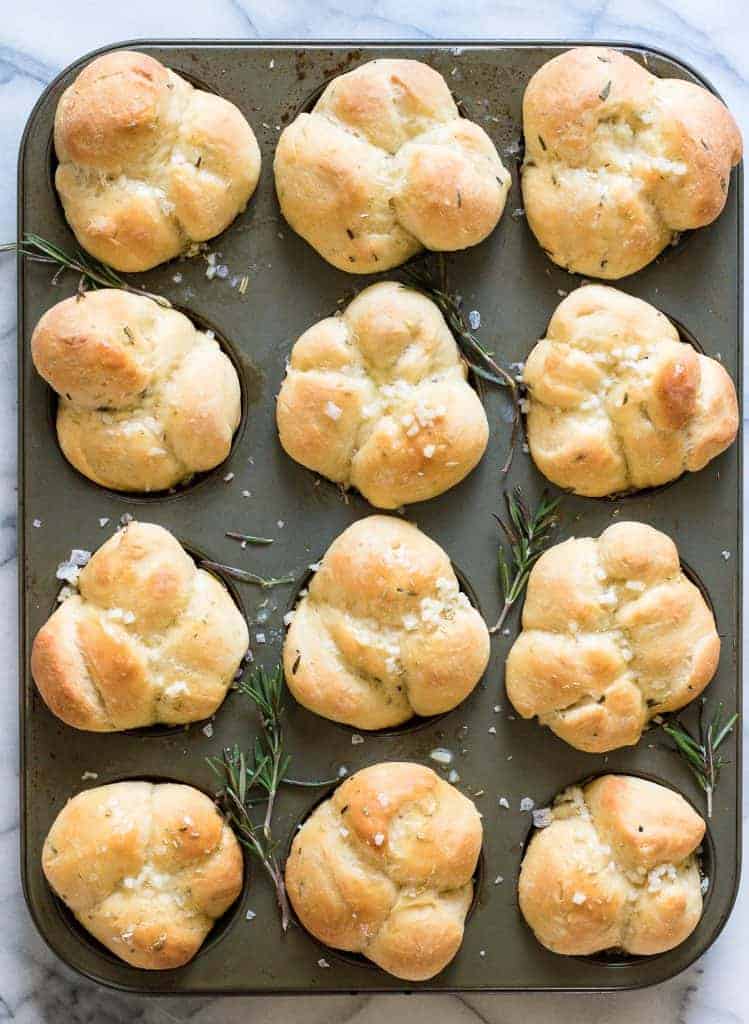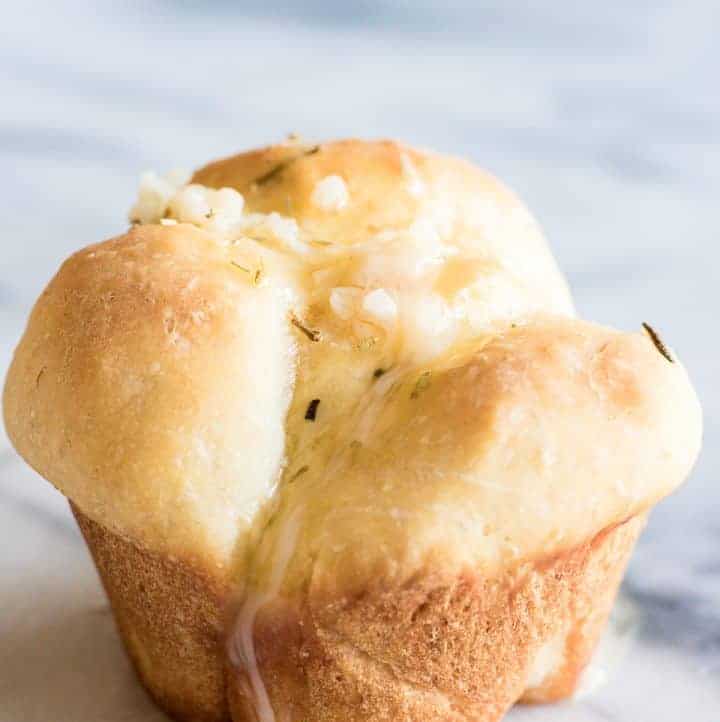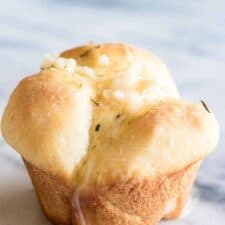 Rosemary Butter Rolls with Sea Salt
Rosemary Butter Rolls with Sea Salt. Light and fluffy butter rolls loaded up with fresh rosemary, garlic and topped with a sprinkle of sea salt. 
Ingredients
3½ cups all purpose flour
2¼ tsp instant yeast, (1 packet)
2 tbsp potato flour OR instant potato flakes
3 tbsp nonfat dry milk
2 tbsp white sugar
1½ tsp salt
4 tbsp unsalted butter , room temperature
⅔ cup water, warm
½ cup milk, warm
2 tbsp fresh chopped rosemary, or 1-2 teaspoons dried
Instructions
In a medium size bowl (or bowl for add the flour, instant yeast, potato flour or flakes, nonfat dry milk, sugar and salt. Stir with a fork to combine. Add in the butter, water and milk. Mix with the dough hook on the stand mixer or knead with your hands until a smooth dough forms. Add in the rosemary and mix to combine.

Place the dough in a lightly greased bowl and cover. Allow the dough to rise for 60-90 minutes until it has doubled in size.

Gently punch down the dough, and transfer to a clean, lightly greased work counter. Cut the dough in half, and then half again, and continue until you have 36 equal pieces. I realize that continuing to cut the dough in half will not end up at 36 pieces exactly, just do the best you can to get to 36.

Round each piece of dough into a small ball with your hands. Spray a muffin tin with non stick baking spray. Place three balls of dough into each space. Cover the pan and allow the buns to rise for another 60-90 minutes until they've risen again and look puffy.

Preheat the oven to 350℉ degrees.

Bake the muffins for 22-24 minutes until they're golden. Remove from the oven and allow to cool.

Combine the ingredients for the topping in a small bowl minus the sea salt. Brush the melted butter mixture on top of all the rolls and then sprinkle with sea salt.

Serve warm or at room temperature.
Nutrition
Calories: 229kcal, Carbohydrates: 32g, Protein: 6g, Fat: 9g, Saturated Fat: 5g, Cholesterol: 22mg, Sodium: 342mg, Potassium: 108mg, Fiber: 2g, Sugar: 4g, Vitamin A: 294IU, Vitamin C: 1mg, Calcium: 44mg, Iron: 2mg
SaveSave
SaveSave
SaveSave
SaveSave
House of Yumm is a participant in the Amazon Services LLC Associates Program, an affiliate advertising program designed to provide a means for us to earn fees by linking to Amazon.com and affiliated sites.