Muddy buddies that taste like a refreshing root beer float.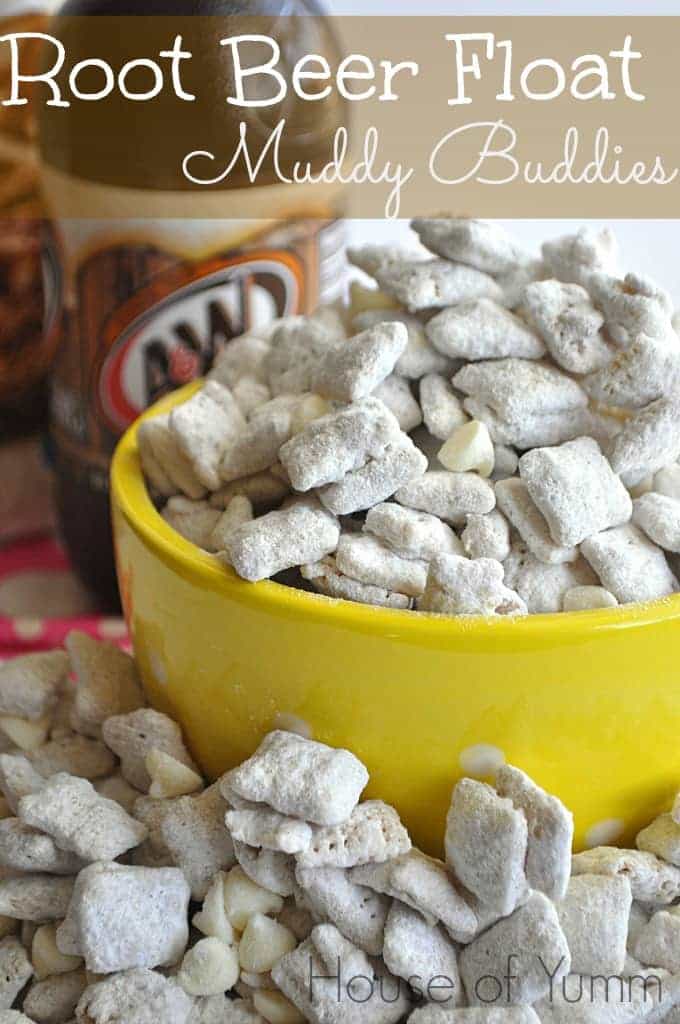 Muddy buddies, or puppy chow, whatever you prefer to call these bites of yum, are a dangerous, dangerous snack.  So dangerous that I had to say it twice.
This is one of those snacks that you will have a full bag of and before you know it the bag is empty, and you're trying to convince yourself you didn't really eat them all.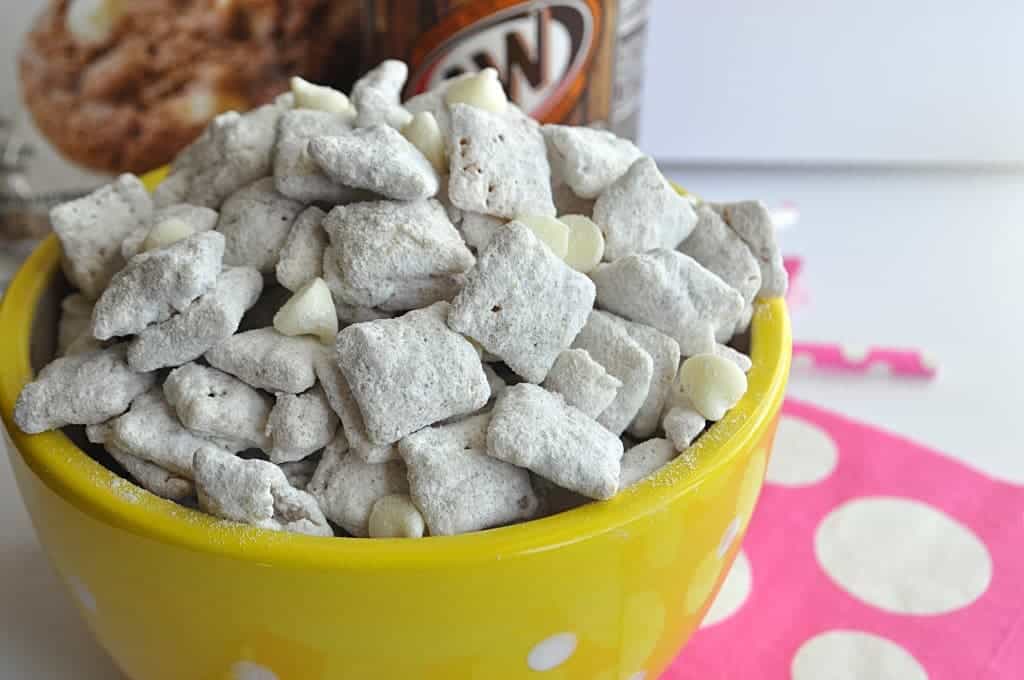 It is so easy to constantly keep popping these little bites into my mouth. And these ones especially because they are root beer float flavored! I love root beer floats.  They remind me of warm summer nights as a kid, being barefoot and dirty from playing outside all day.
I posted a picture to my Instagram not too long ago showing all kinds of treats from a trip to the market.  If you look closely you will see a Betty Crocker package of Root Beer Float Cookie Mix.  I know right?! Amazing!  (sidenote..if you're on Instagram look me up! Or just click here.  I like to post my kitchen disasters and give sneak peeks of things coming up, plus you can see my adorable kids too!)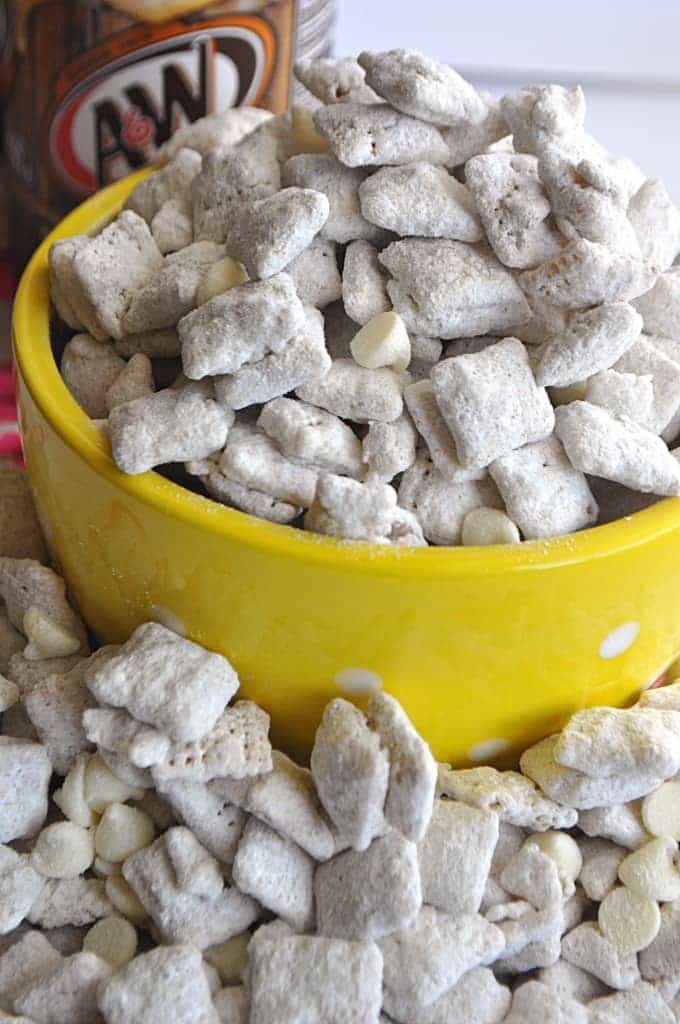 However, being a food blogger I think it's a requirement that I use this mix for something other than actual cookies.
This was a quick, easy treat to make.
Have you had the Vanilla Chex cereal?  I highly recommend it, and that's the cereal that I used for these muddy buddies.  Honestly, I could just sit and eat the plain Vanilla Chex all day.  Instead though, I decided to coat them in melted white vanilla chips, powdered sugar, and root beer flavored cookie mix.  Talk about taking a delicious snack and making it AWESOME!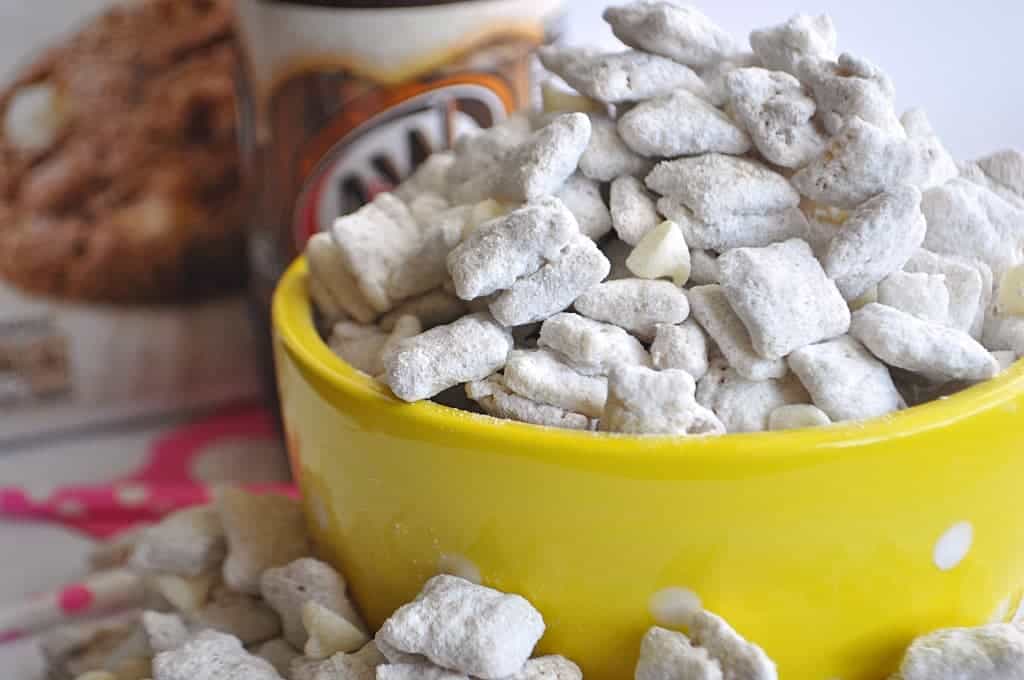 I was going to make these using the cookie mix and then a batch using some root beer concentrate I picked up too so I could compare them.  But the first batch of these with the cookie mix were so good I just went for it and made another batch with the cookie mix.  The cookie mix is only sold at Walmart I believe.  I found it with all the seasonal Easter baking supplies.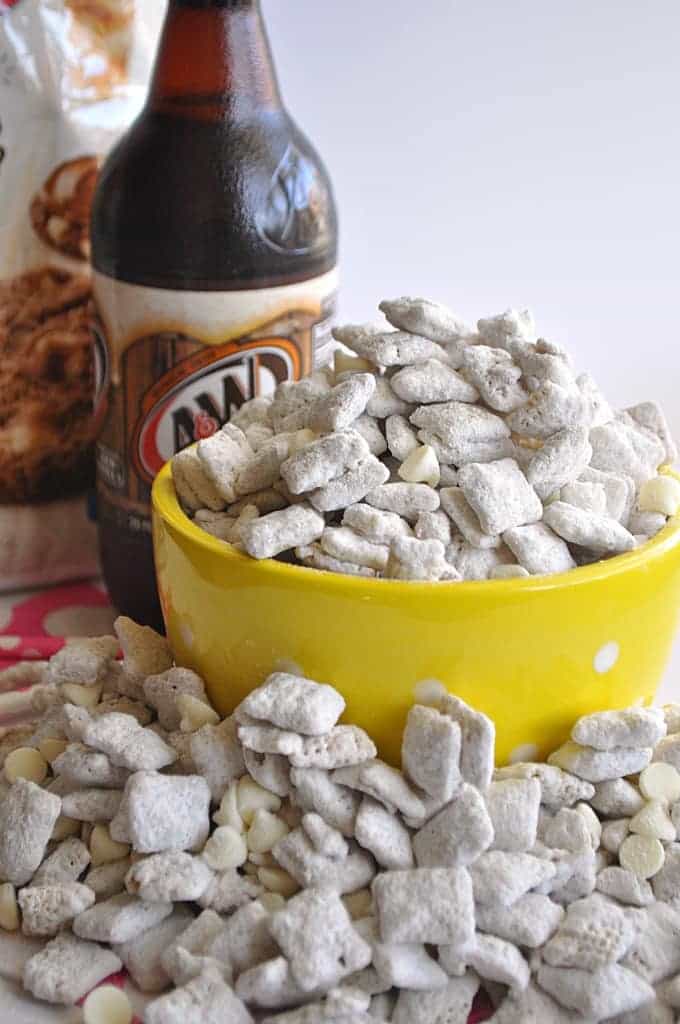 Never miss a recipe from the House of Yumm:
FACEBOOK | PINTEREST | GOOGLE+ | TWITTER | INSTAGRAM | BLOGLOVIN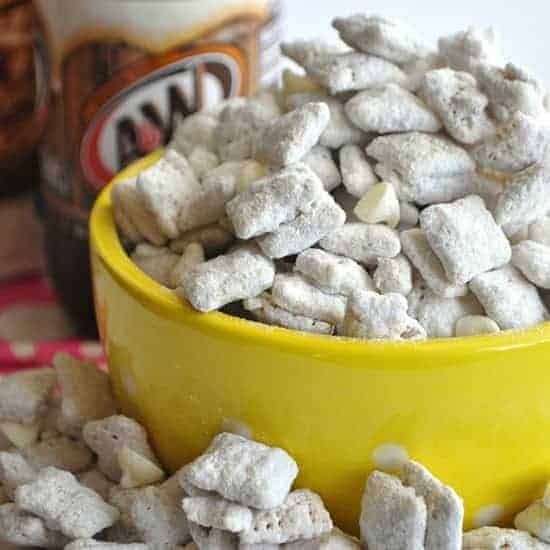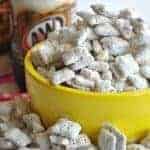 Root beer Float Muddy Buddies
---
Scale
Ingredients
4 cup

s Vanilla chex cereal

1 cup

white chocolate or vanilla chips, or candy melts

1/2 cup

powdered sugar

1 cup

root beer float cookie mix
---
Instructions
Cover a cookie sheet with wax paper or non stick parchment paper
Measure out the cereal and place into mixing bowl
Place the powdered sugar and cookie mix into a large resealable plastic bag or plastic container with a lid
Melt the white chocolate chips in the microwave (set to 50% power, run for 15 second increments stirring in between each time. Will fully melt after about 4-5 times. This method will prevent burning the chocolate!)
Pour the melted chocolate over the cereal, stir slowly to fully coat the cereal
Spoon the coated cereal into the container with the powdered sugar and cookie mix. Seal tightly and give several good shakes to fully coat
Spread the coated cereal onto the covered cookie sheet to allow to dry and cool. Store in a tightly closed container, or just eat them all!
---
Other Quick and Easy Treats!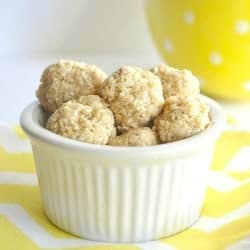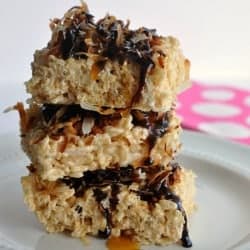 2