Rainbow Fruit Salad
 Need an easy, delicious, nutritious FUN side to send with your kids in their lunchbox?  You definitely want to try out this Rainbow Fruit Salad!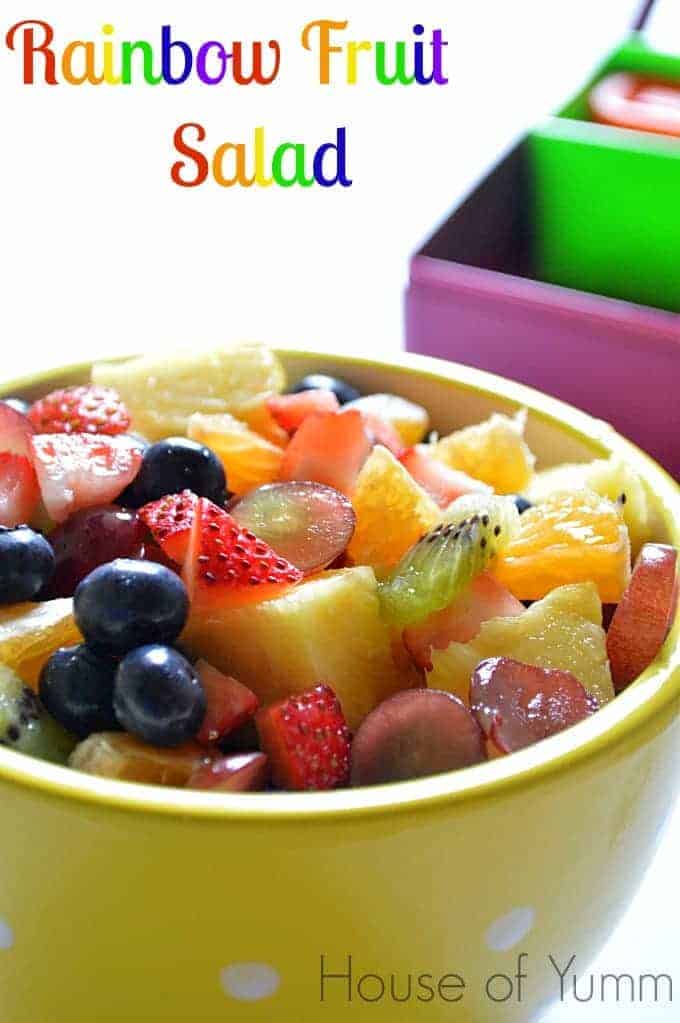 Who is excited for school to start?!  Who is excited to be making school lunches?!
Can I be honest for a moment?  I start the school year with these grand plans.  I love to pin the images of school lunches where people go all out, making ladybug sandwiches, flower shaped cheese in homemade lunchables, star shaped fruit on kabobs.  There's so many cute ideas out there!  And I applaud the moms who do that stuff.
I wish I was one of you!
However, once I finally get the crew to bed and I have a moment to prepare for the next day, the last thing on my mind is making flower shaped cheese.
Something I can do for my kids though, is to make sure I am sending them with healthy options for their lunches.  And I've made a pledge to do so!!
I encourage you to do the same!  If you go to http://poweryourlunchbox.com/take-the-pledge. you can make the same pledge stating that you will send your kids with healthy lunches too! 
Even better?!  For every pledge that is made, participating produce companies will make a donation to DonorsChoose.org to fund classroom projects focused on health and wellness across the U.S.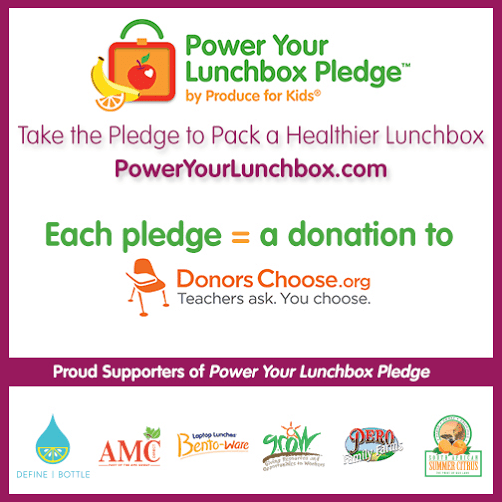 This fruit salad will definitely help your kids reach their daily recommended amount.  I mean c'mon who doesn't want to eat the rainbow?!
When it comes to filling out the rest of the lunchbox, poweryourlunchbox.com has several recipe ideas.  So helpful!  My favorite is these Mac N Cheese Muffins.  I know they will be a huge hit with my kids!  Can't wait to try them out!
Produce for Kids Instagram and Twitter fans can also show off their healthy lunchboxes throughout the program to be automatically entered to win weekly prizes and have their lunchboxes featured on Produce for Kids' Facebook page. Prizes include bento boxes, fruit-infusing water bottles, grocery store gift cards and more.  So make sure you take pics of all the healthy foods you're making and post them to be entered!  Those bento boxes are soooo worth it!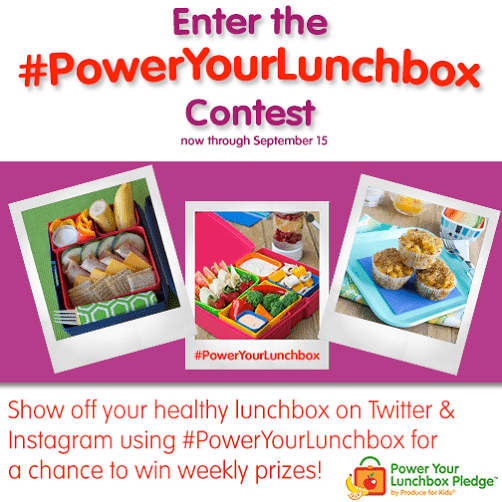 So take a moment, make the pledge, and send your kids with some healthy lunches 🙂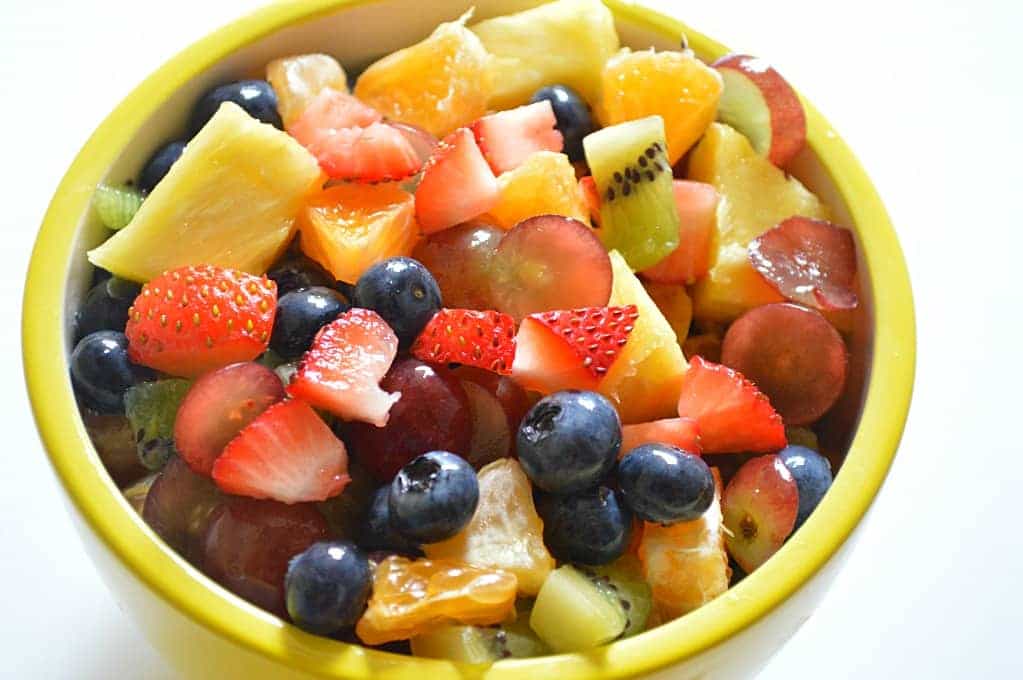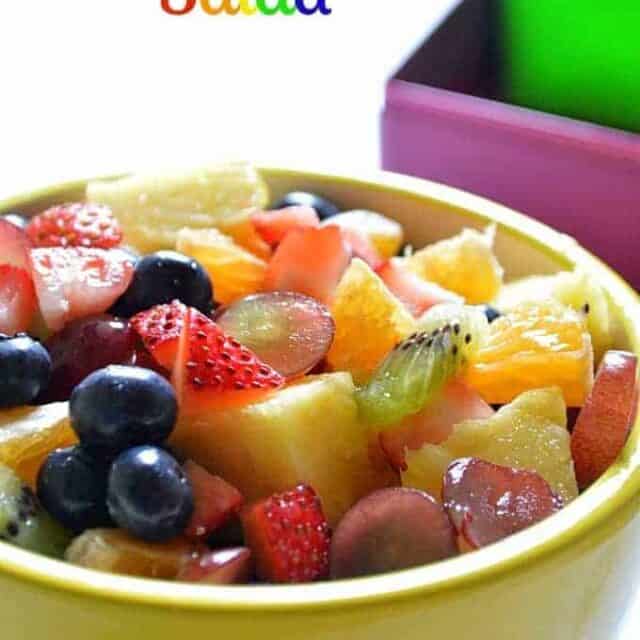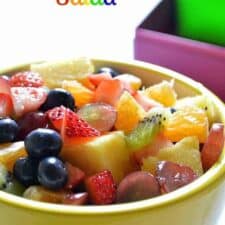 Rainbow Fruit Salad
Healthy, delicious, and FUN! Eat the rainbow in this healthy fruit salad!
Ingredients
1 Pineapple , diced
1 cup strawberries, chopped
2 mandarins , chopped
2 kiwis , chopped
1 cup blueberries
1 cup grapes, sliced
Instructions
Add all the fruit into a bowl and stir gently to mix it up. Store in refrigerator.
Nutrition
Calories: 149kcal, Carbohydrates: 38g, Protein: 2g, Fat: 1g, Saturated Fat: 1g, Sodium: 4mg, Potassium: 412mg, Fiber: 5g, Sugar: 28g, Vitamin A: 344IU, Vitamin C: 125mg, Calcium: 47mg, Iron: 1mg
More Healthy Ideas for You!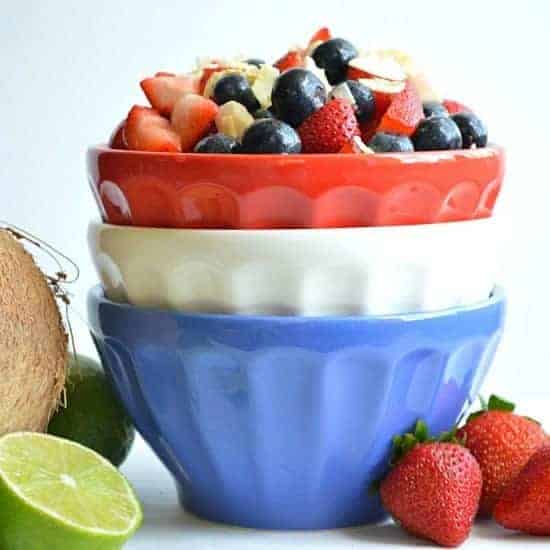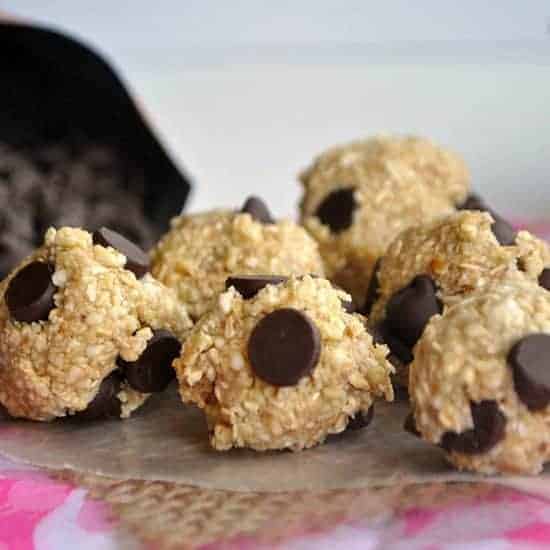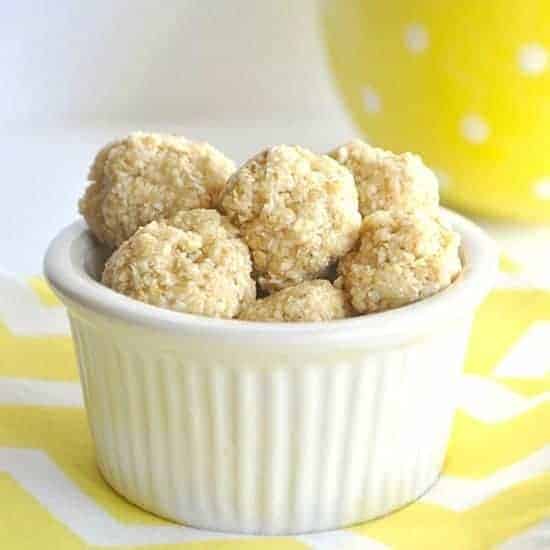 House of Yumm is a participant in the Amazon Services LLC Associates Program, an affiliate advertising program designed to provide a means for us to earn fees by linking to Amazon.com and affiliated sites.