Quinoa Shrimp bowl with Honey Lime Dressing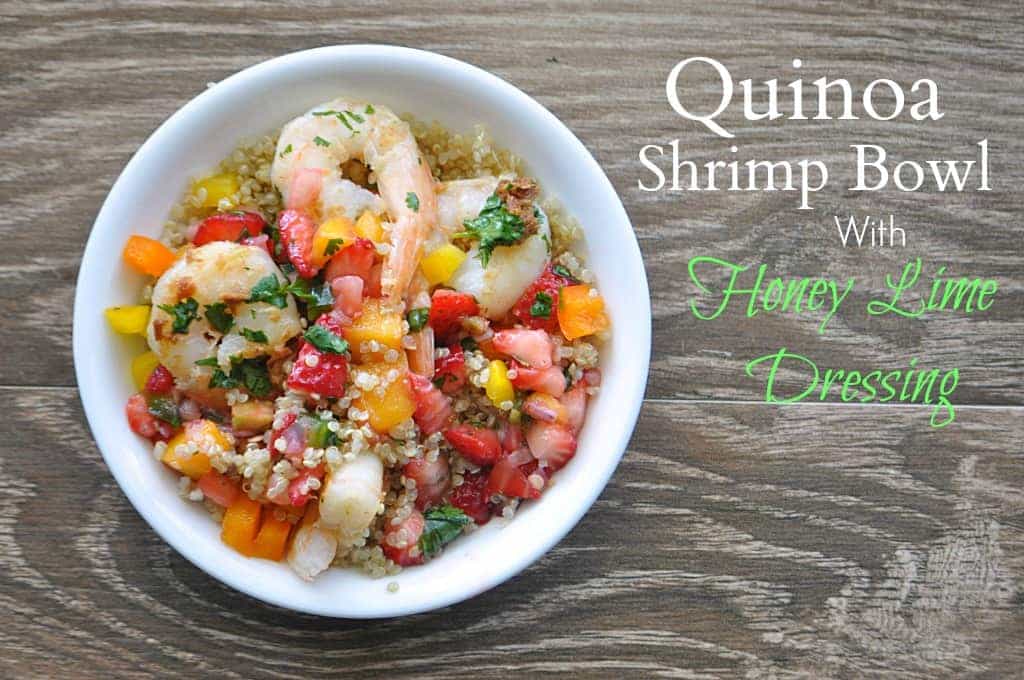 Ohhhh yum!!!  If you're in the mood for a quick, tasty, and healthy meal look no further than this!!  A quinoa shrimp bowl with a honey lime dressing AND topped with some strawberry mango salsa!
This meal has it all.  Especially a lot of flavor!  It was fairly quick and easy to make too!  And since I have the most mischievous 8 month old ever, quick and easy is the way to go right now.
This bowl has quinoa, great source of protein, gluten free, healthy, all around good guy.  Super popular these days right?  What kind of food blogger would I be without my quinoa dish!?  And I joke, but in all honesty, I LOVE this stuff!!  No wonder it's so popular.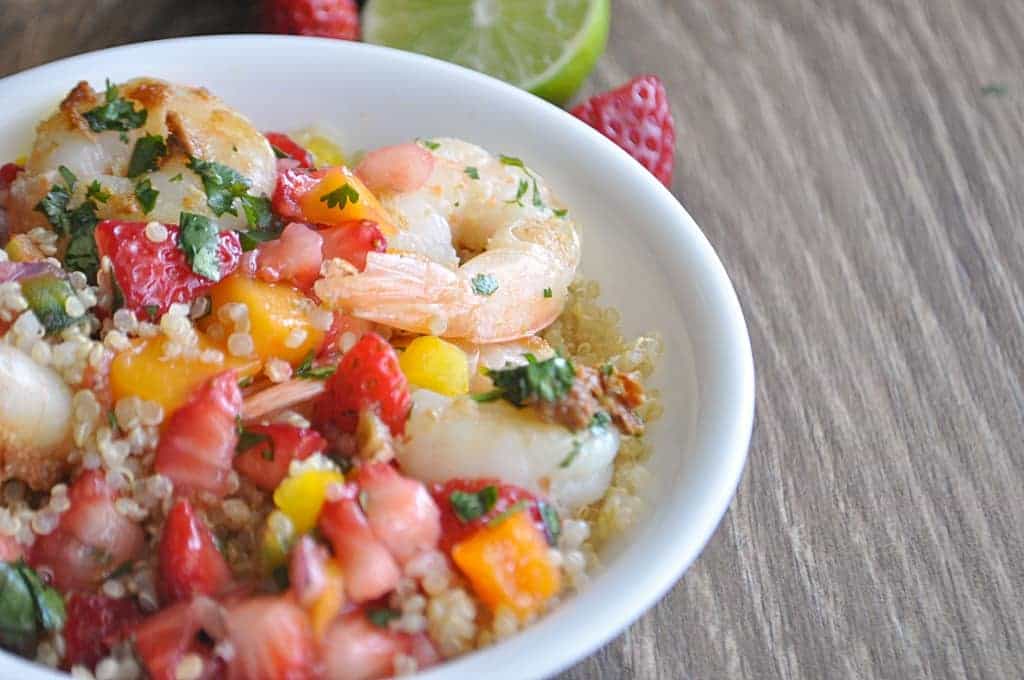 Next up is the shrimp.  Bought it precooked from the seafood counter at the market.  All that's needed is to heat this stuff up.  I cooked mine with lime and cilantro though for extra flavor and yumminess!  You can check out the recipe here.
Moving on, next up is the honey lime dressing.  So tasty!  Perfect complement to the shrimp.  And lets face it, as much as I love quinoa, I just can't eat it plain.  No matter how much stuff I add to it, I need some kind of dressing.  This was just something quick I whipped up in the kitchen.  A warning though, if you taste it by itself it will seem way too tart.  But just a small amount mixed in the quinoa is amazing!!  The recipe below will give about 2 servings feel free to make a larger batch.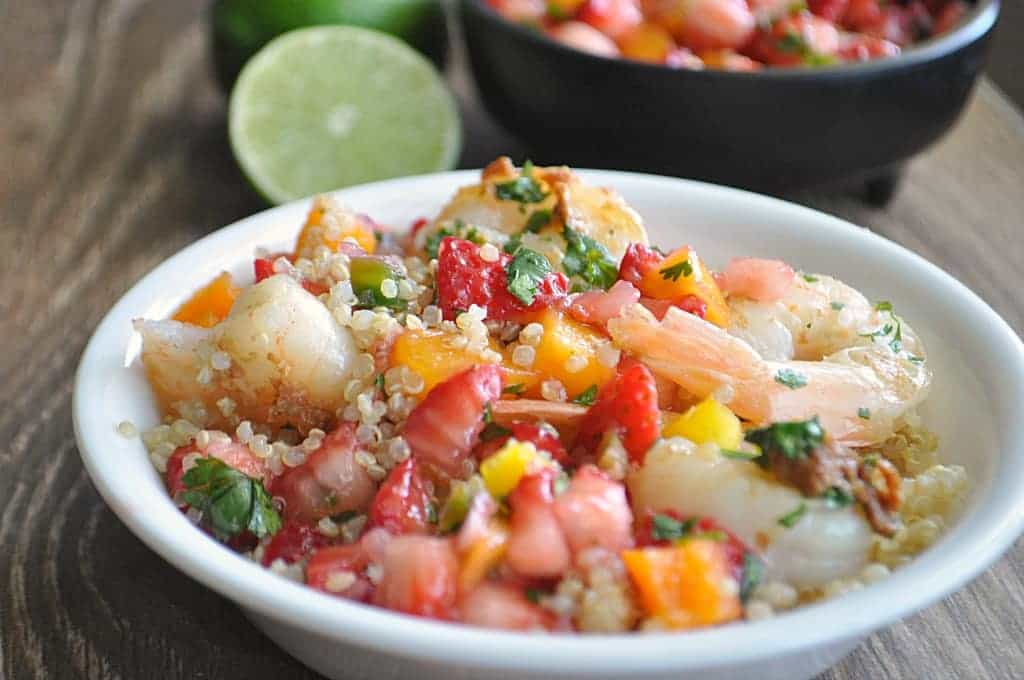 Still, I like a little more zing to my meals.  What about you?  A fan of zing?  Toss on some strawberry mango salsa and you will have a party of zing going on in your bowl.  Some strawberries, mangoes, jalapenos, shrimp, lime, quinoa what could possibly go wrong?
This meal turned out to be everything that I hoped it would be.  And yes in case you are wondering, it is gluten free!!
Print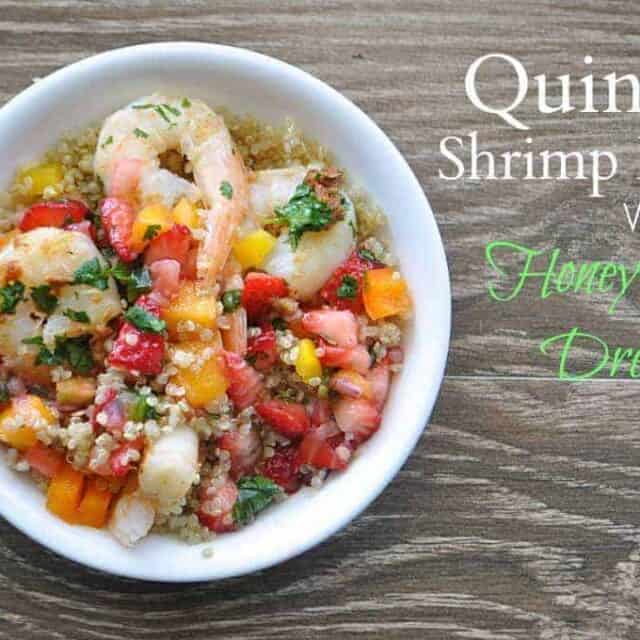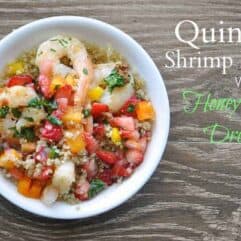 Honey Lime Dressing
---
Scale
Ingredients
2 tablespoons Extra Virgin olive oil
Juice of 1 lime
1 tablespoon of honey
---
Instructions
Whisk all ingredients together until well combined.
---
House of Yumm is a participant in the Amazon Services LLC Associates Program, an affiliate advertising program designed to provide a means for us to earn fees by linking to Amazon.com and affiliated sites.