Pumpkin Snickerdoodle Cobbler.  A winning combination of pumpkin pie filling with a snickerdoodle topping.  Making this the perfect Fall dessert!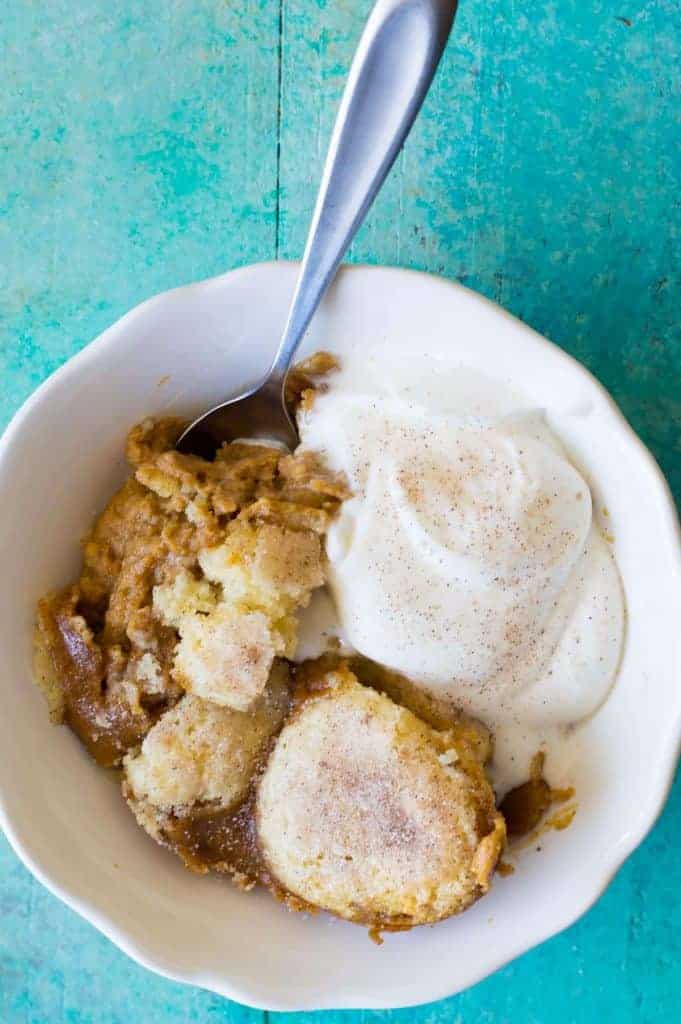 Hey y'all!  Happy Tuesday!  We're going to start our week of food out with some Pumpkin Snickerdoodle Cobbler!  It's a combination of two of my favorites!  Pumpkin pie meets Snickerdoodles!  Just imagine pumpkin pie topped with snickerdoodle cookies.  That's kind of where we're going here.
No pie crust, but a fluffy, light, snickerdoodle cinnamon sugar topping.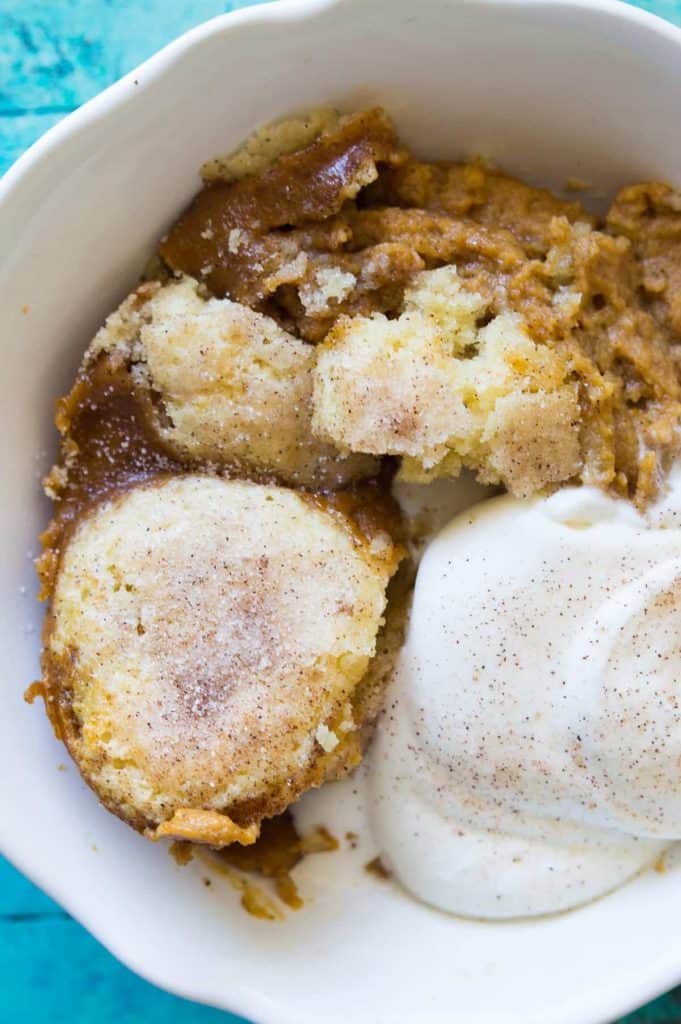 I don't know what it is about Fall that gets me feeling all cobbler-like.  Such a comforting dessert.  Like this Snickerdoodle Cobbler.  I think we can see a theme forming..
This dessert is so easy to put together.  I just basically used the pumpkin pie filling I always use, from the can of pumpkin puree.  It's never steered me wrong.  And it's the pie filling my mom would always make.  I'm sentimental like that.  Plus I've tried other pumpkin pie recipes and to be honest..they just aren't as good as the pie my mom would make.  But I think everyone can understand that feeling.  Some foods just taste like home.
I did add a little flour to the pumpkin pie filling recipe though.  To give a little more substance to it.
Then it's a basic snickerdoodle cookie dough, dipped in cinnamon and sugar of course.  Laid out on top of the pumpkin filling.
Bake and you will have a wonderful smelling home, and a tasty Fall dessert.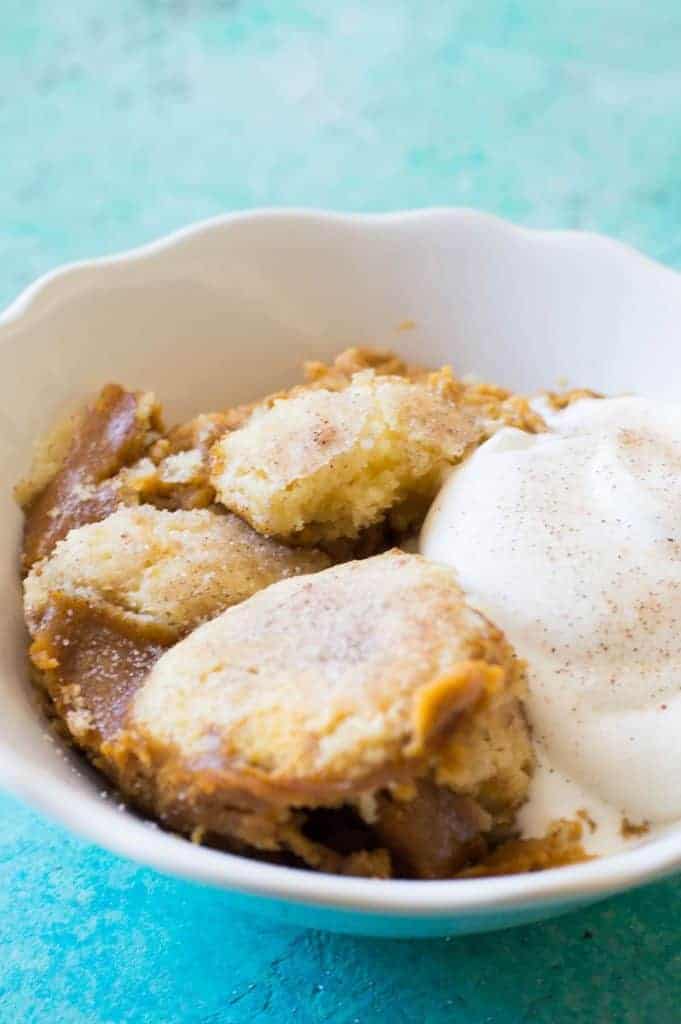 Need More Fall Dessert Inspiration?!
Pumpkin Snickerdoodle Cobbler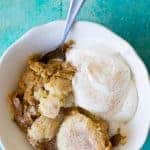 Pumpkin Snickerdoodle Cobbler. A winning combination of pumpkin pie filling with a snickerdoodle topping. Making this the perfect Fall dessert!
Author:
Prep Time:

10 minutes

Cook Time:

35 minutes

Total Time:

45 minutes

Yield:

9
Ingredients
Pumpkin
1 can (15 oz.) Pumpkin
3/4 cup granulated sugar
1 teaspoon ground cinnamon
1/2 teaspoon salt
1/2 teaspoon ground ginger
1/4 teaspoon ground cloves
2 large eggs
1 can (12 fl. oz.) Evaporated Milk
1/4 cup flour
Snickerdoodle Topping
1/4 cup butter (room temperature)
1/3 cup white granulated sugar
1/2 teaspoon baking powder
1/2 teaspoon cream of tartar
1/8 teaspoon salt
1 large egg
2/3 cup all purpose flour
Snickerdoodle Coating
1/4 cup white granulated sugar
1/2 teaspoon ground cinnamon
Instructions
Preheat oven to 350 degrees. Spray a 2 quart baking dish with cooking spray, set aside.
Prepare the pumpkin filling by adding the pumpkin to a large mixing bowl. Add in the spices, stir to combine. Add the eggs and stir until combined. Slowly pour in the milk while stirring. Stir in the flour.
Pour the pumpkin into the prepared baking dish. Set aside.
Prepare the Snickerdoodle topping. Place butter in medium size mixing bowl, mix the butter until smooth and creamy. Add the sugar and cream with the butter until fluffy.
Add in the baking powder, cream of tartar, and salt. Mix until well combined.
Add in the egg and stir until mixed. Add the flour and mix until just combined.
divide the dough into about 12 equal pieces. Roll each piece of dough into a ball using the palms of your hands. Then slightly flatten so they look like round disc shapes.
In a small bowl stir together the coating by mixing the sugar and cinnamon. Dip each rounded piece of dough into the cinnamon/sugar coating. Coat both sides of the dough. Place the cookie dough onto the pumpkin filling in an even layer.
Bake for 35 minutes or until the filling is set, it will start to pull away from the edges of the baking dish.
Set aside to cool about 10 minutes.
Serve warm with whipped cream or ice cream! Enjoy!
4