Seriously EASY to make Pumpkin Pie Fries served with whipped cream for dipping!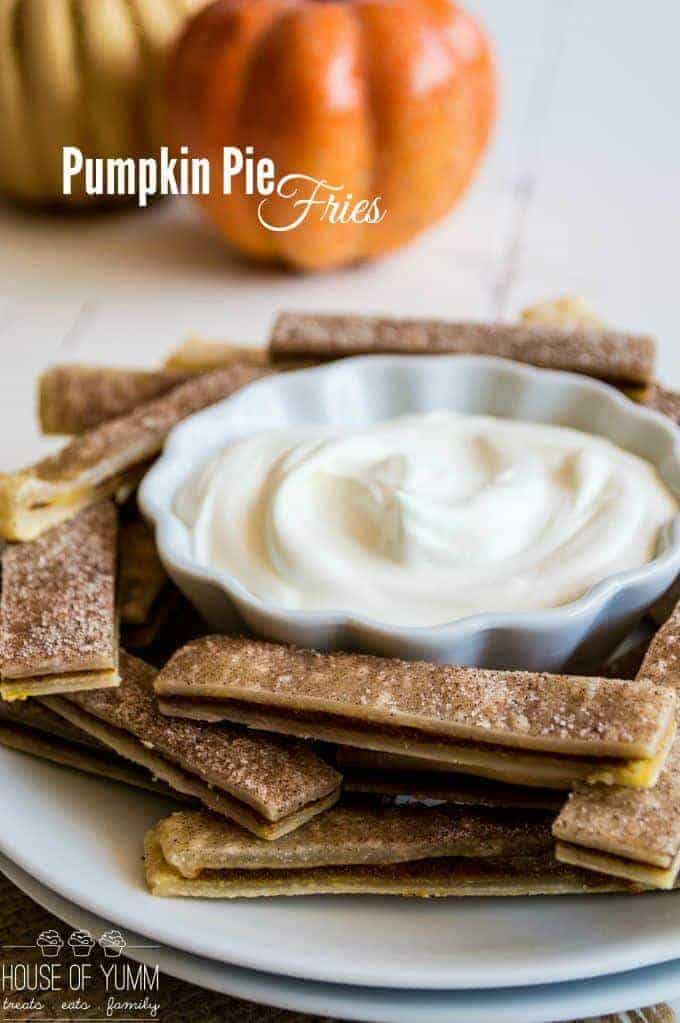 It's that time.  Time for me to tell you all about putting up my first pumpkin recipe of the year.  Time for me to tell you all about my excitement to wear boots and sweaters.  Time for me to express my desire for this hot summer weather to go away for a bit!  This in between time is the hardest right?  Just waiting for cool breezes and falling leaves.  I think since I've discovered this super fun little dessert though, I may be enjoying pumpkin pie year round now!  Have you made pie fries before?!  So simple!  Seriously.  This is just two pie crusts with some pumpkin pie filling in the middle.  Bake it and voila!  A fun little treat!  Serve them with some cold, fluffy whipped cream and it's pure perfection.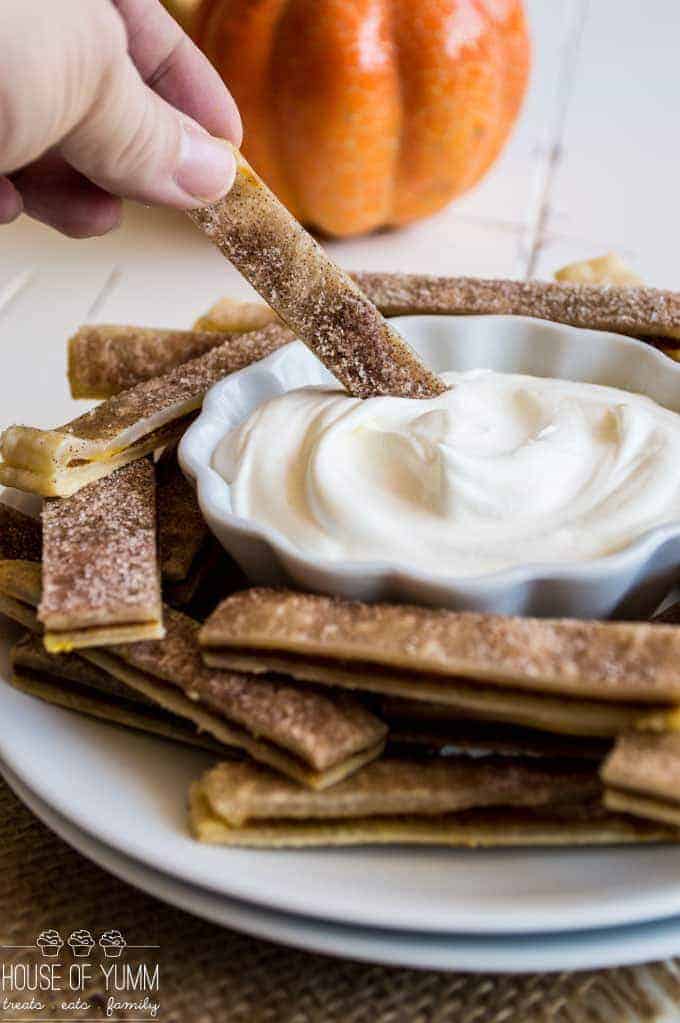 These remind me of the crust cookies my mom used to make me of the left over pie crusts growing up.  She always made her own pie crusts, and there would always be extra after she made her actual pies.  Which could possibly be because she had a super excited little girl begging her for the magical crust cookies.  I think she made a whole extra pie crust just so she could make me cookies.  They were just the pie crust sprinkled with cinnamon and sugar, the crust would get all bubbled up and fluffy when baked.  Super simple, but to me, they were the best part of the pie making experience.  To this day I have not mastered my mom's pie crust making abilities.  Someday.  In the meantime I think I'll just whip up a couple more batches of these pumpkin pie fries!
 Follow me on Instagram @houseofyumm and tag me when you make this recipe!  I love seeing your creations!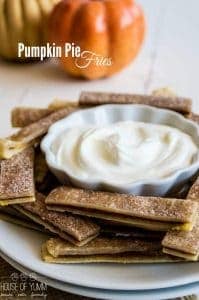 Pumpkin Pie Fries
Seriously EASY to make Pumpkin Pie Fries served with whipped cream for dipping!
Ingredients
2 Pie Crusts
1 cup pumpkin puree
½ cup white granulated sugar
½ tsp ground cinnamon
¼ tsp ginger
⅛ tsp cloves
pinch salt
1 large egg
¼ cup white sugar
1 tsp ground cinnamon
Whipped Cream
1 cup heavy cream
2 tbsp powdered sugar
½ tsp vanilla extract
Instructions
In medium sized mixing bowl add the pumpkin puree, 1/2 cup sugar, 1/2 teaspoon cinnamon, ginger, cloves and salt. Stir until fully combined.

Roll out one pie crust onto a moveable surface like a cutting board or cookie sheet, I used refrigerated pre-made pie crusts. Spread the pumpkin mixture in an even layer over the pie crust. Top this with the other layer of pie crust.

Mix the other 1/4 cup white sugar and 1 teaspoon cinnamon together in a small bowl and set aside. Beat the egg in a small bowl and using a brush spread the egg wash over the top pie crust in a thin layer and sprinkle with the cinnamon sugar mixture.

Place this into the freezer(this is why using a cookie sheet or cutting board is handy!) for about an hour to allow the pumpkin mixture time to set. Just before removing from the freezer preheat the oven to 350°F and spray a large cookie sheet with cooking spray, set aside.

Remove the pie crusts with the pumpkin from the freezer and using a sharp knife cut the crusts into thin "french fry" strips. Freezing the pie crusts with the pumpkin will ensure that the pumpkin mixture doesn't squeeze out while cutting. If mixture is still coming out of the pie crusts when cutting just place back into the freezer.

Place the pumpkin pie fries onto the greased cookie sheet. Bake at 350 degrees for 15-20 minutes or until pie crusts are turning golden brown.

Remove from oven and allow to cool on cookie sheet for about 5 minutes before removing to continue cooling on wire rack.

To prepare whipped cream pour the heavy whipping cream into mixing bowl. Beat on medium speed until mixture is thick and creamy and soft peaks are forming. Add in the powdered sugar and vanilla extract, beat until combined. Spoon into bowl and serve with the pumpkin pie fries.
Nutrition
Calories: 398kcal, Carbohydrates: 45g, Protein: 4g, Fat: 23g, Saturated Fat: 11g, Cholesterol: 61mg, Sodium: 195mg, Potassium: 134mg, Fiber: 2g, Sugar: 22g, Vitamin A: 5233IU, Vitamin C: 1mg, Calcium: 43mg, Iron: 2mg
More Easy Dessert Recipes: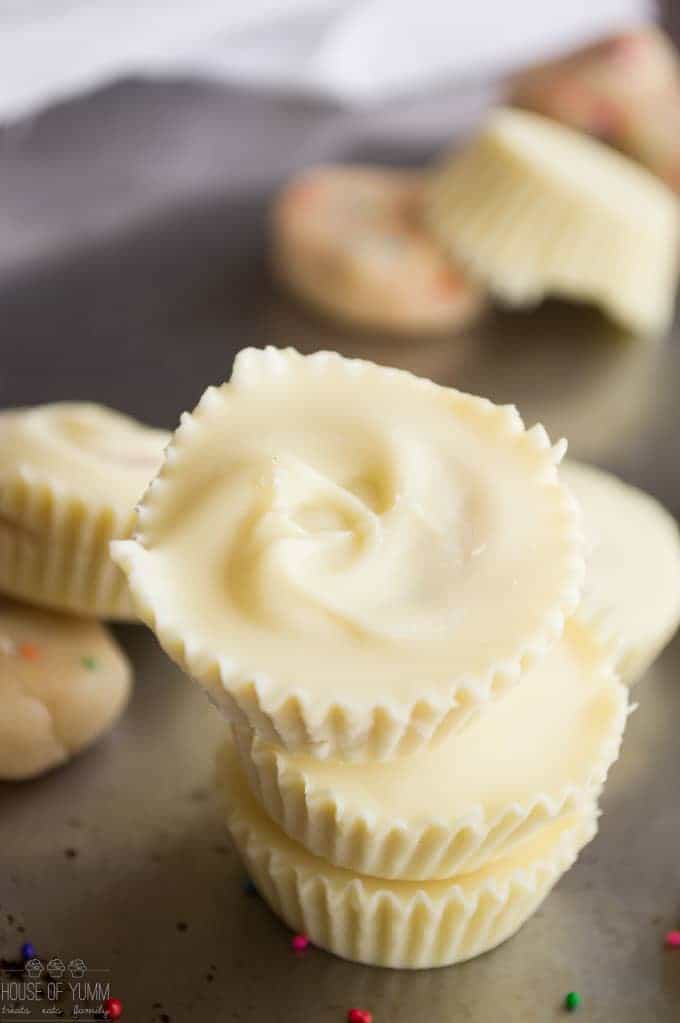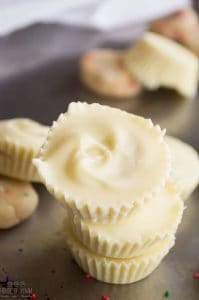 White Chocolate Cake Batter Cups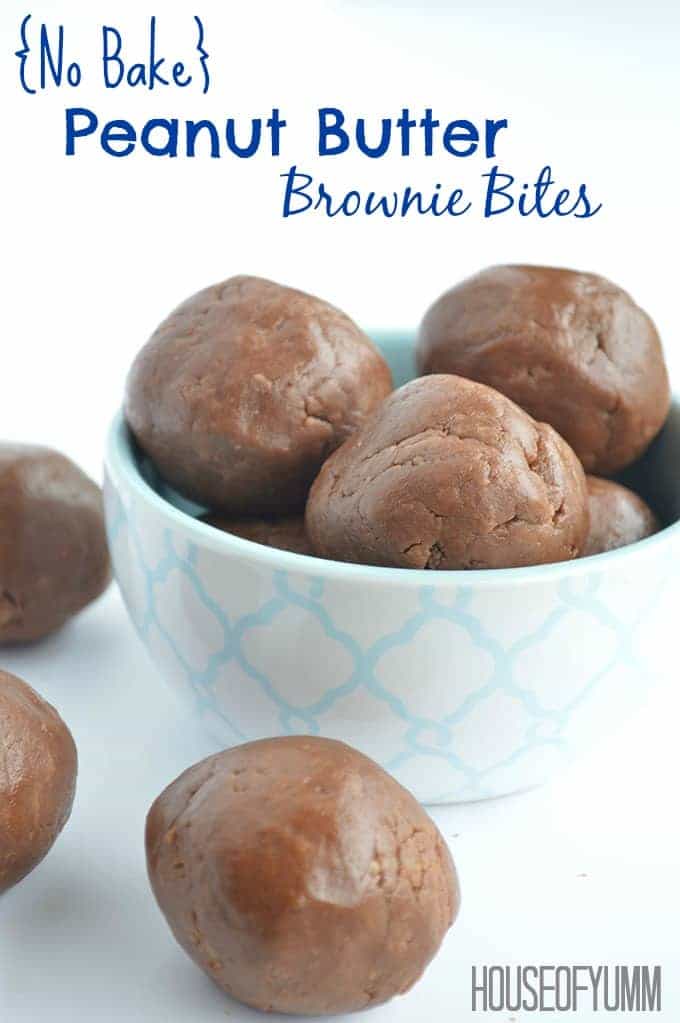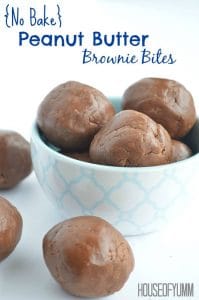 House of Yumm is a participant in the Amazon Services LLC Associates Program, an affiliate advertising program designed to provide a means for us to earn fees by linking to Amazon.com and affiliated sites.