Pink Lemonade Pie!  This sweet and tart little mini pie is made with fresh lemon juice, and topped with a swirl of light and fluffy whipped cream.  Perfect for summer days!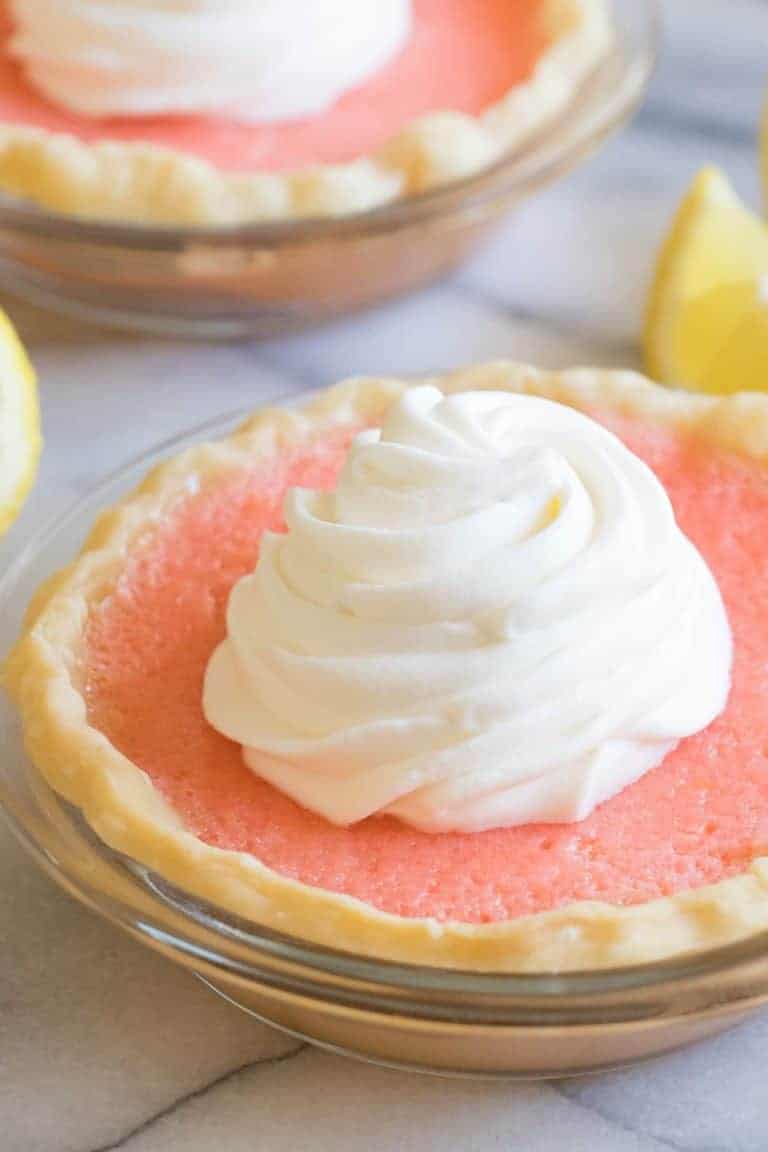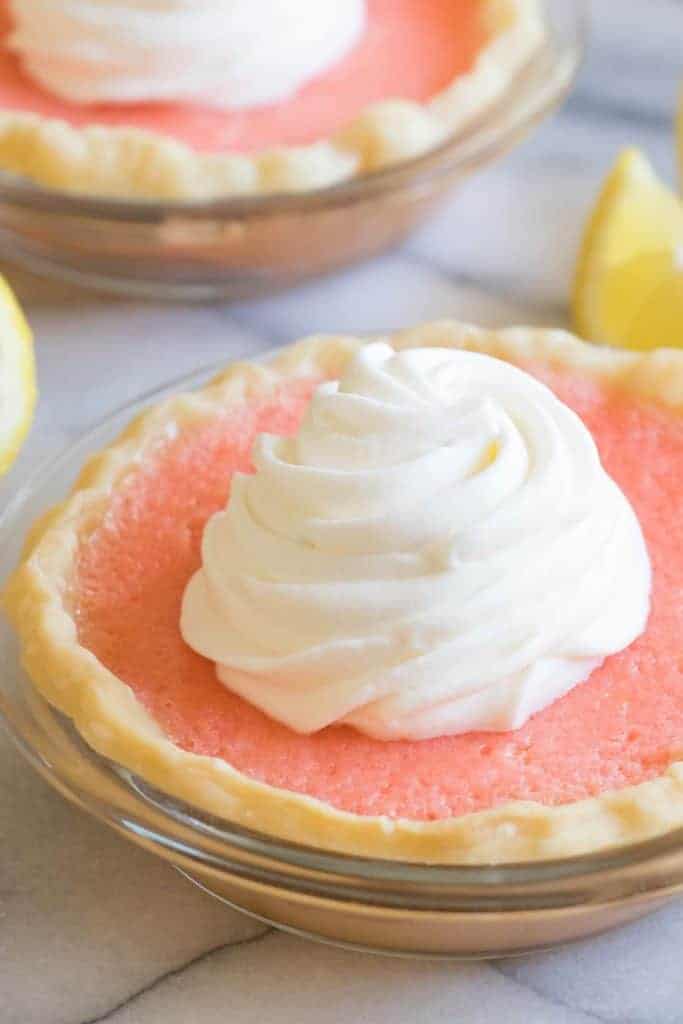 Hey hey hey!!  Look at what I have for you today!  And I wish I could take credit for these fun and way to adorable Pink Lemonade Pies.  Which happen to be mini pies!!  My favorite! But the recipe is not mine.  It comes from a cookbook that I recently was gifted called The Waitress Pie Book Sugar, Butter, Flour.  Written by Jenna Huntersen.  Did you ever see the movie The Waitress?  Or maybe you've seen the Broadway adaptation?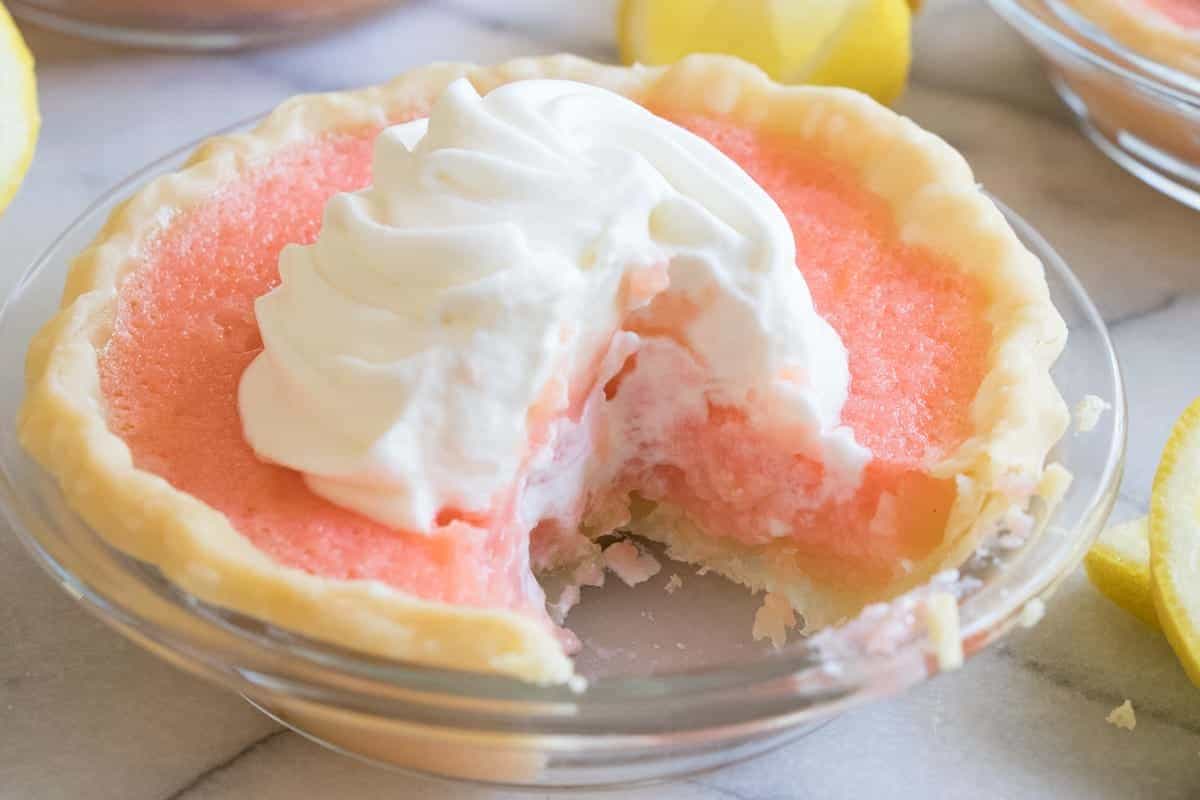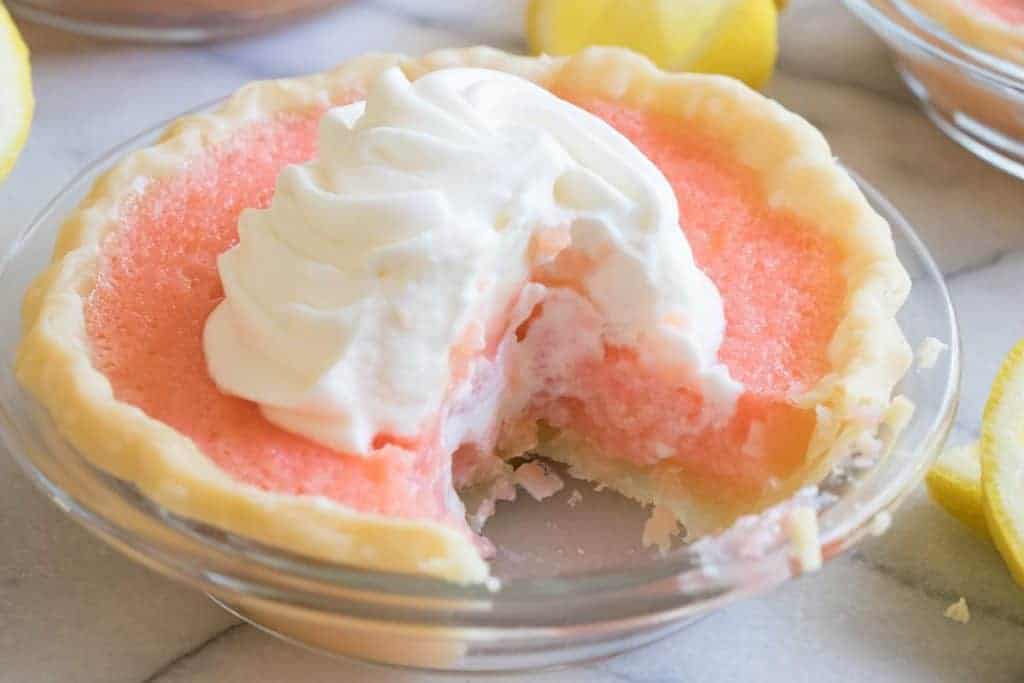 Even if you've never seen the movie or the show, these super-scrumptious, over-the-top recipes with tongue-in-cheek names like "The Key (Lime) to Happiness Pie," "Getting Out of the Mud Pie," and "Life's Just Peachy Keen Polka Dot Peach Pie" will lift your spirits when you're down, and help celebrate when life feels good.   There's a collection of savory pies also!  I have my eye on making "Betrayed by My Eggs Pie" next!  Basically huevos rancheros in a crust.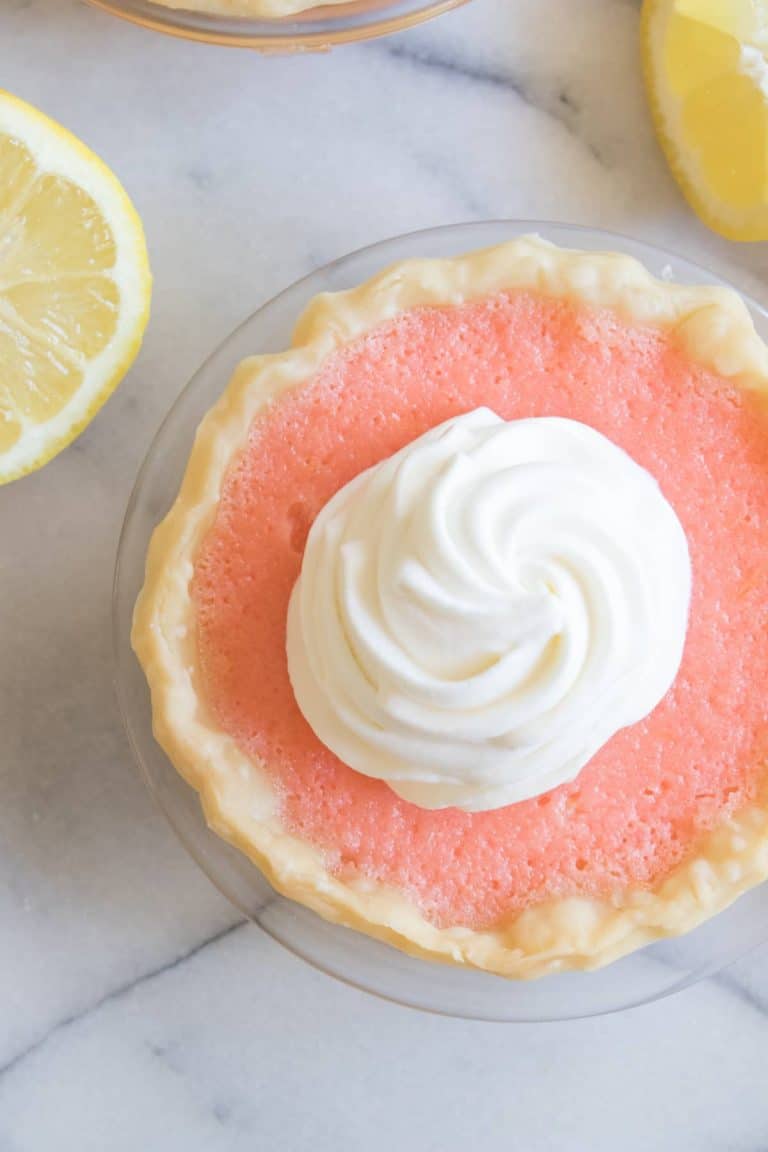 Enjoy This Recipe? Here's Some More Pie Recipes For You To Check Out: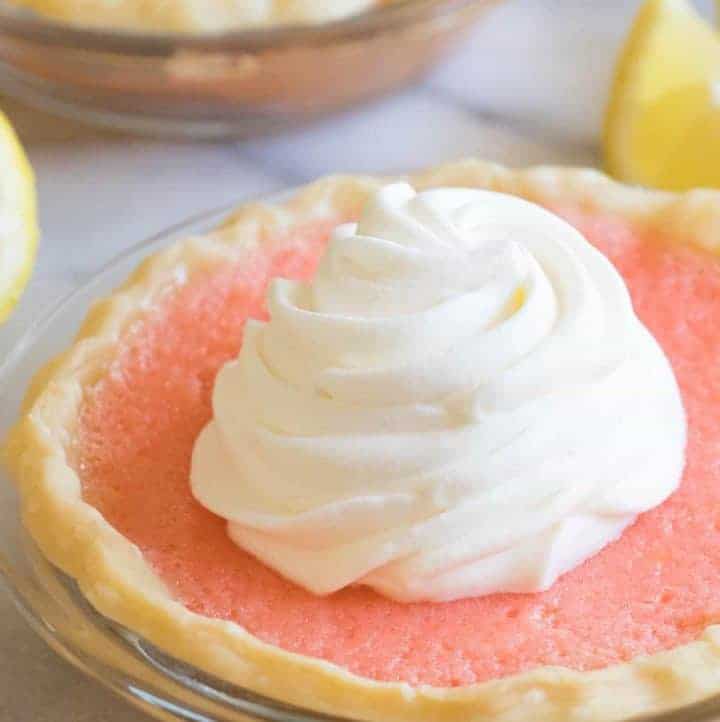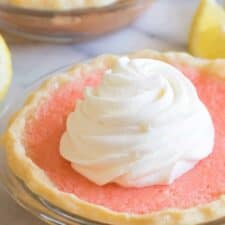 Pink Lemonade Pie and Recipe Video!
Pink Lemonade Pie! This sweet and tart little mini pie is made with fresh lemon juice, and topped with a swirl of light and fluffy whipped cream. Perfect for summer days!
Ingredients
Pie Crust
1¼ cup white granulated sugar
2 tbsp cornstarch
¼ tsp salt
4 tbsp unsalted butter, melted
¼ cup honey
4 large eggs
½ cup half and half, room temperature
¼ cup lemon juice, freshly squeezed
3-4 drops red food coloring, optional
Whipped Cream
1 cup heavy cream
¼ cup powdered sugar
1 tsp vanilla extract
Instructions
For the pie shells, divide the dough into eight equal balls. Roll each out to about 5 inches round and fit it into a mini pie pan. Crimp the edges. Chill for at least an hour or until firm. If using store bought pie crust, just cut out the 5 inch round circles and follow the remaining instructions.

Preheat oven to 350 degrees. Line each pie with foil and fill with pie weights or dried beans. Place mini pies onto baking sheet, and bake in the upper third of the oven for about 10 minutes. Remove the foil with the beans and continue to cook for another 10 minutes or until the crusts are dry and a golden color. Remove from the oven and cool on a wire rack until room temperature.
Pie Filling
Preheat oven to 325°F.

In a large mixing bowl add the sugar, cornstarch, and salt. Whisk together.

Add in the melted butter and honey. Stir together, will be thick.

Add the eggs and stir until combined.

Add the half and half and lemon juice. Stir until smooth.

Add the food coloring if desired, start with less, and add more as needed. Stir until color is consistent.

Divide the pie filling among the eight pie shells. Bake in the center of the oven for 30 minutes or until set.

Remove from the oven and allow the pies to cool to room temperature.
Whipped cream
Add the ingredients to a small bowl and using a hand mixer or stand mixer beat over medium speed until light and fluffy and soft peaks form.

Add to piping bag and pipe onto the top of the pies.

Serve and enjoy!
Notes
**Total Time includes 1 hour of chill time for the pie crust.
**Recipe slightly adapted from The Waitress Pie Book Sugar Butter Flour by Jenna Hunterson
Nutrition
Serving: 1g, Calories: 460kcal, Carbohydrates: 41g, Sugar: 14g
House of Yumm is a participant in the Amazon Services LLC Associates Program, an affiliate advertising program designed to provide a means for us to earn fees by linking to Amazon.com and affiliated sites.