Tropical flavors abound in this Pineapple Crisp, loaded with fresh pineapple and topped with toasted coconut.  Add a scoop of coconut gelato for an extra special treat!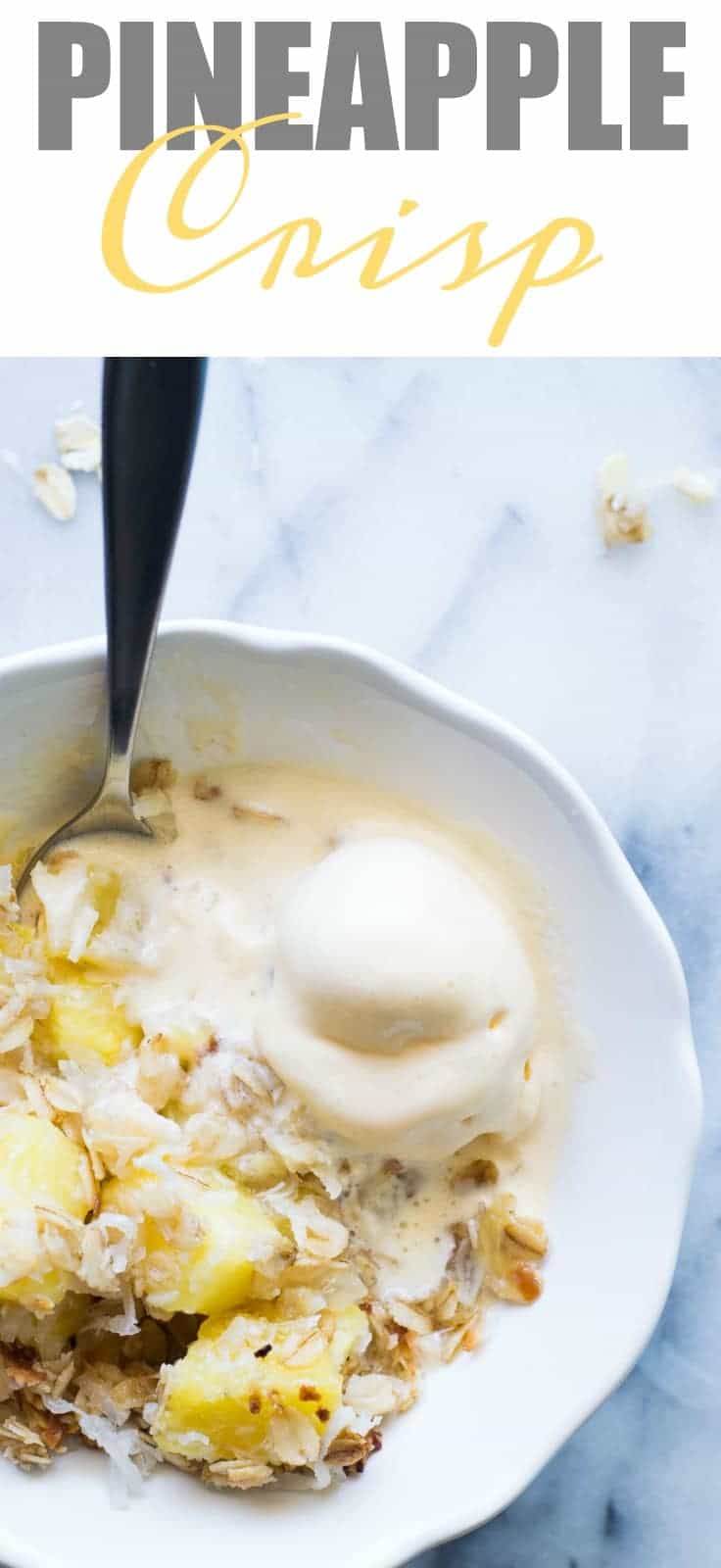 I need a vacation.  For reals.  How about you?
But seeing as how I have four kids and school and soccer are starting in about 2 weeks, I doubt I'm getting that vacation.
So how about we sit and enjoy some Pineapple Crisp together and pretend that we're on vacation together?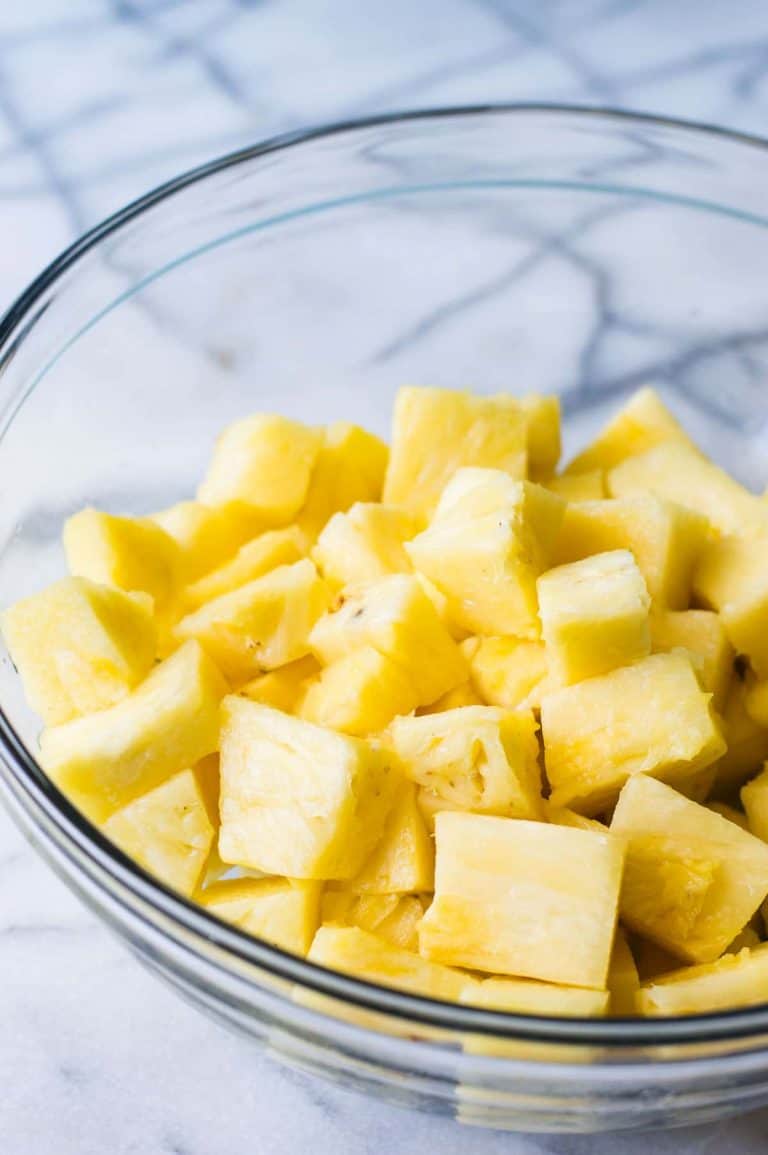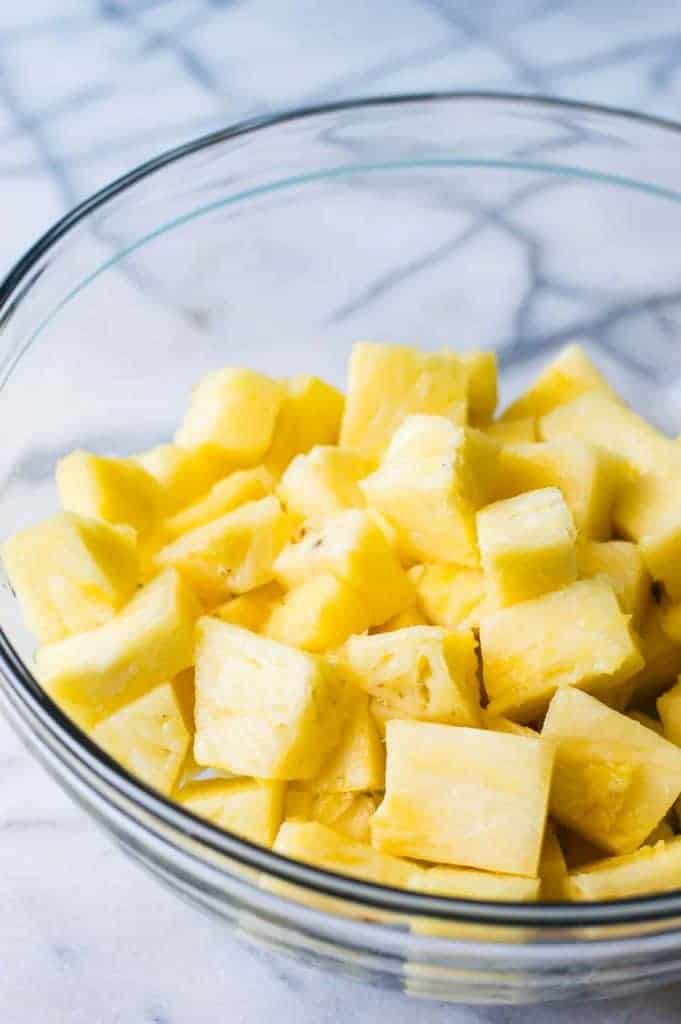 This pineapple crisp is loaded up with all kinds of tropical goodness.  And it's my way of remaining in denial about having to get school supplies together.
We have an entire pineapple chopped up and tossed in here.  Don't really toss it though yea? It would make a mess.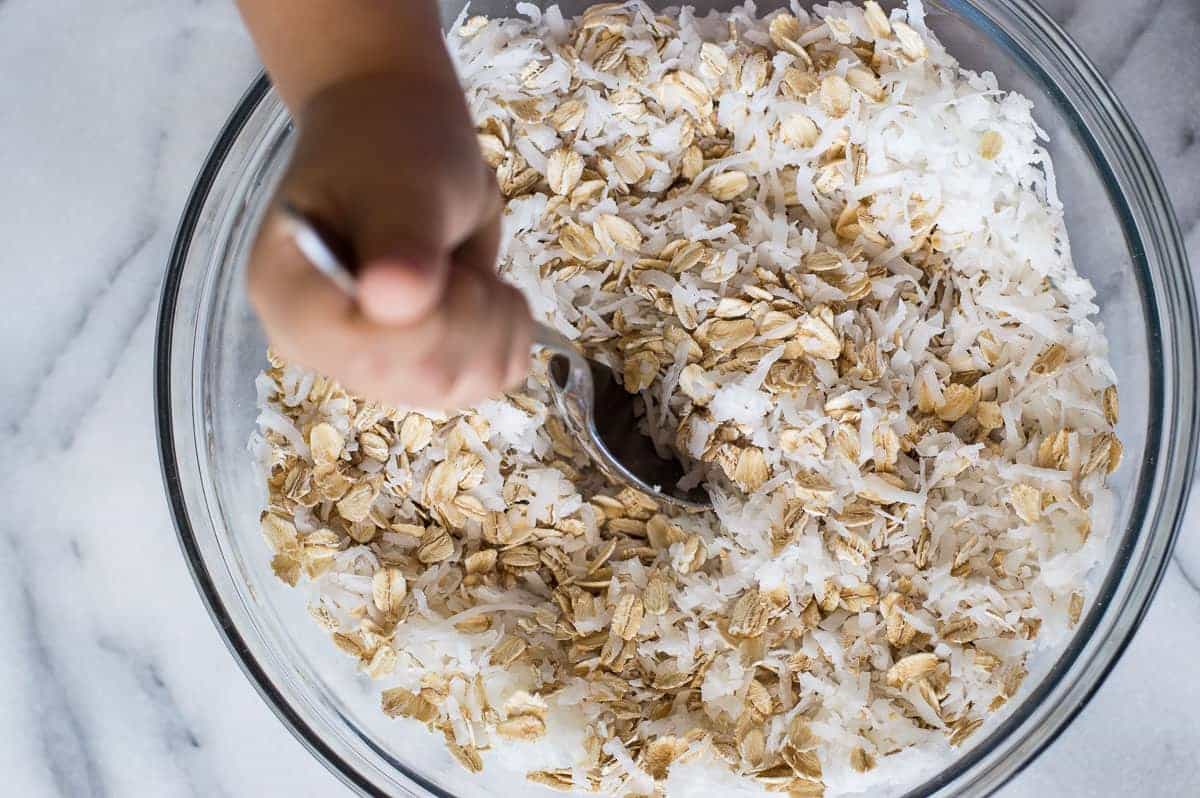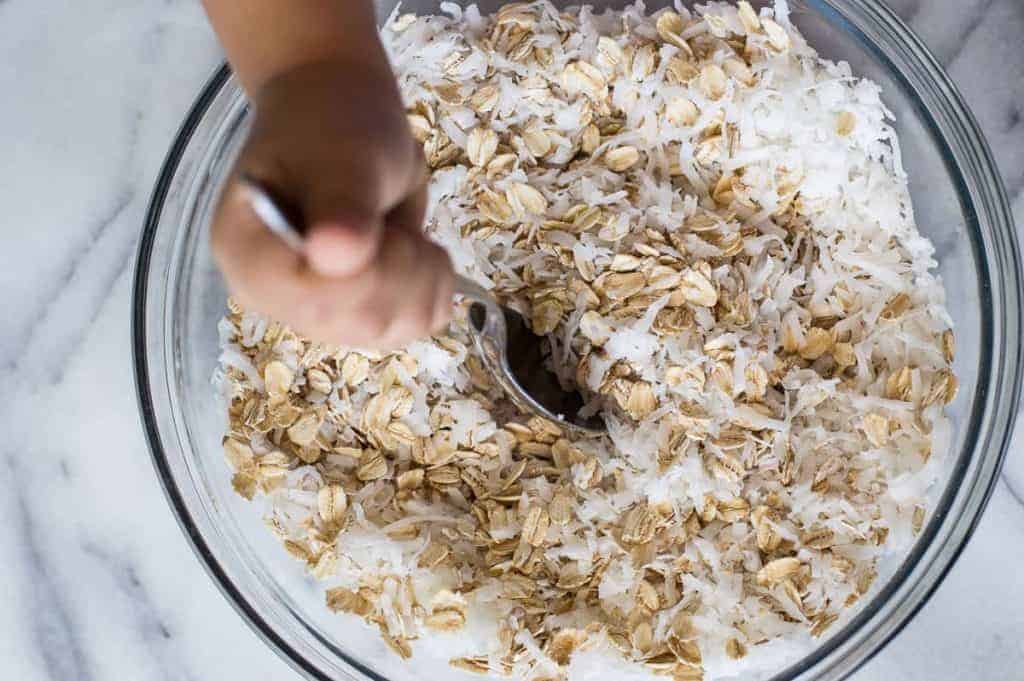 There she is!  Little Miss.  She found her way into my pictures yet again.
You know, some bloggers may stage having little hands in their pictures.  Me? Not so much.  I honestly was trying to keep her occupied and asked her to go get me a spoon.  Little booger actually listened to me.  Not like all the other times I ask her to do something for me where she runs away and winds up at the table with playdoh.
She got the spoon and came running back as fast as her little legs could carry her.  Just as I'm taking my pictures she starts stirring what was going to be a picture showing neat little piles of oats and shredded coconut in a bowl.
I've learned that my plans don't tend to win in the house of toddlers.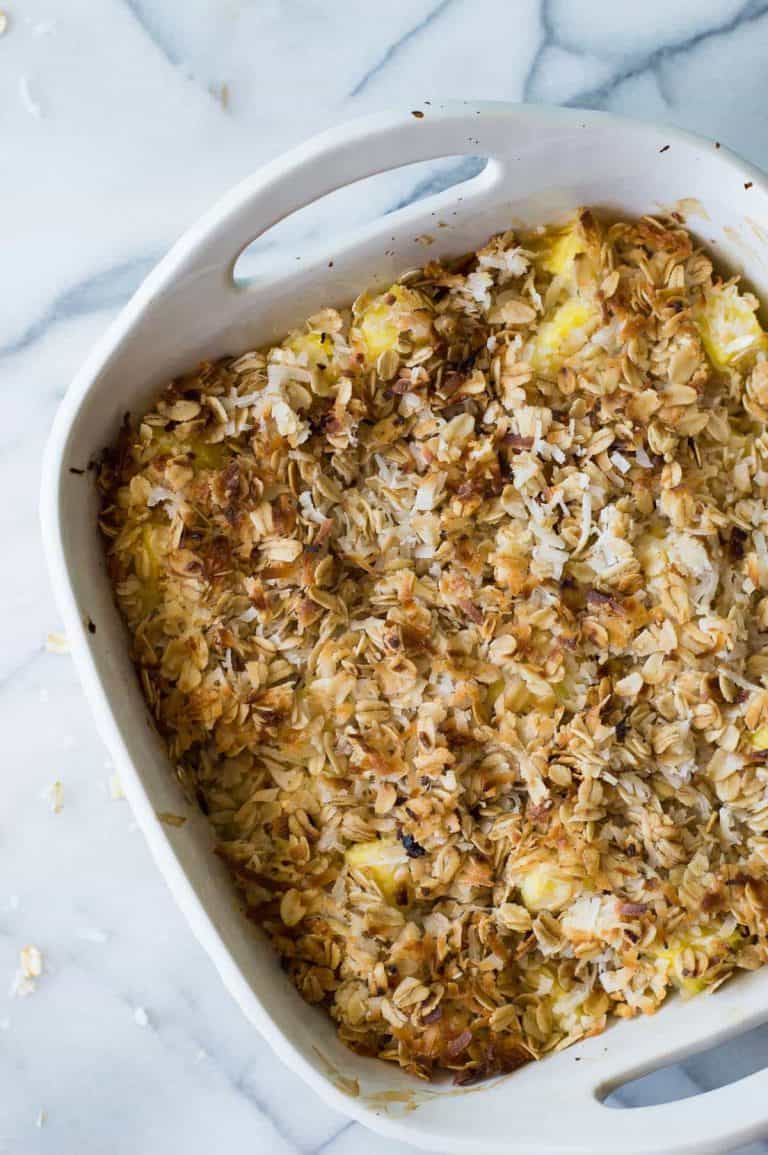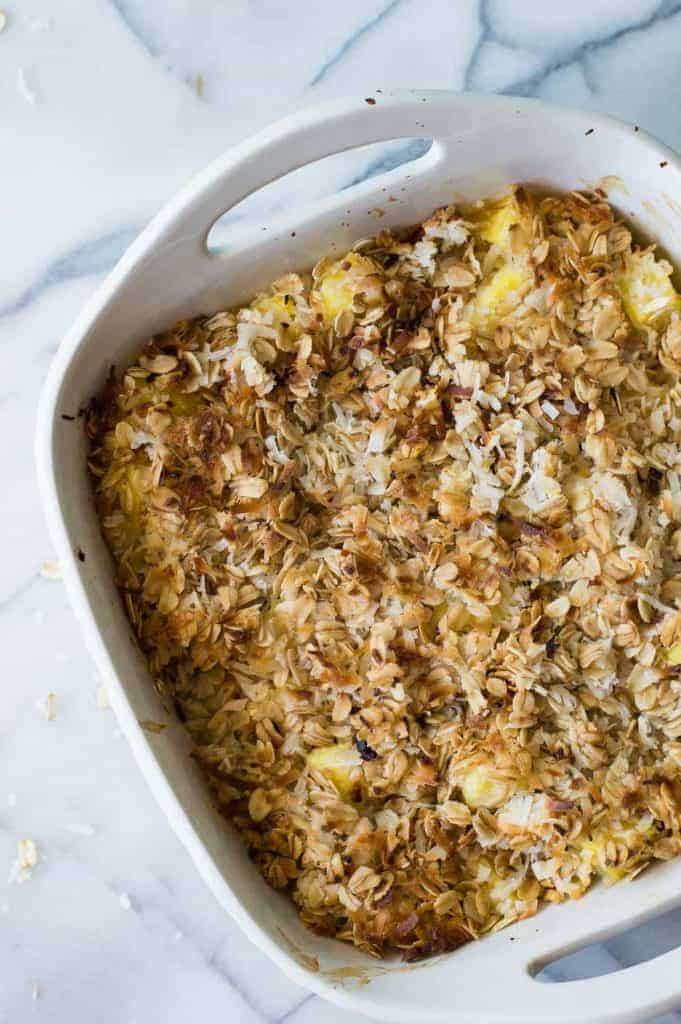 Check that out.. Toasted coconut galore!
I think this recipe was just an excuse to eat toasted coconut by the spoonful.
Because.  Let's be honest.  That's really all I want to do.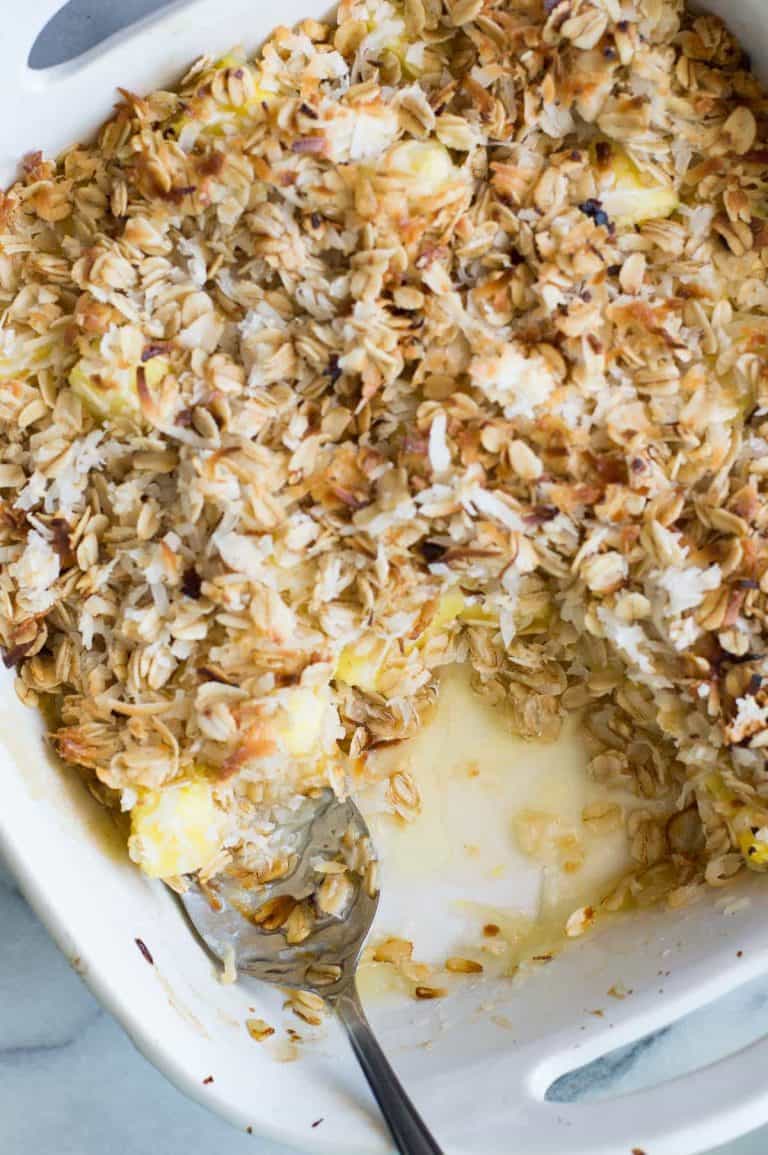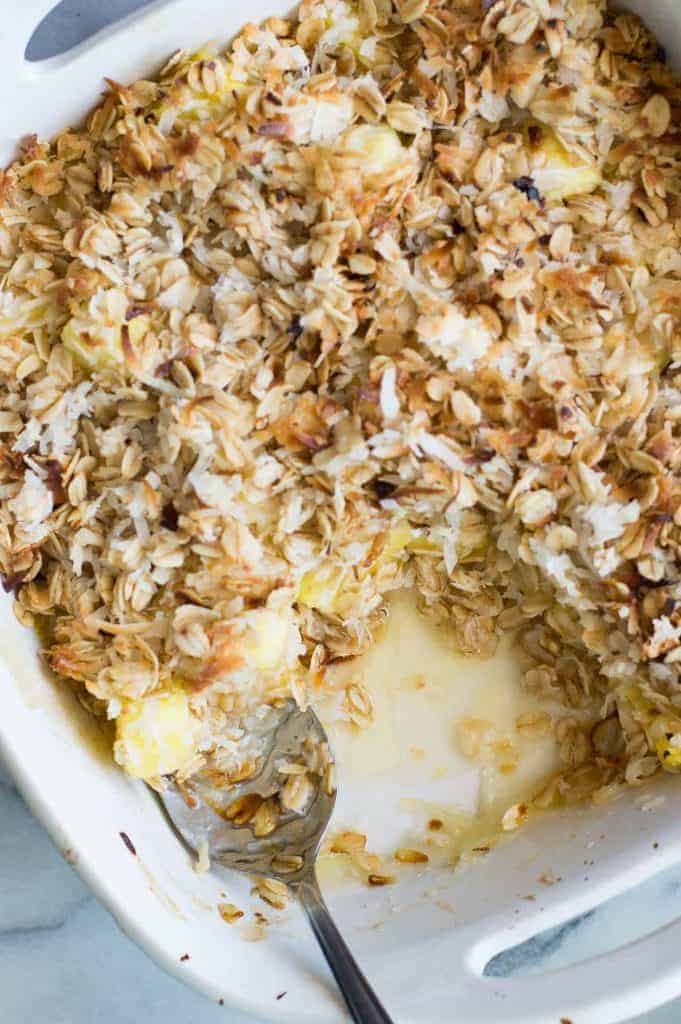 And remember last week when I told y'all about those Strawberry Coconut Margarita Floats?    My undying love for coconut gelato continues into this recipe.  Because what goes better with this tropical Pineapple Crisp than a big scoop o coconut gelato?
Nothing.  That's what.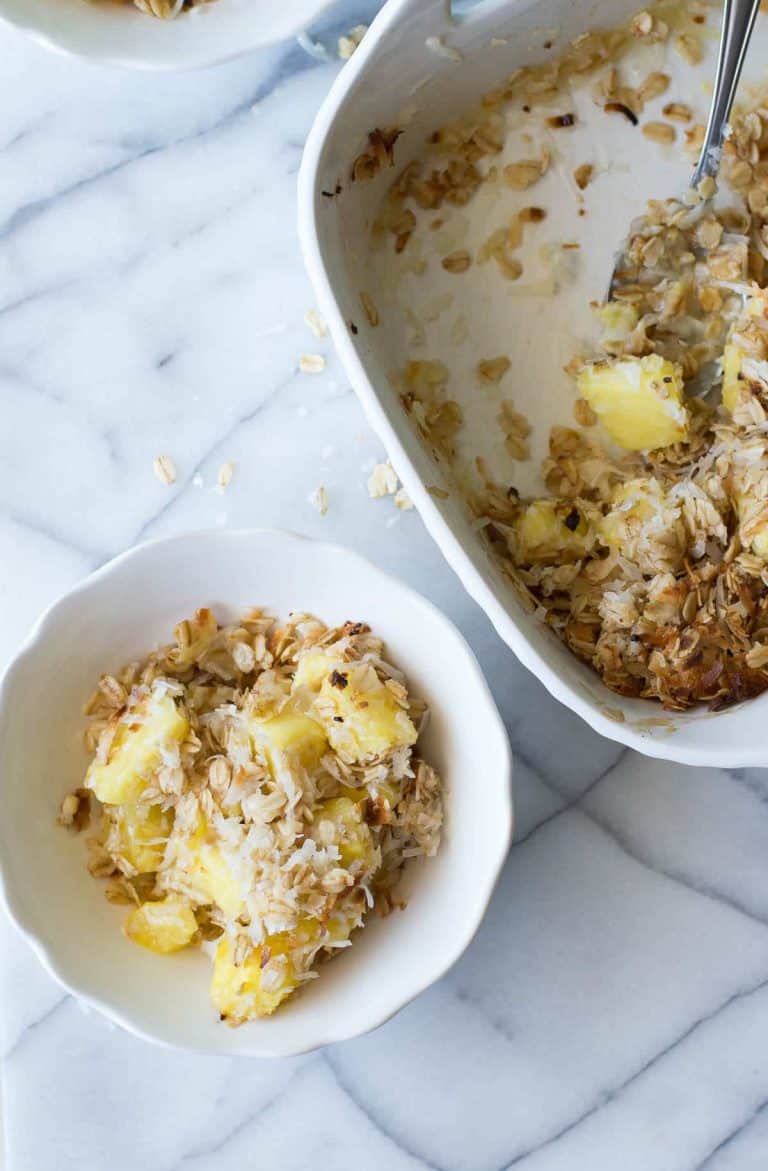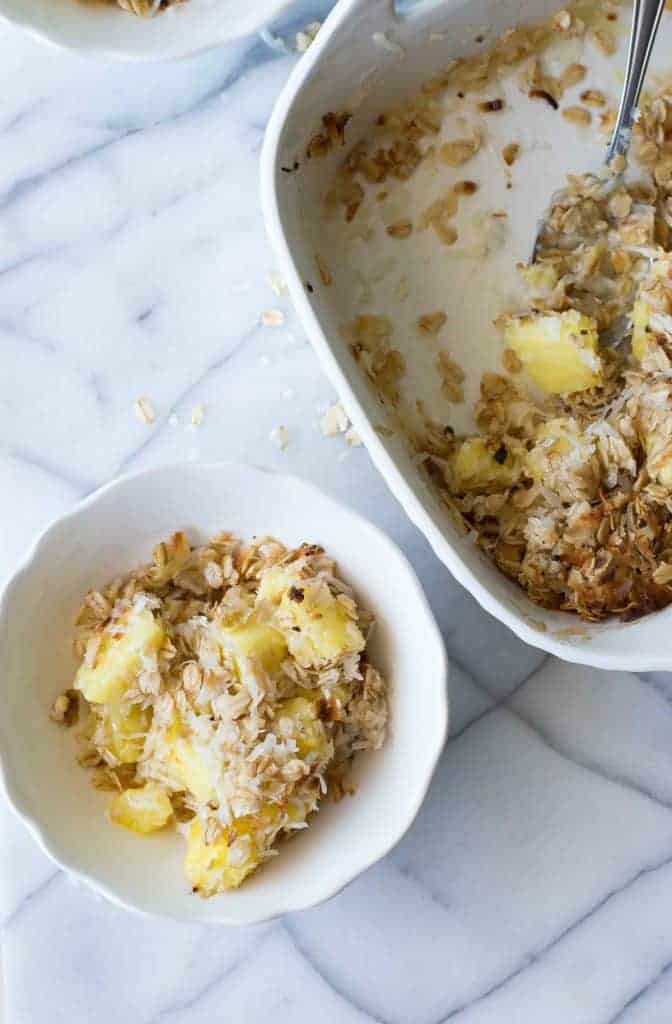 If you happen to love crisps and cobblers like I do.  Meaning you love yourself some baked fruit.  You can also check out this Caramel Apple Crisp.  Fall is a coming.  The apples will soon be overflowing.  And I intend to be ready with recipes to help us enjoy them.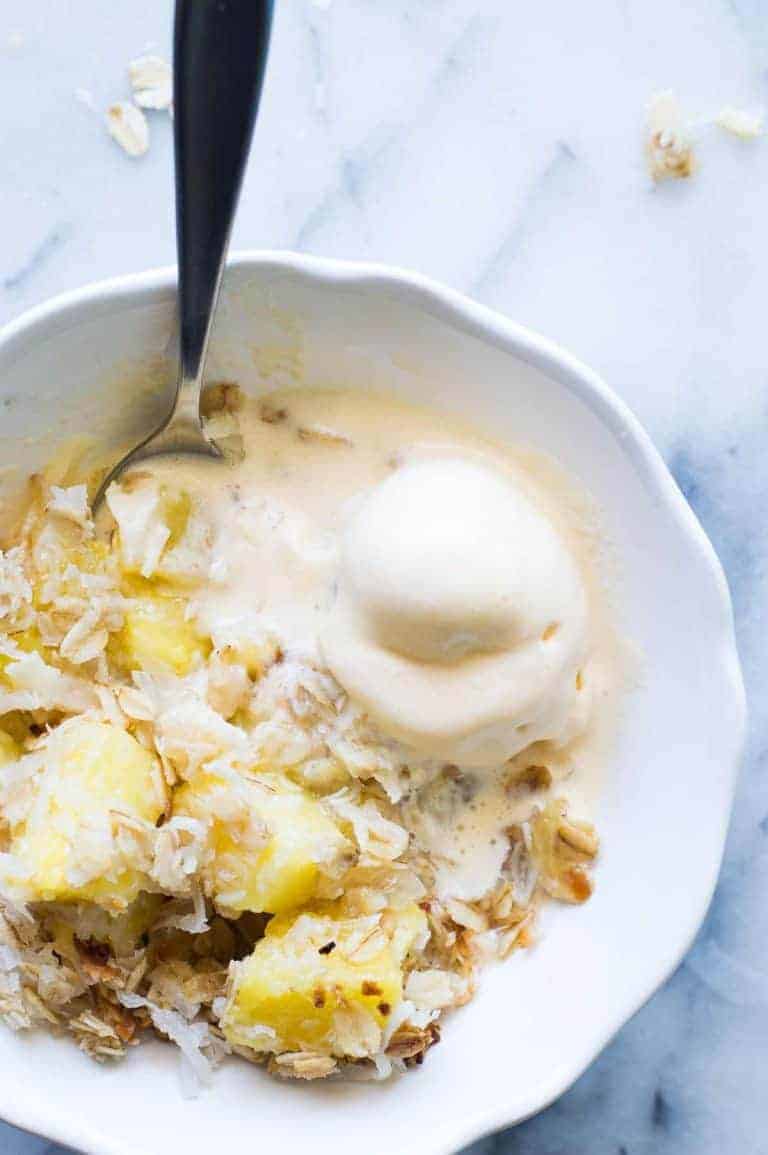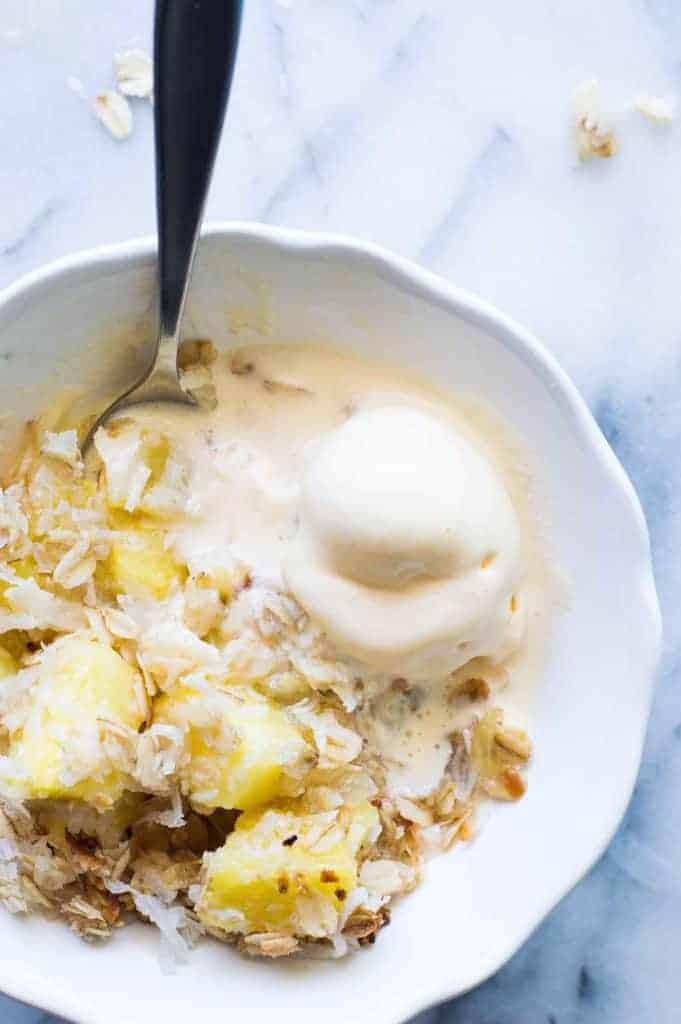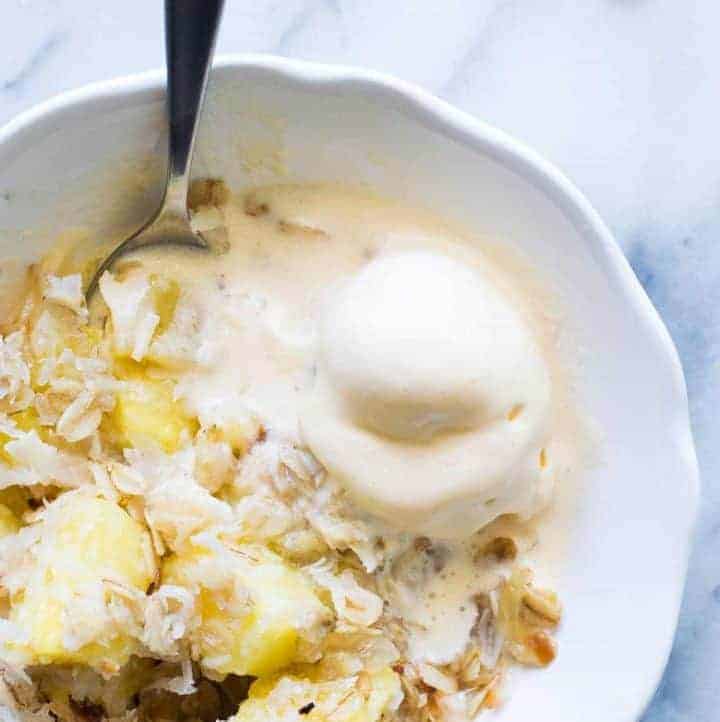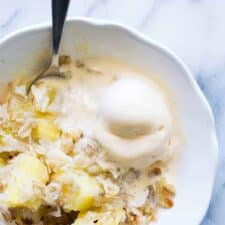 Pineapple Crisp
Tropical flavors abound in this Pineapple Crisp, loaded with fresh pineapple and topped with toasted coconut. Add a scoop of coconut gelato for an extra special treat!
Ingredients
1 pineapple , cored and diced
1 tbsp lime juice
2 tbsp cornstarch
½ cup white granulated sugar
2 tbsp butter, melted
Topping
1½ cup old fashioned oats
1 cup sweetened shredded coconut
pinch salt
6 tbsp butter, melted
Instructions
Preheat the oven to 425℉ degrees

Add the diced pineapple to an 8x8 baking dish. Add the lime juice, cornstarch, sugar and melted butter. Stir to combine.

In a small mixing bowl add the oats, shredded coconut, salt, and melted butter. Stir until the mixture is combined. Spoon on top of the pineapple.

Place the baking dish in the preheated oven, bake about 10-15 minutes. Once the coconut is toasted on top remove from the oven and allow to cool for several minutes.

Spoon into bowls and serve warm.

Top with ice cream or a coconut gelato or flavored ice cream to keep with the tropical taste!
Nutrition
Calories: 438kcal, Carbohydrates: 60g, Protein: 4g, Fat: 22g, Saturated Fat: 15g, Cholesterol: 41mg, Sodium: 178mg, Potassium: 288mg, Fiber: 5g, Sugar: 38g, Vitamin A: 561IU, Vitamin C: 73mg, Calcium: 36mg, Iron: 2mg
**This post may contain affiliate links, but I only recommend products that I actually use and <3. Thanks for supporting House of Yumm!
House of Yumm is a participant in the Amazon Services LLC Associates Program, an affiliate advertising program designed to provide a means for us to earn fees by linking to Amazon.com and affiliated sites.