Philly Cheesesteak Mac and Cheese is the ultimate in comfort food made by combining the classic tastes of a Philadelphia Cheesesteak with Macaroni and Cheese.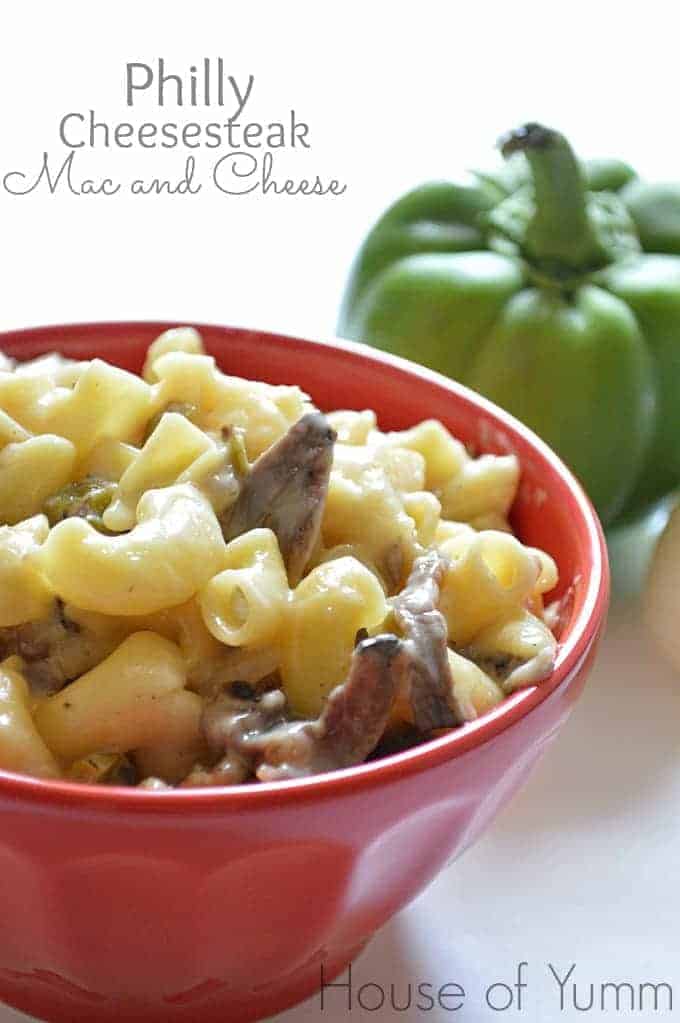 Ever have one of those days?  A day where you just need a hug?  This meal is the ultimate in comfort.  It's basically a hug in a bowl.  A cheesy, delicious hug in a bowl.
I have a couple of go to comfort meals.  My number one is probably mac and cheese.  Can you guess another?  Philly Cheesesteaks.  Of course.  So it's only natural that I would combine the two.
And it turned out wonderfully. And you can add to this so easily.  For example, some jalapenos?  Some mushrooms?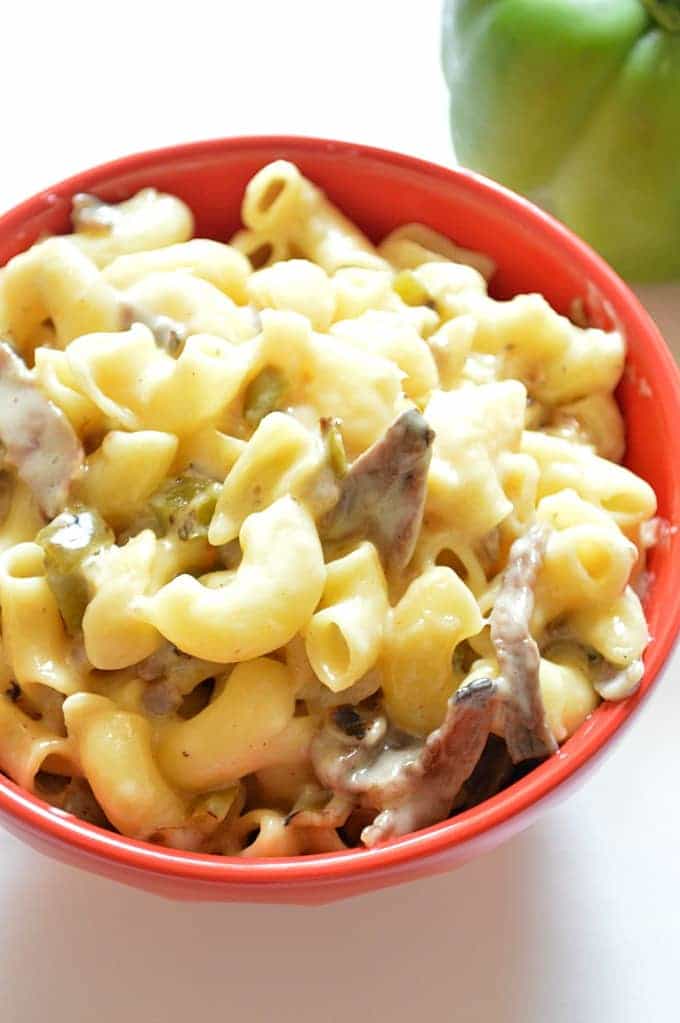 Mac and cheese is so versatile and friendly.
This cheese sauce is super creamy, and of course we layered in even more cheese.  Because who doesn't want more cheese? We've used the recipe for this sauce before with our Blue Cheese Hominy.  It's an easy sauce to make, and easy to change up just by changing the cheeses that you use.
This meal is easy and if you prepare things ahead of time, it only takes 30 minutes to cook.  Perfect for a weeknight meal for the family.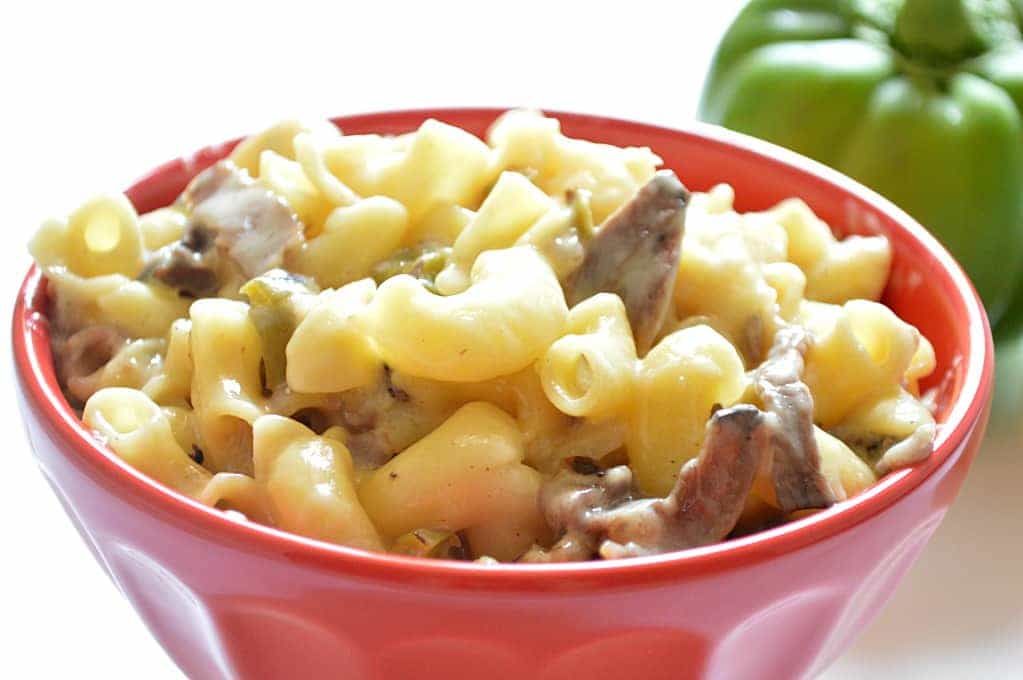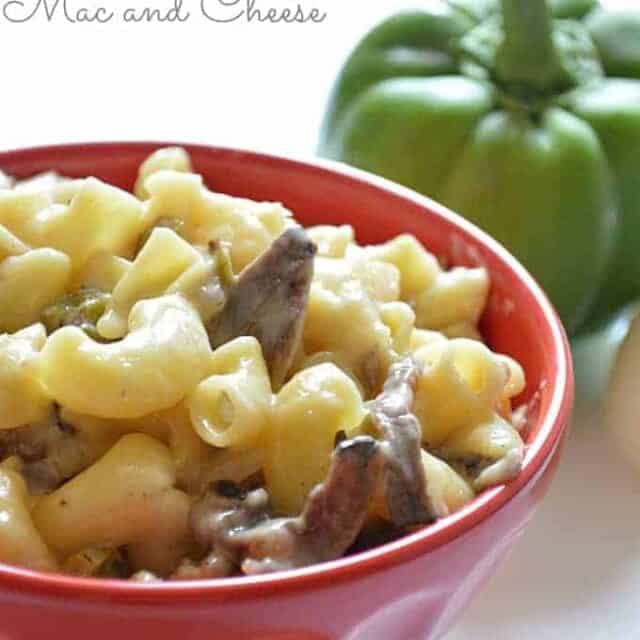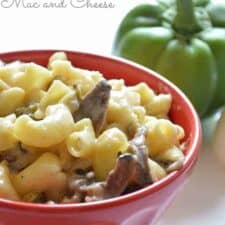 Philly Cheesesteak Mac and Cheese
Philly Cheesesteak Mac and Cheese is the ultimate in comfort food by combining the classic tastes of a Philadelphia Cheesesteak and Macaroni and Cheese.
Ingredients
8 oz large elbow macaroni noodles
½ cup yellow onion , diced
1 green bell pepper , diced
8 ounces sirloin steak, thinly sliced
2 cups Monterey Jack Cheese , shredded
½ pound white American Cheese , grated or cubed
1 clove garlic, minced
2 tbsp butter
2 tbsp flour
1 cup milk
Instructions
Preheat the oven to 350°F.

Boil water in medium sauce pan and cook the noodles until they are al dente (firm when you bite into them) drain and set aside.

While the noodles are boiling grill the onion and bell pepper over medium heat in oil until softened and the onion is translucent. Set aside.

In same skillet oven medium-high heat, heat oil. Add steak meat and season with salt and pepper. Cook until no longer pink. Remove steak meat to a large plate.

In medium size sauce pan melt the butter and cook the garlic over medium heat.

Stir in the flour, reduce the heat to low, and continue stirring for about 3 minutes. You will have a paste.

Add the milk and whisk. Continue cooking over medium heat while whisking for about 4-5 minutes.

Add 1/2 cup of the American cheese and 1/2 cup of the Jack cheese. Stir over low heat. Continue stirring until cheese is completely melted.

Add the noodles, grilled onion and bell pepper, and cooked beef. Stir until completely combined.

Transfer half the mixture to a casserole dish, I used a 9 x 11 dish I have, one of similar size will work. Add half of the cheese left over on top of the macaroni mixture. Then layer the rest of the macaroni mixture on top. Top with remaining cheeses.

Cover with foil and bake for 20 minutes. Remove the foil and bake for an additional 10 minutes. Serve and enjoy!
Nutrition
Calories: 605kcal, Carbohydrates: 49g, Protein: 31g, Fat: 32g, Saturated Fat: 18g, Cholesterol: 109mg, Sodium: 939mg, Potassium: 318mg, Fiber: 2g, Sugar: 4g, Vitamin A: 904IU, Vitamin C: 17mg, Calcium: 738mg, Iron: 2mg
 More Recipes You Might Enjoy 🙂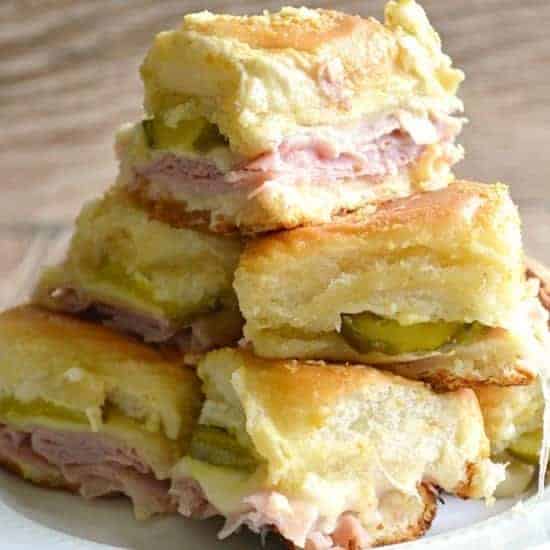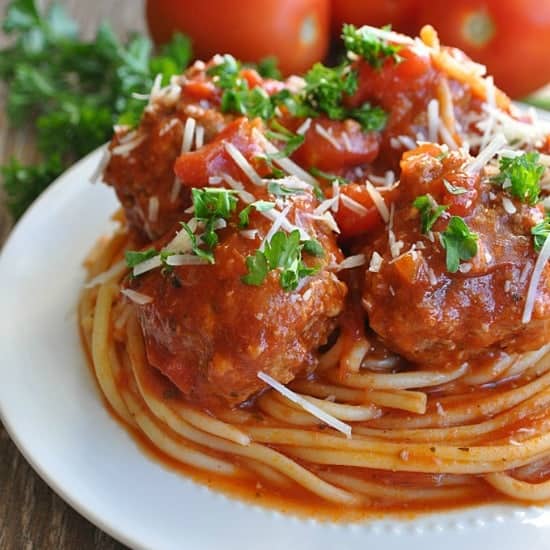 House of Yumm is a participant in the Amazon Services LLC Associates Program, an affiliate advertising program designed to provide a means for us to earn fees by linking to Amazon.com and affiliated sites.