The perfect combination of sweet and spice meet in this cold creamy NO CHURN Strawberry Jalapeño ice cream! 
Treat Yourself! Subscribe today and receive a FREE E-Cookbook and weekly recipes to your inbox! Sign up here!  Follow me on Facebook and Instagram too!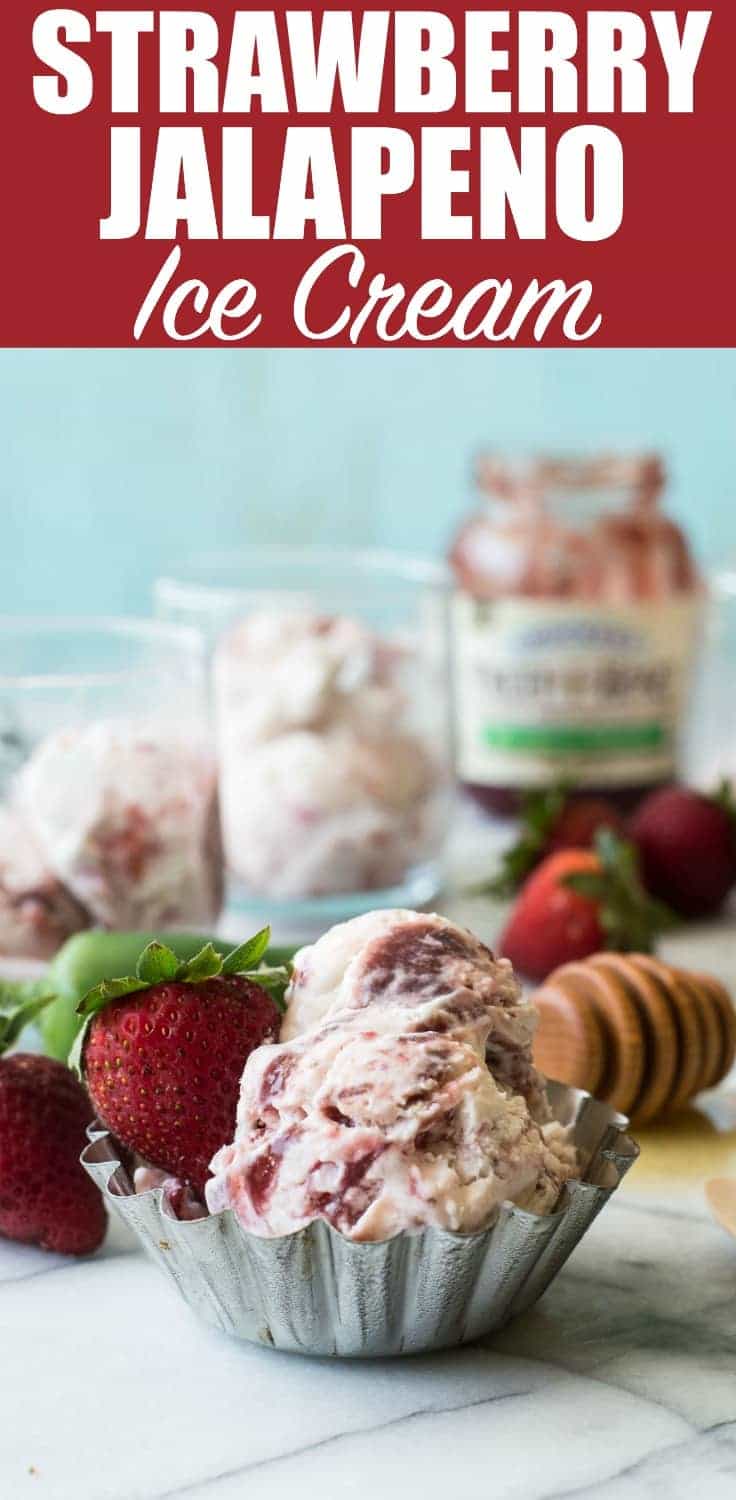 This is a sponsored conversation written by me on behalf of the J.M. Smucker Company . As always the opinions and text are all mine. Thank you for continuing to support the brands that make House of Yumm possible.
No Churn Strawberry Jalapeño Ice Cream! Yes, you did hear that right.  Or rather..you read it right.  The combination is pretty perfect actually.  Sweet, spicy, matched with the cool creaminess of ice cream.
It might just be my new favorite.
Better than mint chip.
Well..maybe not.  There's just something about mint chip.
BUT!  You guys!  This ice cream is everything!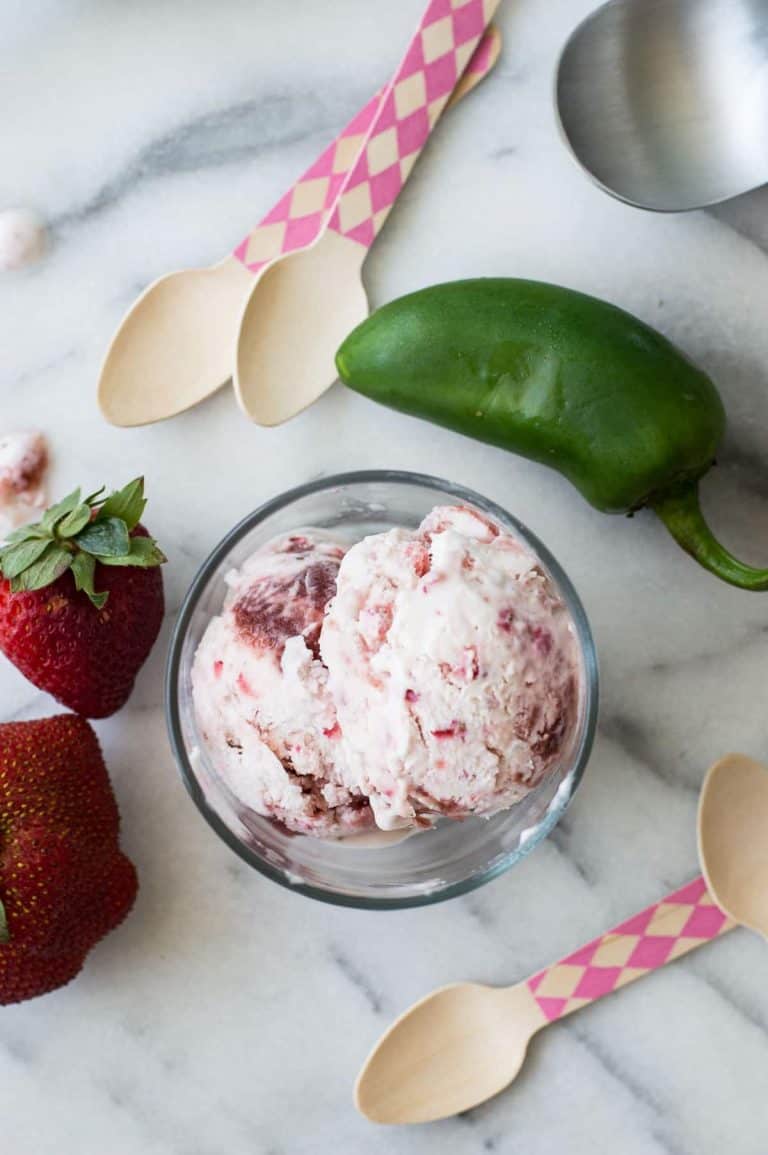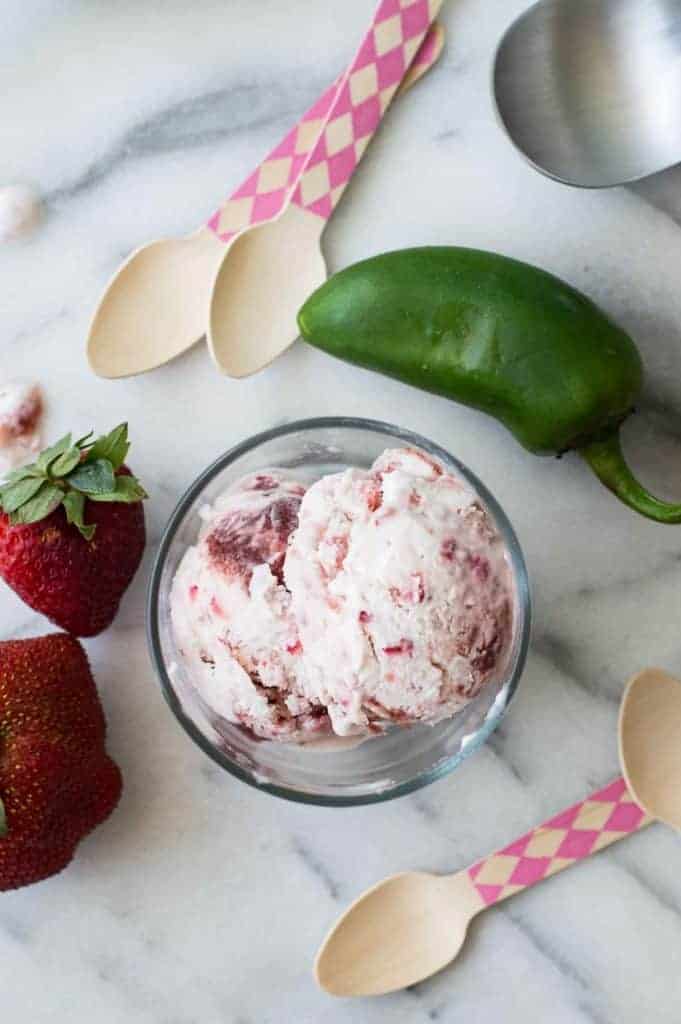 Let's chat for a moment about this Smucker's Fruit & Honey Strawberry Jalapeño Fruit Spread.  This fruit spread is made with delicious fruit and it's naturally sweetened with honey.  No artificial sweeteners!  It's simply fruit and honey.  Talk about Yumm!
There's a variety of flavors available.  The Strawberry Jalapeño caught my eye first.  But there's also a Blueberry Lemon, talk about a match made in heaven.  Concord Grape.  Triple Berry.  And Strawberry.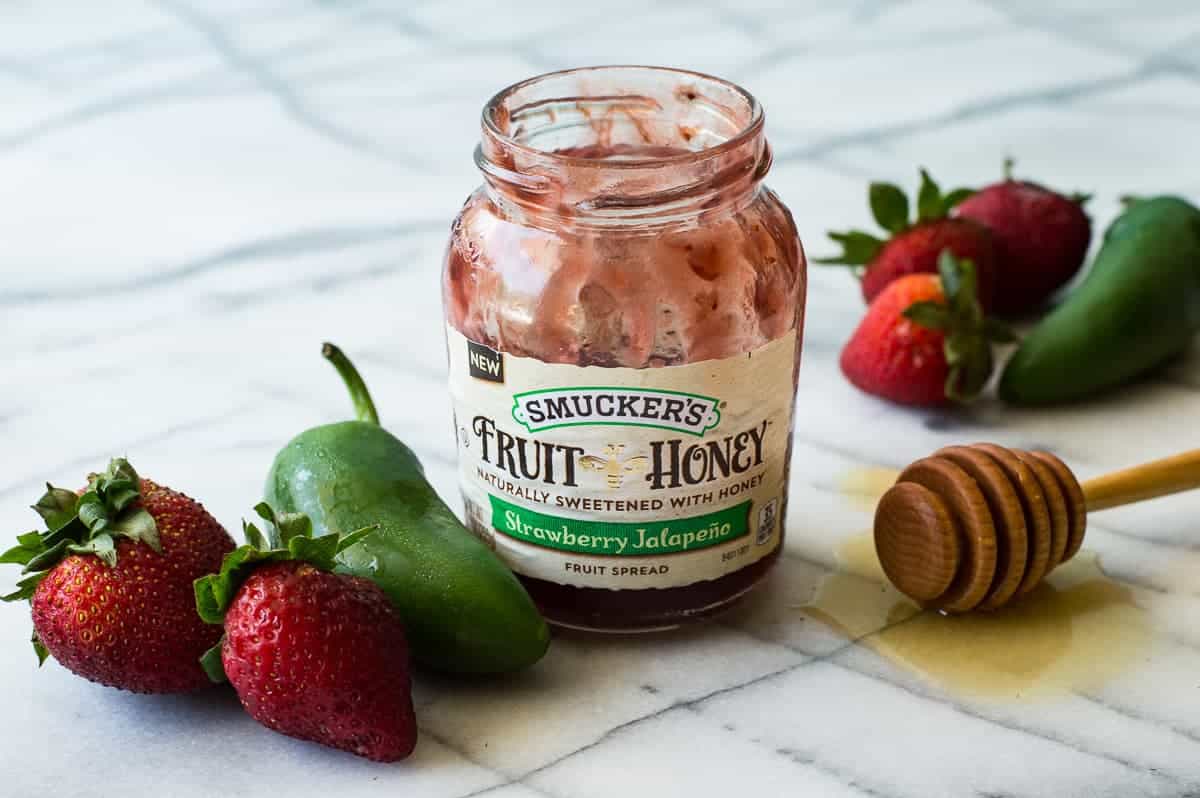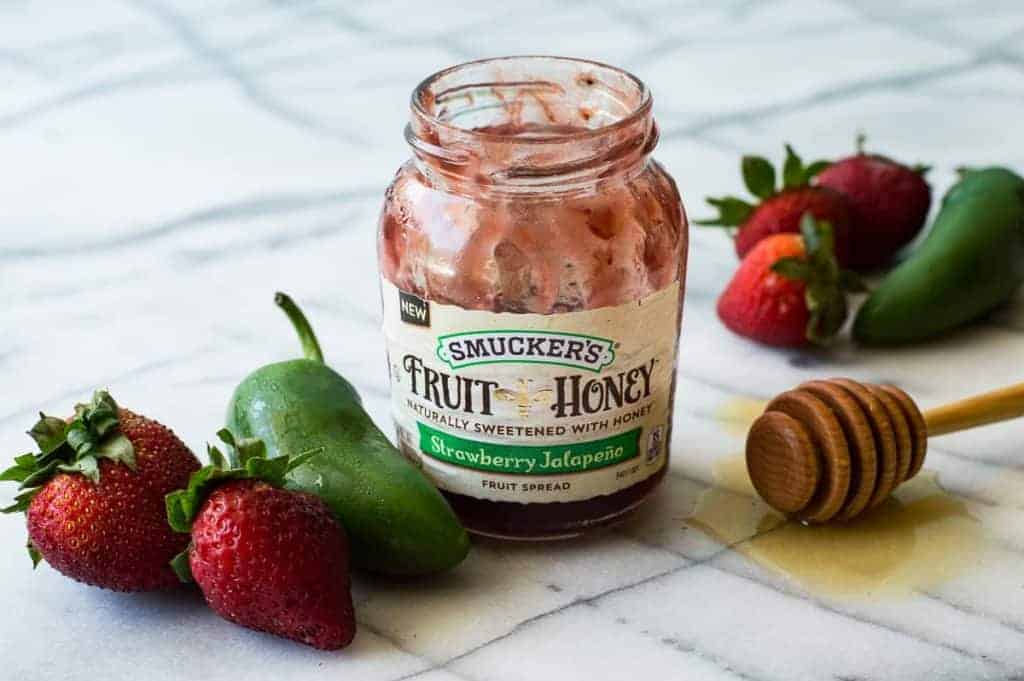 Where can you find these delightful Smucker's Fruit Spreads?  They're available at select retailers nationwide including Walmart, Target, Publix, Ahold, Delhaize and Safeway.  You can visit www.smuckers.com for a complete lineup of Smucker's fruit spreads varieties, product locator, and pairing ideas and recipes.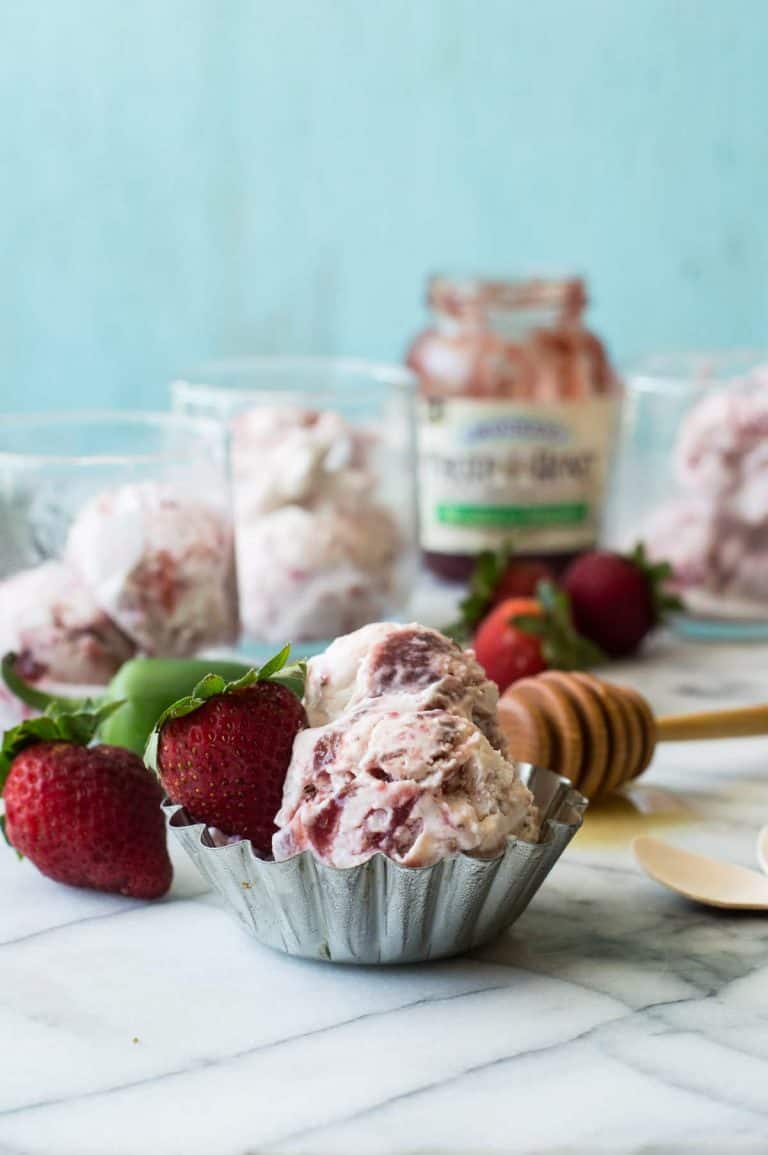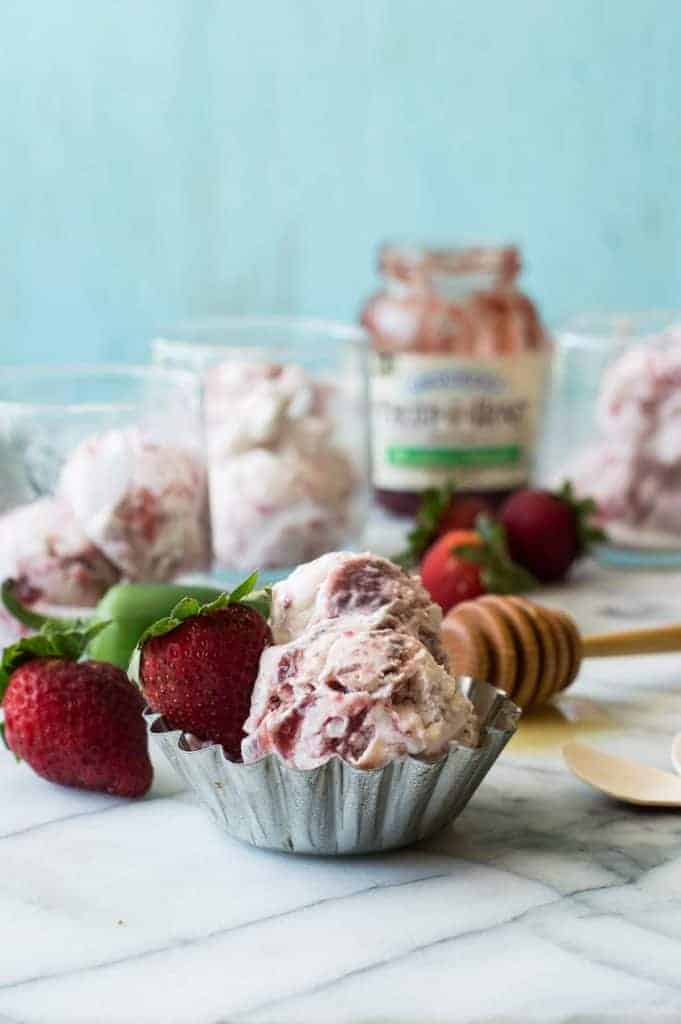 Moving onto the ice cream itself.  Have you ever made no churn ice cream before? Super easy.  Only 2 ingredients are necessary, the rest is just extra.  As long as you have the heavy cream and sweetened condensed milk you can make a no churn ice cream.  You don't even need a mixer, if you feel like working those arm muscles you can whip that heavy cream into submission on your own.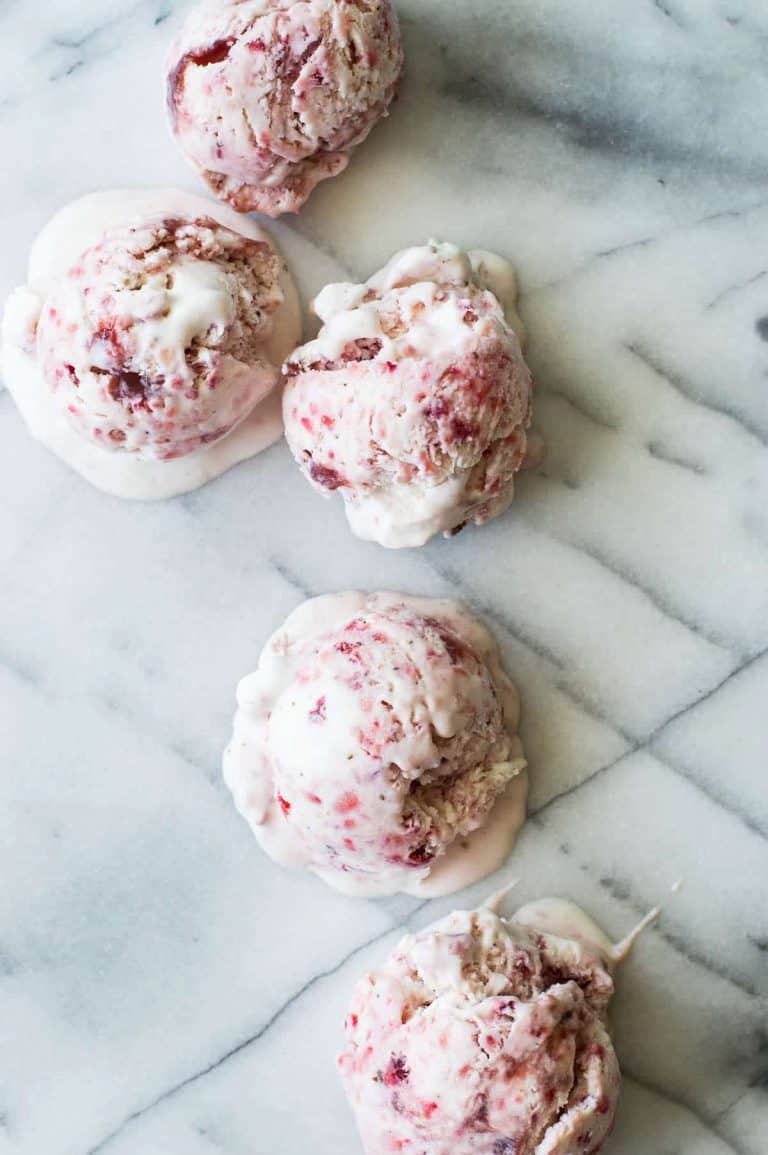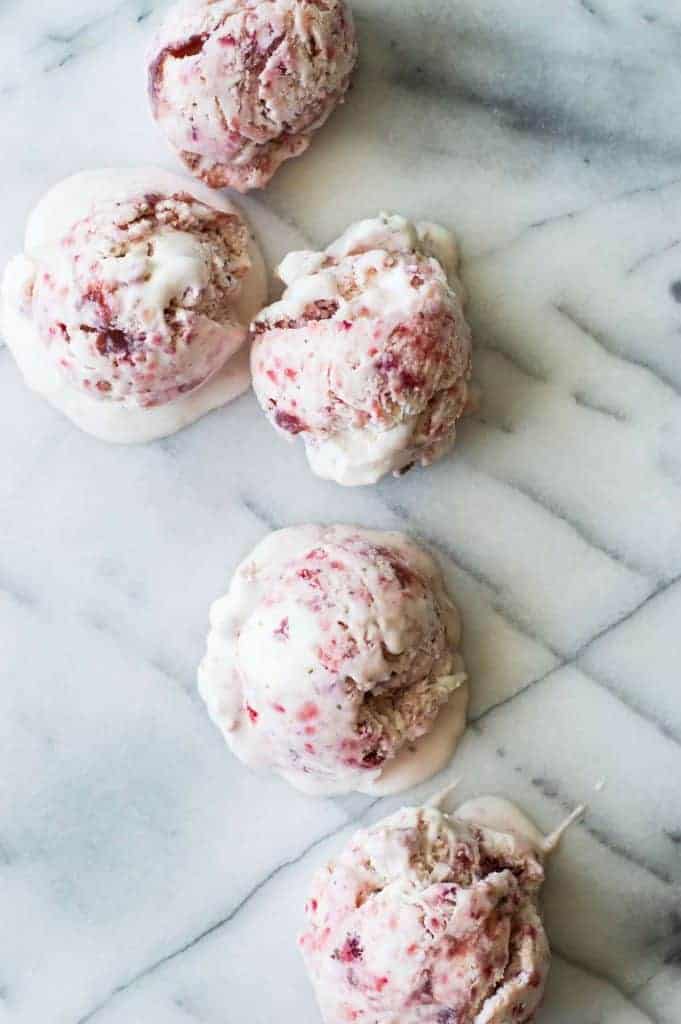 How does this work?  Magic.  Basically the sweetened condensed milk is taking the place of the base you typically cook for ice cream (cream, sugar, and eggs).  Then when we churn ice cream it's pretty much just adding air to the cream base.  Which is where the heavy cream comes in!  So when we fold the sweetened condensed milk with the whipped cream, it's basically the same thing.  Just without a few steps, no cooking involved, and no churning.  Not to mention we now have time to paint our nails or something fun like that.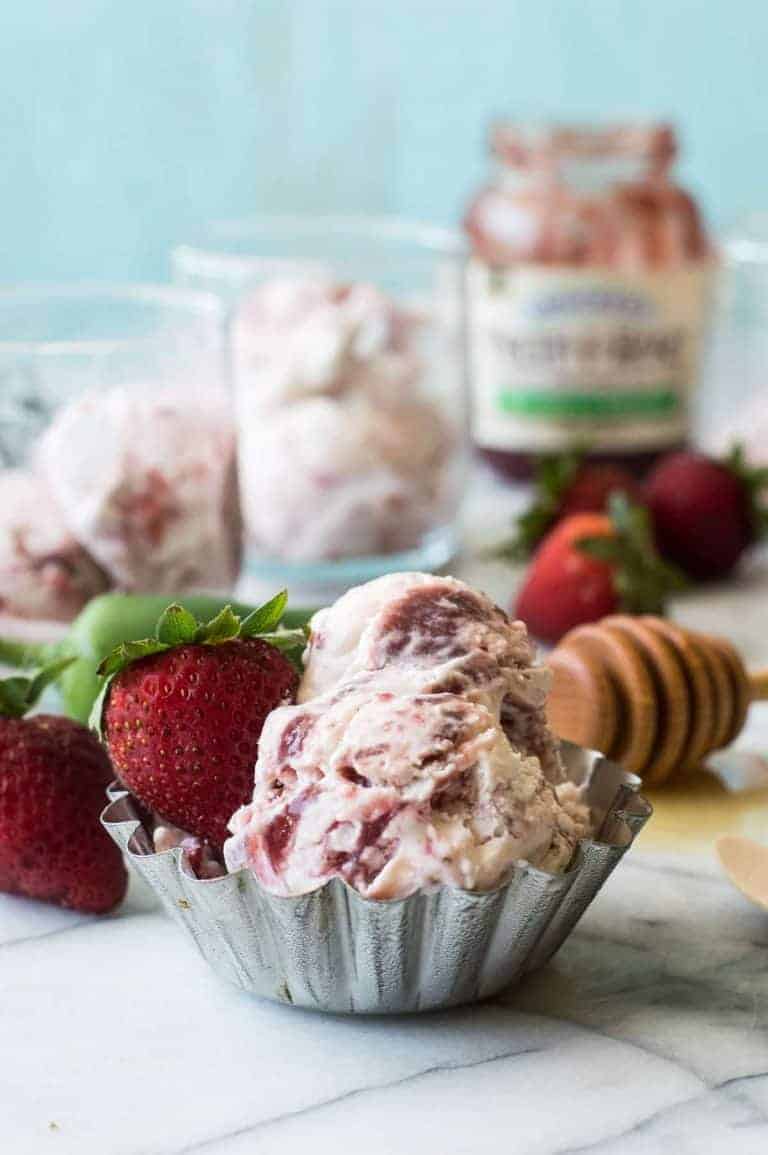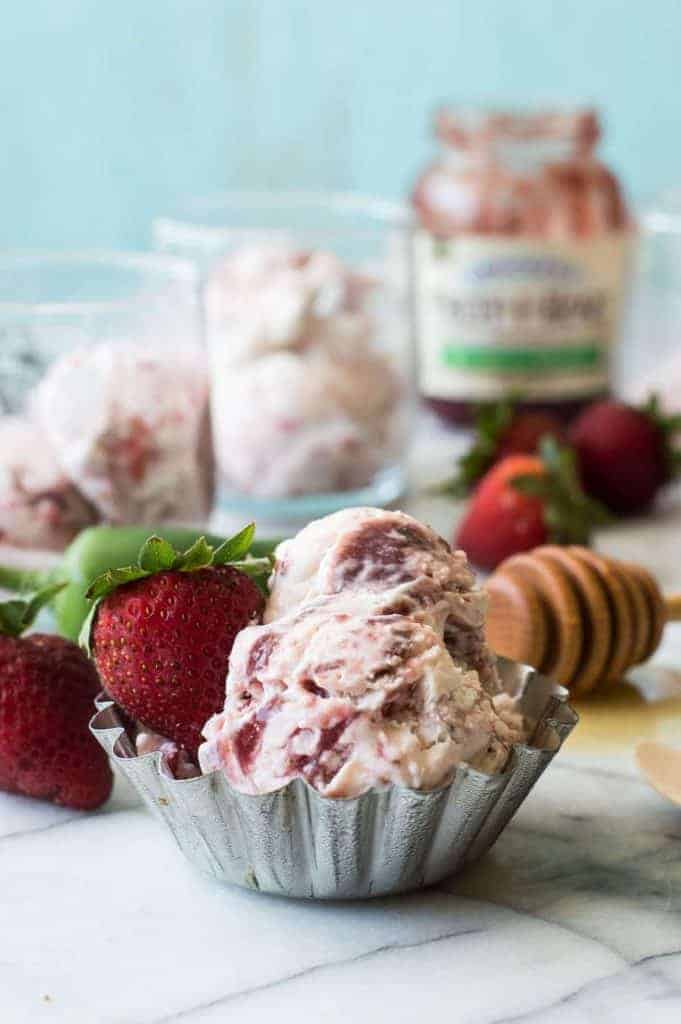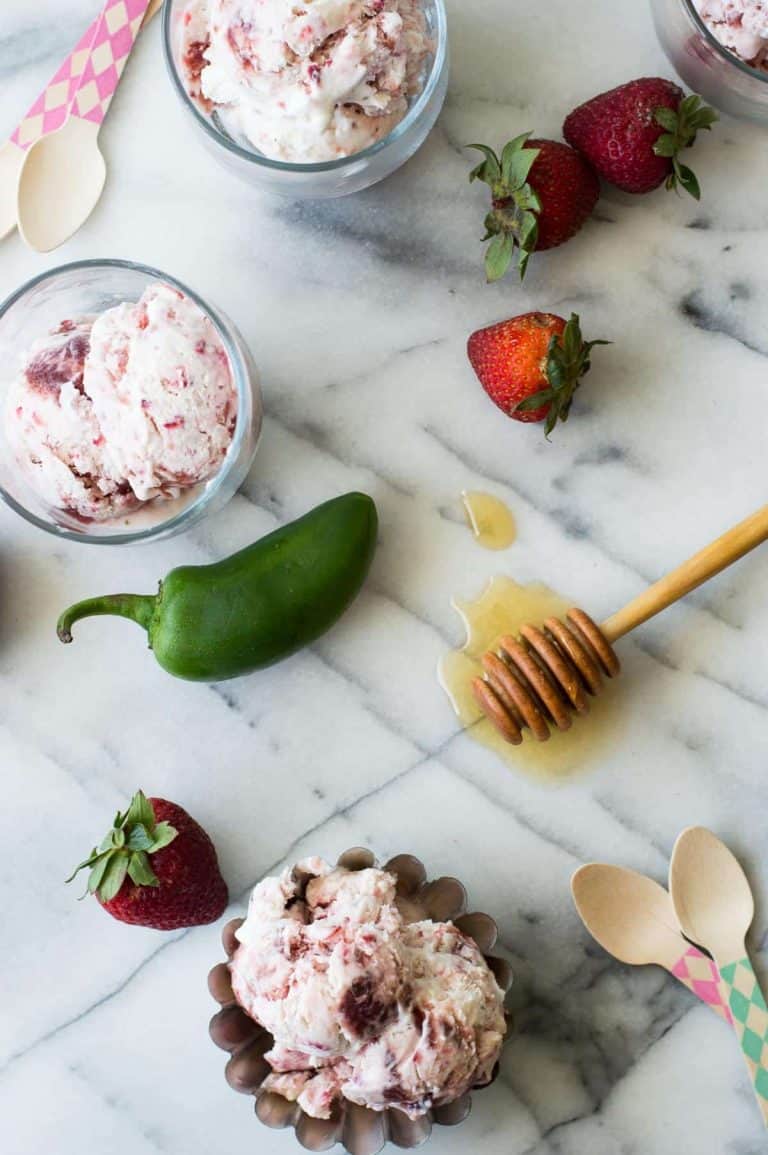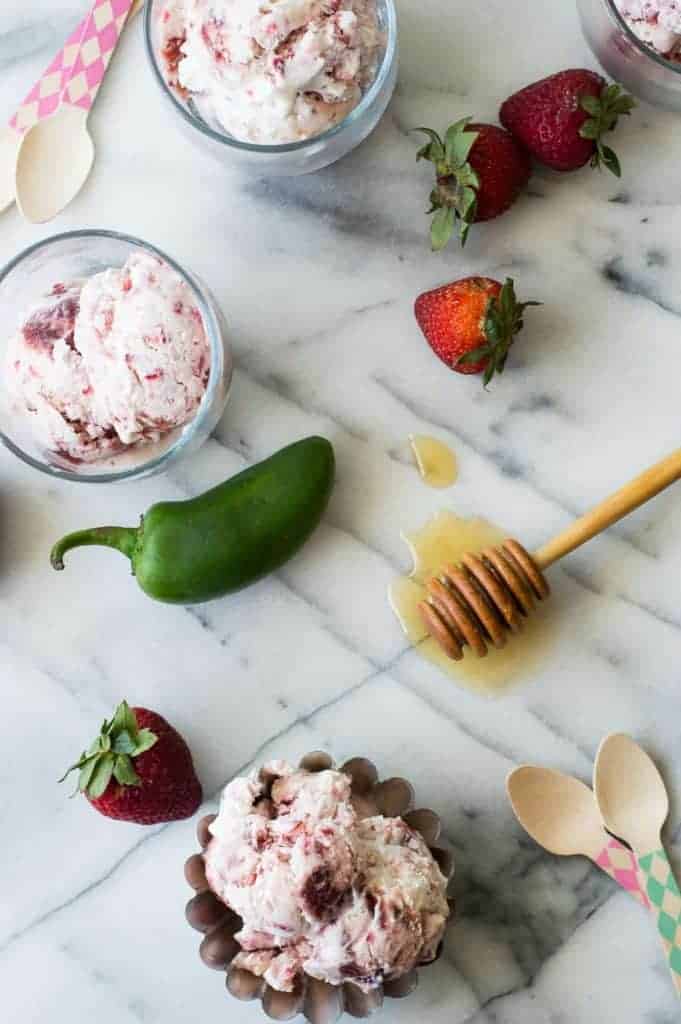 I was a bit nervous about swirling the jam into the ice cream.  I wasn't sure if it would freeze too hard and then I would have hard ice blocks of frozen jam in my creamy ice cream.  But it worked out perfectly!  I've made this ice cream several times now.  And it turns out great every time!
Next up I'm thinking maybe taking that Smucker's Fruit & Honey Blueberry Lemon Fruit Spread for a spin in some blueberry ice cream.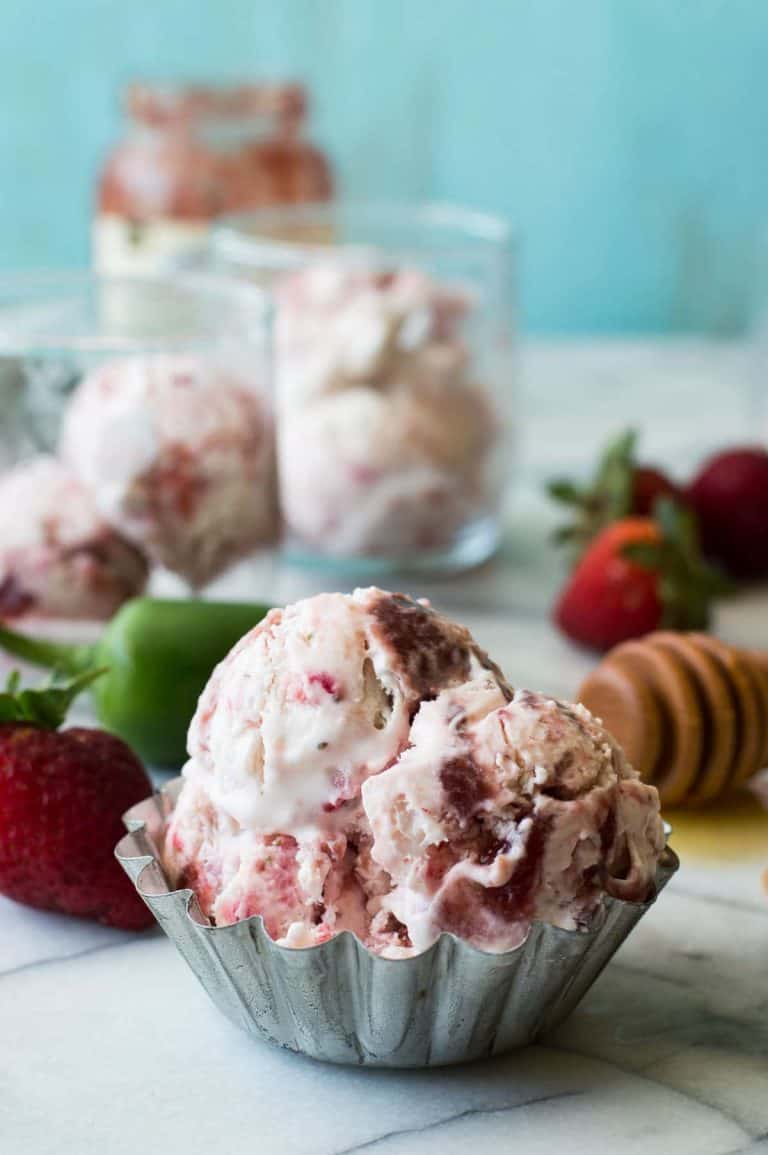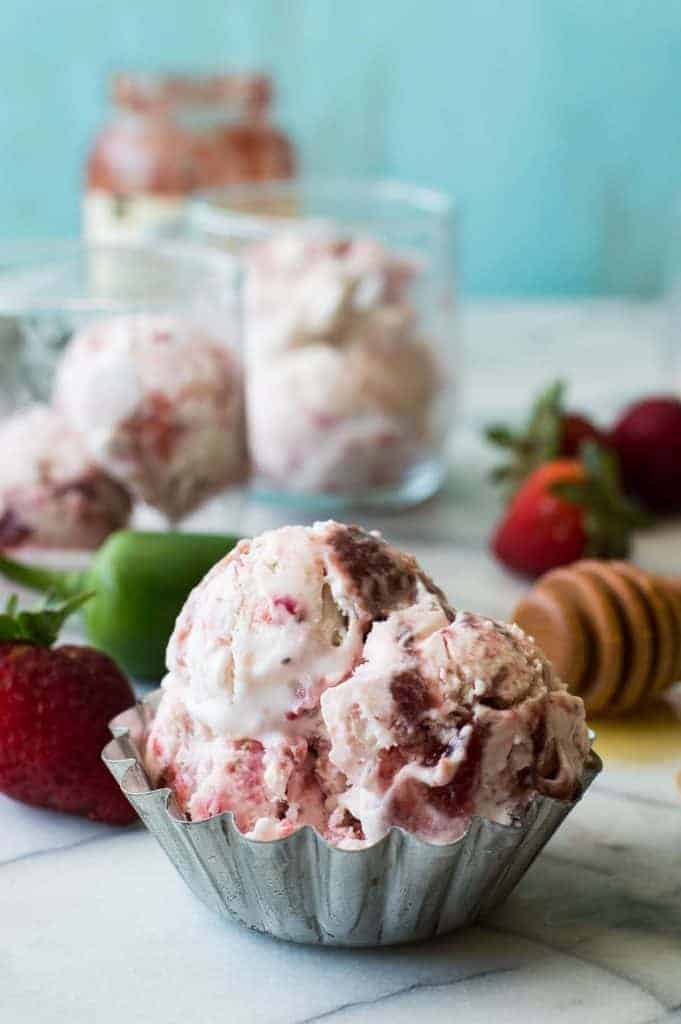 Want some more strawberry inspiration?
 Or maybe some ice cream ideas?
Print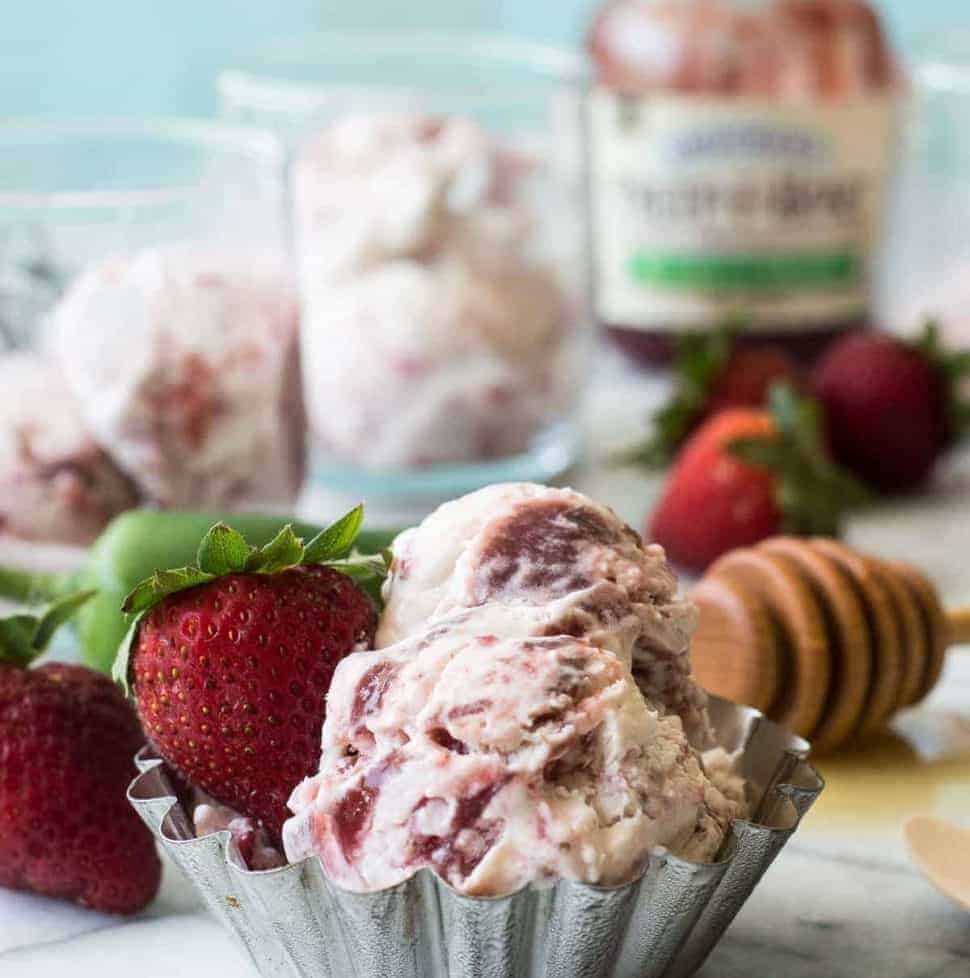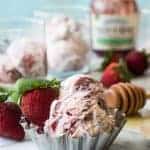 No Churn Strawberry Jalapeño Ice Cream
Author:

Prep Time:

10 minutes

Total Time:

10 minutes
---
Description
The perfect combination of sweet and spice meet in this cold creamy NO CHURN Strawberry Jalapeño ice cream!
---
Scale
Ingredients
1

lb hulled strawberries

1

14 ounce can of sweetened condensed milk

1 teaspoon

vanilla extract
pinch of salt

2 cup

s heavy cream

1/4 cup

Smuckers Fruit & Honey Strawberry Jalapeño Fruit Spread
---
Instructions
Add the strawberries to a food processor and pulse until lightly chopped up. Add the sweetened condensed milk, vanilla, and salt. Pluse until well combined. Set aside.
Pour the heavy cream into a large bowl and mix until soft peaks form. Fold in the strawberry mix slowly.
Pour into a 9×5 pan. Spoon the Smuckers Fruit& Honey Strawberry Jalapeño Fruit Spread onto the ice cream mixture and using a butter knife swirl it around.
Cover the ice cream mixture tightly and place in the freezer for at least 6 hours.
---
Products I Recommend for this Recipe:
**This post may contain affiliate links, but I only recommend products that I actually use and <3. Thanks for supporting House of Yumm!
7