Neapolitan milkshake, a shake layered with chocolate, vanilla, and strawberry flavors!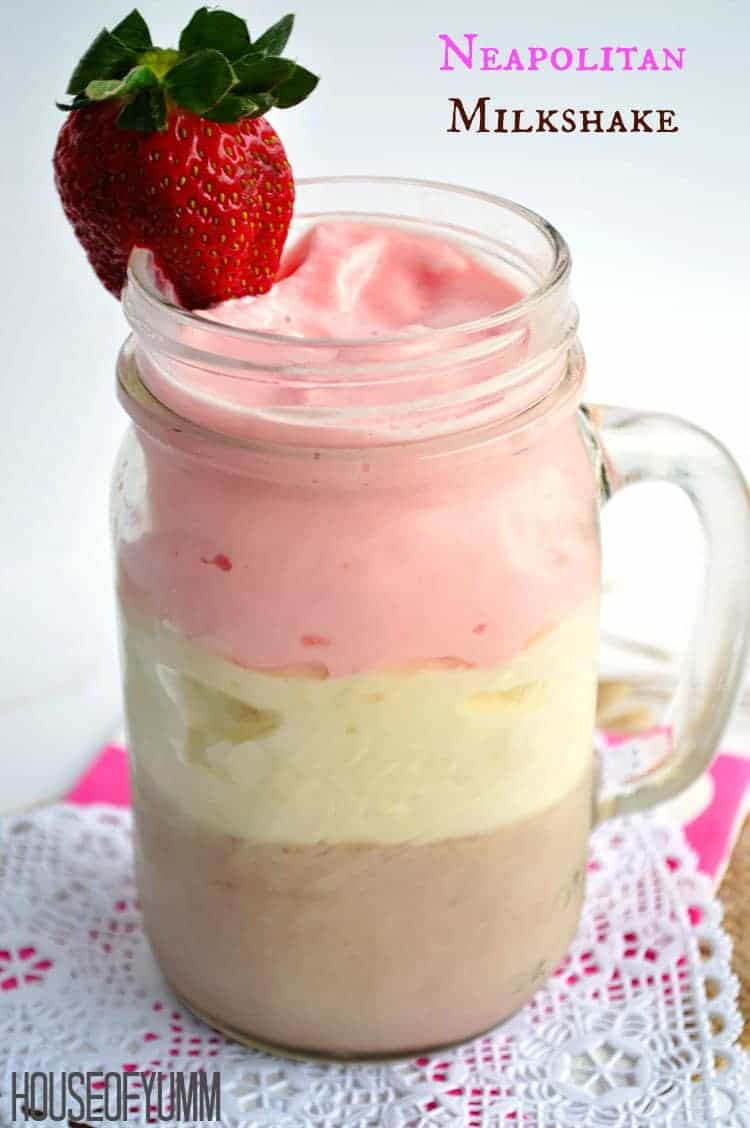 I've been on a Neapolitan kick lately.  Something about strawberry, chocolate, and vanilla all together.  This Neapolitan milkshake definitely hit the spot though! And it's so much easier to make than you might be thinking.  I suppose there are several ways that this could be made.  I went with a simple method that involves only vanilla ice cream though.  You could also do this with the three different flavors of ice cream.  But I usually don't have that much ice cream on hand.  It usually gets eaten not too long after I buy it.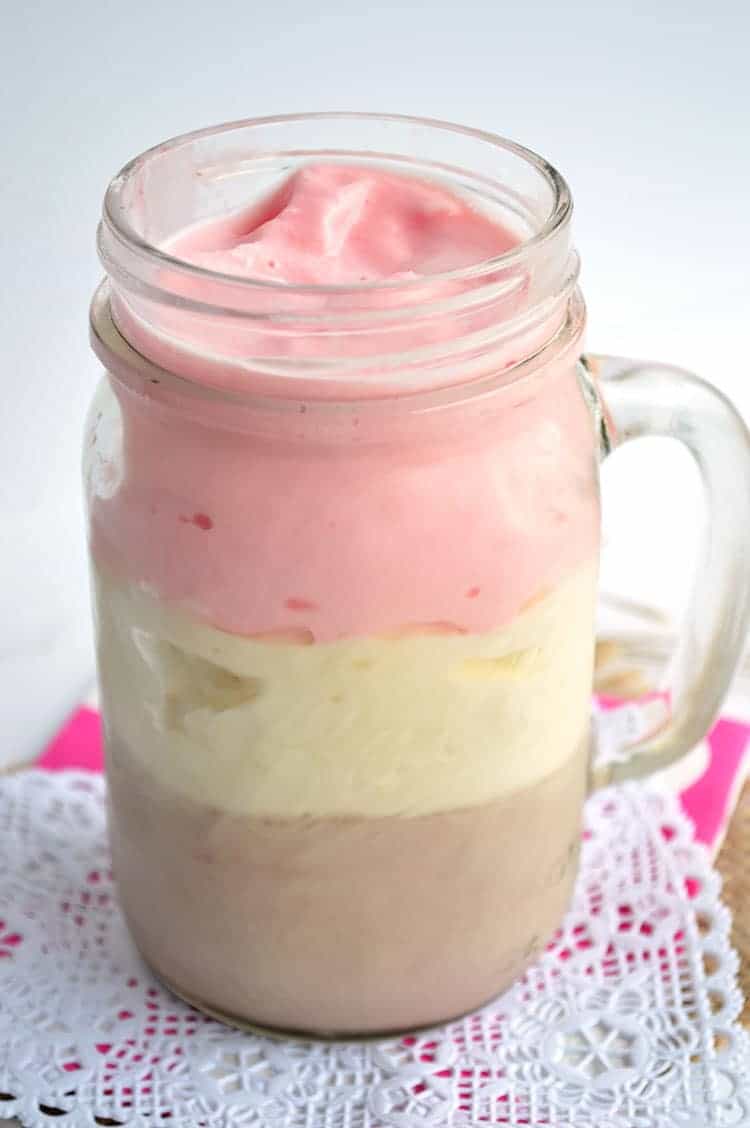 So, fun story with this recipe.  I love it.  It tastes amazing!  And I'm super excited to share it with you.  Buuuuut… So apparently, when you attempt to layer things of the same consistency, for example, three different flavors of milkshake made from the same batch, they will combine and mix together.  They don't necessarily layer like how I envisioned in my neapolitan dreams.  So above you see that there are layers!  Whaat?!  Magic.  No.  I froze it layer by layer.  So I put the chocolate layer in, froze it for about 20 minutes, added the vanilla layer, froze it again, then added the strawberry layer and voila!  Layered Neapolitan Milkshake.  Now below.. You will see the first attempt.  Where all my layers and flavors combined.  Still tasted amazing.  Loved it!  And I was just going to share that version.  But then, if you're like me, when you hear Neapolitan, you expect to see the colors.  So I went about finding out how to make that for you.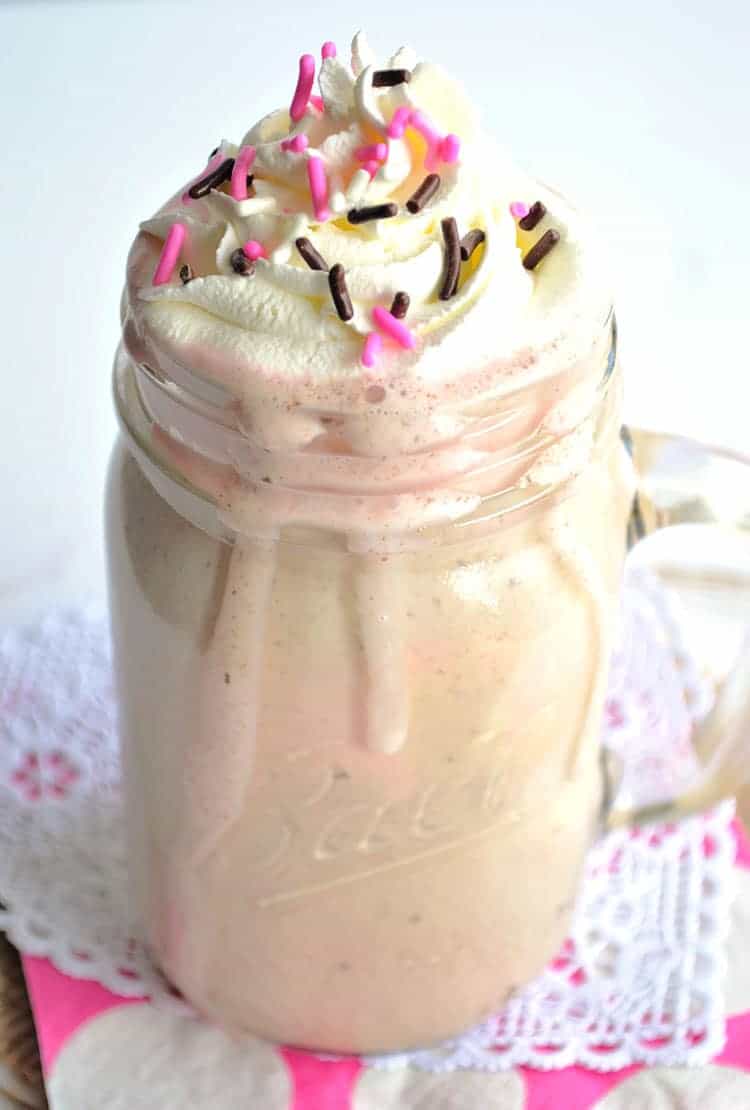 Moral of the story is: either way you choose to make this it will taste the same!  And that means either way is deliciousness.  So it just comes down to if you want to take the time to freeze the layers for the fun look, or just put it all in one glass and go for it!  Personally, for just myself I say let's go for it!  However, if I'm making it for someone else, I would take the time to make it pretty.
Make sure you check out these Neapolitan Brownies that I'm sharing over on The NY Melrose Family today!  Click here!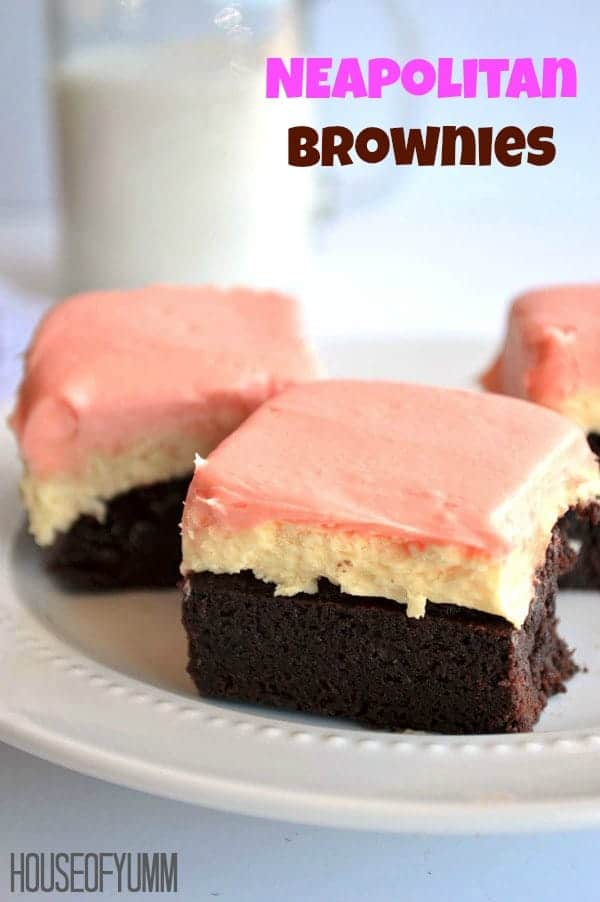 I hope you enjoy the recipe and will follow along on my cooking adventures:
FACEBOOK | PINTEREST | GOOGLE+ | TWITTER | INSTAGRAM | BLOGLOVIN
Print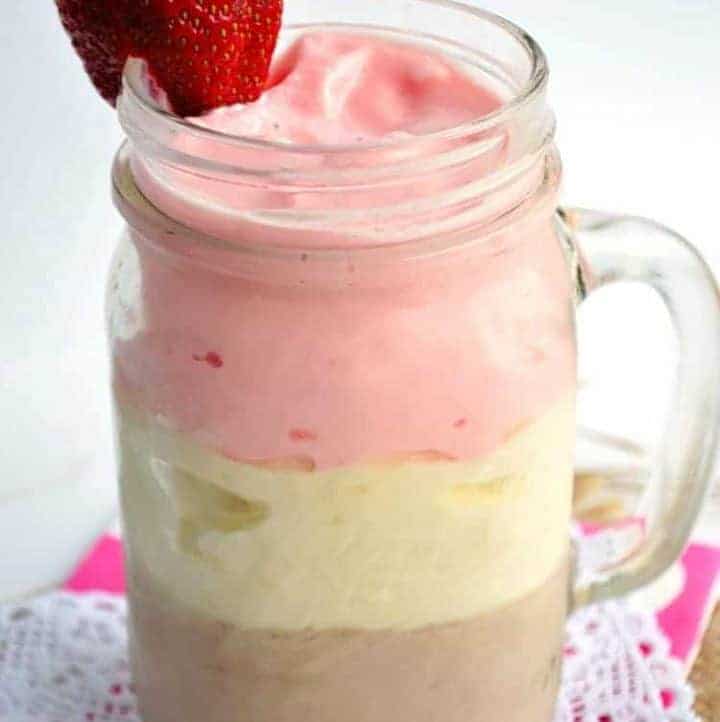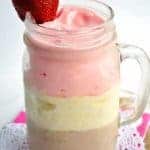 Neapolitan Milkshake
Author:

Prep Time:

5 minutes

Total Time:

5 minutes

Yield:

2

1

x
---
Description
Neapolitan milkshake, a shake layered with chocolate, vanilla, and strawberry flavors!
---
Scale
Ingredients
2 cup

s vanilla ice cream

1/2 cup

milk

1/2 teaspoon

unsweetened cocoa powder

1/4 teaspoon

strawberry extract

1

drop of red food coloring
Optional Toppings
Whipped Cream
Sprinkles
Strawberries
---
Instructions
Scoop the vanilla ice cream into a blender or food processor (affiliate link). Add in the milk. Blend for approximately 1 minute until there are no chunks of ice cream left and you have a smooth milkshake texture. Add more milk or ice cream to get desired consistency.
Divide the milkshake into three equal parts. Keep one part plain vanilla, in another part add the cocoa powder and stir until completely combined. And in the final part add the strawberry extract and the food coloring. Stir until completely combined.
Layer the different flavors into two different glasses. Serve immediately and enjoy!
---
49