Nacho Cheese Chip Cups!! Made with actual crushed up nacho tortilla chips, loaded up with all your favorite toppings!! Perfect bite sized snack!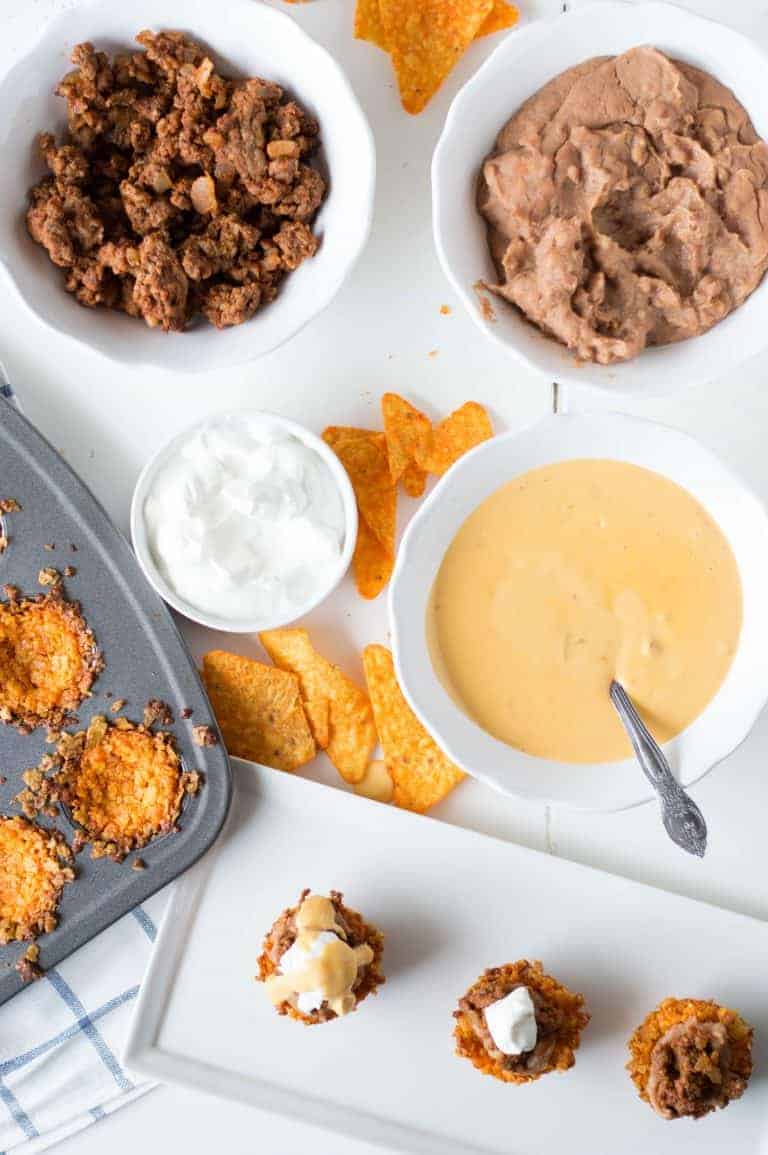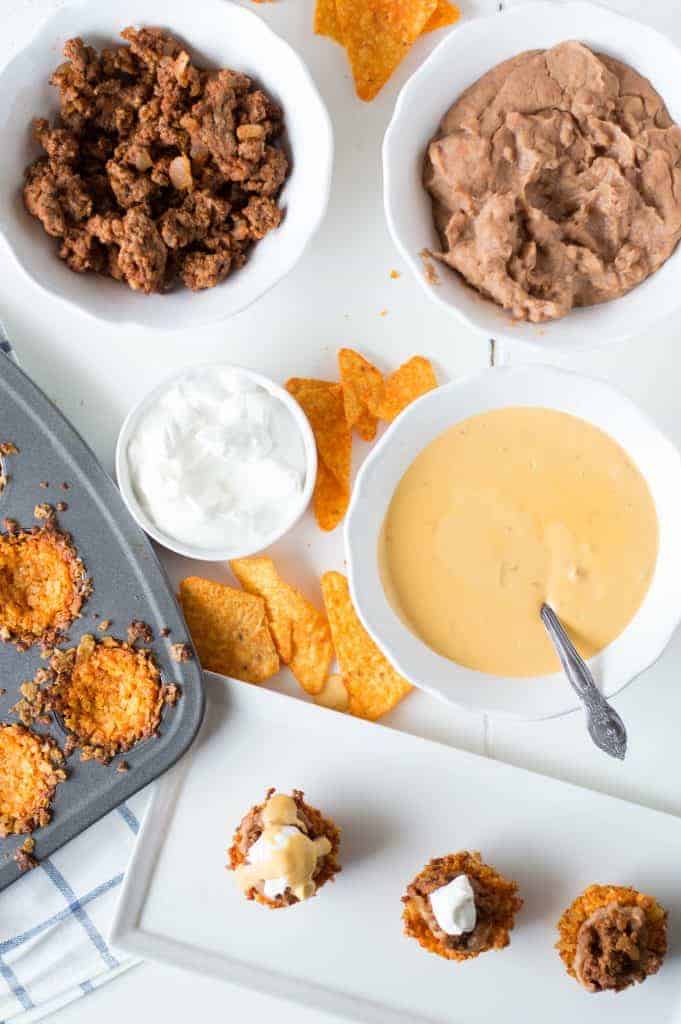 Y'all ready for this? Does this phrase make anyone else start singing that song in their head and have flashbacks of high school basketball games? No? Just me? Moving on. These Nacho Chip Cups have been a long time comin. I think you most likely have realized my love for cookie cups right? Well, the hubs has been requesting a savory cookie cup.  This idea of a savory cookie cup has been rattling around taking on various qualities for about a year now. If not longer.  The hubs with his wild imagination of course came up with the idea to use nacho tortilla chips as the base. Then we had to figure out how to make it stick together. But again, the hubs is a genius and figured it out. All I really did was scoop stuff on top, drizzle a little cheese and snap some pics. Oh wait, no, I had to do the dishes too. The hubs hates dishes. Apparently it is assumed that I personally looove them and feel unfulfilled if I don't wash at least 50 dishes a day, so the whole fam usually pitches in to help me accomplish that task. *sarcasm* <—🙄 
But enough of me.  Let's move onto these epic little snack bites.  And here he is again, the hubs of the house to share his latest creation with you!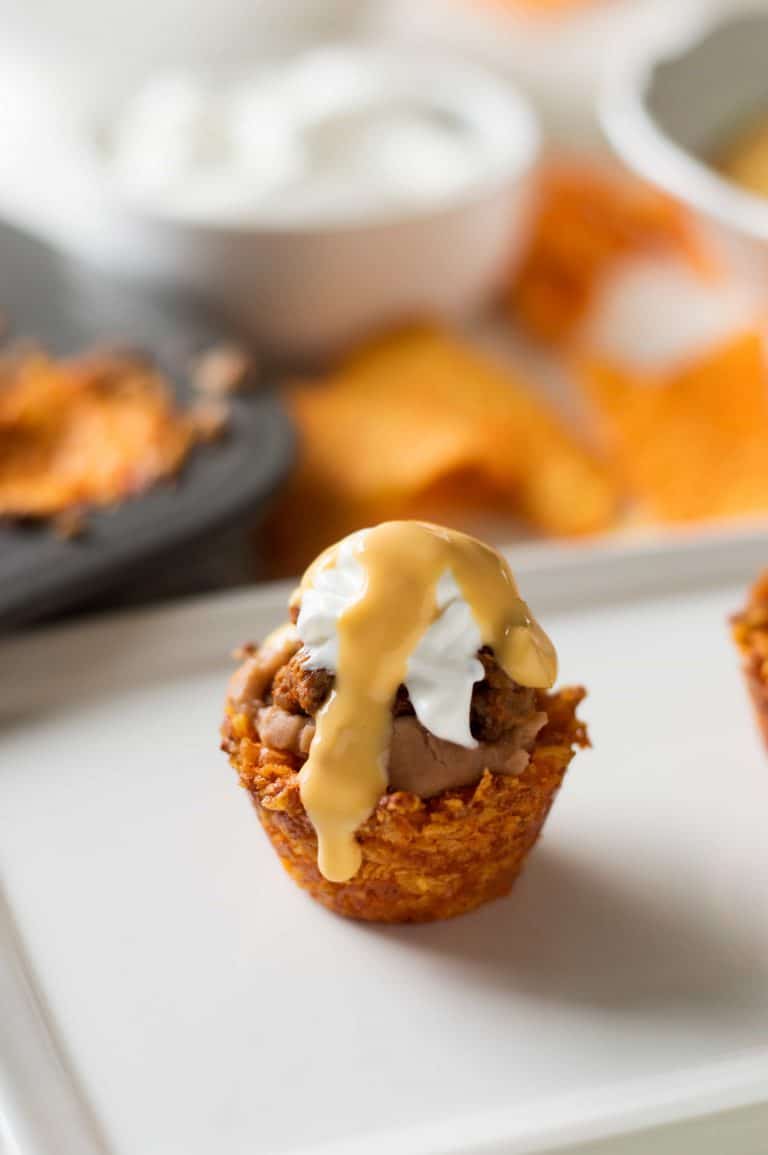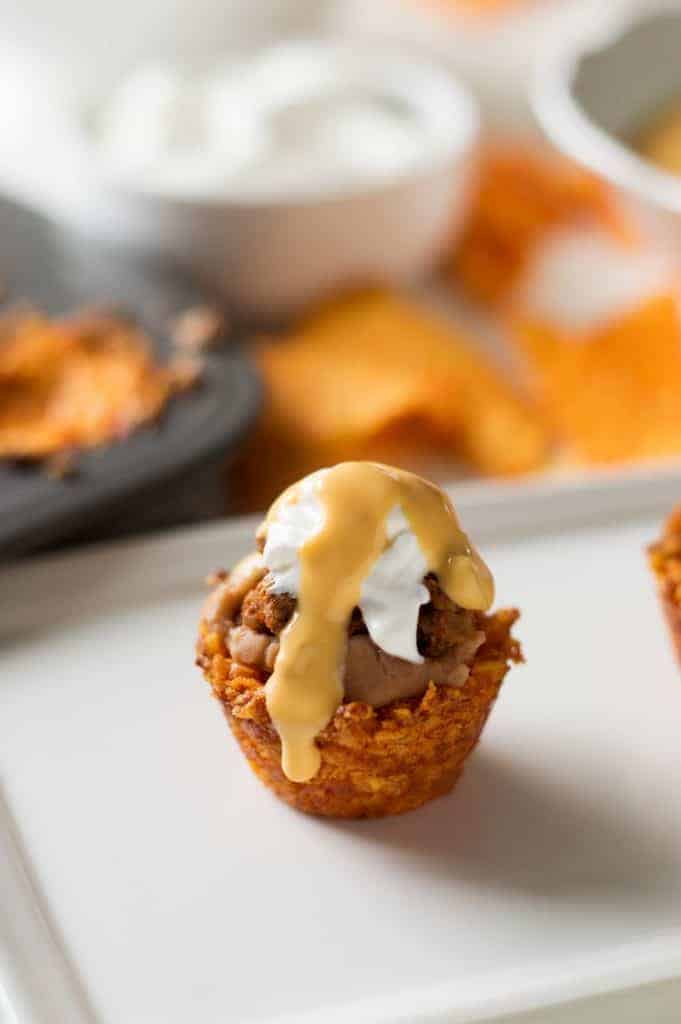 Yo!  Kruz here with you again.  In my never ending food quest to create the uncreated, I often think of myself as a self proclaimed "Extreme cuisine" aficionado. At times I will have an epiphany of EXTREME FOOD-DOM where a recipe so amazing, so genius, hits my brain. That is until what seemed to be the most epic and unique idea at the time, becomes me finding a recipe on google where somebody has actually made that very same idea. Lets face it, when it comes to creating food of the most epic proportions it really takes some off the wall crazy originality and patience. But alas my next Mona Lisa is complete…..
Behold the Nacho Cheese Chip Cups!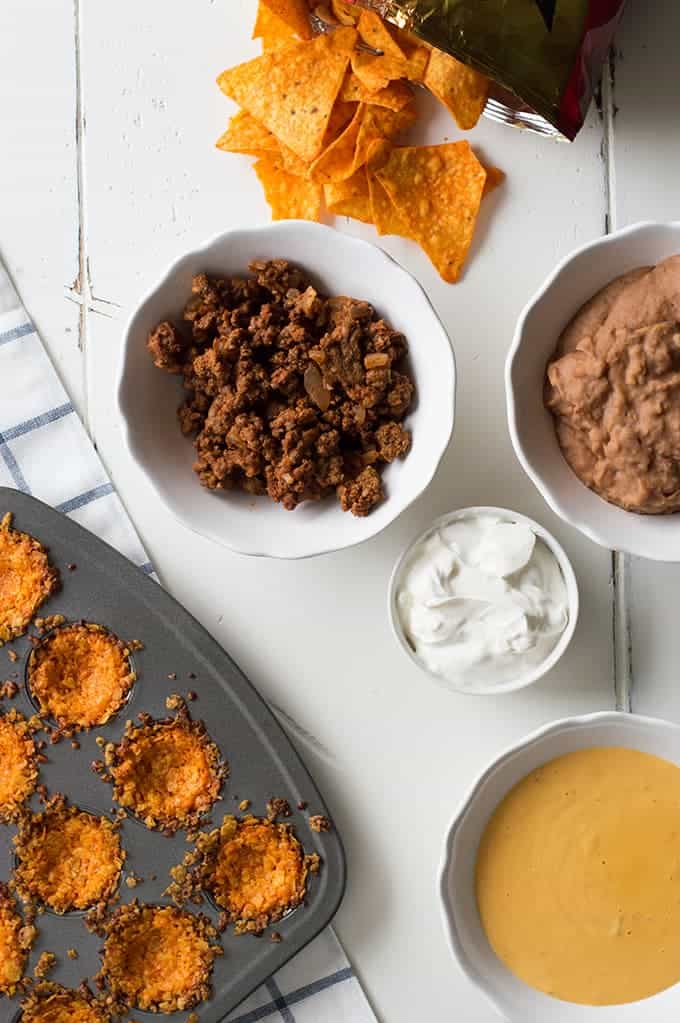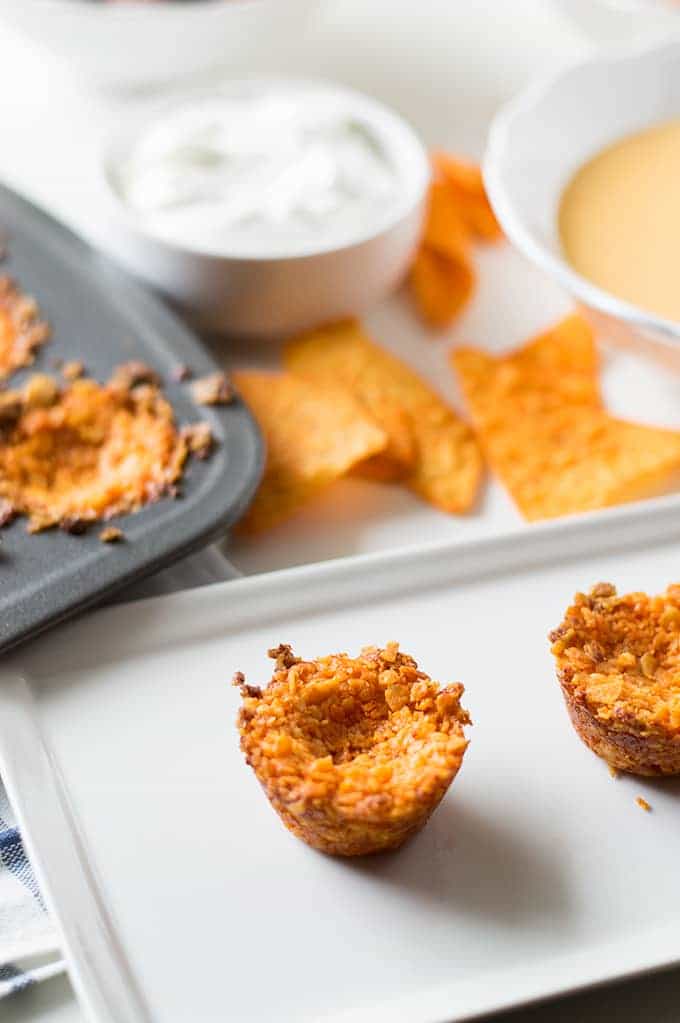 Ok, so You know when you get to the end of a bag of chips, you know, that last mouthful of those little tiny chip pieces that rested at the bottom of the bag soaking up all that sweet sweet delicious nacho cheese seasoning! Thats what I tried to capture with the Nacho Cheese Chip Cups its like the end of the chip bag in every bite.  If i could describe these they would be like a savory nacho rice krispies treat meets cookie cup only these puppies are pure cheesy goodness! Perfect snack to throw in the mix for your game day spread, or just something fun to snack on for the family. Whatever the occasion this quick fun and wild way to eat your chips is sure to satisfy your Extreme Cuisine craving every time.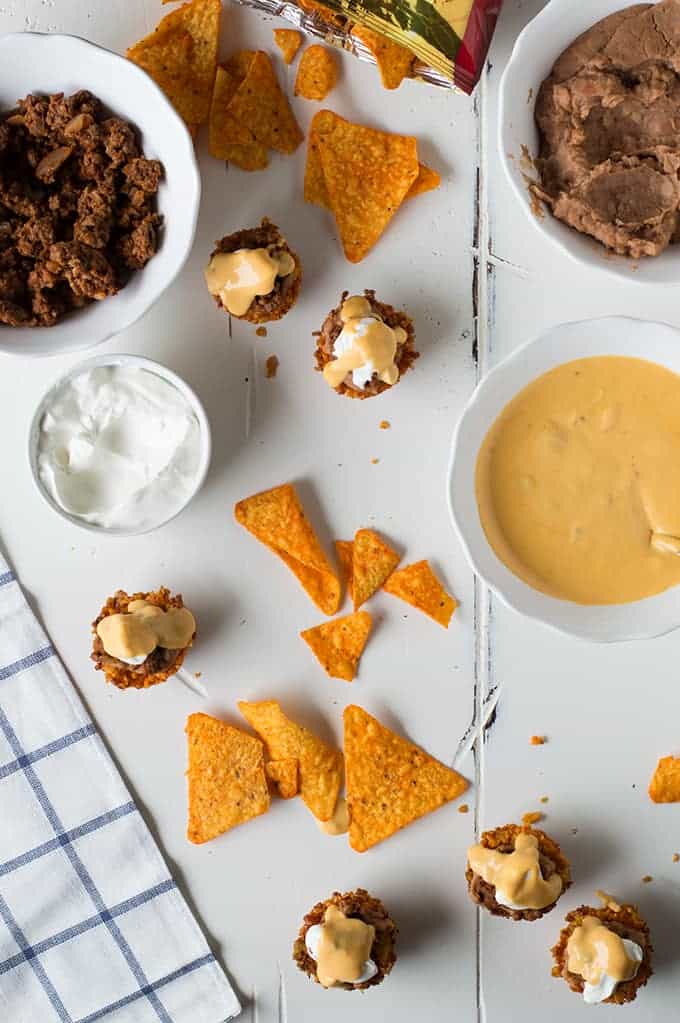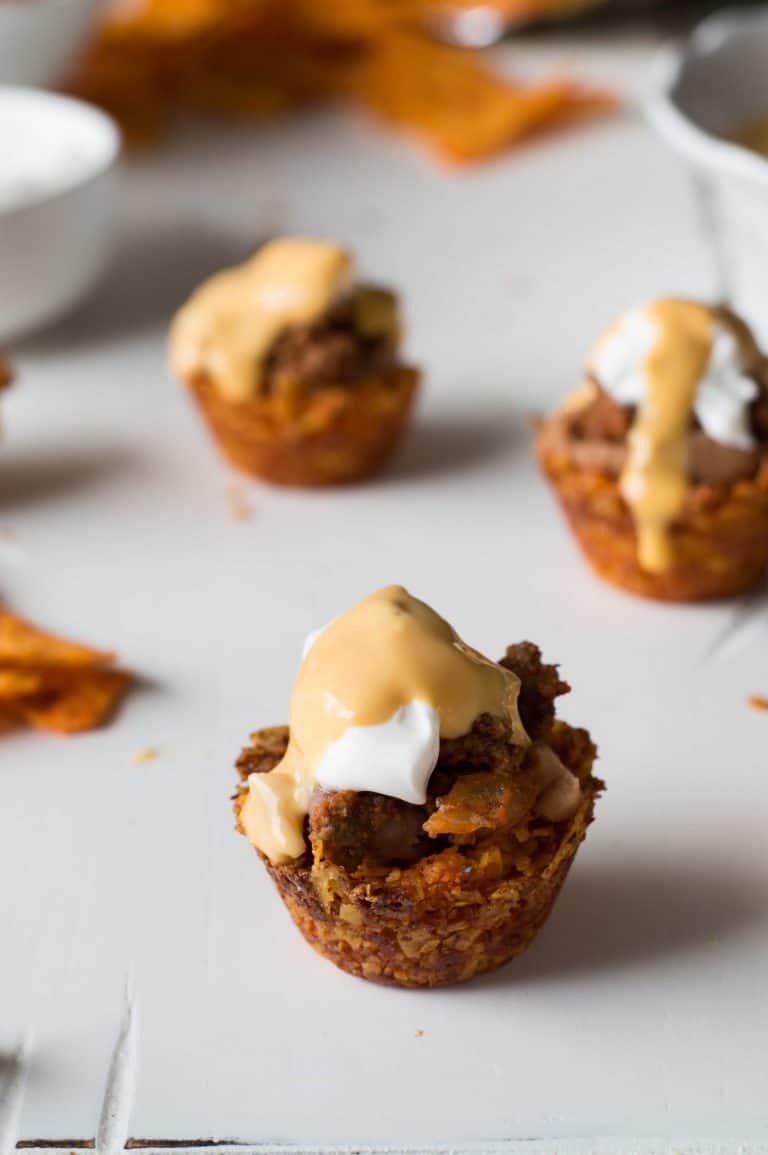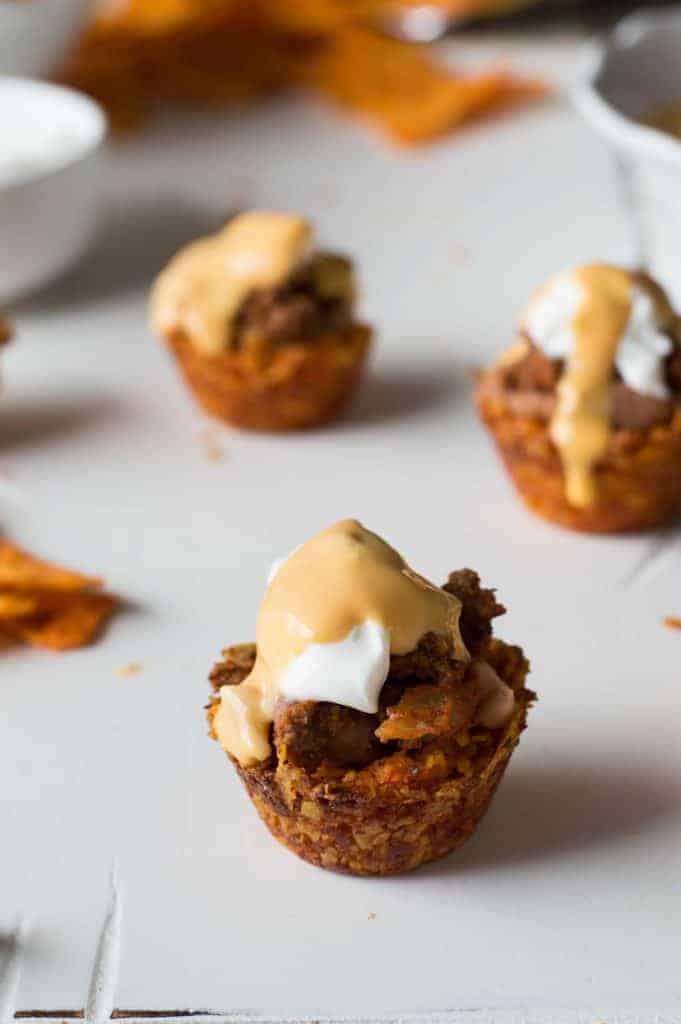 I hope you enjoy the recipe!  You can follow along with me and never miss a recipe by signing up for my newsletter.  Follow me on Instagram and tag #houseofyumm so I can see all the recipes you make 💜
Print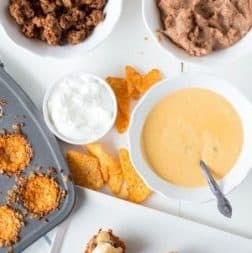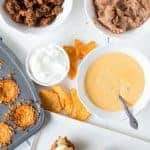 Nacho Chip Cups
Author:

Prep Time:

5 minutes

Cook Time:

8 minutes

Total Time:

13 minutes

Yield:

12

1

x
---
Description
Nacho Cheese Chip Cups!! Made with actual crushed up nacho tortilla chips, loaded up with all your favorite toppings!! Perfect bite sized snack!
---
Scale
Ingredients
5 ounce

s Nacho Tortilla Chips (about 1/2 a regular

10 ounce

bag)

2 tablespoon

s melted butter

1 cup

finely shredded cheddar cheese
Toppings-Optional
refried beans
ground beef-cooked
sour cream
nacho cheese
olives
onion
cilantro
shredded cheese
tomato
---
Instructions
Add the nacho tortilla chips to the food processor (affiliate link) and process for about a minute until finely chopped.
Remove the chips to a medium size bowl.
Add the cheese to the processor, process for about 30 seconds to ensure that the cheese is finely shredded.
Add the cheese to the bowl with the processed chips.
Pour the melted butter over the cheese and chips. Stir to combine.
Using a tablespoon or cookie scoop, spoon the mixture into a greased mini muffin tin. Press down, into the tin.
Bake at 350 degrees for about 8 minutes. The edges will become golden brown.
Allow the cups to cool. Once cooled to remove just twist the nacho cheese cups slightly and pull out of the muffin tin.
Load with all desired toppings!
Enjoy!
---
7