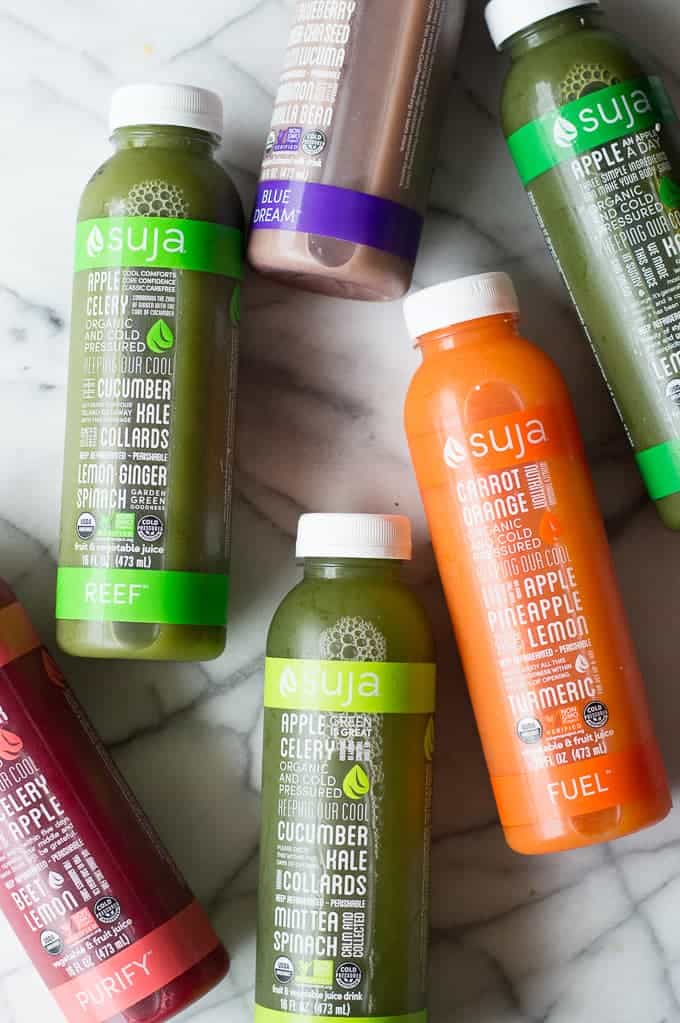 If you follow along, you've probably remember me telling you that I recently did a juice cleanse.  Well, I'm here to tell you all about it today.  As a disclaimer, I received a complimentary  3-Day Juice Cleanse from Suja, but was not paid to write this review and all opinions are completely my own.
The Fresh Start is a juice cleanse designed for beginners to juicing.  Suja provides you with 6 juices for each day
Glow

-Soothing mint, fruit & veggies makes this juice perfect to start your day with. Glow combines optimal nutrition with absolute deliciousness. Glow contains apple, celery, cucumber, kale, collard greens

Fuel

-This light, refreshing orange and pineapple blend is sure to put some pep in your step. Fuel contains carrot, orange, apple, pineapple, lemon and turmeric
Purify 

-contains carrot, apple, celery, cucumber, beet and lemon.

Reef 

– combines the zing of ginger with the cool of cucumber for an epic, refreshing taste. Reef contains apple, celery, cucumber, kale, collard greens, lemon, ginger and spinach.

Green Supreme

– This sweet combo of kale, apple and lemon is bold and delicious. 

Blue Dream 

– The ultimate good-for-you dessert! Our blueberry almond milk infused with hints of cinnamon and vanilla is a great way to wind down at the end of your day.
I thought I would take some of the most common questions I was receiving during the course of doing the 3 Day Juice Cleanse and share my answers here with everyone!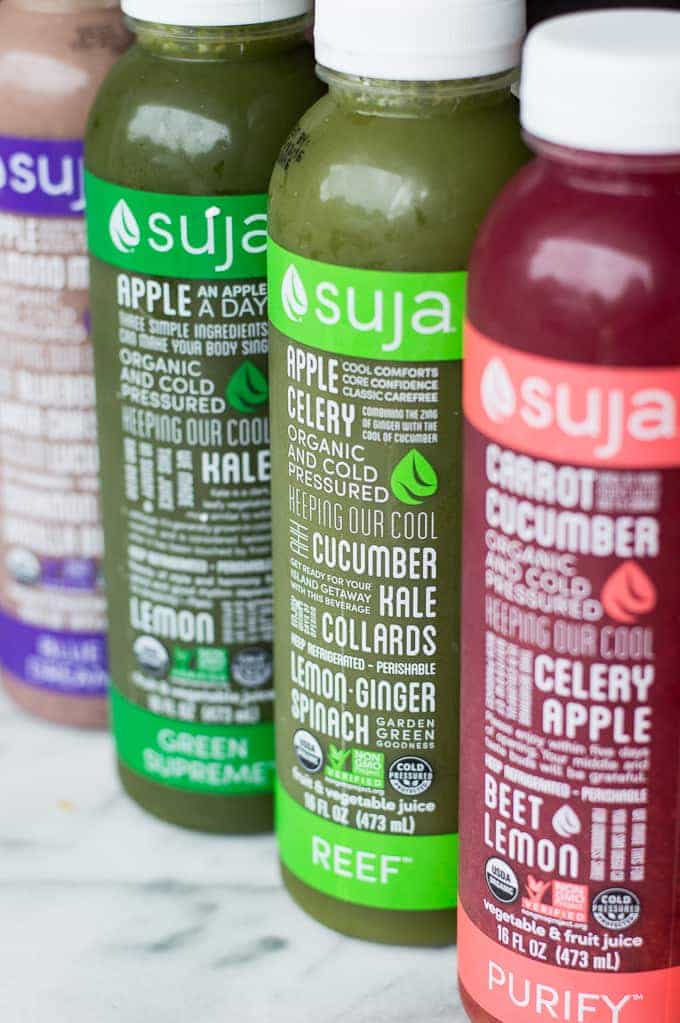 Seriously? You didn't eat for 3 days?! 
Right!  The juice cleanse is meant to be 3 days of no food.  Just juice.  Suja tells you: For best results, it is recommended to stick to the juices. However, if you are active or just plain hungry, that's ok! The best foods to consume are raw fruits and veggies, half an avocado, a baked sweet potato, or broth-based soups.
The purpose of this is to cleanse.  Eating a cheeseburger would slightly defeat the purpose.
Why did you do this??
I felt like I needed a restart.  For the last almost 4 years now I have been either pregnant or nursing, and I know I'm certainly guilty of using that as an excuse to kind of eat what I want.
Doing this juice cleanse was definitely my fresh start.  Starting over, eating cleaner, feeling better from the inside out.  Am I dieting now?  No.  I'm terrible at diets.  The second I'm told I can't eat something because it's not part of a diet, guess what I want?  Whatever I'm not supposed to have.
It's probably some psychological thing, or me just being obstinate.  I really don't think I have an issue with food.  I don't overeat.  I just enjoy good food.
Were you hungry?
Honestly.  No.  I was so full of juice.  There's 6 juices that you drink throughout the day.  By the end of the day I was still full of juice and kind of wanted nothing to do with food.
How did they taste?
They were good!!  Granted, I have had fresh juice before.  We have a juicer and on occasion will make our own juices.  So it wasn't brand new territory for me.  I definitely had some that I enjoyed more than others.  The only one I struggled with was the beet juice.  I've never been a fan of beets.   A polite way of describing the taste of a beet is "earthy".  What does that mean?  It's a nice of way saying it tastes like dirt.  The hubs on the other hand.  Loves beets!  And he was more than happy to drink the remaining juice I had.
My absolute favorite juice would have to be the Green Supreme, which is made of kale, apple, and lemon.  It was refreshing and light.  Loved it!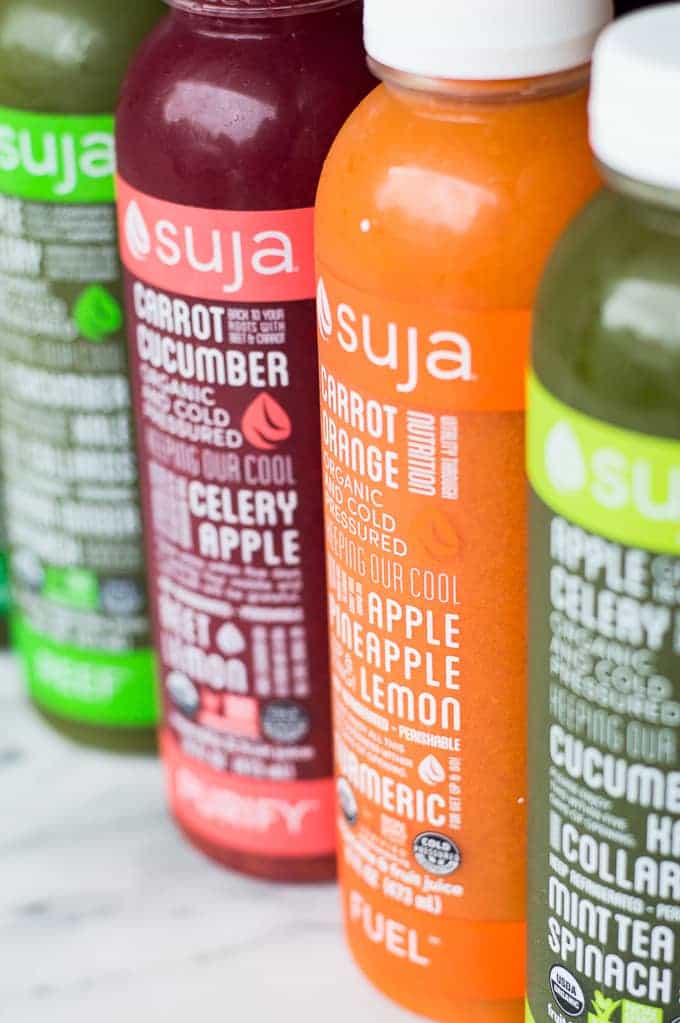 What's changed since you did this? 
I have definitely made several changes since I did this cleanse.  I cut out coffee and most caffeine from my day.  The only caffeine I have now is in my Matcha Smoothie.  Which has taken the place of my coffee.
I've had very few processed foods since doing the cleanse.  We've been leaning more towards whole ingredients.  Which we did a lot before.  Just now I'm paying a bit more attention.
I've been having less sugar.  After the three days of the cleanse the next few days are slowly bringing food back with soup, salad, veggies, fruits.  And after just one week of eating like this, I didn't crave sugar.  And when I did have a bite or sip of something sweetened, it was almost overpowering.
Now again.  Do I diet?  No.  Am I going to change up the recipes I share on the blog?  Maybe.  I share recipes on the blog that we eat here in our home.  But I still love to bake.  I still will need a cupcake every once in a while.  I still am not setting any rules, because why?  I don't do good with rules.  But less processed foods, more whole ingredients are what is coming through our house currently.
Would you do this again?
I absolutely would!!  The hubs and I loved the juices.  In fact we've bought several more and have started incorporating them into our day.  They're incredibly tasty.  A super easy way to load up on fruits and veggies for the day.  And for the price, while it may seem like they're pricey, for the convenience, SO worth it!!
If you've ever juiced before it's pricey to get all of the fruits and veggies.  It's a lot of prep in cleaning them and getting them ready to juice.  Time spent in cleaning.  And then you need to enjoy the juice after you make it.  Suja cold presses their juice, meaning it can last in the fridge for about a month to 2 months I believe, based on the dates on the bottles.  So the price is definitely worth the convenience.
If you want to check it out on the Suja website, just give a click here!
This post may contain affiliate links, but I only recommend products that I actually use and <3. Thanks for supporting House of Yumm!  
1