These healthy, EASY Mixed Berry Whole Wheat Muffins are the perfect breakfast recipe!  Soft, fluffy muffins made with whole wheat flour, no refined sugars and loaded with fresh berries!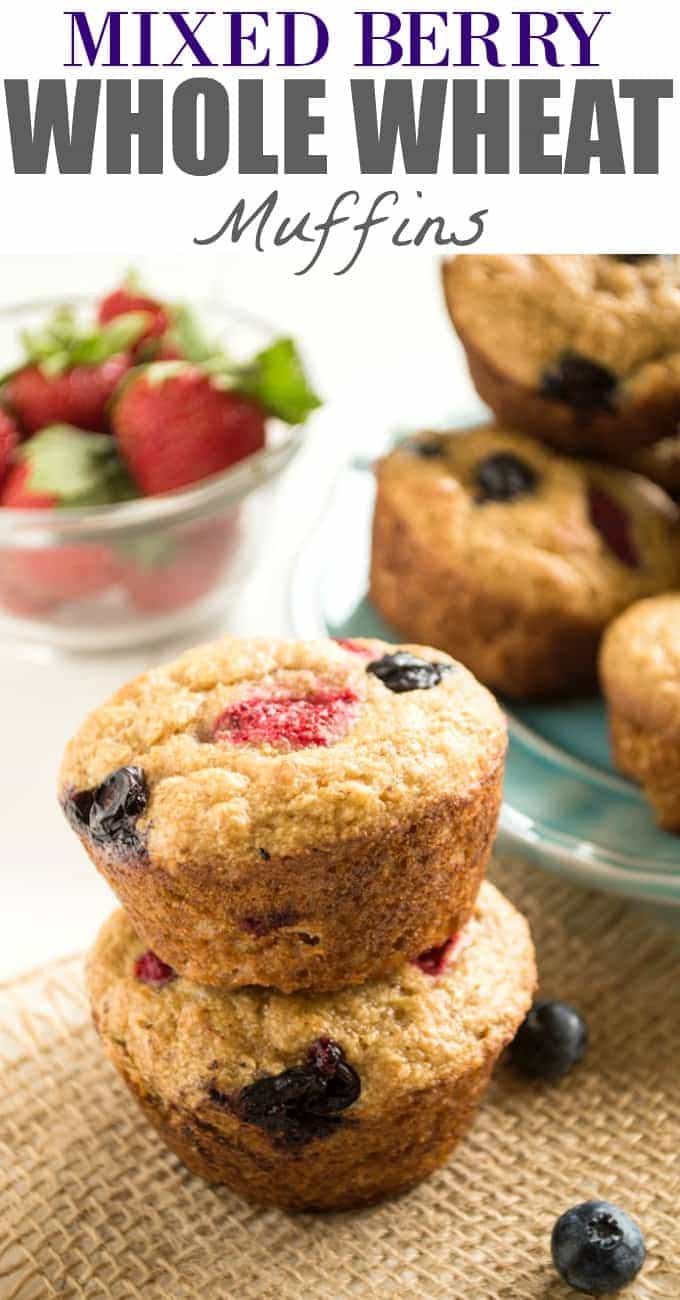 I am so excited today to FINALLY be sharing these mixed berry whole wheat muffins with you!  I've been holding onto this recipe for quite a while.  If y'all don't know already, I'm usually not one to prepare posts, take pictures, and do the whole deal months in advance.  My life doesn't work out all organized like.  The second I try to organize anything my two year old laughs menacingly, and it's all downhill from there.  Moving on!  I made these mixed berry whole wheat muffins for Produce for Kids to put in their new cookbook!!!  I've worked with them before, remember? The Cranberry Apple Stuffing, Oatmeal Raisin Muffins, and the Rainbow Fruit Salad.  Their mission is to help families eat healthier by providing family tested, registered dietician-approved recipes, expert advice, and tips from real parents.
Their new cookbook, Healthy Family Classics, you will be able to find easy recipes that will make eating healthy enjoyable!  Plus tons of tips on how to involve kids in the cooking process.  For every book purchased, 100% of the proceeds go back to help end children hunger through Feeding America's children's programs.  How amazing is that?! 100%!! Healthy Family Classics: 50 Registered Dietitian-Approved Recipes from Our Kitchen to Yours
 is available on Amazon.  Just give a little click there on the title to go directly to it.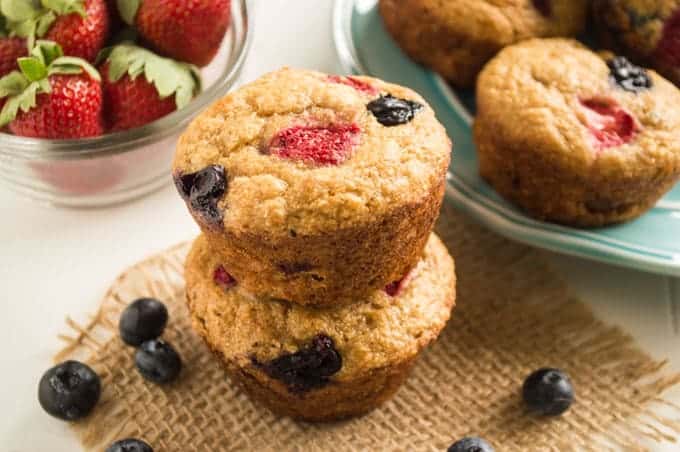 Ok, so now a little info about the actual recipe.  These muffins are sooooo good!!  Y'all know I do try to have a balance of healthy eats in our home.  These muffins are loaded with all good things, and no refined sugars.  I used whole white wheat flour.  And I know, I know.  I've shared recipes with this flour before and I always have someone who states that I'm mislabeling by saying it's whole wheat ?.  Whole white wheat flour is whole wheat! Ready for a nerd moment?  Let me get my glasses on. Whole white wheat flour is made from white wheat, basically it has no gene for color, it's like an albino wheat.  It also has a milder taste.  Which means that whole white wheat flour looks and tastes a lot like the refined flours that most people are used to having in baked goods.  However, nutritionally, whole white wheat flour is just the same as regular whole wheat flour ?   Still not convinced??  Check out the Whole Grains Council website here.
Now that the issue of flour is solved.  Let's look at what else is in here!  Applesauce.  Applesauce can be a replacement for butter, oil and eggs when baking.  I still added one egg to this recipe though just for texture.  I've tried it without the egg and they're just not as fluffy.  So personally, I like the egg in mine.  Greek yogurt helps to make these muffins so soft and tender.  And instead of refined sugars you can use agave or maple syrup.  You could also probably substitute with honey, although I haven't done that yet.  Keep in mind that the maple syrup or honey would impart a slight flavor.  Agave I don't feel gives much flavor when used.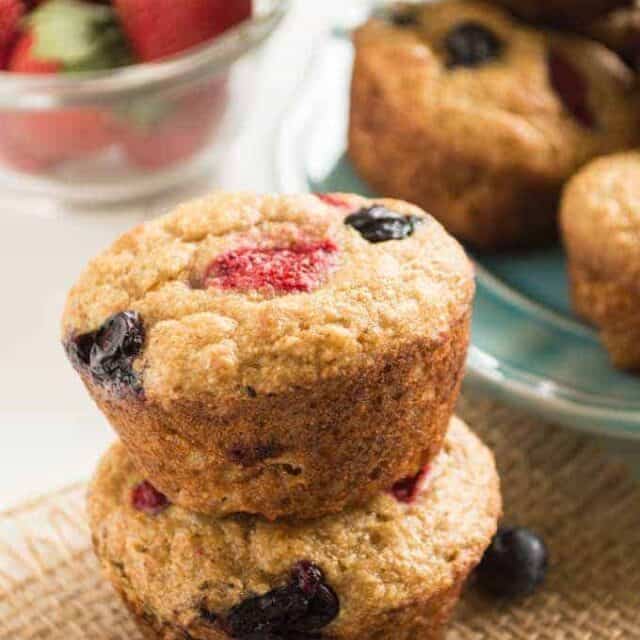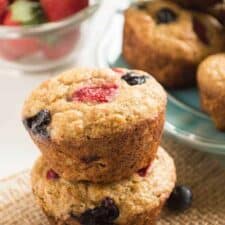 Mixed Berry Whole Wheat Muffins
These healthy, EASY Mixed Berry Whole Wheat Muffins are the perfect breakfast recipe! Soft, tender muffins made with whole wheat flour, no refined sugars and loaded with fresh berries!
Ingredients
1¼ cup white whole wheat flour
1 tsp baking powder
1 tsp baking soda
⅛ tsp salt
1 large egg
½ cup maple syrup
2 tsp vanilla extract
¾ cup plain greek yogurt
¾ cup unsweetened applesauce
1 cup fresh mixed berries, blueberries, raspberries, and sliced strawberries
Instructions
Preheat oven to 400°F. Grease a muffin tin and set aside.

Add the white wheat flour, baking powder, baking soda and salt to a small mixing bowl. Stir with a fork to combine.

To a medium sized mixing bowl add the egg, agave or maple syrup, vanilla extract, greek yogurt, and applesauce. Stir until combined.

Slowly add the dry ingredients to the wet ingredients. Stir until just combined. Do not overmix.

Fold in the berries.

Scoop the batter into the prepared muffin tin, fill three-fourths full.

Bake for approximately 15 minutes, or until tops are golden brown and a toothpick inserted into the center comes out clean.

Remove from oven and allow to cool in the tin for 5 minutes prior to removing. Serve and enjoy!
Nutrition
Calories: 106kcal, Carbohydrates: 22g, Protein: 3g, Fat: 1g, Saturated Fat: 1g, Cholesterol: 14mg, Sodium: 181mg, Potassium: 85mg, Fiber: 2g, Sugar: 11g, Vitamin A: 30IU, Vitamin C: 1mg, Calcium: 62mg, Iron: 1mg
SaveSave
House of Yumm is a participant in the Amazon Services LLC Associates Program, an affiliate advertising program designed to provide a means for us to earn fees by linking to Amazon.com and affiliated sites.