Mint Brownie Bites. Small bite sized brownies with a creamy mint filling. Topped with melted chocolate. Tastes like a Junior Mint!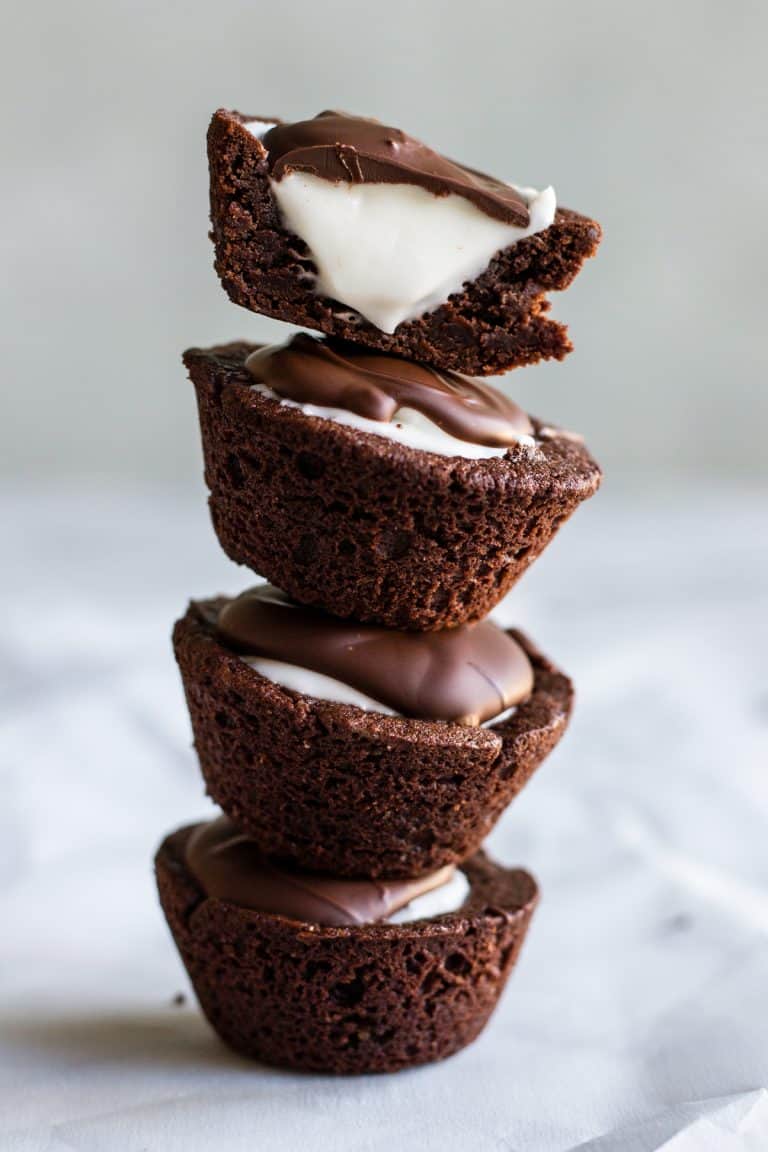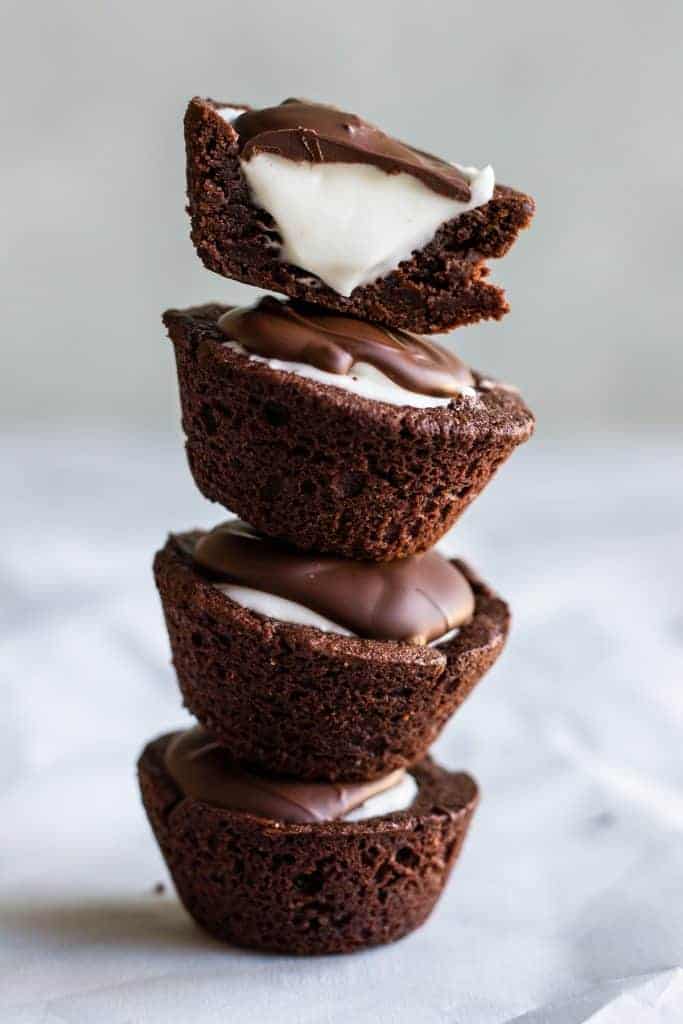 Mint brownie bites. Made with my all time favorite homemade brownie recipe. The one used in these French Silk Brownies, and the Strawberry Cheesecake Brownies.
These brownies are made into a mini brownies, filled with a creamy mint filling, the same kind I used in my Junior Mint Cupcakes. Then topped with an extra swirl of chocolate.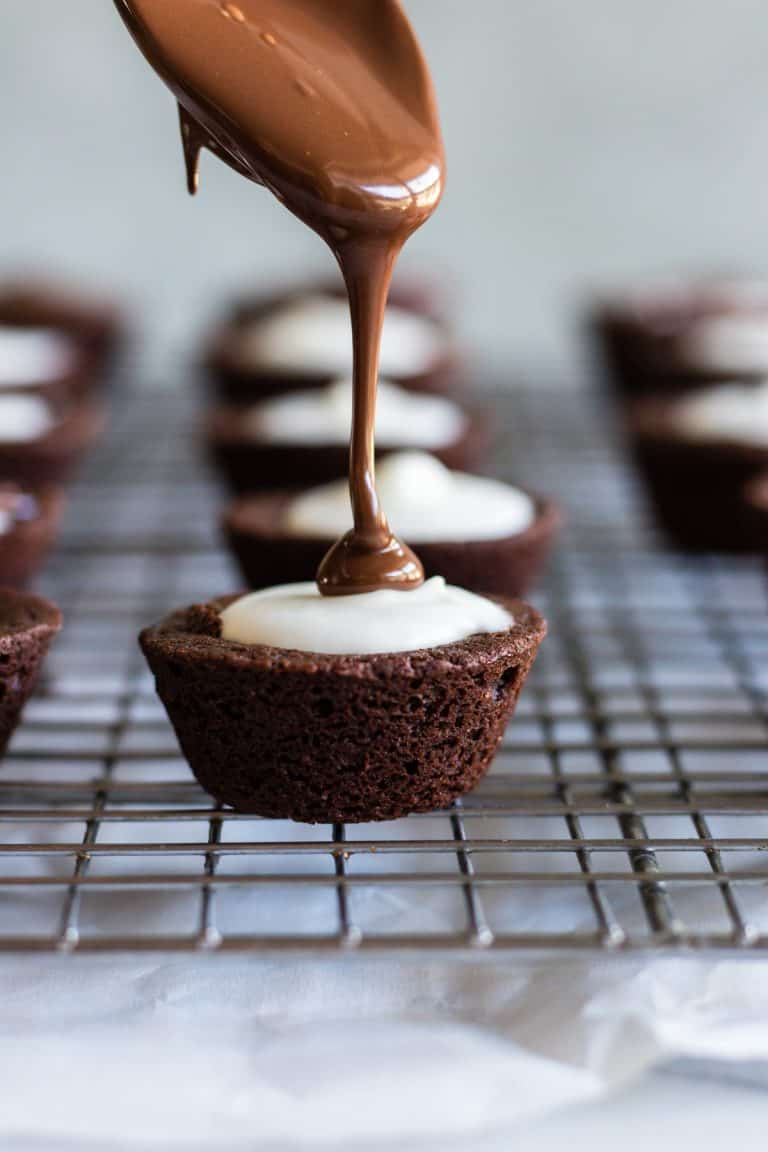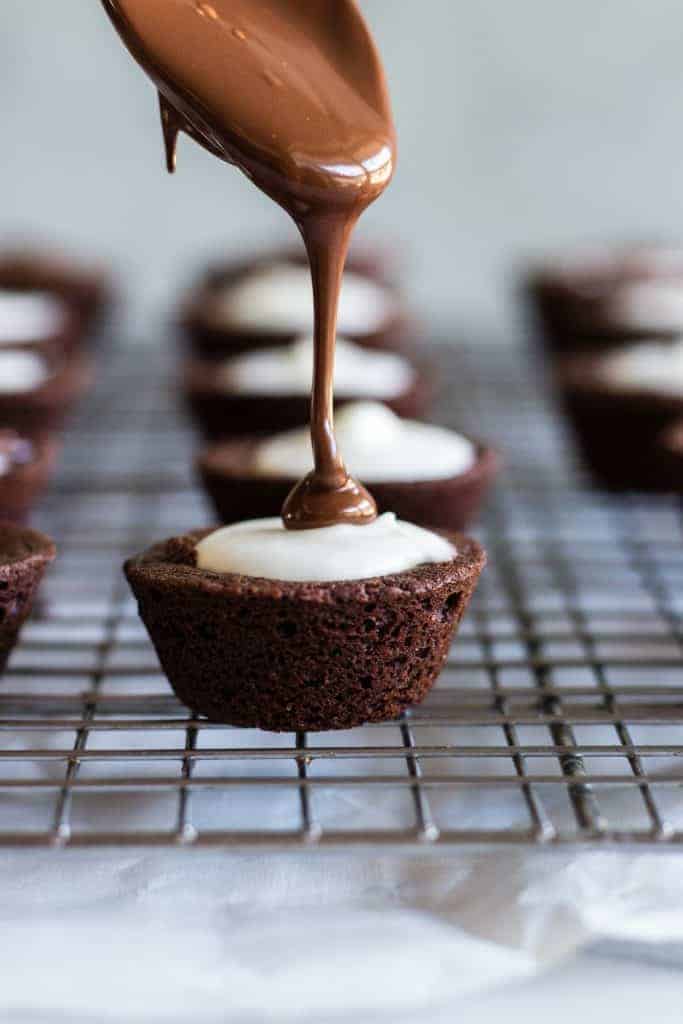 To make mint brownies:
Use a mini cupcake tin (affiliate link).
Bake the brownies then press them down with a round spoon.
Allow to cool. Then fill with the mint filling.
Top with melted chocolate. I used a semi sweet since I didn't want to overpower the dessert with too much sweetness. You can sub with a dark chocolate or a milk chocolate if desired.
A perfectly easy dessert.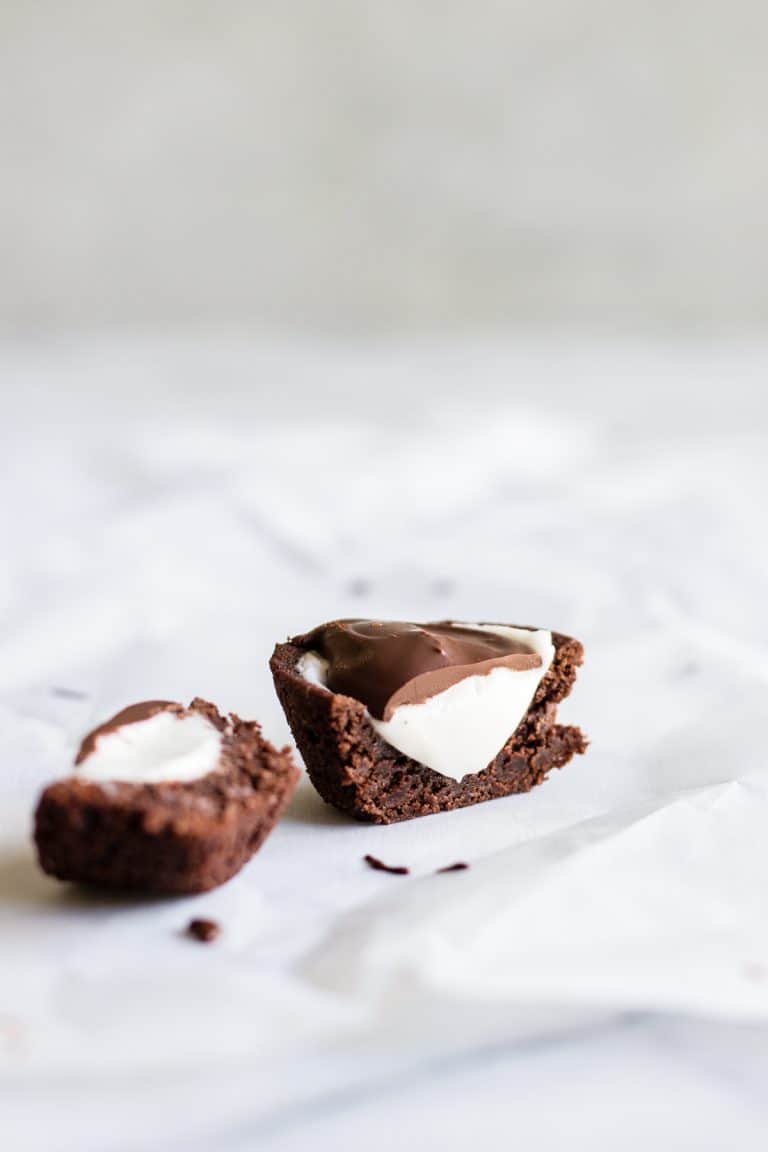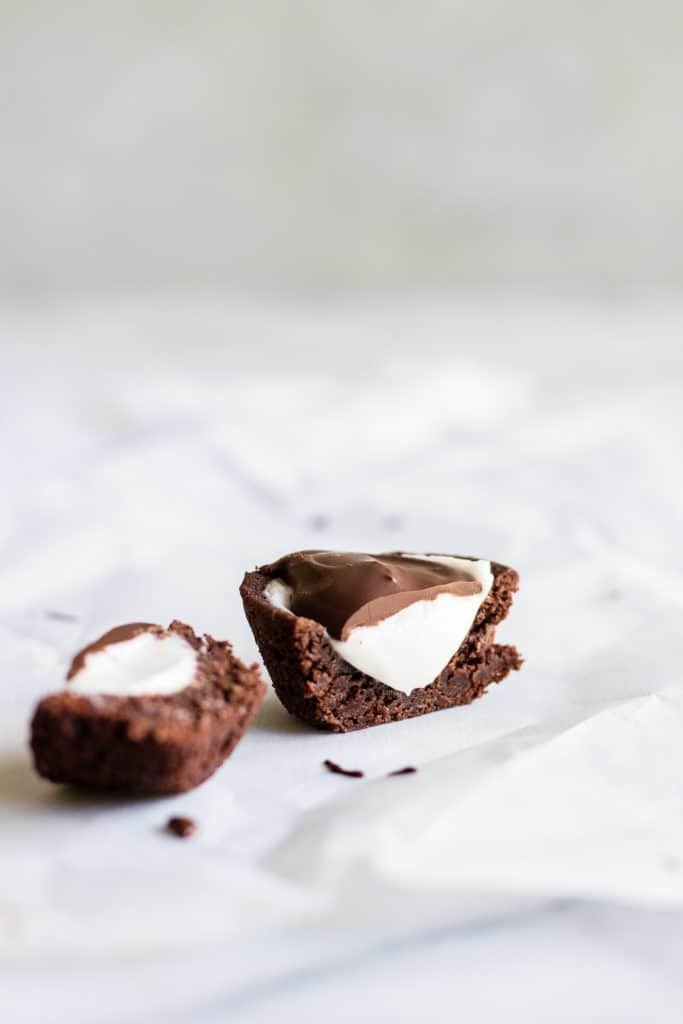 These little bites are sure to be the highlight of any dessert table or cookie platter.
They can be put into the refrigerator to help the chocolate on top to set firmer. They can also be kept at room temperature. It's up to you if you prefer to eat them cold or at room temperature. I can't decide myself which way I prefer.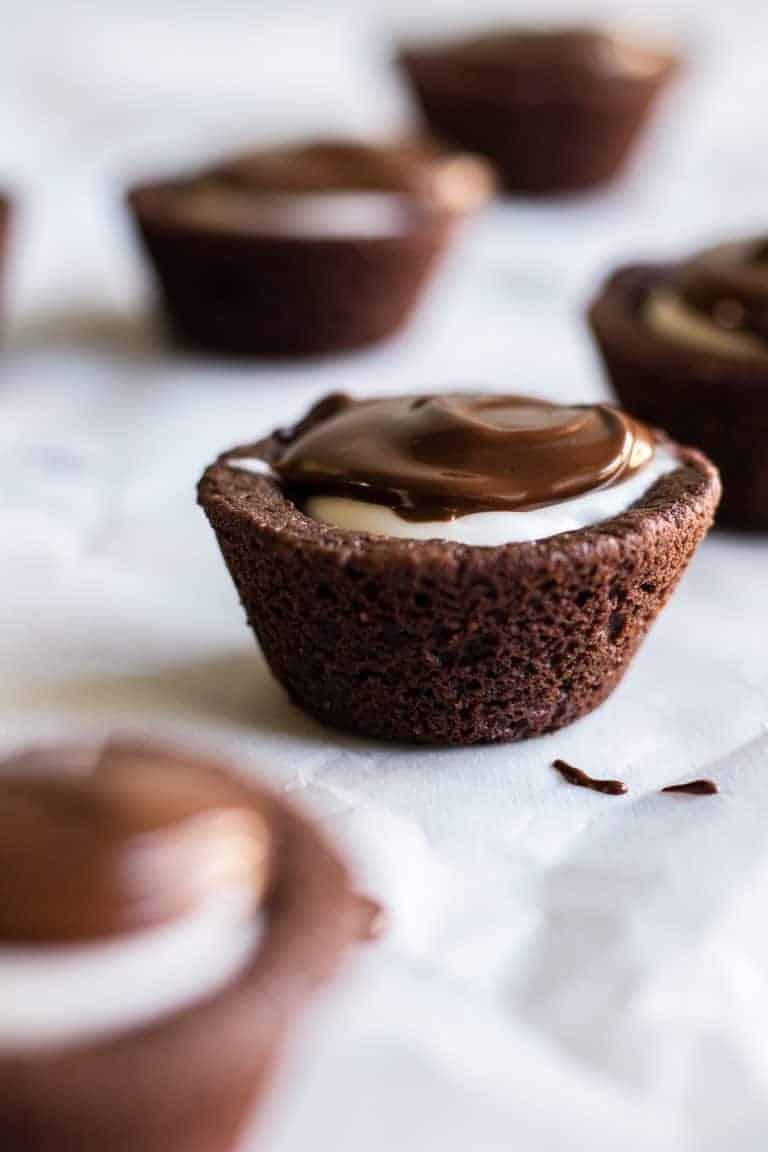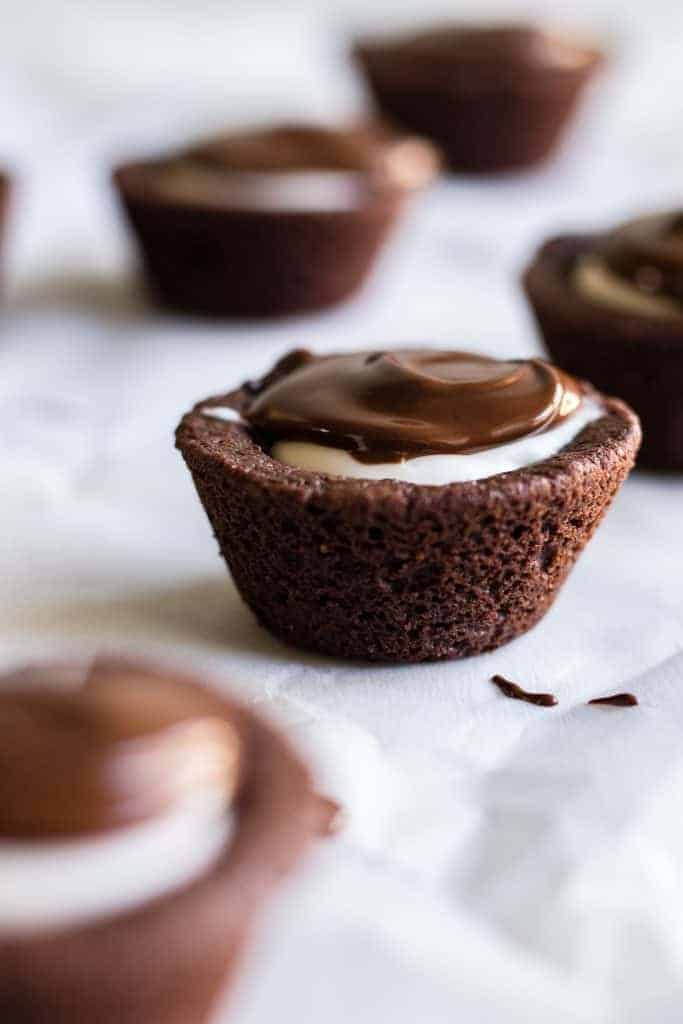 Overall, these are so easy and simple to put together. They are a wonderful last minute treat or dessert. They store in the fridge perfectly for several days, so they can be made ahead of time if needed.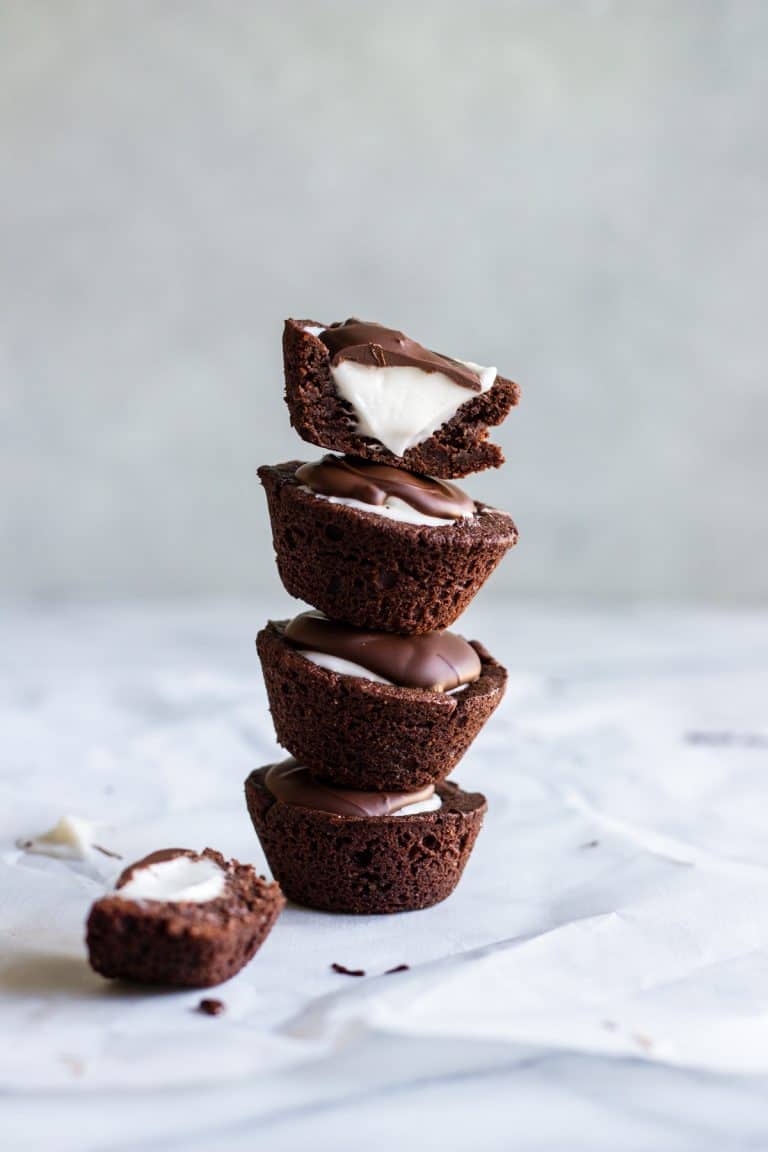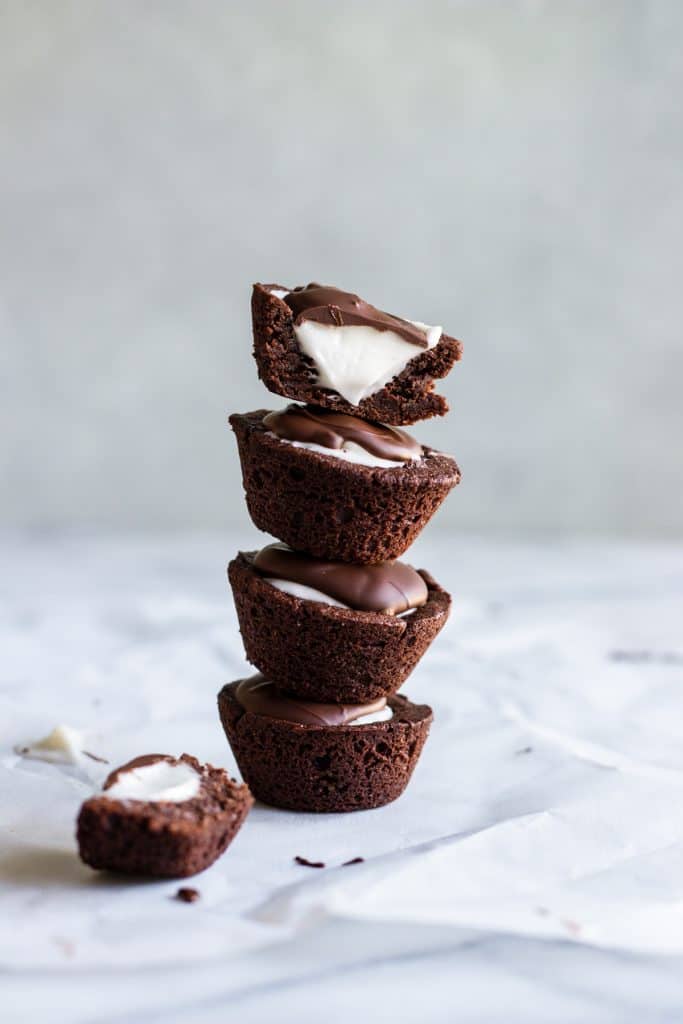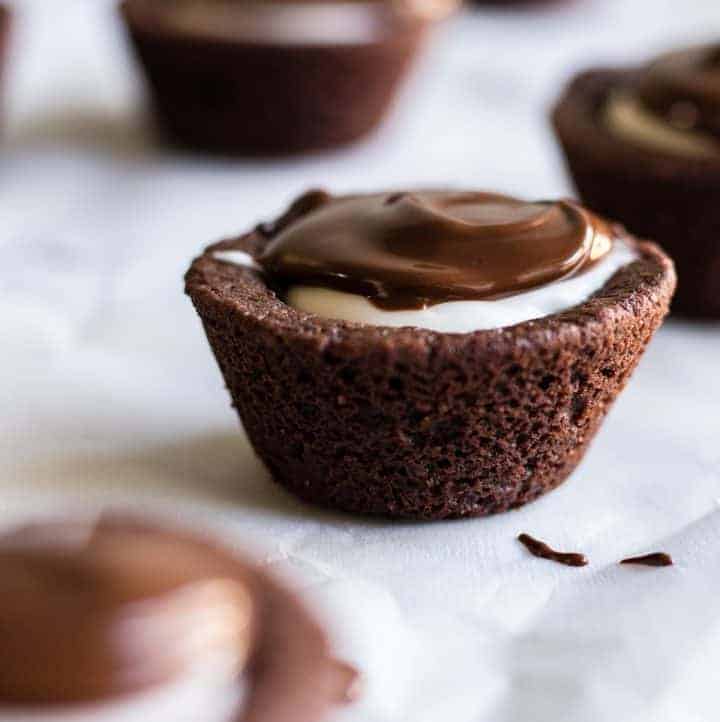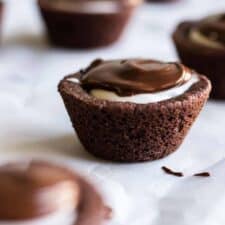 Mint Brownie Bites
Mint Brownie Bites. Small bite sized brownies with a creamy mint filling. Topped with melted chocolate. Tastes like a Junior Mint!
Ingredients
Brownie Bites
½ cup unsalted butter, room temperature
½ cup white granulated sugar
½ cup light brown sugar
2 large eggs
1 tsp vanilla extract
¼ tsp salt
¼ cup all purpose flour
¾ cup unsweetened cocoa powder
Mint Filling
1 cup powdered sugar
¼ cup heavy cream
1½ tsp peppermint extract
4 ounces semi sweet chocolate, for topping
Instructions
Preheat oven to 350℉. Spray mini muffin tin with non stick cooking spray. Set aside.

In large mixing bowl prepare the brownie batter. Beat the butter until creamy. Add the sugars and cream until fluffy.

Add in the eggs and vanilla extract, mix until combined.

Add the flour, salt, and cocoa powder. Mix until fully combined and mixture is smooth. Will be thick.

Use a cookie scoop to spoon the batter into the mini muffin tin. There's enough batter for 24 mini brownies.

Bake for 10-12 minutes until baked through. Using a round spoon, I used a measuring spoon, press the middle of the brownie bite down to create a little cup shape.

Allow the brownie bites to cool for about 5-7 minutes, then gently twist and remove from the pan and allow to continue cooling on a wire rack.

Prepare the mint filling by combining the ingredients in a small mixing bowl. Stir together. Add more cream or more powdered sugar to get desired consistency. Shouldn't be too thick like a frosting, you want it to be slightly runnier than that.

Spoon the filling into the cooled brownie bites.

Melt the chocolate and drizzle over the tops of the filled brownie bites. Smooth out with a spoon to cover the tops of the bites.

Allow to set, can be placed in the fridge to help the chocolate set or can be kept at room temperature.
Nutrition
Calories: 140kcal, Carbohydrates: 19g, Protein: 2g, Fat: 7g, Saturated Fat: 4g, Cholesterol: 27mg, Sodium: 33mg, Potassium: 81mg, Fiber: 1g, Sugar: 15g, Vitamin A: 177IU, Calcium: 15mg, Iron: 1mg
products recommended for this recipe:
SaveSave


House of Yumm is a participant in the Amazon Services LLC Associates Program, an affiliate advertising program designed to provide a means for us to earn fees by linking to Amazon.com and affiliated sites.