EASY 5 Ingredient NO RISE Mini Sticky Buns!  Less than 30 mins start to finish for these soft, sweet, sticky, breakfast treats!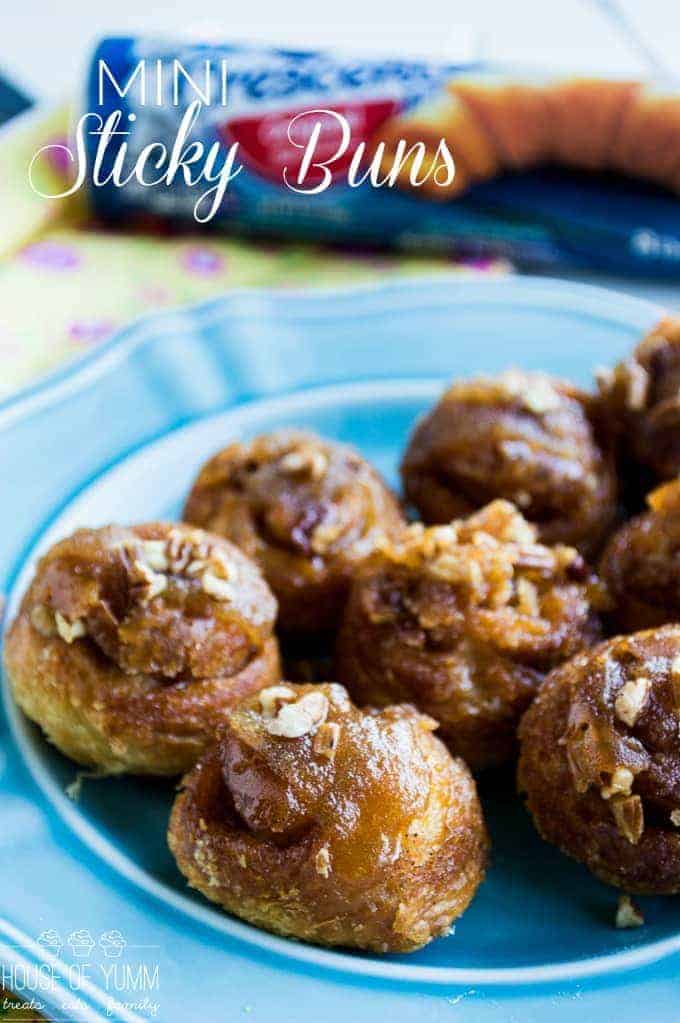 Sticky buns are a thing of beauty!  That gooey brown sugar topping with toasted pecans.  The sweet spice of cinnamon.  The soft doughy roll.  These are the things I dream about at night.
With Thanksgiving coming up I know these will be making an appearance in our home for breakfast.  Thanksgiving is a day of food in our home.  All day long!  Starting with a small breakfast.  With the whole day focusing around food small breakfast is the way to go.  Followed by small snacks, and small appetizers,  a BIG meal, and of course some pecan pie.  But just because something is small, doesn't mean it can't pack a punch of flavor.  Plus, I always figure a breakfast that reminds me of dessert is a win.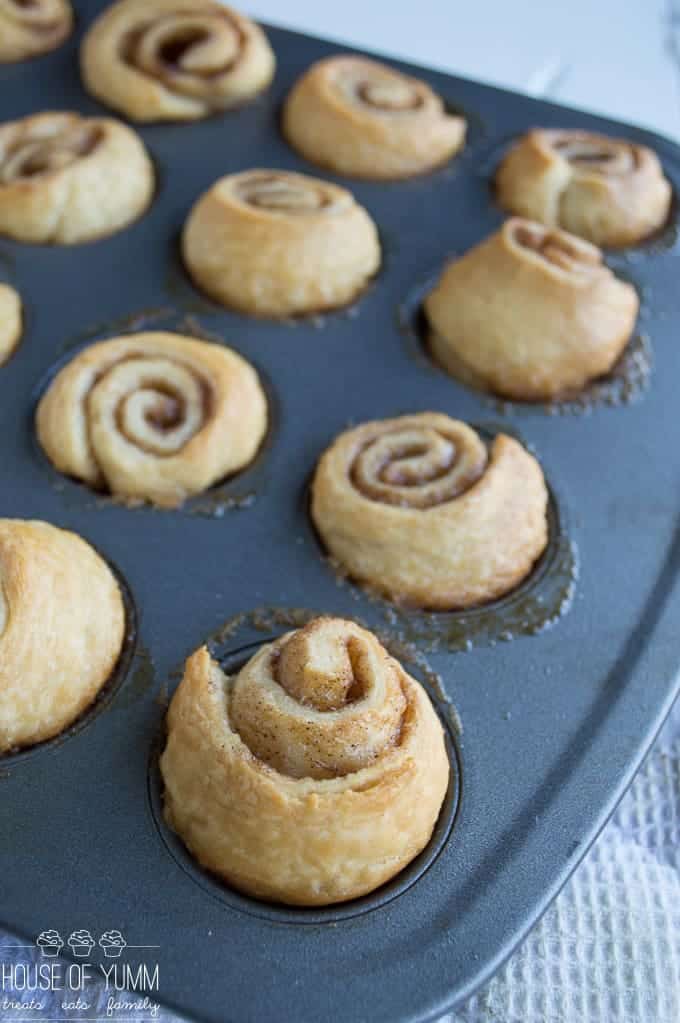 While making my way through Walmart I came across the Pillsbury Crescents® which in case you don't know, are perfect for SO many things.  If you don't believe me just check this out. Anyway, knowing that I'm going to be needing some miniature breakfast treats for the little ones come Thanksgiving, I snagged those Pillsbury Crescents®.  The dough is perfect for these little sticky buns.  I think they came out even better than I had hoped.  They have a soft flakiness to them that is now going to be my requirement whenever I have sticky buns.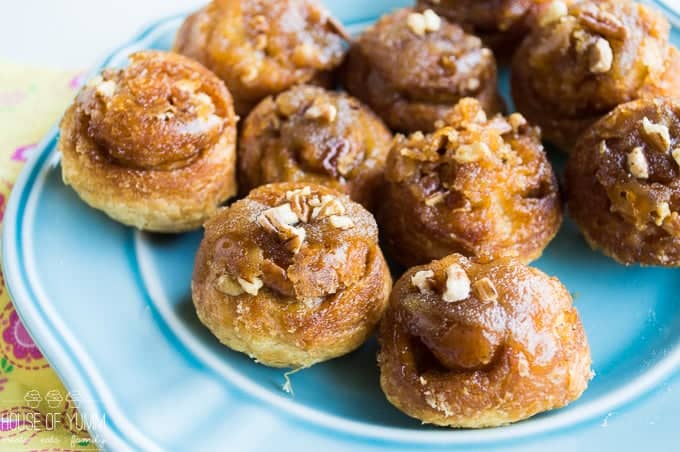 Bonus: These are NO RISE sticky buns!  Using the Pillsbury Crescents® means that the dough is ready to go, which cuts down on time needed.  And when I do Thanksgiving, I DO Thanksgiving.  It's like the Boston Marathon of cooking for me.  So if I can save time on the breakfast I'm all for it. 
Another Bonus: There is a picture tutorial after the recipe.  Because sometimes I feel like descriptions of certain things don't make sense..but pictures, those I can follow. So maybe they'll help you too.
I hope you enjoy the recipe!  You can follow along with me and never miss a recipe by signing up for my newsletter.  Follow me on Instagram and tag #houseofyumm so I can see all the HOY recipes you make.  And  if you want to follow along in my everyday life on snapchat (username: houseofyumm) ?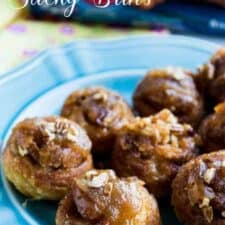 Mini Sticky Buns
EASY 5 Ingredient NO RISE Mini Sticky Buns! Less than 30 mins start to finish for these soft, sweet, sticky, breakfast treats!
Ingredients
1 can Pillsbury Crescents®
4 cup butter, melted
¼ tbsp light brown sugar, packed
¼ tsp ground cinnamon
1 tsp pecans, chopped
Instructions
Preheat oven to 350°F. Spray mini muffin tin with baking spray and set aside.

In a small bowl combine 2 tablespoons of brown sugar and the cinnamon. Set aside.

Roll out the Pillsbury Crescents® dough, separate into two sections, each with 4 triangle pieces. Pinch together the seams with fingertips. Spread 1 tablespoon of melted butter evenly onto each piece of dough using a brush or back of a spoon. Then evenly sprinkle each piece of dough with half of the brown sugar cinnamon mixture. Make sure you are going all the way to the edge.

Roll the dough up and pinch the seam closed with fingertips. Cut the roll in half, then each half in half again, and then cut each of those pieces in half. There will be 8 equal size pieces.

Mix the remaining 2 tablespoons of melted butter with the remaining 2 tablespoons of brown sugar. Spoon approximately 1/4 of a teaspoon into the bottom of each sprayed muffin tin. Top that with a sprinkle of chopped pecans.

Place a cinnamon roll on top of the sugar pecan mixture in each muffin tin.

Bake for approximately 12-14 minutes. The cinnamon rolls will look golden and puffy. A toothpick inserted into the center will come out clean.

Allow the rolls to cool in the pan for a couple minutes then turn the pan over and allow the rolls to come out, the sugar pecan topping will come out and stay on top of the rolls.

Feel free to top with any additional pecans!

Serve warm and enjoy!
Nutrition
Calories: 459kcal, Carbohydrates: 6g, Protein: 1g, Fat: 49g, Saturated Fat: 30g, Cholesterol: 122mg, Sodium: 516mg, Potassium: 14mg, Fiber: 1g, Sugar: 2g, Vitamin A: 1418IU, Calcium: 14mg, Iron: 1mg
A little picture tutorial for y'all, since I know sometimes that's what I need!
Pinch together the seams in the dough.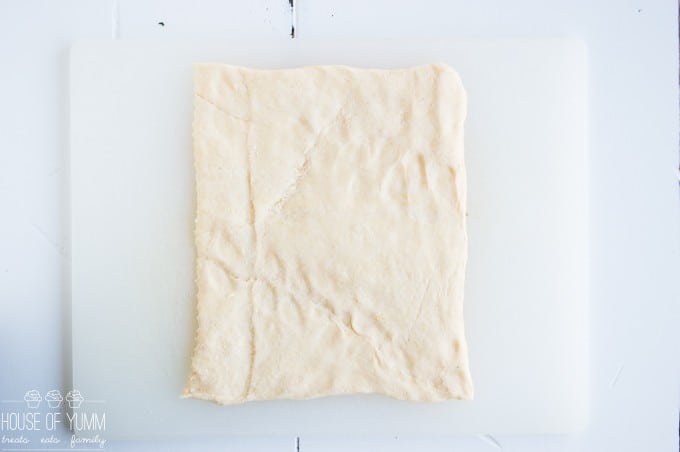 Spread the melted butter over the dough with a brush to create an even layer, make sure you go all the way to the edge!  Sprinkle with brown sugar and cinnamon mixture.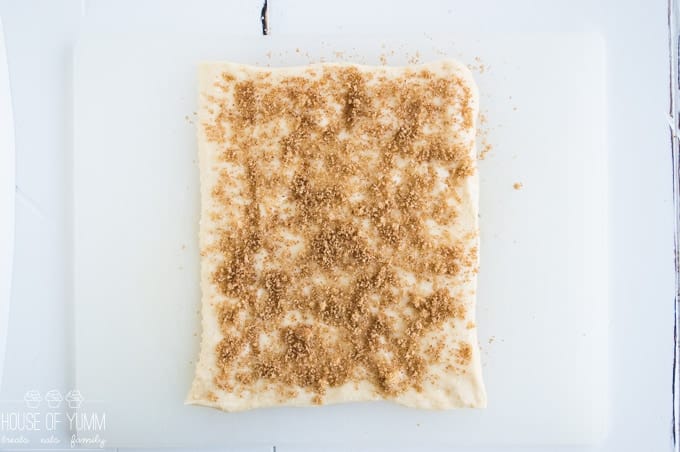 Roll up and pinch the seam closed.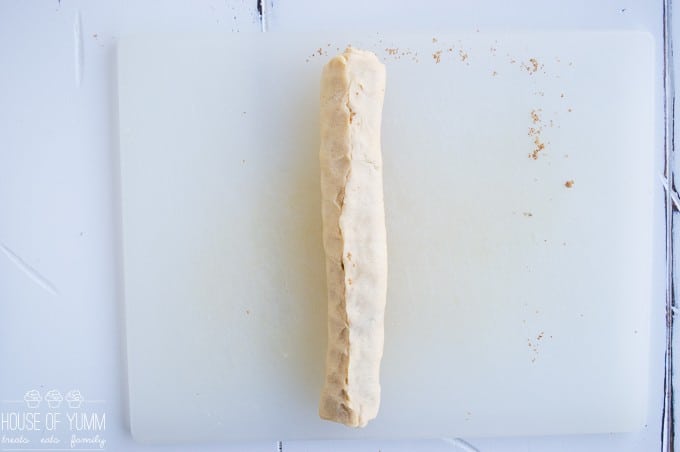 Slice in half, then in half again, and then one more time!  This will create 8 equal size pieces.  I find it easiest to use a serrated bread knife, it won't squish the dough.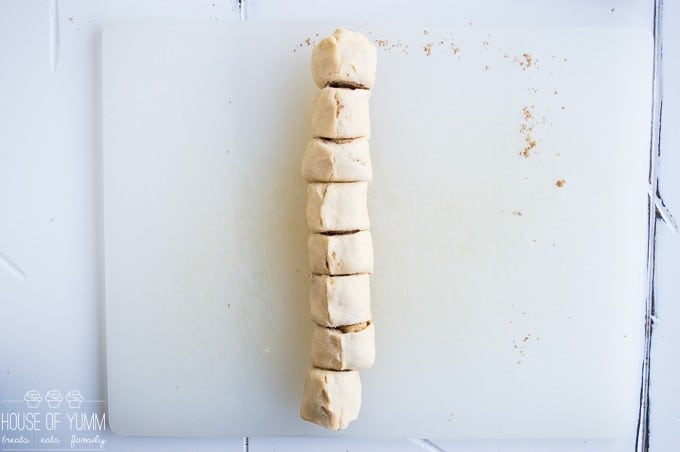 Now take a moment to admire how pretty that little swirl is.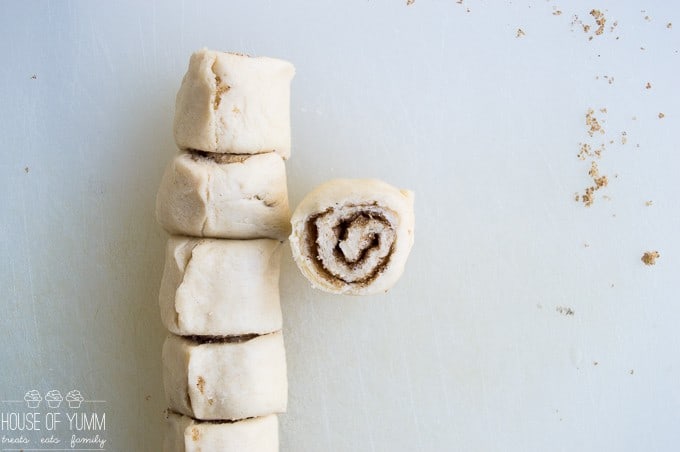 Spoon cinnamon, sugar, melted butter mixture into the bottom of 16 mini muffin tins.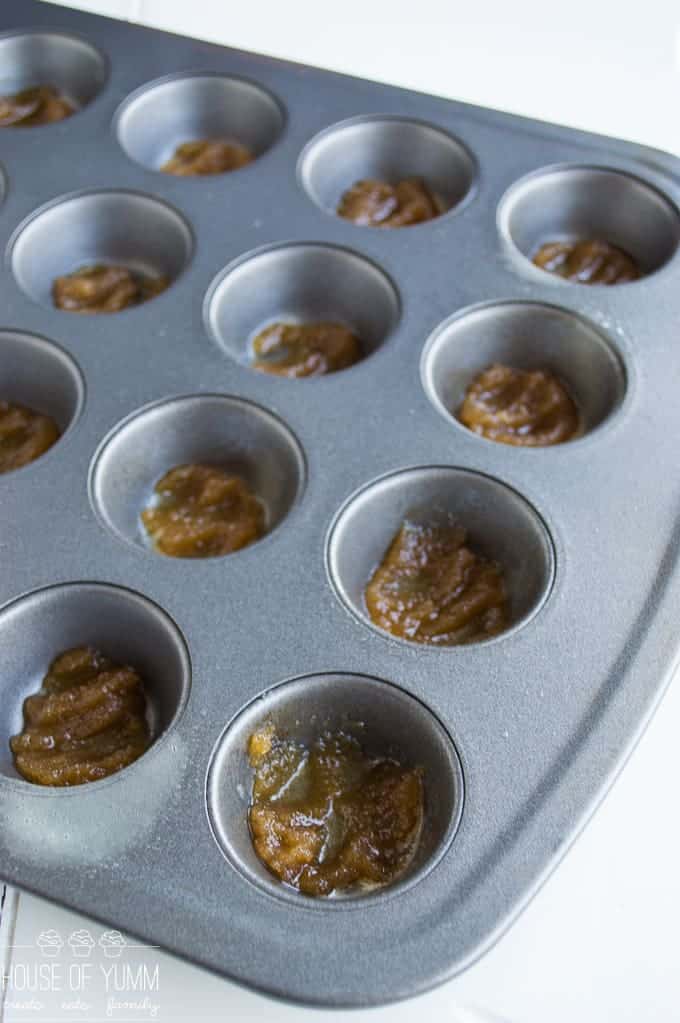 Top with chopped up pecans.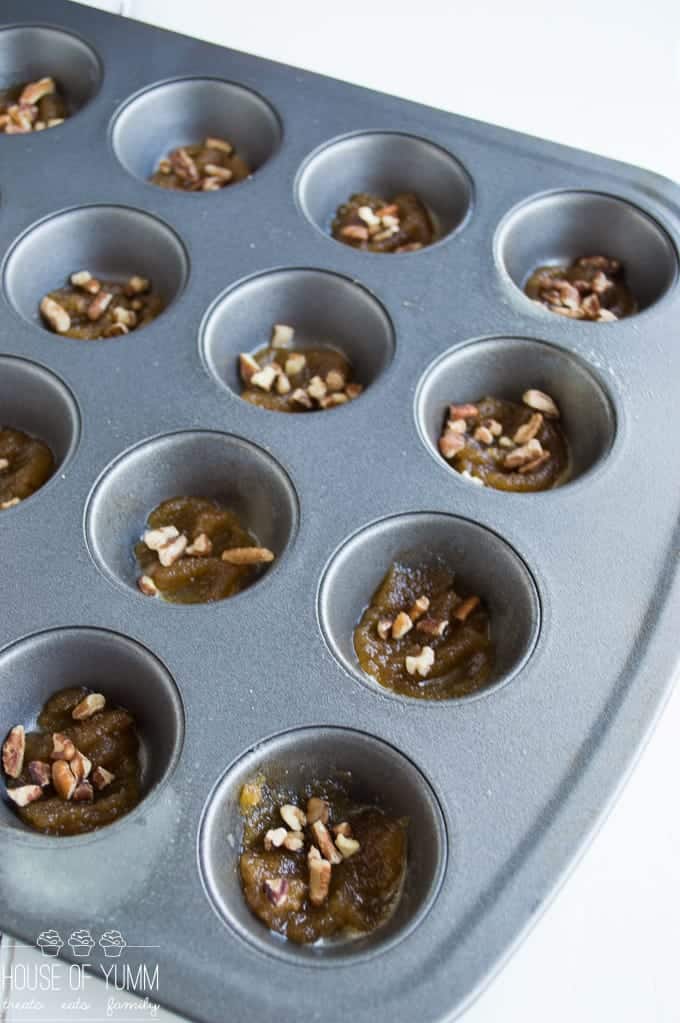 Then top with the cinnamon rolls.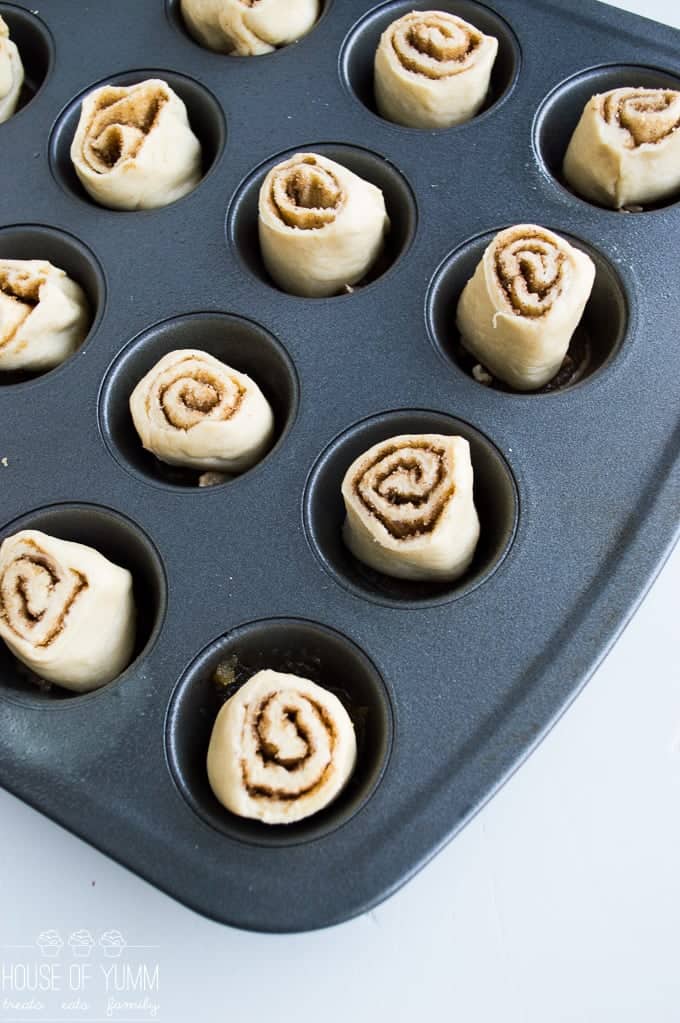 Bake for 12-14 minutes or until cinnamon rolls are slightly golden and puffy!  Allow to cool for a couple minutes then invert the pan give a little shake and they will come out with all that gooey-ness baked onto the bottom, which now is the top!
Need some more Thanksgiving inspiration?!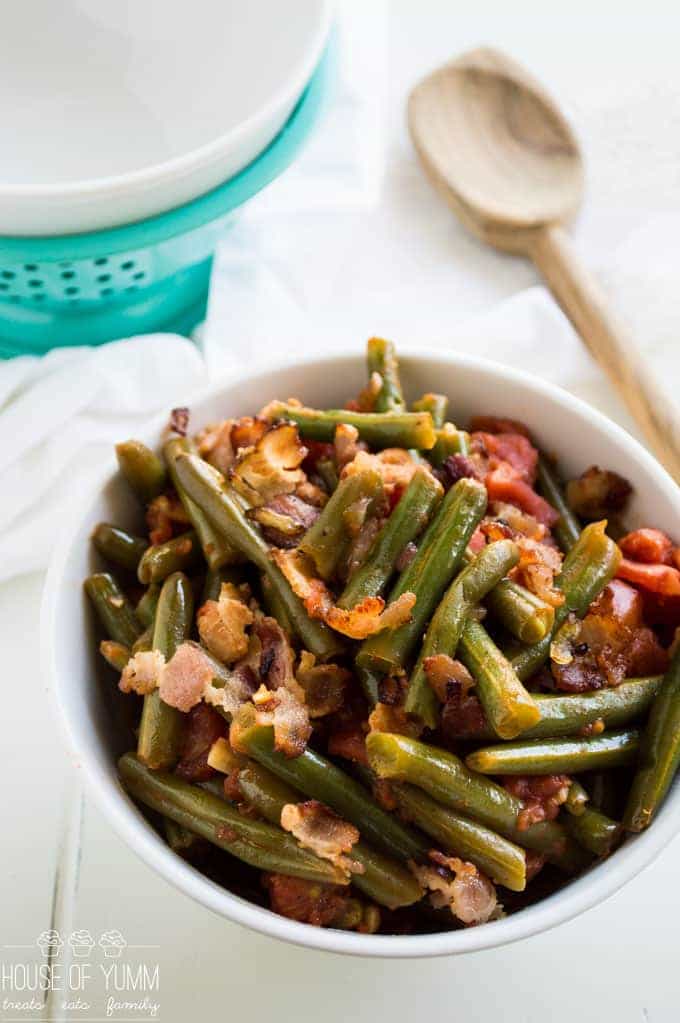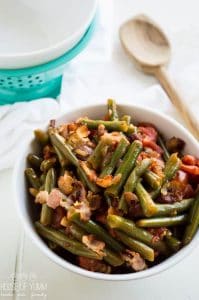 These Green Beans are a perfect Gluten Free option! Plus there's BAAAACON.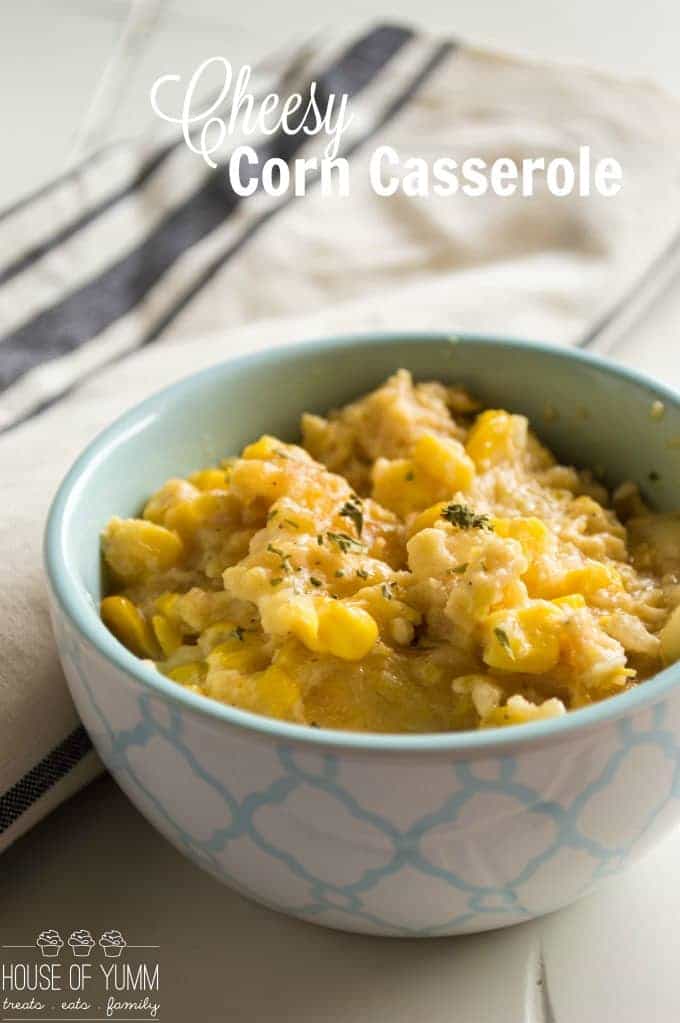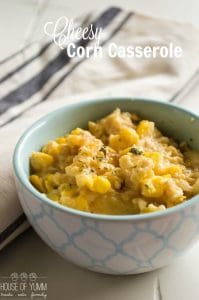 This Cheesy Corn Casserole is one of our FAVORITE side dishes!  It always makes an appearance at Thanksgiving!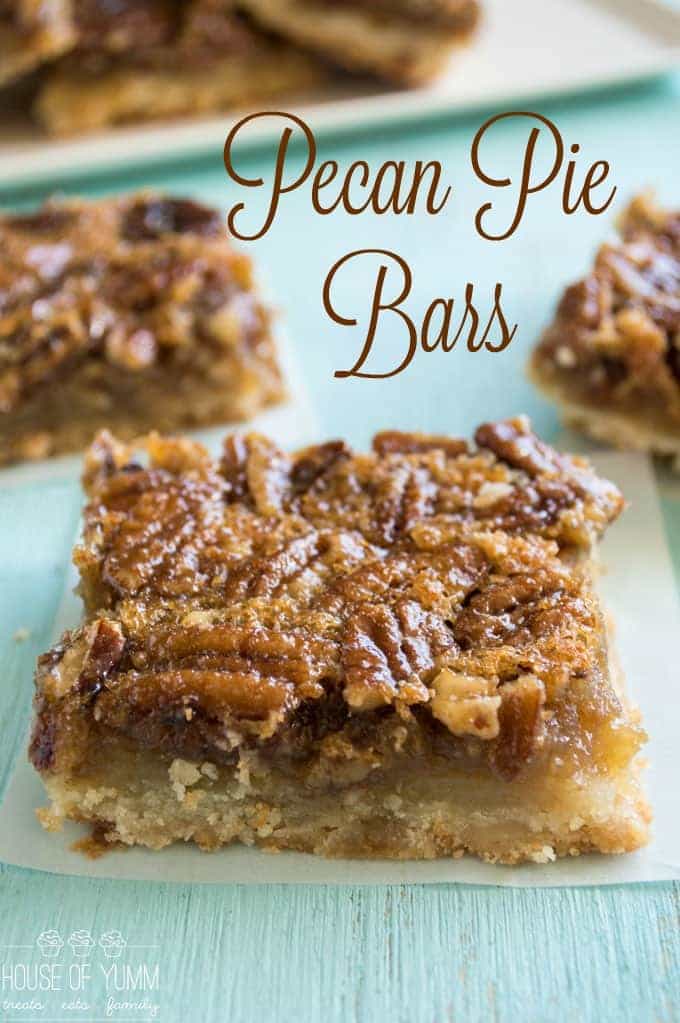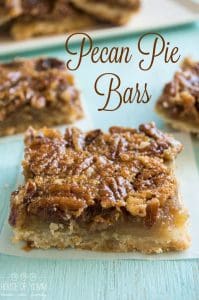 Want to save some time on dessert too?  These Pecan Pie Bars are PERFECT!  Pecan Pie filling on top of a thick shortbread cookie crust.
This is a sponsored conversation written by me on behalf of Pillsbury. The opinions and text are all mine.
SaveSave
House of Yumm is a participant in the Amazon Services LLC Associates Program, an affiliate advertising program designed to provide a means for us to earn fees by linking to Amazon.com and affiliated sites.