This Matcha Smoothie is so easy to make, loaded with greens, matcha, and ginger, making it the perfect way to start the day with a boost of energy the healthy way!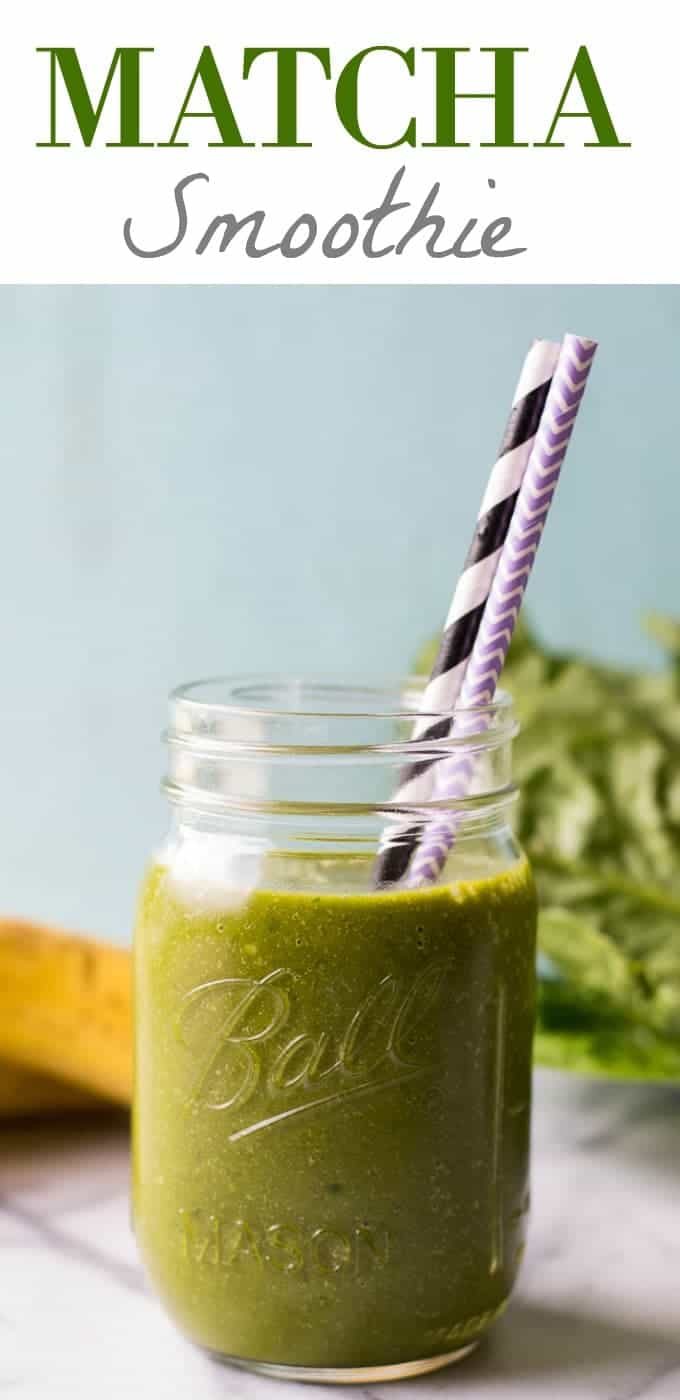 Matcha Smoothie.  You definitely read that right. Y'all are going to think I'm nuts with this one.  So I did a juice cleanse last week.  Which I'm going to tell y'all about very soon! Very exciting I know.
But since I did the juice cleanse I've been doing my best to load up on fruits and veggies during the day.  Which for me typically looks like a smoothie for breakfast and then I make a double batch of another green smoothie around lunch time too.
Just to supplement my diet.  Not replace.  This makes sure I'm getting my daily amount of fruits and veggies and all things good.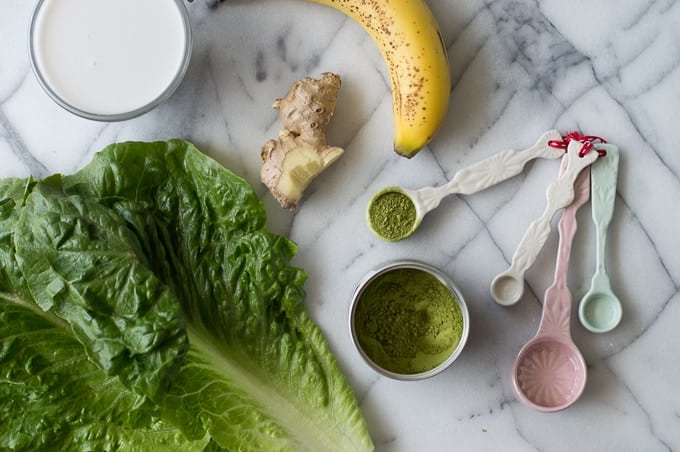 Since I've been having this smoothie every day for the last week and a half I thought I had to share it with you!
This smoothie is pretty basic.  Which means it's easy to customize.  And it's loaded with all the goods.
The base is some leafy greens.  Which what I have here in the pics is romaine.  I have made this smoothie with kale, with regular green lettuce, and romaine so far.  All work great.  Kale is a bit thicker and takes the blender a bit longer to chop up, but that's really the only difference.
They all taste pretty much the same!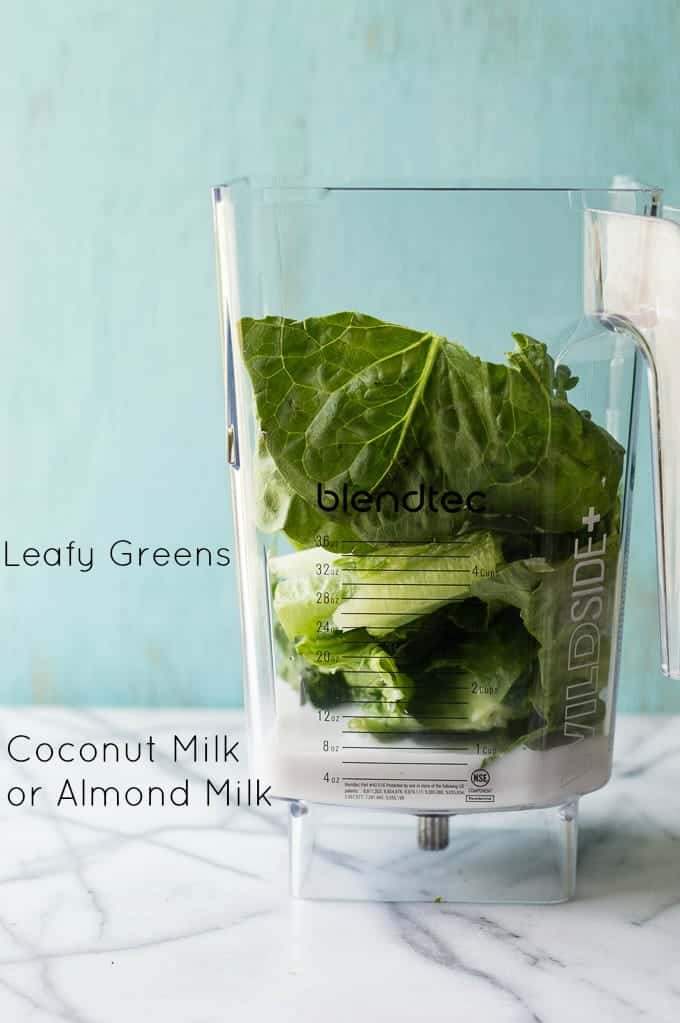 To start we blend the leafy greens with our milk of choice. Or even coconut water works too.
I used coconut milk when I made this particular smoothie.  And that's typically what I go with, just an unsweetened coconut milk.
You can also sub and use an unsweetened almond milk.  But whatever you go with pick an unsweetened version.  Because…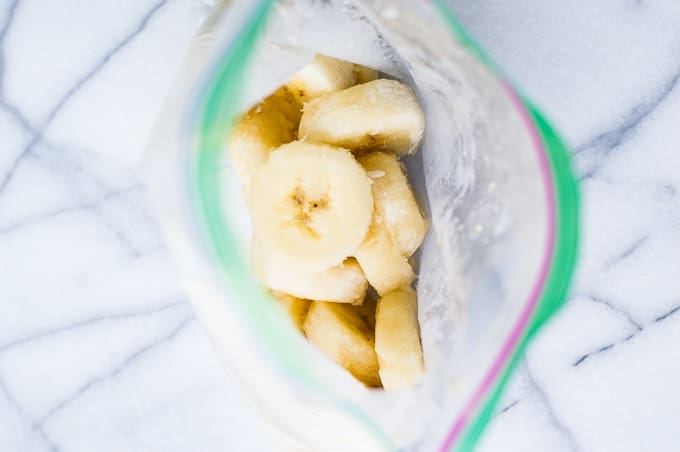 Frozen banana.  It's perfect in this smoothie.  Since it's frozen it gives a nice cool, creamy texture to the smoothie.  And if you get the bananas when they're starting to get ripe, slice em, and freeze em, they have a lot of natural sweetness.
Perfect for sweetening our smoothie with. No extra sweeteners needed.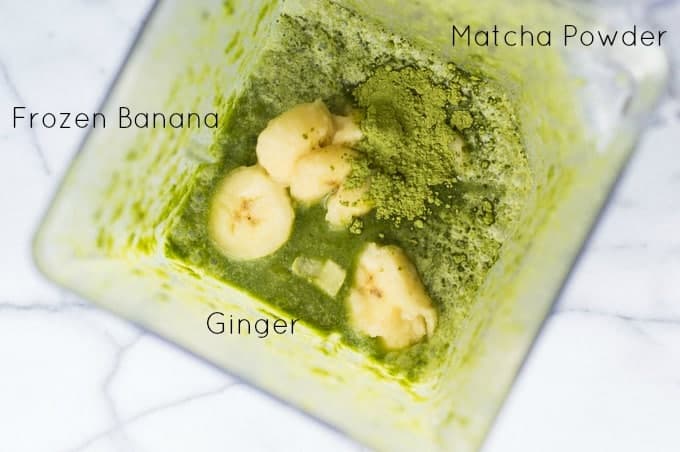 After  we blend the greens with the liquid base, we're going to add in the other ingredients.
The frozen banana, ginger, and matcha.  Have you used matcha before?? Here's just a few highlights on the benefits for you:
Is packed with antioxidants including the powerful EGCg
Boosts metabolism and burns calories
Detoxifies effectively and naturally
Calms the mind and relaxes the body
Is rich in fiber, chlorophyll and vitamins
Enhances mood and aids in concentration
Provides vitamin C, selenium, chromium, zinc and magnesium
Prevents disease
Lowers cholesterol and blood sugar
Source (Matcha Source)
I use an organic ceremonial grade matcha powder in my smoothies.  What this means is it's good for use in smoothies.  I'm not using it to bake with or something else.
I'm so happy with the one that I purchased through amazon, I'm giving you a link to it here to check out if you're interested.  The flavor is wonderful! No gritty feeling, or bitterness at all.  I'm loving it!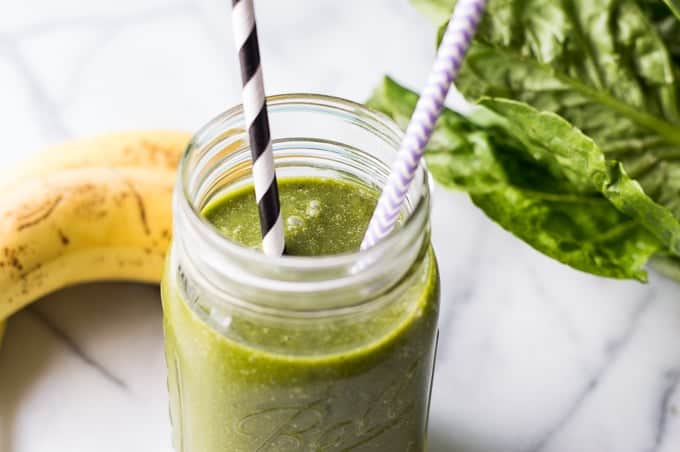 So much good stuff is going into this smoothie.  And the matcha has caffeine in it.  About half of a regular cup of black coffee I believe.
This smoothie has become my replacement for coffee these last two weeks.  I never thought I would say that.
The other magical ingredient is ginger.  Ginger can help with digestion, reduce nausea, reduce inflammation and pain in joints, provides protection against cancer cells, and boosts your immune system.
The ginger will give a little zip to your smoothie too.  Not going to lie. I just shave the ginger off with a vegetable peeler, so in the recipe I say 1 small shaving.  What I mean is that I just take one small thin peel of ginger maybe about half an inch long.
Sometimes I add two though.  I happen to like the zippy taste.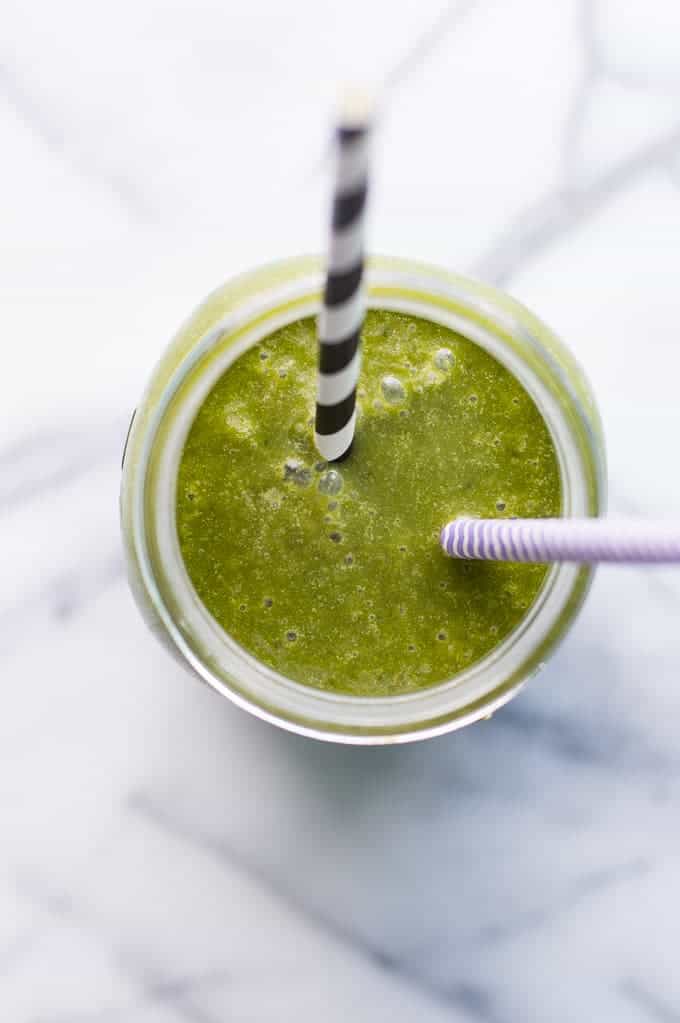 If you're a fan of smoothies, make sure you check out these others I have on the site:
I hope you enjoy the recipe!  You can follow along with me and never miss a recipe by signing up for my newsletter.  Follow me on Instagram and tag #houseofyumm so I can see all the recipes you make ?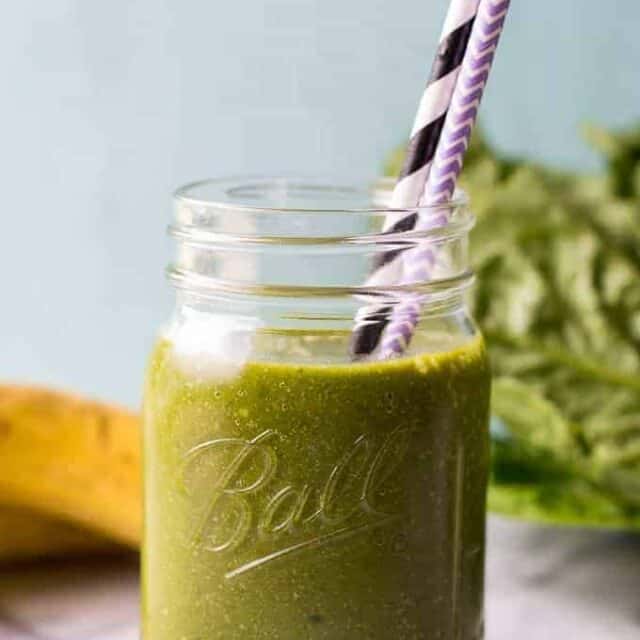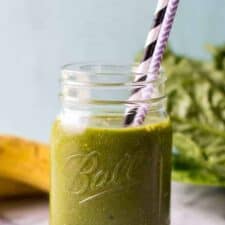 Matcha Green Smoothie
This Matcha Smoothie is so easy to make, loaded with greens, matcha, and ginger, making it the perfect way to start the day with a boost of energy the healthy way!
Ingredients
1 cup baby spinach
1 cup coconut milk
1 tsp matcha powder
1 small shaving of fresh ginger
1 banana, frozen
1 tsp maple syrup
Instructions
Add the green leaves and the coconut milk to the blender. Blend for about 30 seconds until mixture is smooth.

Add remaining ingredients to blender. Blend for about 1 minute or until smooth.

Pour into glass, serve and enjoy!
Nutrition
Serving: 1g, Calories: 60kcal, Carbohydrates: 2g, Protein: 1g, Fat: 6g, Saturated Fat: 5g, Sodium: 7mg, Potassium: 83mg, Fiber: 1g, Sugar: 1g, Vitamin A: 377IU, Vitamin C: 1mg, Calcium: 9mg, Iron: 1mg
 Products used to make this recipe:
---
---
*Post contains affiliate links
House of Yumm is a participant in the Amazon Services LLC Associates Program, an affiliate advertising program designed to provide a means for us to earn fees by linking to Amazon.com and affiliated sites.