This shop has been compensated by Collective Bias, Inc. and its advertiser. All opinions, as always, are mine alone. #KreateMyHappy #CollectiveBias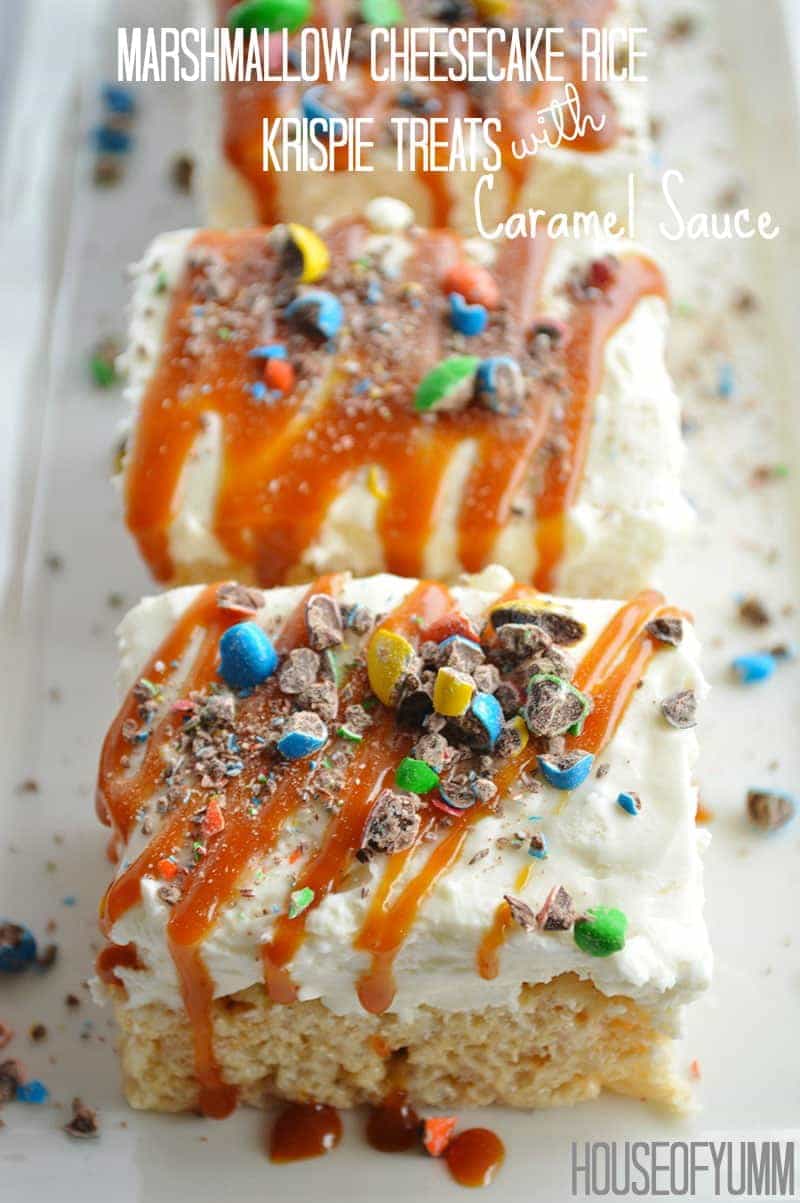 Quite possibly the longest name of a dessert in the history of ever!  Let's look at this Marshmallow Cheesecake Rice Krispies Treat with Caramel Sauce layer by layer.  First, we start with Rice Krispies Treats.  Yum.  I could just stop there.  Those marshmallow-y, crunchy, treats are one of my all time favorite fun treats.  Bonus: this recipe uses the already made ones, so you don't have to make them yourself!  How easy is that?!  I got mine from our local market, Tom Thumb.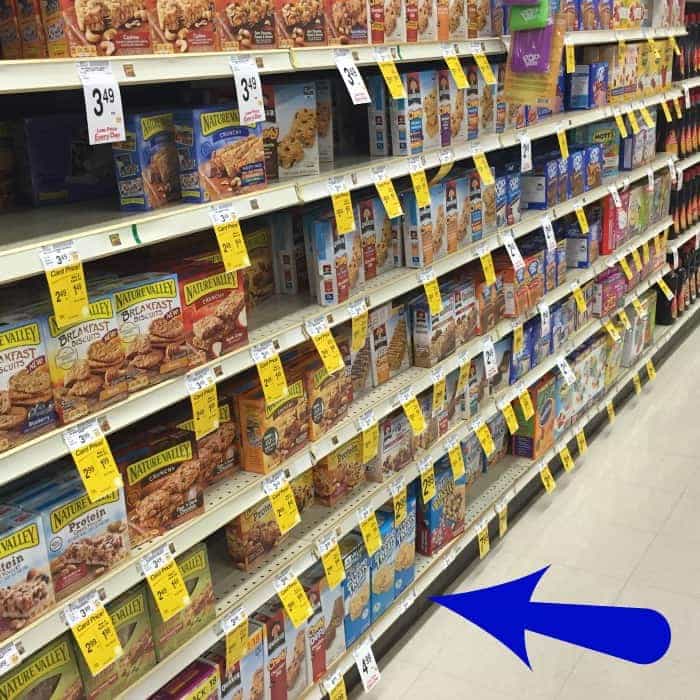 Ok, moving on.  The next layer.  Marshmallow Cheesecake.  Hmmm..did you just perk up a little??  That's right.  Marshmallow Cheesecake.  Did you know you could make cheesecake out of marshmallows?  And it's oh so easy to do too!  Melt a little marshmallow with some heavy cream.  Mix that with some cream cheese and whipped cream.  And there you have it.  An easy to make cheesecake, so light and fluffy, and with a hint of marshmallow flavor!  The perfect pairing for the Rice Krispies Treats.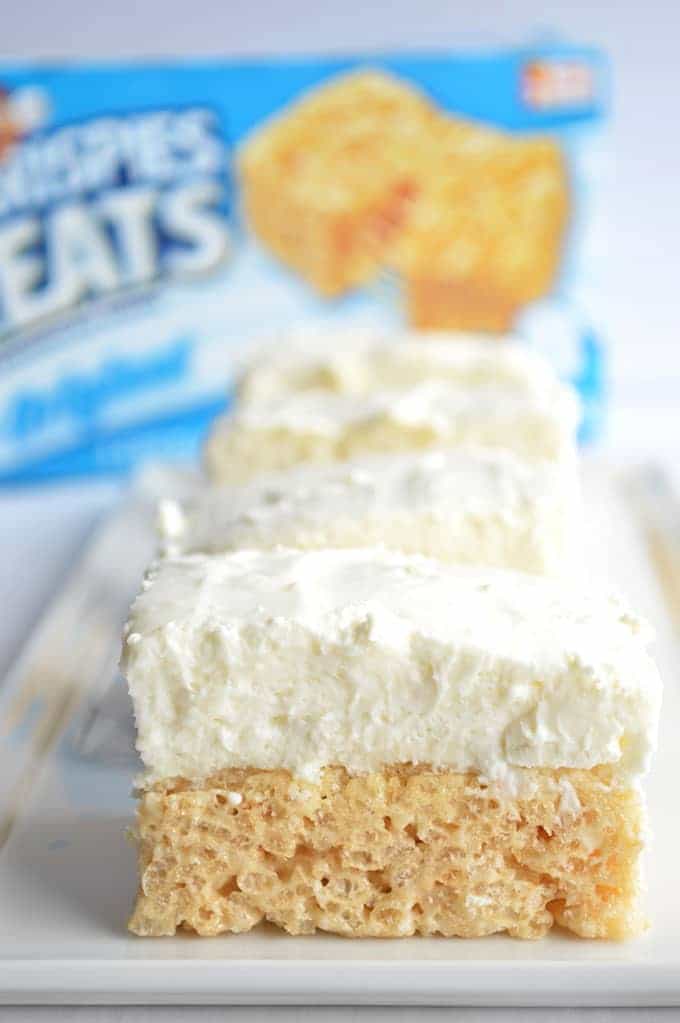 Now, we have the caramel sauce.  I went all out and made my own caramel sauce, if you're pressed for time you can absolutely go for the ice cream topping caramel sauce you can buy at the markets.  But I had a little extra time on my hands and wanted to go all out in my decadent dessert.  Because at the end of the day, when all kids are sleeping, there is nothing better than relaxing with a supreme dessert while lounging in my yoga pants (sorry hubs–I recently read that sweatpants cause divorce..yoga pants are ok though right???).  And since the kids are sleeping, that means that the dessert is alll mine.  Well..mine and the hubs 😉 as long as he can stand the yoga pants.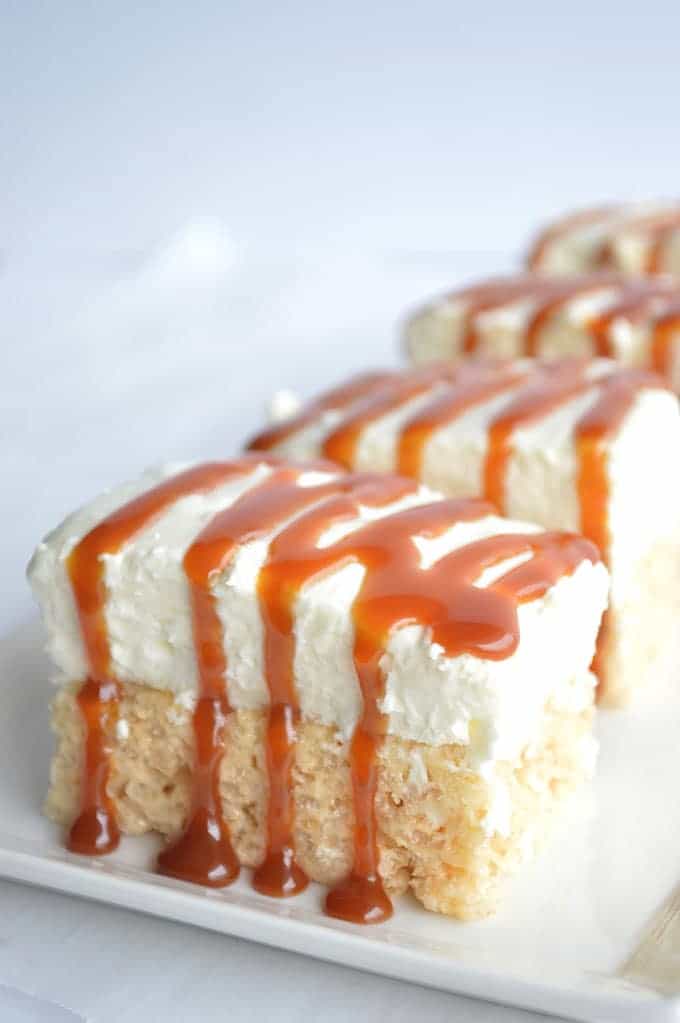 Then to top this all off I added some crushed up M&Ms.  Just for a little fun, a little color, and a little crunch.
Now some super exciting news!  Rice Krispies is hosting a recipe challenge! Make sure you check out their page here.  Become an eligible entrant by voting on your favorite recipe on the Kellogg's Family Rewards® website and via various social media platforms.  This will get you  entered into a random drawing for a chance to win prizes.  Voting runs from 3/24- 5.3.2015.  20 Grand Prize winners will be randomly drawn at the conclusion of the sweepstakes!
How to enter is super easy!  To enter with your Twitter/Pinterest/Instagram use the hashtag #RKTreatSweeps and the name of the treat recipe you are voting for.  Then share or send a link of your post to RKTreatSweeps@Kellogg.com.  The 20 Grand Prize winners will recieve: $250 Bank Issued Gift Card, Kellogg's® Rice Krispies Treats® Squares, Beat Pills™ Portable Stereo Speaker by Dr. Dre™, and assorted other prizes!  Remember this is for you guys to enter just by voting for your favorite recipe!!!  Make sure you check out the site here for more info and rules.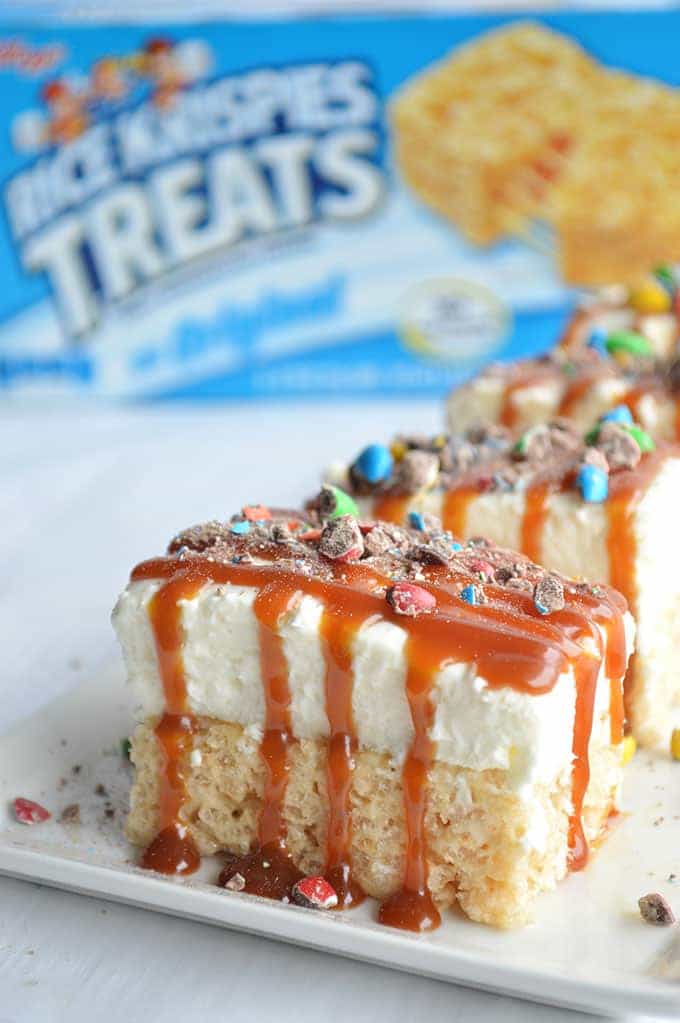 Make sure you follow along so you never miss a recipe!!
 FACEBOOK | PINTEREST | GOOGLE+ | TWITTER | INSTAGRAM | BLOGLOVIN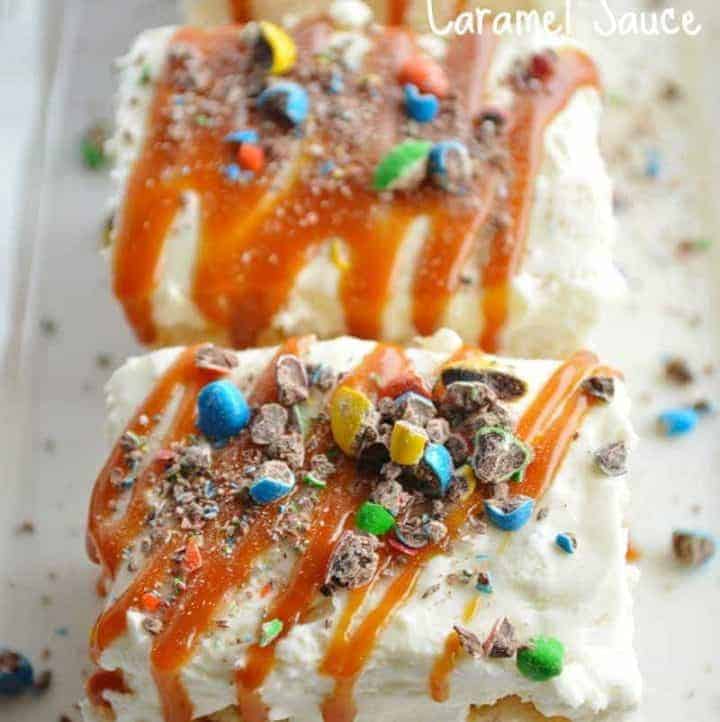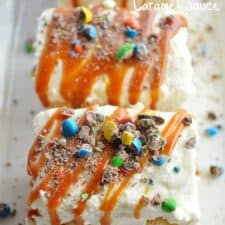 Marshmallow Cheesecake Rice Krispies Treats with Caramel Sauce
Rice Krispies Treats topped with a marshmallow cheesecake layer, homemade caramel sauce, and crushed up M&Ms.
Ingredients
8 Kellogg's® Rice Krispies Treat Squares®
butter, to grease pan
Chocolate M&Ms, crushed
Cheesecake Layer:
3 cups Miniature Marshmallows
3 tbsp Heavy Cream
8 ounces Cream Cheese, room temperature
1 cup Whipped Cream
Caramel Sauce:
½ cup Granulated Sugar
¼ cup Heavy Cream
½ tbsp Butter
Instructions
Open the Rice Krispies Treats and place them in one layer on the bottom of a 9x9 butter greased dish. Set aside.

In a medium size pot add the JET-PUFFED Miniature Marshmallows and the 3 tablespoons heavy cream. Cook over low heat while stirring until the marshmallows are melted, approximately 3-4 minutes. Remove from heat and allow to cool for 2-3 minutes.

Place the room temperature cream cheese into a mixing bowl and using the paddle attachment beat until creamy. Add in the cooled melted marshmallow mixture and mix on low speed until combined. Fold in the whipped cream.

Spoon the cheesecake mixture on top of the Rice Krispies Treats in the baking dish, smooth the top with a butter knife. Place into the refrigerator to set for at least 3 hours.

Caramel Sauce:

Add the sugar into a small sized sauce pan. Cook over low heat until the sugar is fully melted. Stir occasionally to ensure all sugar is melted and there are no longer any clumps. Once melted and a light golden color allow to cook over low heat for an additional 5 minutes while periodically swirling the pan instead of stirring, the melted sugar will turn a dark golden color.

Remove from heat and pour in the heavy cream. This will cause the melted sugar to crust over and harden. Return to low heat and stir while cooking just until the hardened sugar is all dissolved and you have a dark golden syrup. Add the butter and stir just until melted. Remove from heat and allow to cool slightly for 1-2 minutes.

Carefully pour the warm caramel sauce into a plastic squeeze bottle with a fine tip (condiment bottle).

Drizzle the cheesecake Rice Krispies Treats with the caramel sauce while warm. If the caramel cools reheat in the microwave gently for 20-30 seconds until warm.

Top the caramel cheesecake Rice Krispies Treats with the crushed up M&Ms and serve immediately. Enjoy!

To store place in a covered container and store in the refrigerator for up to 3 days.
Notes
Prep Time includes time needed to chill in the refrigerator.
Nutrition
Calories: 279kcal, Carbohydrates: 31g, Protein: 3g, Fat: 17g, Saturated Fat: 10g, Cholesterol: 57mg, Sodium: 123mg, Potassium: 56mg, Sugar: 25g, Vitamin A: 713IU, Vitamin C: 1mg, Calcium: 44mg, Iron: 1mg
 More Sweet Treats to Enjoy: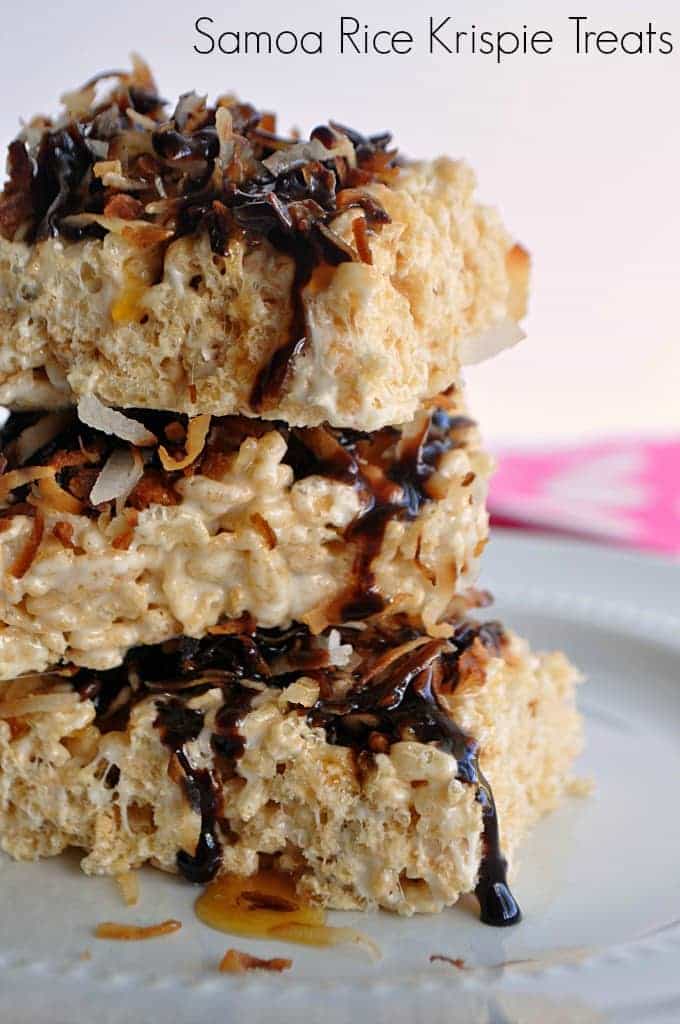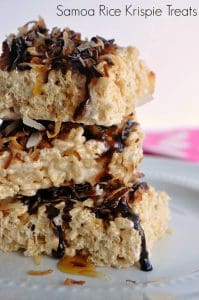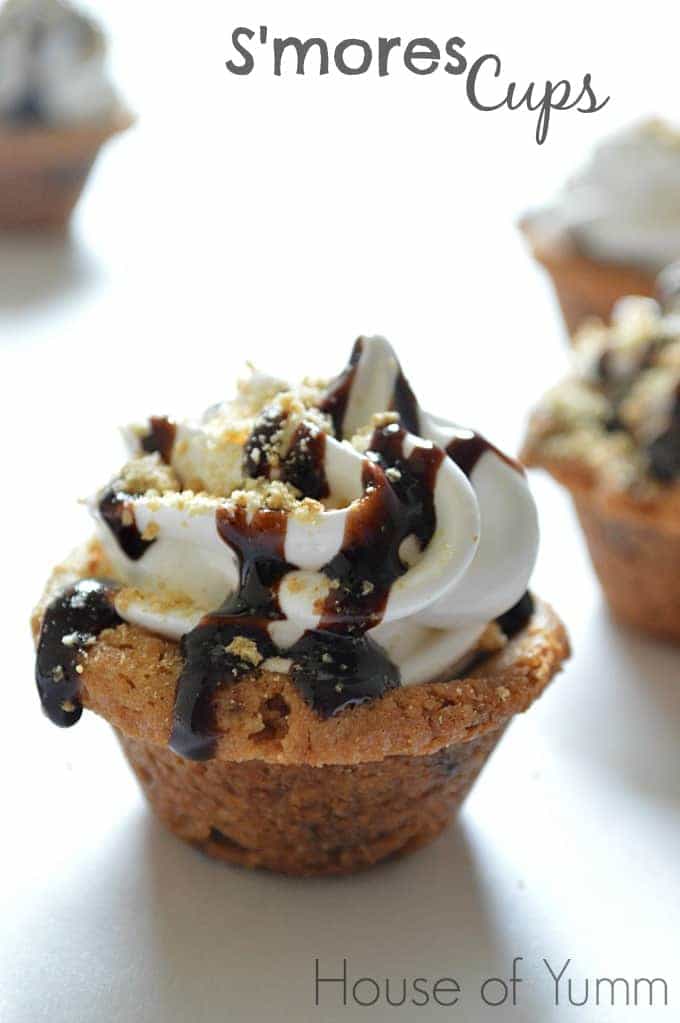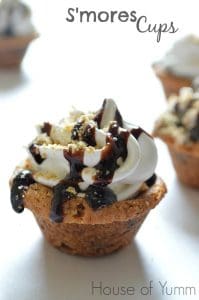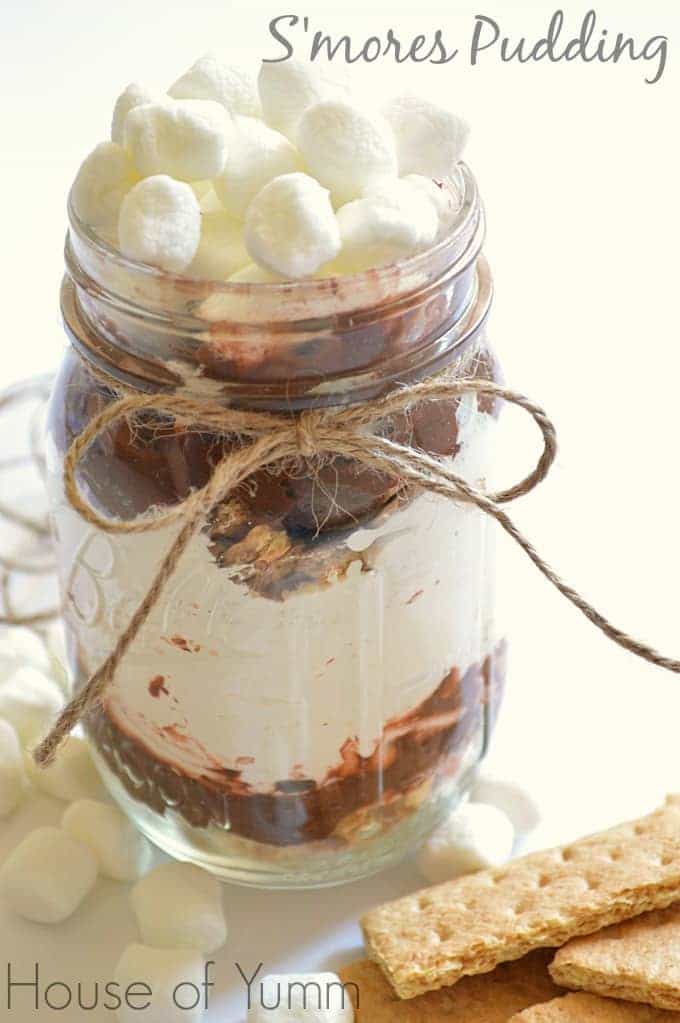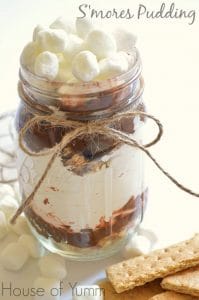 House of Yumm is a participant in the Amazon Services LLC Associates Program, an affiliate advertising program designed to provide a means for us to earn fees by linking to Amazon.com and affiliated sites.