Lemon Cupcakes with Maple Frosting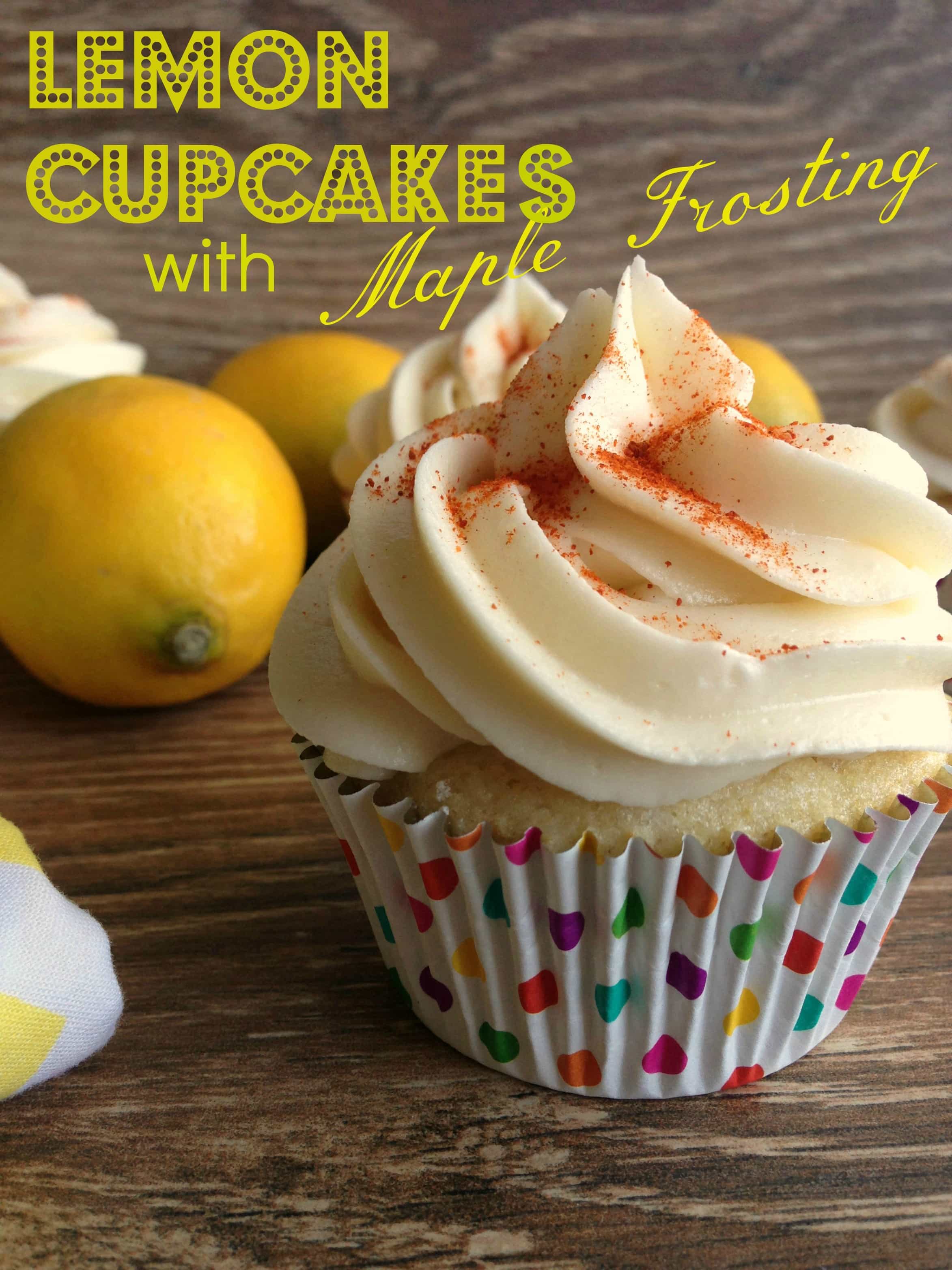 To start this post, let me just explain the reasoning behind these flavors.  This is a lemon cupcake, filled with a sweet Meyer Lemon curd filling, frosted with a Maple Syrup Cream Cheese frosting, and topped with just a sprinkle of Cayenne Pepper.  Some people are going to read that and think that I've lost my mind.  Then there's the people who are going to automatically think, 'Oh My Gosh!!!  That's the Master Cleanse….in a CUPCAKE!!!!'  And for those people, you are absolutely right!
A couple times a year my husband will forego all scrumptious foods in exchange for cleansing his system (blech!) and drinking only a lemonade made from organic lemon juice, organic maple syrup, and you guessed it, Cayenne Pepper.  The reason for this?  Well, one reason is that a few months after he's done this, he actually starts missing this weird lemonade.
He's constantly telling me how good this lemonade tastes, how the flavors go so well together.  The thought of drinking the lemonade doesn't appeal to me.  However, there is one way that I will try these flavors together.  In cupcake form!  A master cleanse cupcake?!?  I'm sure this is exactly what all those health conscious people out there are hoping for!  Insert sarcasm.
When I started getting into making cupcakes at home, my husband got me a book, The Cupcake Diaries, by Katherine Kallinis and Sophie Kallinis LaMontagne.  They are the sisters from the TLC series DC Cupcakes.  The recipe that I use for my basic cupcake and frosting came from that book. This is my favorite cake recipe, it comes out super moist and it bakes really well.  It's also easy to modify, with the basic recipe you can just make small changes for different flavors.
In one bowl mix together the dry ingredients: Flour, baking powder, and salt.
In a small bowl, or just in your measuring cup mix the milk and vanilla.  When baking, the ingredients will blend together better if they're all at room temperature.  So prior to baking set out the eggs, milk, and butter and let them reach room temperature.
In a larger bowl cream the sugar and butter.  Do you like my blue bowl?? Notice how light and fluffy the sugar and butter become.  Creaming these ingredients creates a lot of air bubbles, this is what is going to make our cupcakes light and fluffy.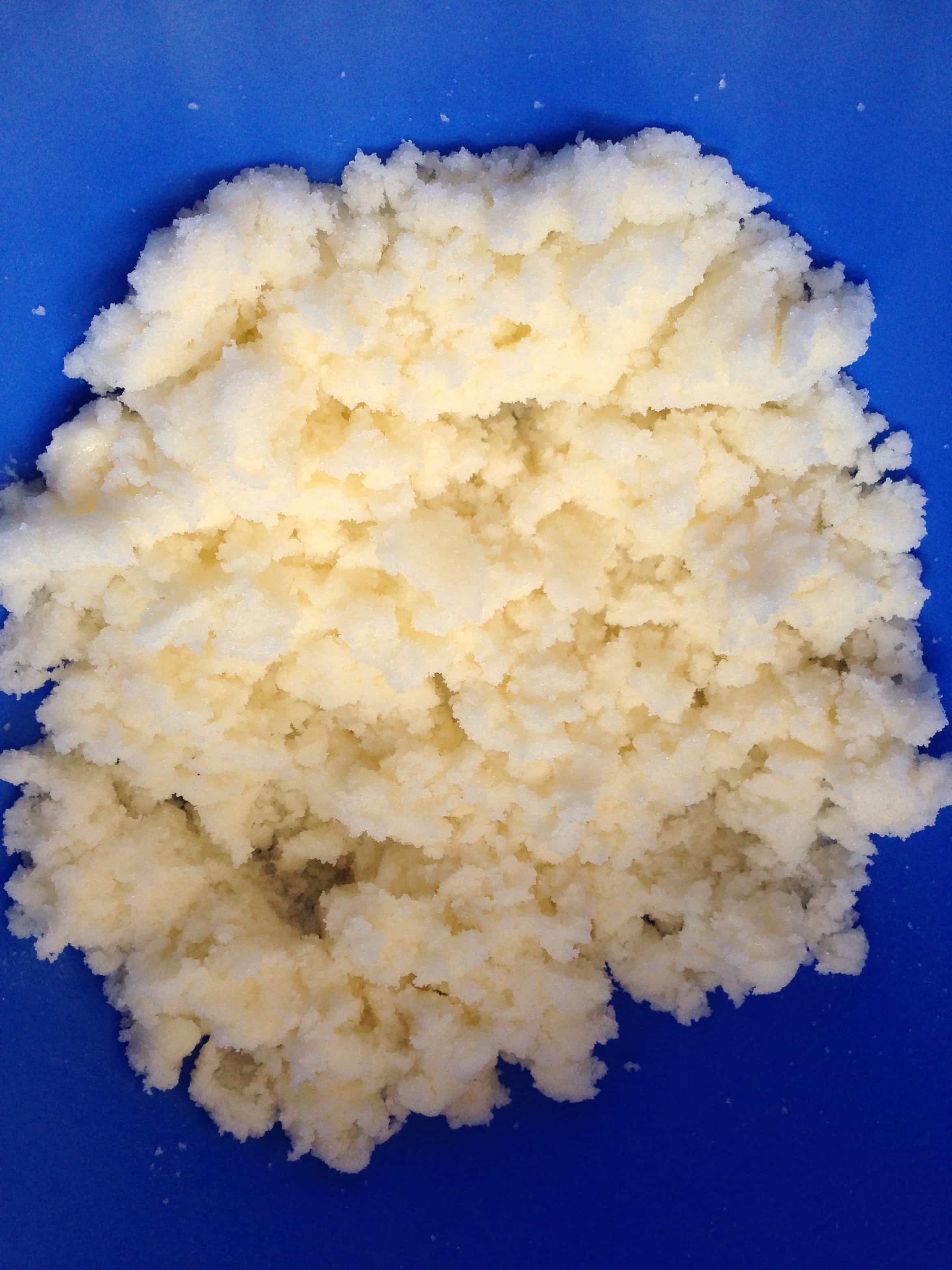 Add in the eggs one at a time, doing them at the same time will create too much weight on the batter and will collapse all the air bubbles from creaming the butter and sugar.  Collapsing these air bubbles is what can lead to dense, heavy cupcakes instead of light, fluffy ones.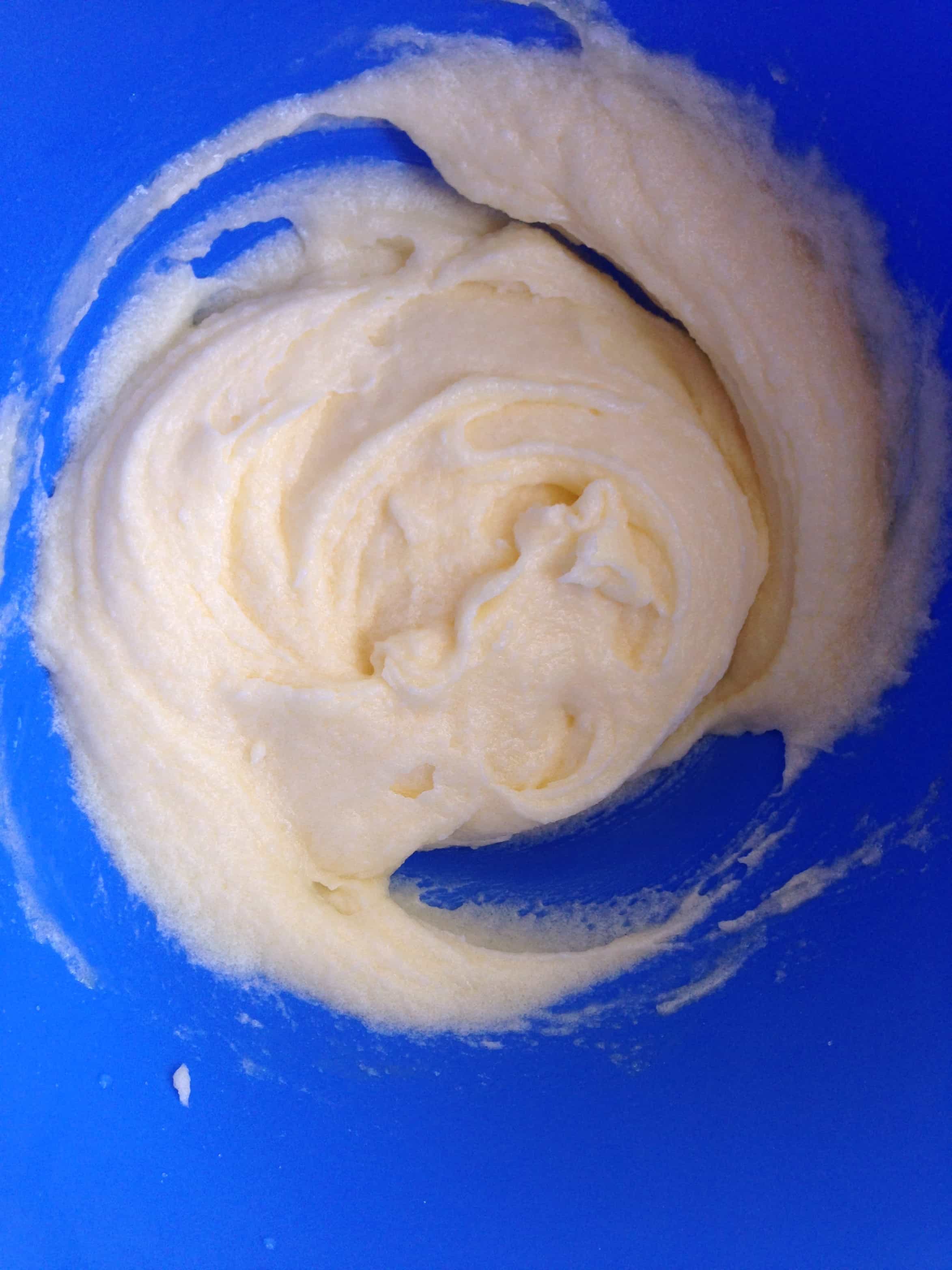 Alternate adding the dry ingredients and the wet ingredients into the batter.  Dumping everything in at once will put too much weight on the batter.  Start by adding one third of the flour mixture then one third of the milk mixture.  Stirring until well mixed.  At this point you want to stir slowly and as little as possible.  The more stirring, the more air bubbles will collapse.  As a last step I added the lemon zest and juice.  Here's the completed dough.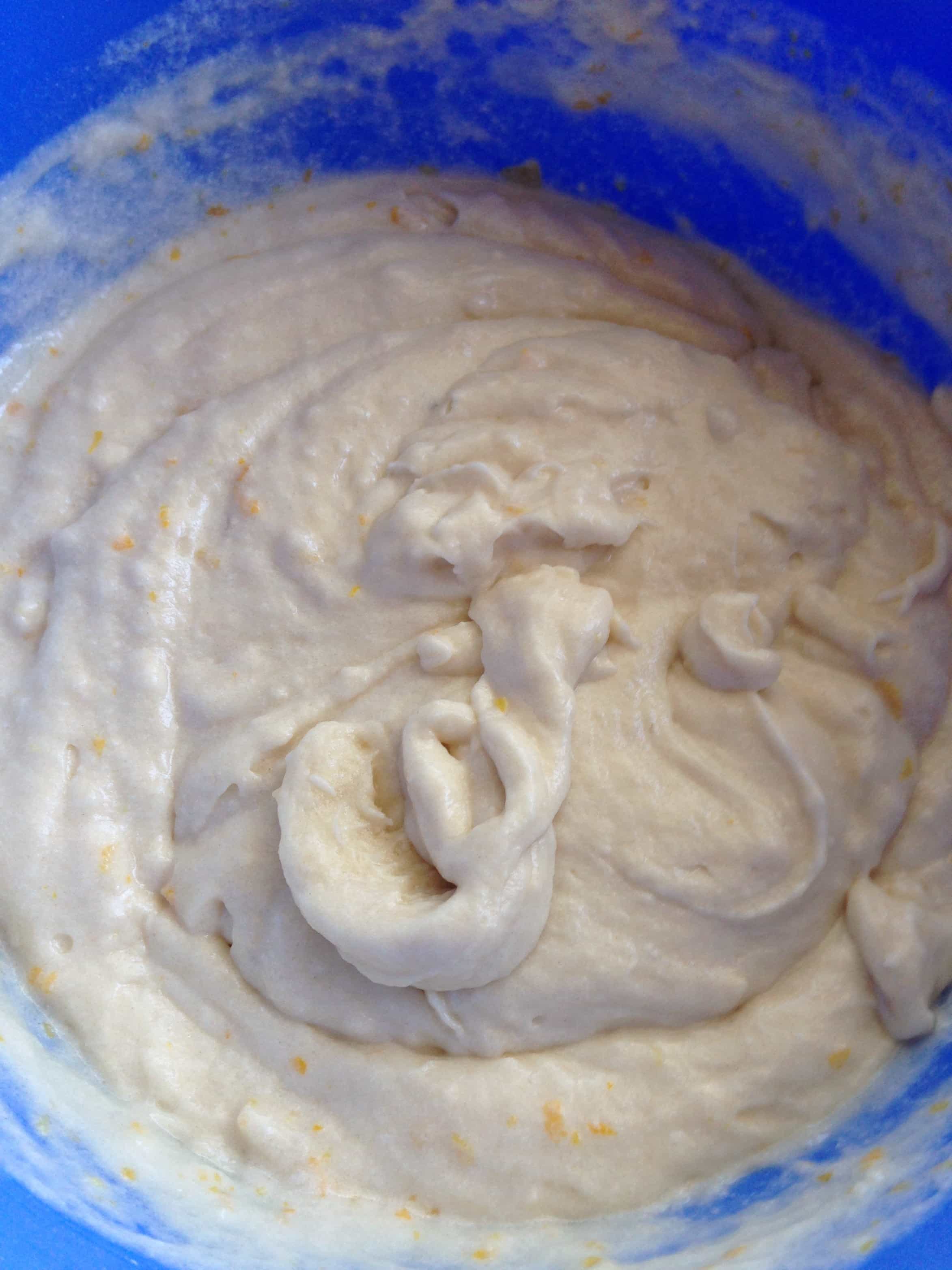 Use a 1/4 measuring cup to fill the cupcake liners with batter, they should be about two thirds full.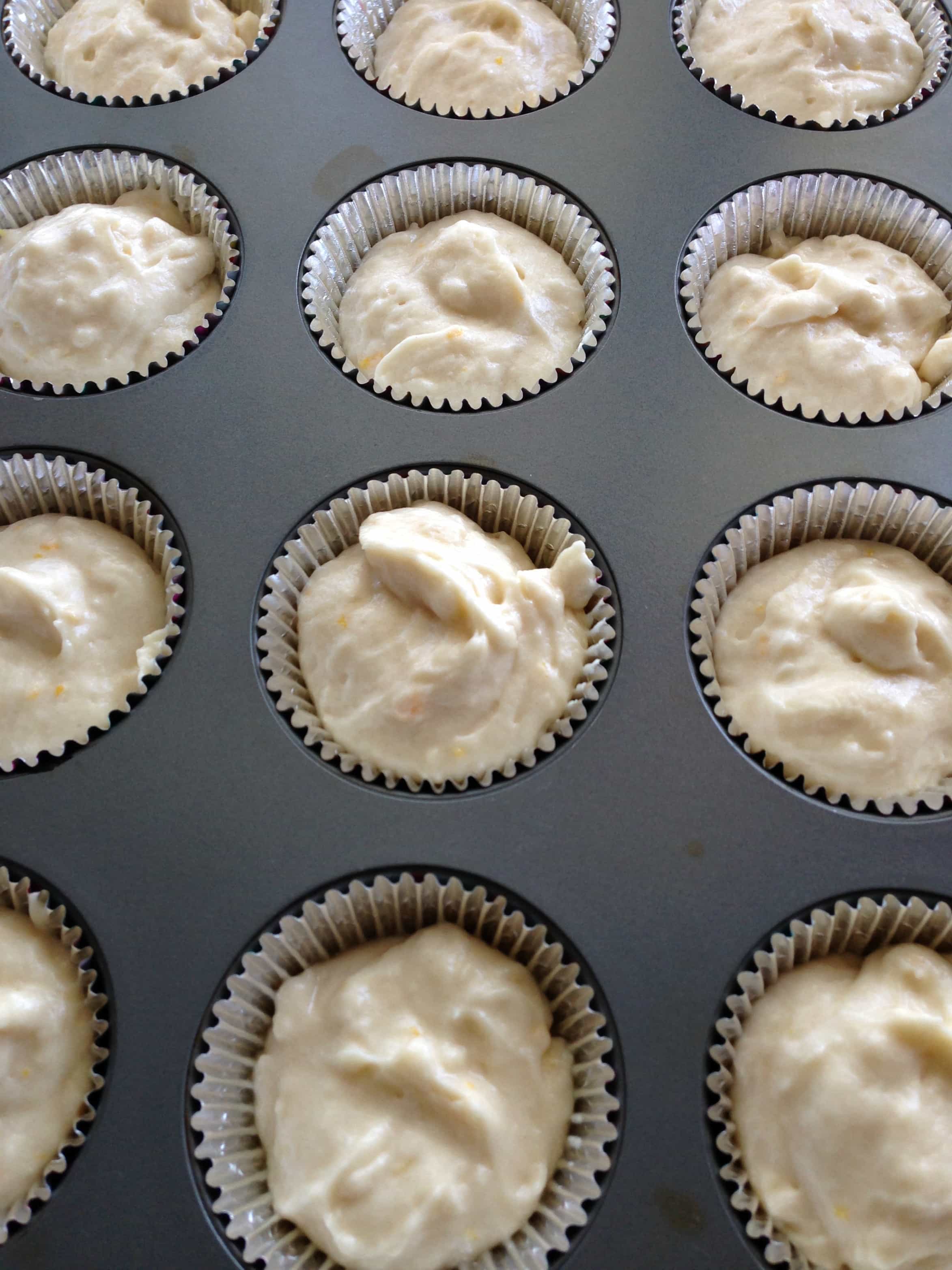 Bake at 350 for 16 minutes.  Remember every oven cooks differently.  Start checking your cupcakes about 15 minutes.  Avoid opening the oven too frequently.  Every time you open the oven you change the temperature inside which can cause your cakes to bake unevenly.  You'll know they're cooked all the way through if you can insert a toothpick and it comes back out clean, no dough.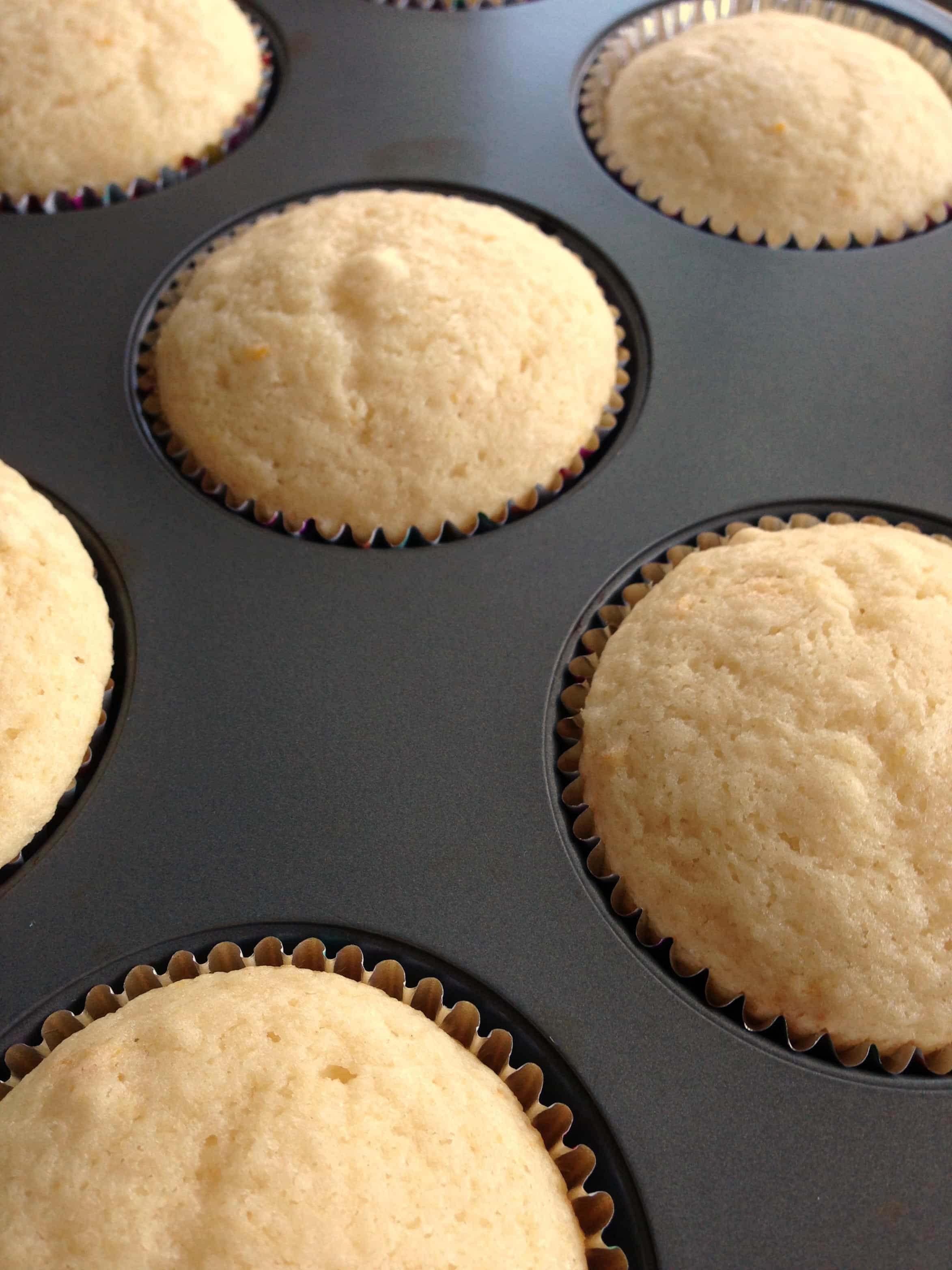 Let the cupcakes cool in the pan for 5 minutes and then transfer onto a wire rack to continue cooling.  Hot cupcakes can be very fragile, they'll be easier to move if you give them a few minutes.  But if you leave them in for too long, the hot pan can continue to over bake them.
Once the cupcakes are cool, cut the centers out for the filling.  I use an apple corer to take the centers out.  I cut the end off so I can put a cap back over the filling and have a smooth surface for the frosting.  The rest of the cupcake centers we enjoy as a treat!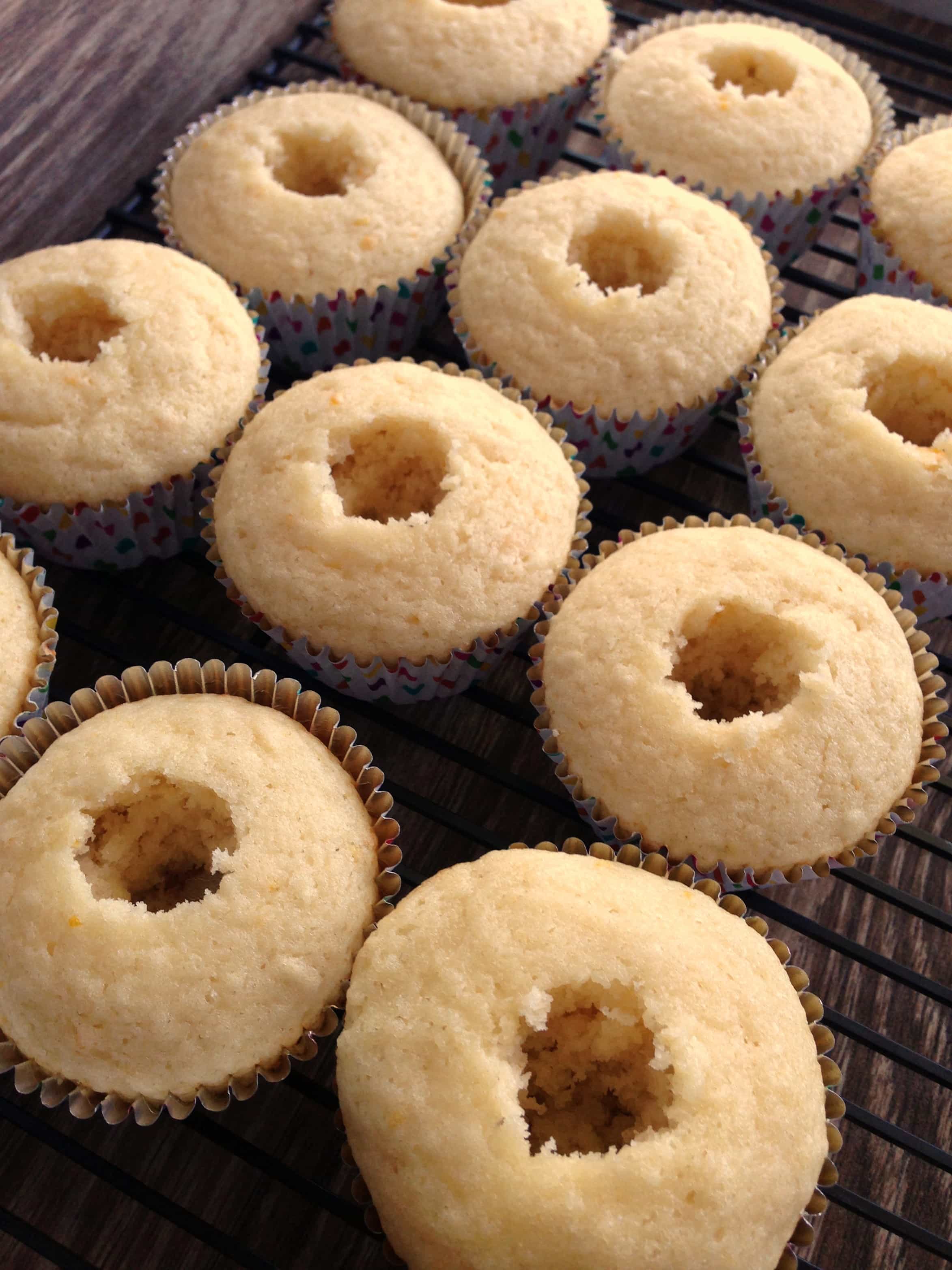 I used a pastry bag to fill the centers of the cupcakes.  If you don't have any pastry bags you can fill a plastic sandwich bag and just cut off the corner.  Then cover them back up with the tops.  I used a Meyer Lemon Curd filling.  Click on the link for the recipe.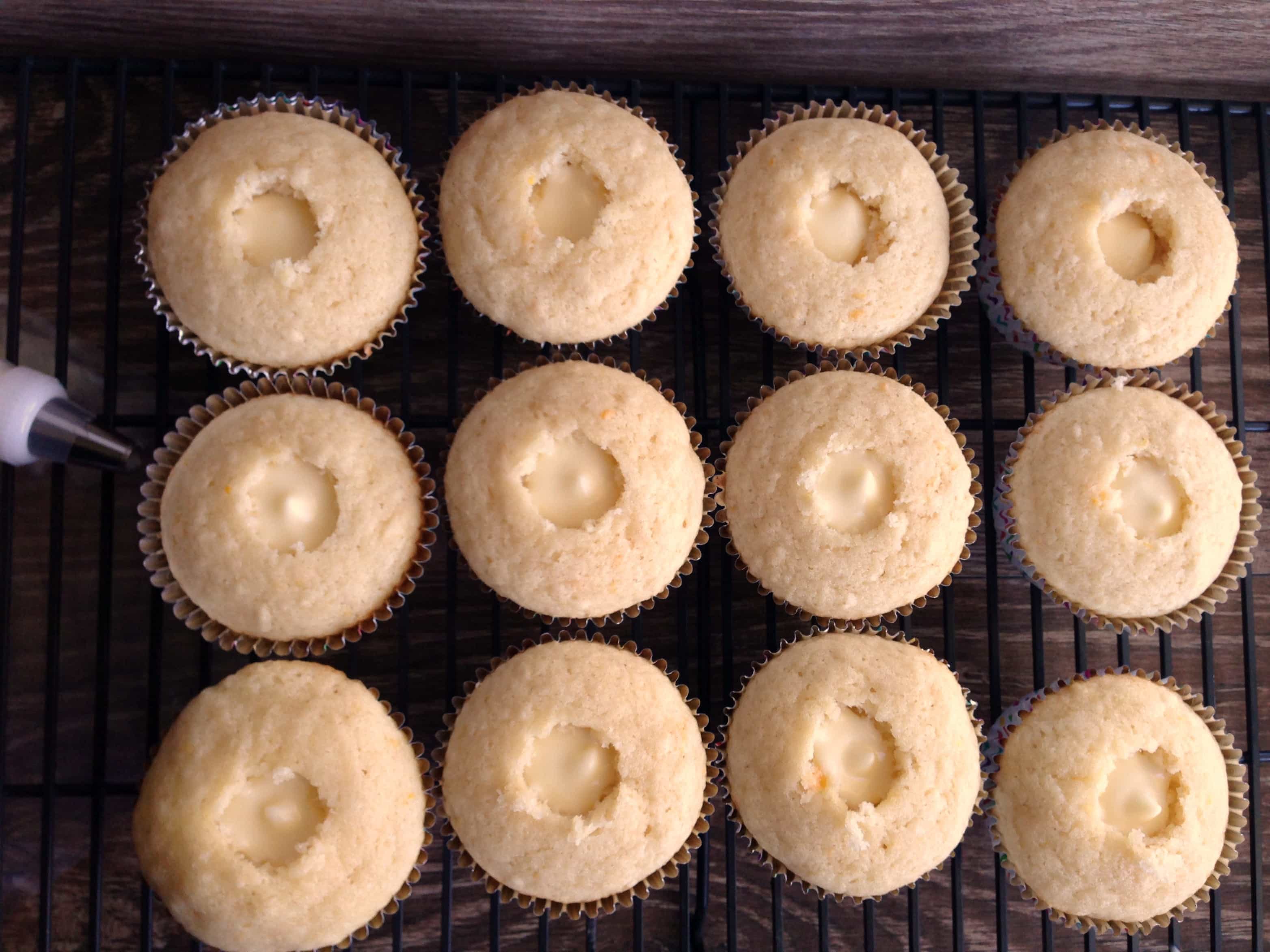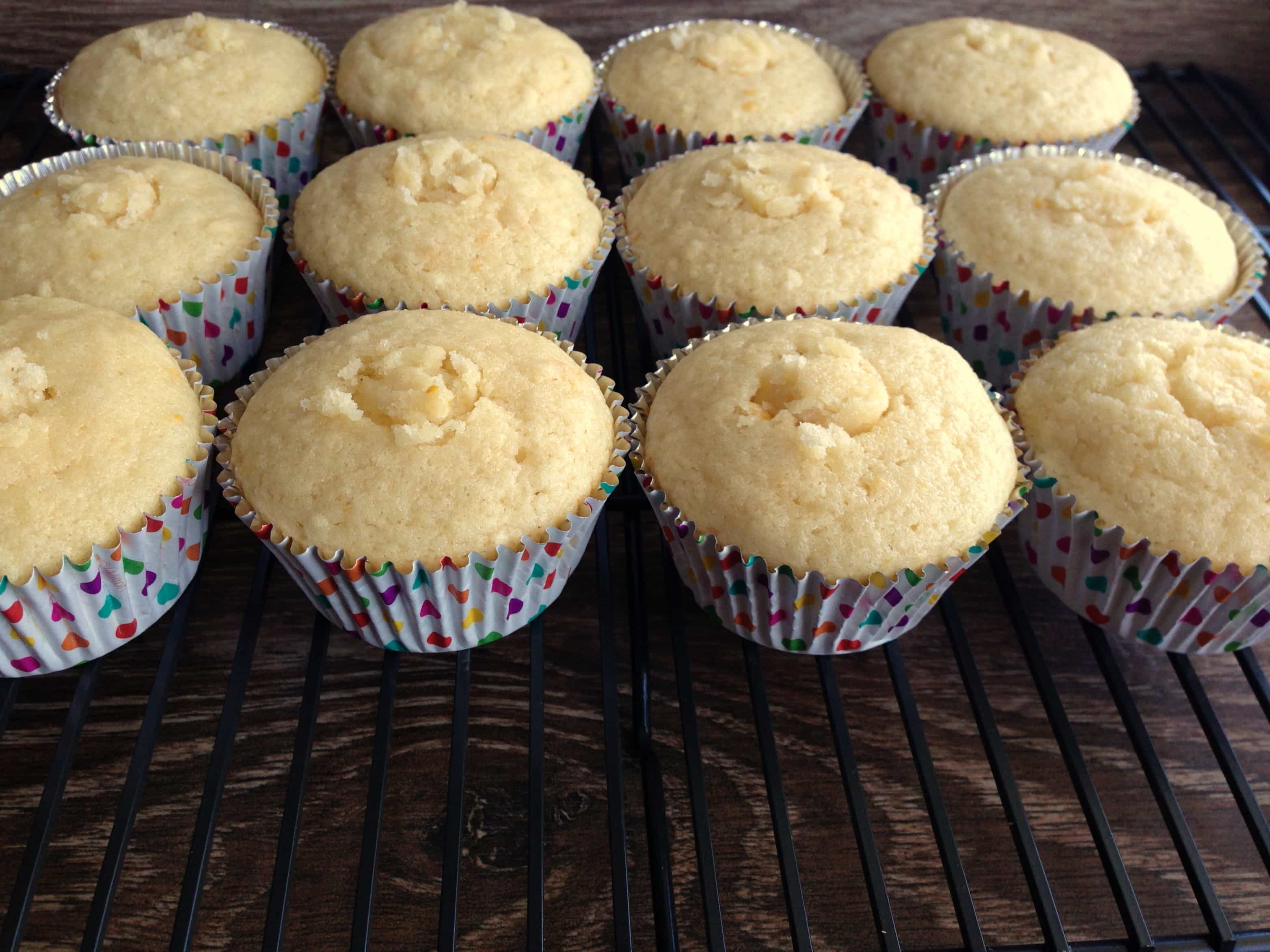 For the frosting I added all the ingredients into the mixing bowl and mixed until the frosting was nice and firm so that it would hold it's shape.

The completed cupcakes with the filling!!  I always love to fill my cupcakes, it's just an extra surprise, and makes every bite of the cupcake full of flavor.
I gave these cupcakes to my children, my official taste testers, and the first thing my oldest daughter did was take a nice lick of the frosting and got a mouthful of the Cayenne pepper!  Her reaction: Priceless!!
The flavors do go nicely together.  The Cayenne does give it a little kick.  If you're not up for that though definitely make these cupcakes and leave off the Cayenne.  The lemon cupcake with the lemon filling is delicious!!  And the Maple Syrup frosting is quite good.  It only had a hint of the maple flavoring, feel free to add more syrup to kick up the flavor.
Notice that the recipe for the cupcakes makes 24 cupcakes, and the recipe for the frosting is enough for 12 cupcakes.  I was only able to decoratively frost 4 cupcakes, I would have been able to decoratively frost 12 cupcakes.  But I had enough frosting to decorate those 4 and then to just spread frosting with a knife on the remaining 18 cupcakes.  So it just depends on how you want your cupcakes to look.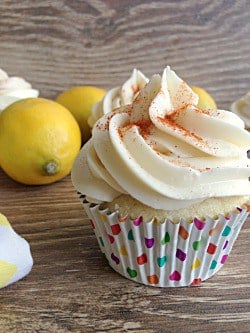 Lemon Cupcakes
Lemon Cupcakes topped with a fluffy maple syrup frosting.
Ingredients
2½ cups all purpose flour
2½ tsp baking powder
1/4 tsp salt
1¼ cup milk
2¼ tsp vanilla extract
8 tbsp unsalted butter , room temperature
1¾ cup sugar
2 large eggs
juice and zest from 2 lemons
Maple Frosting
4 tbsp Unsalted butter, softened
4 Cups Confectioners Sugar
6 Ounces Cream Cheese , softened
4 tbsp maple syrup
Instructions
Preheat oven to 350℉ degrees

Mix flour, baking powder and salt together set aside.

In separate bowl combine the milk and vanilla, set aside.

In large bowl cream the butter and sugar together. Add eggs one at a time mixing completely.

Add wet and dry ingredients alternately to the batter. Stirring to mix completely each time.

Add lemon juice and zest, mix completely.

Fill cupcake liners with 1/4 cup of batter filling each liner about two thirds full.

Bake at 350℉ for 16-18 minutes, start checking at 15 minutes.
Maple Frosting
Add ingredients to mixer and mix completely
Nutrition
Calories: 280kcal, Carbohydrates: 48g, Protein: 3g, Fat: 9g, Saturated Fat: 5g, Cholesterol: 38mg, Sodium: 110mg, Potassium: 53mg, Fiber: 1g, Sugar: 37g, Vitamin A: 313IU, Calcium: 59mg, Iron: 1mg
House of Yumm is a participant in the Amazon Services LLC Associates Program, an affiliate advertising program designed to provide a means for us to earn fees by linking to Amazon.com and affiliated sites.