Kid Friendly Cheese Board! Ace Snack Time this School Year with Borden® Cheese   Kids will happily devour every last bite of this kid friendly cheese board.  Loaded with fruits, veggies, cheeses and meats.  Perfect to serve as a lunch or after school snack tray.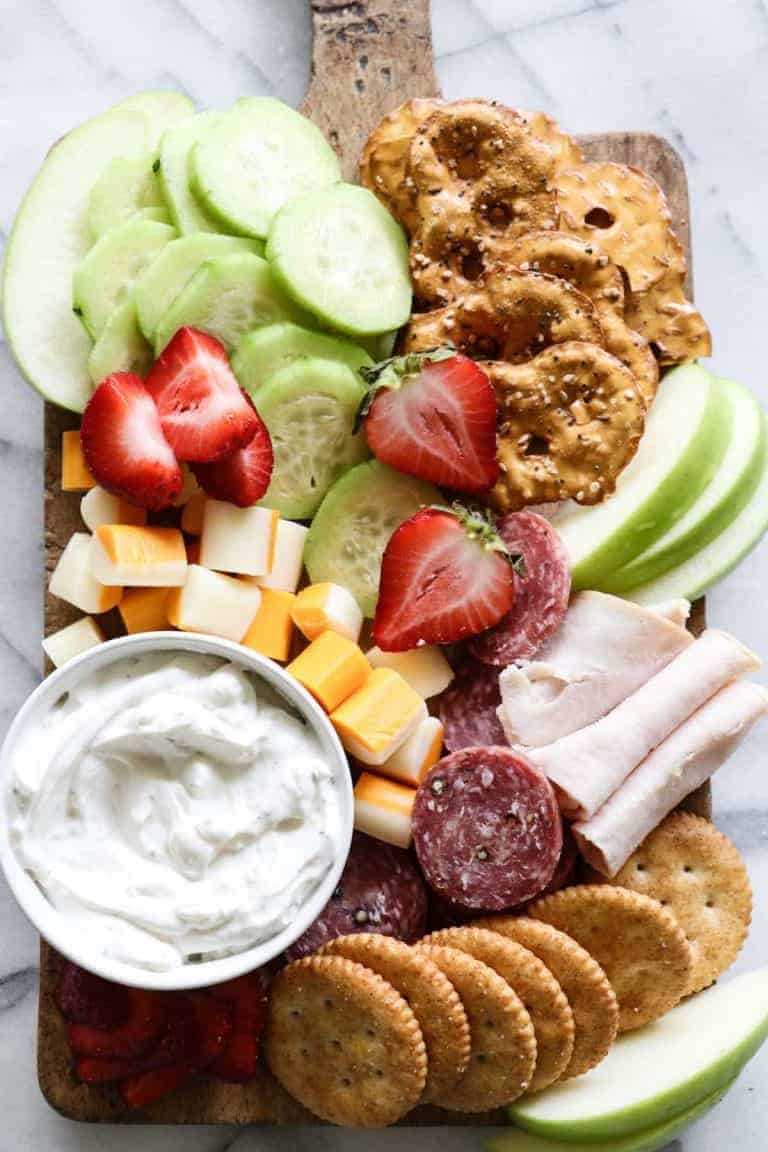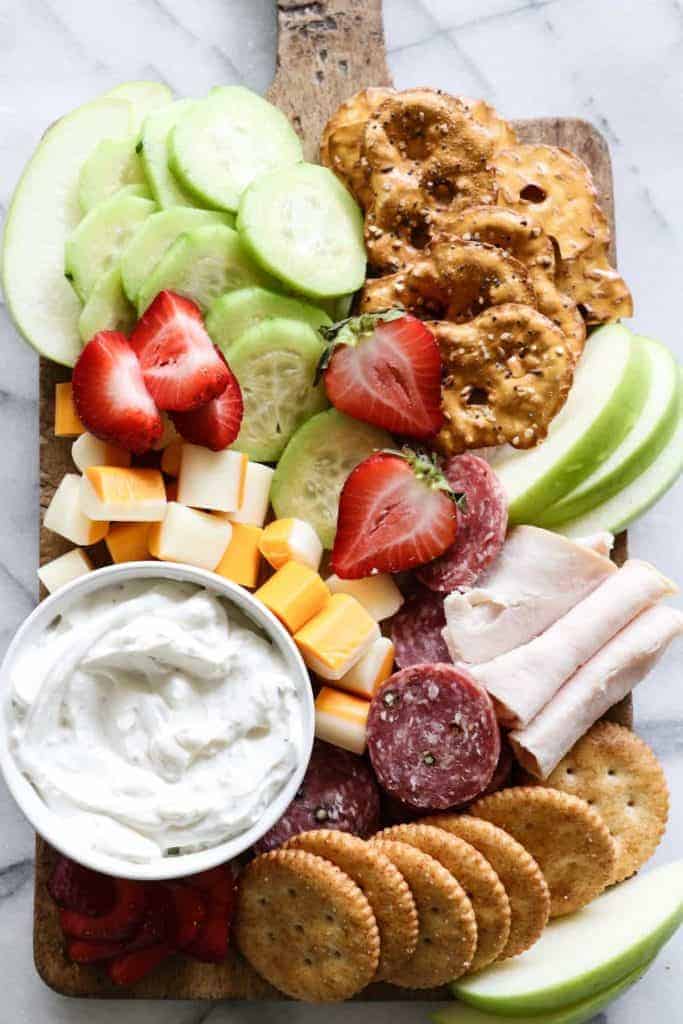 I am an ambassador for Borden®Cheese who provided me with compensation for my time.  As always, all opinions expressed in this post are mine.  Thanks for continuing to support the brands that support House of Yumm <3
Today we're discussing kids and their lunches! Hence this Kid Friendly Cheese Board. It's Back to School season. Did you notice? That means that the slow pace of summer for our household has been replaced with early mornings, school drop offs, geometry lessons, school projects, science experiments, soccer practices, and many other daily activities. I'm sure I've mentioned that we have been homeschooling our two oldest girls for the last 3 years. This year is a bit different. Our 11-year-old is now navigating the 6th grade at our neighborhood public school. Cue all the mixed emotions.
One thing I remember from the days of sending my girls to school was how the task of preparing school lunches became a dreaded chore by the end of the school year. Being at home with the kids hasn't made it any easier. Lunch for the kids is one of those things that typically just happens in our home. No planning, no real effort, no actual memories of what was prepared or eaten.
By the time Thursday rolls around, and I'm heating up another plate of frozen chicken nuggets for the toddler, my mom guilt becomes a roaring voice in my head condemning me for my lack of concern over proper nutrition, and convinces me that little Bubba bear is going to blame me and these dinosaur nuggets for all that is wrong in his life.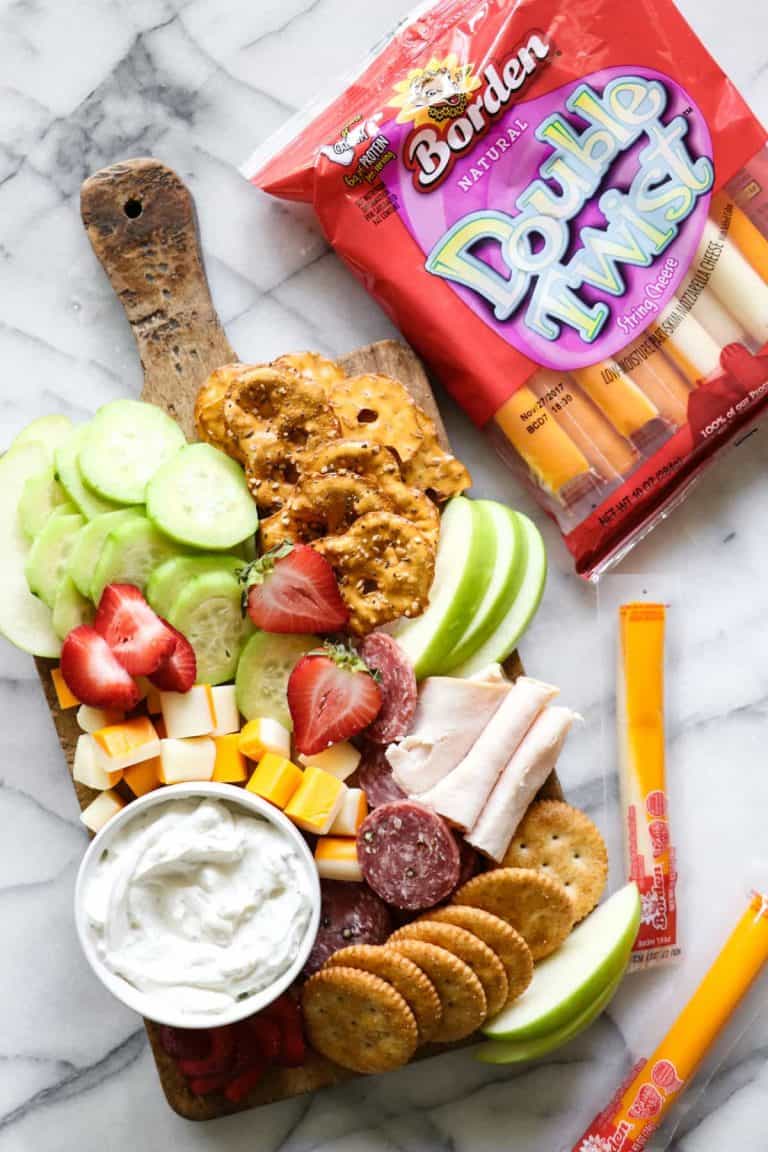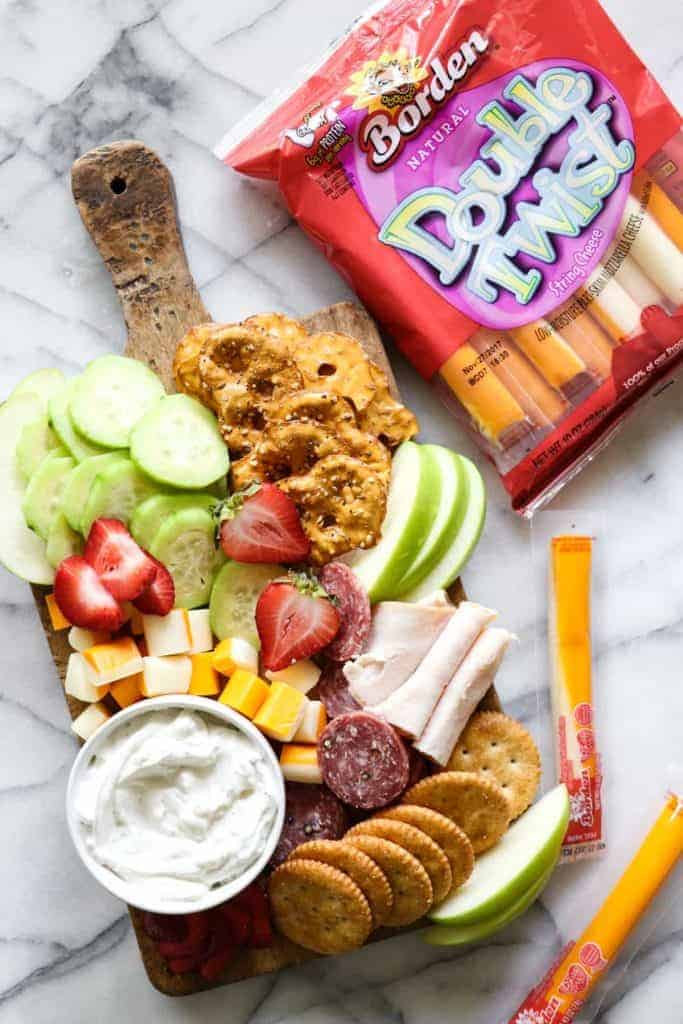 Which is why when Borden® Cheese contacted me about helping them promote back to school lunches featuring their cheeses I decided to take the time to actually put some thought into this mid-day meal.
Now I know the fact that we're mostly at home might make my choices for lunch a little different, but at school or at home, Borden® Cheese fuels the family by providing nutrients to sustain them through whatever the day may bring. It's a convenient, wholesome snack that everyone can feel good about.
Plus, just because I made a cheese board for the kids to grab from doesn't mean I didn't first set aside stuff and fill a lunch bag full of all these goodies for our little 6th grader. Because let's face it, a kid can only endure so many sandwiches in their life.
You can always set this board up as an after-school snack as well. Or you could do both! Although there is a possibility the kids will riot if that happens on the same day.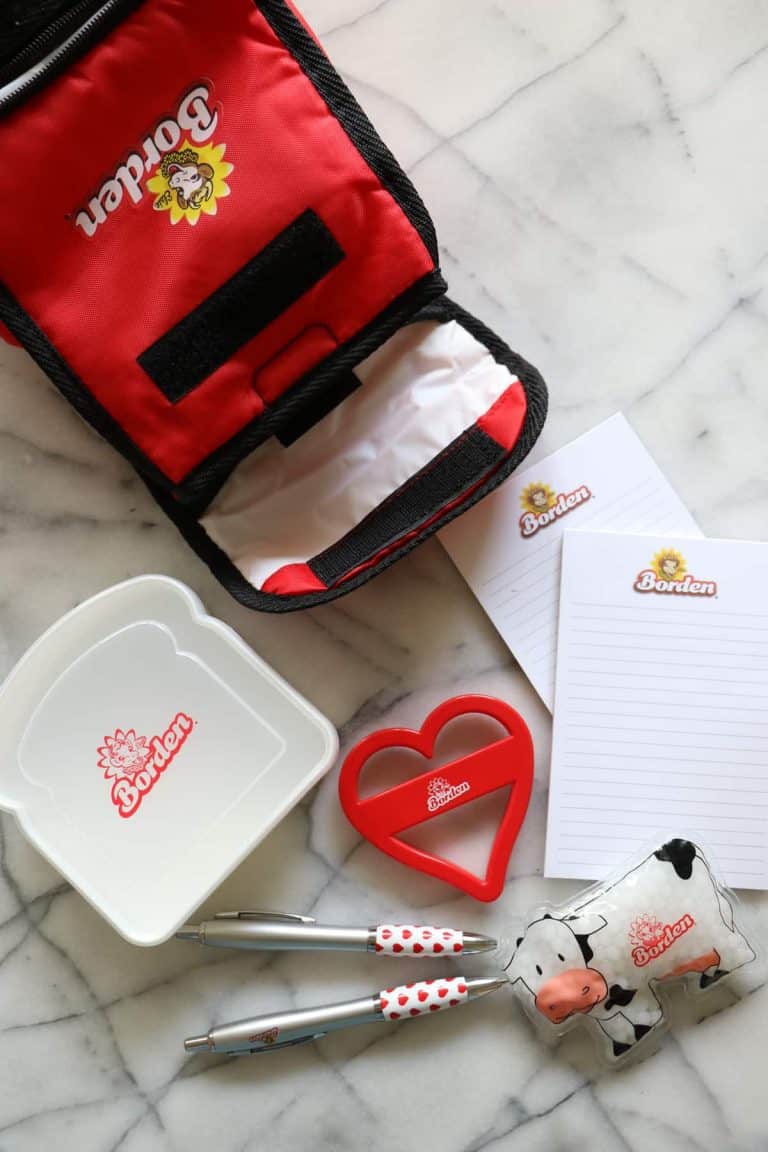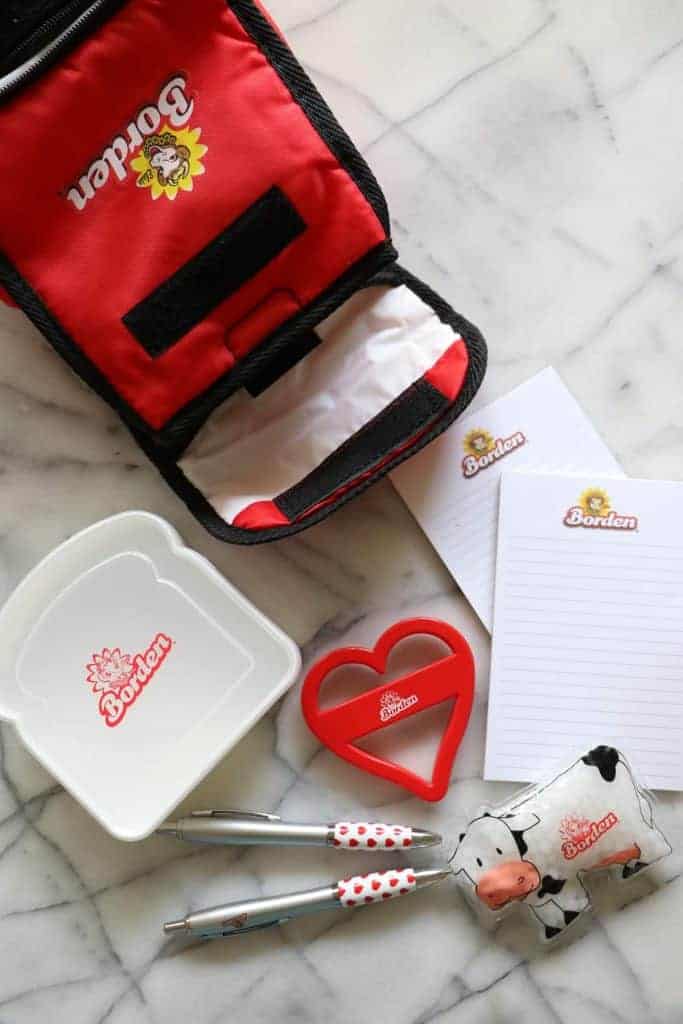 To make creating healthy and fun lunches even easier, Borden® Cheese has created these fun Lunch Love Kits. A branded lunchbox, heart-shaped sandwich cutter, sandwich container, and notepad and pens for heartfelt notes.  Plus, my favorite, the cutest little cow-shaped ice pack.
Sending kids off to school with a lunch filled with love and nutrition is important to all of us moms and dads. As a good source of calcium and protein, Borden® Cheese is a delicious, nutritious addition to back to school lunches and after school snacks to help kids stay focused and fueled all day long. Every chunk, slice and shred of Borden® Cheese is pure, creamy goodness that transforms your family recipes into something memorable, because with Borden® Cheese, love is always an ingredient.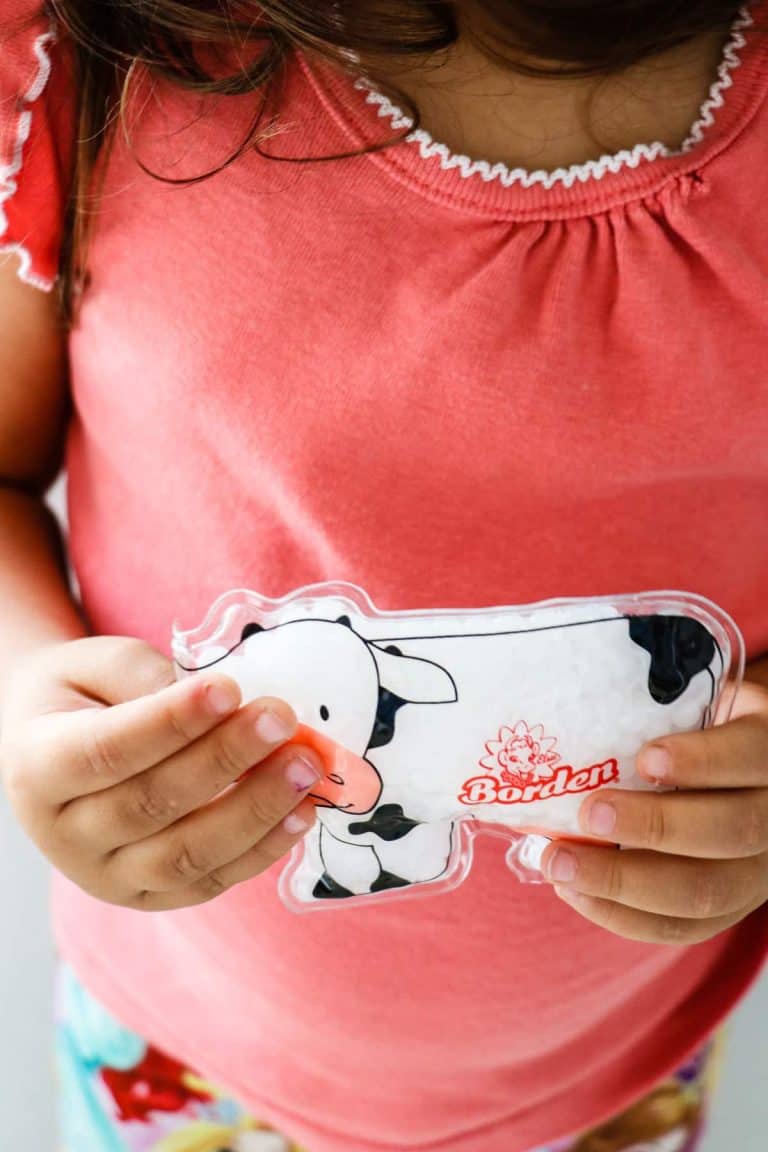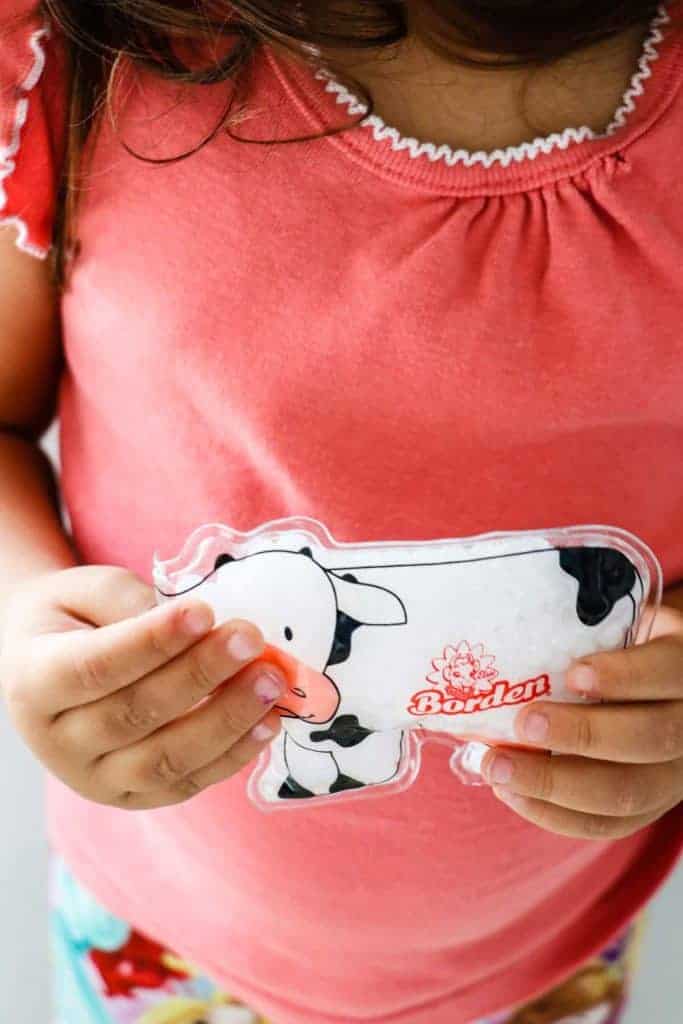 Foods Perfect for a Kid-Friendly Cheese Board:
Cheese. Obviously. Sliced up cheese sticks packed with 6g of protein per serving are perfect and easy, as are the all-new Snack Bars from Borden® Cheese, with fun flavors like Pepper Jack, Sharp Cheddar, Mild Cheddar and Colby Jack
Meats.  You can use lunchmeat, pepperoni, salami or diced ham.
Fresh fruits & veggies. What are your kids' favorites? We went with cucumber, apples, and strawberries. Other great options would be grapes, blueberries, carrots, celery, or oranges.
Some type of cracker. Or pretzels, chips, just think salty and crunchy.
A dip of sorts. We used a French Onion Dip on our board. You could also use a hummus, or ranch dip.  Or go sweeter and have maybe a dessert dip, or peanut butter.
Let the kids load up their plates with all their favorites. Gather round the table, and chat about the day so far!
Borden® Cheese is available at major grocery stores and independent retailers across the country.
For more information and where to purchase Borden® Cheese visit BordenCheese.com, Facebook.com/bordencheeseUSA or instagram.com/borden_cheese.
House of Yumm is a participant in the Amazon Services LLC Associates Program, an affiliate advertising program designed to provide a means for us to earn fees by linking to Amazon.com and affiliated sites.