Junior Mint Cupcakes.  Minty chocolate cupcakes, creamy mint filling, and topped with mint frosting!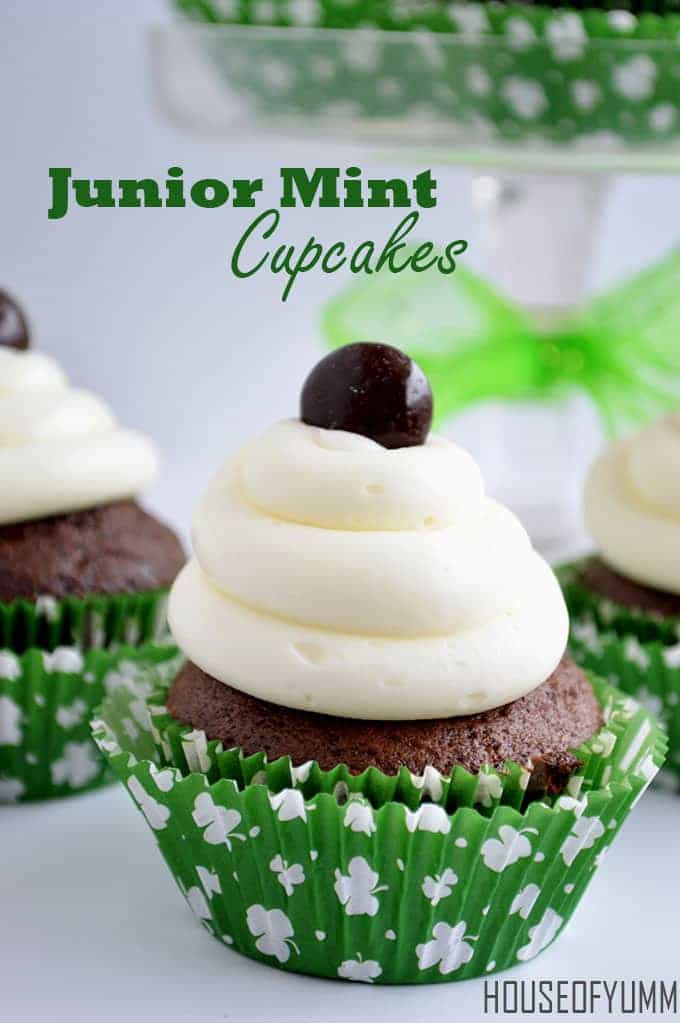 I have a serious obsession with chocolate and mint lately.  I suppose the timing couldn't be better, St. Patrick's Day is coming up and all.  Which means that the world is full of Shamrock shakes!  These Junior Mint Cupcakes definitely hit the spot for me though.  Did you see that Junior Mint Dessert Dip that I made a few weeks back?  Since then I haven't been able to get Junior Mints off of my mind.  Hence the Junior Mint Cupcake.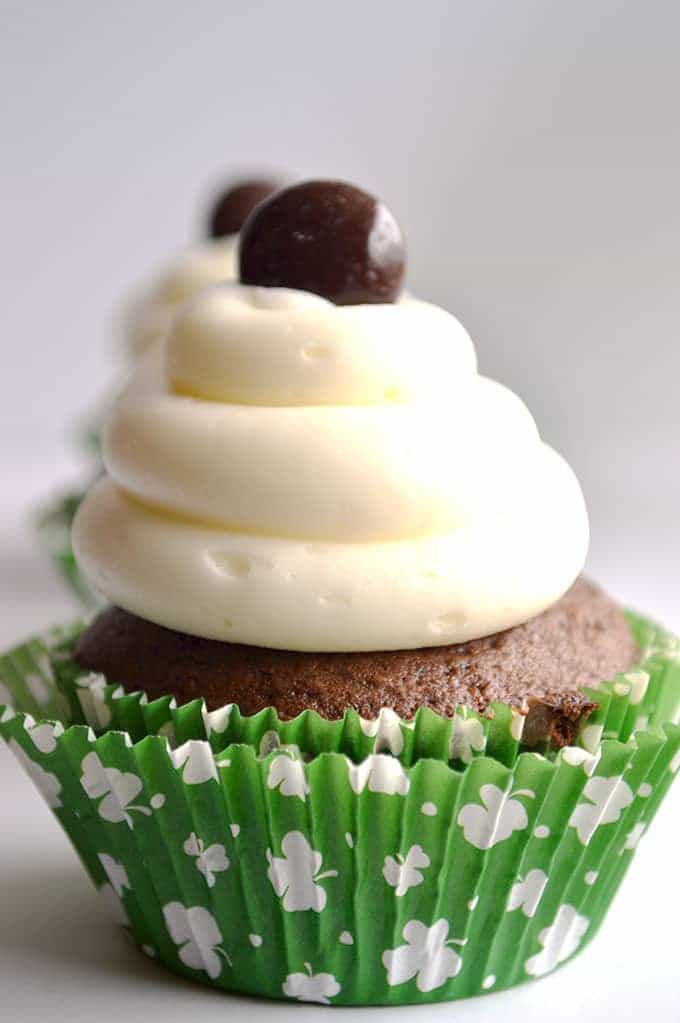 What started as a cake mix quickly became these minty chocolate cakes.  That's right, the cake itself is a chocolate mint flavor.  Then I stuffed the inside with a creamy, minty filling.  Swirled some mint frosting on.  Then to top it all off, an actual Junior Mint.  If this doesn't satisfy the meanest chocolate mint craving, I don't know what will.  You may just be out of luck.  I can't imagine anything else that packs this much chocolate mint flavor.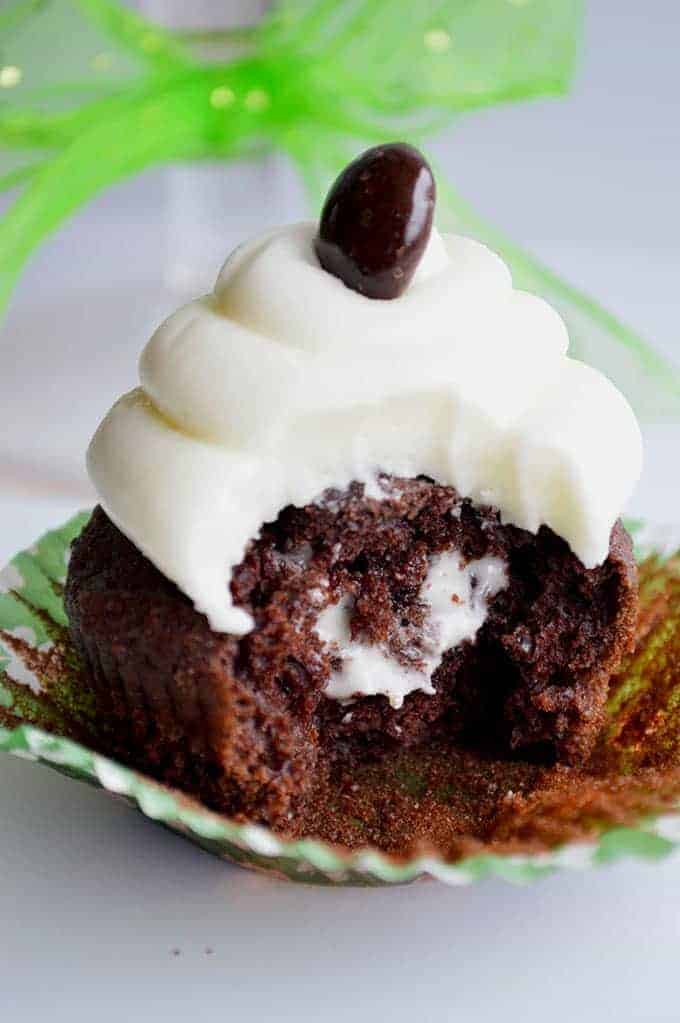 I hope you enjoy the recipe!  You can follow along with me and never miss a recipe by signing up for my newsletter.  Follow me on Instagram and tag #houseofyumm so I can see all the HOY recipes you make.  And  if you want to follow along in my everyday life on snapchat (username: houseofyumm) ?
Check out all the Tips & Tricks for the Perfect Cupcake here!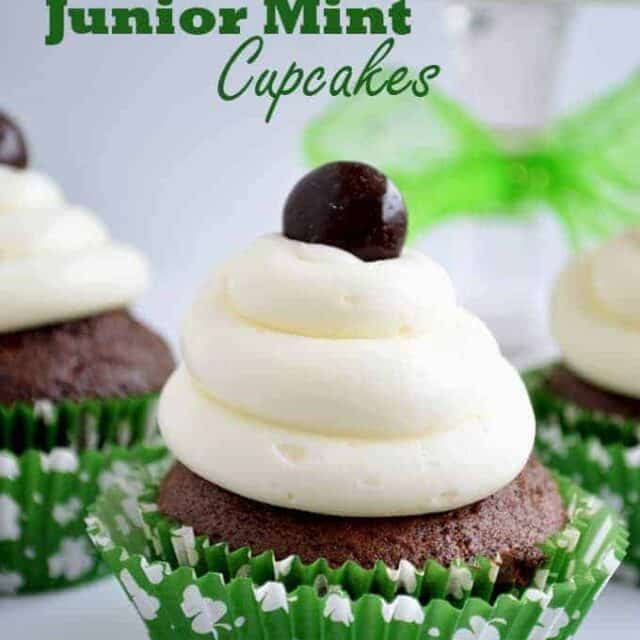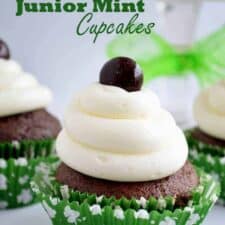 Junior Mint Cupcakes
Junior Mint Cupcakes. Minty chocolate cupcakes, creamy mint filling, and topped with mint frosting!
Ingredients
Cupcakes
1 devils food cake mix
3 large eggs
1 cup milk
½ cup oil
2 tsp mint extract
Filling
⅔ cup powdered sugar
5 tbsp heavy cream
1½ tsp mint extract
Frosting
5 cups powdered sugar
¼ cup butter, softened to room temperature
¾ cup heavy cream
2 tsp mint extract
20 Junior Mints
Instructions
Preheat oven to 350°F. Line cupcake tray with cupcake liners. Set aside.

In large bowl combine the eggs, milk, oil, and peppermint extract. Stir to combine. Add in the devils food cake mix and stir until completely mixed.

Using a 1/4 cup measuring cup scoop the cake batter into the cupcake liners, filling them about 3/4 of the way full.

Bake for approximately 16 minutes or until a toothpick inserted into the center comes out clean.

Remove from the oven to cool, cool for 5 minutes in the cupcake tray, then remove to continue cooling on a wire rack.
Filling
In a small bowl combine the powdered sugar, heavy cream, and peppermint extract. Stir until completely combined.

Once cupcakes are cooled, cut out the center, I used an apple corer, or you can also use a paring knife, cut a small circle approximately 1/2 an inch in diameter and 1 inch deep. Set aside the piece of cupcake, fill the center hole with filling and place the piece of cupcake back inside to close up the hole.
Frosting
In large mixing bowl add the butter and mix until creamy, add the heavy cream and powdered sugar and mix on low speed until fully combined and frosting is peaking. Add in the peppermint extract and mix.

Add frosting to piping bag and pipe onto cupcakes. I used a Wilton 2A tip.

Top with a Junior Mint candy.
Nutrition
Calories: 358kcal, Carbohydrates: 51g, Protein: 3g, Fat: 17g, Saturated Fat: 6g, Cholesterol: 49mg, Sodium: 219mg, Potassium: 106mg, Fiber: 1g, Sugar: 42g, Vitamin A: 313IU, Vitamin C: 1mg, Calcium: 59mg, Iron: 1mg
 More Chocolate Mint Treats: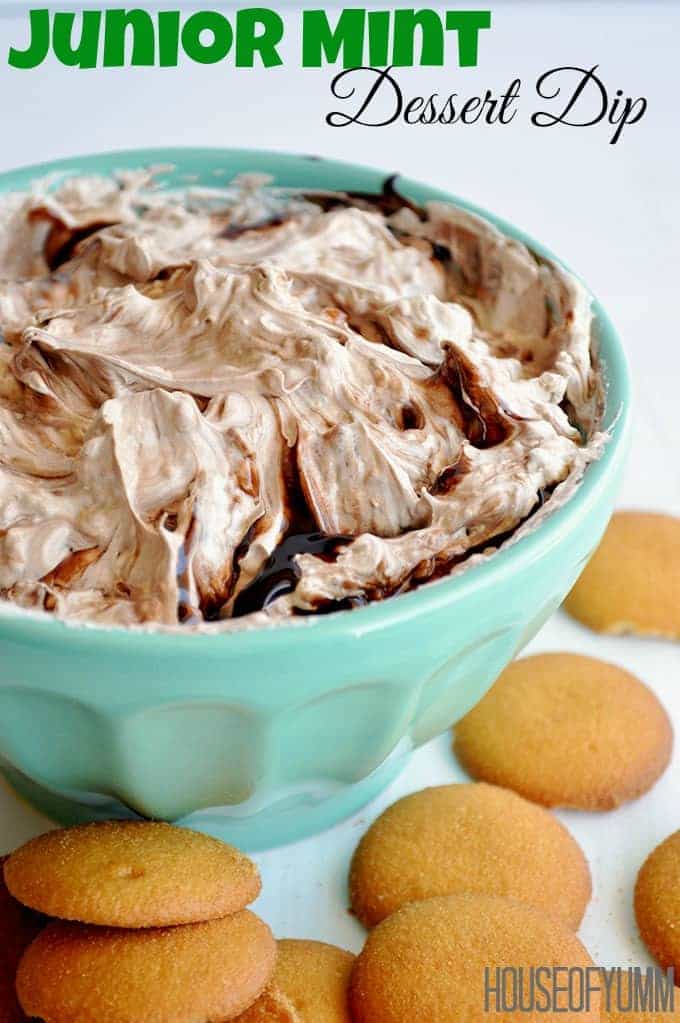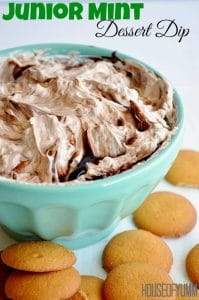 SaveSave
House of Yumm is a participant in the Amazon Services LLC Associates Program, an affiliate advertising program designed to provide a means for us to earn fees by linking to Amazon.com and affiliated sites.