Jalapeno Cheddar Pretzel Twists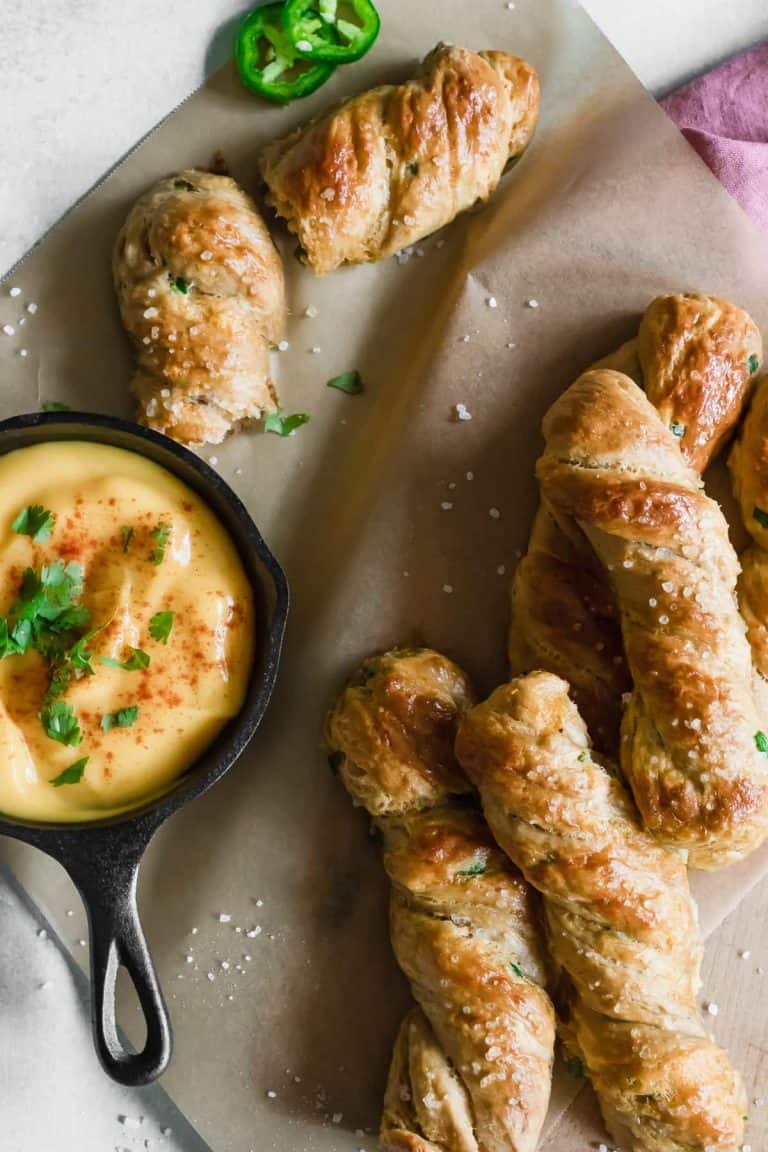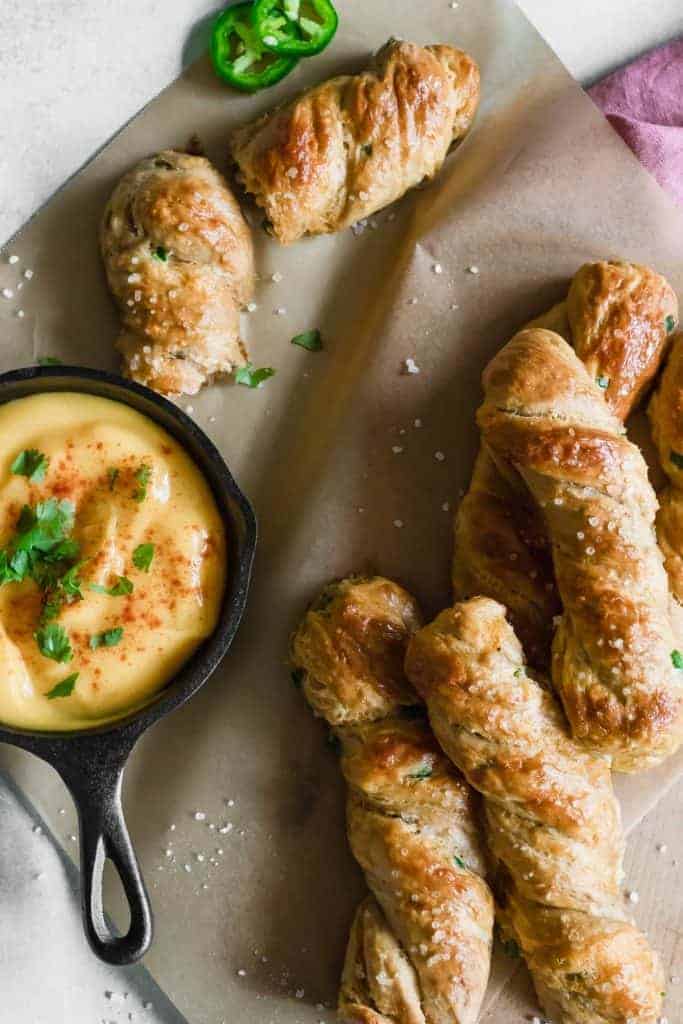 Soft and chewy pretzel twists loaded up with cheese and bits of jalapeño! The perfect salty snack.
I have to tell you guys something.. I've never made homemade pretzels before.  Until these. And while I would love to take the full credit for them, I got the recipe from a new cookbook that's out. Chad and Donna Elick, the couple behind the Slow Roasted Italian website, have a cookbook out now, The Simple Kitchen.
The book is loaded up with recipes that are easy to follow and perfect for making on those busy weekday nights. There's more than 80 recipes that come together quickly and that will be loved by all! Simple doesn't mean that any of these recipes lack in flavor. Case in point:these Jalapeño Cheddar Pretzel Twists.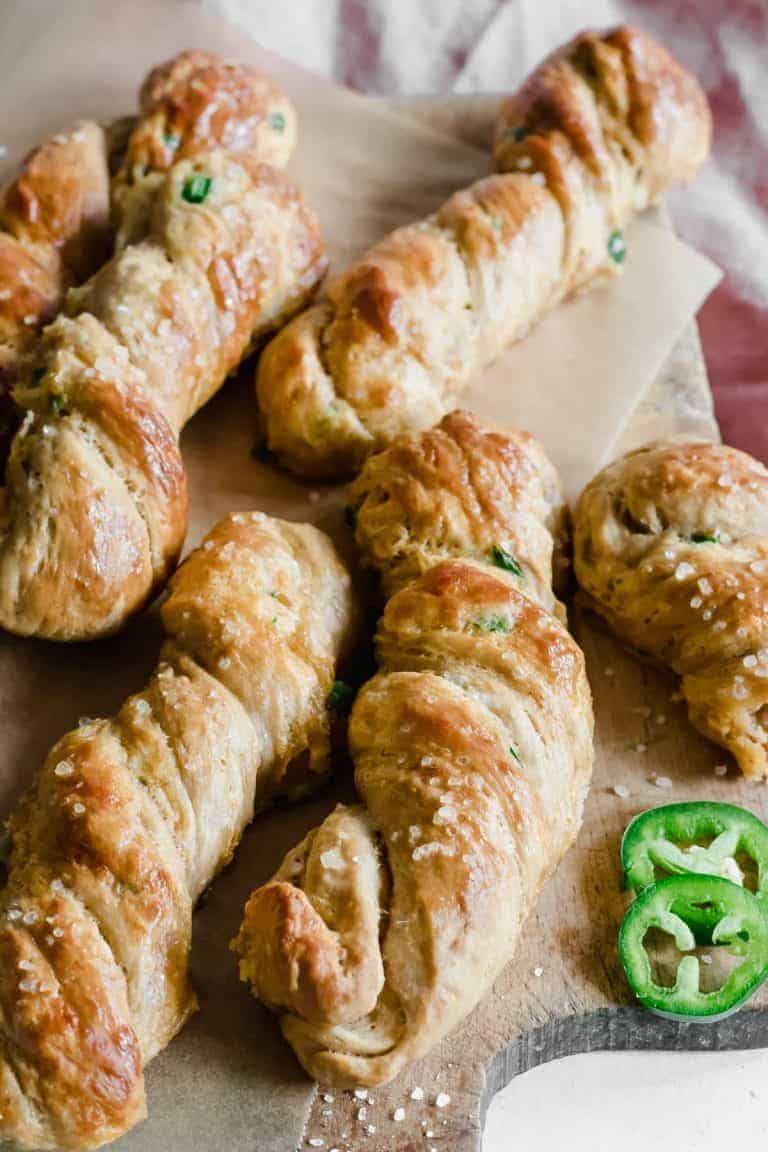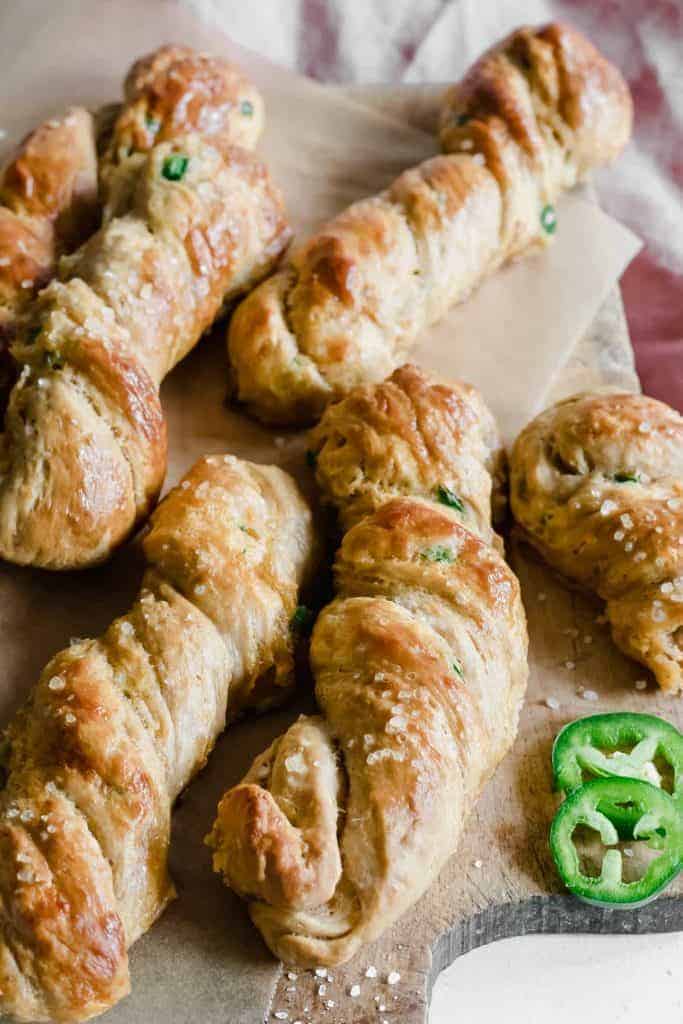 Making pretzels is so much easier than you may think. And if you don't consider yourself a pro with yeast, no worries. The instructions are very easy to follow. The recipe calls for active dry yeast, all I had on hand was instant yeast though. It's a very simple switch and I included how in the notes with the recipe down below.
The best part about these pretzel twists is that the cheese and jalapeños are mixed right into the dough, which means that every bite is loaded up with flavor!
What gives the magical pretzel crust is the dip into the baking soda bath, so make sure you don't skip out on that step. Although the butter bath at the end is not required and I actually skipped it altogether.
And in case you're wondering, yes..these taste amazing when dipped into some Beer Cheese Soup!
Just look at the inside of those pretzel twists in that picture below!! These are perfectly chewy and soft, loaded with cheese and tons of flavor thanks to the beer and jalapeño.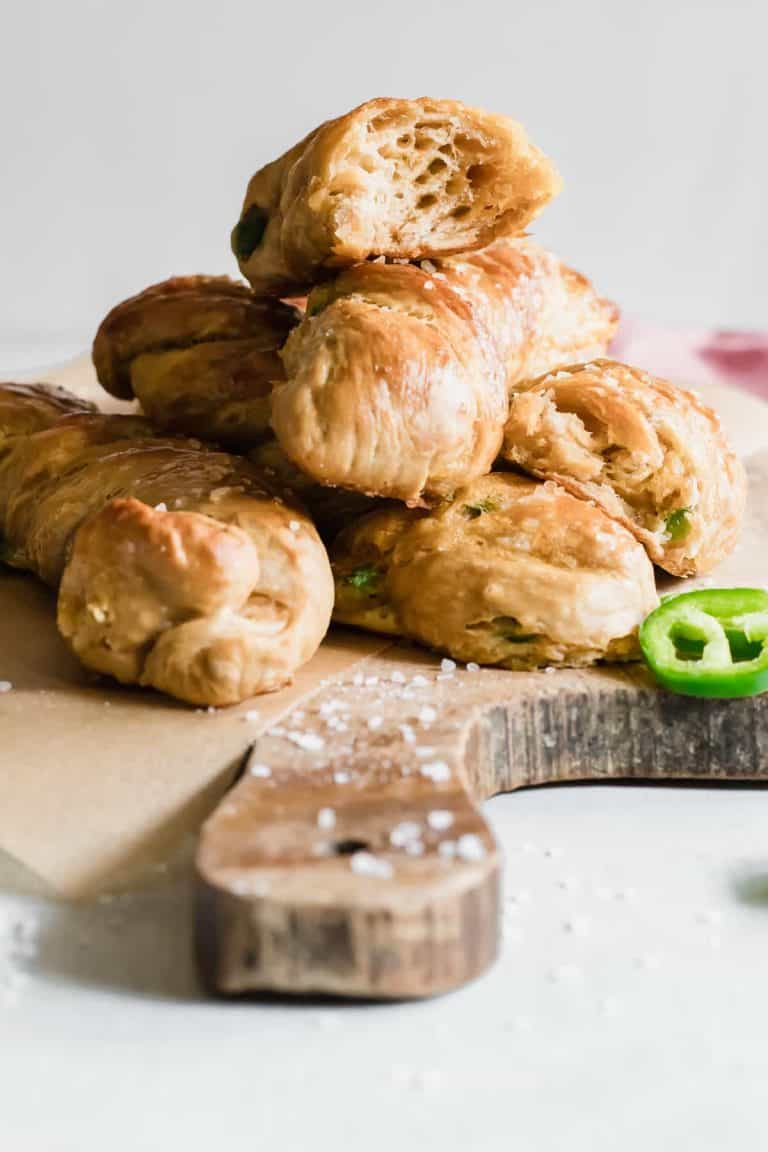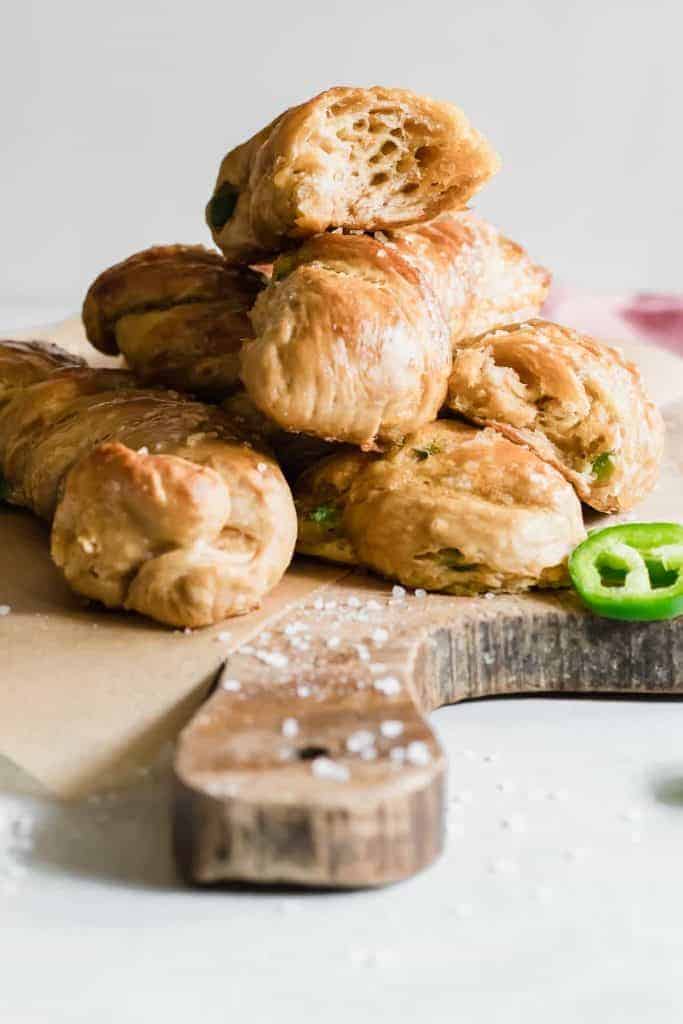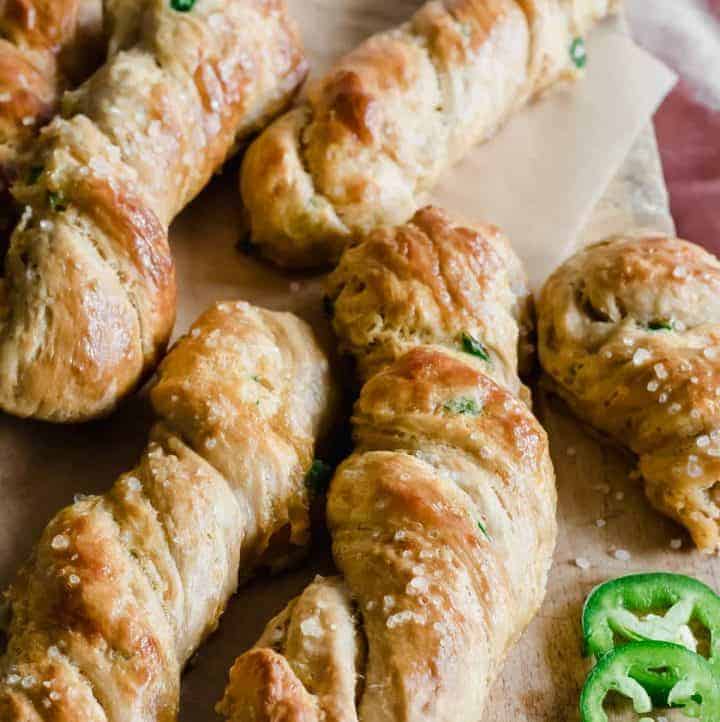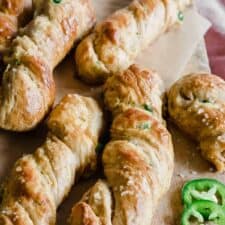 Jalapeno Cheddar Pretzel Twists
Ingredients
1¼ cup beer, warm (110 degrees to 120 degrees F.)
2¼ tsp active dry yeast, (1 packet)
2 tbsp white sugar
3½-4 cups all purpose flour, as needed
1 tsp salt
2 jalapeños , de-seeded and minced
2 cups sharp cheddar cheese, finely shredded
4 cups hot water
¼ cup baking soda
1 large egg
2 tbsp cool water
coarse salt
2 tbsp butter, melted
Instructions
Preheat oven to 450 degrees F. Line baking sheet with parchment paper or spray with nonstick cooking spray.

Pour warm beer into large bowl of a mixer. Sprinkle the yeast on top and then add the sugar. Stir together. Allow this to sit for 3-5 minutes until the yeast is foamy. Add the flour, start with 3 and 1/2 cups and reserve flour for later if needed. Add the salt. Mix with the dough attachment for about 3 minutes until the dough forms a ball.

Add the jalapeños and cheese. Mix again for another minute until combined.

Remove the dough from the mixer, should be slightly tacky but not sticky. Add more flour, 1 tablespoon at a time if needed to reach the tacky stage, the dough should not stick to your fingers when you pull them away. (I used exactly 3 and 1/2 and had the perfect consistency.)

Place the dough on an unfloured clean workspace. Form the dough into a ball and cut into four equal pieces. Roll each piece into a log shape and cut into three equal pieces. There will be 12 pieces of dough.

Roll each piece of dough into a rope shape about 18-24 inches long. Fold the rope in half and then twist. Pinch the ends together and fold back, lay the pretzel twists onto the prepared baking sheet.

Once all twists have been made, mix the hot water and baking soda together in a medium size bowl. Carefully dip 2-3 pretzel twists at a time and allow them to sit for about 30-45 seconds. Remove and lay back on baking sheet. Fix any twisting that may have come undone.

Once all twists have been dipped, prepare the egg wash by mixing the egg and cold water together in a small bowl. Brush the egg wash onto the tops of all the pretzels. Sprinkle with coarse salt.

Bake for about 8-10 minutes until golden brown on top. (I had to bake mine about 12 minutes to get them nice and golden)

Brush the pretzel twists with melted butter. Serve and enjoy!
Notes
Recipe comes from The Simple Kitchen by Chad and Donna Elick of Slow Roasted Italian.
If using Instant Yeast you can skip the first rise, just pour the beer into the mixing bowl then add the flour, salt and yeast and mix.
Nutrition
Calories: 235kcal, Carbohydrates: 31g, Protein: 9g, Fat: 7g, Saturated Fat: 4g, Cholesterol: 33mg, Sodium: 1002mg, Potassium: 82mg, Fiber: 1g, Sugar: 2g, Vitamin A: 234IU, Vitamin C: 3mg, Calcium: 144mg, Iron: 2mg
SaveSave
SaveSave
SaveSave
SaveSave
House of Yumm is a participant in the Amazon Services LLC Associates Program, an affiliate advertising program designed to provide a means for us to earn fees by linking to Amazon.com and affiliated sites.