Horchata Granita (with dulce de leche)
Homemade horchata frozen into a granita and drizzled with dulce de leche!  A perfect cold treat bursting with cinnamon and caramel flavors!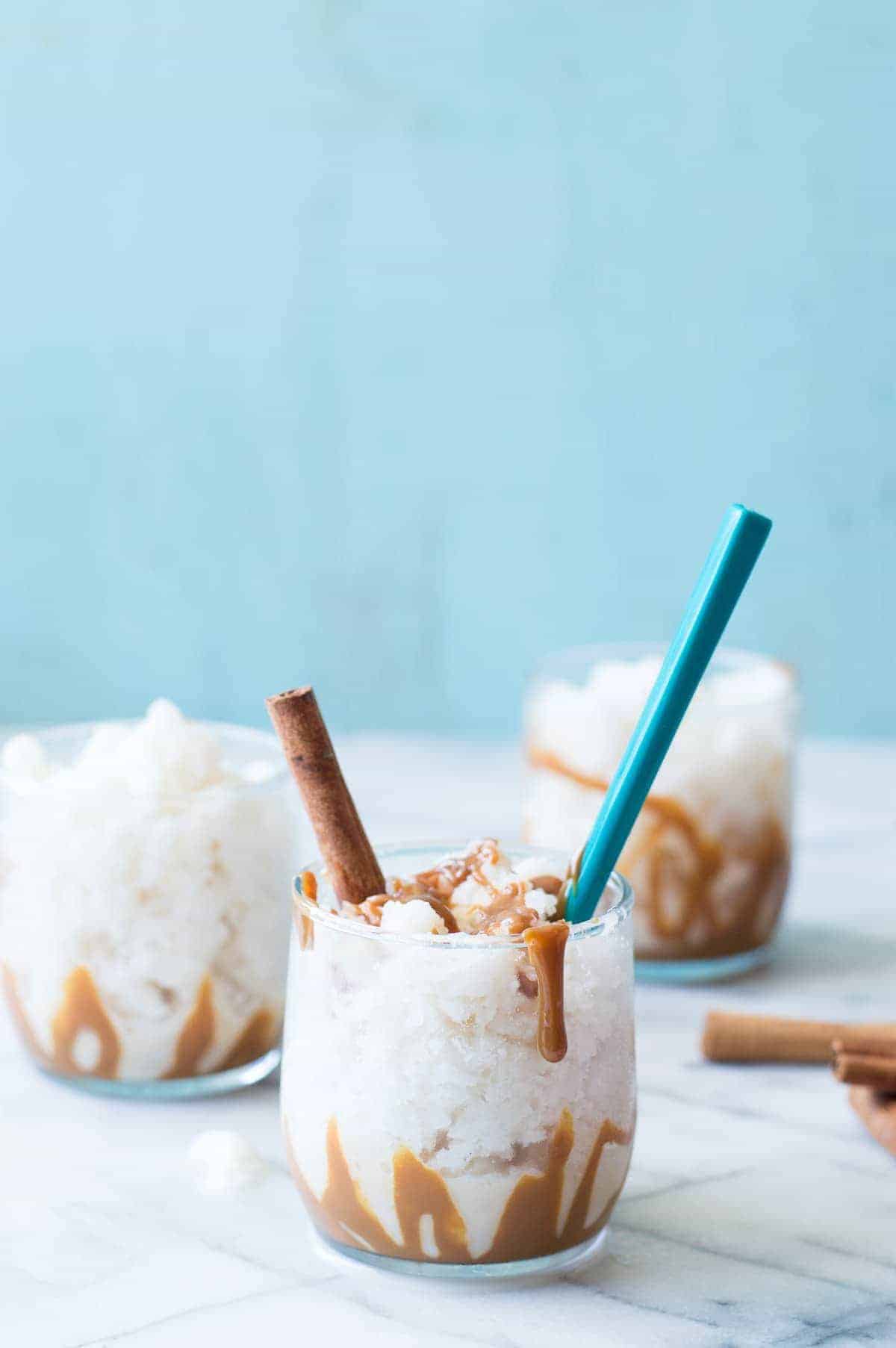 Happy Monday y'all! Another Monday, another week.  Another scrumptious recipe.  Have you ever had horchata?
Horchata is a Mexican drink.  It's basically a rice milk with cinnamon and sugar.  It's really easy to make at home also.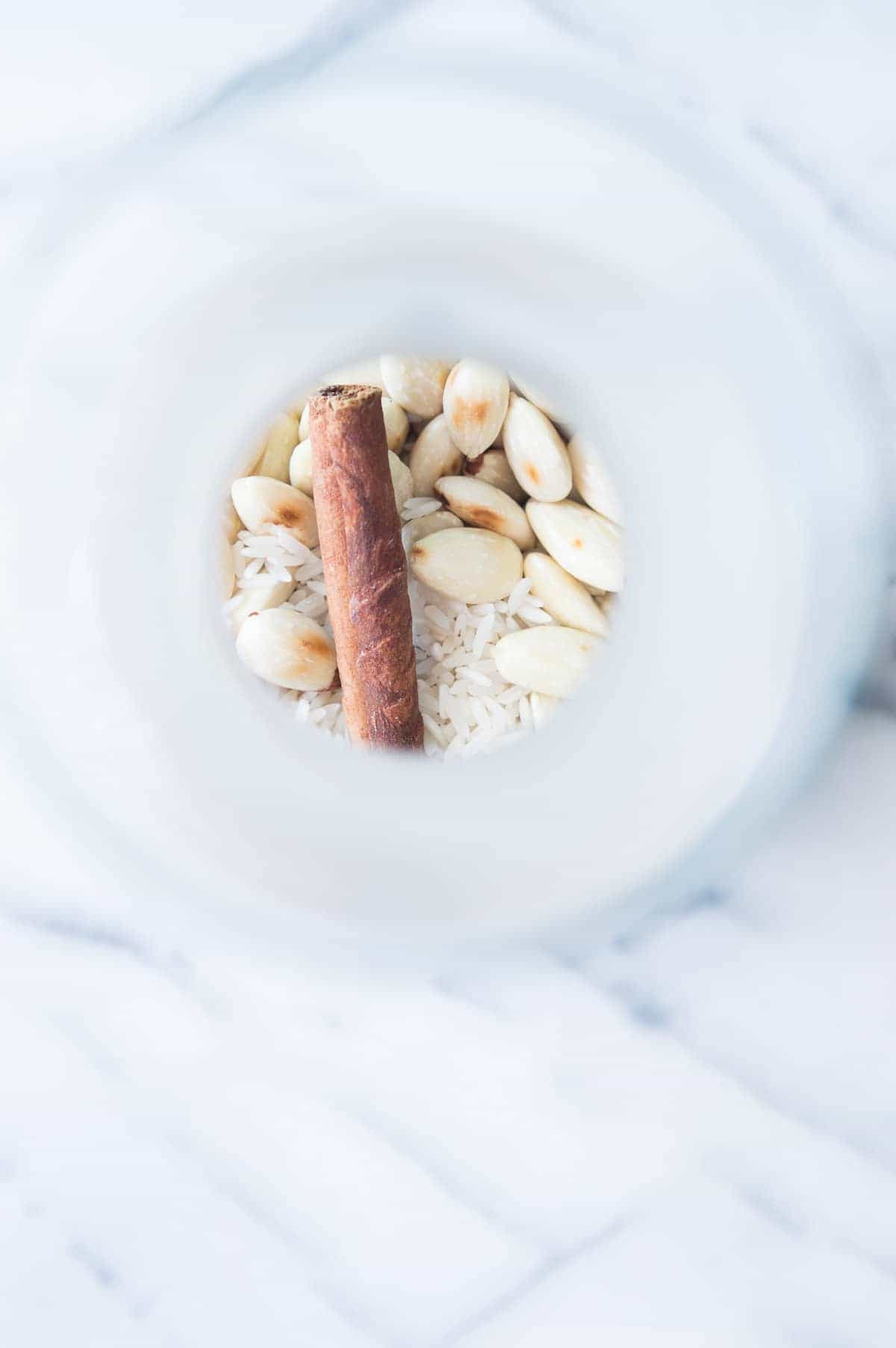 There are lots of different versions of how to make homemade horchata available online.  There's some versions that only use rice, and some that use almonds and rice.  I use almonds in my version, I like the nuttiness it gives.  You can always leave out the almonds and make this recipe using one cup of rice instead.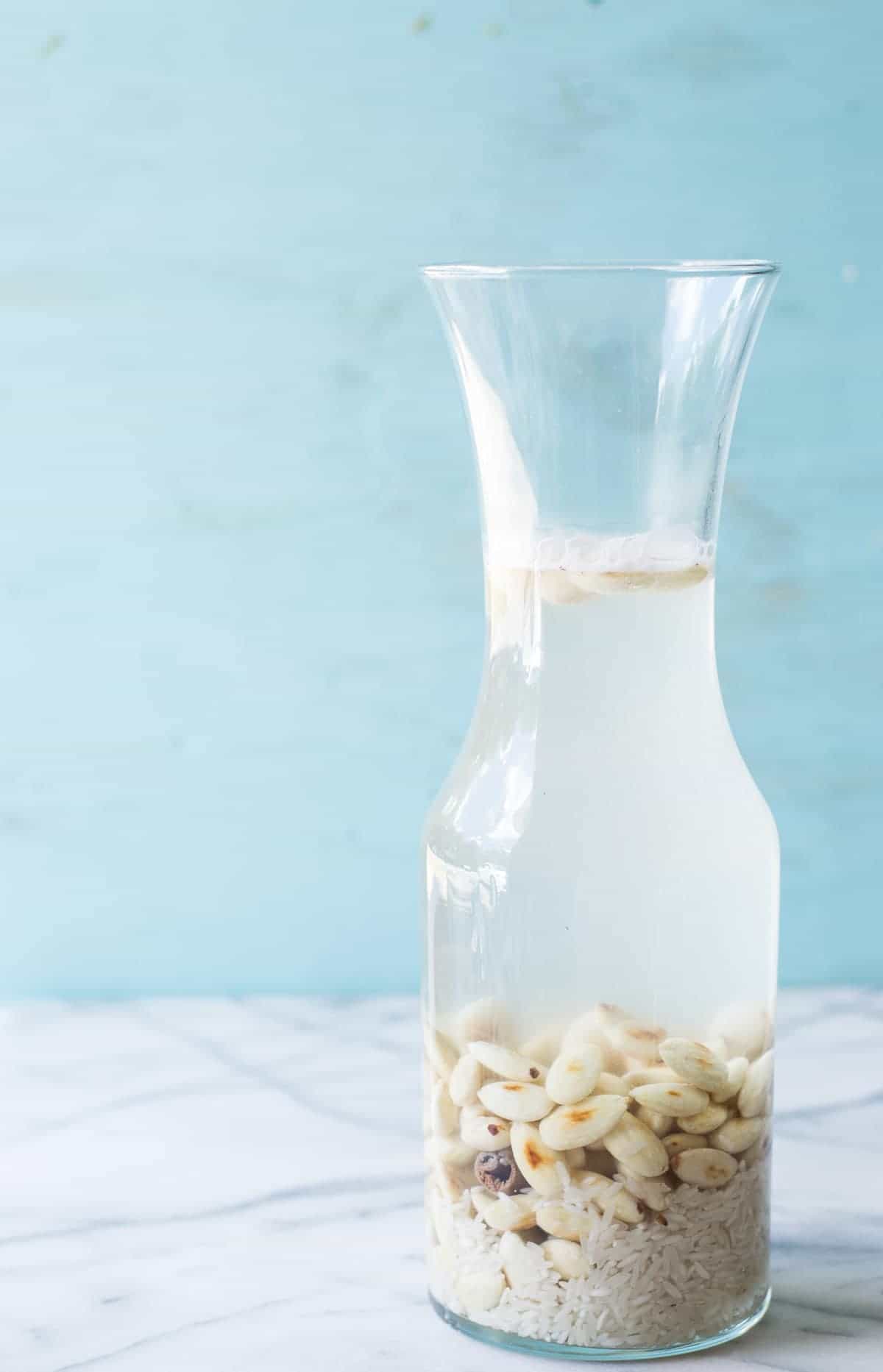 We're going to blanche the almonds, then remove the skins.  This is the most tedious task, not difficult, just takes a little bit of time, but after blanching the almonds the skins just slip right off.  Then give them a quick toasting in a skillet.  Toss the rice, toasted almonds, and a cinnamon stick in a large jar or carafe and let it soak for at least 3 hours or overnight. Bam.  Easy peasy.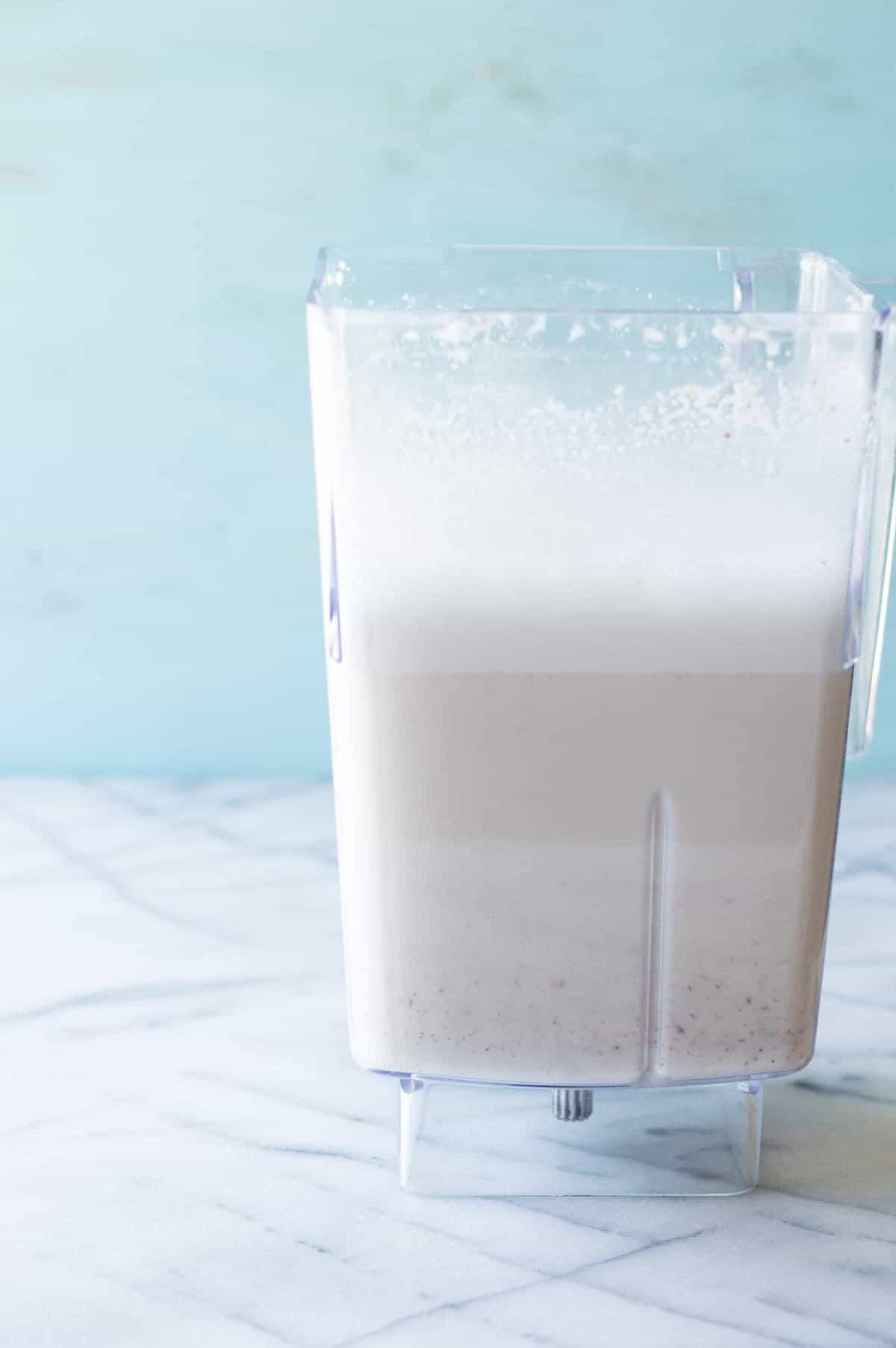 The next day toss the mixture in the blender, give it a whirl, pour through a fine mesh strainer, add some vanilla, milk, and sugar, and you are done.  Homemade horchata!
Or… of course if you're short on time and just really want to enjoy this dessert, then you can always buy horchata from the market.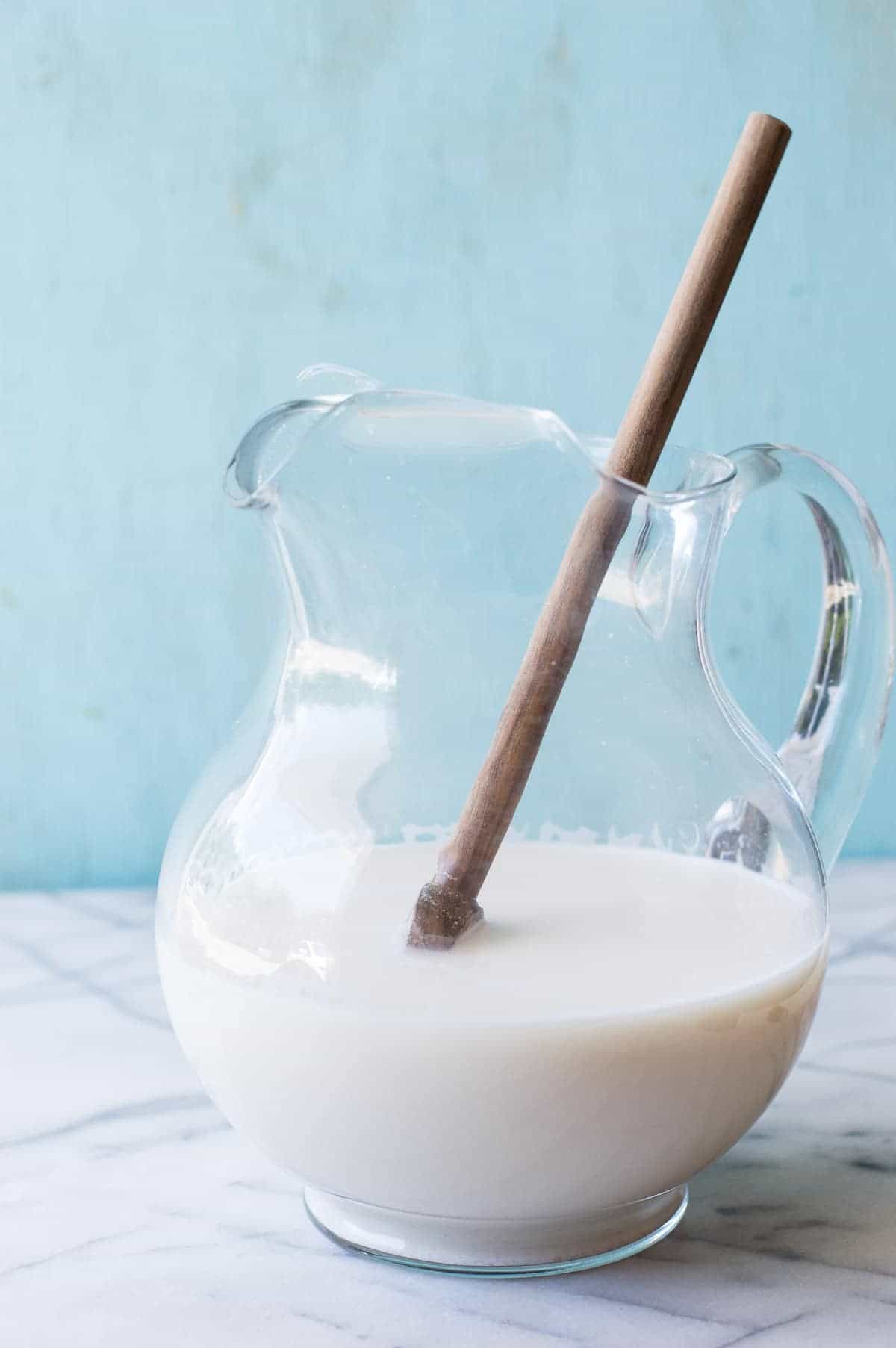 Now we're going to have a little fun with it.  What is one to do when they're craving fall flavors (i.e. cinnamon) and it's still hot outside?  We make a horchata granita.  Granitas are easy to make and a fun frozen treat that doesn't require any kind of churning or fancy equipment.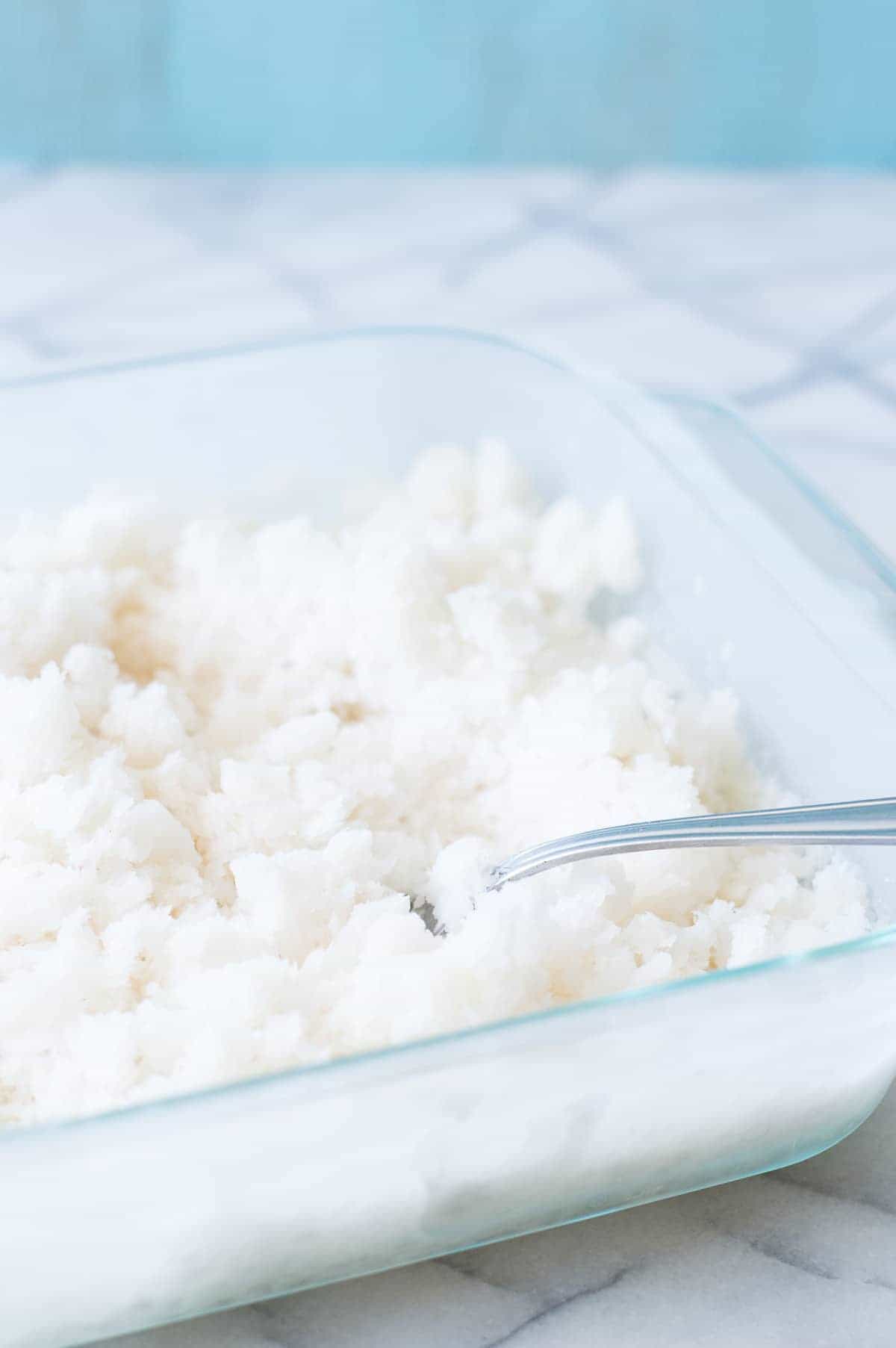 Pour the horchata into a baking dish, place it in the freezer and every 30 minutes go and scrape it with a fork.  Make sure that you get along the edges and mix it all up.  Otherwise you will end up with a large horchata ice cube.  Do this for about 3-4 hours and you will have a fluffy frozen horchata granita.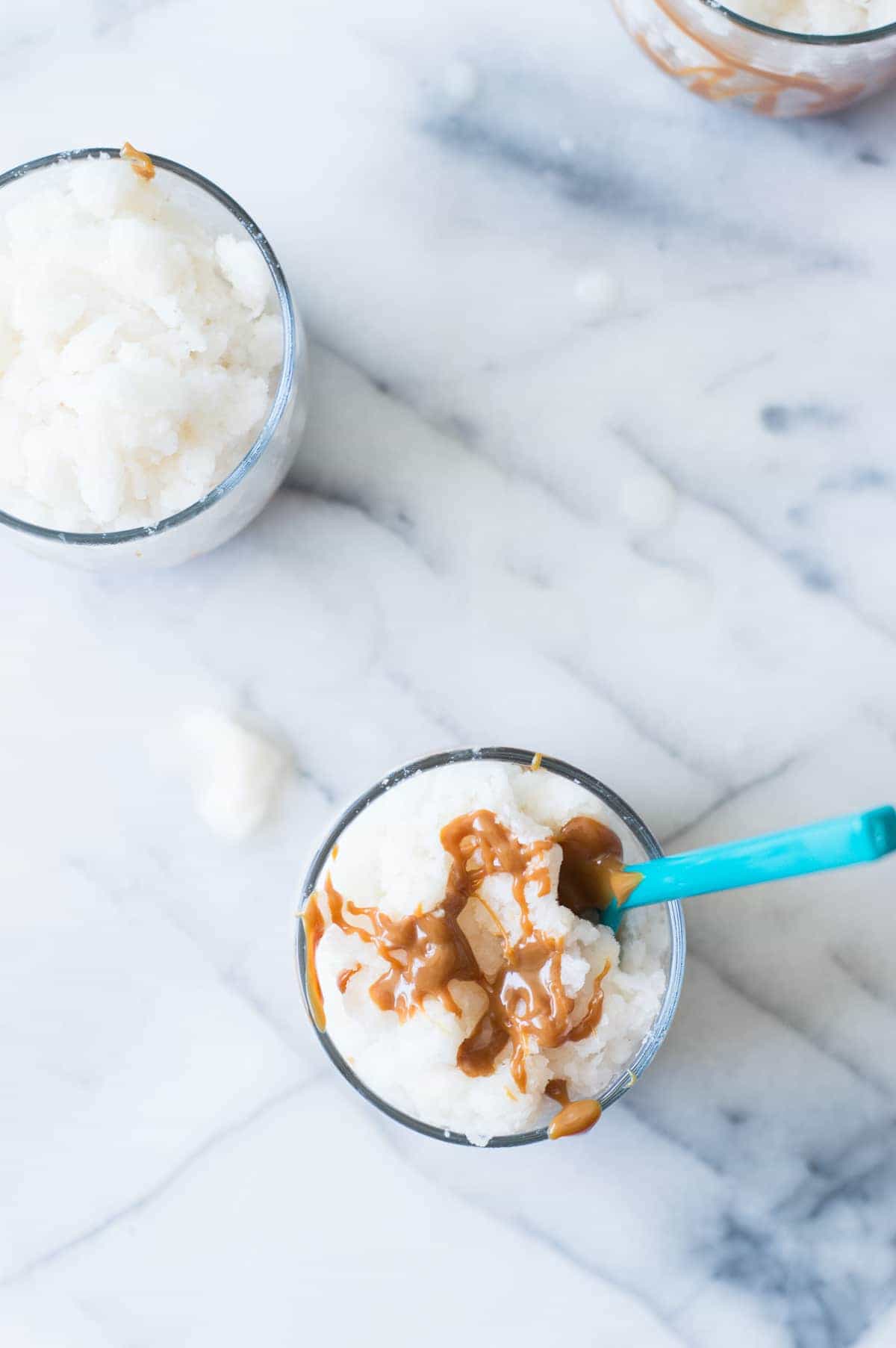 At this point we can scoop it into glasses and enjoy our homemade horchata granita.  Oooorrrrr…
We could drizzle some dulce de leche all over a glass, spoon in the horchata granita, and then drizzle more dulce de leche on top.
My vote?
the second option.  I love dulce de leche. (Remember that dulce de leche ice cream from not too long ago??)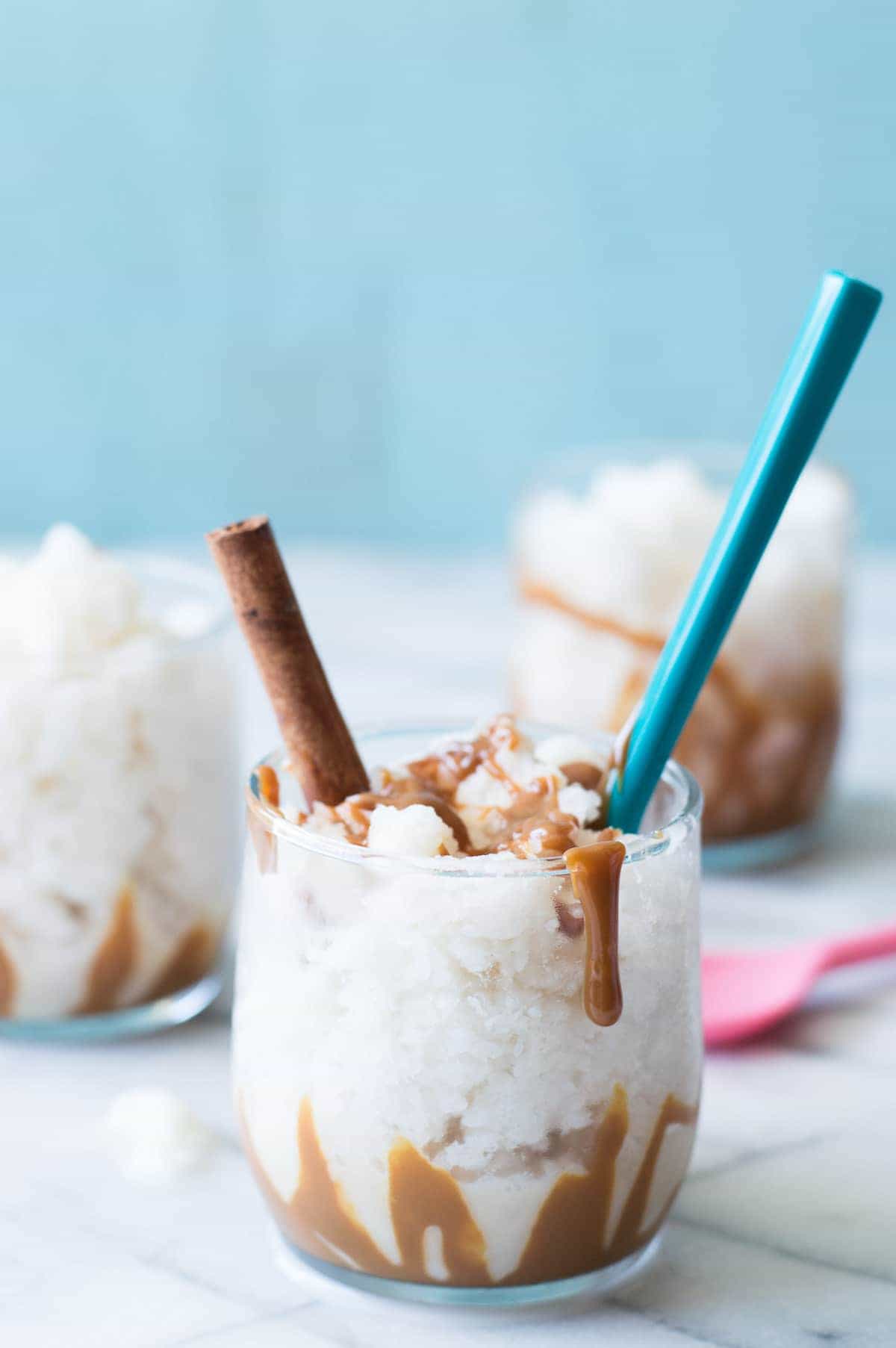 Cinnamon stick garnish?  Purely decorational.  Please do not eat the cinnamon stick.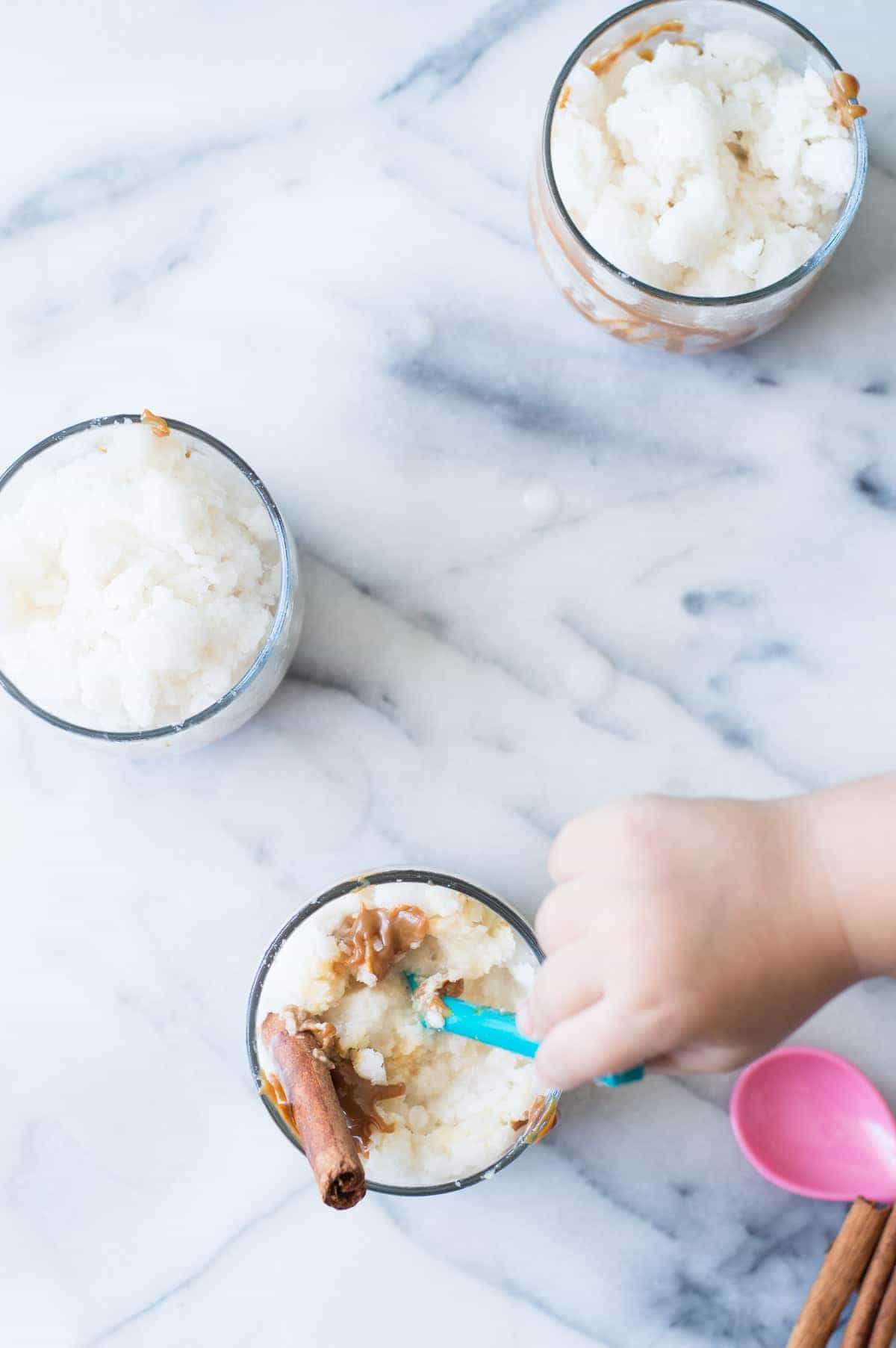 Need some more dessert inspiration??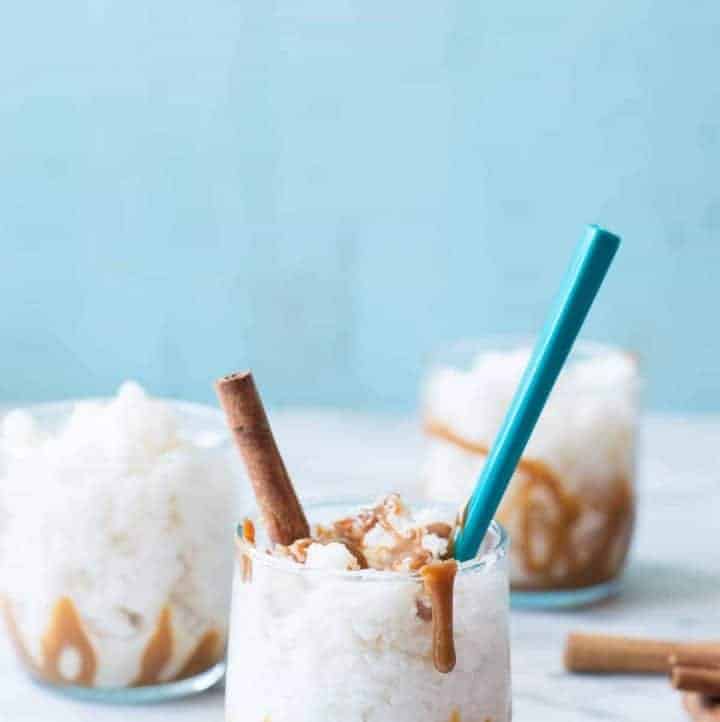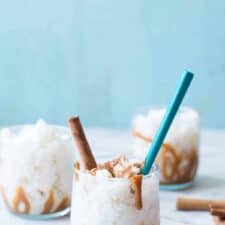 Horchata Granita (with dulce de leche)
Homemade horchata frozen into a granita and drizzled with dulce de leche! A perfect cold treat bursting with cinnamon and caramel flavors!
Ingredients
⅓ cup long grain white rice, uncooked
1 cup almonds
1 cinnamon stick
1 tsp vanilla extract
4½ cups water, divided
¼ cup whole milk
½ cup sugar
⅛ tsp salt
Instructions
Blanche the almonds by bringing a pot of water to a boil, pour the almonds in and let them cook for about one minute, then drain them and run them under cold water to stop the cooking process.

Once the almonds are cooled slip the skins off. Pat dry with paper towel.

Add to a skillet and toast over medium heat until lightly toasted, a golden brown color.In a large carafe add the long grain rice, toasted almonds, cinnamon stick, and 3 cups of cold water. Allow this to sit for at least 3 hours.

Pour the rice mixture into a blender and blend on high speed for about 5-7 minutes. The rice and almonds should become really fine almost like flour and mix into the water.

Pour this mixture through a fine mesh sieve over a pitcher. Add in the remaining 1 and 1/2 cups of water, vanilla, milk, and sugar (start with less sugar..add according to taste) and just a pinch of salt. Stir to combine.

To make this a granita, pour the horchata into a baking dish. Place this in a freezer. Every 30 minutes for the next 3-4 hours use a fork to scrape the horchata. Make sure to scrape along the edges. Once the mixture is slushy like then spoon into a cup, drizzle with dulce de leche, serve immediately and enjoy!
Notes
Times includes time for preparing the horchata, soaking the rice, and freezing the granita. ***Can not include almonds and substitute by adding more rice. Use 1 cup of rice and follow the rest of the recipe. ***Milk can be omitted if necessary. Can always use store bought horchata to make the granita also.
Nutrition
Calories: 249kcal, Carbohydrates: 31g, Protein: 6g, Fat: 12g, Saturated Fat: 1g, Cholesterol: 1mg, Sodium: 63mg, Potassium: 193mg, Fiber: 3g, Sugar: 18g, Vitamin A: 16IU, Calcium: 88mg, Iron: 1mg
Products I Recommend for this Recipe: 
SaveSaveSaveSave
House of Yumm is a participant in the Amazon Services LLC Associates Program, an affiliate advertising program designed to provide a means for us to earn fees by linking to Amazon.com and affiliated sites.