This quinoa salad is a copycat version of the Healthy Hybrid Quinoa Salad from StoneFire Grill.  This salad is loaded with cucumber, tomato, garbanzo beans, red onion, green pepper, feta cheese, and tossed in a delectable dijon vinaigrette.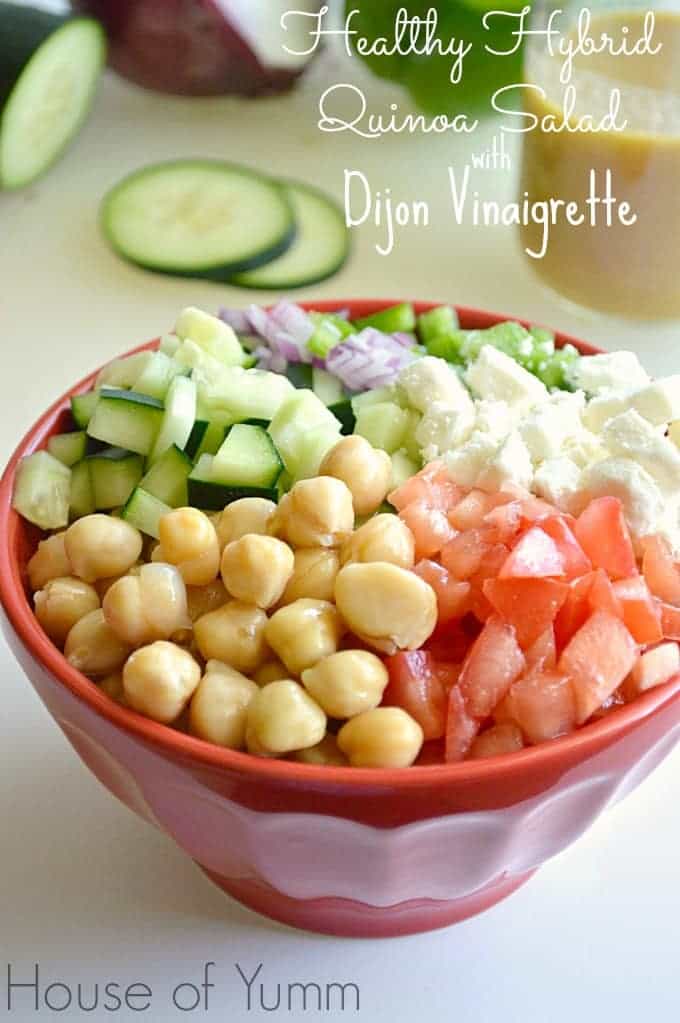 One of my favorite places to go out to eat is StoneFire Grill.  And it makes me sad that there aren't more of these restaurants throughout the country.  They're only located in the LA area in Southern California.  My absolute favorite thing from there, the thing I order every time I go, is the Healthy Hybrid Salad.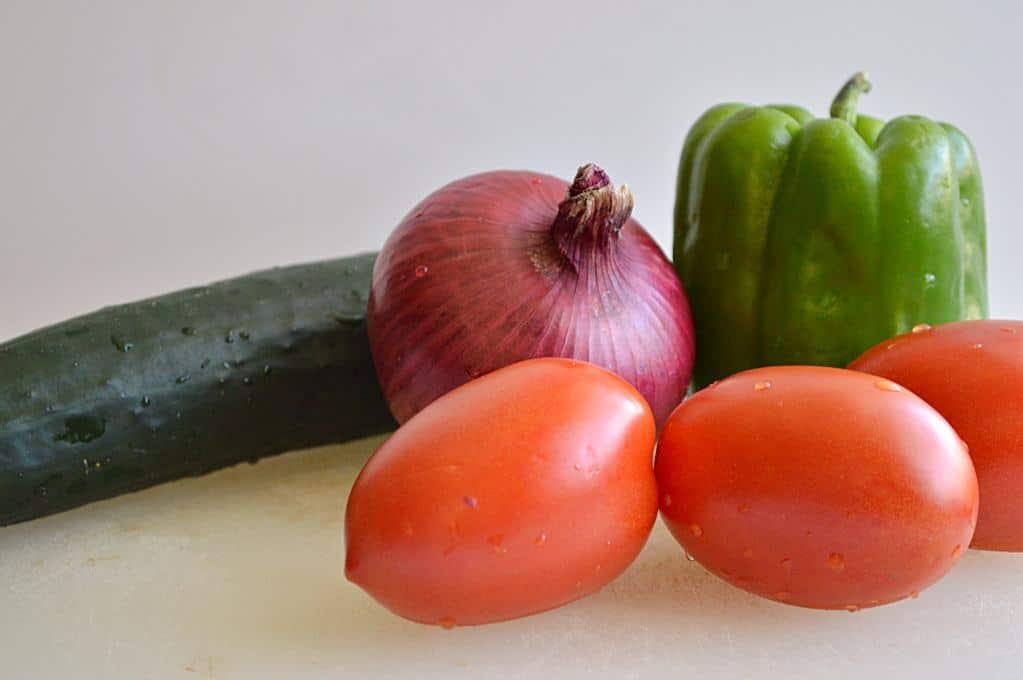 Since I am in the process of moving to Texas, I figured I should learn how to make it since I won't be able to go there anymore.  Sadface!!
But on the brightside, now I have this awesome recipe to share with you!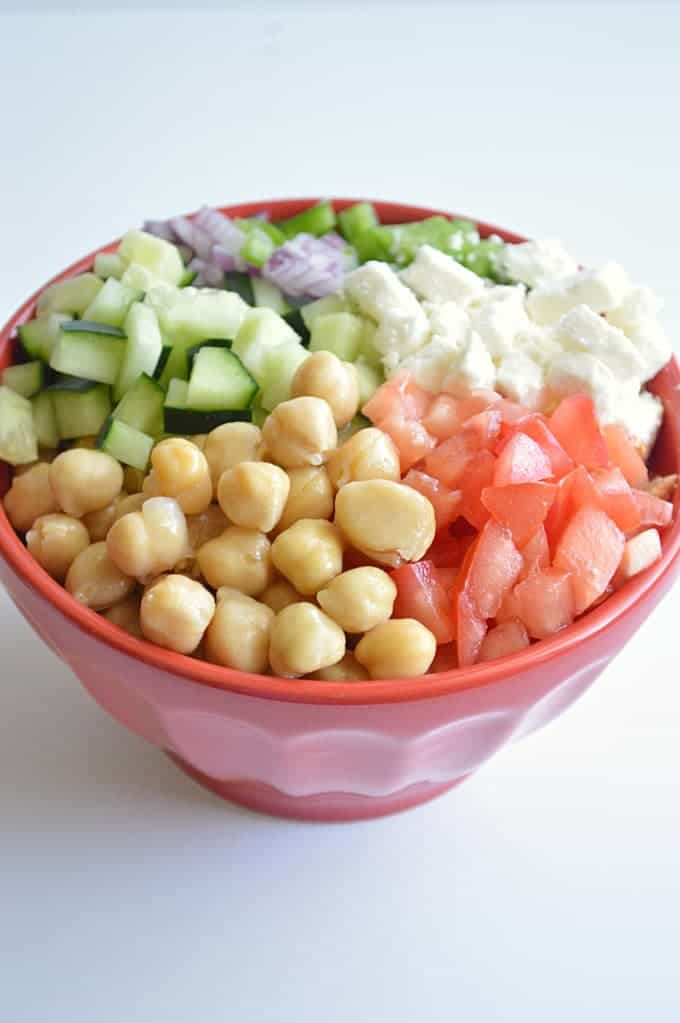 First, a silly story.
Every night for dinner we all sit down at the table.  We pray.  We eat.  We talk!  We go around and usually ask the same questions every day.  What was the best part of your day?  What was the worst part? Do you have a silly story?  What's something nice you did for someone today?  And we will typically have a free topic as well where we choose random questions.  For example:  if you could only eat one food for the rest of your life what would it be??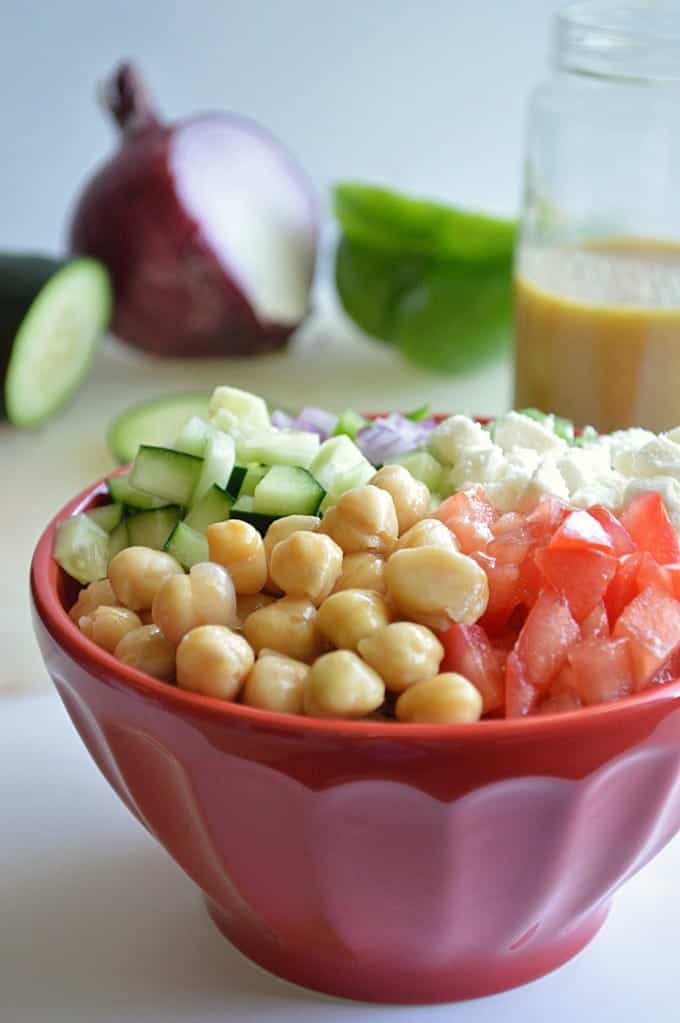 Anyways! I ask my 7 year old..what was the worst part of your day?
Her response: Well.. during recess my friends and I were playing Hunger Games….
And she paused there.  And was quiet.  *Insert wide eyed face here*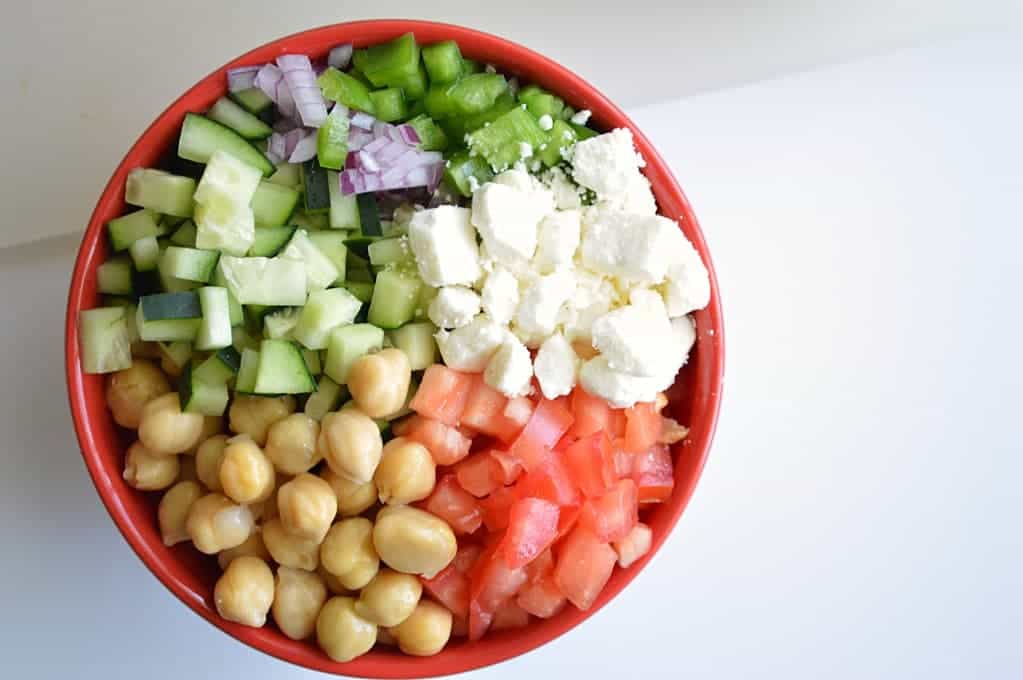 For those of you unaware of the Hunger Games, it's a trilogy of books, being made into movies.  Basically people are chosen to enter in the Games, which are televised, and the object of the game is to kill all the other opponents so you are the sole survivor.
Yikes.  Imagine that on a school playground.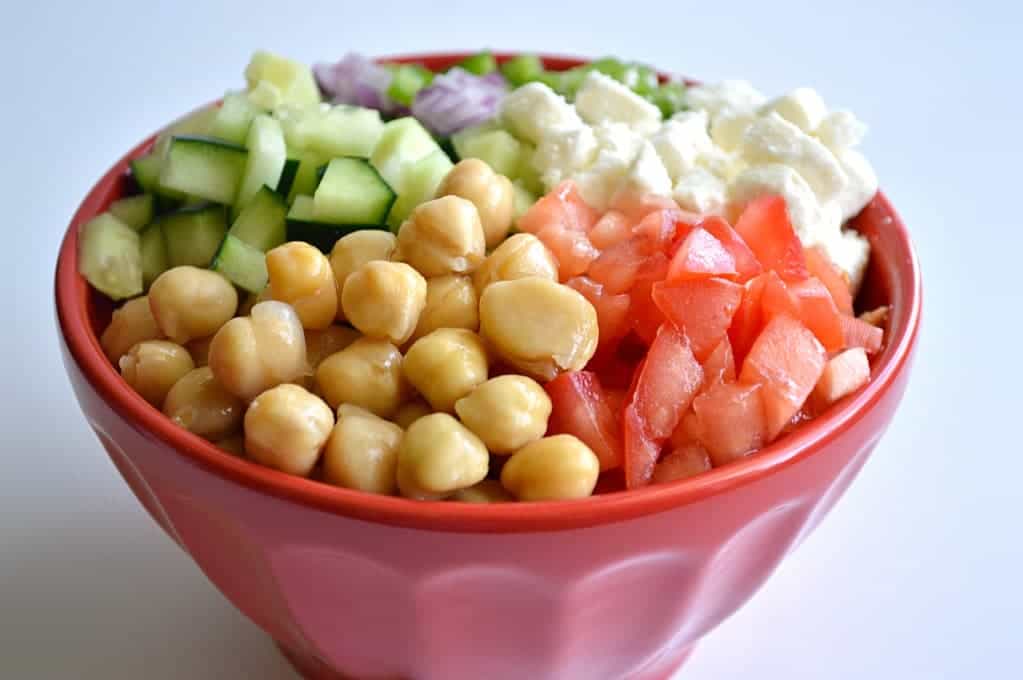 Moral of the story, it's always good to ask your kids questions, find out about their day, you never know what they will tell you!
Back to this quinoa though.  The star of this recipe is the dijon vinaigrette.  Such a wonderful complement to all the veggies and the feta that are in here.  The only ingredient that I didn't include that's in the version at StoneFire is the Kalamata Olives.  If you have some please toss them in!  They will fully complete this meal.
You will love this salad, it is so easy to make and so refreshing!  Nothing I love better on hot days than a refreshing salad!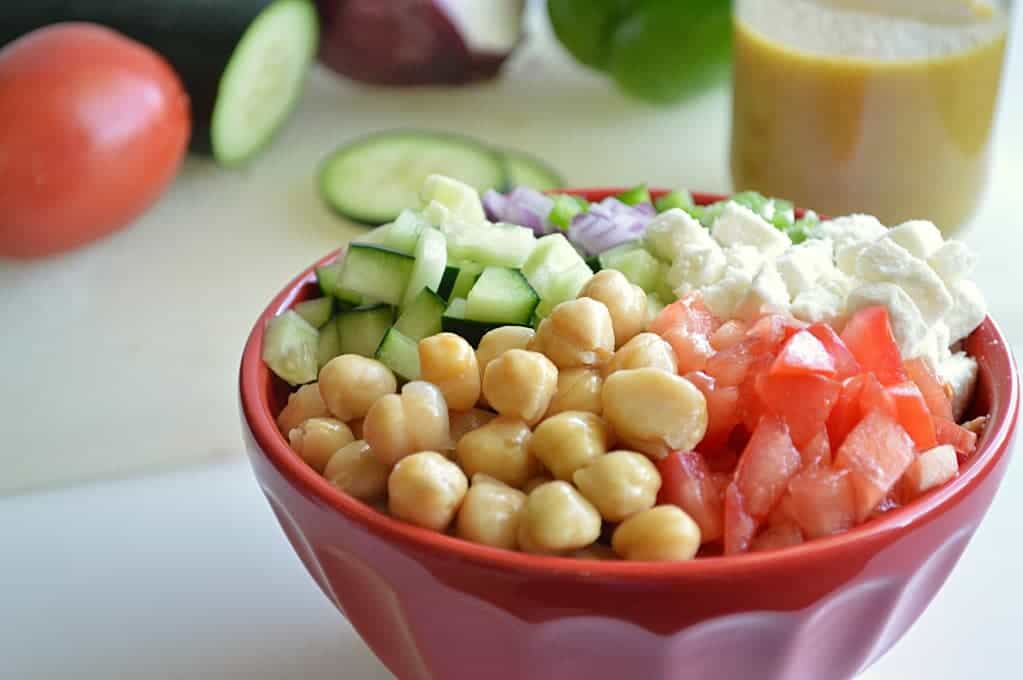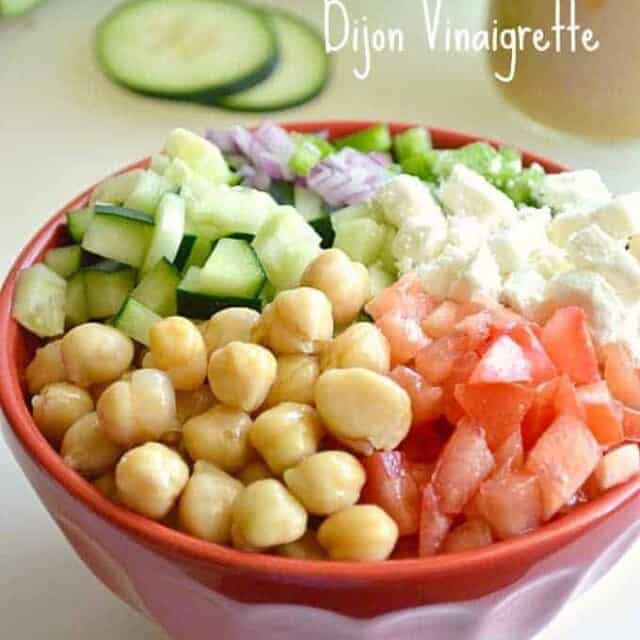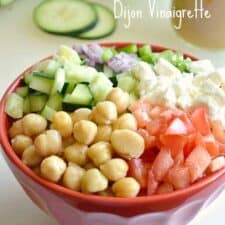 Healthy Hybrid Quinoa Salad with Dijon Vinaigrette
This quinoa salad is loaded with fresh veggies and feta cheese, topped with a decadent dijon vinaigrette.
Ingredients
2 cups quinoa, cooked
1 cucumber , peeled & chopped
2 roma tomatoes , diced
½ cup red onion , diced
1 green bell pepper , diced
1 cup garbanzo beans, drained, rinsed
2 oz feta cheese
Dijon Vinaigrette
2 tbsp agave or honey
¼ cup red wine vinegar
¼ cup extra virgin olive oil
3 tbsp dijon mustard
Instructions
For the vinaigrette whisk together all ingredients until combined

In large bowl stir together quinoa with all salad ingredients.

Add in the dijon vinaigrette and stir until salad is coated in dressing.

Serve or store in refrigerator in air tight container.
Nutrition
Calories: 299kcal, Carbohydrates: 39g, Protein: 10g, Fat: 12g, Saturated Fat: 2g, Cholesterol: 6mg, Sodium: 150mg, Potassium: 435mg, Fiber: 6g, Sugar: 5g, Vitamin A: 241IU, Vitamin C: 16mg, Calcium: 79mg, Iron: 3mg
SaveSave
SaveSave
House of Yumm is a participant in the Amazon Services LLC Associates Program, an affiliate advertising program designed to provide a means for us to earn fees by linking to Amazon.com and affiliated sites.