Gingerbread Men Cookies with White Fudge Icing. These little gingerbread men cookies are soft and crisp, perfectly sweet and spiced with cinnamon and ginger. The finishing touch is the white fudge icing on the back! A homemade take on a market favorite!
Every year I wait for the magical day that a certain market gets all of their Christmas Cookies in stock so I can go load up on my all time favorite Gingerbread Men cookies! I'm fairly certain you might have an idea of exactly which cookies I'm referring to.
These little Gingerbread Men Cookies are soft and crisp, slightly graham cracker-esque. Made with a hint of molasses but mostly brown rice syrup, so they have a lighter color and a lighter flavoring than most gingerbread cookies. The main flavors that come across are cinnamon and of course, ginger.
Can I be honest and tell you I have made about 500 batches of these little Gingerbread Men cookies to get the recipe just right? I was going to post this recipe for you last week and wanted to push it back so that I could test the recipe again to make sure. Then I was going to post it on Monday and decided instead to make a few small tweaks because I just wasn't sure that they were perfect.
But thankfully for all of us and my sanity, I am getting this recipe posted. I am calling it good and they are pretty spot on to the classic cookies from the store.
What makes these the Perfect Cut Out Gingerbread Men Cookies?
There's no leavener. Meaning that there's no baking soda or powder in this recipe. So the cookies will not rise and spread.
No creaming of butter and sugar. Most baking recipes start with creaming the butter and sugar right? That's because typically when we bake we want to add air and make things light and fluffy. Not with these cookies. So no creaming of butter and sugar, means no air, means we can keep our cut out shapes.
Using cold dough. After making the dough we will divide it into thirds, take each portion and stick it on a large piece of parchment paper, fold the paper over so that the dough is sandwiched between the paper, roll it out to about 1/4 of an inch thick with a rolling pin, then place the sheets of dough into the fridge. Let these cool for about 3 hours prior to cutting and baking. This helps keep the shape.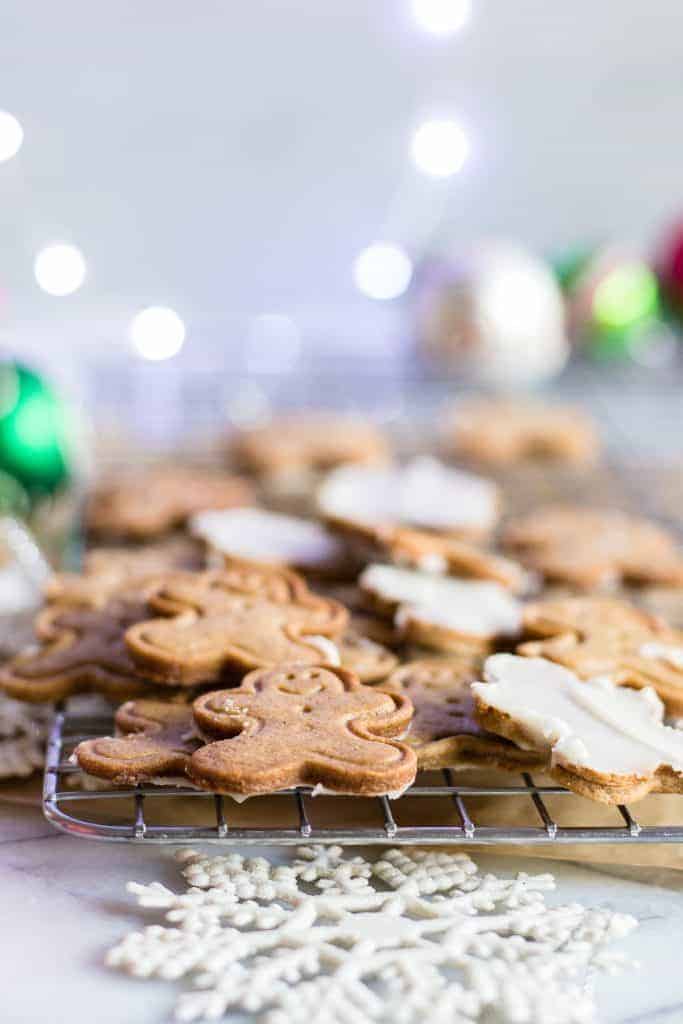 And aren't these the cutest little gingerbread men cookies too?! I found this set of cookie stamp cutters from Amazon. They are small, only about 2-3 inches, but they are adorable and perfect for little hands or portion control. Love them!
Before you go, let's go over some quick notes about the white fudge icing. It does have chocolate it in, so it's easier to spread on the cookies when slightly warmed. The recipe is made to be enough for all of the cookies.
However! Leaving the icing on the cookies will soften them over time.
So how do we solve that??
Easy! Add the icing to the cookies prior to serving them. Or at least the day of. The icing can be in the fridge for a while. So far I have had a batch of icing in the fridge for at least 2 weeks and it's still good. It does chill to a rather solid state. So just warm it up slightly and it will spread onto the cookies easily.
The cookie dough recipe makes a large amount. So what I have been doing is dividing the dough into thirds, wrapping in plastic wrap and only making one batch at a time, while storing the other batches of dough in the fridge. Which is still a large amount of cookies since the cutters are small.
If you're looking to give these as gifts, I would recommend giving the cookies wrapped in a baggie and perhaps a small jar like these pretty ones, with the icing. This way the cookies remain crisp and fresh until the receiving party decides to enjoy.
Also make sure you check out my Easy Iced Sugar Cookies and Cinnamon Sugar Cookies too!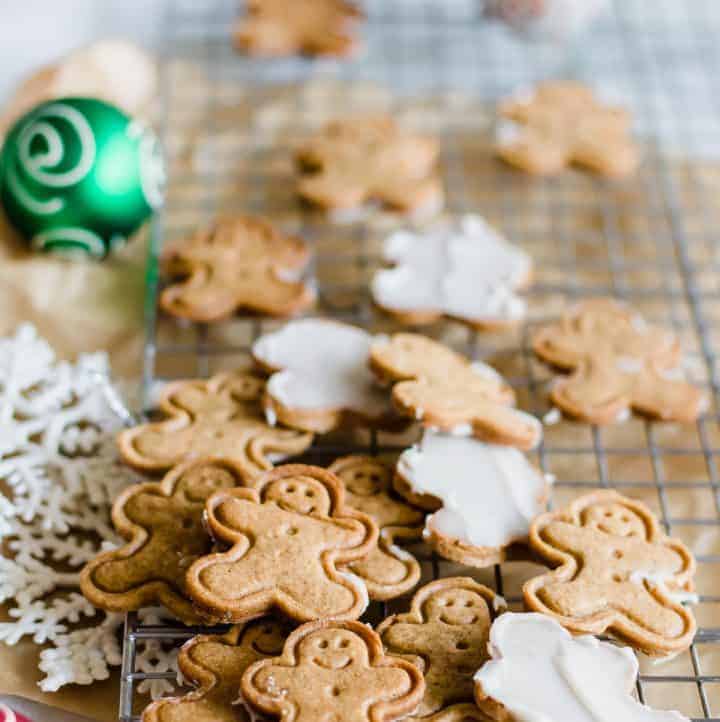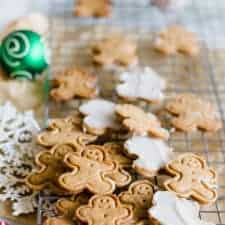 Gingerbread Men Cookies with White Fudge Icing
Gingerbread Men Cookies with White Fudge Icing. These little gingerbread men cookies are soft and crisp, perfectly sweet and spiced with cinnamon and ginger. The finishing touch is the white fudge icing on the back! A homemade take on a market favorite!
Ingredients
White Fudge Icing
½ cup unsalted butter , softened
2 ounces white chocolate , melted
¼ cup milk
3⅔ cup powdered sugar
1 tsp vanilla extract
Instructions
Gingerbread Men Cookies
In a large mixing bowl add the softened butter and light brown sugar. Stir with a spoon until mixed. Read notes above about not creaming together.

Add in the cinnamon, allspice, ginger, salt, molasses, brown rice syrup, egg and vanilla extract. Stir together with a spoon until mixed.

Add in the flour and stir until combined. Can use hands at this point to ensure dough is mixed together.

Divide the dough into three sections. If making all of the cookies then roll out all of the dough between pieces of parchment paper. If saving some dough then wrap in plastic wrap and place in refrigerator. Once the cookie dough is rolled out place in the refrigerator to chill for at least 2 hours.

Preheat the oven to 350°F. Line a large baking sheet with parchment paper or silicone baking mat.

Cut out the cookies and place on the baking sheet. Bake the cookies for about 8-10 minutes. Cookies will still feel soft and edges will be just turning browned.

Allow the cookies to cool on the baking sheet for about 5 minutes. Then remove from the sheet and continue to cool on a wire rack.
White Fudge Icing
In a medium size bowl cream the butter, add in the melted chocolate, make sure it's not hot so the chocolate doesn't melt, but the chocolate should still be able to be stirred.

Stir in the powdered sugar, milk, and vanilla extract until smooth.

Frost the back of the cooled cookies and allow to sit to allow the icing to harden.
Notes
Cookies will soften if stored overnight with the icing. If you don't want them softer then store the icing in the fridge and add to the cookies prior to serving. Just warm the icing up slightly to make it easier to spread on. Using the little cookie cutters mentioned in the post this recipe will make about 75 cookies, less if using larger sized cookie cutters.
Nutrition
Calories: 548kcal, Carbohydrates: 88g, Protein: 4g, Fat: 21g, Saturated Fat: 13g, Cholesterol: 67mg, Sodium: 84mg, Potassium: 100mg, Fiber: 1g, Sugar: 66g, Vitamin A: 601IU, Calcium: 51mg, Iron: 2mg
SaveSave
SaveSave
SaveSave
SaveSave
SaveSave
House of Yumm is a participant in the Amazon Services LLC Associates Program, an affiliate advertising program designed to provide a means for us to earn fees by linking to Amazon.com and affiliated sites.