These funfetti sugar cookie cups are filled with cake batter flavored frosting!  These bite sized treats are simple, easy, and taste so good they will knock your socks off!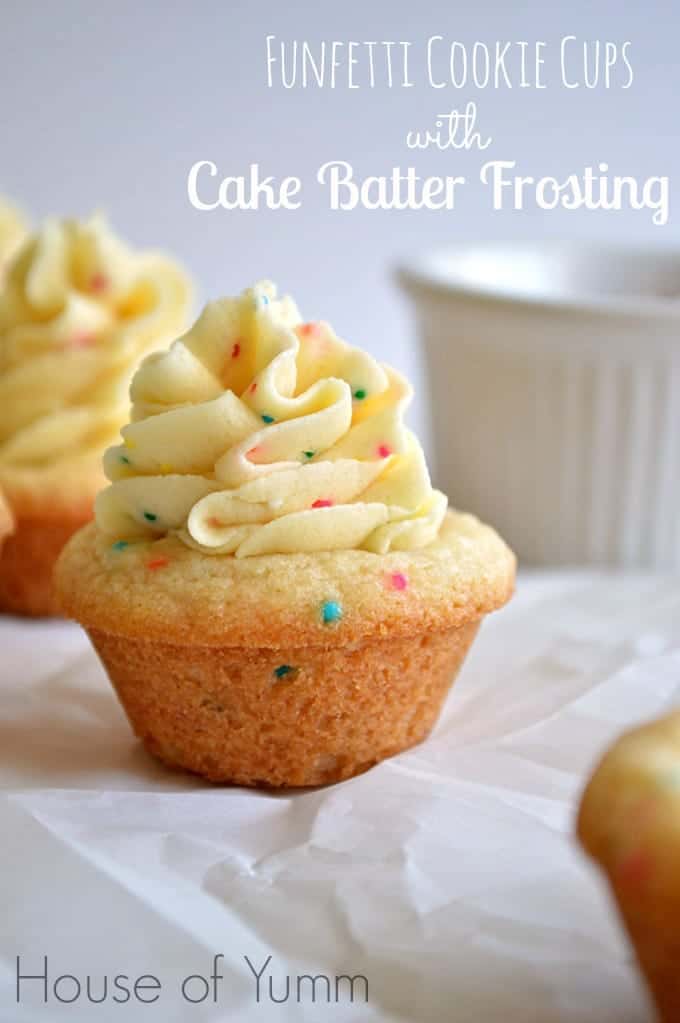 Happy Tuesday everyone!  And a Happy late Memorial Day.  Hopefully everyone is recovering from too much BBQ,too much sun and too much FUN!  What?!  Can you have too much fun?
I suppose it's possible.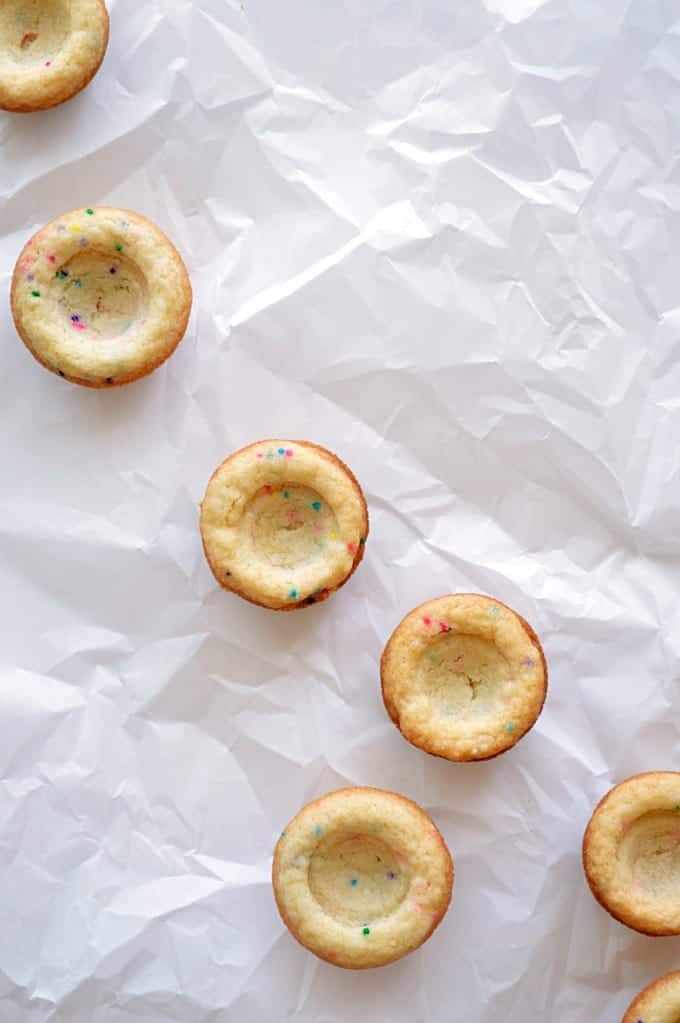 One thing I know for sure you can't have too much of though.  Funfetti.  Cake batter.  Sprinkles.
Okay, okay.  That's actually three things.
And this wonderful recipe combines them all in a delightful way.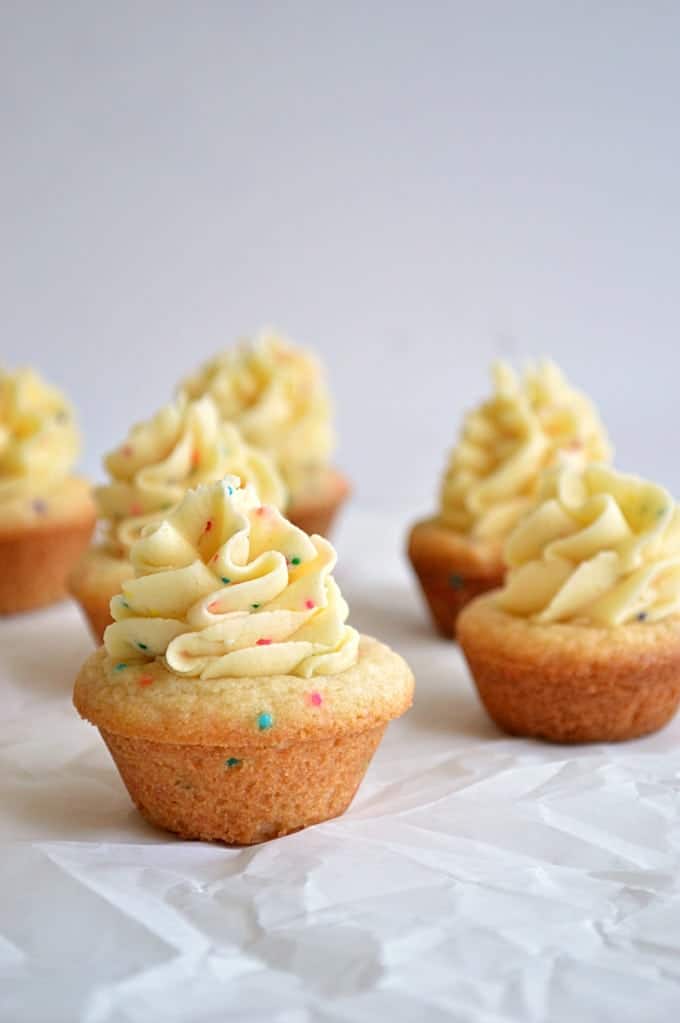 Funfetti sugar cookie cups.  Again, made with a quick and easy sugar cookie mix, just like the Twix Sugar Cookie Cups, but this time I added 2 teaspoons of sprinkles to the batter before I cooked them so that they were fun and Funfetti-ish (yes, I just said Funfetti-ish).
So then we have a base of funfetti sugar cookie.  What could make those better?!  Well, what makes anything better?  Cake batter!! Of course, cake batter frosting.  Why have I not made this sooner?  When I thought of it I could feel my eyes go wide in wonder and excitement.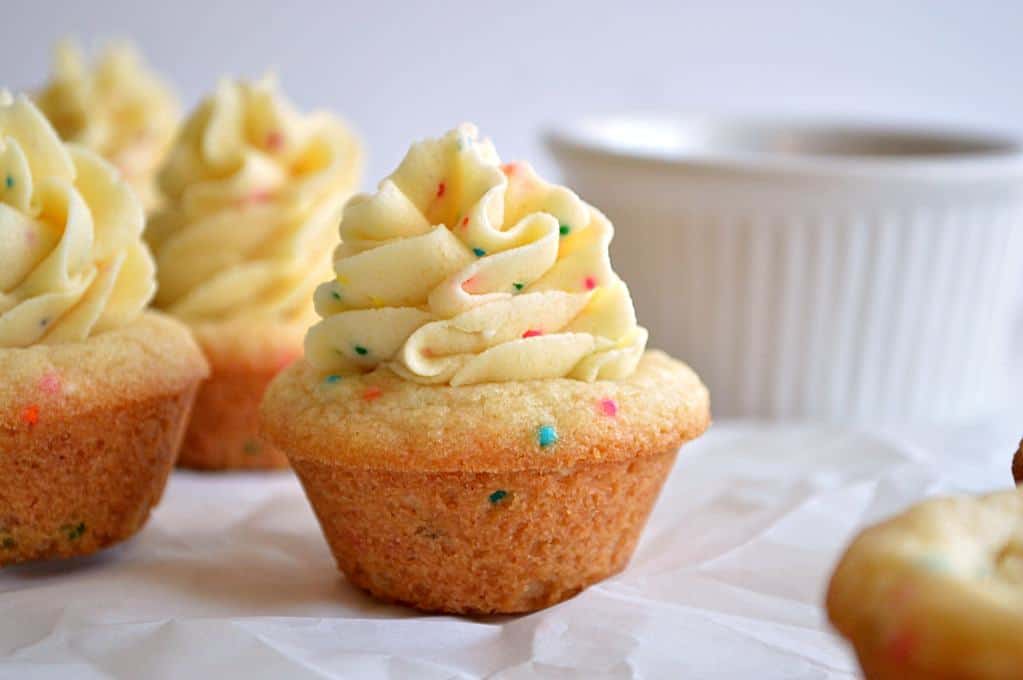 The taste of it was everything I had hoped and dreamed it would be.  The pure essence of cake batter in the form of a frosting.  The quintessence of cake batter.  That's right I said quintessence.  For those of you saying to yourself  "She probably just watched The Secret Life of Walter Mitty… no one uses that word…"  You are absolutely correct!!  Wasn't that such a good movie!?!
If you haven't seen it yet, I recommend making some of these funfetti cookie cups and sitting down to watch it.  You will not be disappointed; with the cookie cups or with the movie.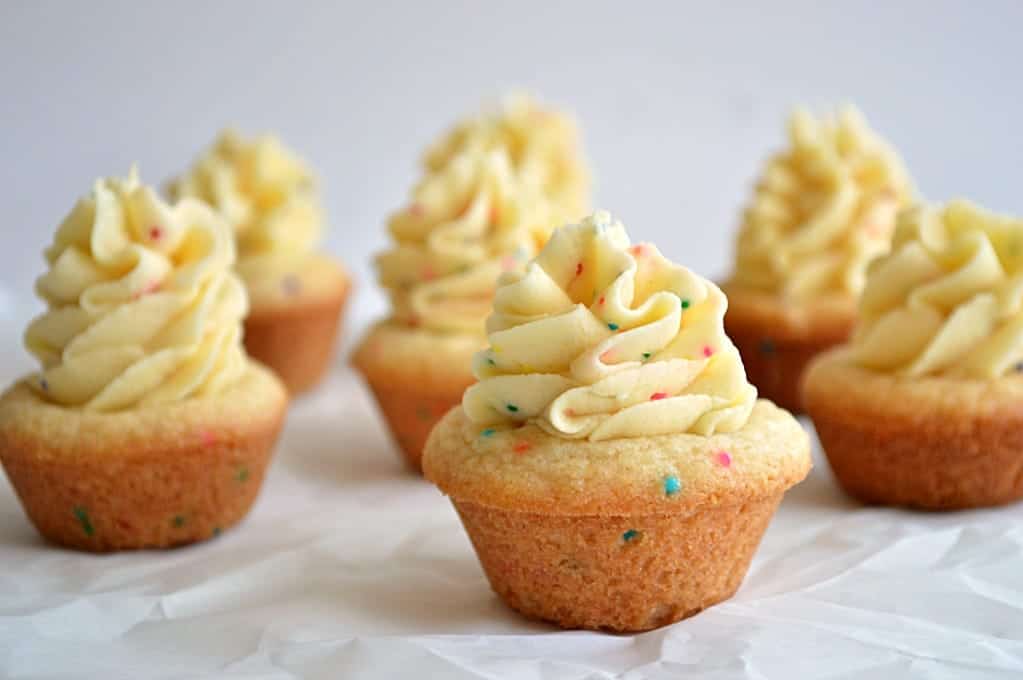 Quick tips on making sugar cookie cups: 
Don't be intimidated to make these.  All it takes is a mini muffin tin, make sure you spray it with some non-stick cooking spray.  Once you have the dough, just roll it into little balls about 1 inch in diameter.  Place the dough into the muffin tin and slightly press it down with your thumb making an indent in the center of the dough.  This helps them to bake more evenly and quicker.  I bake mine for about 9 minutes.  When you remove them from the oven you will see that the indent has pretty much disappeared.  I use my 1/4 teaspoon, since it's perfectly round, and slightly press down on the top of the cookie cup again.  This creates the perfect size indent for the cookie cups.  Allow them to cool in the pan for 5 minutes and then remove to finish cooling on a wire rack.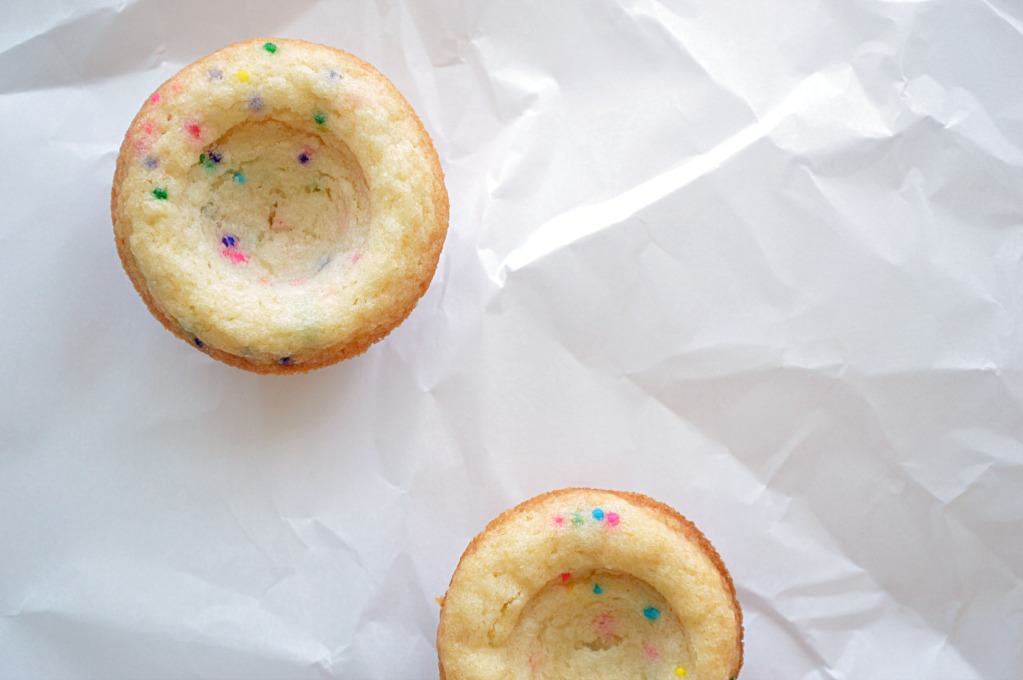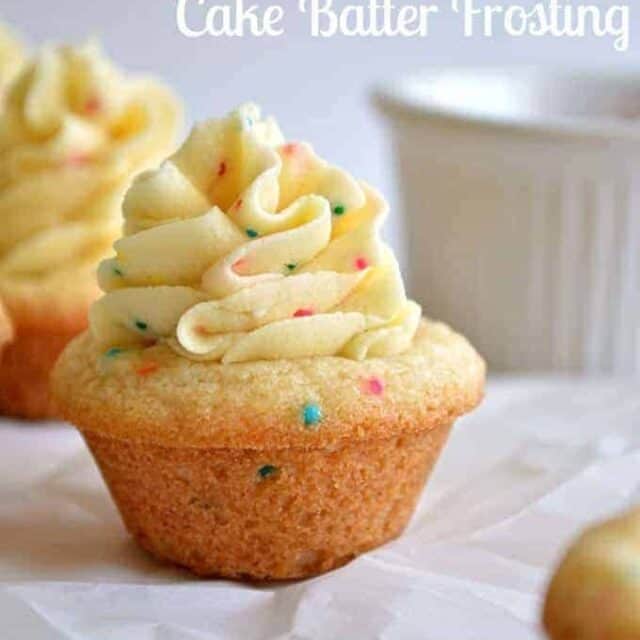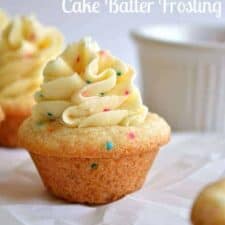 Cake Batter Frosting
Cake batter flavored Frosting.
Ingredients
1 ½ cups powdered sugar
½ cup yellow cake mix, heat treated
⅓ cup heavy cream
½ teaspoon vanilla extract
6 tbsp butter, softened to room temperature
Instructions
Heat treat the cake mix by pouring into a heat safe bowl, microwave in 30 second increments until internal temperature reaches 165°F. Can also spread the cake mix out on a large baking sheet and bake at 350°F for 5 minutes. Allow the cake mix to cool to room temperature before making the frosting.

Add all ingredients into mixing bowl. Mix on low speed until all ingredients are combined and frosting is desired consistency. Add more powdered sugar or heavy cream as needed.
Nutrition
Calories: 169kcal, Carbohydrates: 23g, Protein: 1g, Fat: 8g, Saturated Fat: 5g, Cholesterol: 24mg, Sodium: 125mg, Potassium: 10mg, Fiber: 1g, Sugar: 19g, Vitamin A: 275IU, Calcium: 27mg, Iron: 1mg
 More Bite Sized Treats!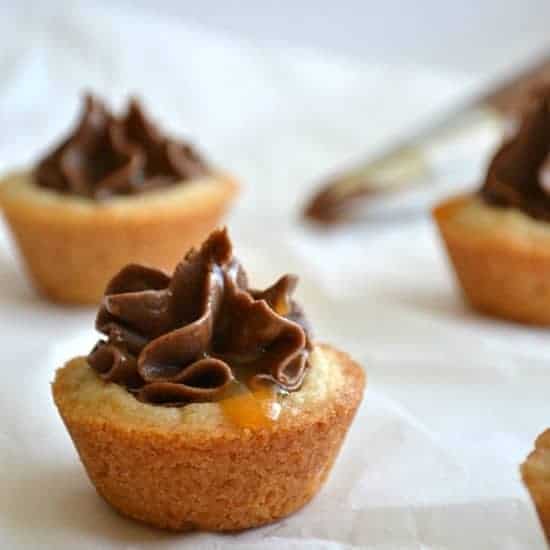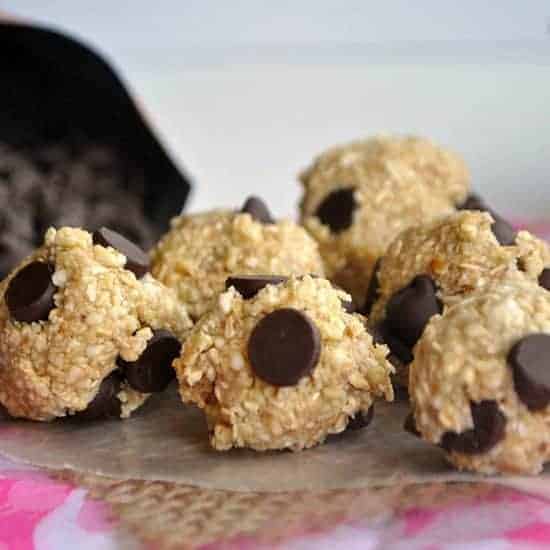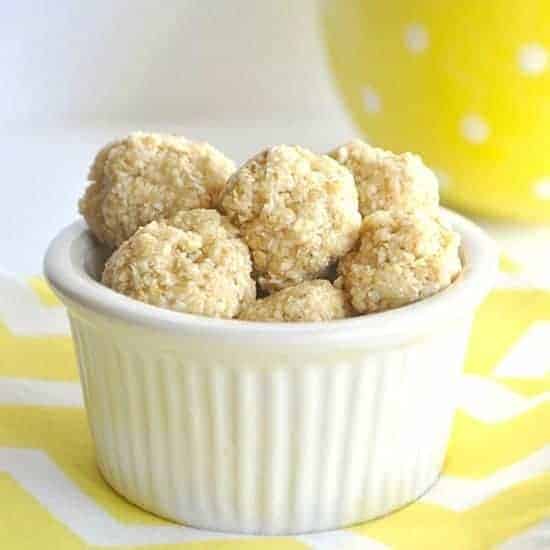 House of Yumm is a participant in the Amazon Services LLC Associates Program, an affiliate advertising program designed to provide a means for us to earn fees by linking to Amazon.com and affiliated sites.