Fajita Stuffed Bell Peppers. This easy stuffed peppers recipe will be a family favorite! Tender, juicy steak fajita meat mixed with rice and veggies all stuffed inside bell peppers topped with cheese and baked to perfection.
How amazing do those colorful Fajita Stuffed Bell Peppers look? And that's nothing compared to how they tasted!
The most important part about this recipe, are you paying attention??? Marinate the meat. Isn't that always the most important thing when there is meat involved? I know it is in my experience. Flavor. Juiciness. All good things that can come from marinating. Let this marinate overnight in a large plastic bag. Then when you're ready to cook the next day, you're all set to go.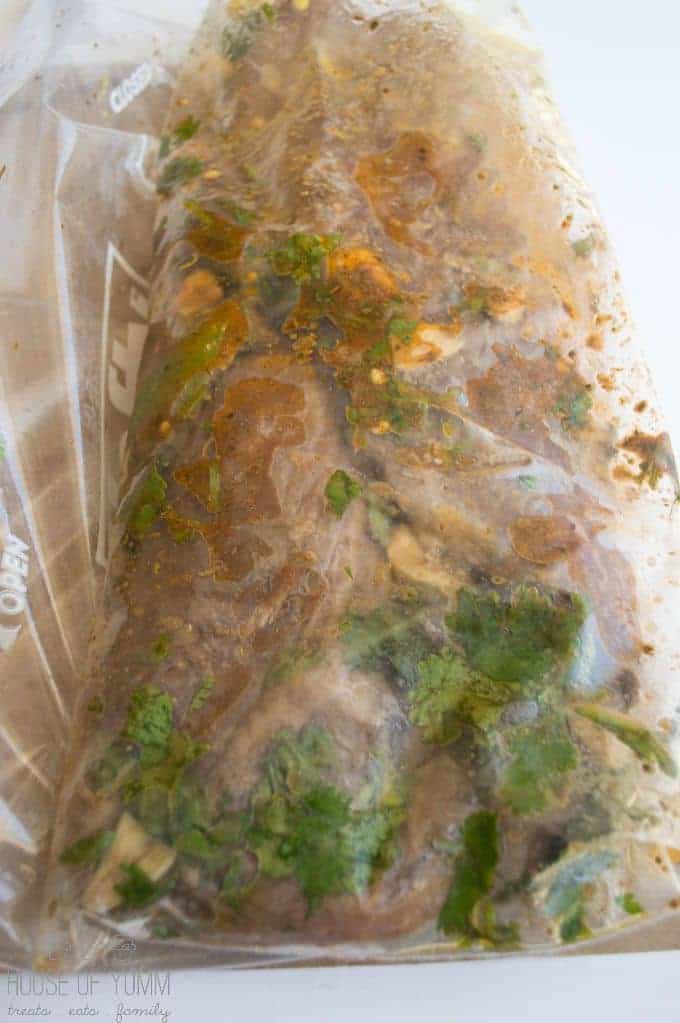 One of the tips when making this recipe is to make sure that you under cook the meat. Although..according to the hubs, the meat pictured below would be pure perfection. He's a fan of rare. But since the meat is going to be stuffed into the bell peppers and baked again, we don't want to start with the meat too cooked. Then it would end up over cooked by the end of the process. So let it stay a little rarer than you prefer and it will end up right where you want it.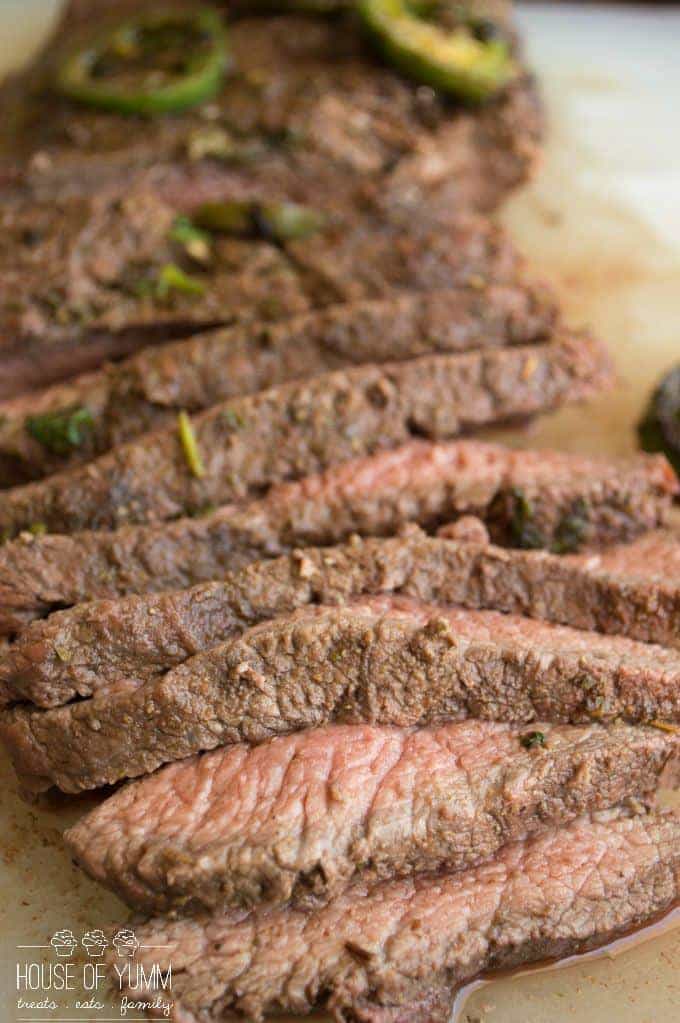 For the rice mixture I used my Mexican Rice recipe, super easy and quick, to me it's easier to make this than using a pre made package of mexican rice. You can basically get it going and just let it cook low and slow on it's own. Quite the low maintenance dish if you ask me. No judgment if you prefer the package of mexican rice though.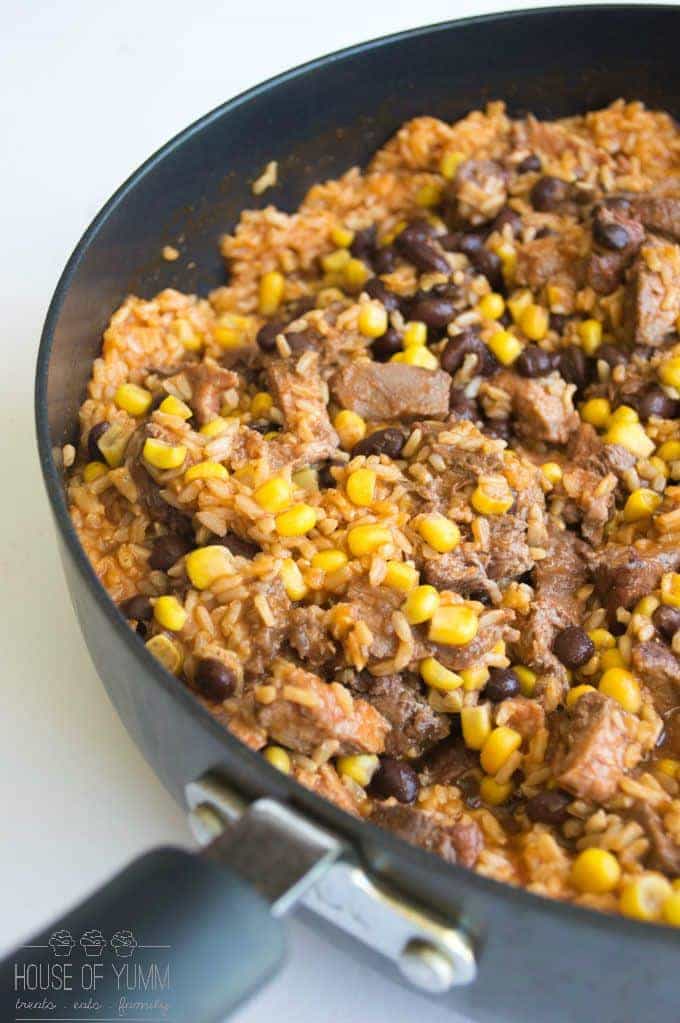 Mix in some veggies: beans, corn, tomatoes. Stuff all of that into some colorful bell peppers and bake. After they've baked most of the way, sprinkle some cheese. What is Tex Mex without some cheese?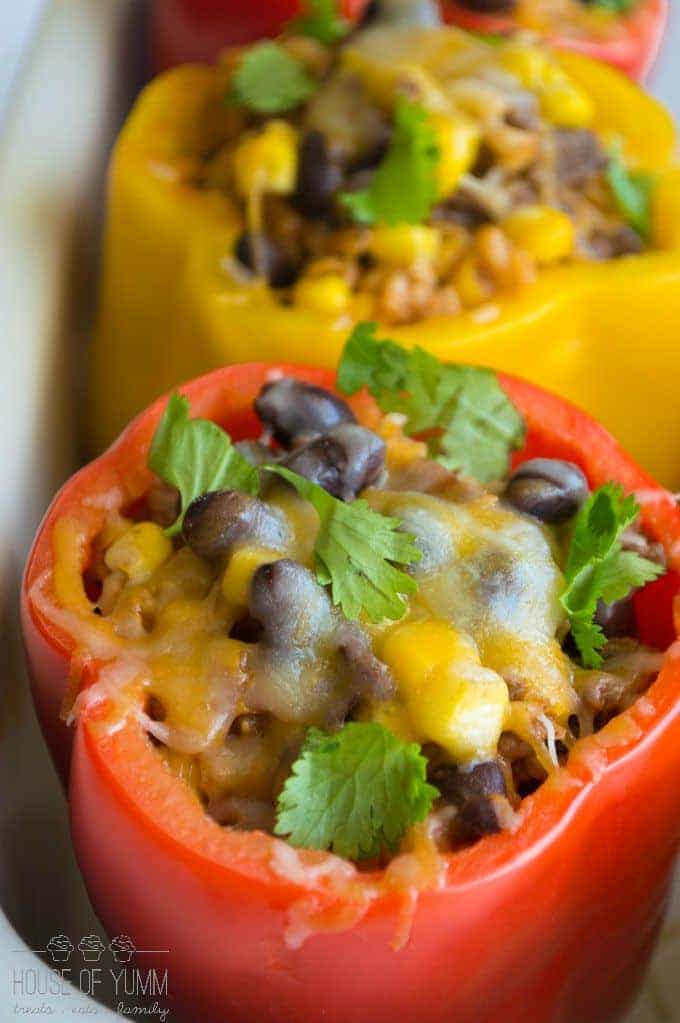 If short on time you can always substitute pre-cooked fajita meat. Although these really come together fast. I attribute that to using canned veggies. Canned foods can help you make nutritious and flavorful meals you will feel good about serving to the family. Canning foods is one of the best ways to get food from the farm to the table, while locking in nutrients at the peak of ripeness! Using canned fruits and veggies can be a great way to add some vitamins and minerals to family dinner. I know for me they definitely save on prep time. Not to mention they are typically less expensive than buying frozen. We usually do one day of grocery shopping for the week, so not only does my list need to be on point to manage that, but by the end of the week, most the veggies and fruits are gone, or not doing so well. Buying cans ensure that by the end of the week I still have veggies on hand to feed the fam.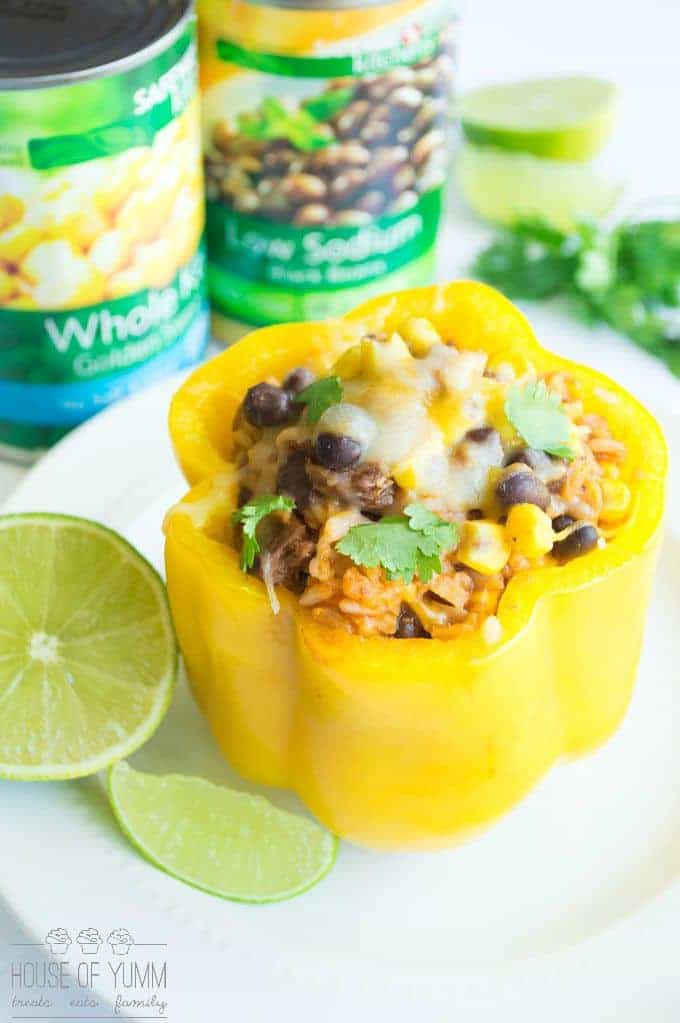 You are going to love how flavorful this dish comes out. And of course have plenty of sour cream, salsa, cilantro, limes, cheese, and whatever other toppings you want on hand!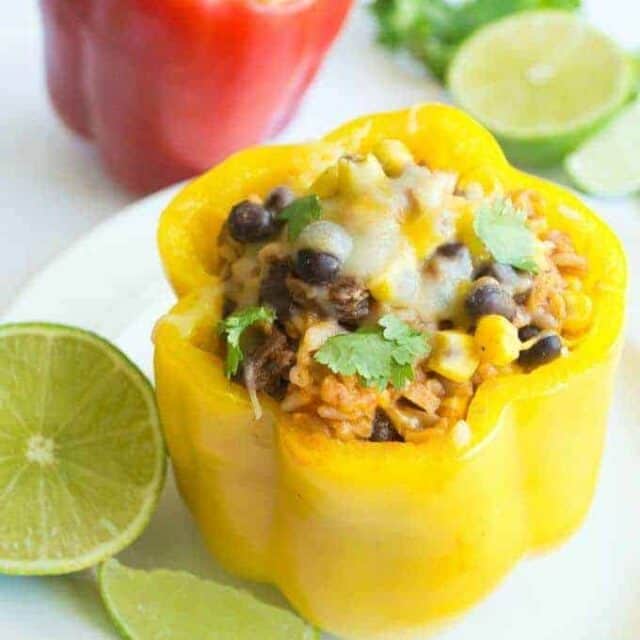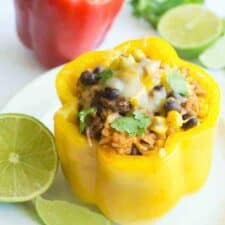 Fajita Stuffed Bell Peppers
Fajita Stuffed Bell Peppers. This easy stuffed peppers recipe will be a family favorite! Tender, juicy steak fajita meat mixed with rice and veggies all stuffed inside bell peppers topped with cheese and baked to perfection!
Ingredients
2 lbs flat iron steak, can substitute with flank steak
2 tbsp Extra Virgin Olive Oil
½ cup cilantro, chopped
1 lime
3 cloves garlic
1 tbsp dried oregano
1 tbsp cumin
1 tbsp chipotle chili powder
1 tsp salt
4 cups Mexican rice, prepared
1 (14.5 ounce can) diced tomatoes
1 (14.75 ounce can) whole kernel corn, drained
1 (15 ounce can) black beans, drained & rinsed
8 bell peppers
2 cups cheese, shredded
Instructions
The night prior prepare the marinade for the meat, place the steak into a large resealable plastic bag. Pour in the olive oil, squeeze the juice from one lime and toss in the pieces of the lime, add the chopped cilantro, cumin, oregano, and chipotle chili powder. Mince the garlic and add to the bag. Seal the bag and place in the refrigerator to marinate overnight, 12 hours or longer is optimal.

Remove the meat from the bag of marinade and sprinkle with the salt. Cook the meat on the grill briefly, keep the meat rare since it will be cooking in the oven in the peppers later and we don't want it over cooked. Once the meat has been cooked on both sides, remove from grill and slice into small strips.

Prepare the Mexican Rice, can be homemade or pre-packaged. Add in the diced tomatoes, corn, black beans, and cooked meat. Set aside.

Slice the tops off the bell peppers and remove any seeds inside. Spoon the rice mixture into the hollows of the bell peppers until they are full. Bake at 375 degrees in a large glassware dish for 15 minutes. Top with cheese and continue to bake an additional 5 minutes.
Nutrition
Calories: 729kcal, Carbohydrates: 84g, Protein: 37g, Fat: 26g, Saturated Fat: 11g, Cholesterol: 105mg, Sodium: 578mg, Potassium: 787mg, Fiber: 4g, Sugar: 6g, Vitamin A: 4382IU, Vitamin C: 155mg, Calcium: 260mg, Iron: 5mg
More Family Dinner Ideas:
House of Yumm is a participant in the Amazon Services LLC Associates Program, an affiliate advertising program designed to provide a means for us to earn fees by linking to Amazon.com and affiliated sites.