Eggnog Snickerdoodles with Rum Glaze
These super soft eggnog snickerdoodle cookies are made with REAL eggnog, loaded with extra nutmeg and rum extract, plus topped with a creamy, decadent eggnog rum glaze.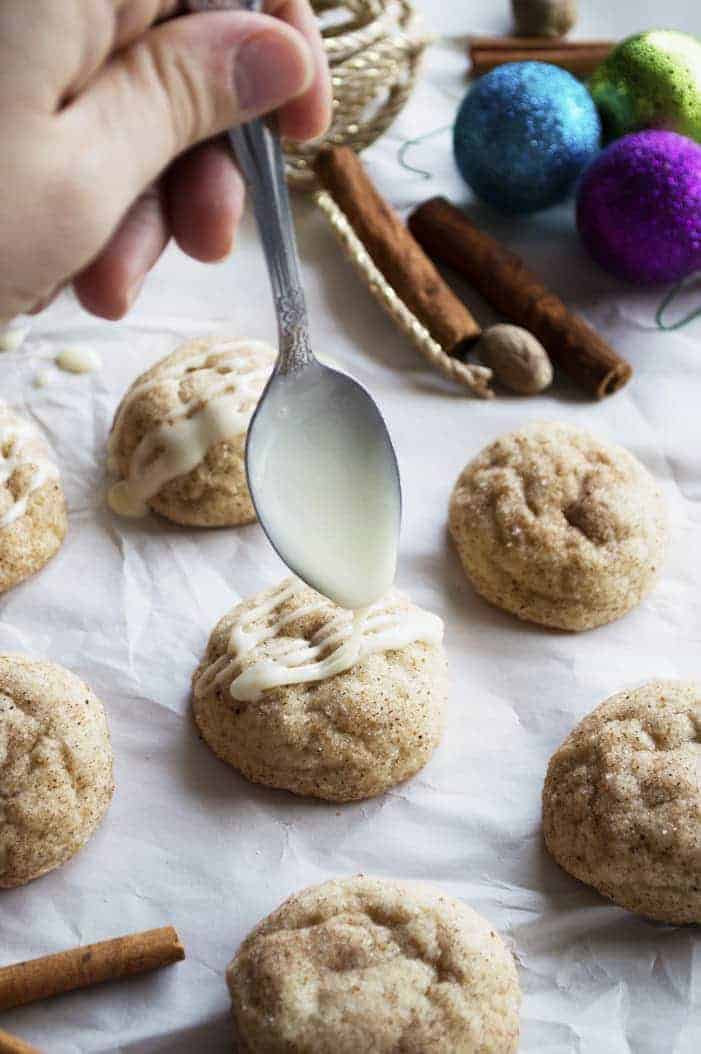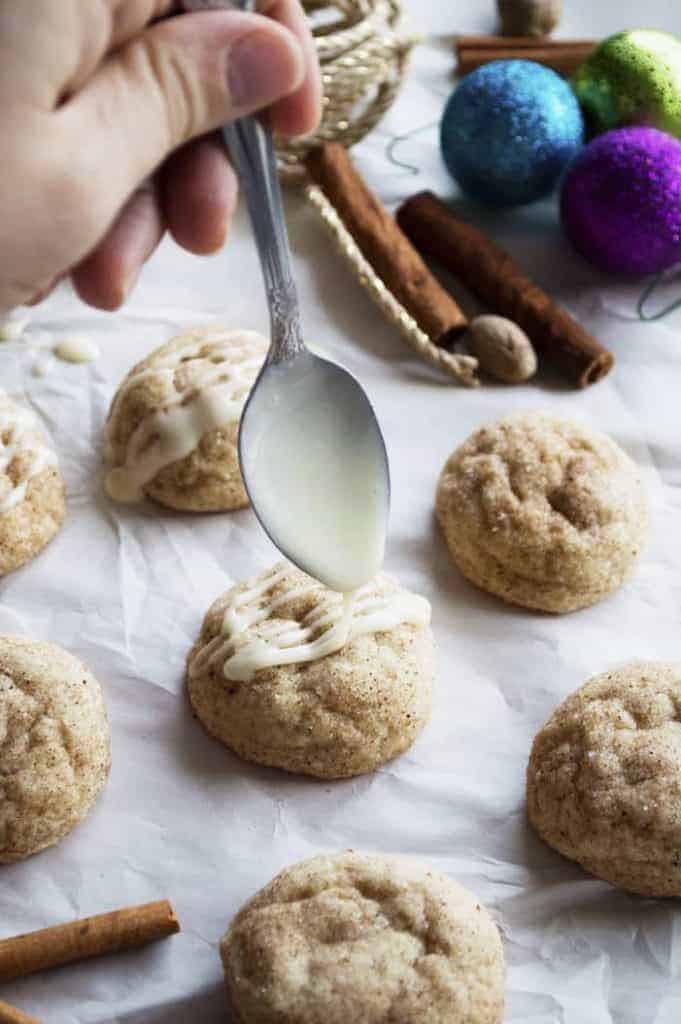 The Christmas Cookie extravaganza continues.  Today I have for you these uber soft, super tasty eggnog snickerdoodles.  Loaded with real eggnog, rum extract, nutmeg, and cinnamon-y goodness.  And that glaze.  That glaze comes straight from my dreams to yours.  You're welcome.  It's made from eggnog and rum extract, if you're feeling a little frisky feel free to use real rum instead.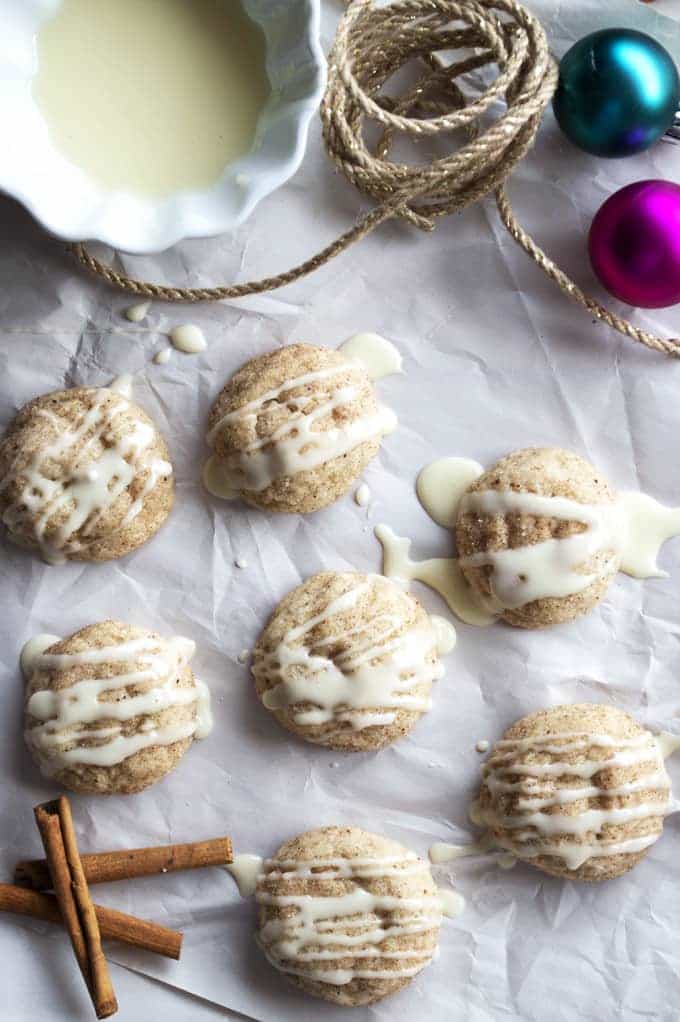 So how are things going with you?  Little story for you if you have a minute to listen..or read.  If not, I'm sorry!
Our two year old suffered her first injury.  Well, not technically her first injury since I'm pretty sure she had a concussion when she was younger, a hazard of having hard tile floors, but this was the first injury that involved blood.  Before we freak out, everything and everybody is ok.  She sliced her finger on a pair of tongs that I use in the kitchen.  She wanted to help her daddy BBQ and was holding them for him, somehow they pinched her finger and gave her a nice little crescent shaped cut.  You know the ones.  The ones that bleed and don't stop.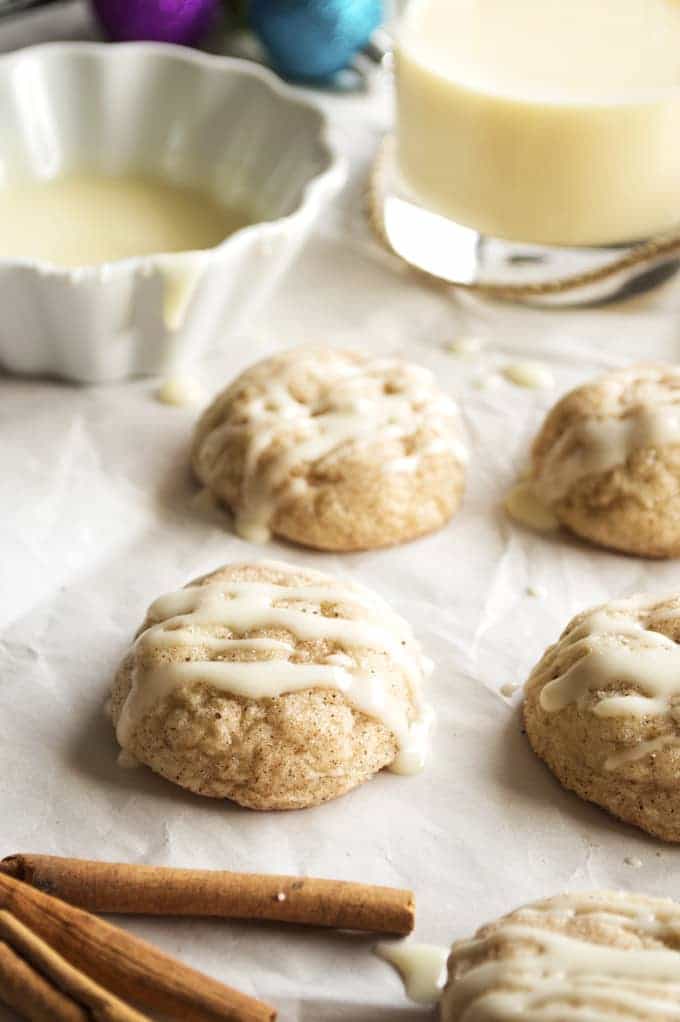 There's always that moment as a mom when you see your child bleeding that your heart just stops.  If I could take on all the injuries my kids have received over the years I gladly would.  There is nothing worse than seeing your kids in pain.  At that moment we were both traumatized.  Now that it's over she's perfectly fine, but I think I'm still traumatized.
Anyway, poor little girl had never experienced her own blood before.  She was a little freaked out.  Didn't want a band aid.  Didn't know what one was.  So I can't blame her.  I sat with her and held her new ouchie (that is absolutely a technical term for an injury in a 2 year old, that or boo boo) in a wash cloth for about an hour to stop the bleeding.  At one point both her daddy and I were wearing band aids on our fingers, trying to show how much fun they could be.  Still didn't help.
What did help?  Princess band aids.  Of course.  Duh.  So now, even though no more band aids are necessary little Miss is constantly asking for a new "Tangled sticker".  Tangled is her movie of choice at the moment.  Which I personally loooove.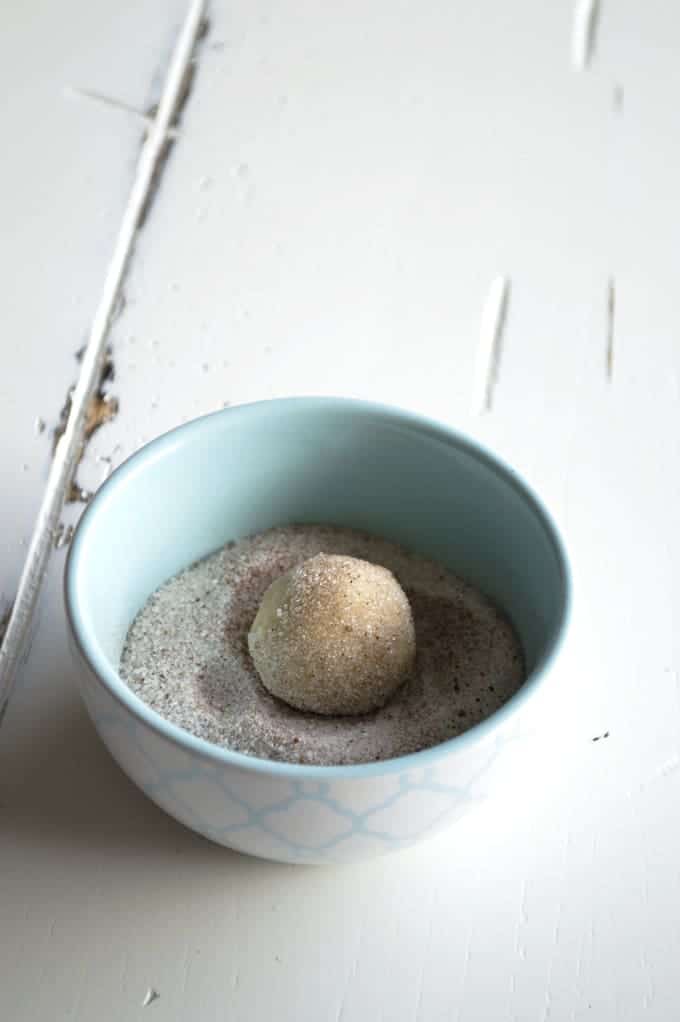 So that was a fun story huh.  Back to the cookies!  Super soft, loaded with eggnog.  After you roll the cookie dough into little balls for baking, just give them a roll in the cinnamon, sugar, nutmeg combination.  Get them nice and coated!  To be honest that cinnamon sugar coating is my favorite part of snickerdoodles.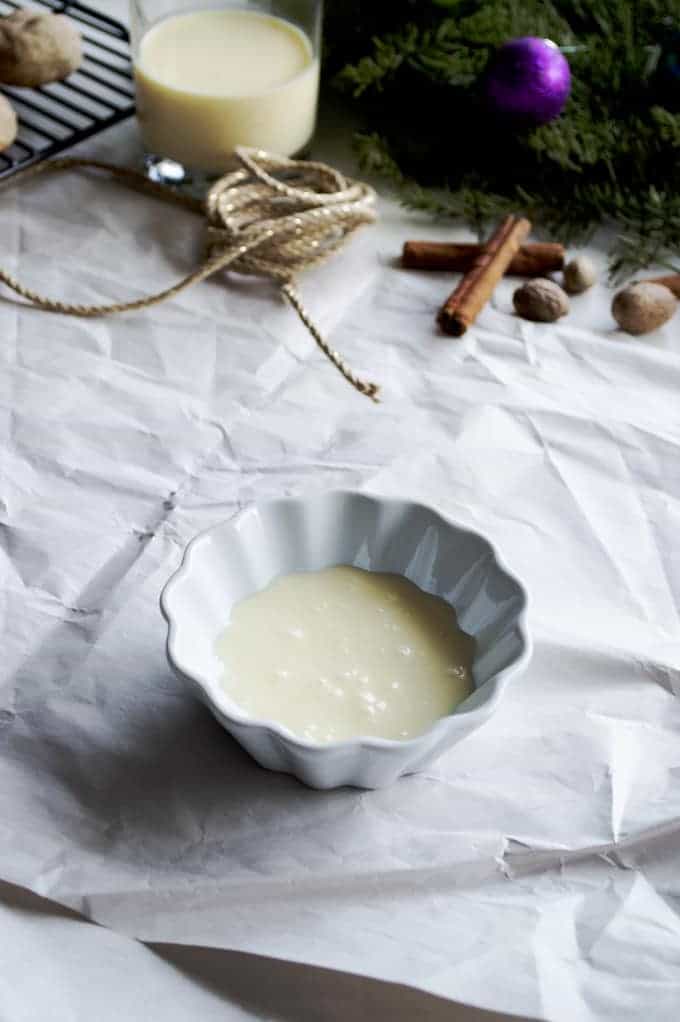 And then there's the glaze.  A typical glaze would be made with milk and powdered sugar, so I swapped the milk for eggnog and added a little rum extract to really have the flavors pop.  This glaze takes these cookies from good to WOWZA!  They taste just like eggnog!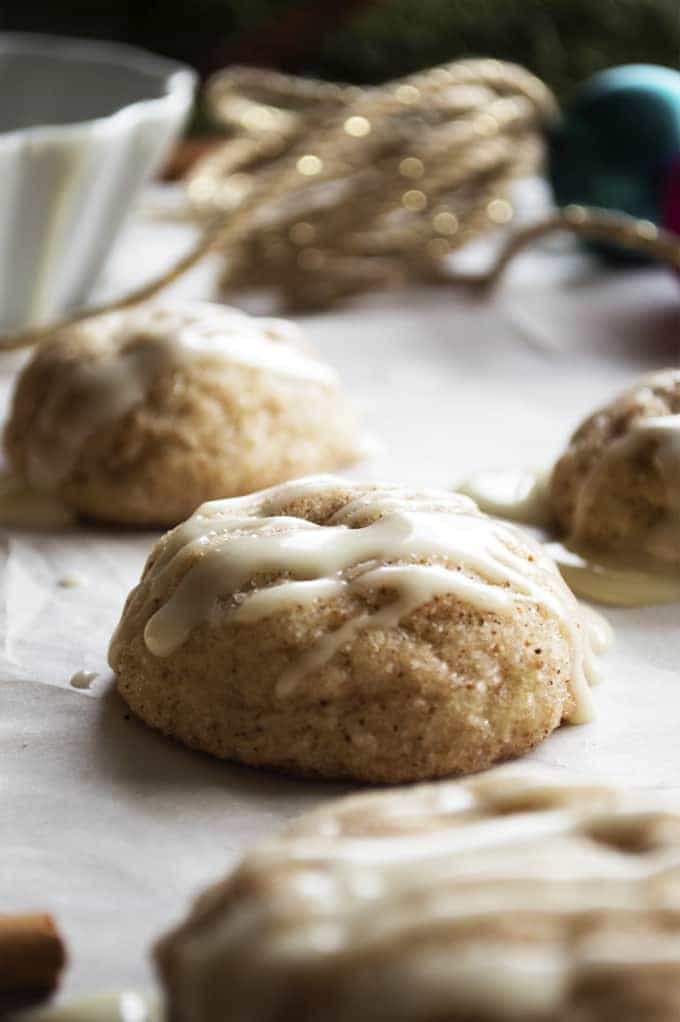 I hope you enjoy the recipe!  You can follow along with me and never miss a recipe by signing up for my newsletter.  Follow me on Instagram and tag #houseofyumm so I can see all the recipes you make 💜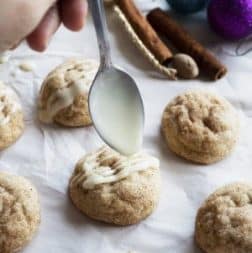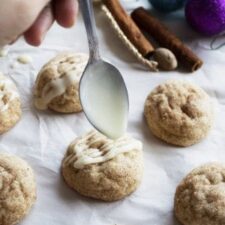 Eggnog Snickerdoodles
These super soft snickerdoodle cookies are made with REAL eggnog, loaded with extra nutmeg and rum extract, plus topped with a creamy, decadent eggnog rum glaze.
Ingredients
2 cups all purpose flour
1 tsp cream of tartar
½ tsp baking soda
½ tsp ground cinnamon
¼ tsp ground nutmeg
¼ tsp salt
½ cup unsalted butter , softened to room temperature
½ cup white granulated sugar
¼ cup light brown sugar
⅓ cup eggnog , room temperature
1 large egg
½ tsp vanilla extract
¼ tsp rum extract
For Dipping
¼ cup white granulated sugar
½ tsp ground nutmeg
¼ tsp ground cinnamon
Eggnog Rum Glaze
1 cup confectioners sugar
2 tbsp eggnog
1 tsp rum extract
Instructions
Preheat oven to 375°F. Prepare cookie sheet with parchment paper or baking spray. Set aside.

Prepare the cinnamon, nutmeg, sugar coating by combining the ingredients in a small bowl, stir to combine and then set aside.

In medium bowl combine the flour, cream of tartar, baking soda, cinnamon, nutmeg and salt. Whisk it all together to combine it.

In large mixing bowl cream the butter, add the sugars and mix on high speed to cream, should be light and fluffy. Add in the eggnog, egg, vanilla and rum extracts. Mix on medium speed until fully combined.

Slowly add in the dry ingredients, mix until just combined.

Scoop the dough out with a cookie scoop or tablespoon. Roll the dough in your palms to create balls, dip the cookie dough into the cinnamon sugar mixture you made previously. Roll it around until fully coated. Place on cookie sheet.

Bake at 375°F for about 8 minutes or until the edges are just starting to turn golden.

Allow to cool on the pan for about 5 minutes and then remove to continue cooling on a wire rack.

Once the cookies are cooled, prepare the glaze by mixing all the ingredients together in a small bowl. Using a spoon drizzle the glaze over the cookies. Allow the glaze to set for a couple minutes to harden. Serve and enjoy!
Notes
Store in a closed container for 3-4 days.
Nutrition
Calories: 132kcal, Carbohydrates: 22g, Protein: 2g, Fat: 4g, Saturated Fat: 3g, Cholesterol: 20mg, Sodium: 57mg, Potassium: 45mg, Fiber: 1g, Sugar: 14g, Vitamin A: 138IU, Vitamin C: 1mg, Calcium: 12mg, Iron: 1mg
House of Yumm is a participant in the Amazon Services LLC Associates Program, an affiliate advertising program designed to provide a means for us to earn fees by linking to Amazon.com and affiliated sites.