These muddy buddies are colorful and taste just like cotton candy!  A sure win!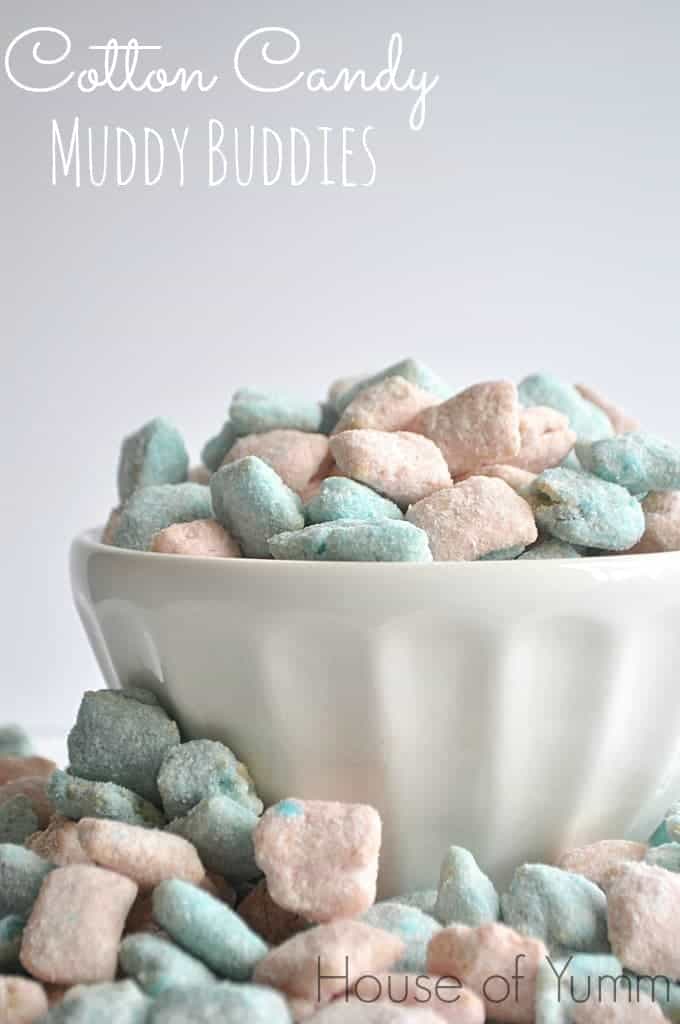 I know, I know.  I've been on a muddy buddy roll.  But they're so yummy!  Such an easy snack to just sit around and devour.  Now that I think about it, probably not such a great idea.  I just HAD to make these though.  I mean, cotton candy?!  YUM!  Cotton candy anything just brings out the child in anyone.  
The reason for these?  We are going to…wait for it…wait for it.. DISNEYLAND!
Whooo Hoooo!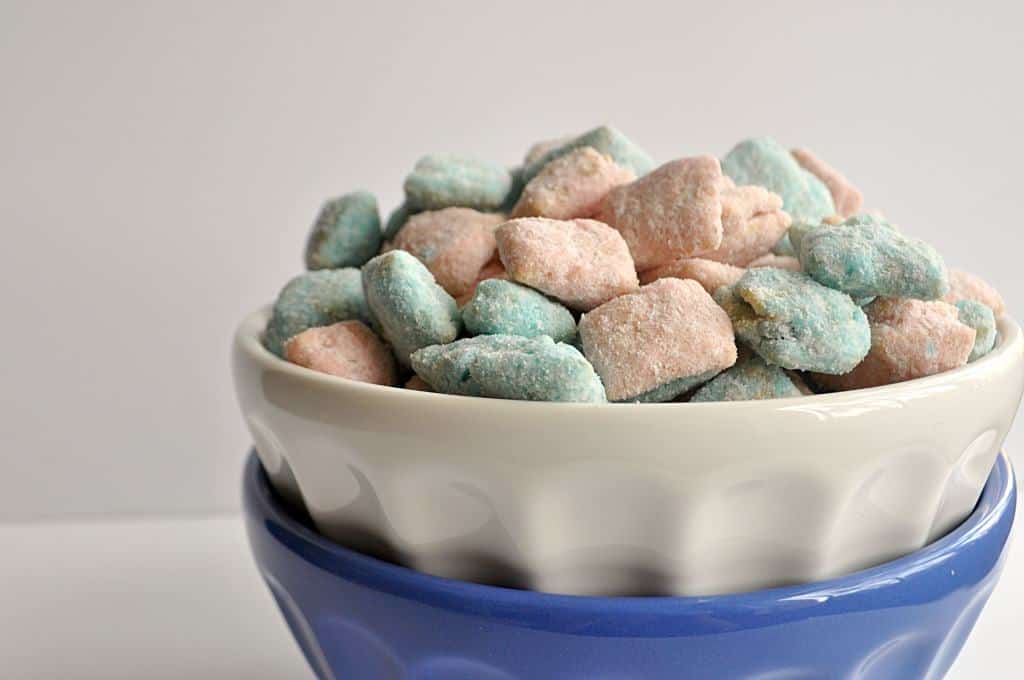 So excited.  If you can't tell.  Is the trip for me and my husband or is it for the kids.  Who knows.  Does it really matter?  Either way, we're going to Disneyland.  Of course we need some super fun kid friendly snacks to take with us!
Big news for the House of Yumm.  We are re-locating from our little spot here in Southern California to Dallas, Texas.  Our way of saying farewell to California is a final adventure to Disneyland.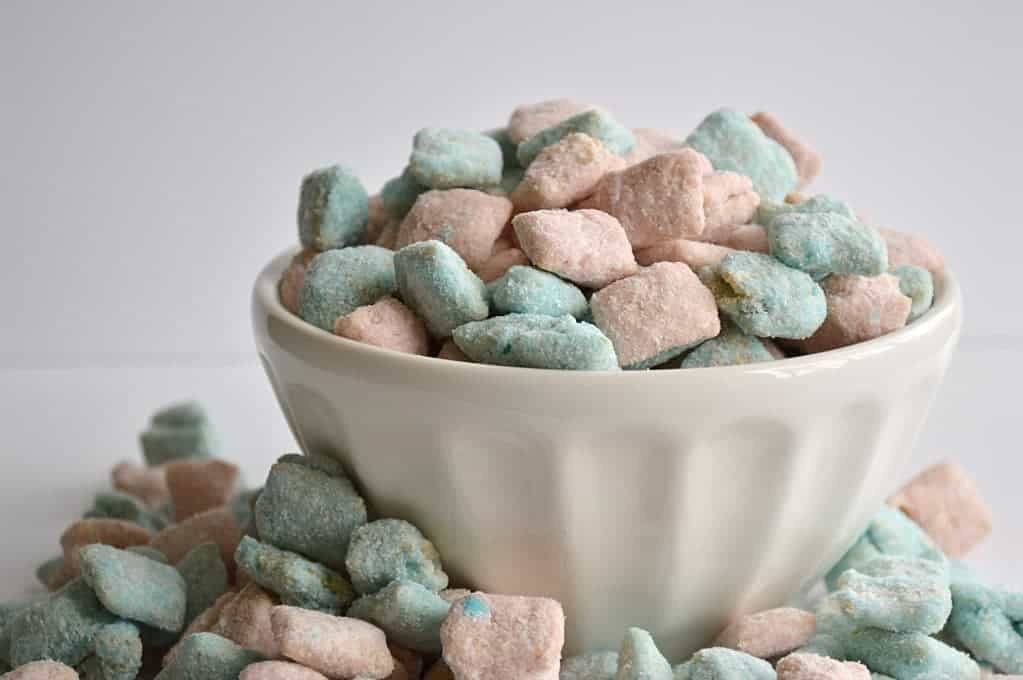 These little cotton candy muddy buddies are definitely a hit with the girls.  And with me too!
Wasn't the little touch of making half pink and half blue absolutely genius?!  Completely unnecessary when making them, the color doesn't have anything to do with the taste.  However, I believe seeing them in pink and blue makes it seem as though they taste more like cotton candy than if they were just white.  This must be what they mean when they say mind over matter.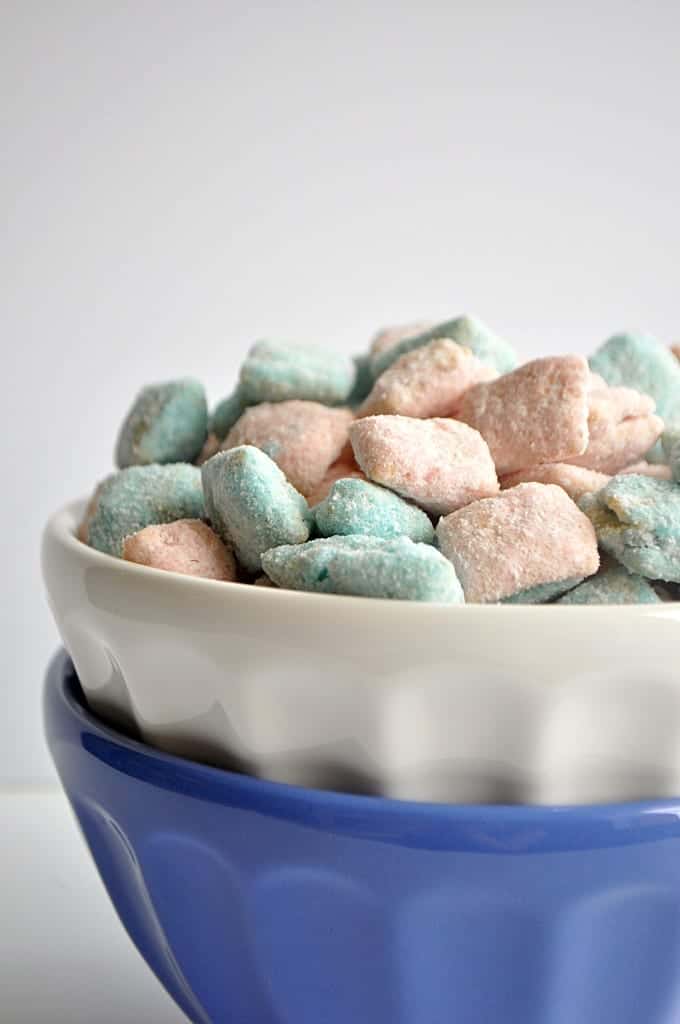 Here's some of the ingredients that I used for this recipe.  I found all these at my local Walmart.  Keep in mind the candy melts aren't necessary, white chocolate will work as well, the candy melts just add the color for some extra fun!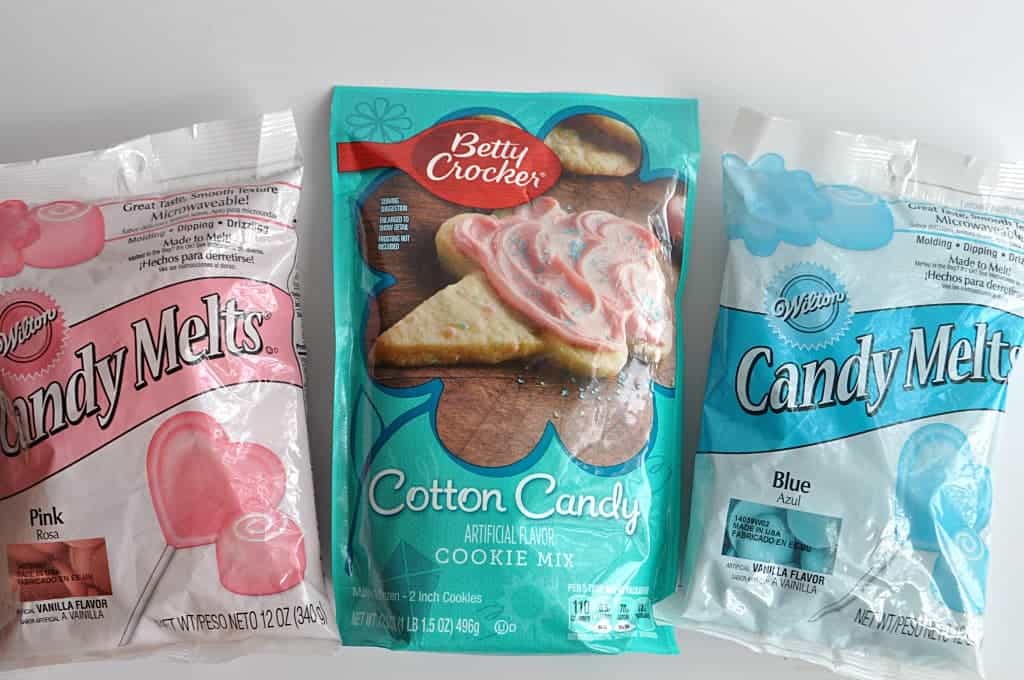 Thanks so much for visiting! Never miss a recipe from the House Of Yumm! Choose your favorite way to follow, or do them ALL!
FACEBOOK | PINTEREST | GOOGLE+ | TWITTER | INSTAGRAM | BLOGLOVIN
Print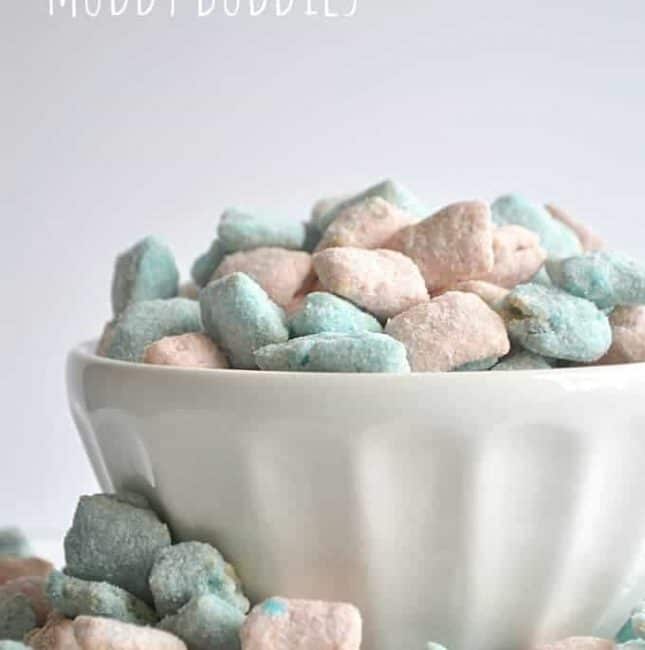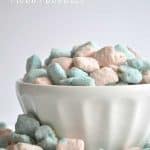 Cotton Candy Muddy Buddies
Author:

Prep Time:

5 minutes

Cook Time:

10 minutes

Total Time:

15 minutes

Yield:

8

1

x
---
Description
These muddy buddies are colorful and taste like cotton candy!
---
Scale
Ingredients
4 cup

s vanilla chex cereal

1/2 cup

powdered sugar

1 1/2 cup

Betty Crocker cotton candy cookie mix

3/4 cup

pink candy melts

3/4 cup

blue candy melts
---
Instructions
Measure out the chex cereal placing half in a mixing bowl. Measure out half of the cookie mix and half the powdered sugar and place into a resealable container or a resealable large plastic bag.
Measure out the candy melts and melt in the microwave. Set the microwave to 50% and microwave in 30 second increments stopping to stir every 30 seconds. Continue this until completely melted. Pour melted candy melts over the cereal and stir until the cereal is completely covered.
Scoop the cereal into the container with the powdered sugar and cookie mix. Make sure it's closed tightly and give a few good shakes to coat the cereal fully.
Pour out onto a sheet of wax paper to allow to cool and dry.
Repeat these steps with the other color of candy melts to have both blue and pink. If you're not doing the colors, just use white chocolate instead of candy melts and do the whole batch of cereal at once.
Store in an air tight container.
---
39