These delightful cookies & cream pudding pops are made with Hershey's white chocolate pudding mixed with bits of Oreo cookies.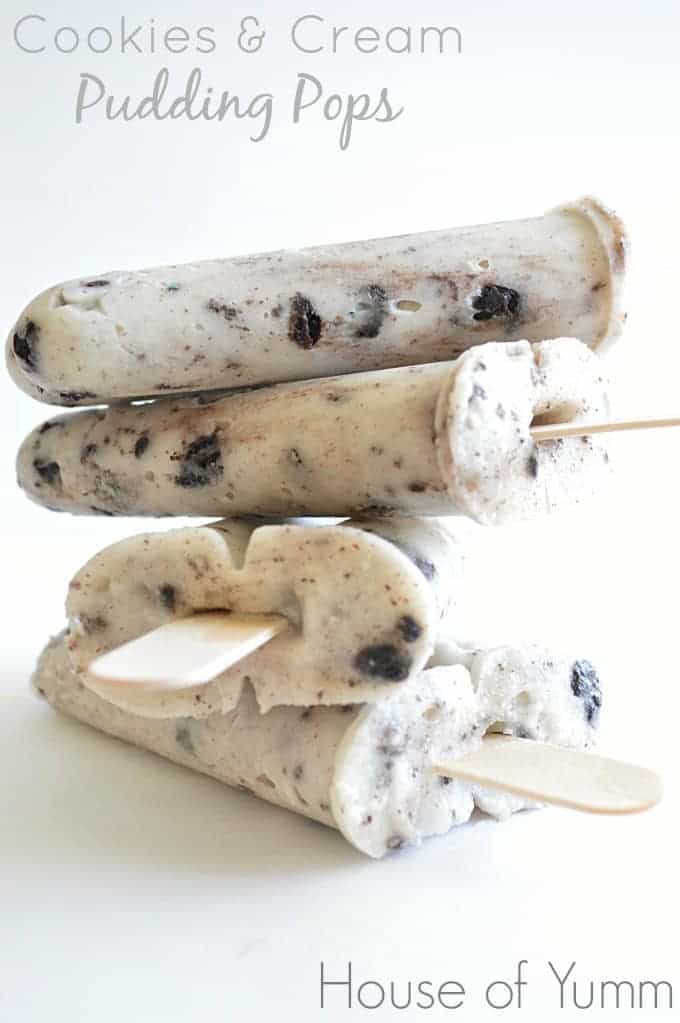 Ok, so everyone has been sharing recipes for popsicles, and pudding pops, and so of course I had to go out and get a popsicle mold myself so I could make some!!
What's not to love about these.  They're frozen, they're super easy, and they're delicious!!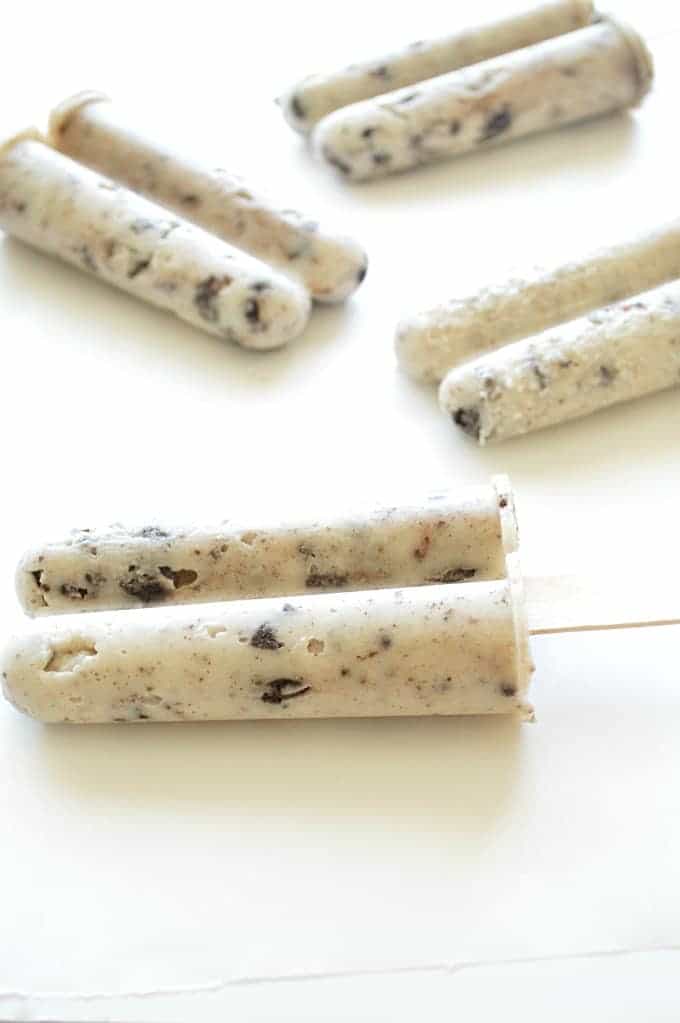 Did you know that there's a Hershey's white chocolate pudding?!  Well, if you didn't, now you do!  Of course I had to pick some up.  The Hershey's cookies and cream candy bar is  quite possibly my favorite thing EVER.  If you've been following me for a while you now can add that to the list of my favorite things.  I know I have a lot of them.  And most of them involve chocolate.
I was able to make these pudding pops in about 5 minutes.  I probably could have done it in a shorter amount of time, but you see the only real time I have to spend in the kitchen is while children are sleeping, and that means I do try to be quiet.  So using my food processor to crumble the oreos was kind of out of the question at the time, and pounding at them with a hammer would have been just as loud…so I took my time breaking them apart by hand.  Then the rest of the time for these is just the time needed to freeze them.  And if you're wondering about the colored specks in my pudding pops, I used Birthday Oreos, because, well…do I really need to explain?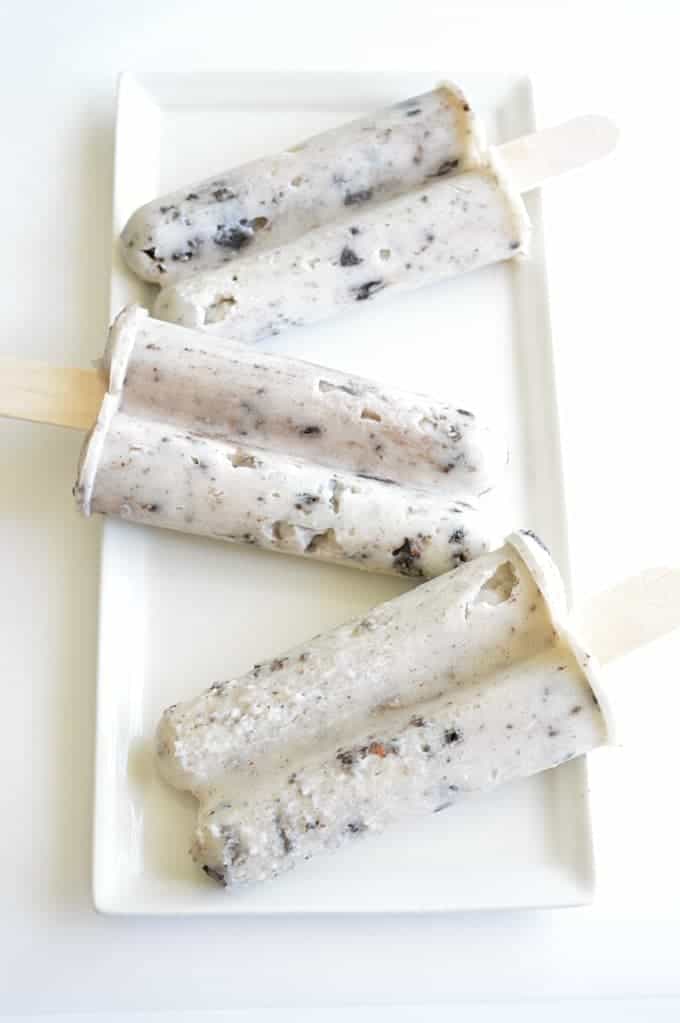 You should be able to give them about 4-6 hours in the freezer for them to be just right.  I put mine in at night time and we had them as an after lunch treat.  Yes, we were able to control ourselves until after lunch.  But only because I had to take pictures first!  Otherwise I can't guarantee that these wouldn't have been breakfast.
I do have a weird confession to tell you though.  I have a strange aversion to the texture of popsicle sticks.  Hate them.  Can't stand them.  I only used them for the picture purposes, otherwise I would have much rather used the plastic ones that came with my little popsicle mold.  So I attempted to eat my pudding pop, but just the thought of accidentally biting onto that popsicle stick was causing me to shudder.  My solution, I actually cut my popsicle off of the stick and put it into a bowl and ate it with a spoon.  Uhhhh…what??  Exactly.  Hello, my name is Serene, and I hate popsicle sticks.  Is that the weirdest thing ever?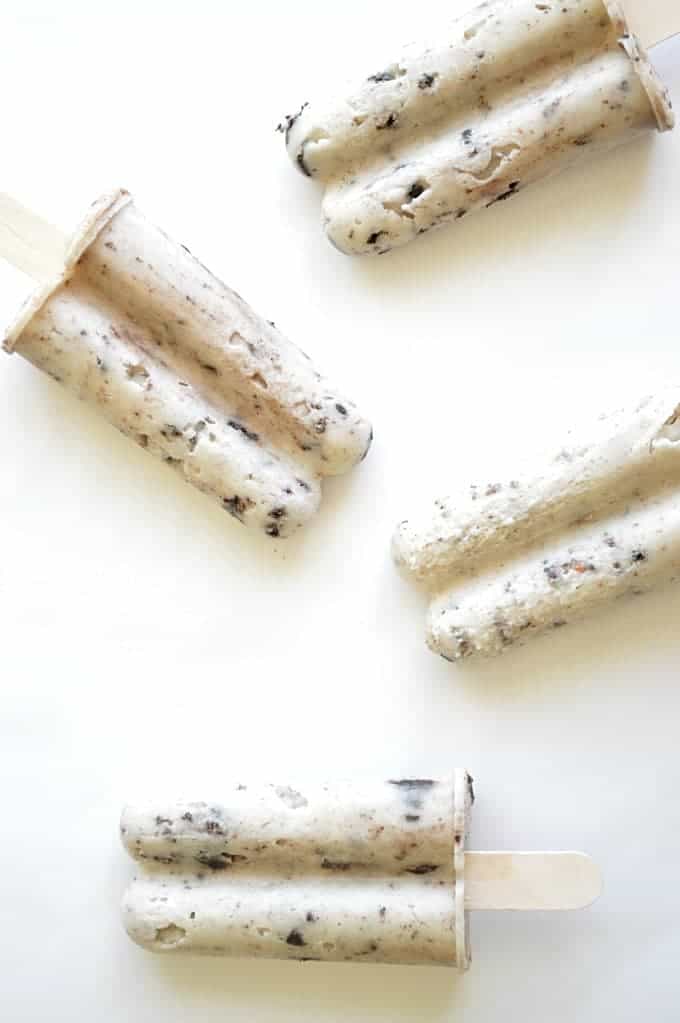 Anyways…
Other than the wooden sticks on these, they were absolutely AMAZING.  You are definitely going to love how quick and easy these are to make!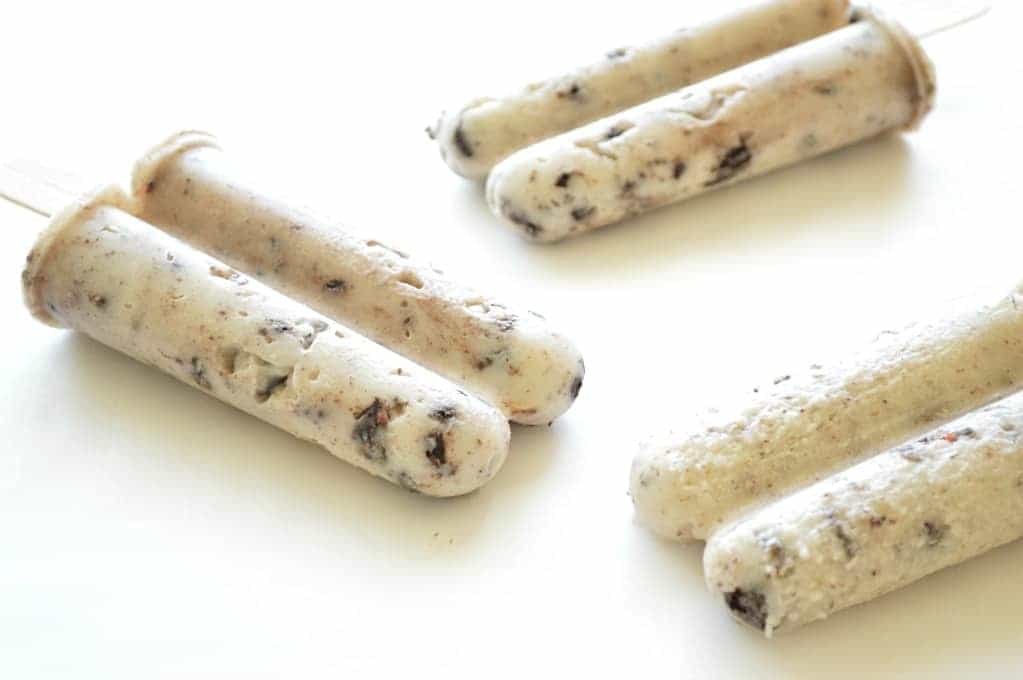 Print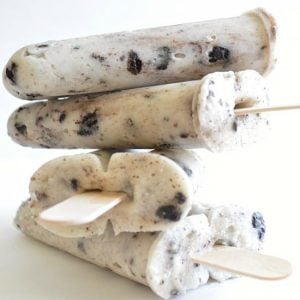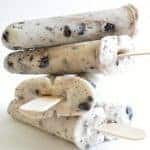 Cookies & Cream Pudding Pops
Author:

Prep Time:

5 hours

Total Time:

5 hours

Yield:

4

1

x
---
Description
These delightful frozen pudding pops are made with Hershey's white chocolate pudding mixed with bits of Oreo cookies
---
Scale
Ingredients
1

3.5 box of Hershey's White Chocolate Instant Pudding Mix

2 cup

s of milk

8

Oreos
---
Instructions
Pour the pudding mix into a medium sized mixing bowl. Add in the cold milk and whisk together for 2 minutes. Pudding mix will be softly set.
Crush the oreos, can be done with food processor or by hand.
Add the crushed oreo into the pudding.
Pour the pudding mixture into the popsicle molds.
Place in the freezer for 4-6 hours or until frozen.
To remove pudding pops from the molds just run the popsicle molds under warm water until the pudding pop just slides out.
Enjoy!
---
Here's some more Summertime treats!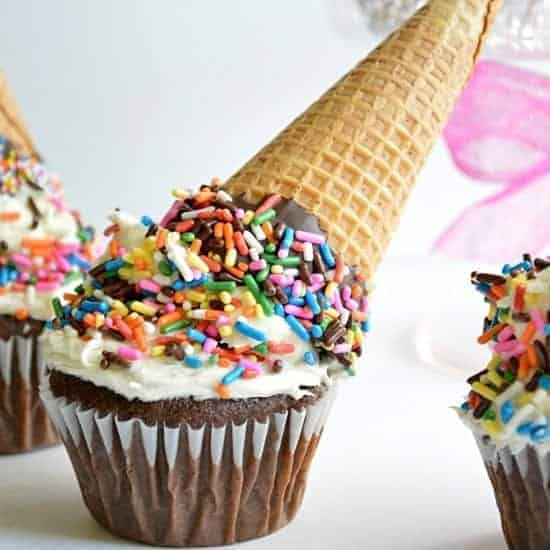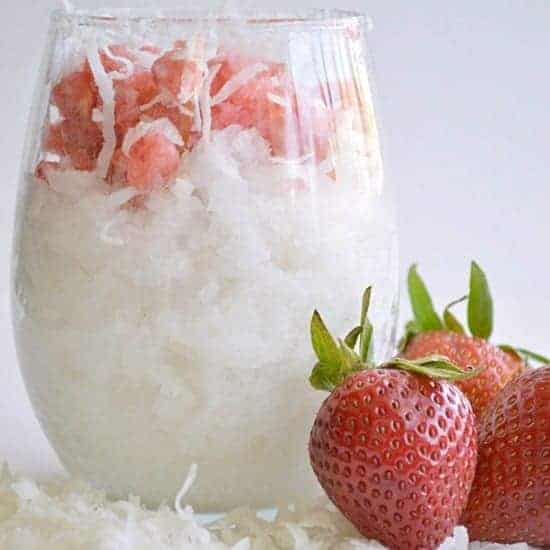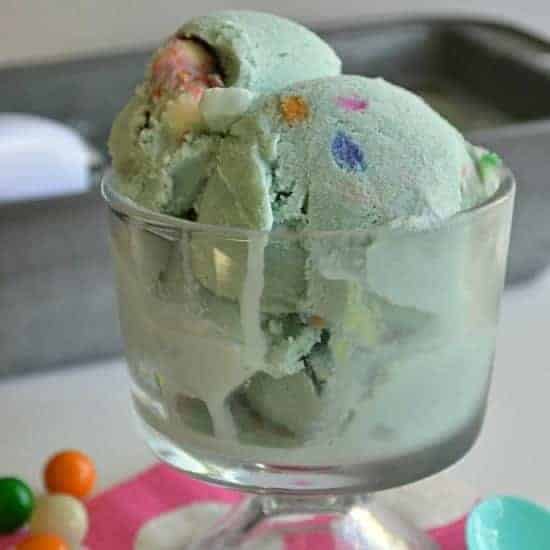 29