How to cook a filet mignon. It's so much easier than you probably think!! All the tips and tricks needed to create a restaurant quality meal at home!
How to cook a filet mignon. Something everyone should learn at some point in their life. Plus Father's Day is coming up. And I know in our house, there is no better way to let dad (the hubs) know he's appreciated than with a heartfelt gift. Something that he really loves and will put to good use. Which means…steaks. There's nothing the hubs loves more than a good steak. That's where
Kansas City Steak Company
comes in. They were kind enough to send us some Filet Mignons to test out. And y'all. They were SO good!!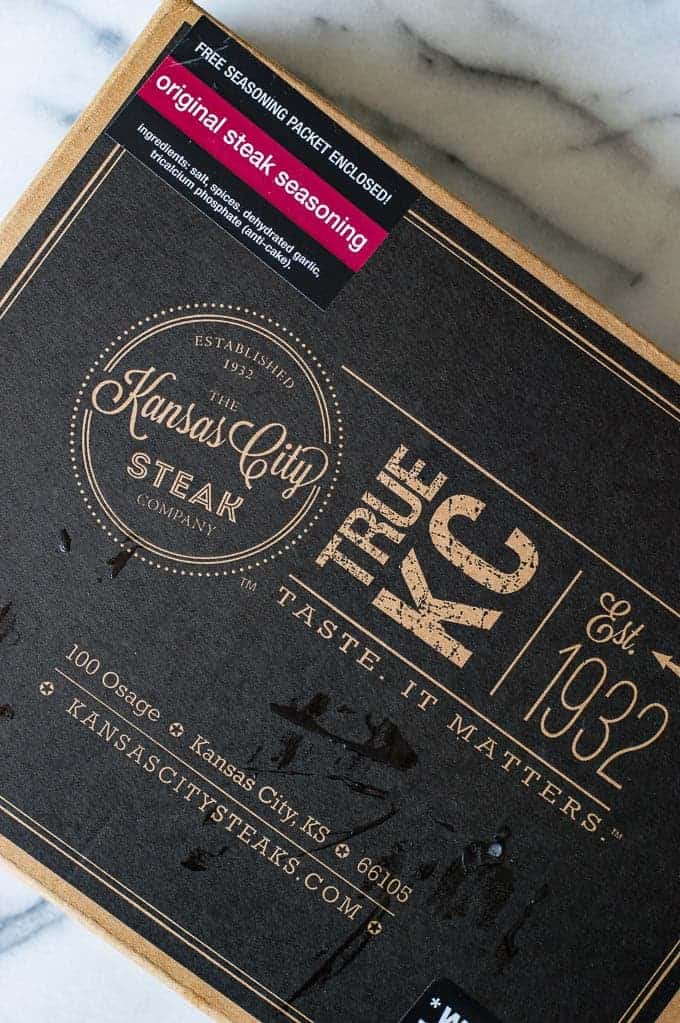 These were delivered right to our door!
Even better?!? I have four 6 ounce filet mignons to give away to one lucky reader!!! Keep on scrolling to find out how to enter.
PLUS!! For those who don't win I have a special offer of 15% off, just use the code LUVDAD at checkout to redeem it!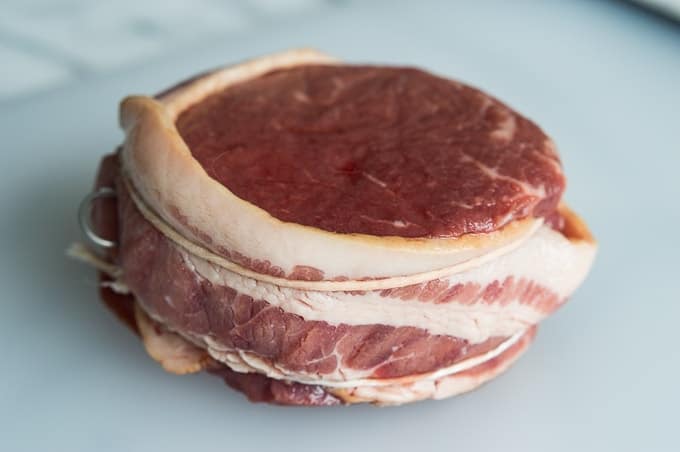 How to Cook Filet Mignon:
Bring the filet to room temperature prior to cooking. To do this just set it out on the counter about 20-30 minutes before cooking, it might take longer depending on the size of the filet. While this is coming to room temperature you can preheat the oven and get your pan ready.
Tie it up. Use some kitchen twine to tie the filet together nice and tight. This will hold it together for uniform cooking and create a beautiful presentation once your done cooking.
Sear! This is all about building flavor. Use a cast iron or stainless steel pan (these will give more consistent heat all over). A small amount of oil, canola oil or vegetable oil is best due to it's higher smoke point. Because basically we're going to get this oil hot and we don't want our smoke alarms going off. Because that's just super annoying. Right?
Leave it be. That's right. It's so tempting to look at that beautiful caramelized meat. But just give it a couple minutes to sear. When you first put the meat down in the hot oil it will become basically fused to the bottom of the pan. After about 2 minutes of searing it will remove easily and you will be able to flip it over.
Use a meat thermometer! The hubs likes his raw I mean rare. And I prefer mine about medium. Using a meat thermometer is going to give everyone their perfect filet.
Last of all, let it rest. Give the filet about 10 minutes after cooking is completed. The internal temperature will continue to rise during this time. Which is why it's so important to use your thermometer so you don't overcook. Also if we cut into our filet too soon we will lose all the juice and our meat will dry out. Which will create a very sad meal.
a Rafflecopter giveaway
And there you have it! The perfect filet. Remember the sear is necessary! You will have that beautiful caramelized outside and flavoring.

I hope you enjoy the recipe! You can follow along with me and never miss a recipe by signing up for my newsletter. Follow me on Instagram and tag #houseofyumm so I can see all the recipes you make ?

How to Cook Filet Mignon

How to cook a filet mignon. It's so much easier than you probably think!! All the tips and tricks needed to create a restaurant quality meal at home!

Ingredients

1 6 ounce filet mignon
1 tbsp vegetable oil
Salt, to taste
Pepper, to taste

Instructions

Bring the filet to room temperature by setting it out for about 20-30 minutes. Tie the filet tightly with kitchen twine. Season the filet on all sides with salt and pepper.

Preheat the oven to 500°F.

Heat a cast iron or stainless steel skillet over high heat. Once the skillet is heated add the vegetable oil.

Place the filet down on one of the flat sides. It will sizzle.

Allow the filet to sear for 1-2 minutes, the filet will lift easily when done. Turn over to sear the other side. Allow another 1-2 minutes to sear again.

Insert a meat thermometer probe into the center of the filet. Place in the oven and bake at 500°F until the internal temperature is 125°F. Remove the filet from the oven and allow to rest for about 10 minutes. Cut the twine. Serve and enjoy!

Nutrition

Calories: 119kcal, Protein: 1g, Fat: 14g, Saturated Fat: 11g, Cholesterol: 1mg, Sodium: 1mg
Products I recommend for this recipe:
I received the product used in this post as a gift from Kansas City Steak. However, the opinions and text are all mine. Thank you for continuing to support the brands that make House of Yumm possible!
**This post may contain affiliate links, but I only recommend products that I actually use and <3. Thanks for supporting House of Yumm!
House of Yumm is a participant in the Amazon Services LLC Associates Program, an affiliate advertising program designed to provide a means for us to earn fees by linking to Amazon.com and affiliated sites.