Marshmallow bunny Peeps coated in white chocolate and coconut to create a cute fluffy bunny treat!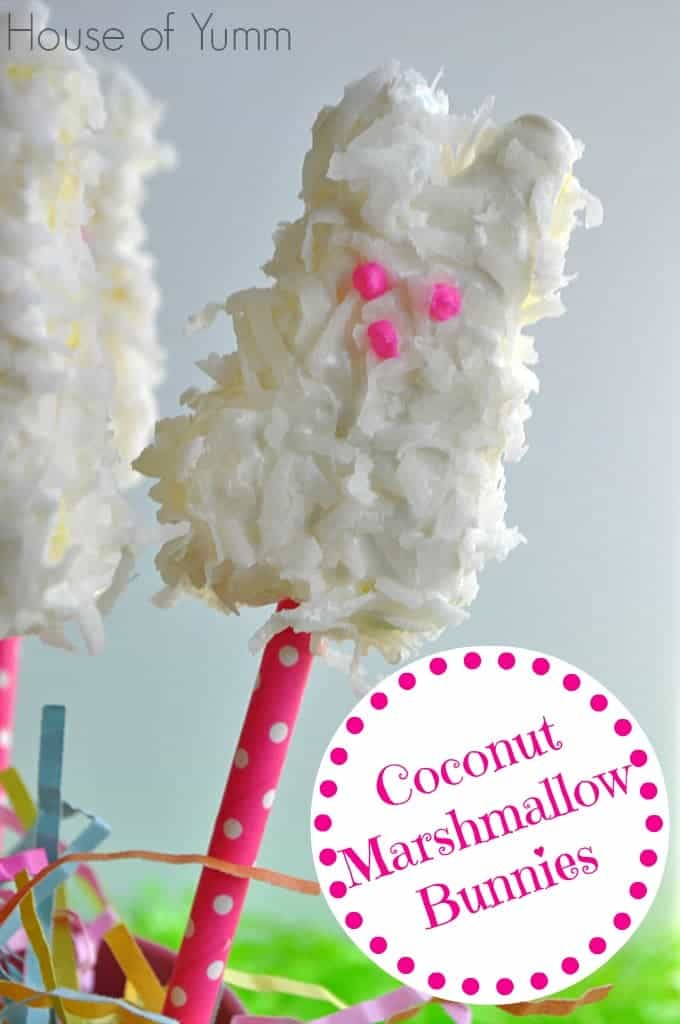 I don't know about you, but put any treat on these fun paper straws and they are instantly a most wanted snack!!
Easter is not Easter without Peeps!!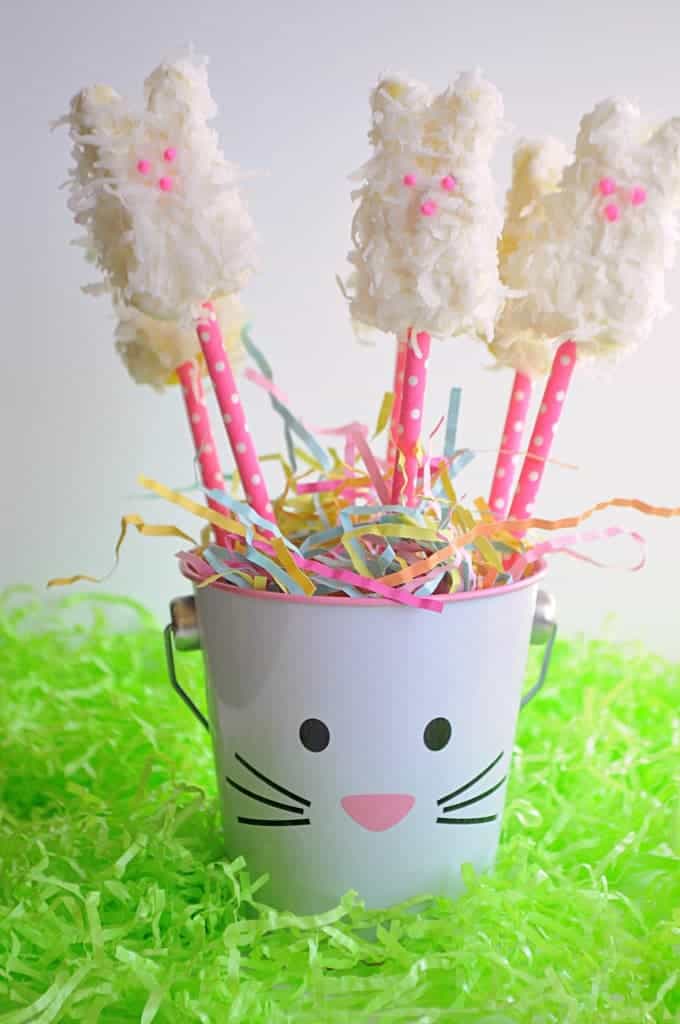 Decorating them to be super cute is an added bonus.
These are easy to make and something fun that you can have your kids help you out with.  Be careful when you place the peeps on the straws, so that you don't squish them.  Spoon the melted chocolate over the peep and scrape the extra off with a spoon.  Since these were going to be covered in coconut I wasn't too concerned with how smooth the chocolate coating was.  I was more concerned with maintaining the shape of the bunny peep so that we would still be able to tell what they were.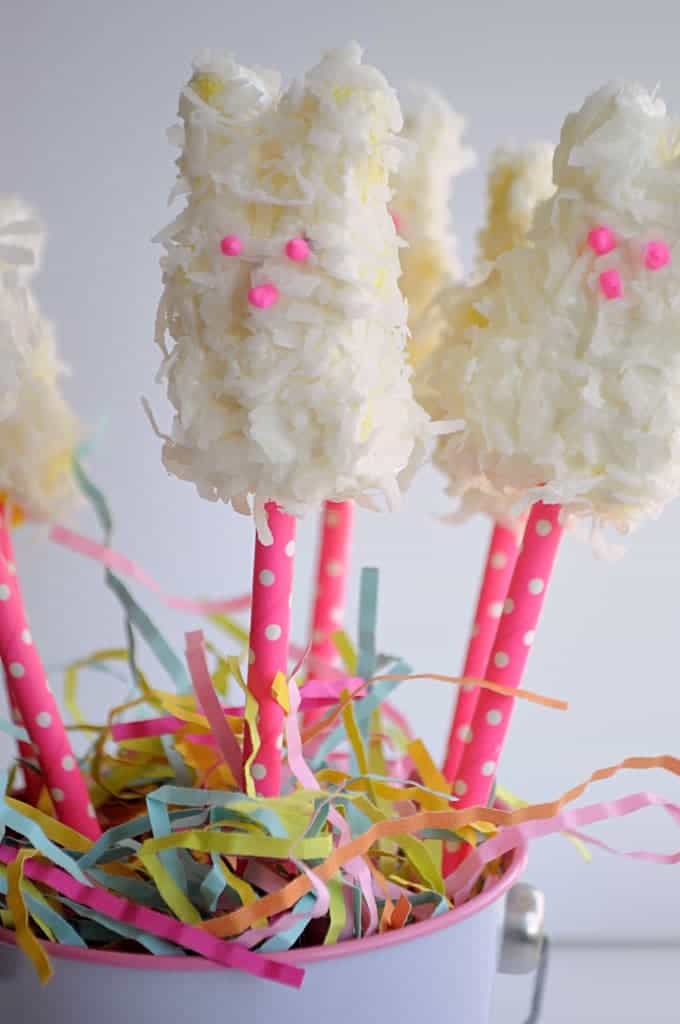 Cover the peep with the coconut while the chocolate is still soft so that it sticks.  Lay the peeps on wax paper while they dry.
Once they dried gently tap to have the loose coconut fall off.  Then add the faces with a frosting tip and some pink colored frosting, or any color that you choose!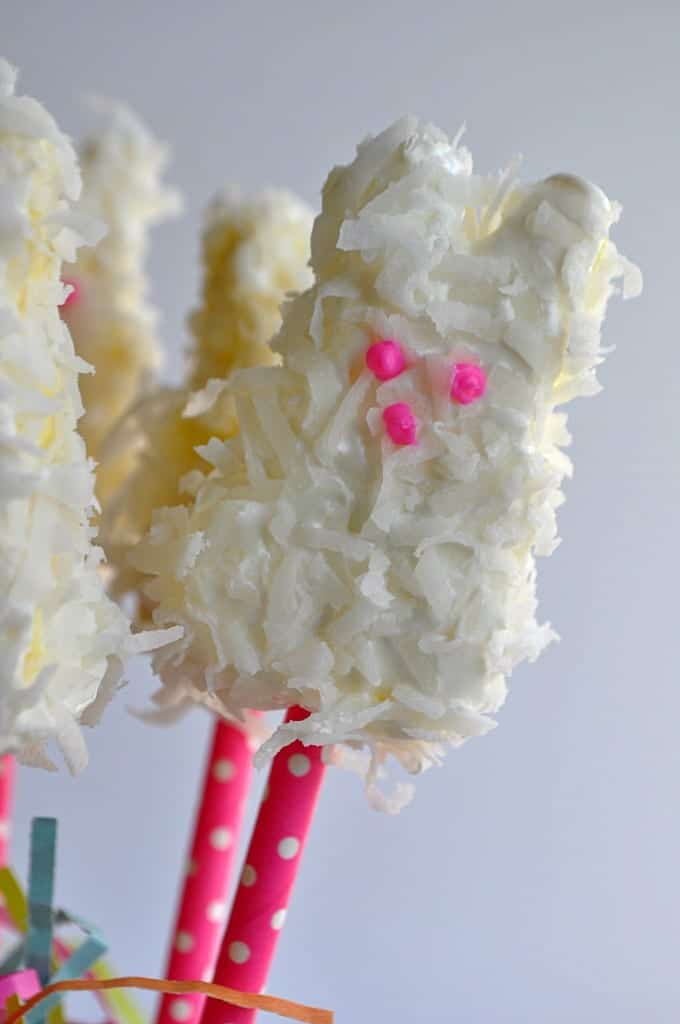 Be prepared to fall in love with these fuzzy bunny peeps!  Not only are they so CUTE, but they are yummy too!  Your kids will have so much fun making them and decorating the faces.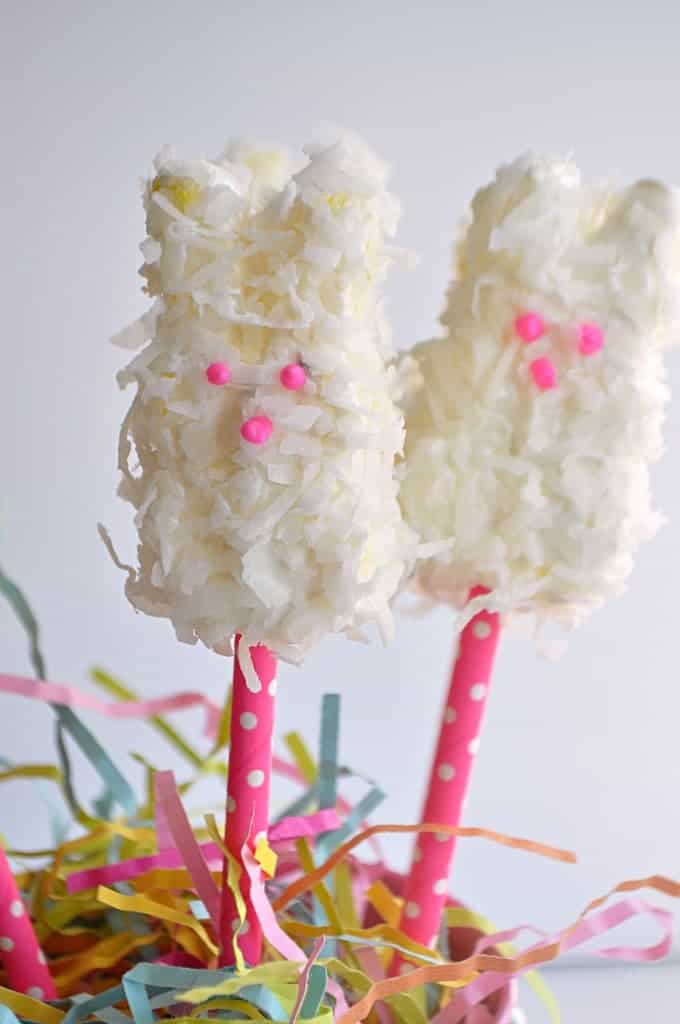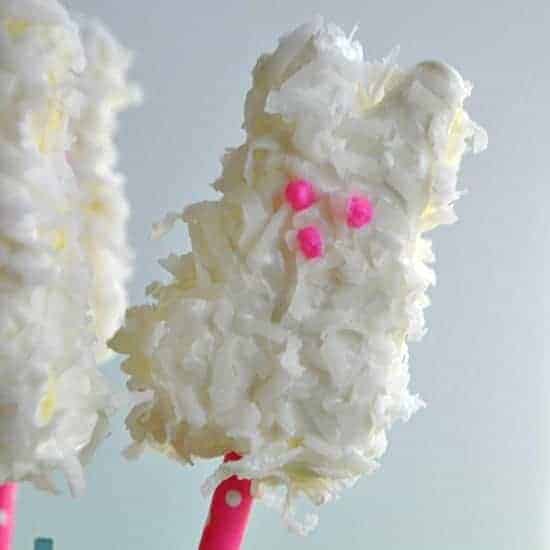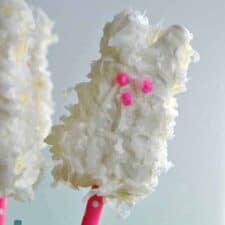 Coconut Marshmallow Peeps
Marshmallow bunny Peeps coated in white chocolate and coconut to create a cute fluffy bunny treat! 
Ingredients
1 package Peeps Marshmallow bunnies
1 cup white chocolate chips
1 cup frosting
pink food coloring
12 paper straws
1 cup sweetened coconut
Instructions
Melt the white chocolate in the microwave, keep the microwave at 50% power and microwave for 30 second increments until completely melted.

Place the peeps on the paper straws

Spoon the melted chocolate onto the Peeps scraping off the excess. Sprinkle with coconut. Place onto wax paper to cool and dry

Allow to cool for about 5 minutes, tap off the excess coconut. Using a frosting tip draw on the faces on the peep with a frosting tip
Nutrition
Calories: 576kcal, Carbohydrates: 76g, Protein: 3g, Fat: 30g, Saturated Fat: 16g, Cholesterol: 9mg, Sodium: 205mg, Potassium: 225mg, Fiber: 2g, Sugar: 70g, Vitamin A: 14IU, Vitamin C: 1mg, Calcium: 90mg, Iron: 1mg
More Easter Treats: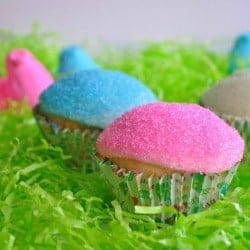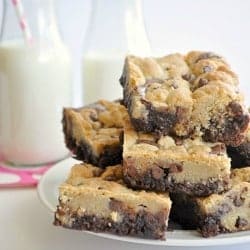 House of Yumm is a participant in the Amazon Services LLC Associates Program, an affiliate advertising program designed to provide a means for us to earn fees by linking to Amazon.com and affiliated sites.