Circus animal cookie cupcakes. These cupcakes are bursting with pieces of actual animal cookies and topped with a simple vanilla frosting and animal cookie style sprinkles. 
 Circus animal cookies make me smile. They have always been my favorite cookie.  So simple, so sweet, and so tasty!
Another favorite thing of mine?  Cupcakes.  It never fails, if there's something I love, I do  my best to turn it into a cupcake!  I don't know what it is about them.  I much prefer a cupcake over cake.  Even if they're the exact same thing, I prefer the cupcake.  Which makes no sense, wouldn't the obvious choice be to choose the cake since there's more of it?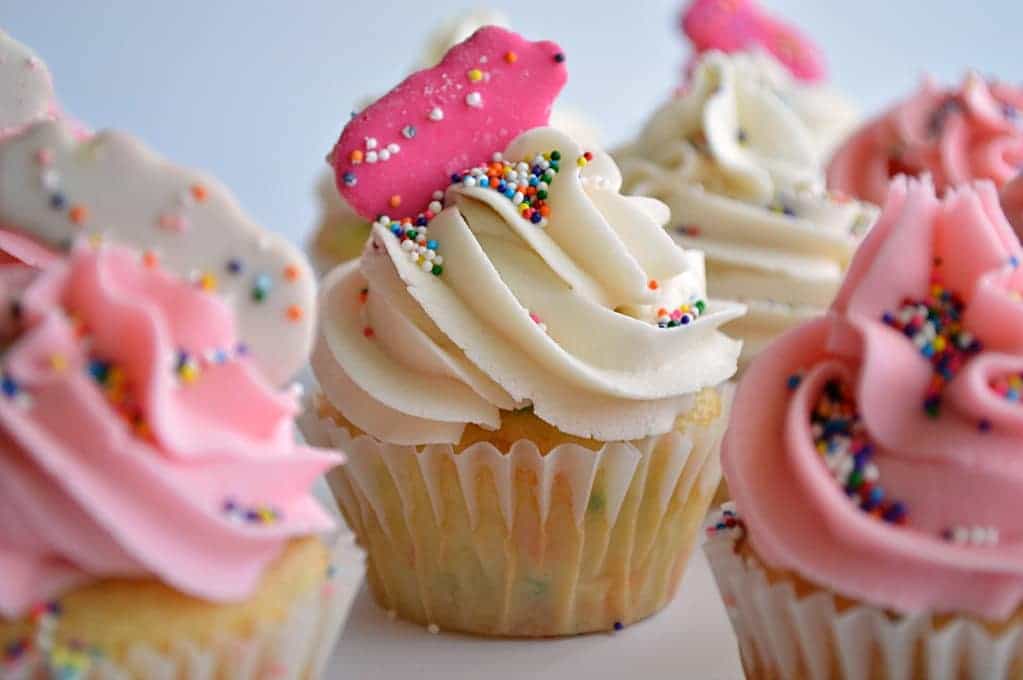 Maybe it's because the frosting on top of  a cupcake slightly resembles the shape of an ice cream cone?
Whatever the reasoning, these cupcakes make me smile.  A combination of two of my favorite things. Not to mention the sprinkles.  Sprinkles, another favorite thing of mine.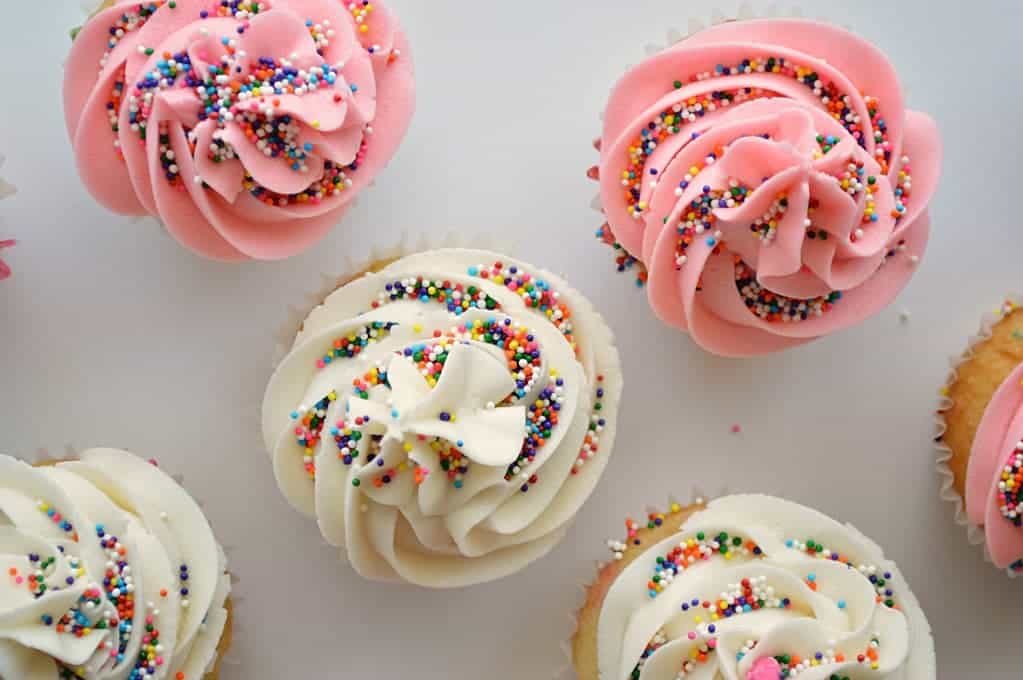 These cupcakes are super simple, I used a box mix.  A funfetti box mix at that.  I even prepared it according to the box, except for one special ingredient.  Bits of circus animal cookies.  I didn't really crush them because I wanted big chunks so I just broke them up with my hands and added it to the batter.  They baked perfectly.  As you bite into the cupcake you will encounter those lovely bits of circus animal cookies.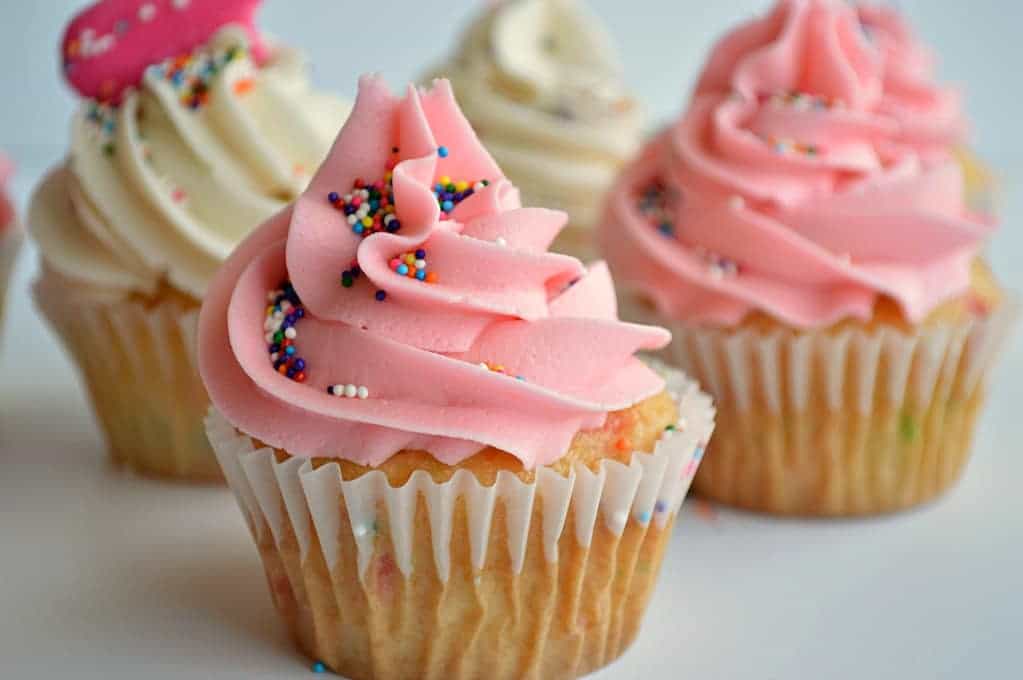 These cupcakes are topped with a simple vanilla frosting.  I'm not a huge fan of buttercream, perhaps I just haven't found the right one, or I just don't make it properly.  I tend to give away most of the cupcakes that I make though.  And I find with the buttercream, they get mushy and melty when they travel.  It could be because it's about 90 degrees here lately though (insert sweaty smiley face here).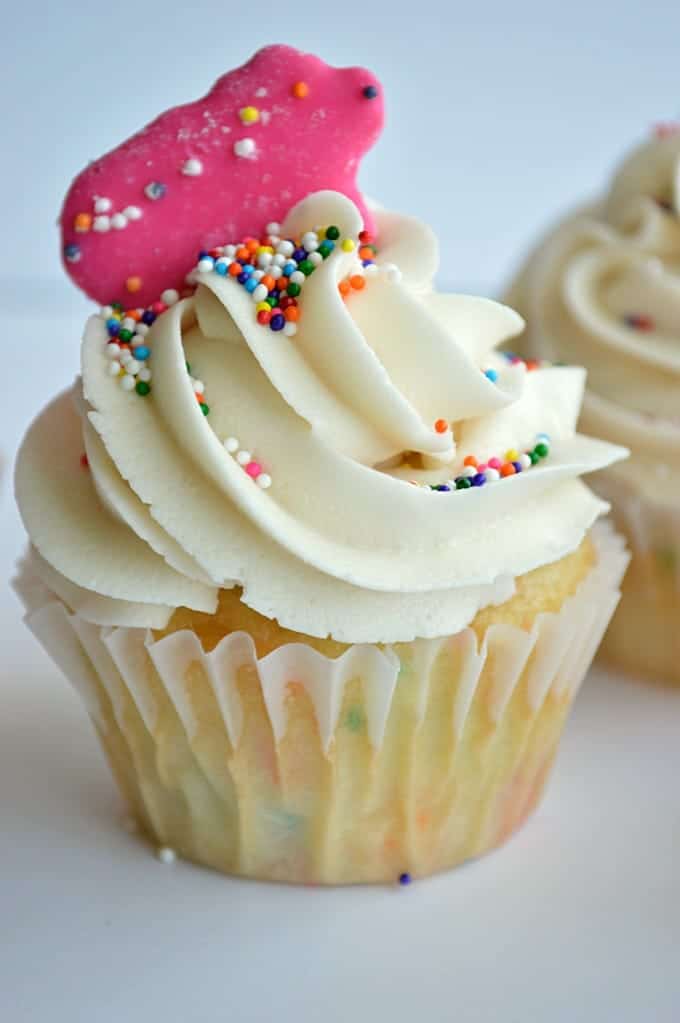 The frosting I used just has a little bit of butter in it, powdered sugar, milk, and vanilla.  Just how my mom used to make it!  She would always make the frosting and I would get to set up all my bowls, so I could make all the colors, and she would let me decorate the cake.  It usually involved a rainbow and some flowers.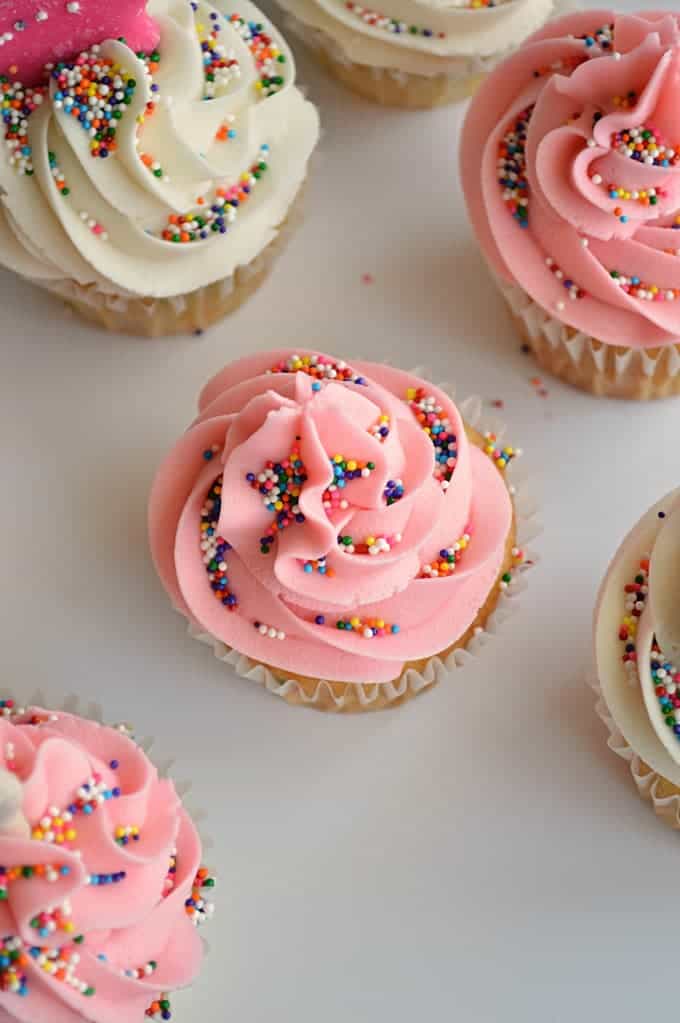 I used just a little bit of food coloring in this frosting, making it a pale pink.  Not quite the same as the pink circus animal cookie, but still pretty.  I also left some plain white, of course, just like the cookies themselves!  And the sprinkles.  Oh the sprinkles.  Again, they are just the pefect finishing touch!!
I'm in love with how these turned out.
You will LOVE these cupcakes because of how easy they are to make and how cute they are! These are a treat for all ages to enjoy!

  Thanks so much for visiting! Never miss a recipe from the House Of Yumm! 
FACEBOOK | PINTEREST | GOOGLE+ | TWITTER | INSTAGRAM | BLOGLOVIN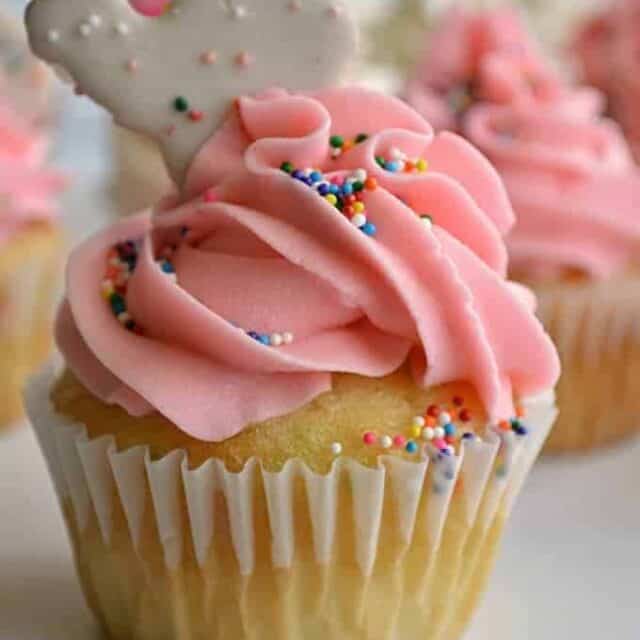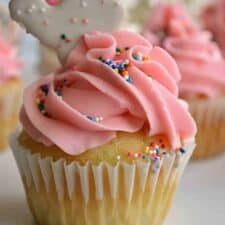 Circus Animal Cookie Cupcakes
Cupcakes bursting with bits of circus animal cookies and decorated to resemble the classic childhood cookie!
Ingredients
Cupcakes
1 funfetti cake mix
1 cup frosted animal cookies, crushed
Frosting
4 cups powdered sugar
8 tbsp butter, room temperature
4 tbsp milk
1 tsp vanilla extract
Red food coloring
Sprinkles
Instructions
Cupcakes
Prepare the cake mix according to the directions. Fold cookie bits into the batter and bake according to the box directions.
Frosting
Add all ingredients into large mixing bowl. Mix on medium speed until fully combined and frosting is fluffy.

Move half the frosting to another bowl and add 4-6 drops red food coloring. Or until desired color achieved.

Add to piping bag, I frosted these cupcakes using the Wilton 1M tip. Frost half the cupcakes with pink and the other half with white frosting.

Add sprinkles immediately after frosting.

Store cupcakes in airtight container at room temperature.
Nutrition
Calories: 186kcal, Carbohydrates: 34g, Protein: 1g, Fat: 5g, Saturated Fat: 3g, Cholesterol: 10mg, Sodium: 151mg, Potassium: 3mg, Fiber: 1g, Sugar: 29g, Vitamin A: 122IU, Calcium: 11mg, Iron: 1mg
PS..I think you'll like these too 😉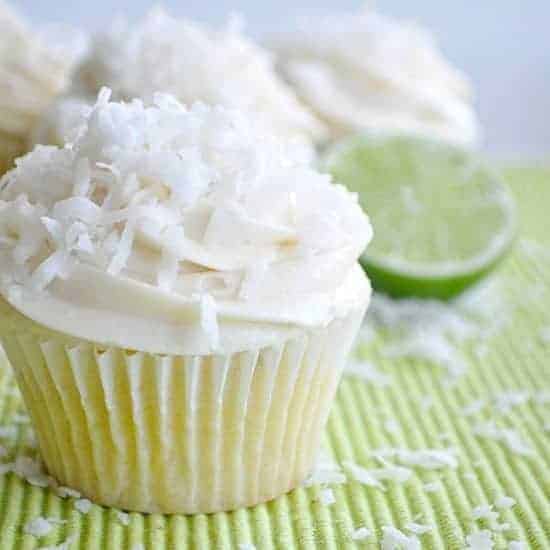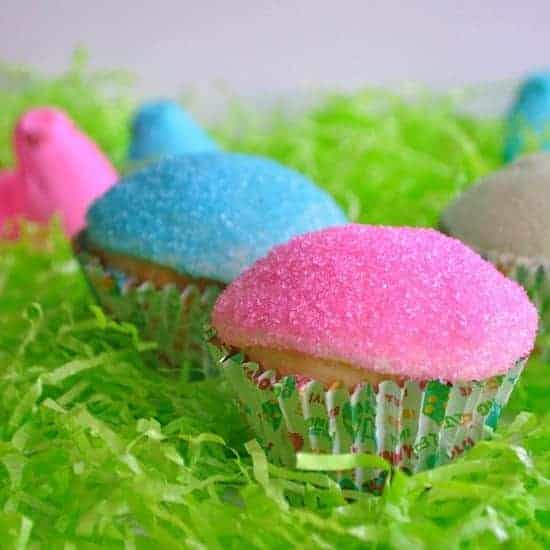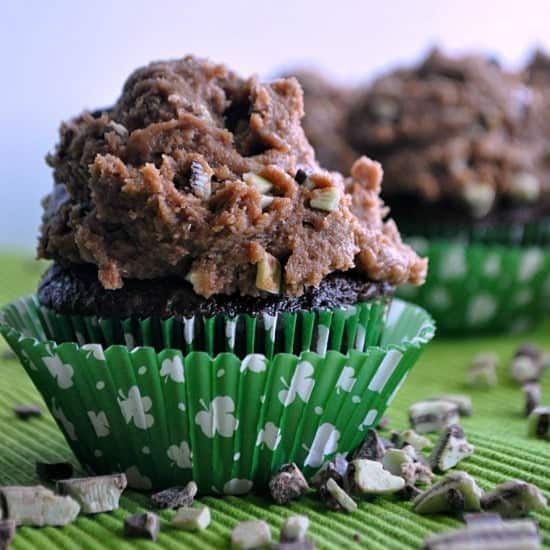 House of Yumm is a participant in the Amazon Services LLC Associates Program, an affiliate advertising program designed to provide a means for us to earn fees by linking to Amazon.com and affiliated sites.