Chocolate Fudge Cookie Cake
Please all the ghouls and goblins this Halloween with this Double Fudge Chocolate Cookie Cake!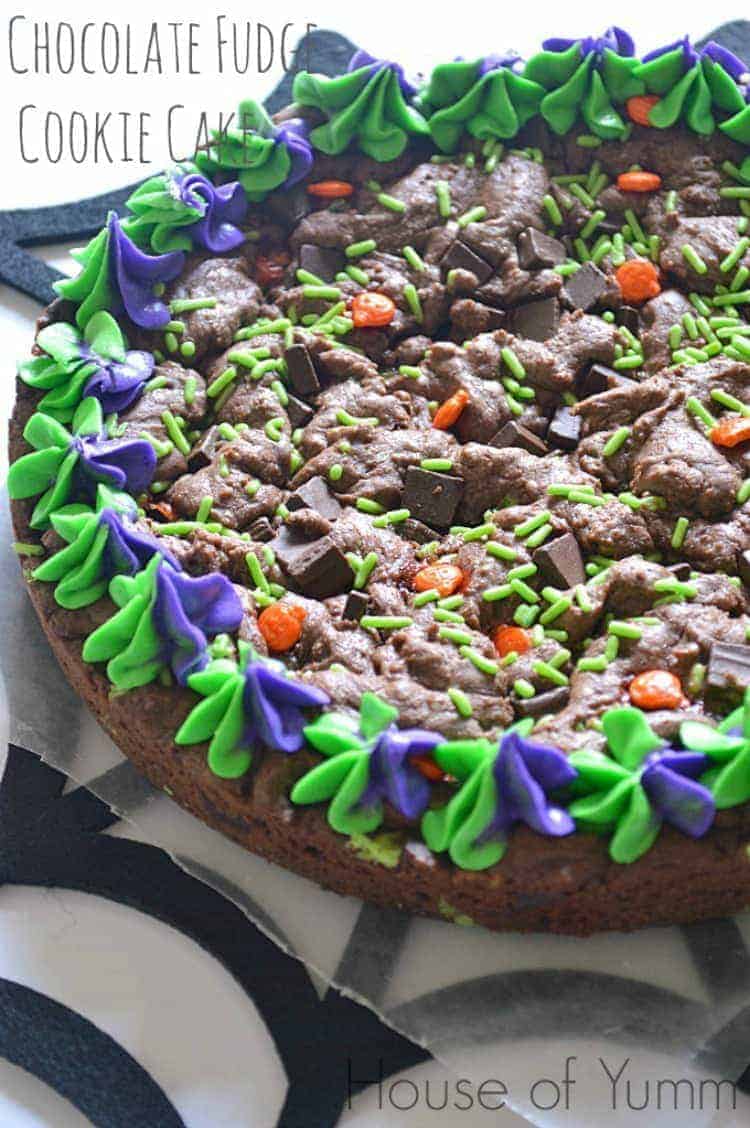 Does anyone else feel like Halloween is sneaking up on them?? Maybe it's because I have little kids who need to dress up. Typically I make their costumes, but I haven't even gotten started yet! So I'm feeling a little behind.. I don't even have a clever idea yet what to dress them up as. Any ideas? 4 little monsters? Last year the girls were all super heroes. Wearing tutus of course. This year there's three girls and one little bubba man. Which if you happen to follow me on snapchat @houseofyumm you've seen the pics of happy little bubba man.
I have the food covered though!
Remember this Chocolate Fudge Cookie Cake I made last year? I shared it on my friend Jenny's site. I figured it was time I posted it here for all of you! 💚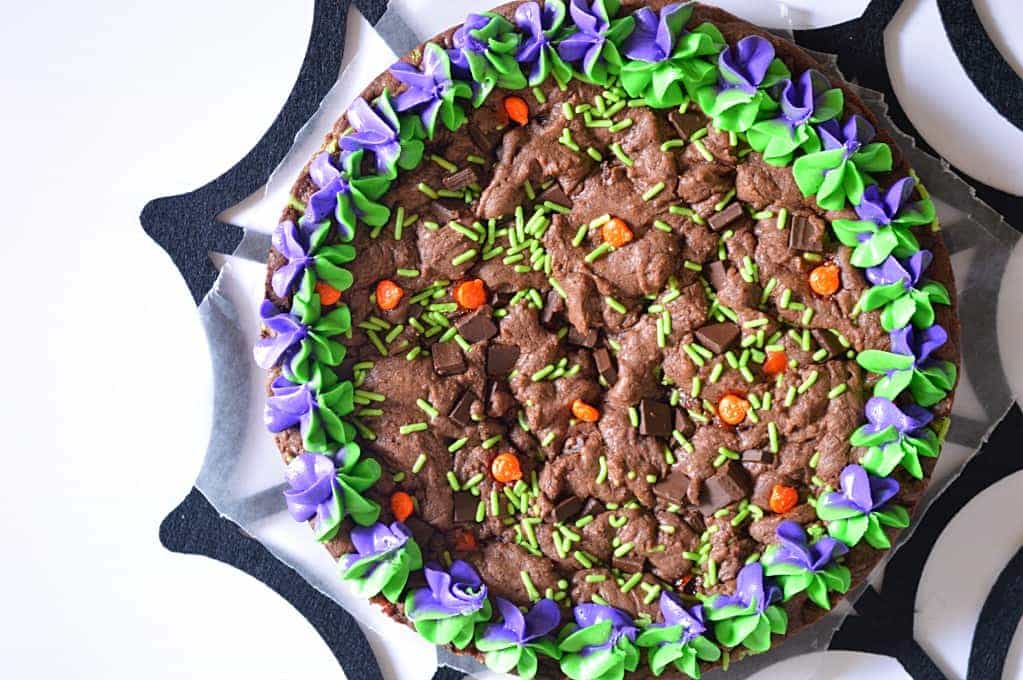 I love that purple is considered a Halloween color. This frosting is so fun and purdy isn't it?! Swirling colors together is super easy too!
And can we just talk about those sprinkles?! Tiny pumpkins.🎃 I'm in love. If you're looking for some super cute sprinkles I suggest hitting up Target, they usually have holiday sprinkles in the dollar section. It just doesn't get any better than that.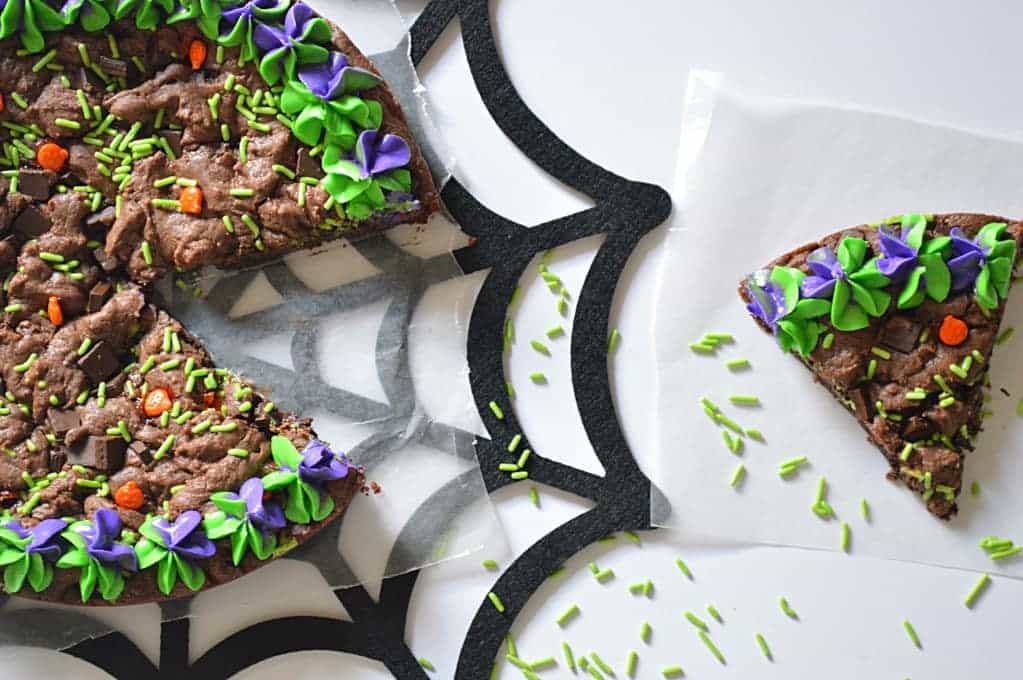 This little cookie cake is a breeze to make since it starts with a cookie mix. You could whip up a batch of some chocolate cookie dough if you have time. If not though, just grab a mix and follow the instructions. Toss in some extra chocolate and bake it in a 9 inch round pan to create a cookie cake instead of small cookies.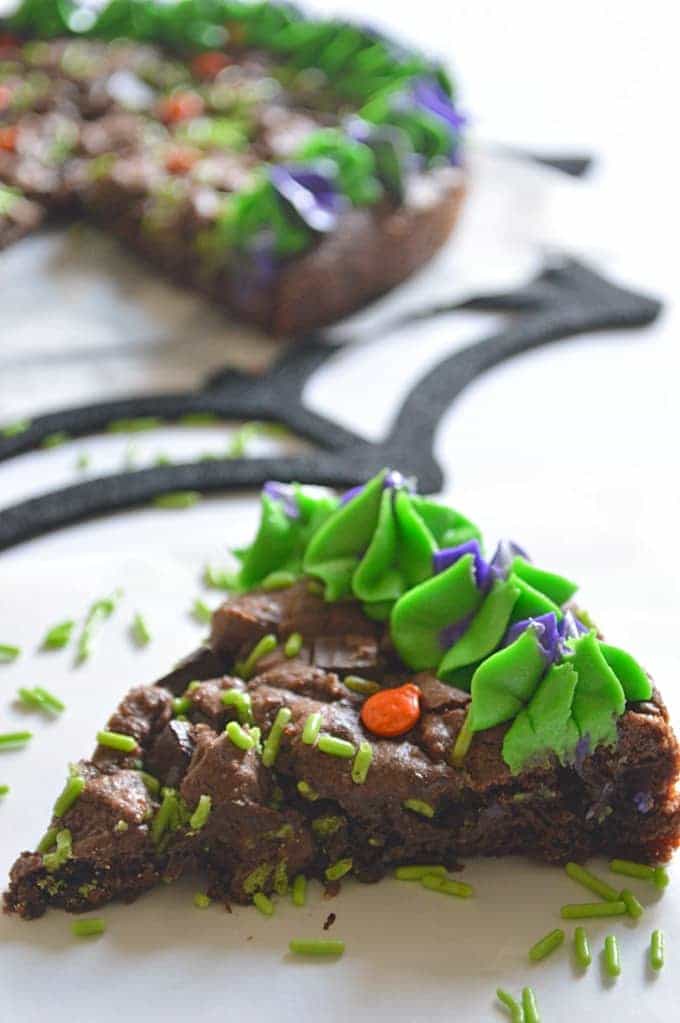 Do you love Fall? Check out all my Fall inspired recipes for more cooking inspiration!
Follow me on Instagram and tag #houseofyumm so I can see all the recipes you make. And if you want to follow along in my everyday life, find me on snapchat: houseofyumm 💜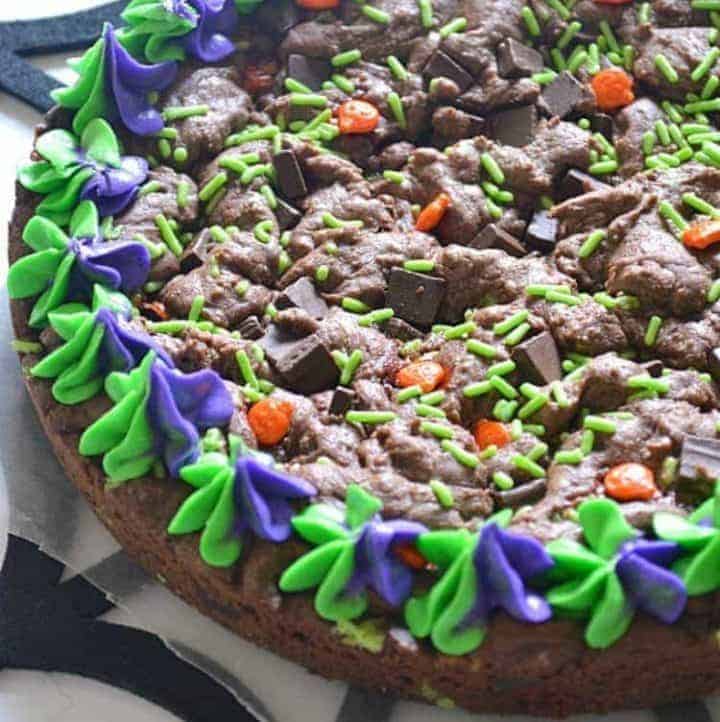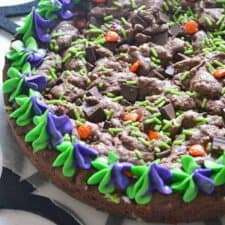 Chocolate Fudge Cookie Cake
Please all the ghouls and goblins this Halloween with this Double Fudge Chocolate Cookie Cake!
Ingredients
1 Chocolate Cookie Mix, plus required ingredients
¼ cup halloween sprinkles, used Wilton sprinkles
Frosting
2 cups powdered sugar
2 tbsp butter, softened to room temperature
3 tbsp milk
½ tsp vanilla
purple and green food coloring, used Wilton purple gel food coloring, and Wilton leaf green icing color
Instructions
Preheat oven to 375°F,

Prepare the cookie mix according to the directions. Add in the sprinkles as desired. Pour into a 9 inch round greased cake pan.

Bake for 20 minutes or until the center is fully cooked.
Frosting
Add all ingredients into large mixing bowl. Mix on medium speed until fully combined and frosting is light and fluffy.

Separate the frosting into two equal amounts and add approximately three drops of food coloring (or until desired color is achieved) to each bowl, purple in one bowl, green in another.

Add frostings to piping bags, I used a Wilton 2D tip. Squeeze out some frosting on the side to ensure both colors are coming out. Then decorate the edge of the cookie cake! Enjoy!
Nutrition
Calories: 190kcal, Carbohydrates: 47g, Protein: 1g, Fat: 1g, Saturated Fat: 1g, Cholesterol: 1mg, Sodium: 4mg, Potassium: 10mg, Sugar: 46g, Vitamin A: 12IU, Calcium: 8mg
House of Yumm is a participant in the Amazon Services LLC Associates Program, an affiliate advertising program designed to provide a means for us to earn fees by linking to Amazon.com and affiliated sites.