Chocolate Banana Cream Pie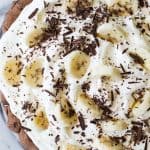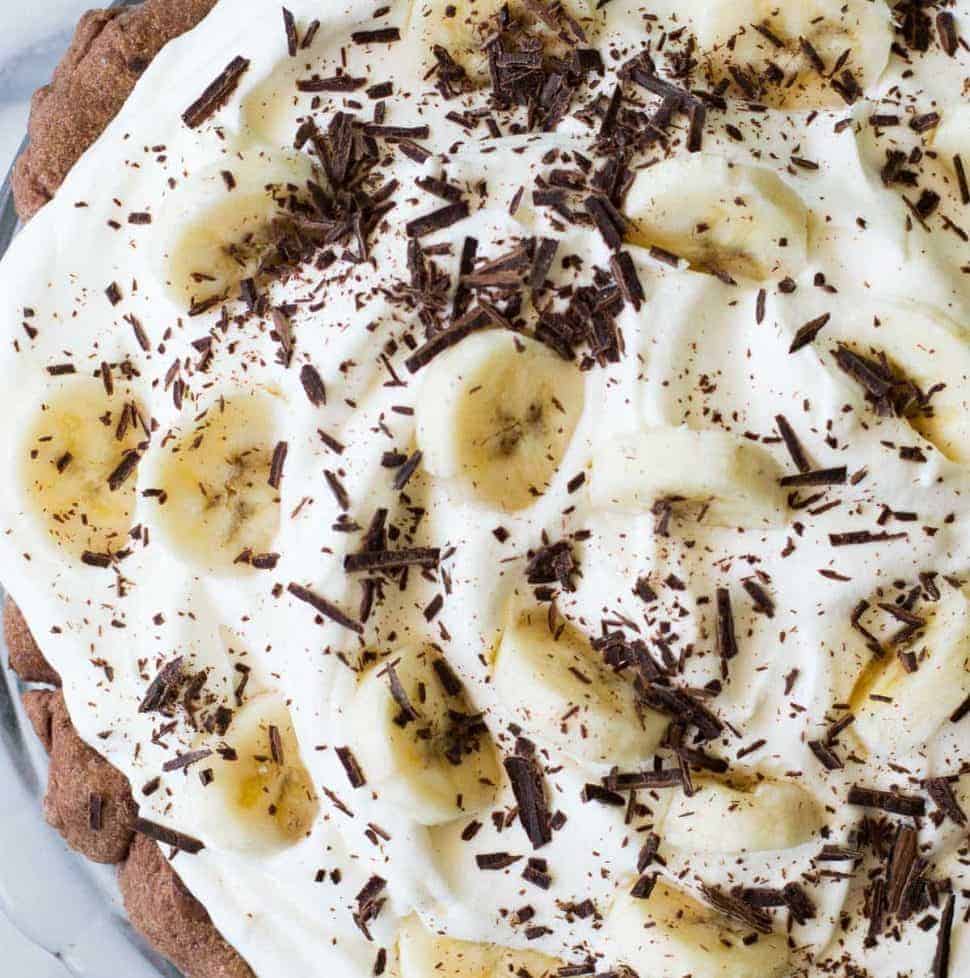 Author:
Prep Time:

3 hours

Cook Time:

20 minutes

Total Time:

3 hours 20 minutes

Yield:

1 pie
Ingredients
Chocolate Pie Crust
1 and 1/4 cup all purpose flour
1/4 teaspoon salt
1/8 teaspoon baking powder
2 tablespoons unsweetened cocoa powder
1 tablespoon white granulated sugar
8 tablespoons cold butter (cut into tablespoon size slices)
4-5 tablespoons ice water
1 tablespoon flour to roll dough out with
Chocolate Cream Layer
1 cup heavy cream (divided)
5 ounces semi sweet chocolate chopped
Custard Layer
1/4 cup + 1 tablespoon sugar
1 and 1/2 tablespoon cornstarch
pinch of salt
3 egg yolks
1 and 1/4 cup half and half
1 tablespoon butter
1 teaspoon vanilla extract
Topping
2 cups heavy cream
1 tablespoon powdered sugar
banana slices
chopped chocolate
Instructions
Chocolate Pie Crust
Preheat oven to 425 degrees.
Add the flour, salt, baking powder, cocoa powder, sugar in a food processor (affiliate link). Pulse to combine.
Add in the cold butter and pulse until the butter is cut into the flour mixture and has the texture of coarse meal.
Slowly add the ice water a tablespoon at a time pulsing after each addition until the pie crust clumps together and forms a ball in the processor.
Sprinkle flour on a solid, clean surface. Rub a small amount of flour on a rolling pin. Roll the pie crust out into a large circle to fit the 9 inch pie dish.
Carefully place the pie crust into the pie dish. Pressing into the edges. Cut the excess from the edge and flute using your fingers.
Using a fork gently poke holes into the bottom of the crust. Bake for 10 minutes or until pie crust is cooked through. Remove from the oven and set aside to cool.
Chocolate Cream
Add the chopped chocolate to a heat safe bowl and set aside.
Pour 1/2 cup of heavy cream into a small saucepan. Heat to just boiling. Remove from heat and pour over the chocolate.
Let set for a couple of minutes then stir until all the chocolate is melted and mixture is smooth. Allow this to cool to room temperature for about 10 minutes.
Pour the remaining 1/2 cup of heavy cream into another bowl, beat with a mixer until soft peaks form. Fold into the chocolate mixture.
Pour this into the bottom of the pie crust. Place the pie in the fridge to chill.
Custard Layer
In a medium size saucepan, combine sugar, cornstarch, salt egg yolks and half and half. Stir until smooth. Cook while stirring over medium-high heat until thickened and bubbling.
Remove from heat.
Add in the butter and vanilla extract. Stir to combine. Pour through a fine mesh strainer over a bowl.
Allow the custard mixture to cool in the fridge for about 30 minutes.
Remove the pie from the fridge. Slice the banana and layer the banana slices on top of the chocolate layer. Then spoon the cooled custard on top and smooth it out.
Beat the heavy cream and powdered sugar until peaks form. Spoon this onto the pie.
At this point the pie can be chilled. Allow to chill for about 2 hours.
Before serving top with sliced bananas and chopped chocolate.
Notes
Time includes chilling time.