This is a sponsored conversation written by me on behalf of Tyson Foods, Inc. As always the opinions and text are all mine.
Chilaquiles Rojos. A traditional Mexican breakfast dish with a few Tex Mex additions. This dish is bursting with flavor and spice! #tortillalandholiday #recipe
Who's ready for some breakfast?! I have a dressed up, slightly easier version of a traditional Mexican breakfast for you today. Chilaquiles Rojos. Pronounced Chee-Lah-Kee-Lehs. If that helps you.. I seriously just sat here saying it 20 times with the hubs to determine the best way to write that out phonetically for you. Chilaquiles Rojos is basically fried tortilla strips covered with a red sauce. And of course, I added a few additional toppings. Which makes my version more Tex Mex than Mexican. There's nothing better for the holidays than using dinner leftovers to make breakfast. Such a time saver! And that's exactly what this dish is!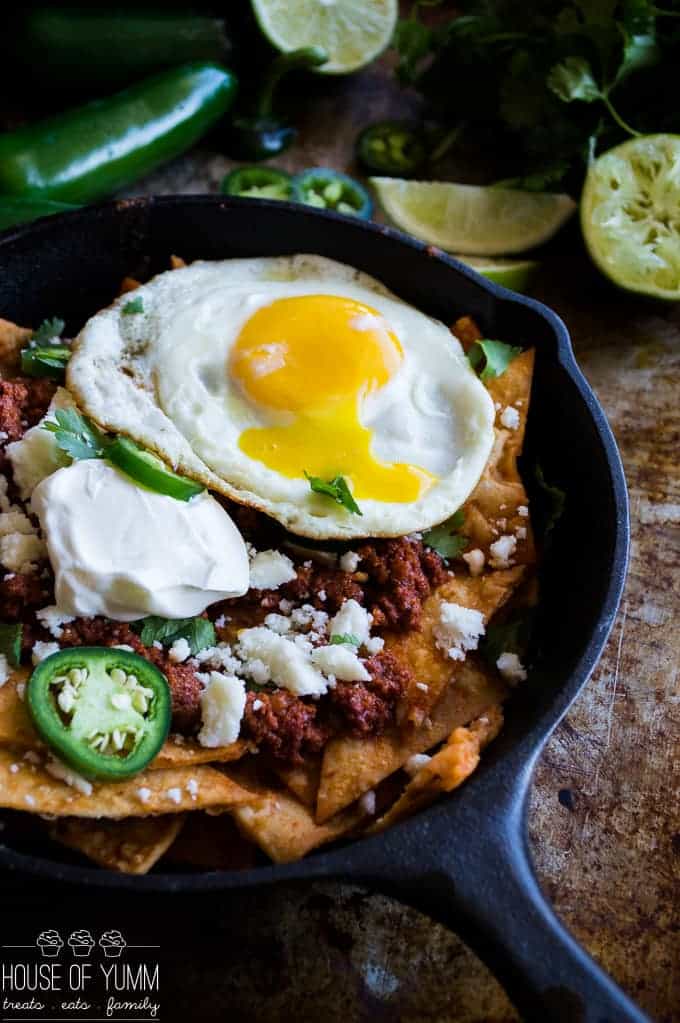 The trick to making Chilaquiles? The tortillas. You actually want to use leftover tortillas that are not super fresh. Typically this dish would be made the day after the tortillas were made. Meaning we would be making fresh, homemade tortillas. I love fresh tortillas. Now do I make my own? Not really. BUT! I have found these amazing TortillaLand tortillas at Costco, they're kept in the refrigerated section, because they're not cooked! They're pre-made with only 5 ingredients: wheat flour, water, canola oil, salt, and sugar. You can buy either flour or corn. Since they're not cooked, then we get to cook them! So it's almost like making homemade, fresh tortillas. These tortillas have a great taste and texture. Just like Gramma makes! Best part, I got them at Costco. Which means I had plenty on hand to make with our Sweet Barbacoa. And some left over for the next morning to make these Chilaquiles Rojos.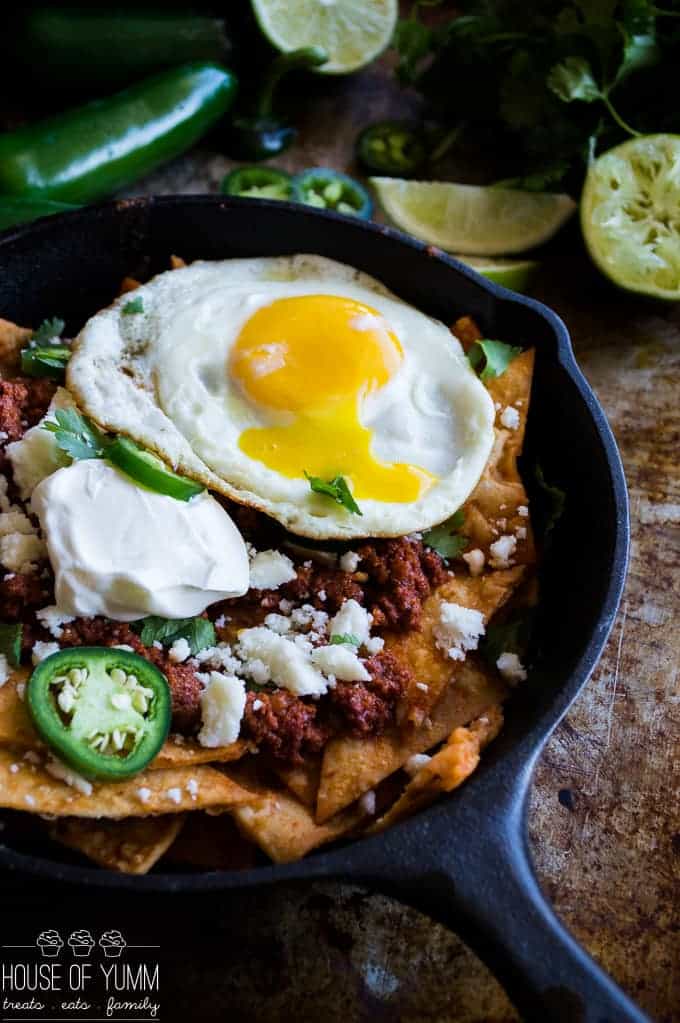 Ok, so the basics of this dish. Tortillas. I went with corn. Cut into triangles and fried in some oil. Then soaked in red chile sauce. I purchased mine, you're more than welcome to make your own red sauce. I prefer my chilaquiles slightly crunchy. So I didn't cook them in the sauce for too long. They are supposed to be soft though. I'm just weird. Traditionally these are served with some meat, whatever is leftover, queso, and the egg. Oh the egg.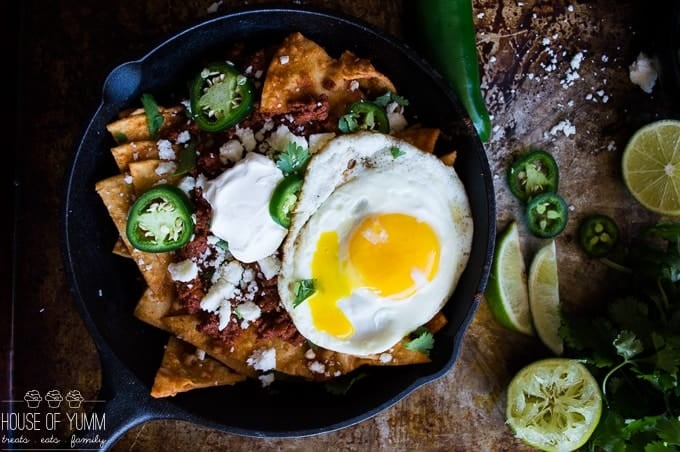 And then I went all out with the toppings on mine. Some cilantro, jalapeños, sour cream and queso. You really can add whatever you want to this dish. Again, traditionally there would be tortillas, red sauce, meat, and queso. But again, I'm Texan. So I add a little Southwestern flair to mine.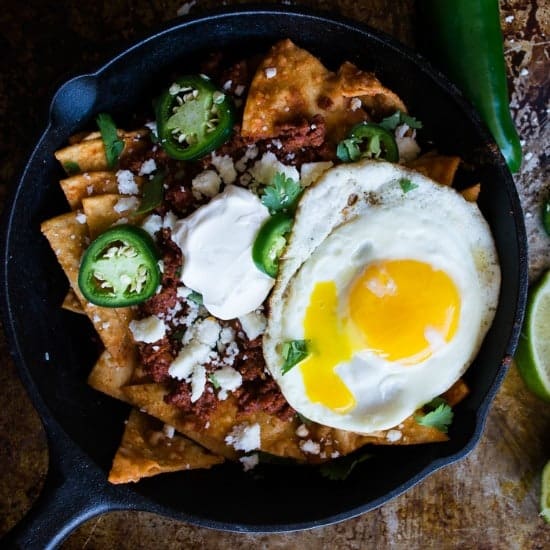 Now I have something fun for you! I want to know what you would make with these TortillaLand tortillas! Seriously, the possibilities are endless! Leave me a comment below telling me what your plans are for these tortillas. I'll be picking one reader, randomly, who leaves me a comment telling me what they would make, and you will win a $50 gift card to Costco! I must have your ideas by Jan 1, 2016 to be considered 🙂
Make sure you check out more info about TortillaLand by going to their site here! Find these at a Costco near you by checking out tortillafan.com.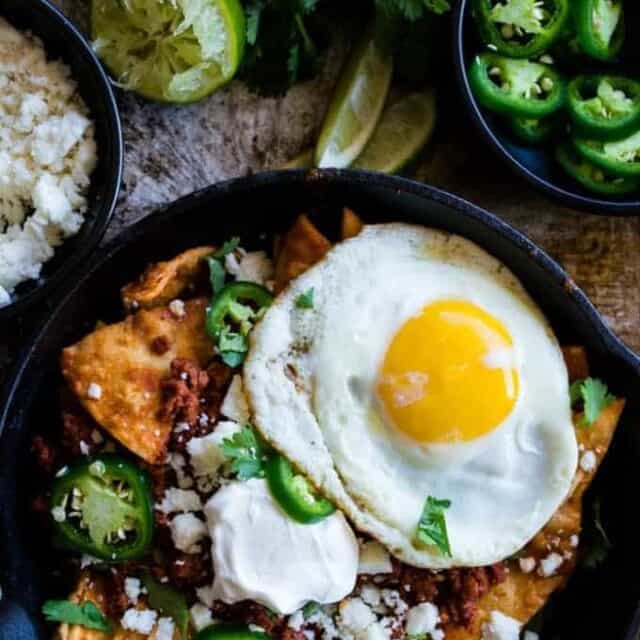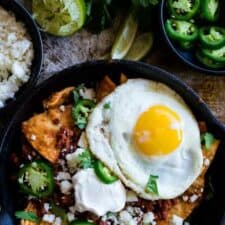 Chilaquiles Rojos
Chilaquiles Rojos. A traditional Mexican breakfast dish with a few Tex Mex additions. This dish is bursting with flavor and spice!
Ingredients
8-10 corn tortillas
3 cups vegetable oil, or corn oil
2 cups red chile sauce
9 ounces pork chorizo
queso fresco
2 large eggs
Optional Toppings
Sour Cream
Jalapeños
Instructions
Slice the tortillas into 8ths, creating 8 equal triangle shapes. Heat the oil in a deep sauce pan. Place the corn tortilla pieces into the heated oil in small batches, fry in the oil for about 10 seconds on each side. The tortilla will start to turn slightly golden and will be crunchy when removed from the oil. Place the fried tortilla onto a paper towel to dry the oil off of them.

In another skillet cook the chorizo and set aside. Then cook the egg sunny side up, or to preference. And set aside.

Place the fried tortillas in a skillet. Pour the red chile sauce over them. Allow the tortillas to cook in the sauce for about 2 minutes. Just enough to heat them.

Top with the chorizo, the egg and any other additional toppings you choose.

Serve warm and enjoy!
Nutrition
Calories: 654kcal, Carbohydrates: 47g, Protein: 32g, Fat: 37g, Saturated Fat: 13g, Cholesterol: 243mg, Sodium: 1636mg, Potassium: 254mg, Fiber: 7g, Sugar: 1g, Vitamin A: 693IU, Calcium: 109mg, Iron: 5mg
LEAVE A COMMENT FOR A CHANCE TO WIN $50 GIFTCARD TO COSTCO! LET ME KNOW YOUR PLANS FOR YOUR TORTILLALAND TORTILLAS 🙂
ENTRIES NEED TO BE RECEIVED BY MIDNIGHT CST JAN 1, 2016
House of Yumm is a participant in the Amazon Services LLC Associates Program, an affiliate advertising program designed to provide a means for us to earn fees by linking to Amazon.com and affiliated sites.