Homemade cinnamon rolls made with carrot cake mix stuffed with sweet brown sugar and raisins. Topped with a decadent maple cream cheese frosting.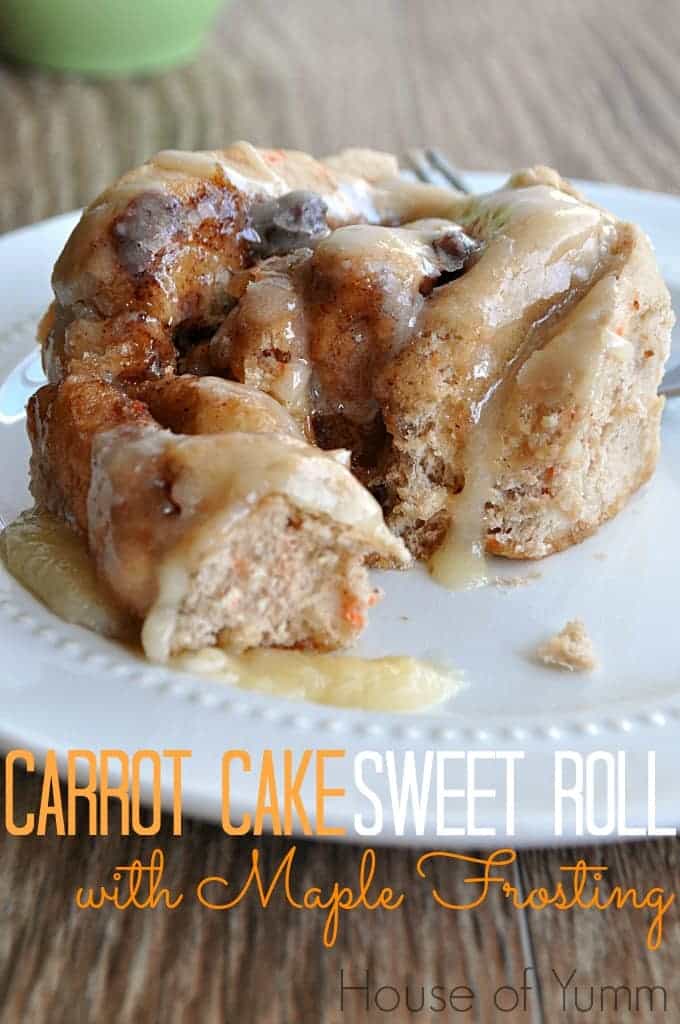 My husband is a HUGE fan of carrot cake.  And I'm a huge fan of anything dessert for breakfast.  I love cinnamon rolls because that's pretty much what they are.  Dessert for breakfast.  And I made these ones with carrot cake because that's my husband's favorite.  And I'm the BEST wife EVER!!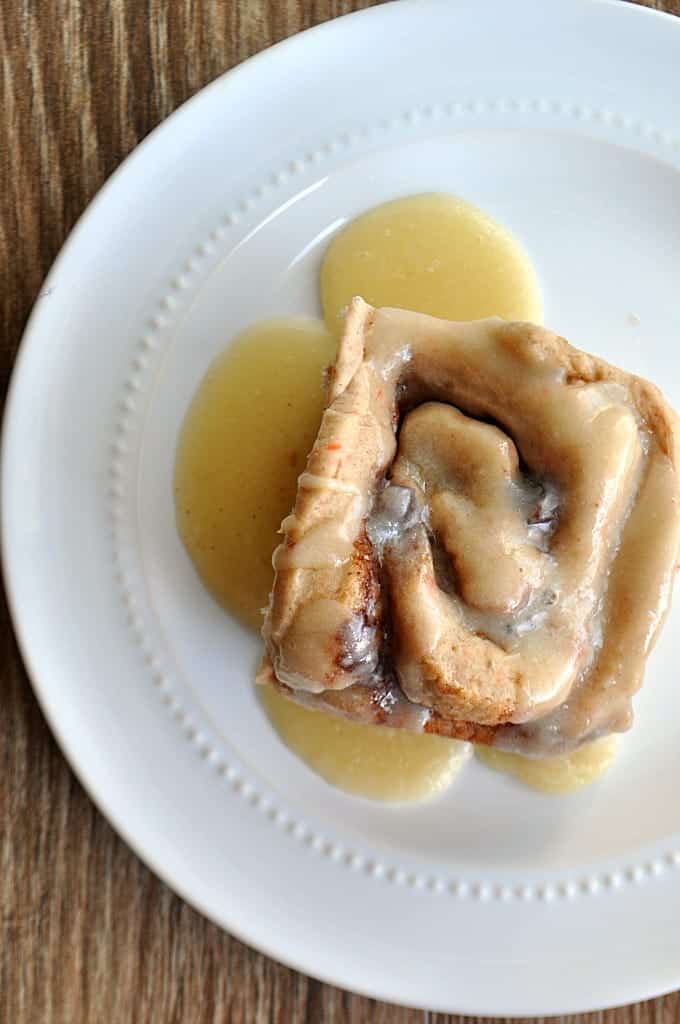 These cinnamon rolls, although a lengthy process due to yeast rising, are really quite easy to make. For anyone who has not used yeast before, trust me when I say that this recipe is so easy! There is nothing to be scared of. And once you experience your first punching of risen dough you will be hooked!! From that moment on you will be looking for recipes that use yeast just so you can punch the dough again!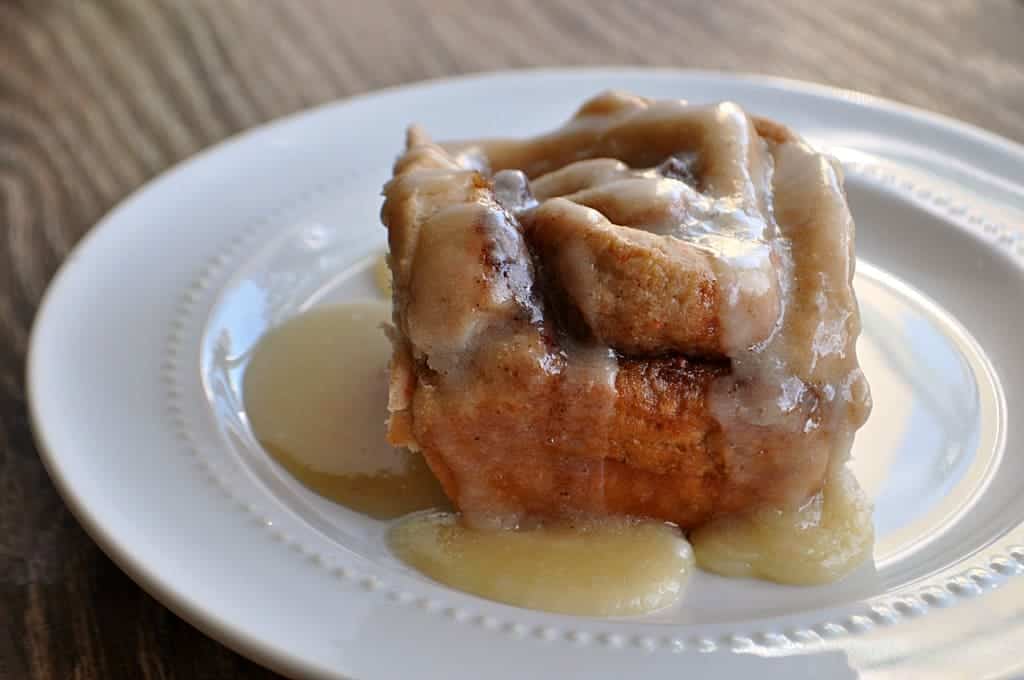 The recipe for the cinnamon rolls is one that I found here on Love from the Oven by Christi. I really only changed the amounts, if you want to use the full box of cake mix you will end up with two 9×13 pans of cinnamon rolls. Personally I didn't need that much. And I can always find use for the remaining cake mix!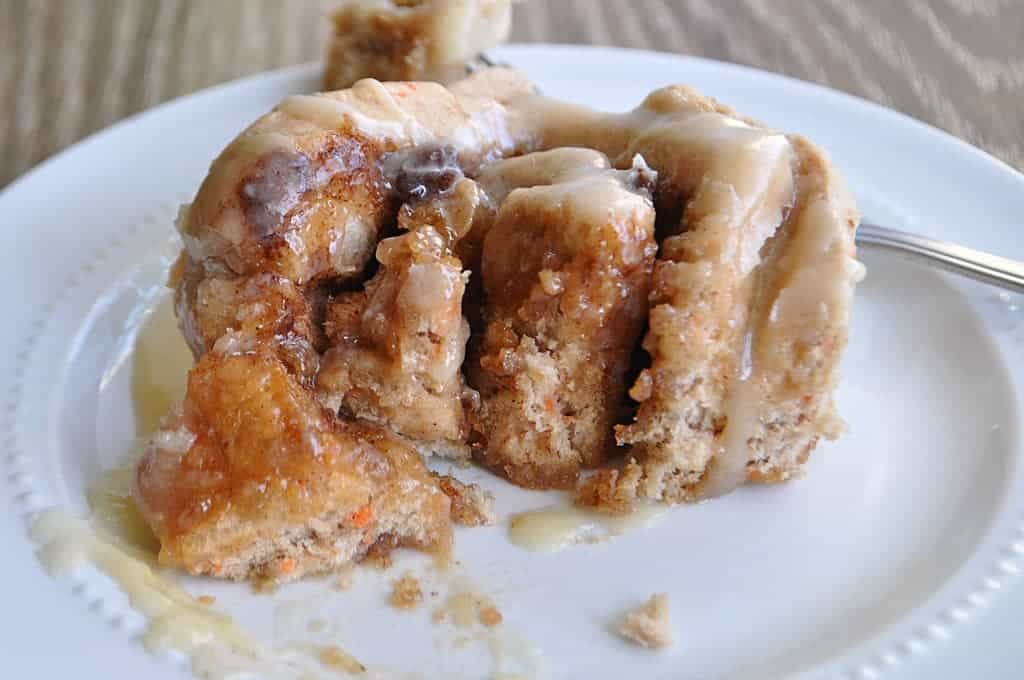 The maple frosting was a wonderful addition, it's more like a really thick glaze. I love how it got nice and gooey when put on the warm cinnamon rolls. Of course you can always change the consistency of the glaze, or frosting, by adding milk or powdered sugar to it.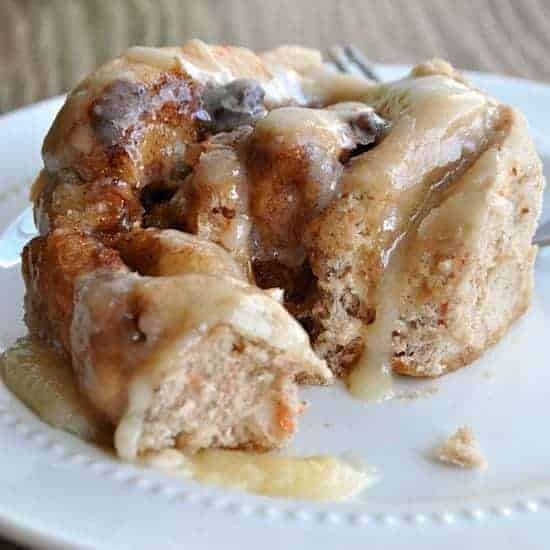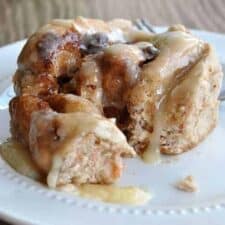 Carrot Cake Sweet Rolls with Maple Frosting
Homemade cinnamon rolls made with carrot cake mix stuffed with sweet brown sugar and raisins.  Topped with a decadent maple cream cheese frosting. 
Ingredients
1 cup carrot cake box mix
1 packet Active Dry Yeast
1 ¼ cup water, warmed to 110℉
½ tsp vanilla extract
½ tsp salt
2 ½ cups all purpose flour
1 cup light brown sugar
1 tsp cinnamon
½ cup raisins
Frosting
1 ¼ cup powdered sugar
3 tbsp butter, softened
2 ounces cream cheese, softened
4 tbsp maple syrup
Instructions
In a bowl mix the yeast and the warm water until the yeast is fully dissolved.

In a large mixing bowl combine the cake mix, flour, and salt.

Add in the yeast mixture. Stir and knead the dough with your hands until all ingredients are fully combined together. Cover the bowl tightly and allow to sit for about 60 minutes to rise.

Punch the dough, it will deflate, then re-cover the bowl tightly and allow the dough to rise again for another 30 minutes.

Create a floured surface and roll out the dough until it is a rectangular shape and about 1/4 of an inch thick. Soften the butter and brush it all over the surface of the dough. Make sure you go to the edges. Sprinkle with the brown sugar, cinnamon and raisins. Roll the dough into one long piece. Roll the dough until it is one long roll. Cut this into equal pieces about 1/2 inch wide.

Place the rolls into a greased 9x13 baking pan. Cover the pan and allow the rolls to rise again for 10-15 minutes. Bake at 350 uncovered for about 15 minutes or until golden and cooked through.

For the frosting:

Combine all ingredients into a bowl and mix, will be a thick glaze. You can add milk or powdered sugar to change the consistency.
Nutrition
Calories: 304kcal, Carbohydrates: 60g, Protein: 3g, Fat: 6g, Saturated Fat: 3g, Cholesterol: 10mg, Sodium: 221mg, Potassium: 157mg, Fiber: 1g, Sugar: 35g, Vitamin A: 122IU, Vitamin C: 1mg, Calcium: 43mg, Iron: 2mg
House of Yumm is a participant in the Amazon Services LLC Associates Program, an affiliate advertising program designed to provide a means for us to earn fees by linking to Amazon.com and affiliated sites.