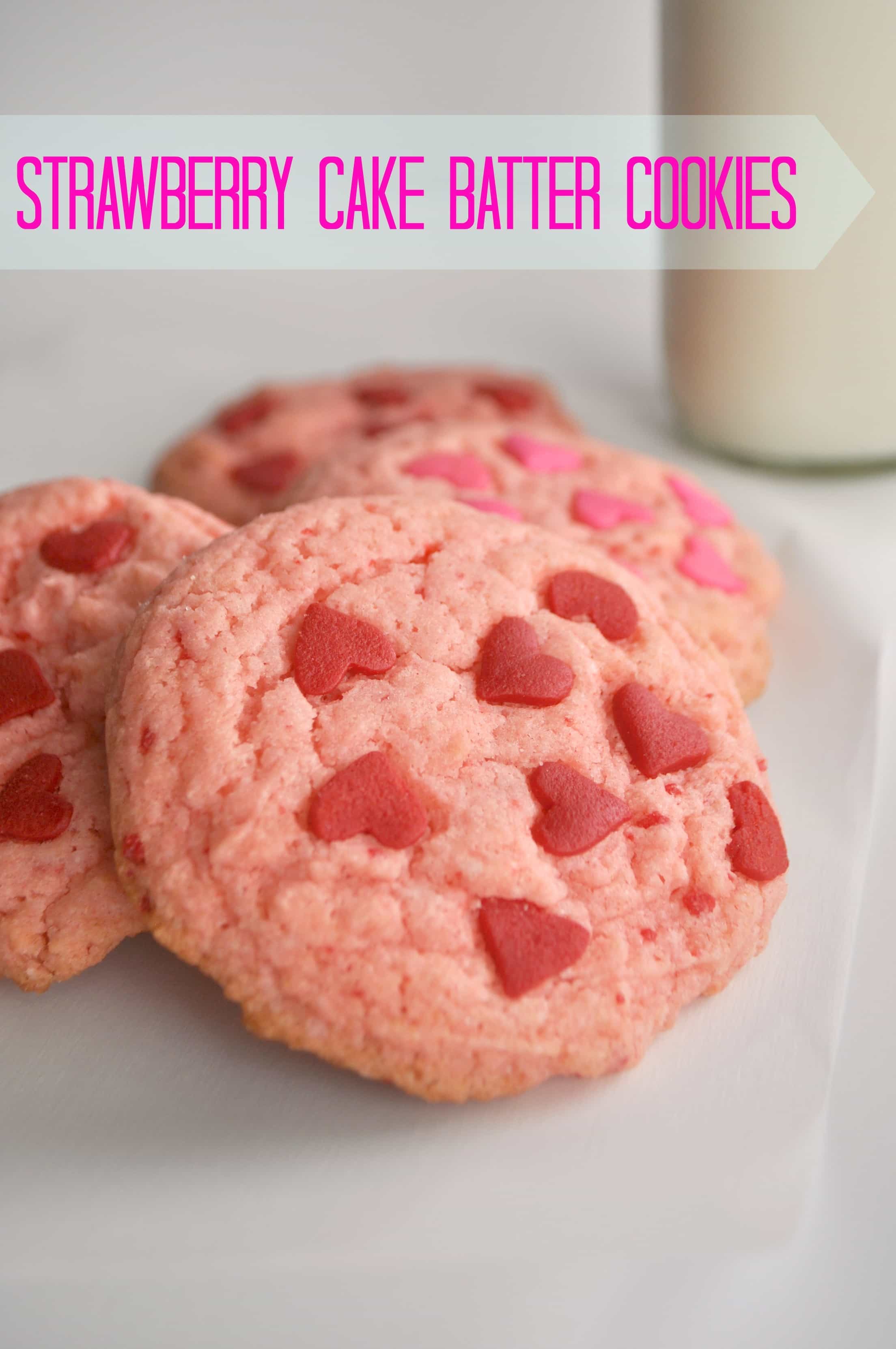 Cake batter cookies.  Such a simple idea.  Why has it taken me so long to try this out?  Cake mix is so versatile.  If you've been following, we currently have a Strawberry Cake Batter milkshake, cupcakes, and now these cookies.
While I was looking at how others transform their cake mix into cookies, I found wonderful recipes including tons of butter and cream cheese.  Oh my, lots and LOTS of cream cheese.  And while I'm a huge fan of cream cheese, I'm also a huge fan of fitting into my jeans.  And ever since this third baby of mine, my jeans and I are not often on speaking terms.  So a block of cream cheese while so yummy in its creamy, cheesy goodness, not quite what I wanted in these cookies.
Don't get me wrong, I am not saying that these cookies are healthy, because they absolutely are not.  They're cookies..but at least I avoided an extra block of cream cheese that would prevent me from buttoning the dreaded jeans.
Instead, I just opted for a butter version.  See, I told you not healthy by any means!  But if you're going to be eating cookies, are you really looking for healthy?  Personally I'm looking for that moist, buttery taste that I've come to expect from those compact, baked bites of yumminess.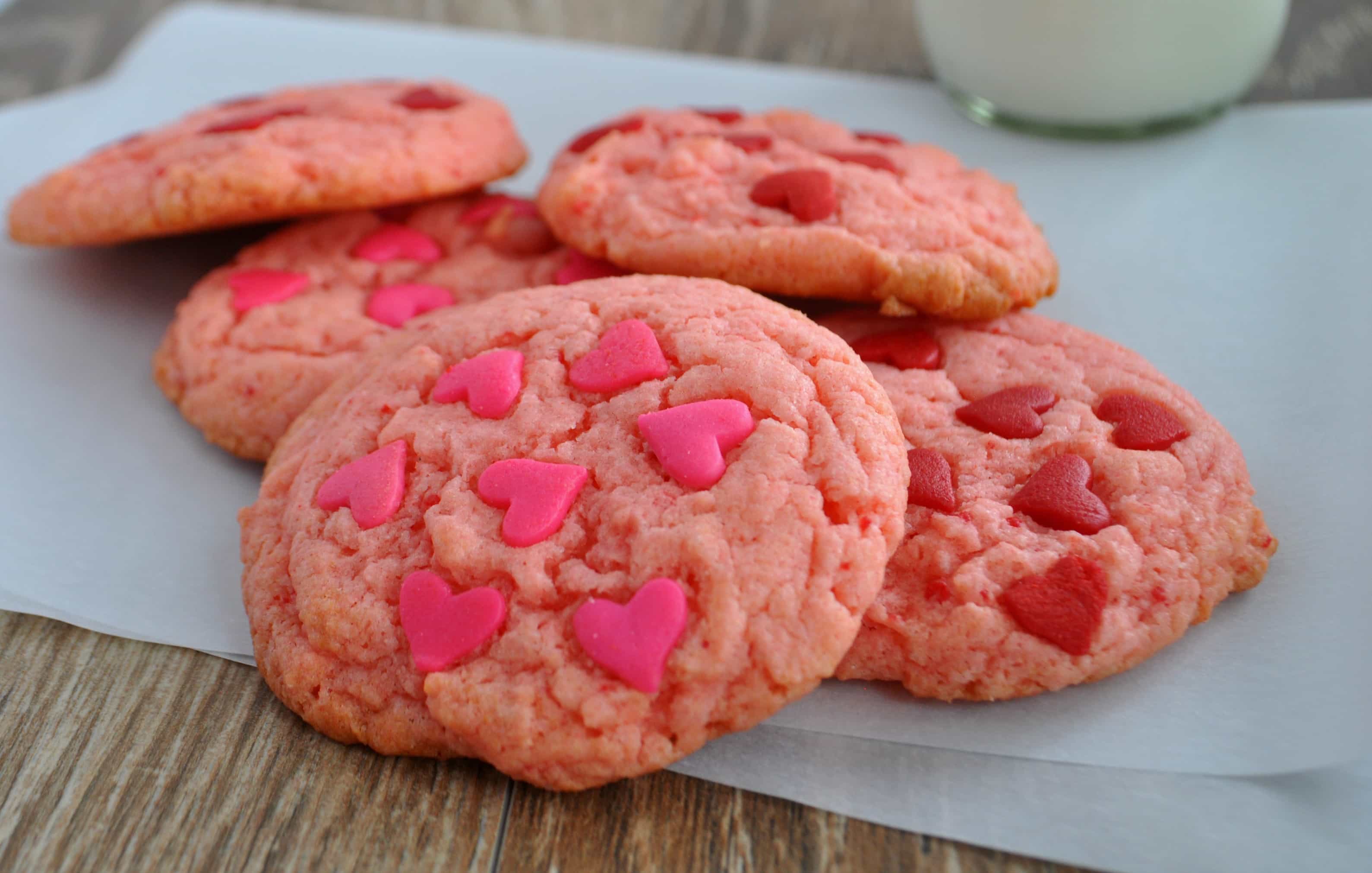 These cookies were very simple, I used the cake mix out of the box, 1/2 cup butter softened, 1 teaspoon of baking powder, and 2 eggs.  I decorated them with the large heart sprinkles that I used on the cupcakes from before.    And voila!  Cake batter cookies for Valentine's Day.
These were super simple to make, and a delight to eat!!  I love how it turned out more cake-y than cookie-y.  Those of you who enjoy desserts I'm sure will know what I mean by that!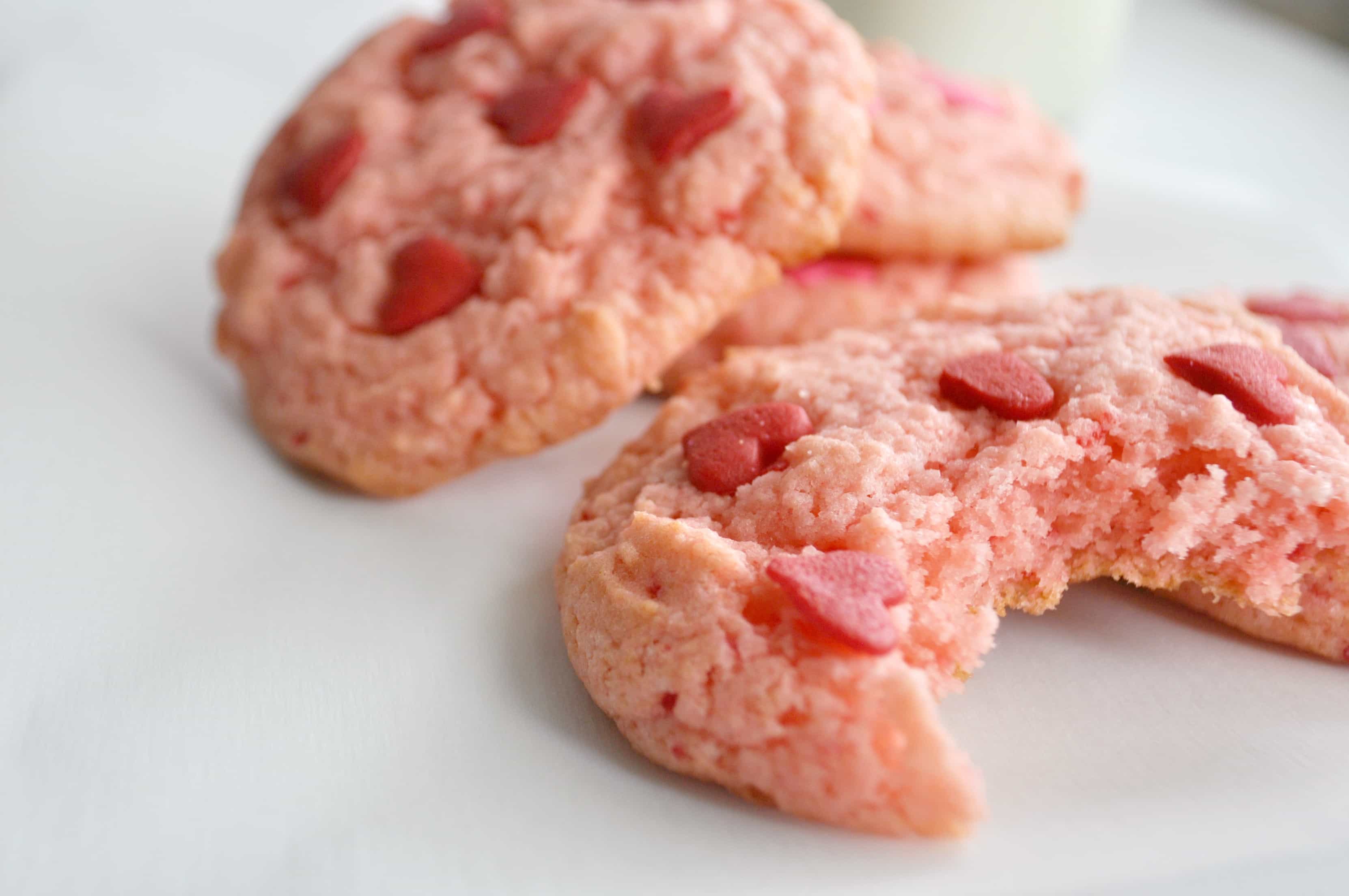 The possibilities with cake mix are endless!!!!  So many flavors, and different sprinkles to use.  You could have fun and make this your own creation.
Now before anyone starts worrying about what I'm going to be making next with the cake mix, let me just tell you a little story.
I believe I have mentioned the French bulldog who spends his days following me and snoring?  Well, this little fella, he got himself into some mischief.  Whenever we leave the house we have to put him in his kennel, because if we don't he likes to have himself little parties while we're gone.  When we came back from the market, guess who met us at the door??  That's right….our mischief-loving little Frenchie.  That's who.
Our first reaction, look around the house to see what he did in our absence.  Previous escapes have led to scratches on our table and a half eaten plastic cereal bowl, a nest made out of pillows on our couch, and an unfortunate incident with a large Toblerone chocolate bar.  This dog has more lives than a cat!!
Upon first glance the place looks fine.  Further inspection of our furry friend reveals a pink face…hmmmm.  I went into the kitchen and found what he had been up to.  He managed to climb onto the kitchen counter and have himself a little feast of strawberry cake mix, red pepper flakes, corn tortillas, and some wine.  Typical counter contents right?  This was the aftermath from my baking and the hubby's menudo breakfast, and the wine?  No reason, we just like wine!  Luckily Rockett (our dog) passed on the garlic cloves that were right next to where he made his mess.
The point of this long story..there is no longer any cake mix.
And no worries about our doggy friend.  He's fine.  As mentioned before, he ate a pound of chocolate and survived!  We of course will be more careful with his kennel to prevent our little escape artist from throwing any more parties in our absence.
Print
Cake Batter Cookies
---
Scale
Ingredients
1

box cake mix

1/2 cup

softened butter

1 teaspoon

baking powder

2

eggs
---
Instructions
Preheat oven to 350 degrees
Mix together baking powder and cake mix in large bowl
Add in the butter and eggs, mix until smooth
Line your baking sheet with parchment paper
Roll dough into small balls about 1 inch in diameter
Place on baking sheet about 2 inches apart
Bake for 12 minutes or until baked through
Cool on wire rack
---